Welcome to our Student Activities Page
Dive into Third Grade
Get ready for an amazing adventure, because the third graders are back and ready to rock the new school year! Their smiles are as bright as the sun as they dive into a sea of knowledge and fun. From multiplication mysteries to exploring the world through stories, these kiddos are on a journey of discovery! Let's cheer them on as they embrace challenges, make new friends, and create unforgettable memories. Here's to a year filled with laughter, learning, and endless possibilities!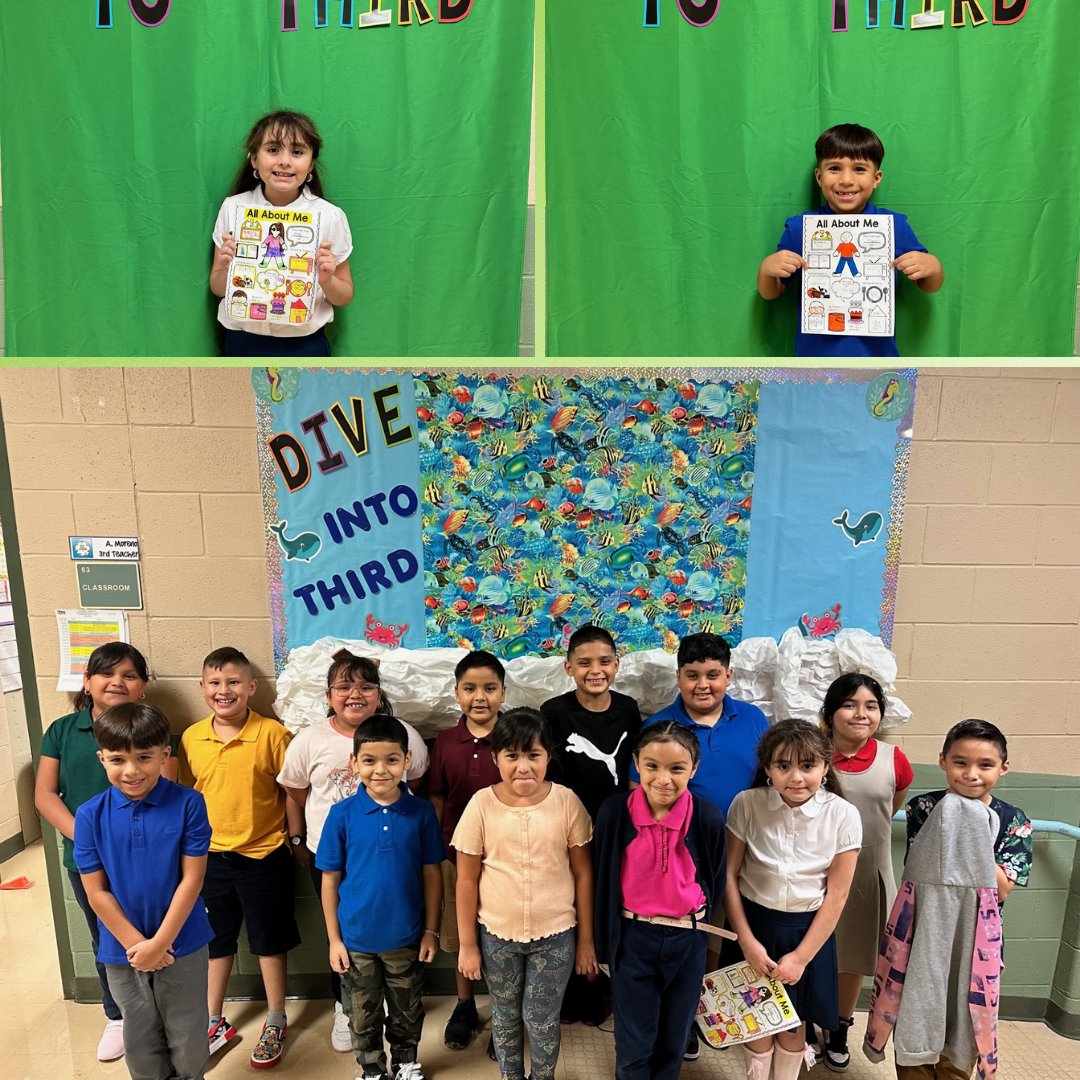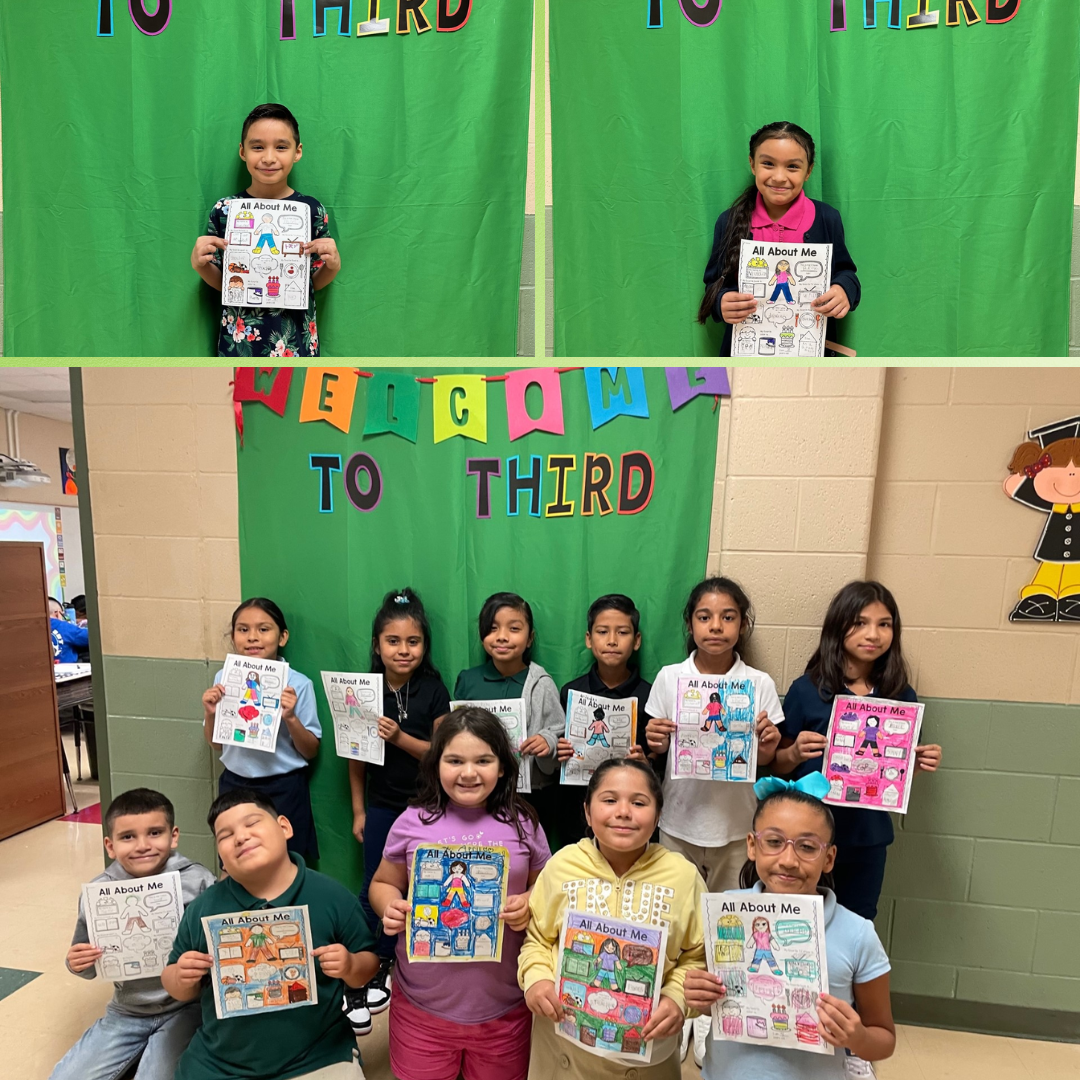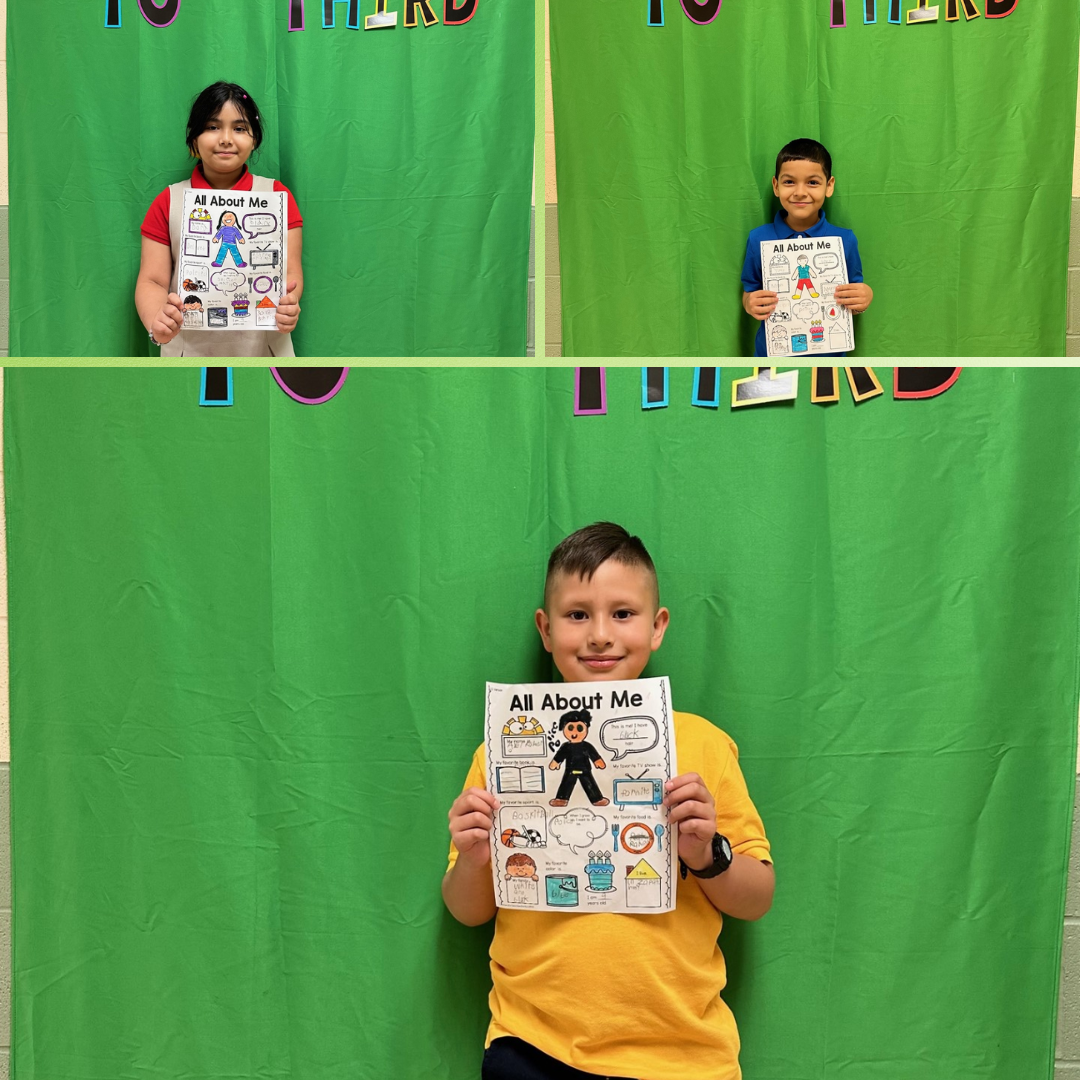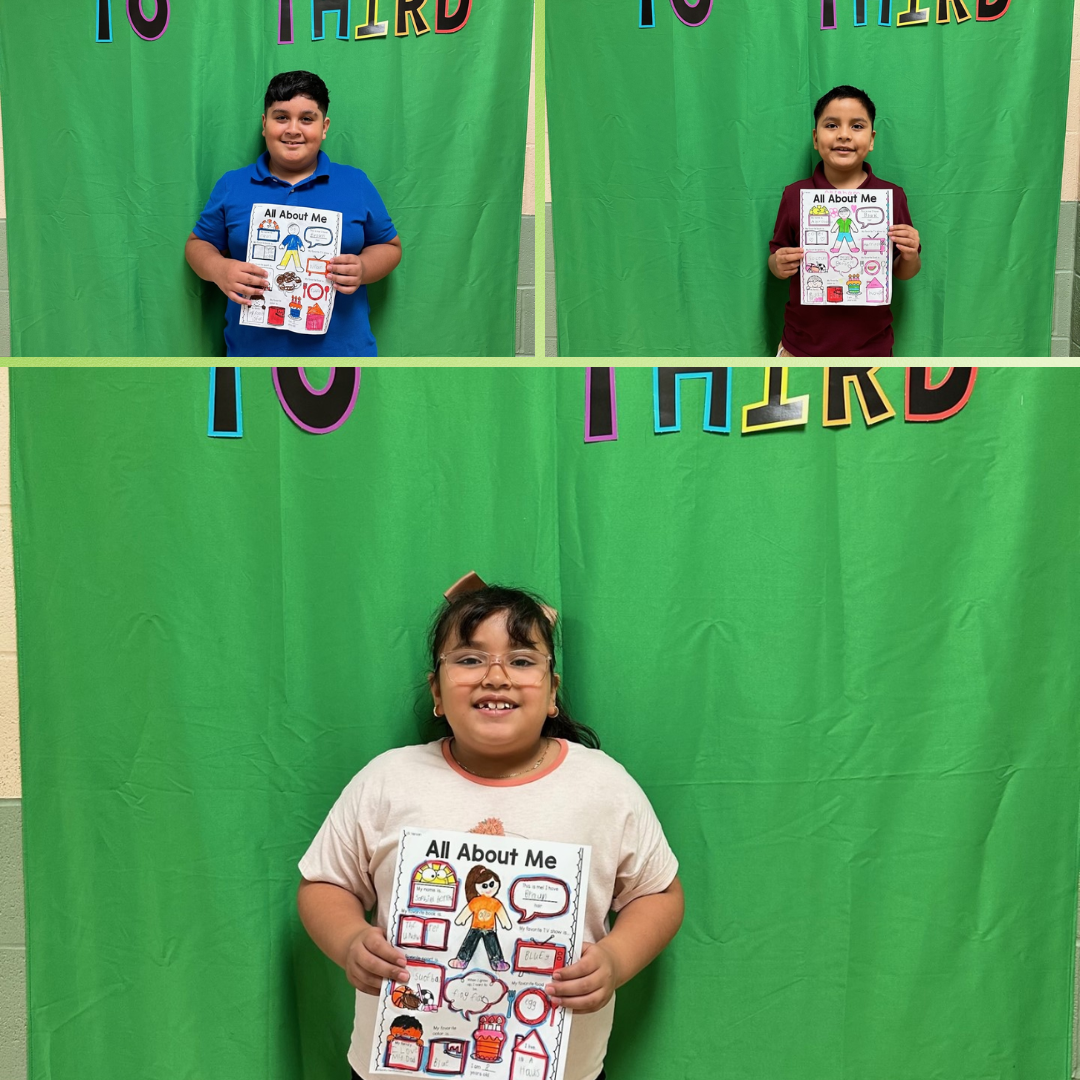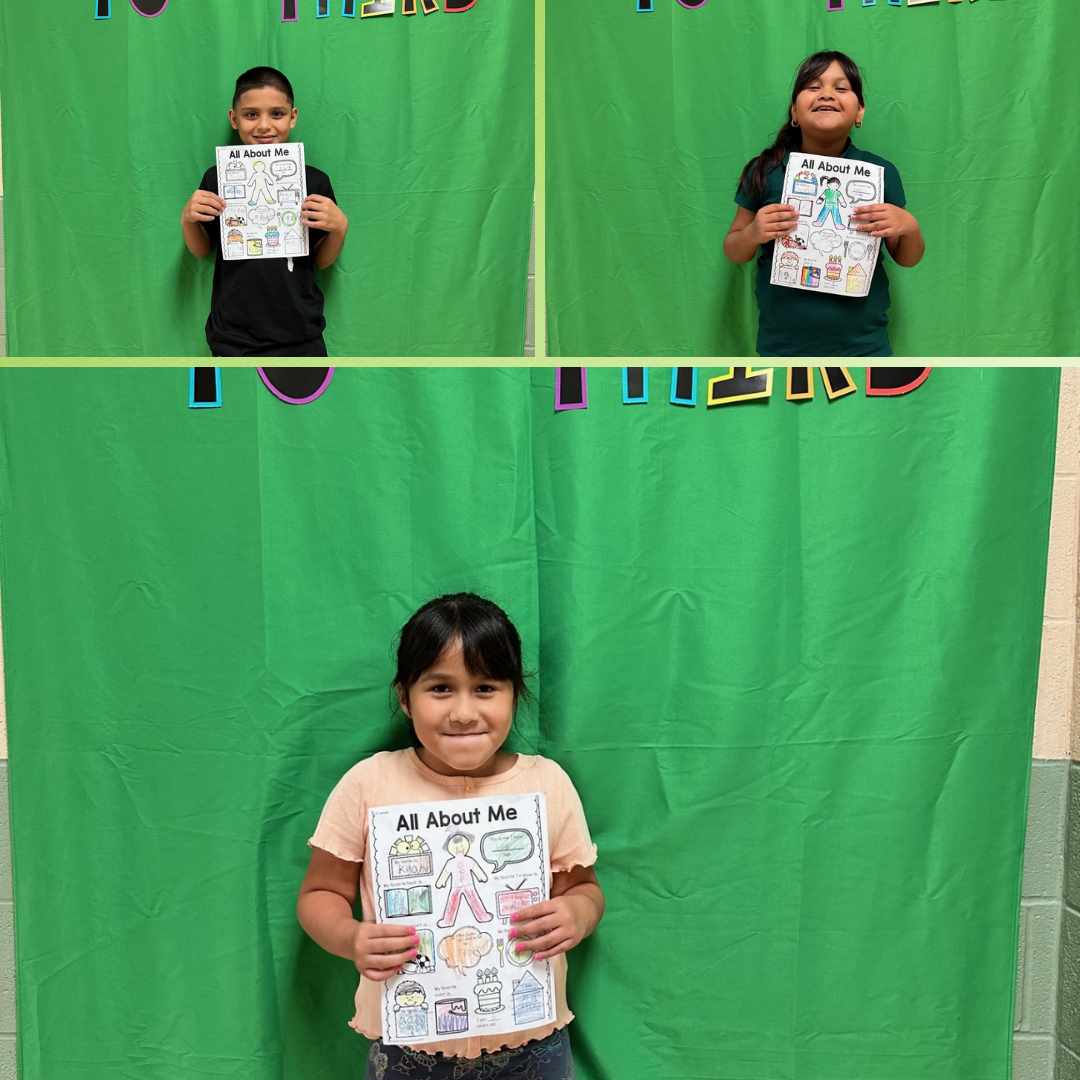 Back-to-School Backpack Giveaway
📚👦👧 What an incredible event it was! Thanks to the generosity of Judge Bobby Quintana and Mack Law Firm, the Back-to-School Backpack Giveaway was a huge success. 🙌🎉
🎁🎒 Dozens of excited students received brand new backpacks filled with essential school supplies to kick off their academic year with confidence. It's heartwarming to witness the community coming together to support our young learners. 💪🌟
🙏 A big shoutout to Judge Bobby Quintana and Mack Law Firm for their dedication to education and their commitment to making a positive impact in the lives of these students. Your kindness will surely leave a lasting mark on these young minds. 🌈📖
Let's continue to celebrate the spirit of giving and unity as we look forward to a fantastic school year ahead! 📚🍎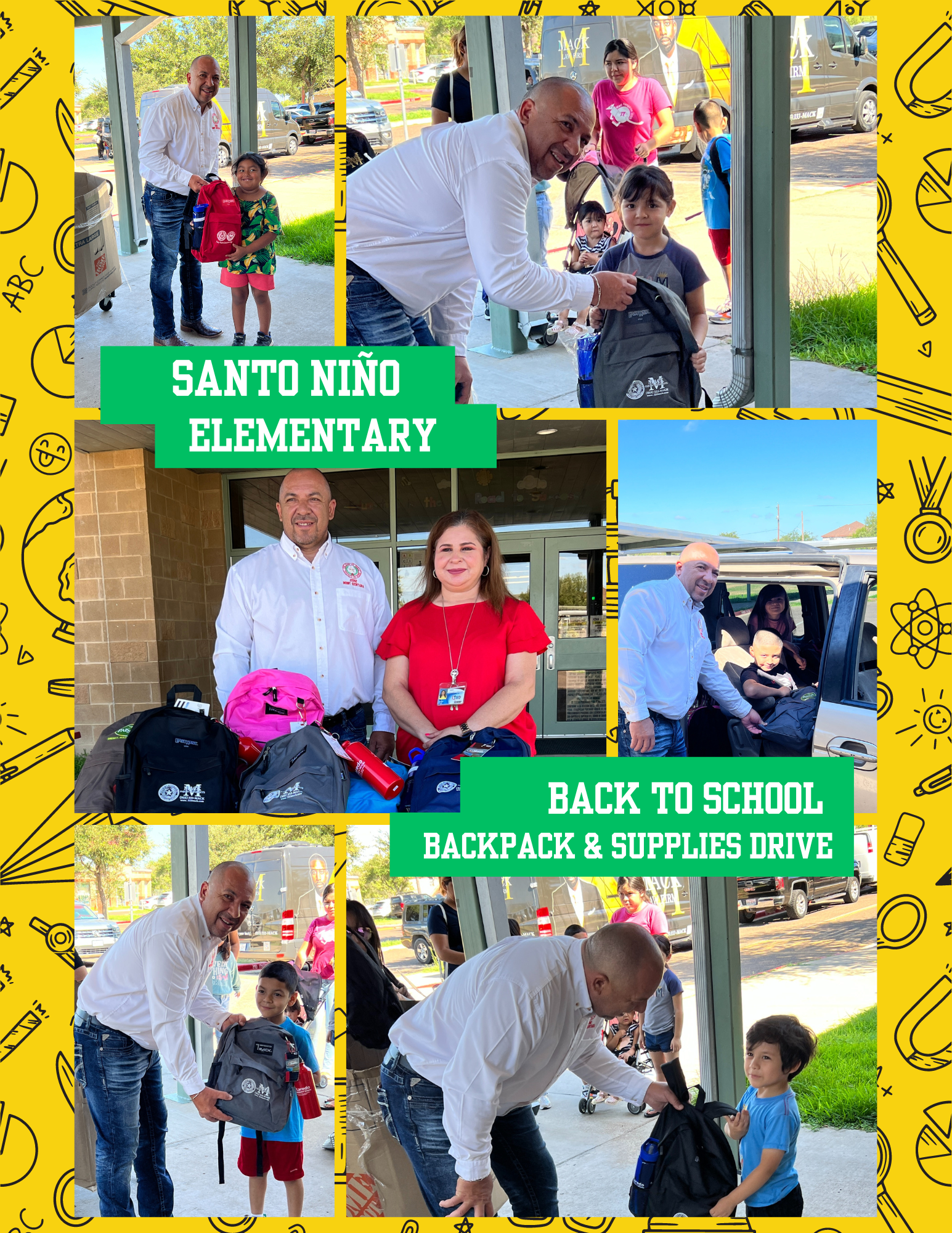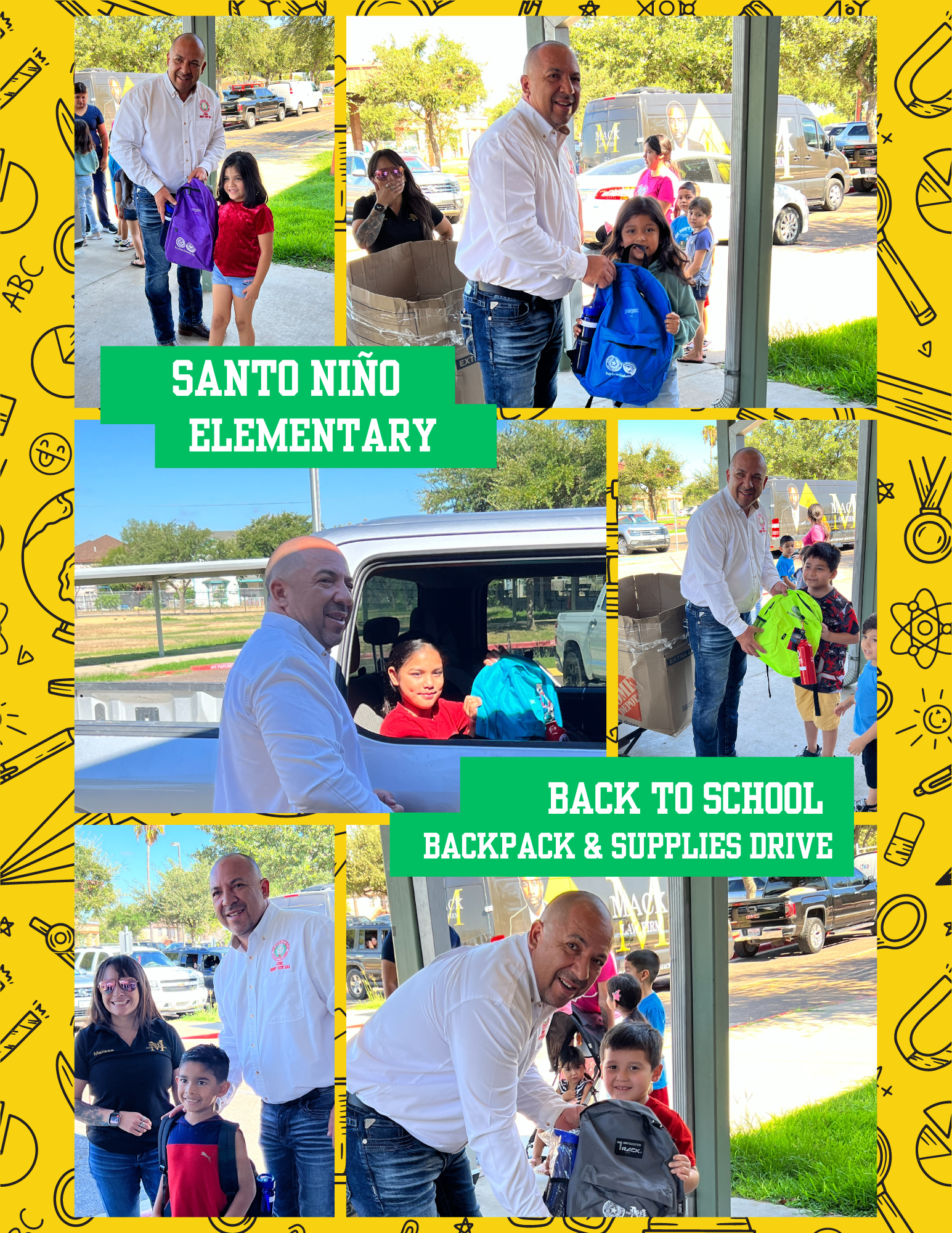 H-E-B'S ADOPT-A-SCHOOL PROGRAM
We are incredibly thankful to HEB Zapata HWY for choosing our campus for the "Adopt-A-School 2023" program; your support will undoubtedly make a meaningful impact on our students and community. Thank you for also providing a delicious lunch for our hardworking teachers!
We would also like to extend our gratitude to our superintendent, Dr. Rios, for delivering an inspiring pep talk to our dedicated team of teachers; your words have truly motivated and uplifted us!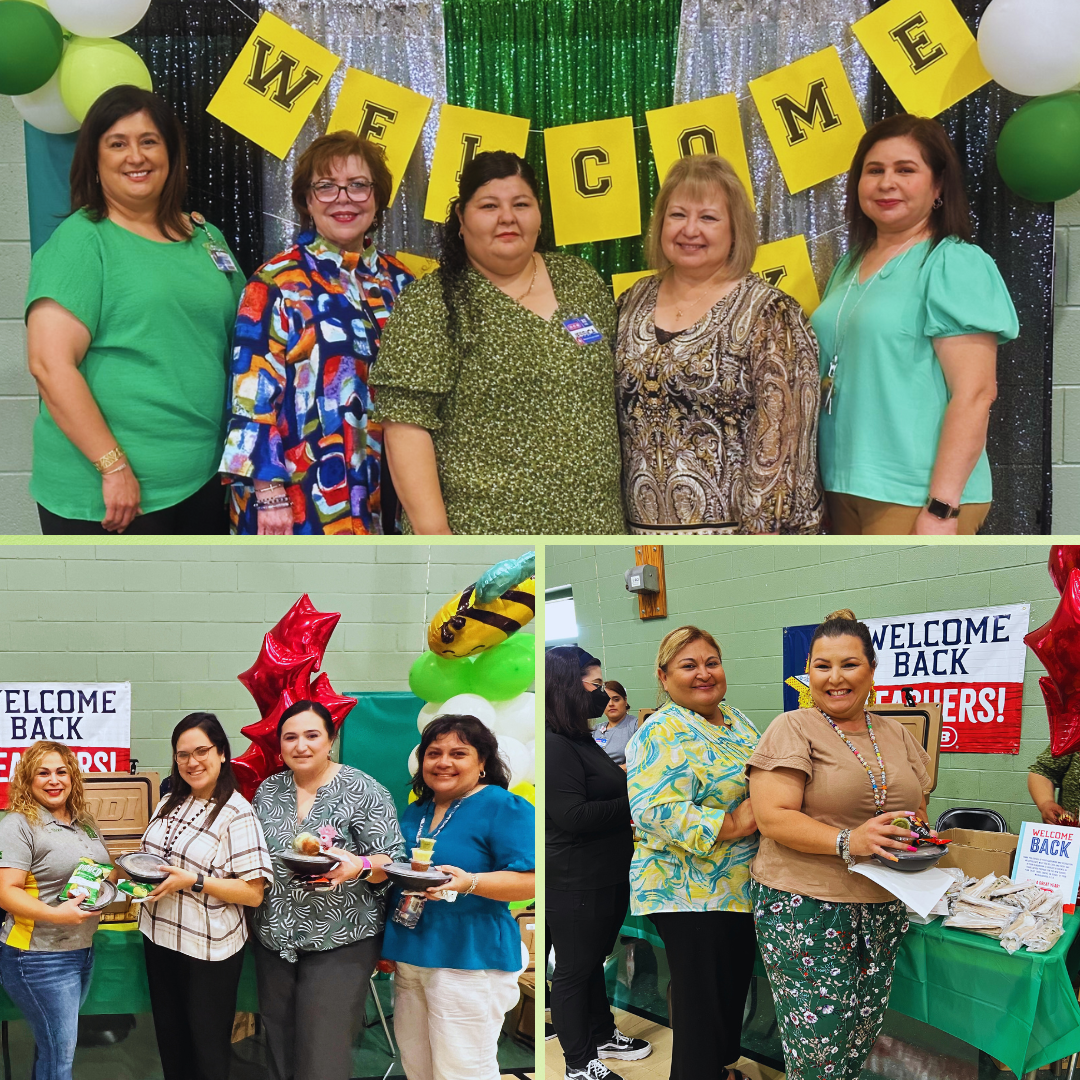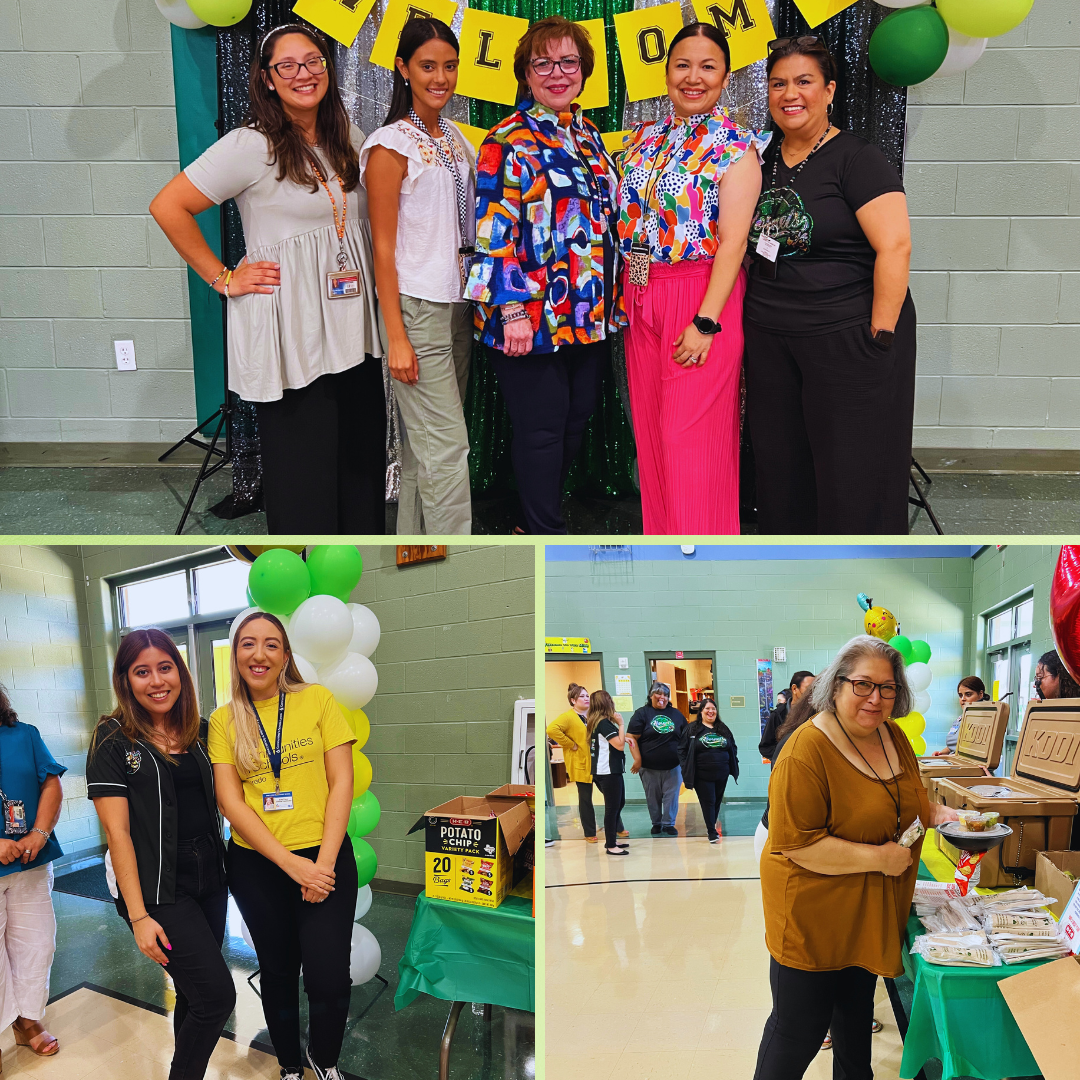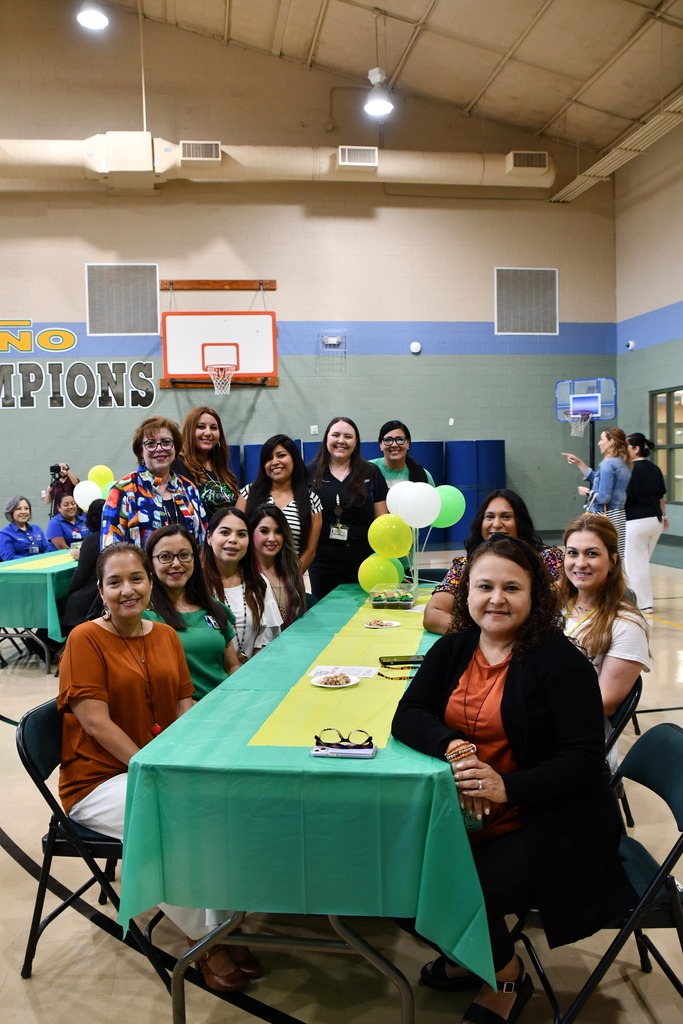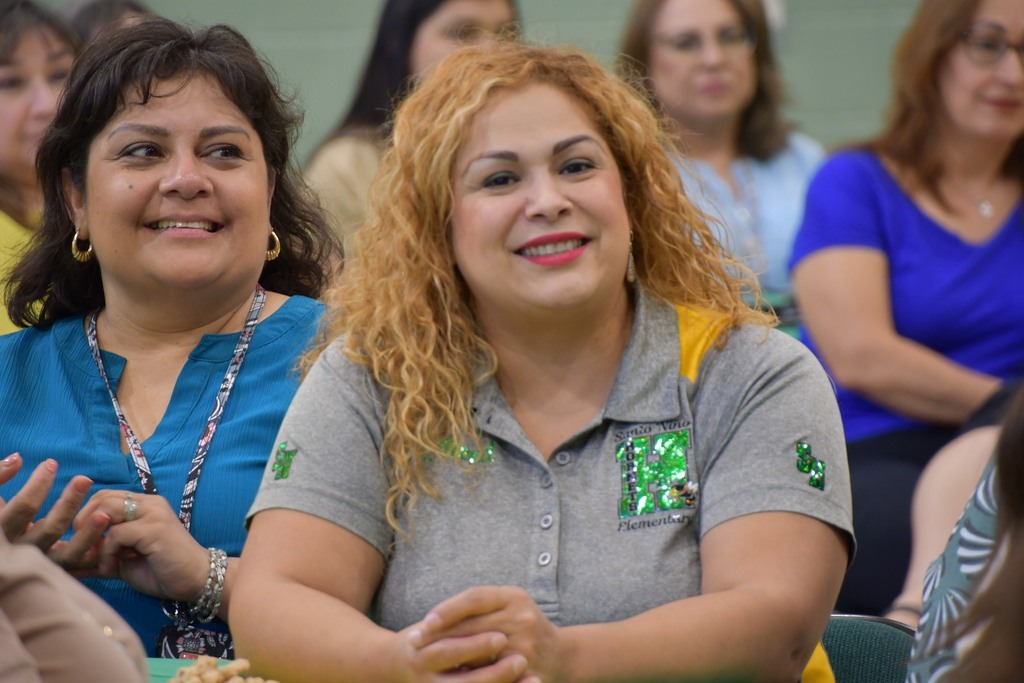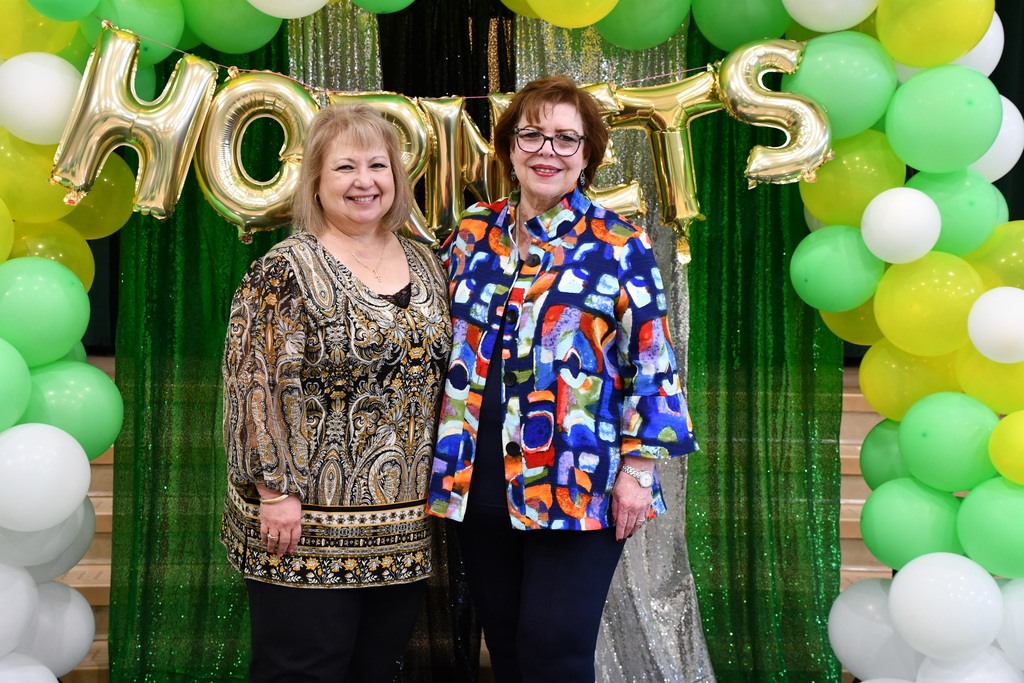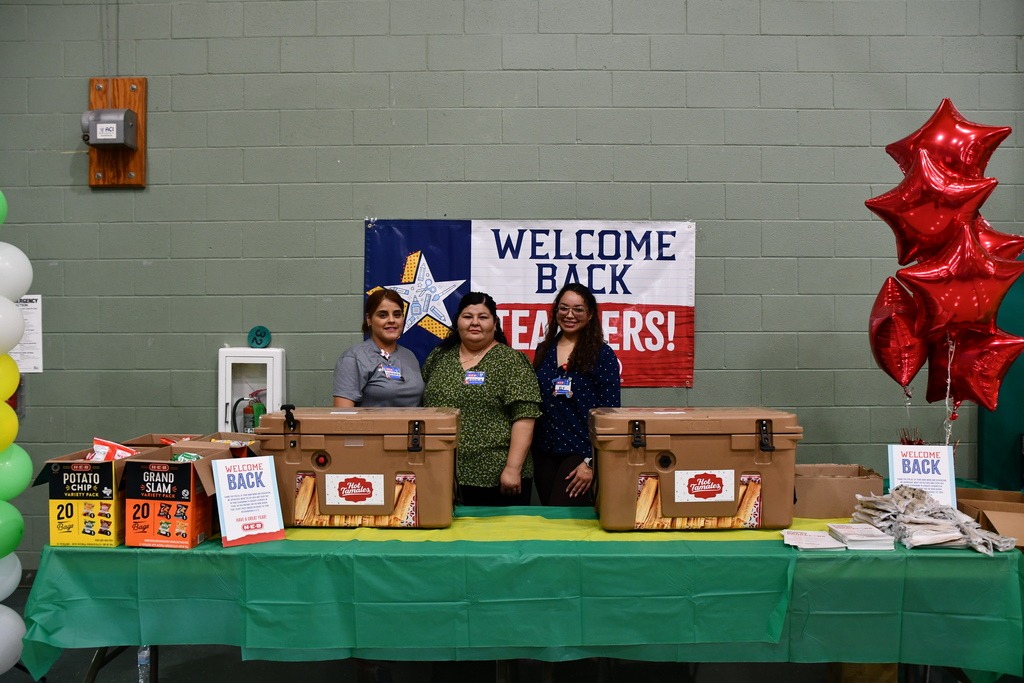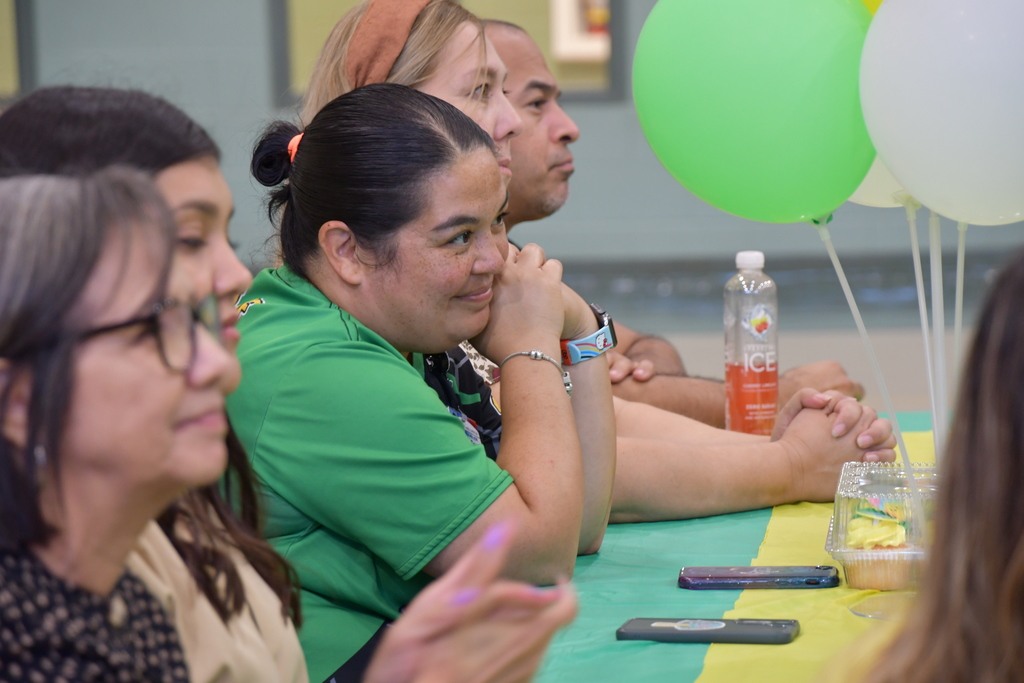 End of Year Staff Luncheon & Student Summer Gifts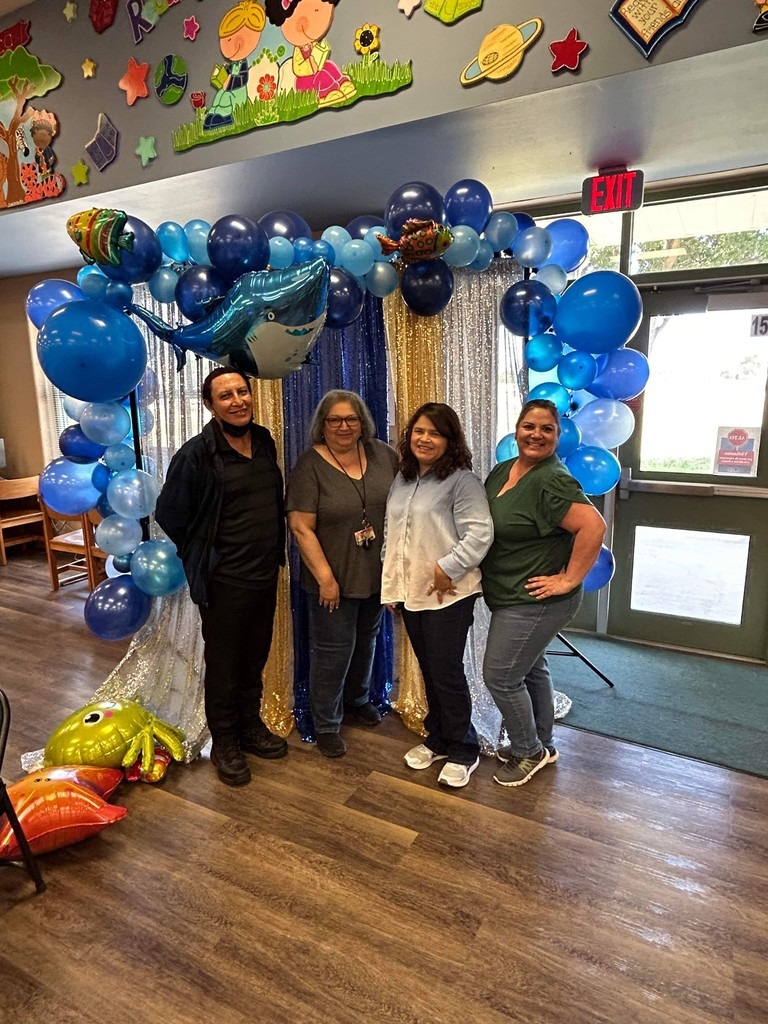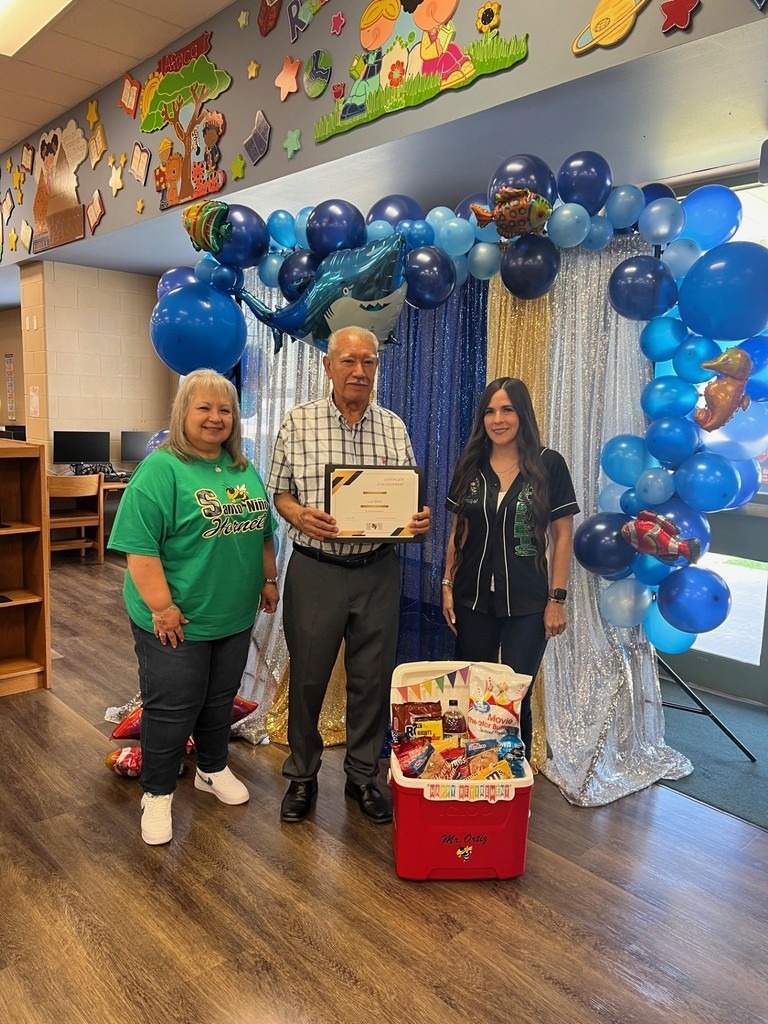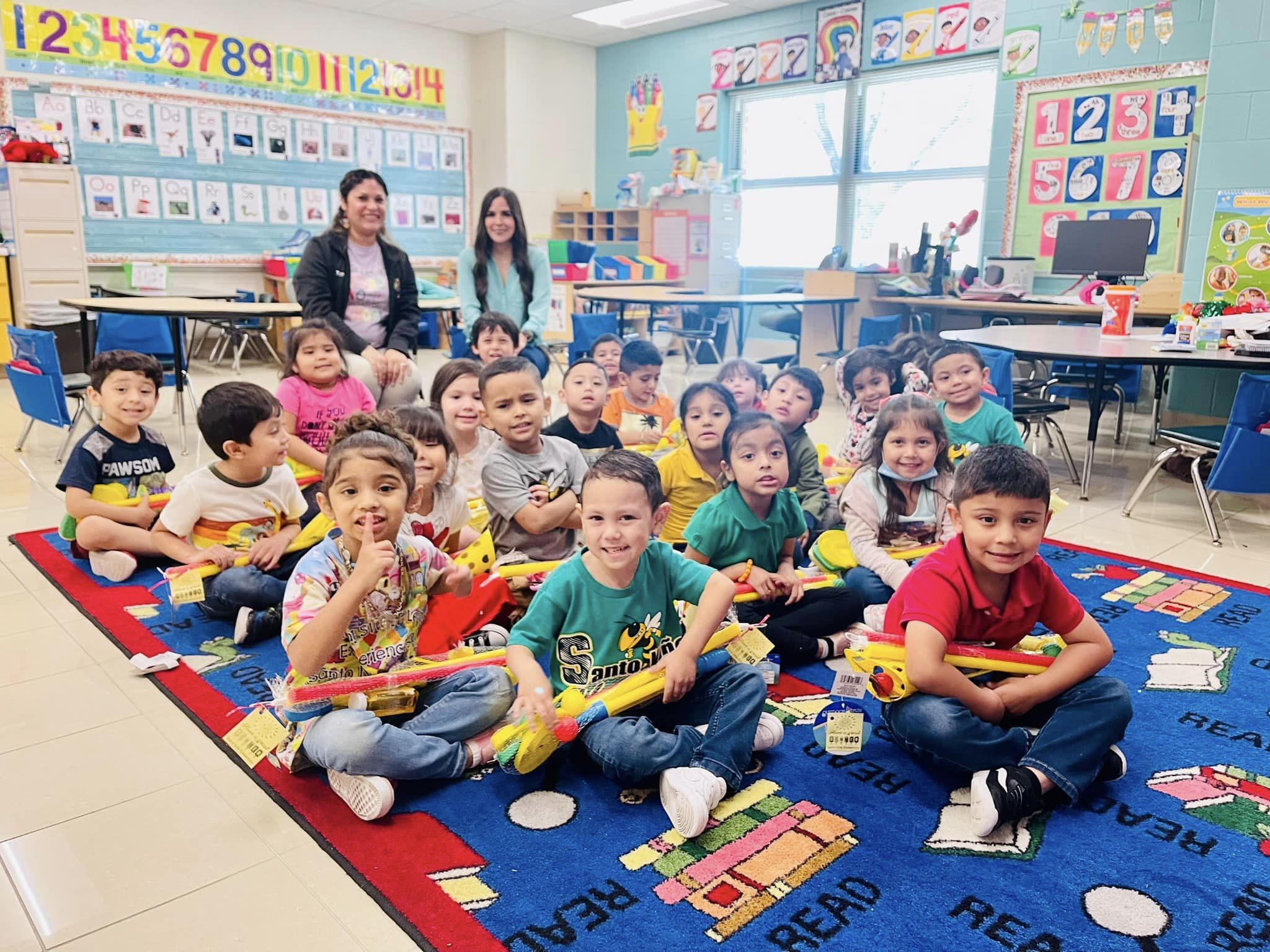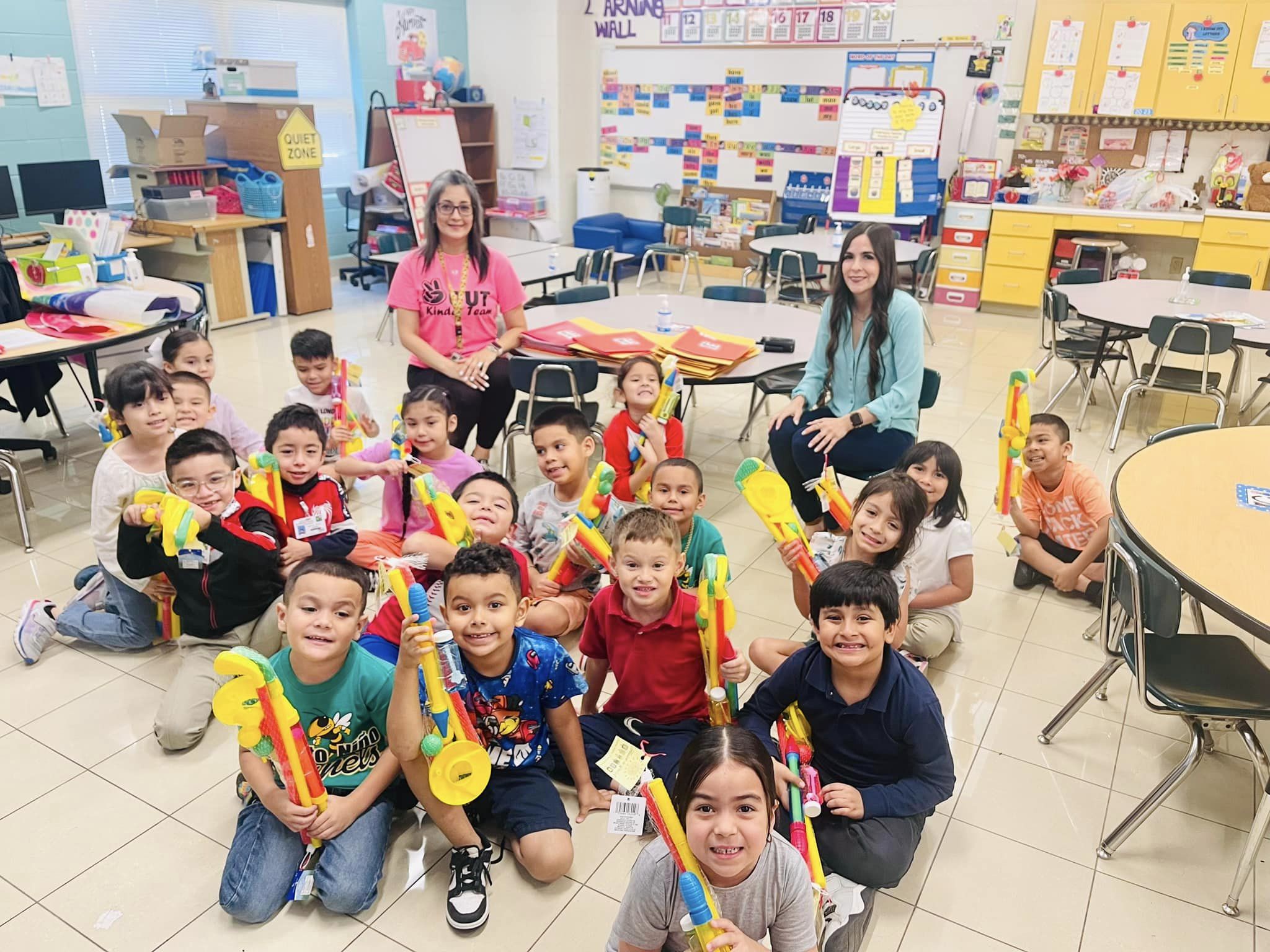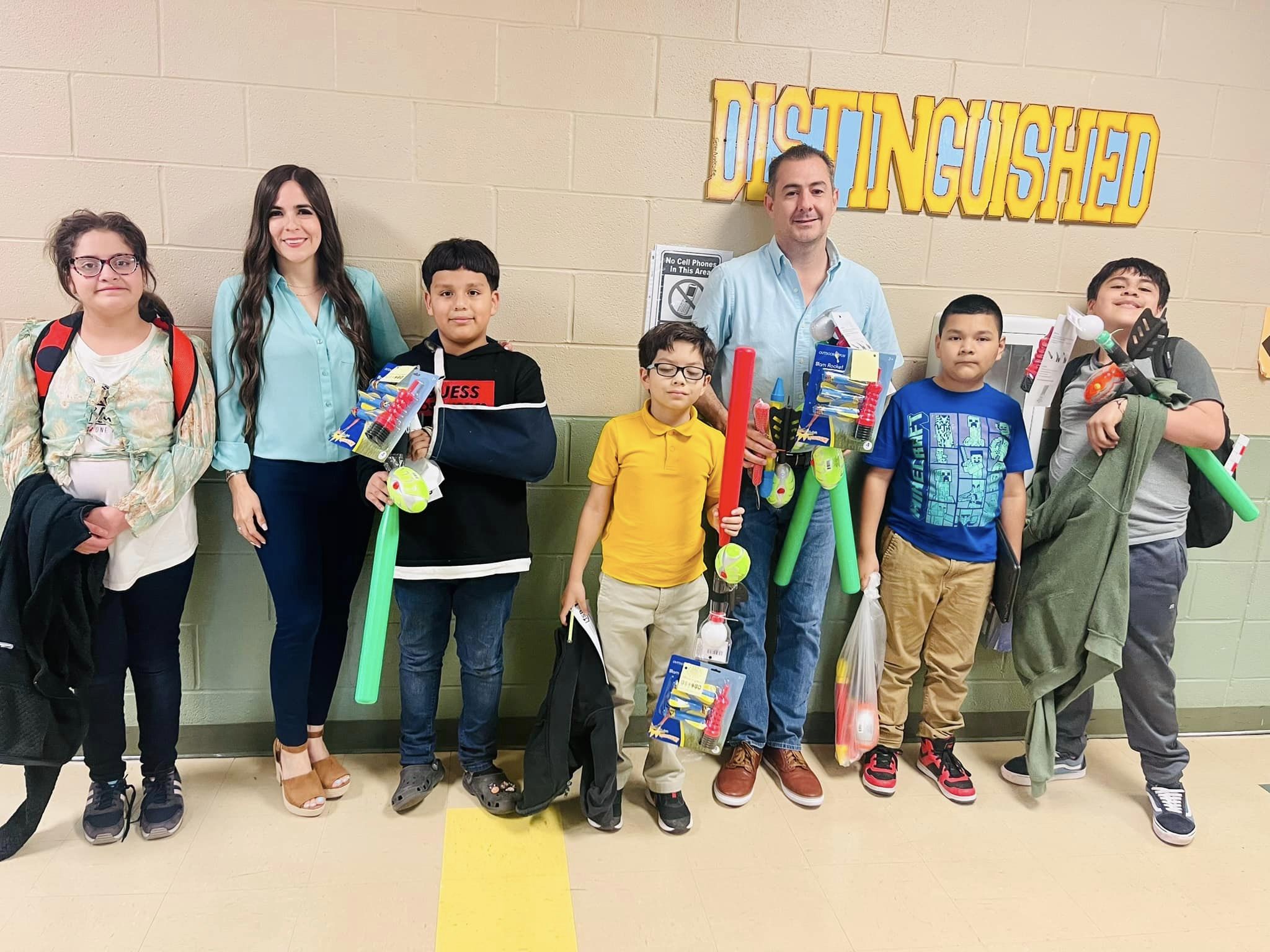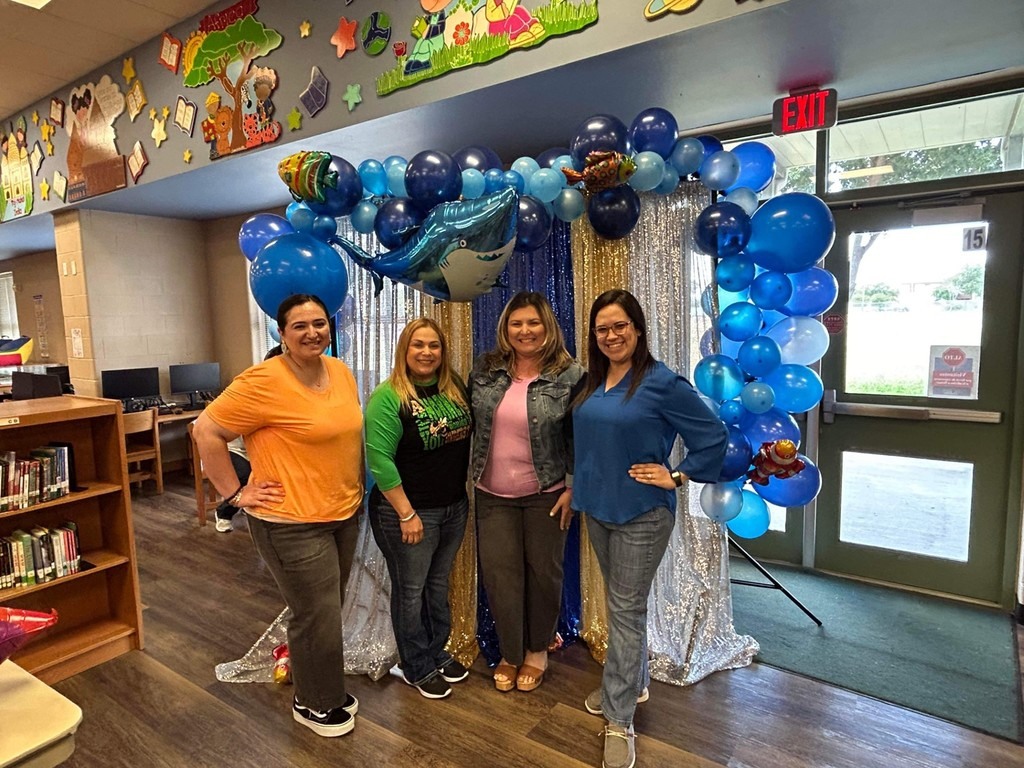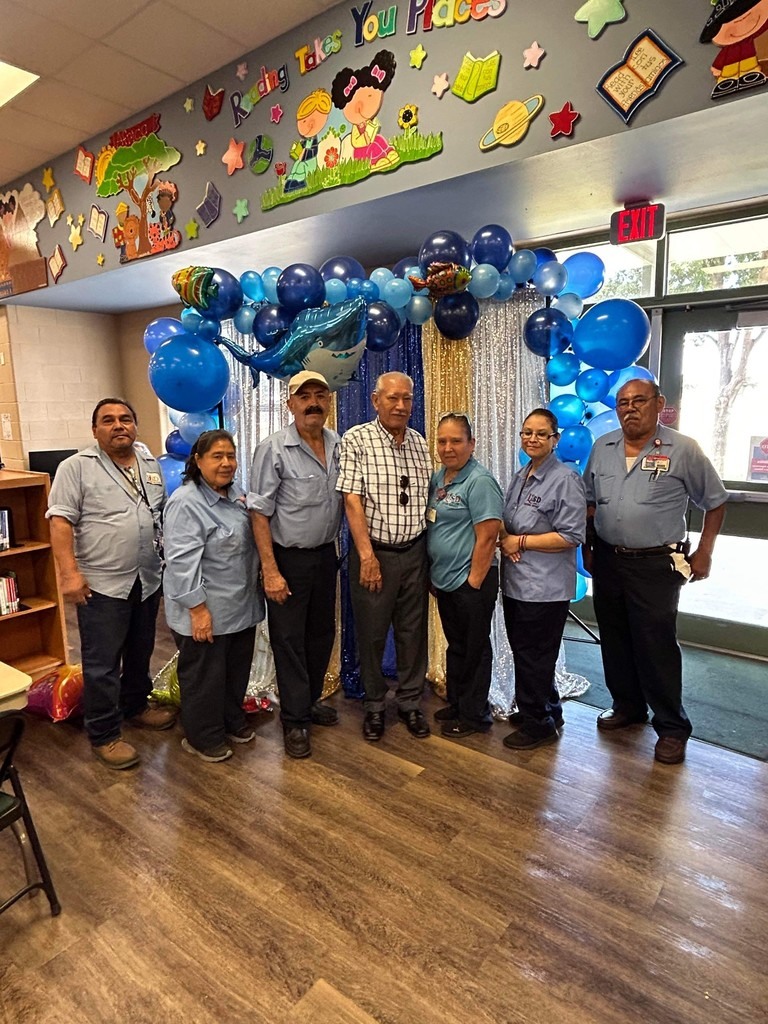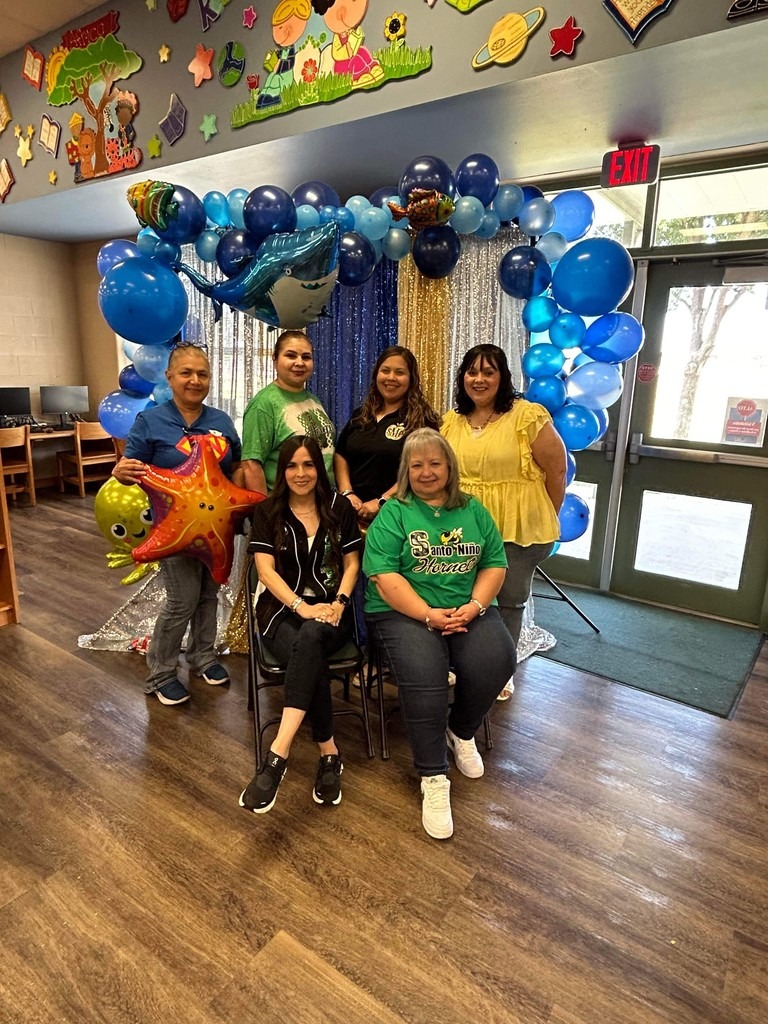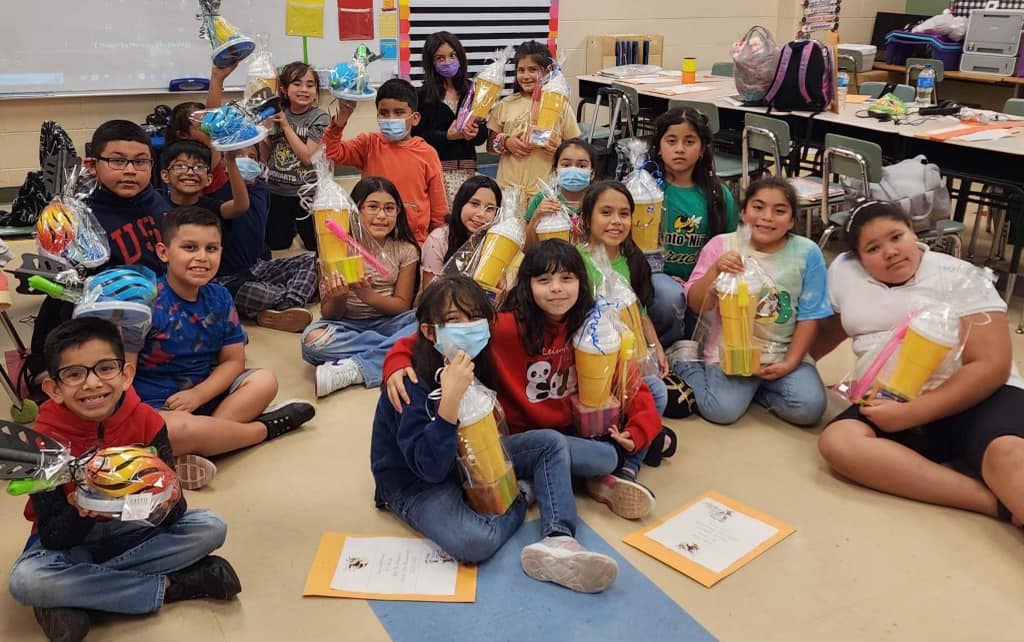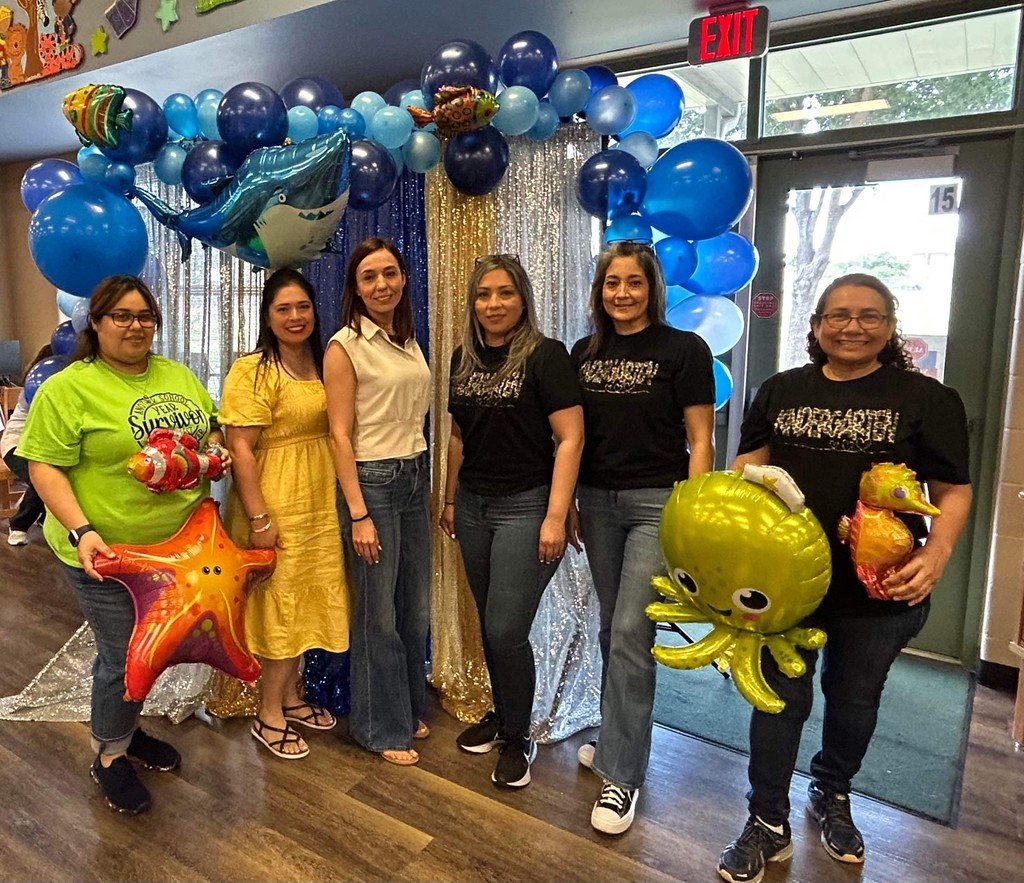 NEHS visit the Texas State Capitol in Austin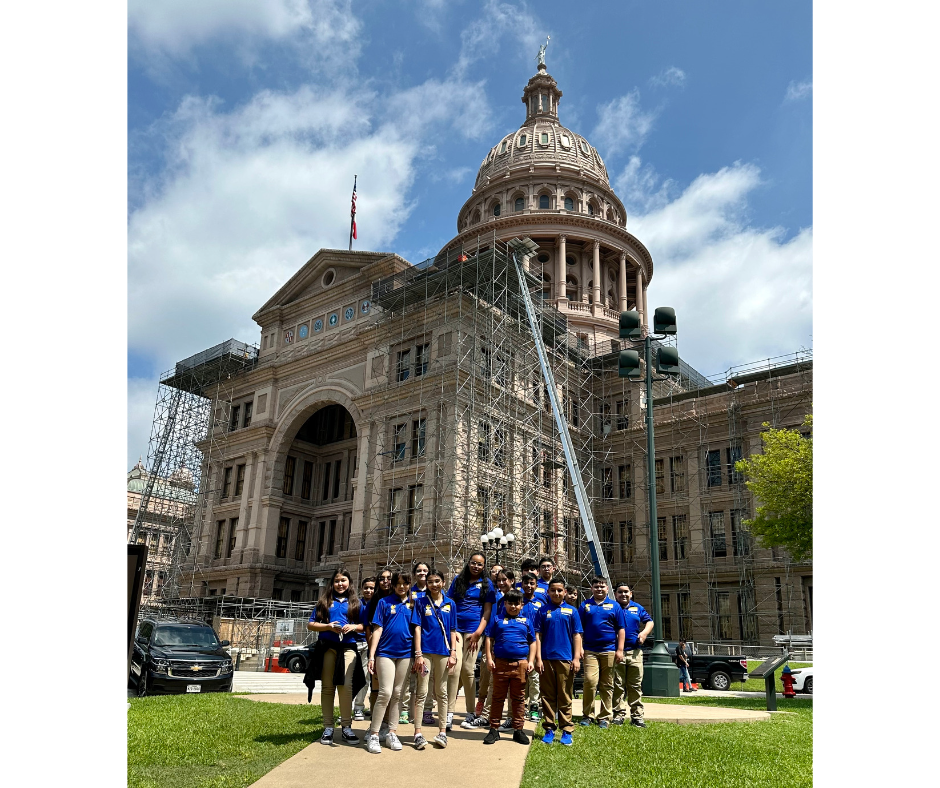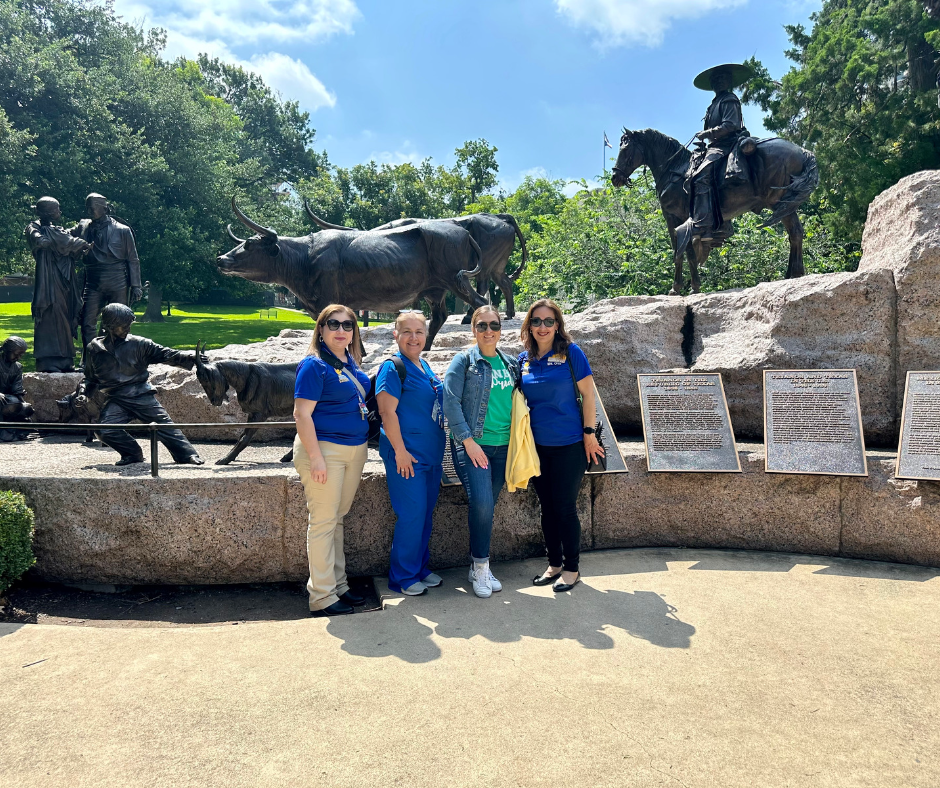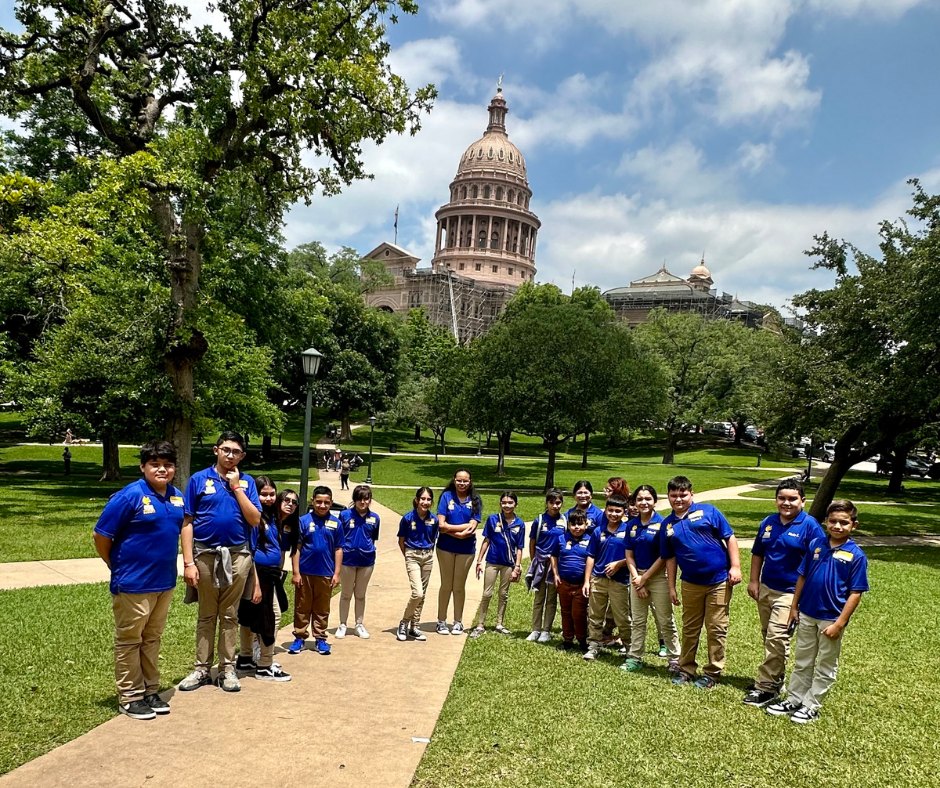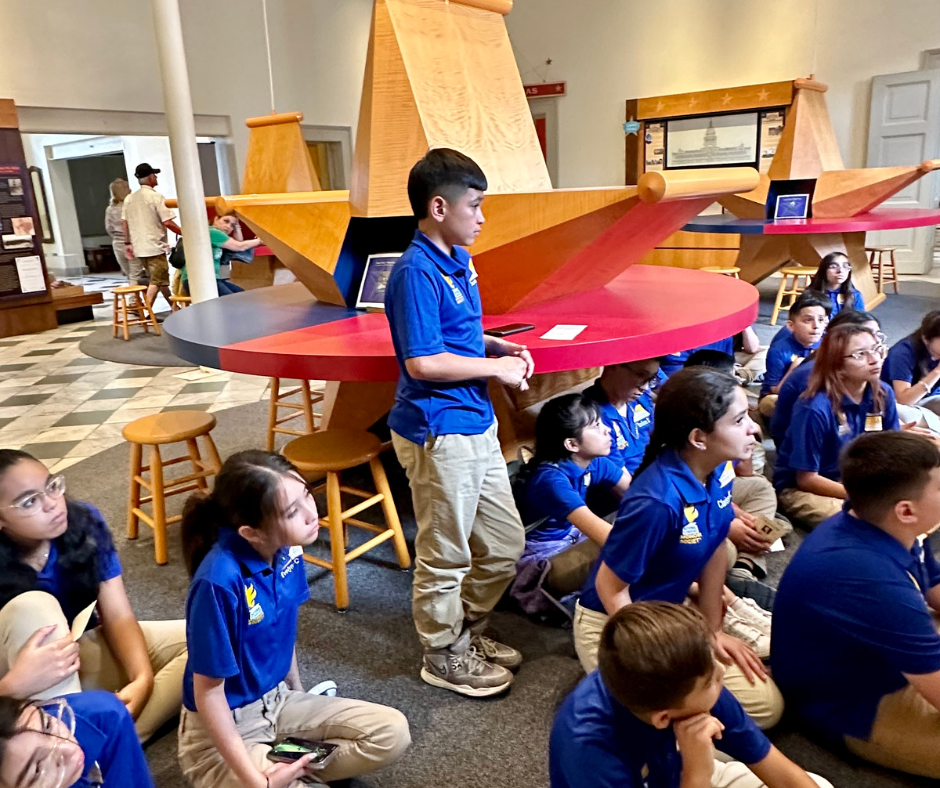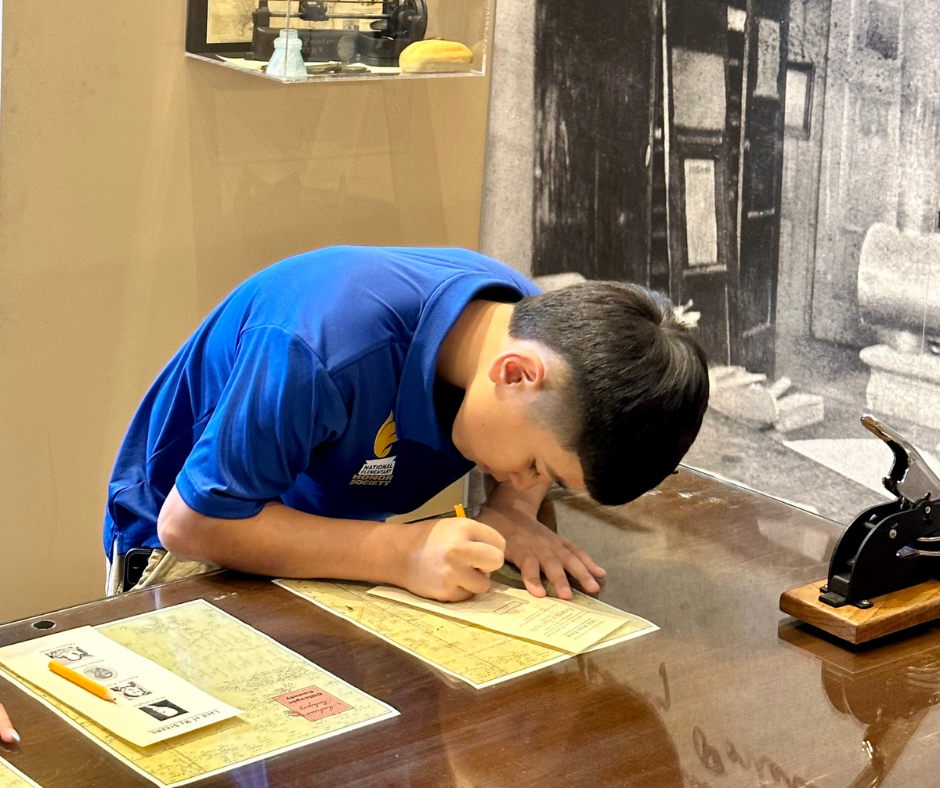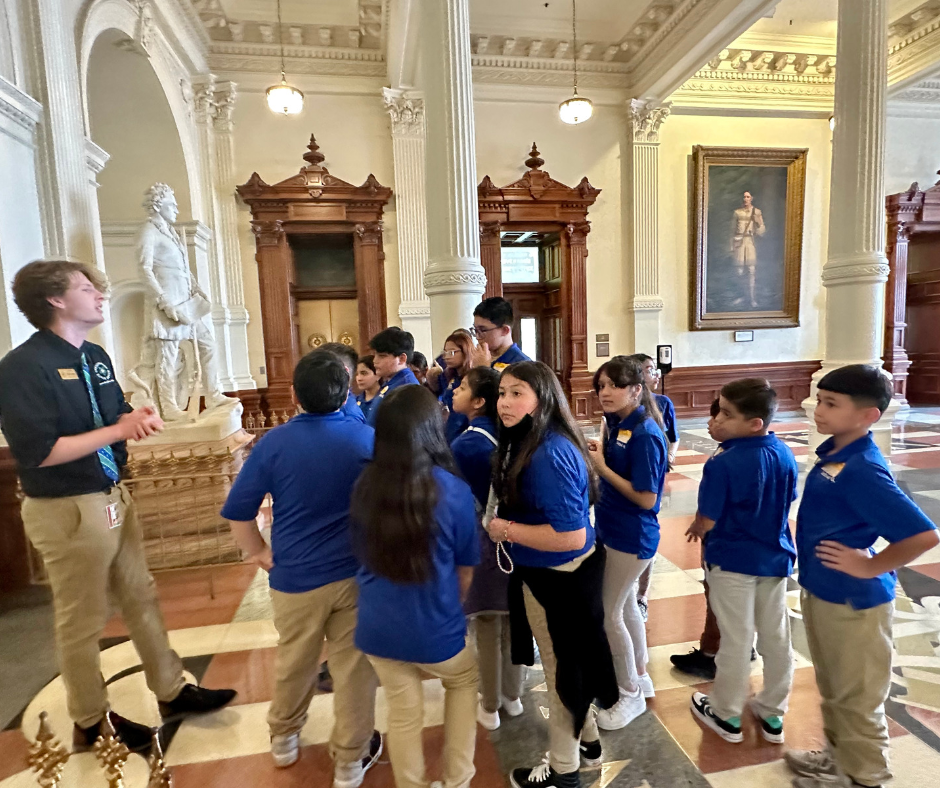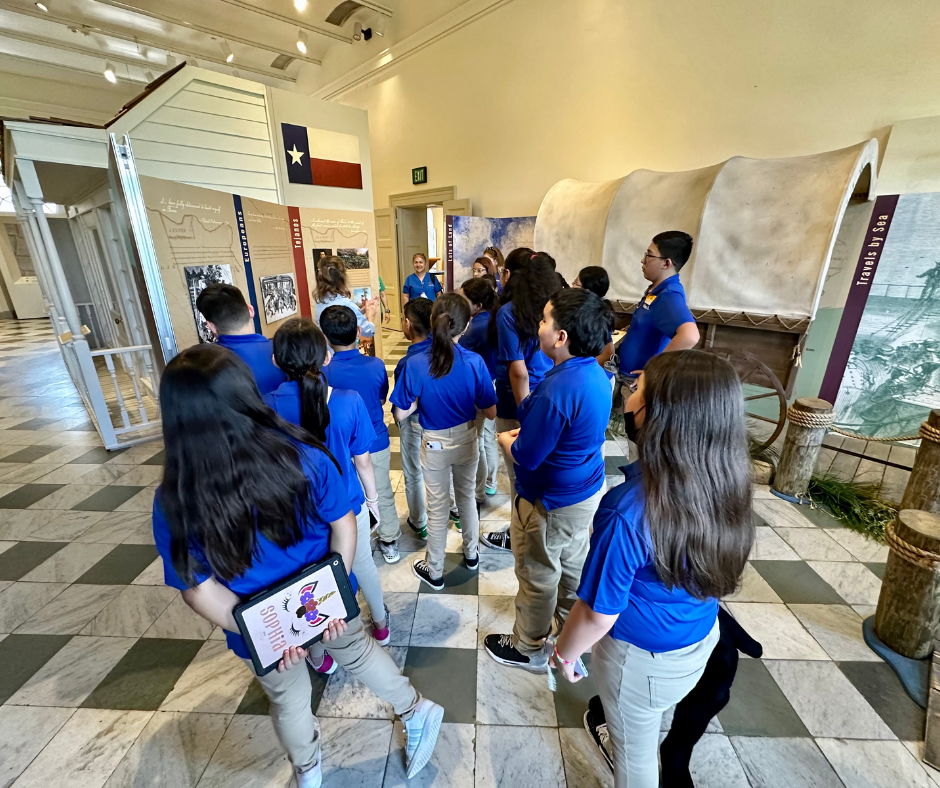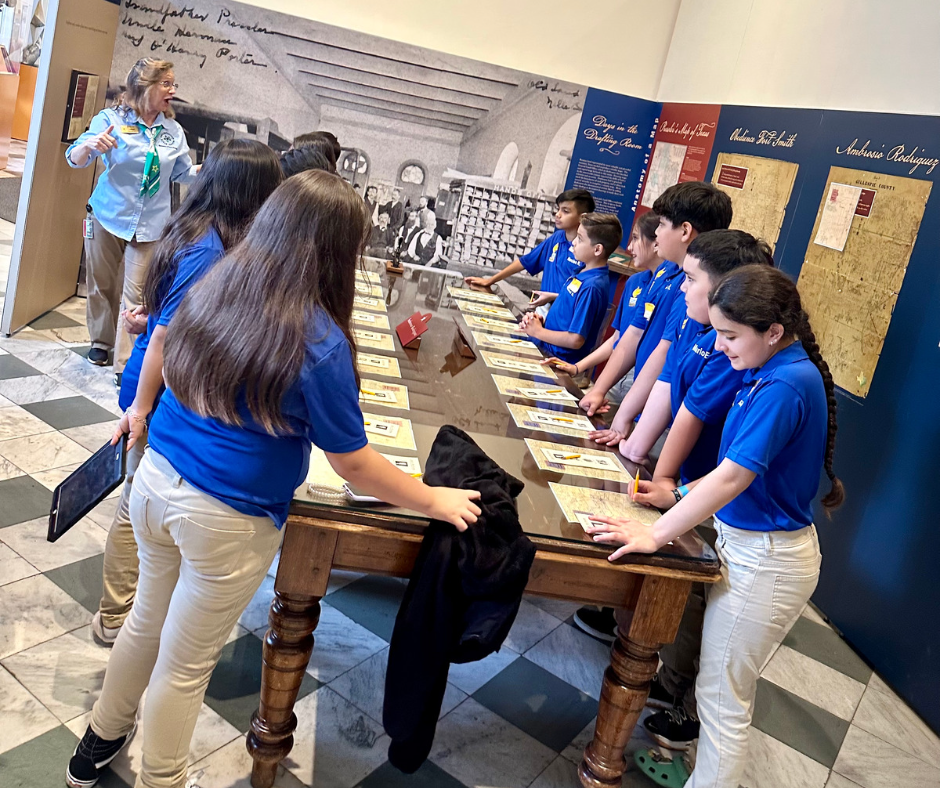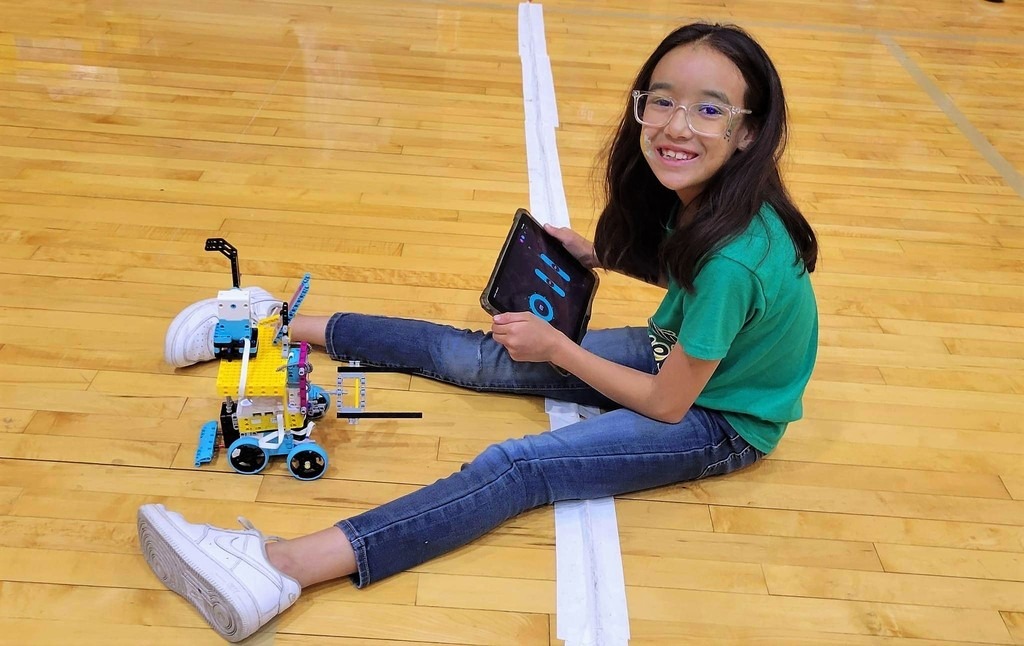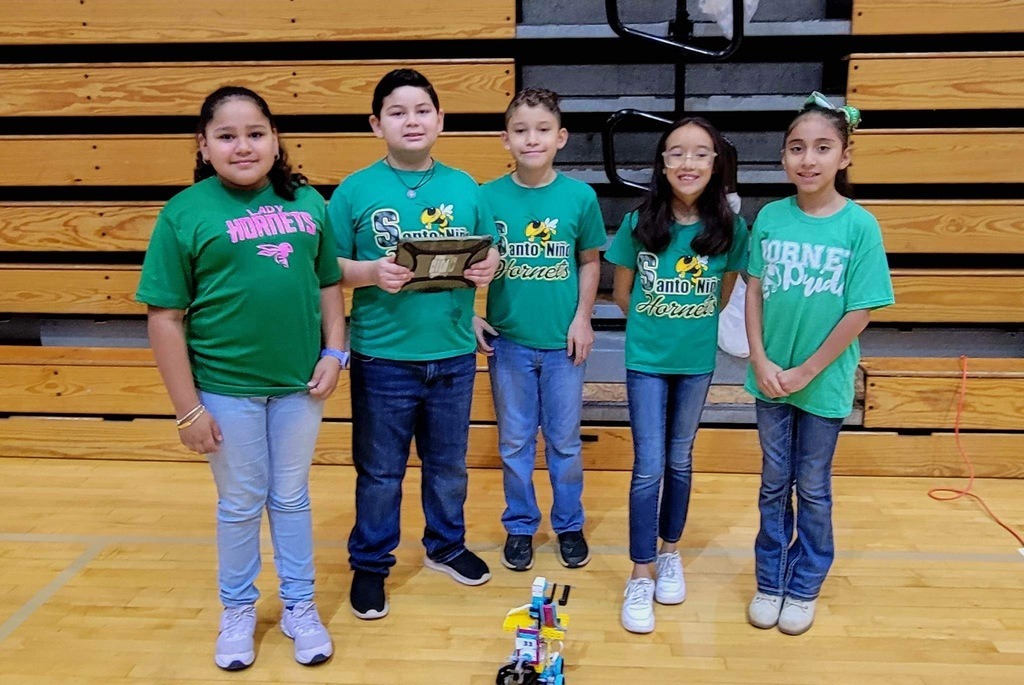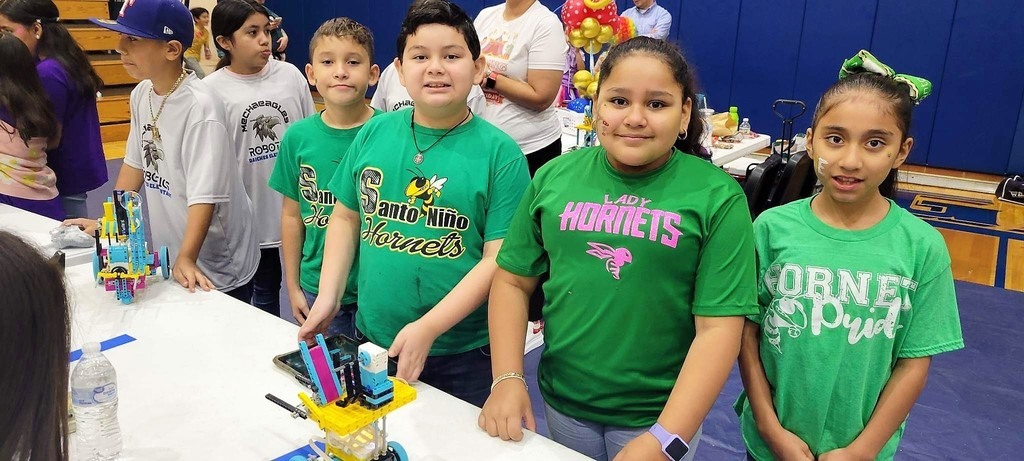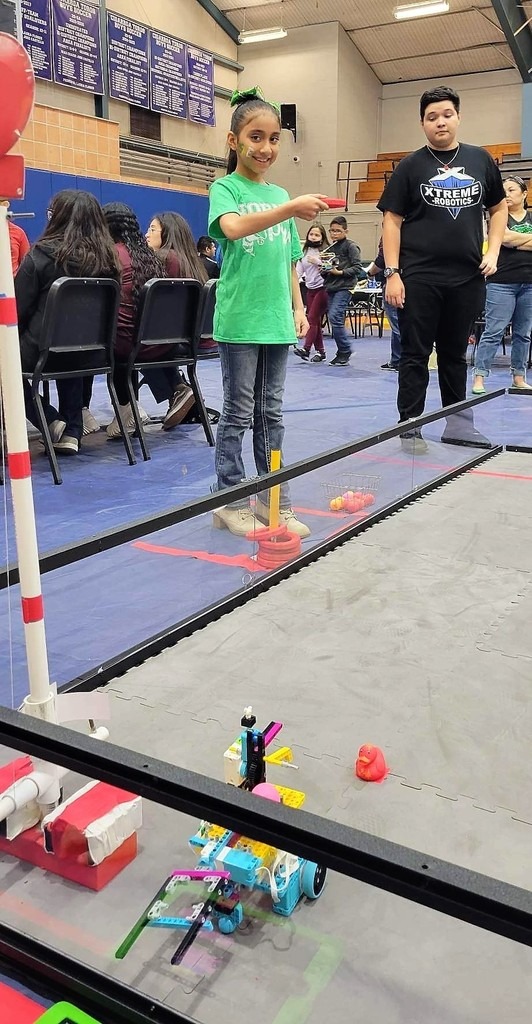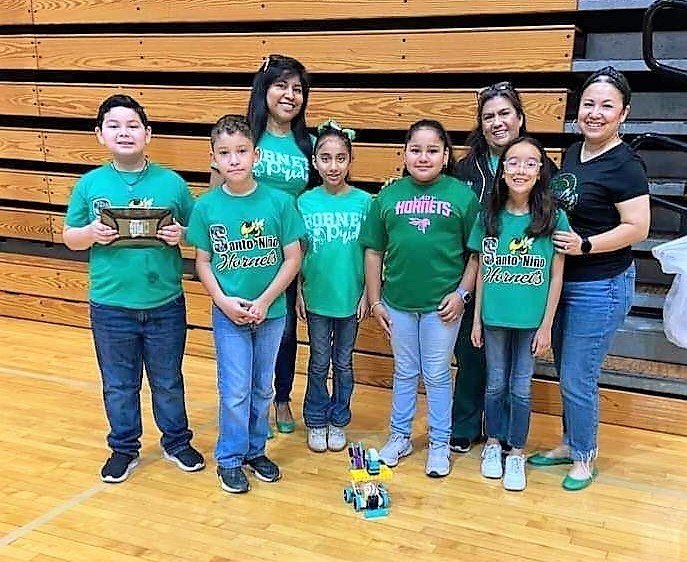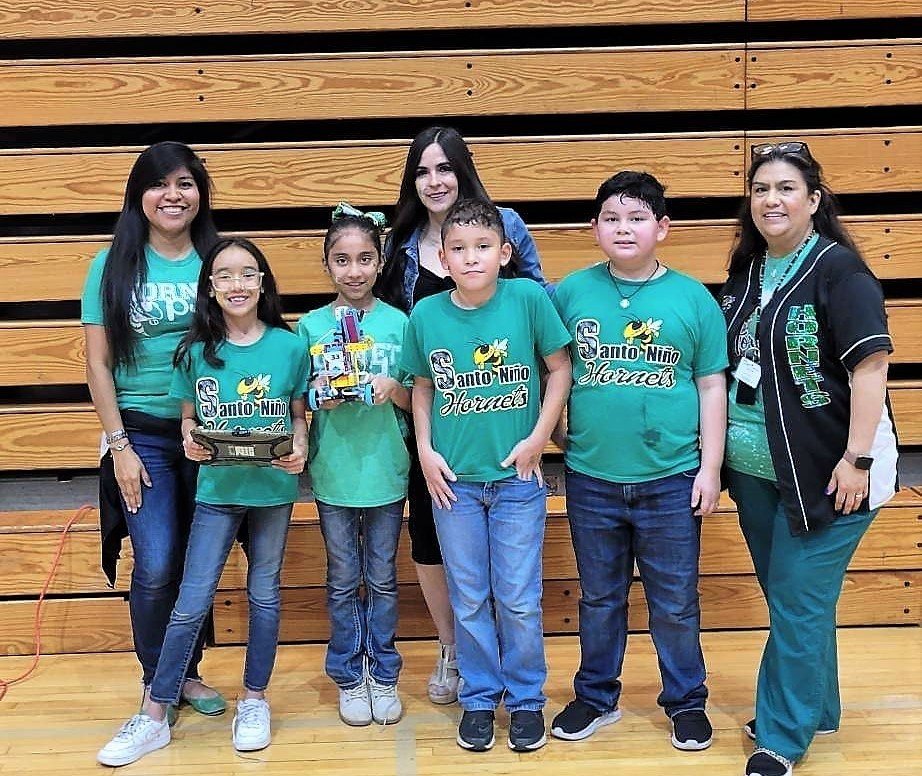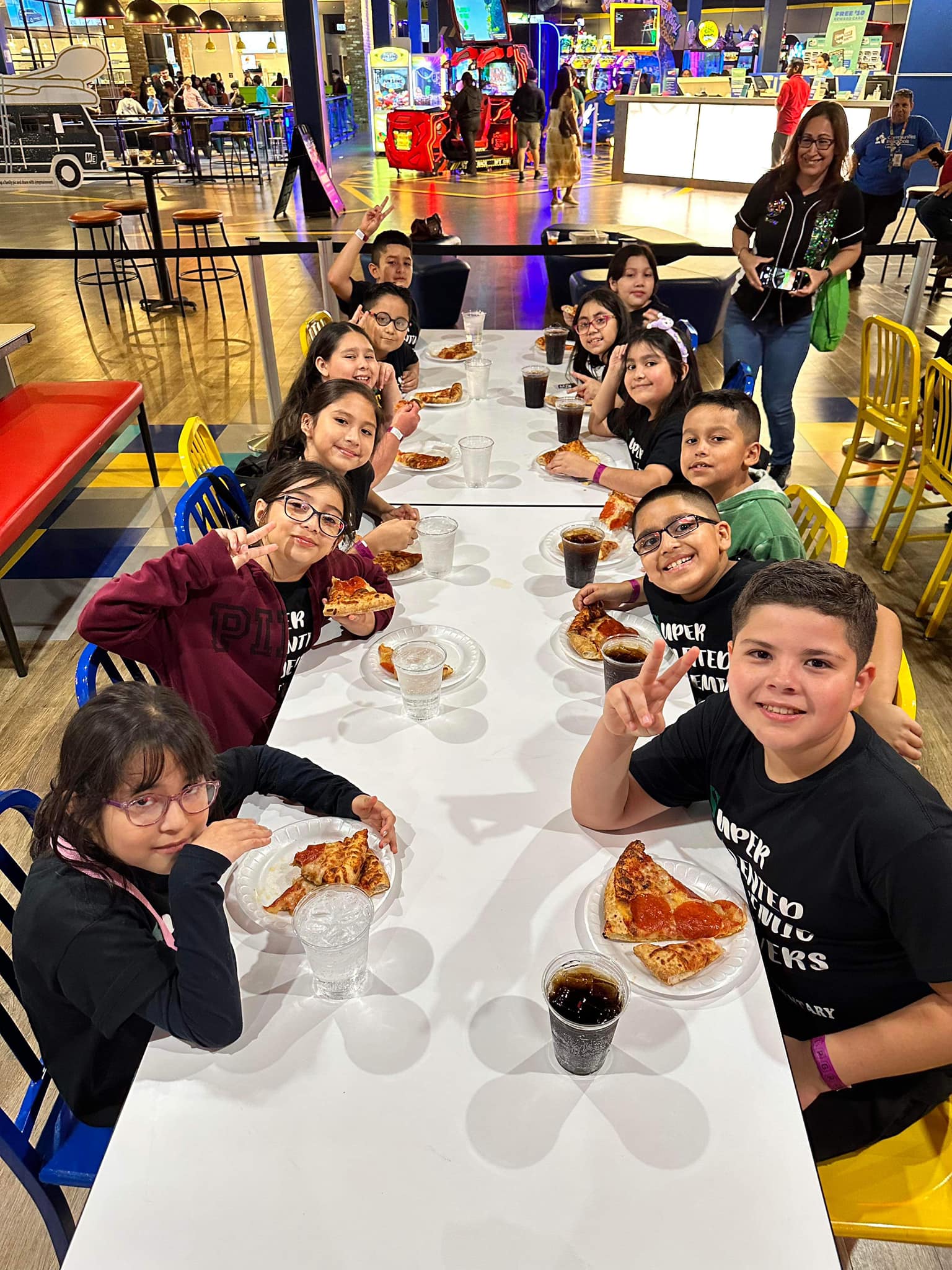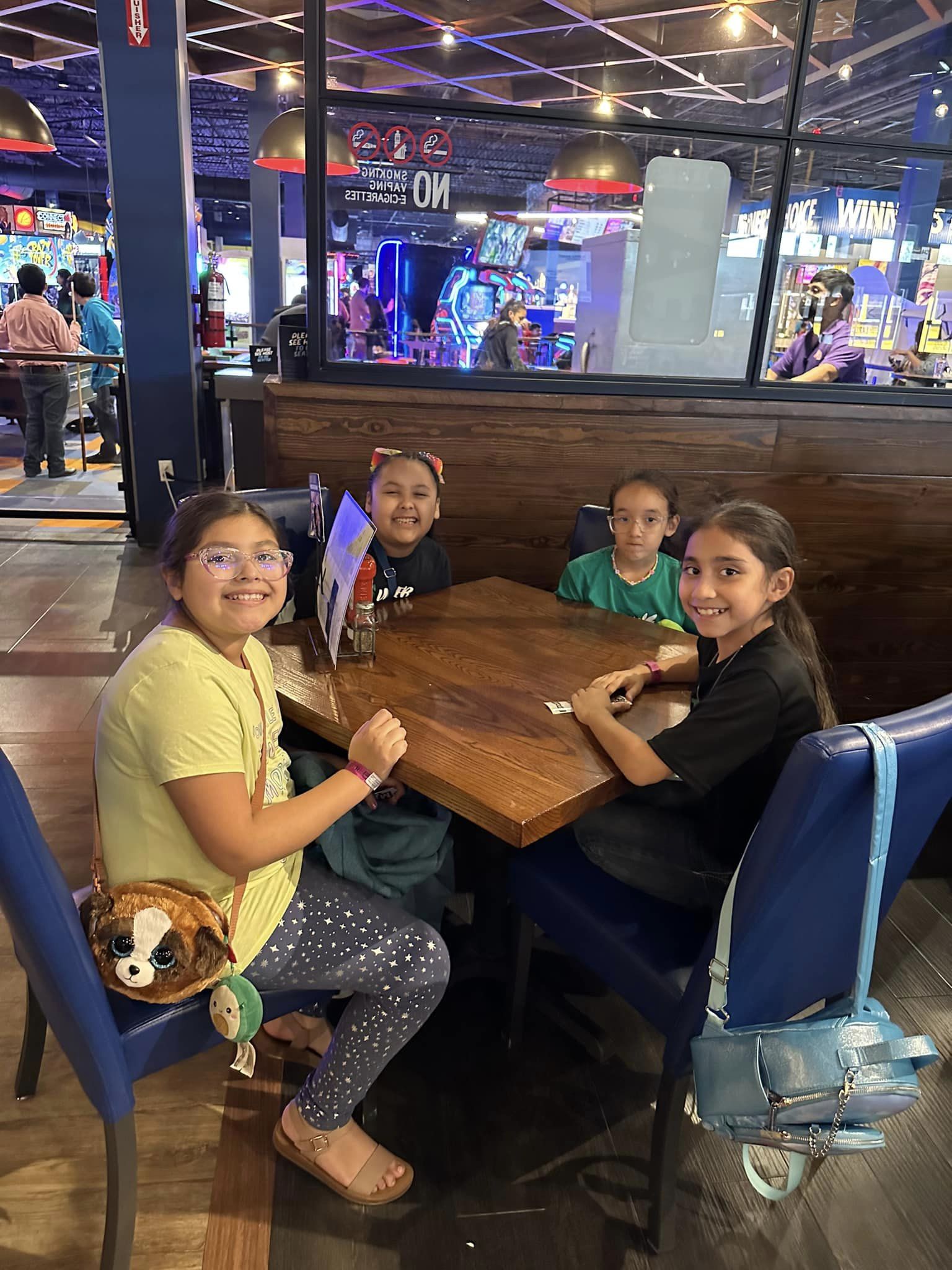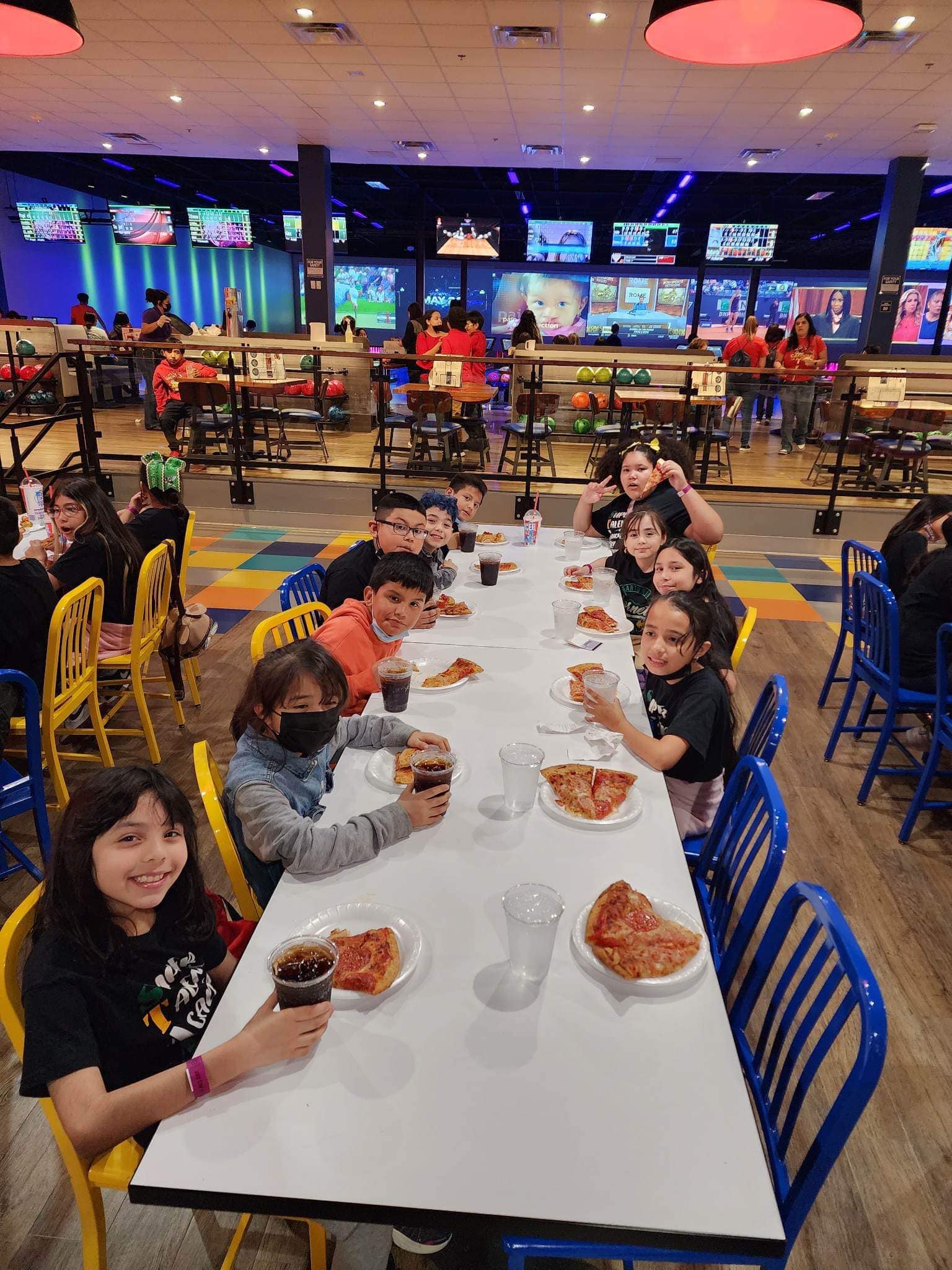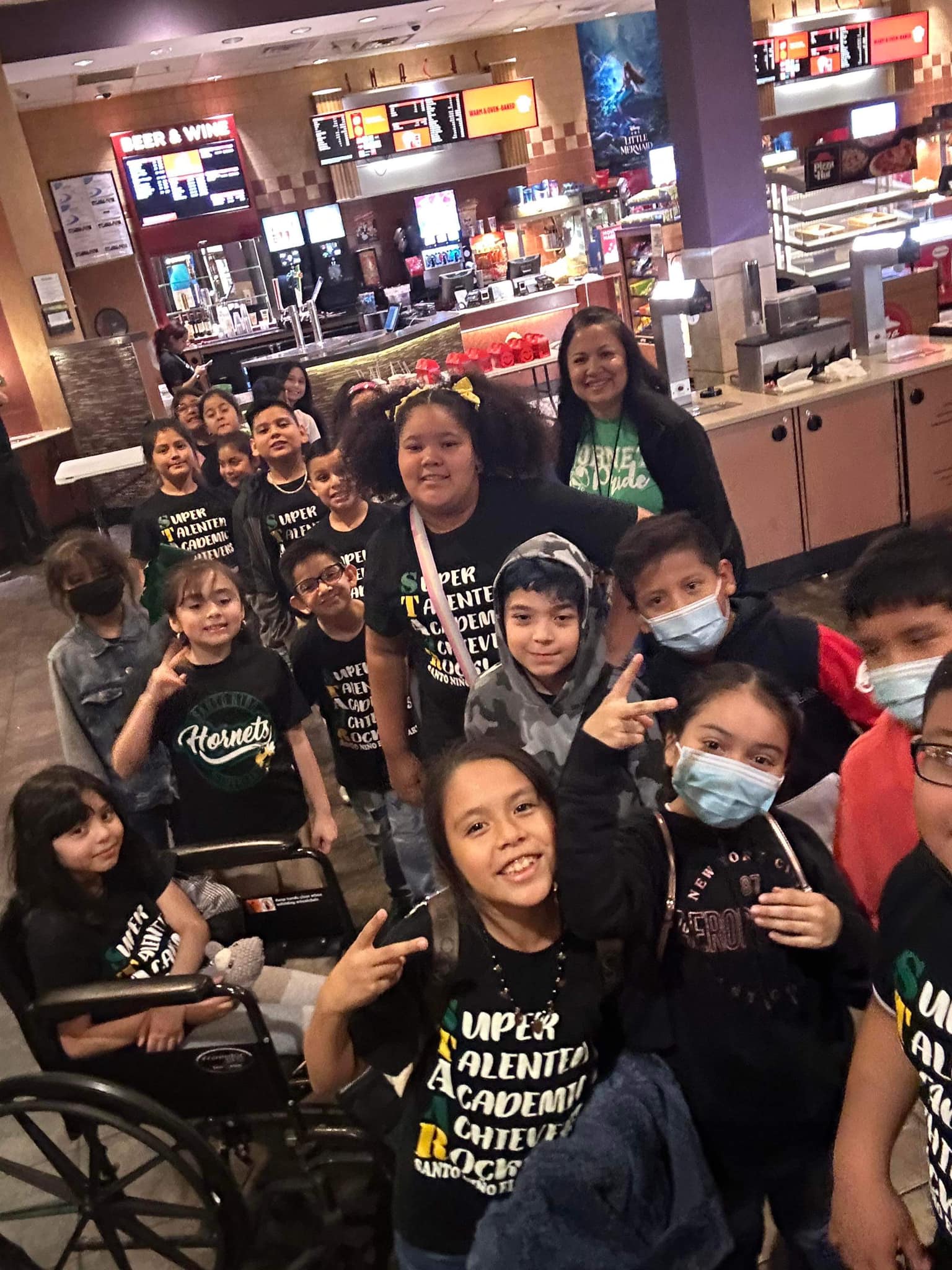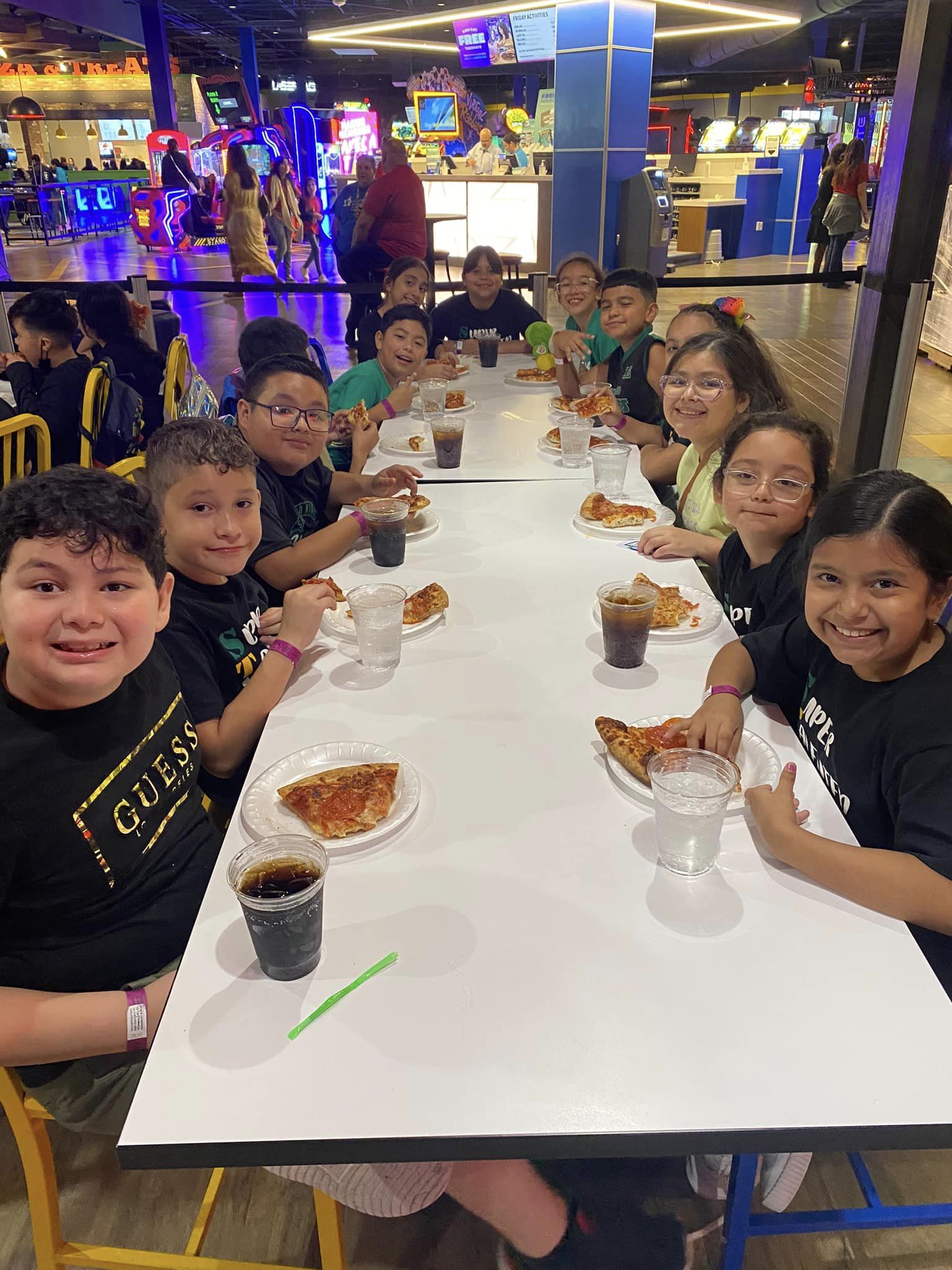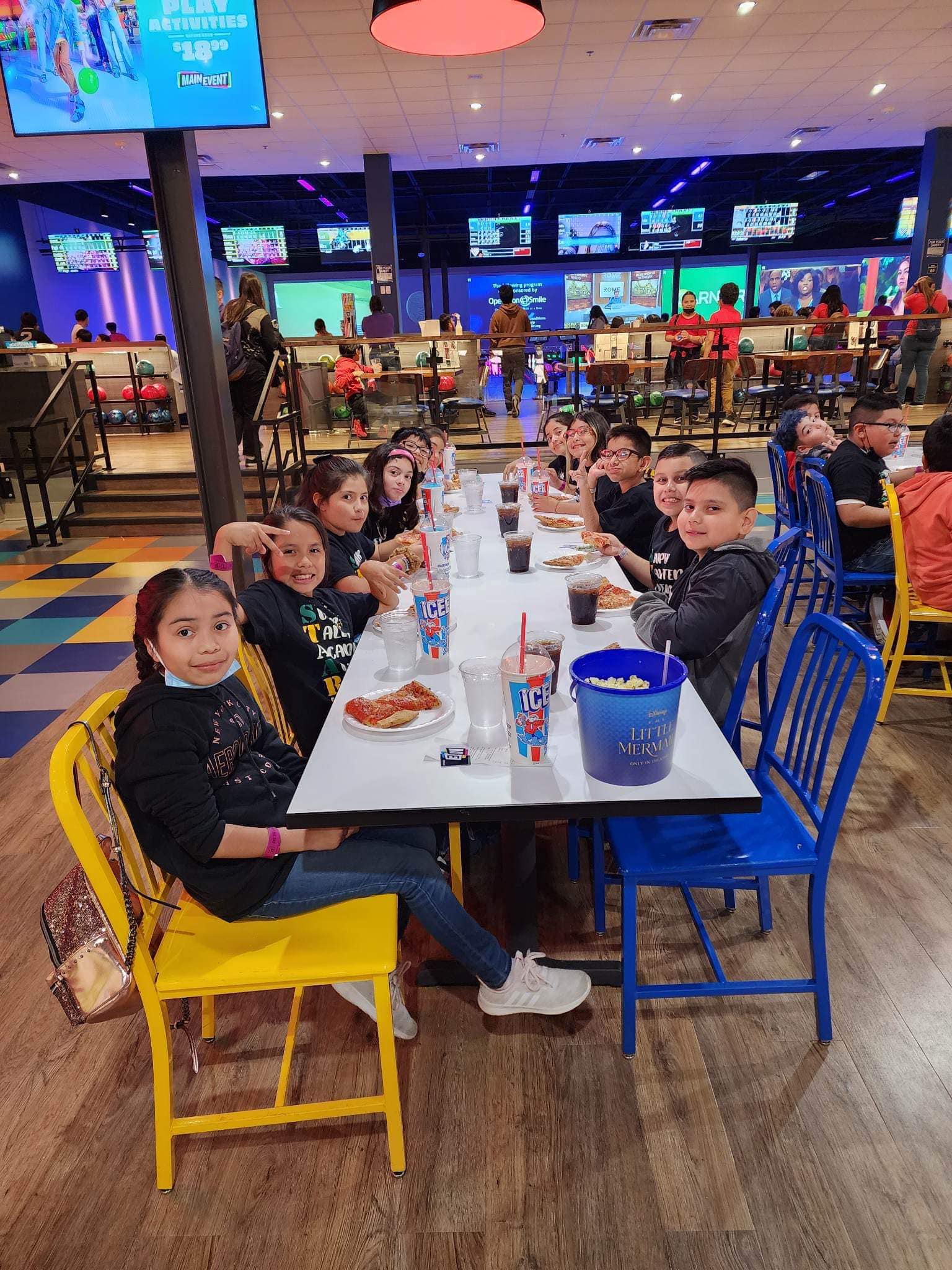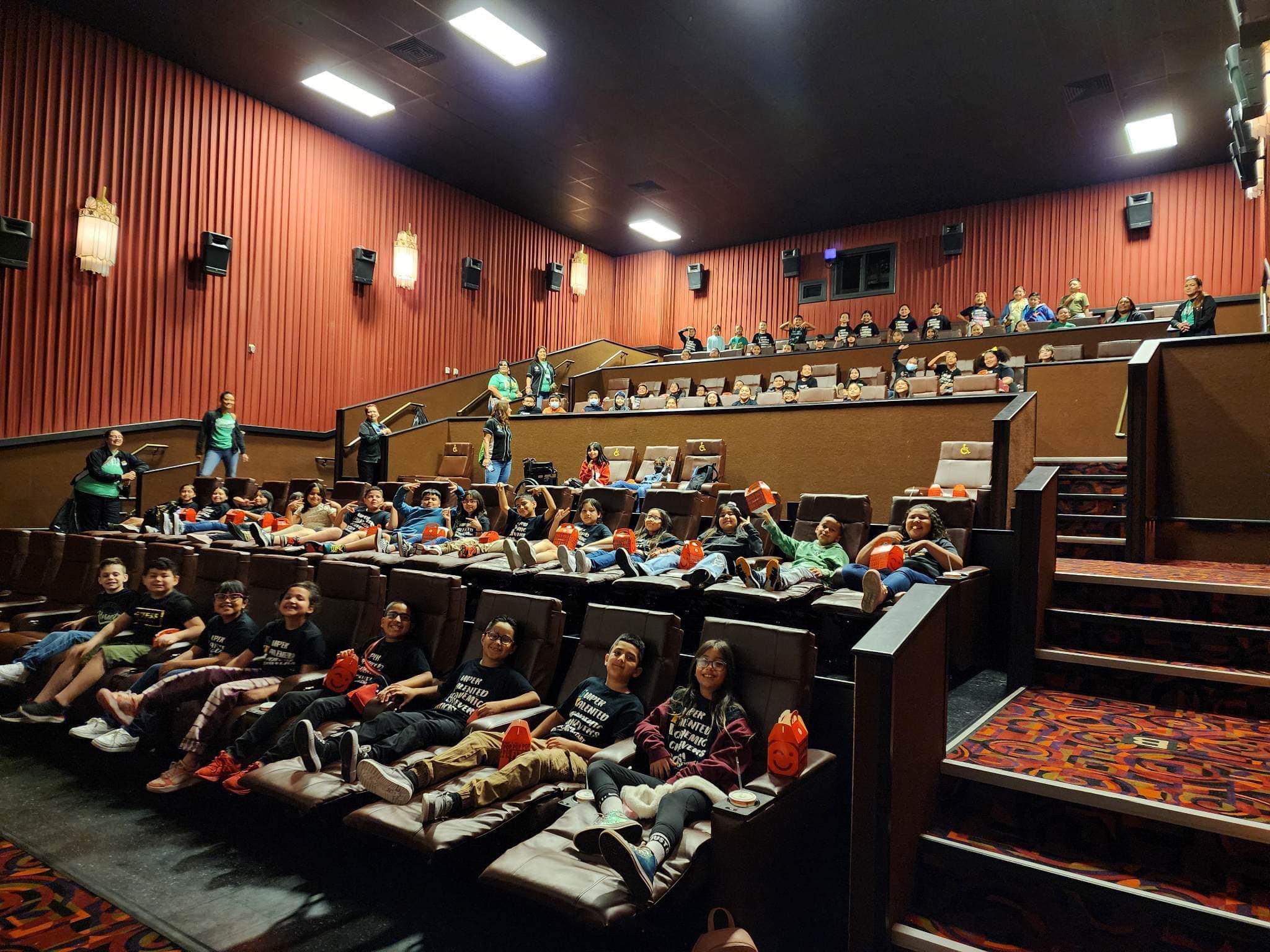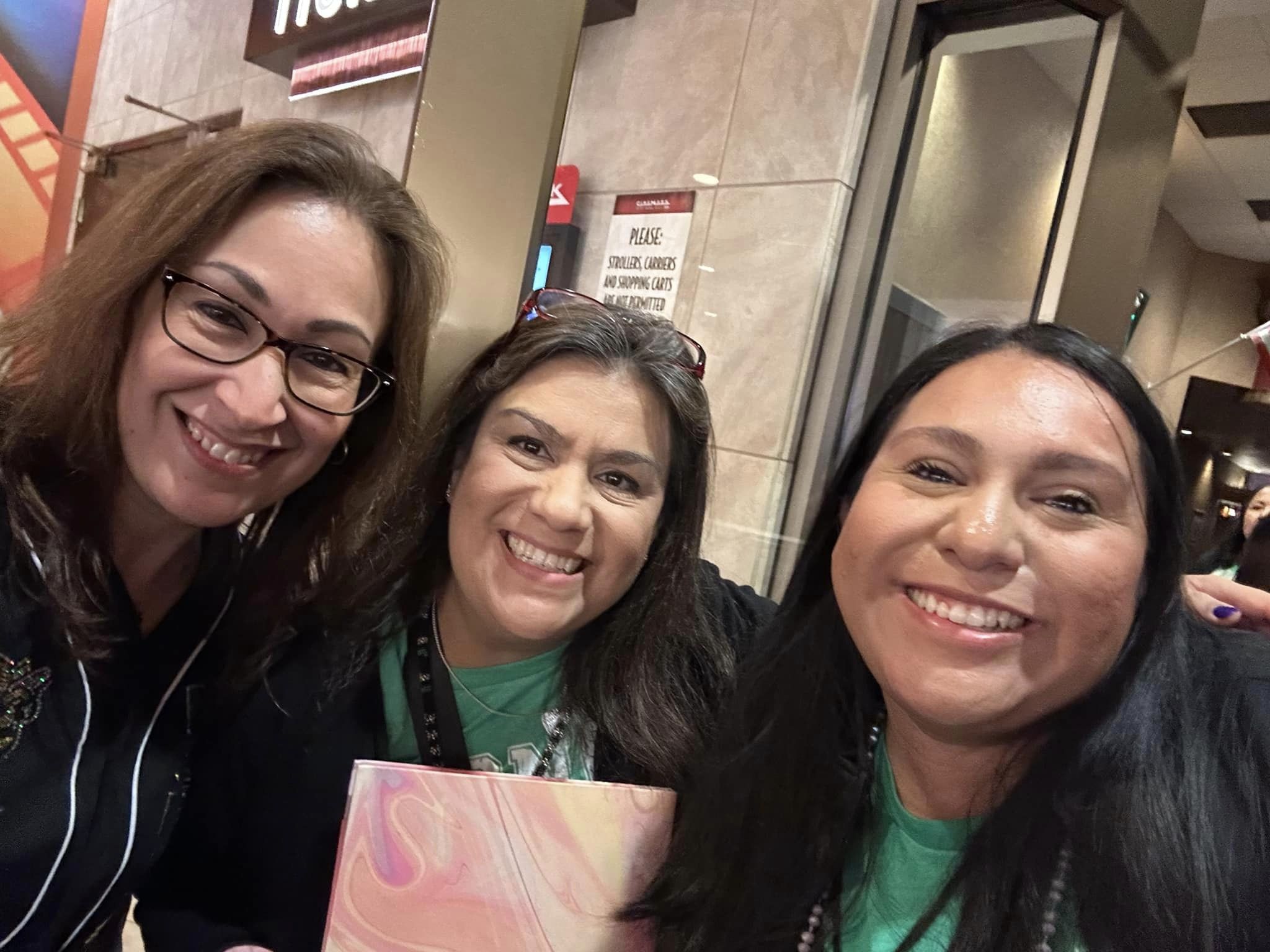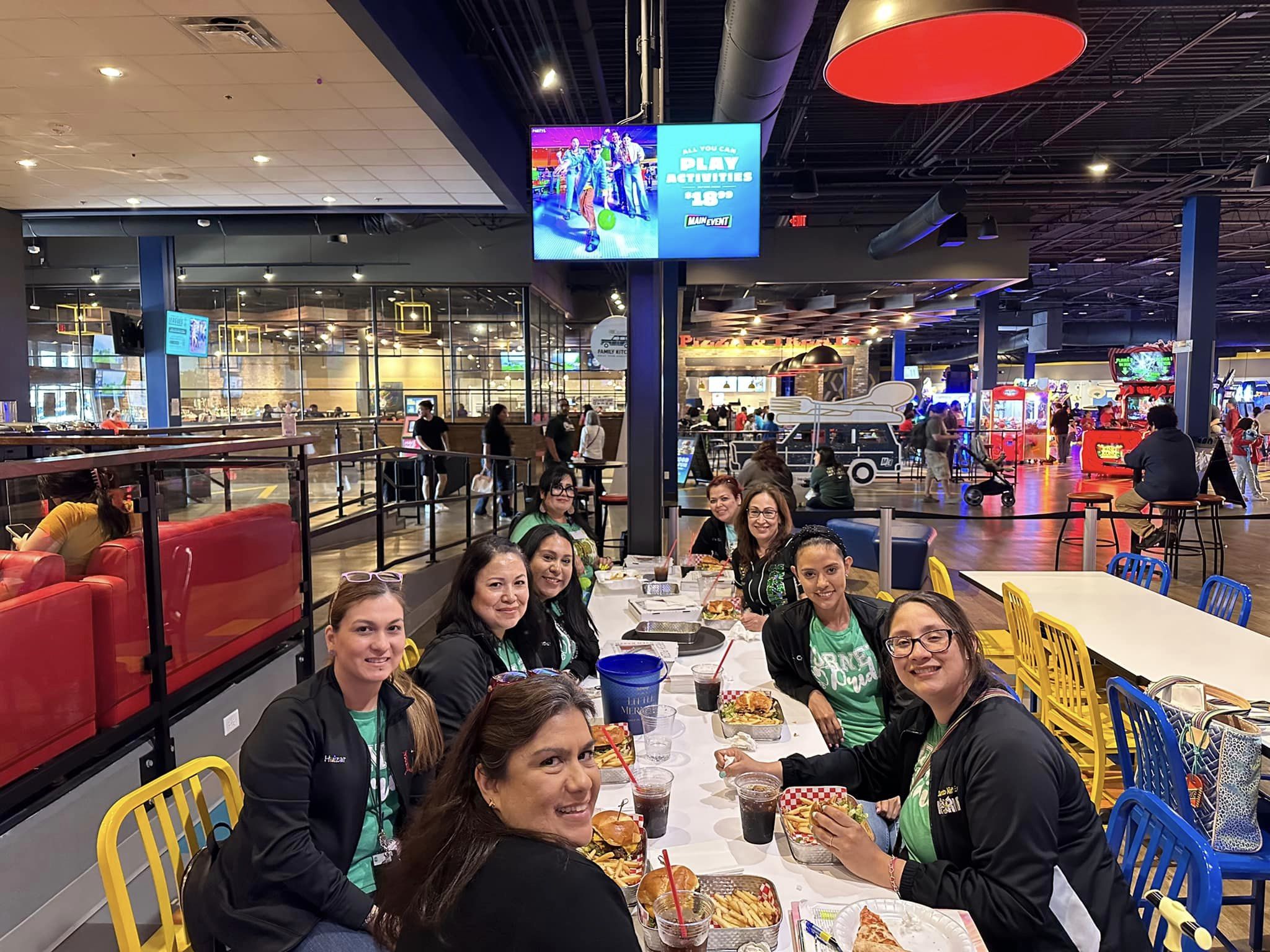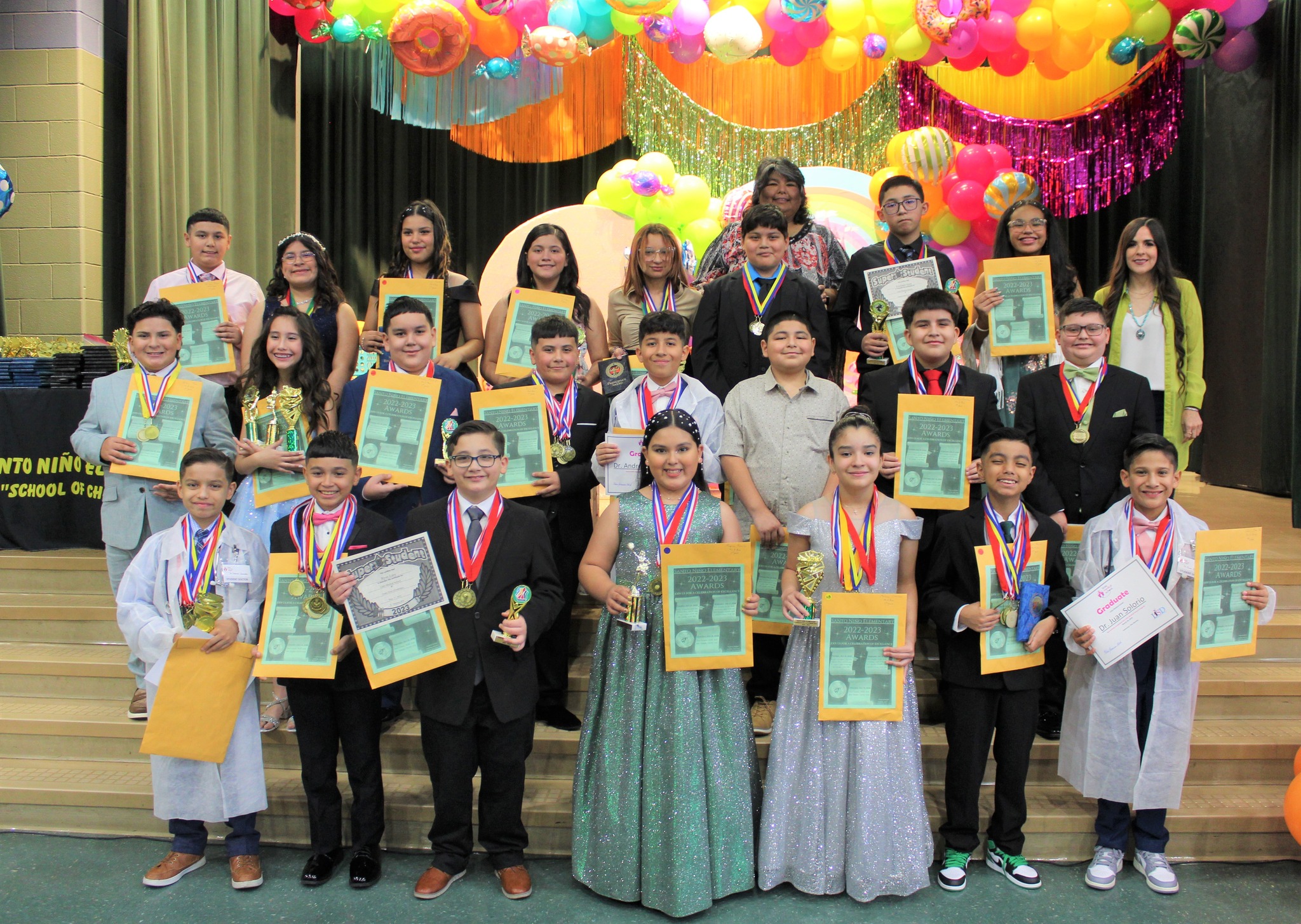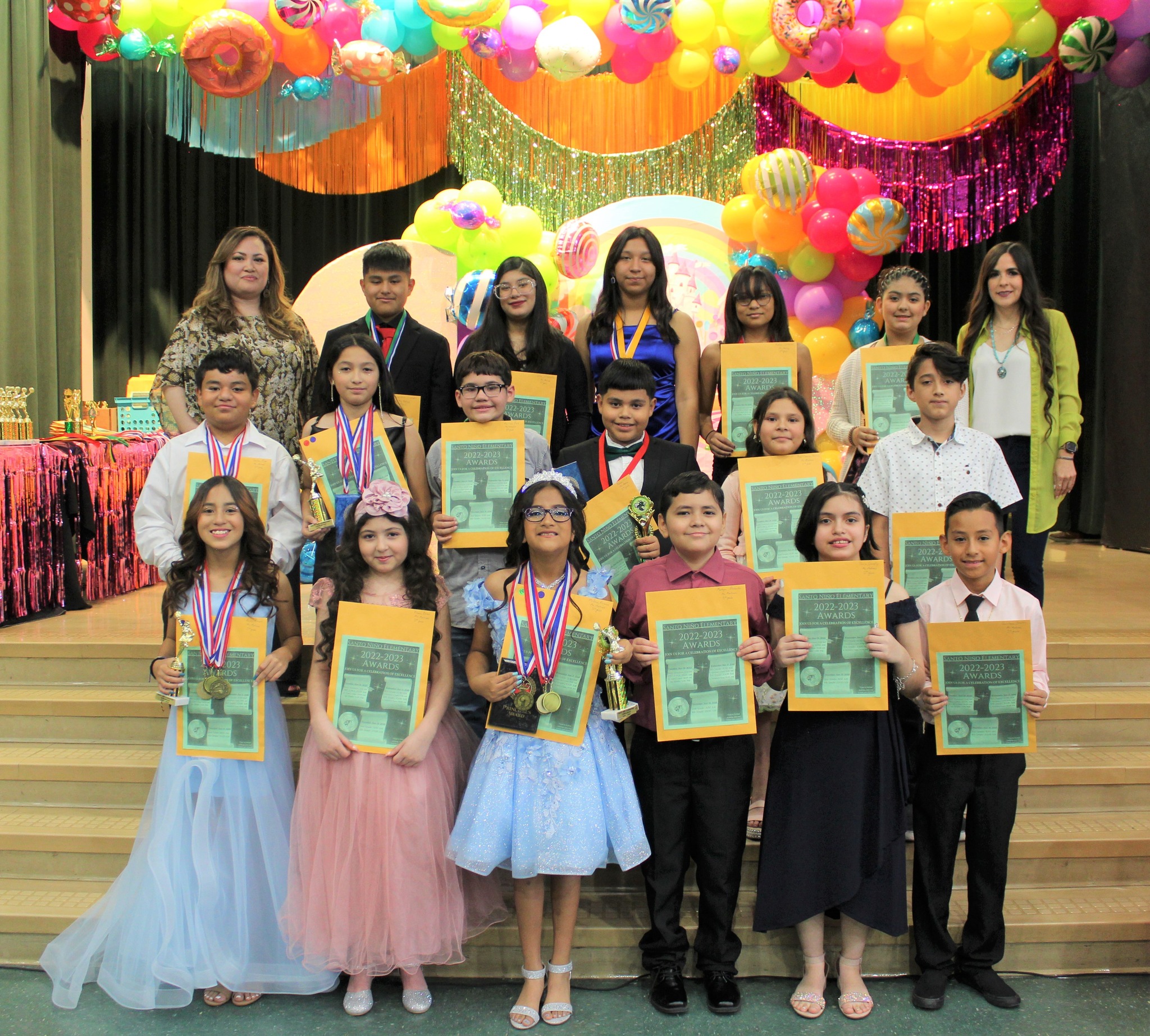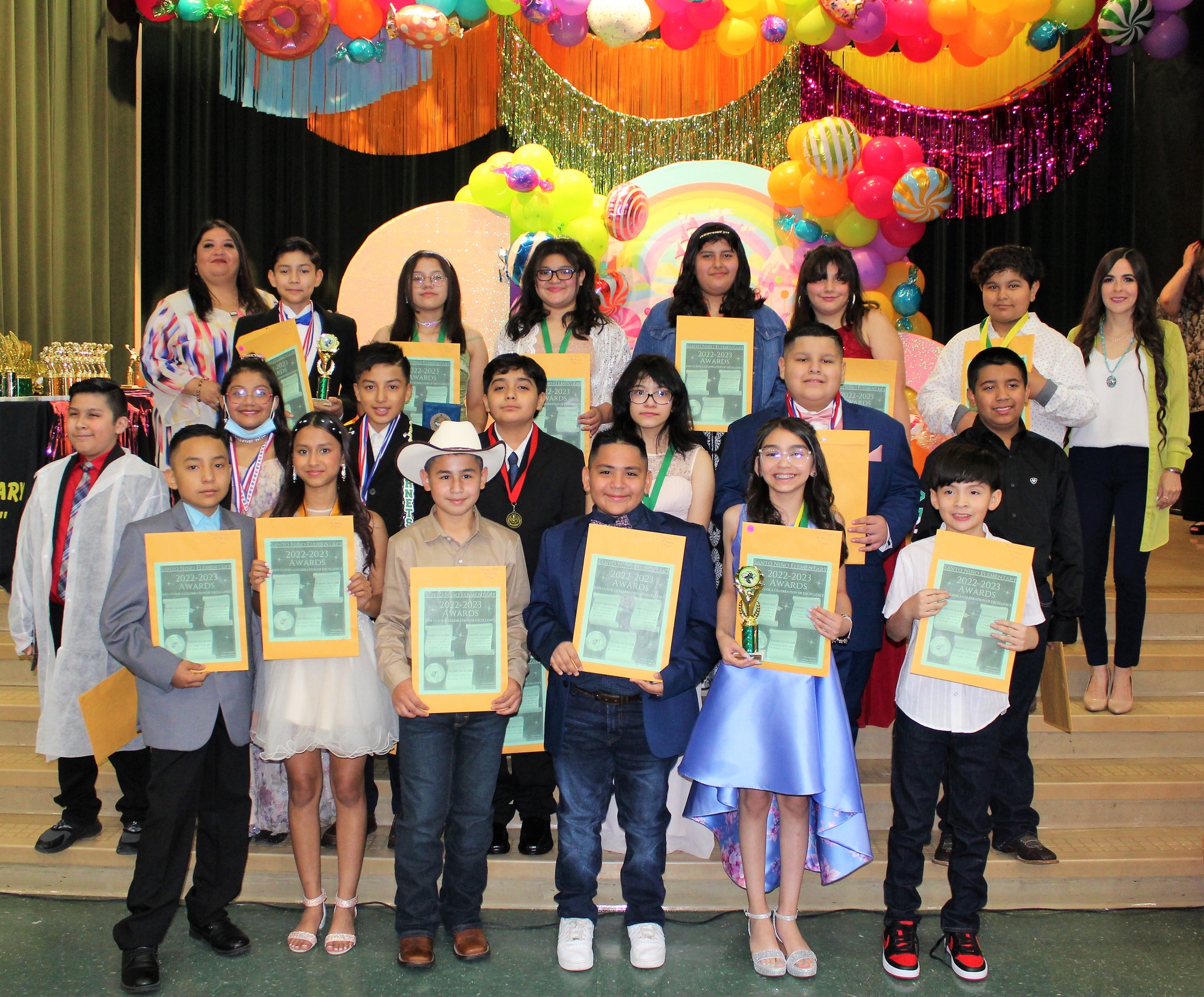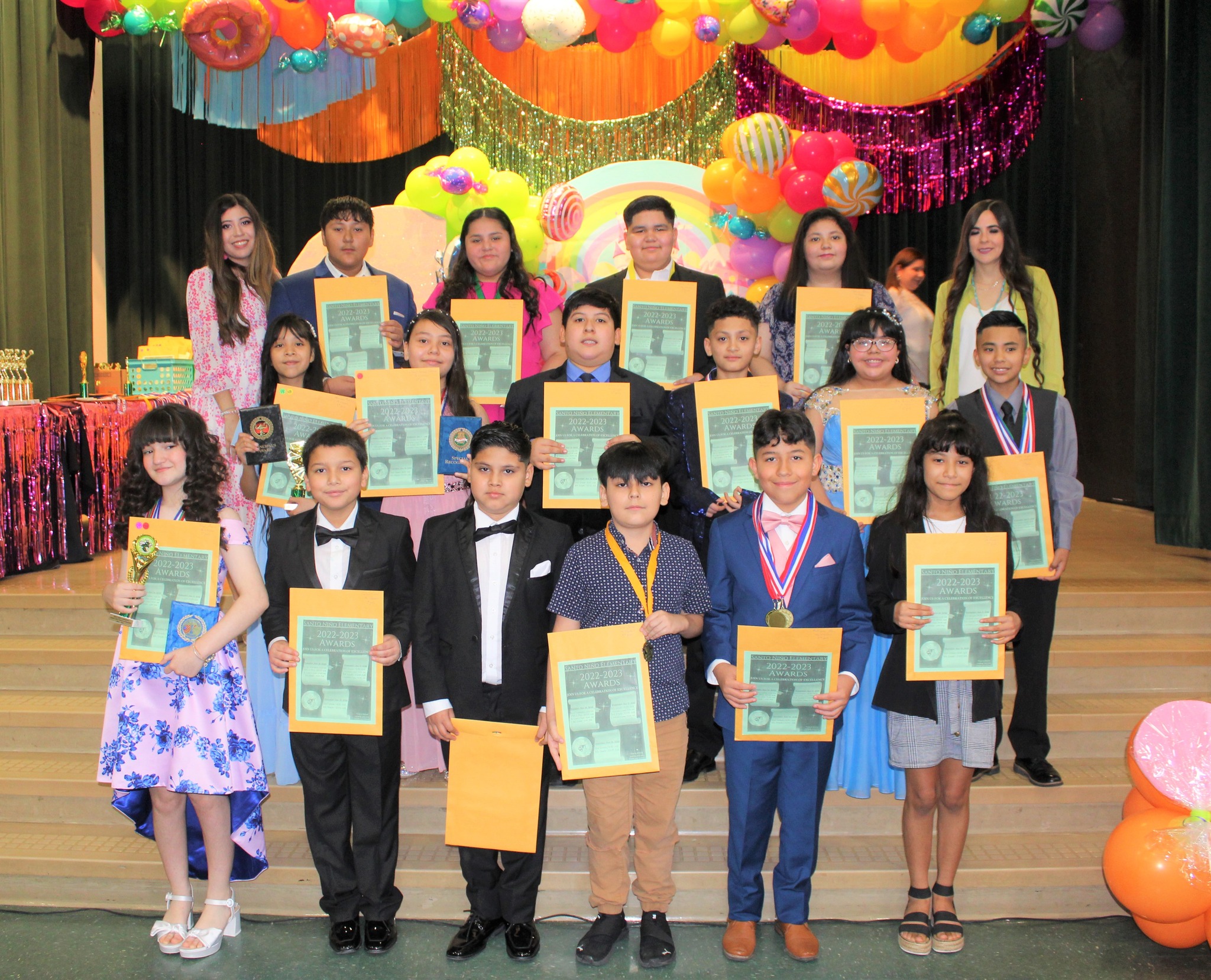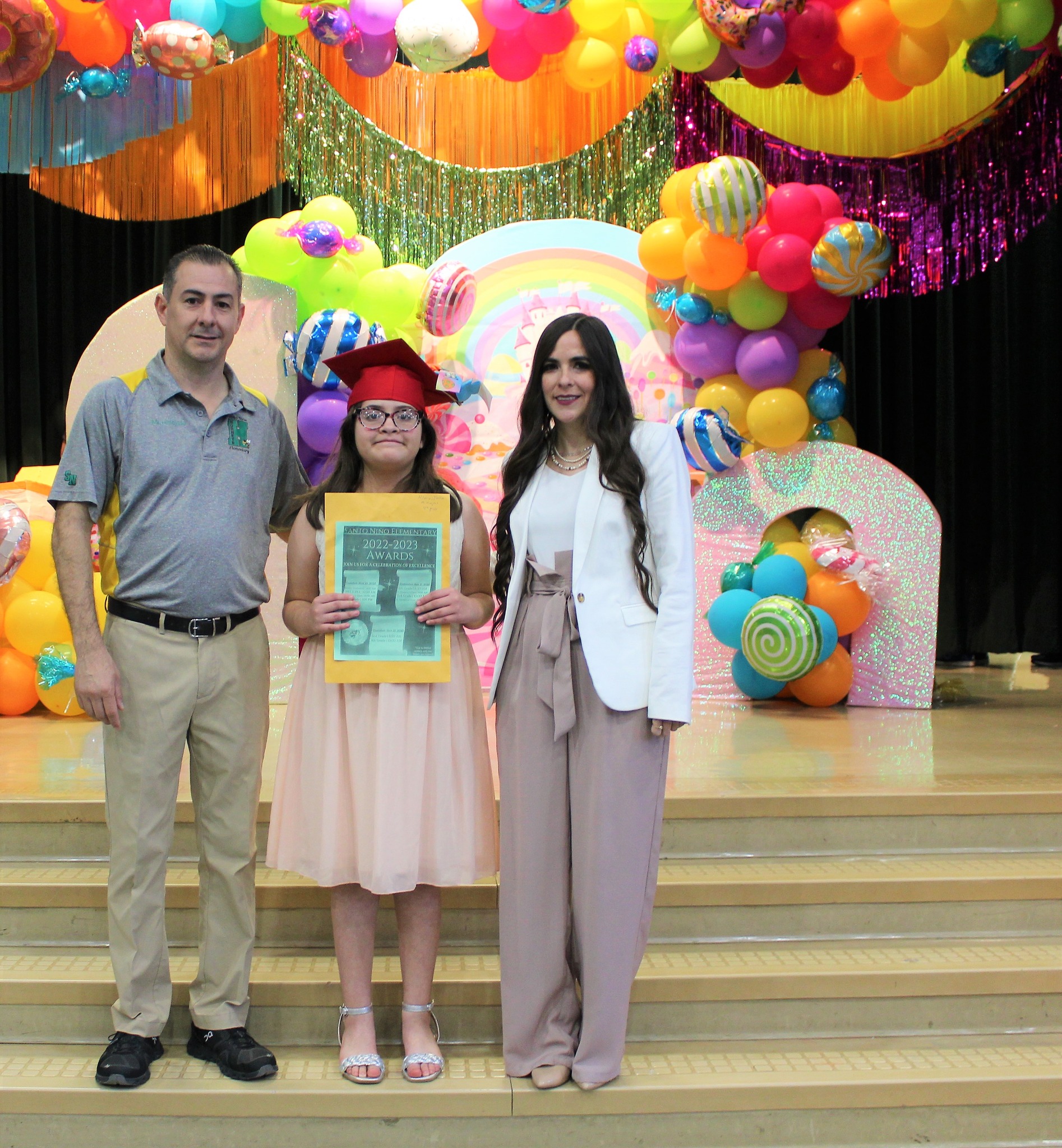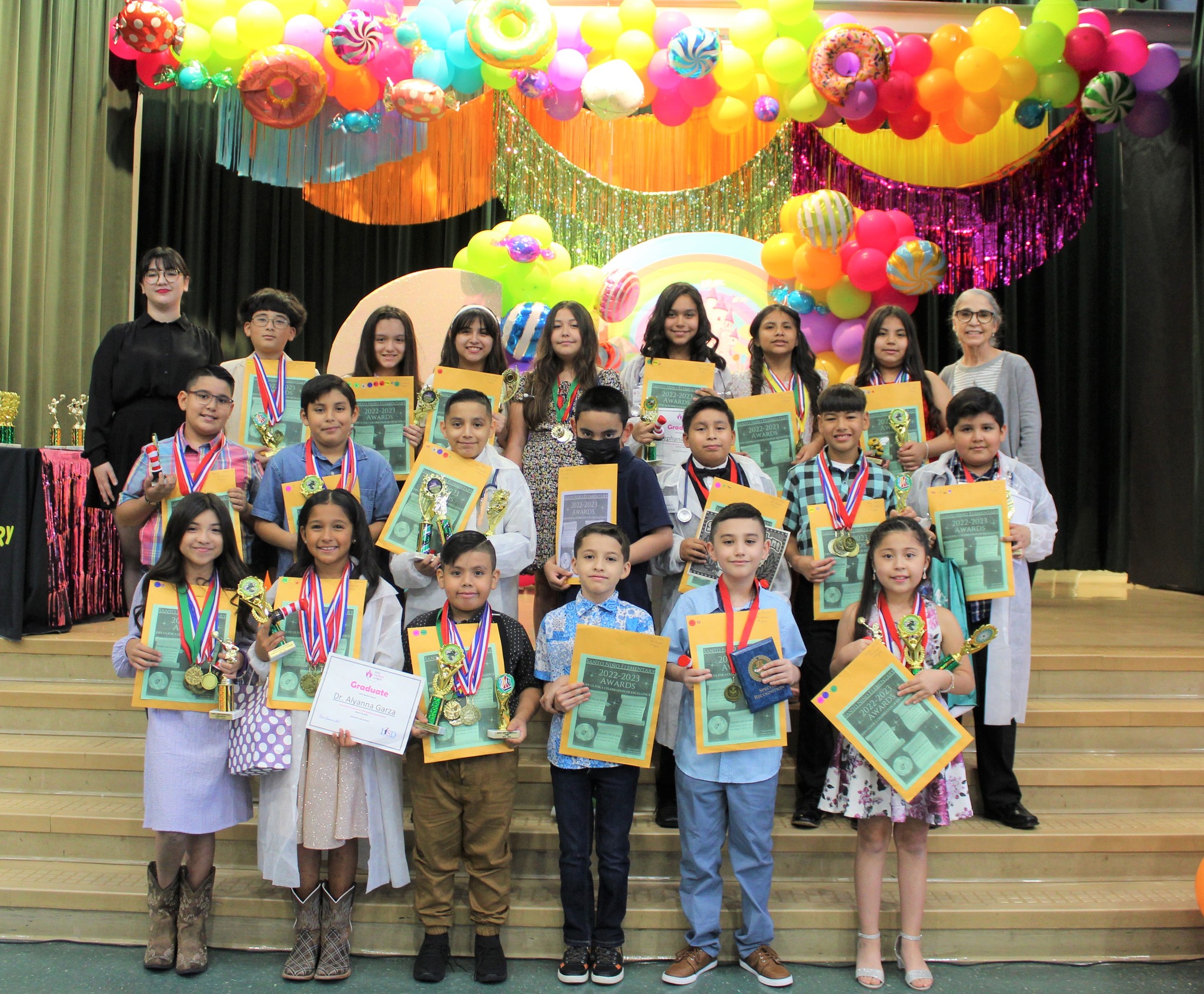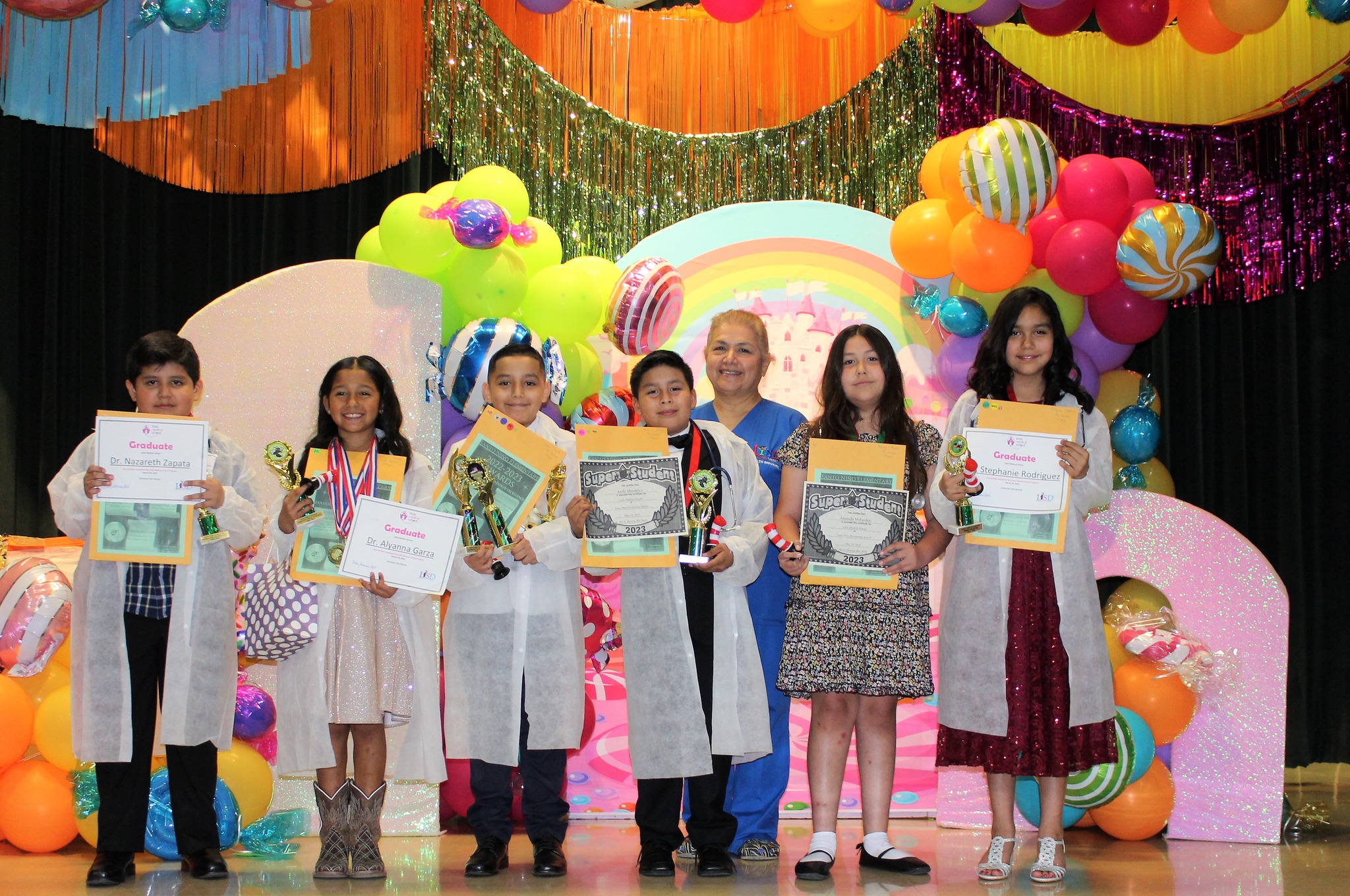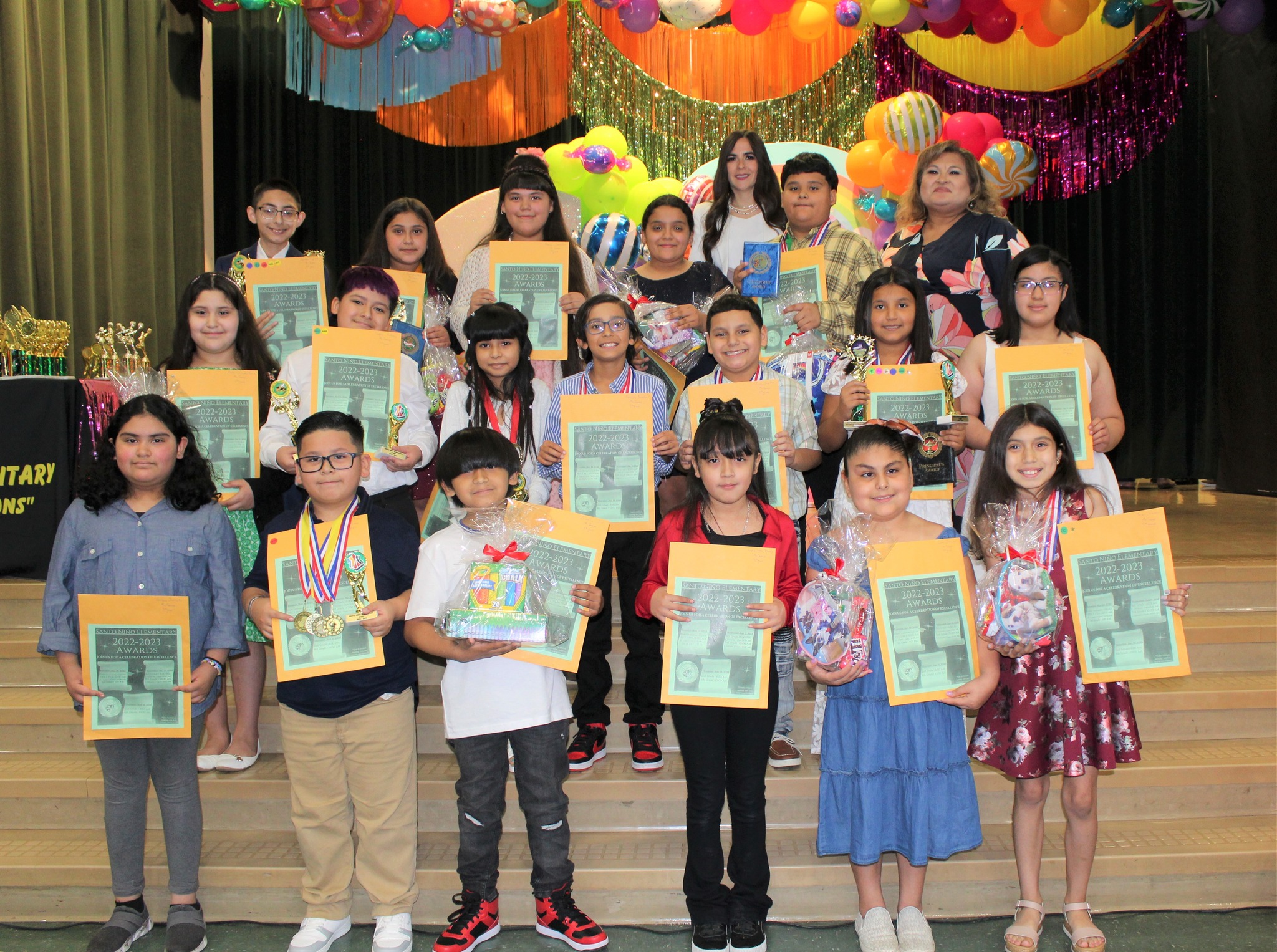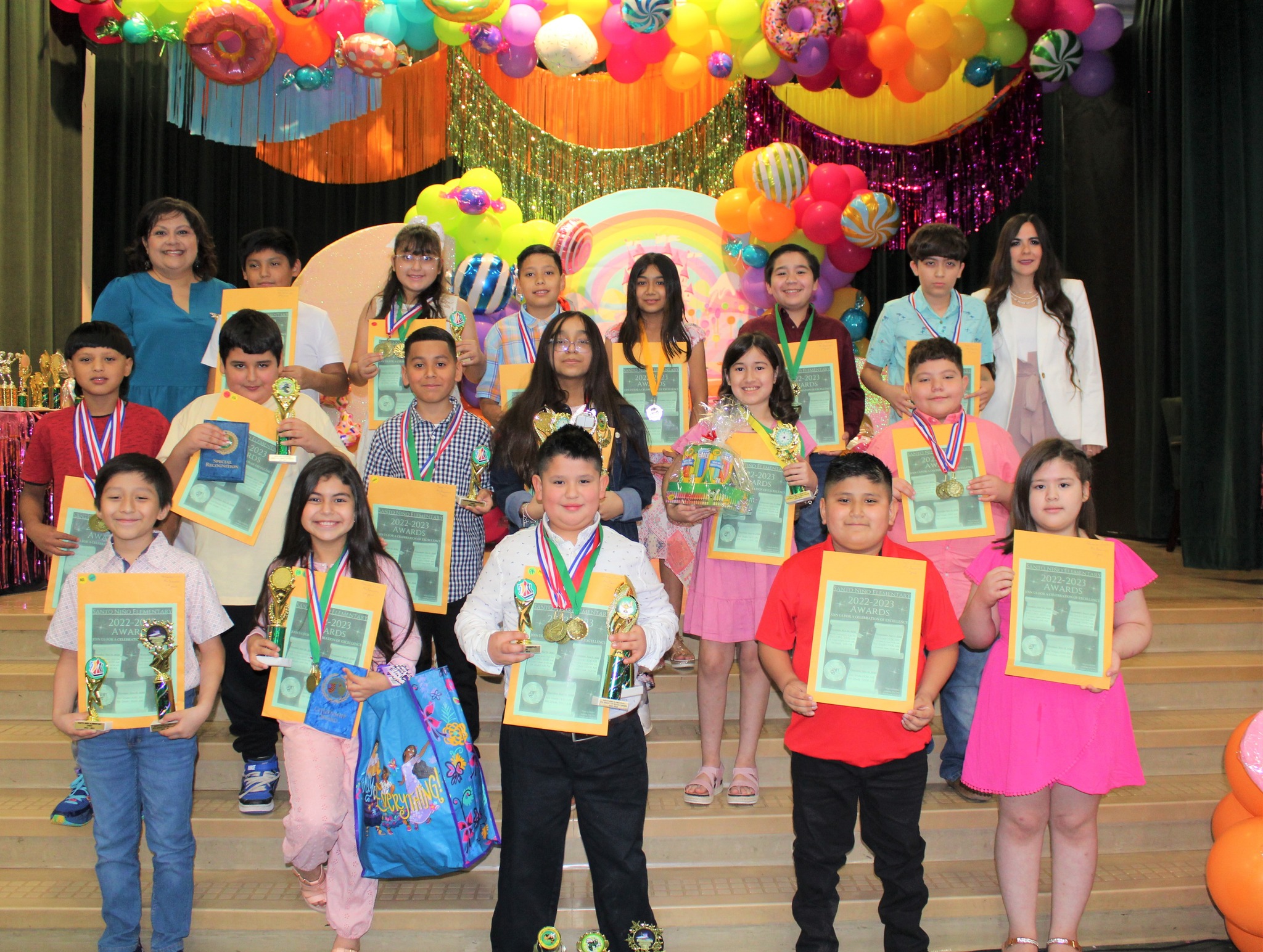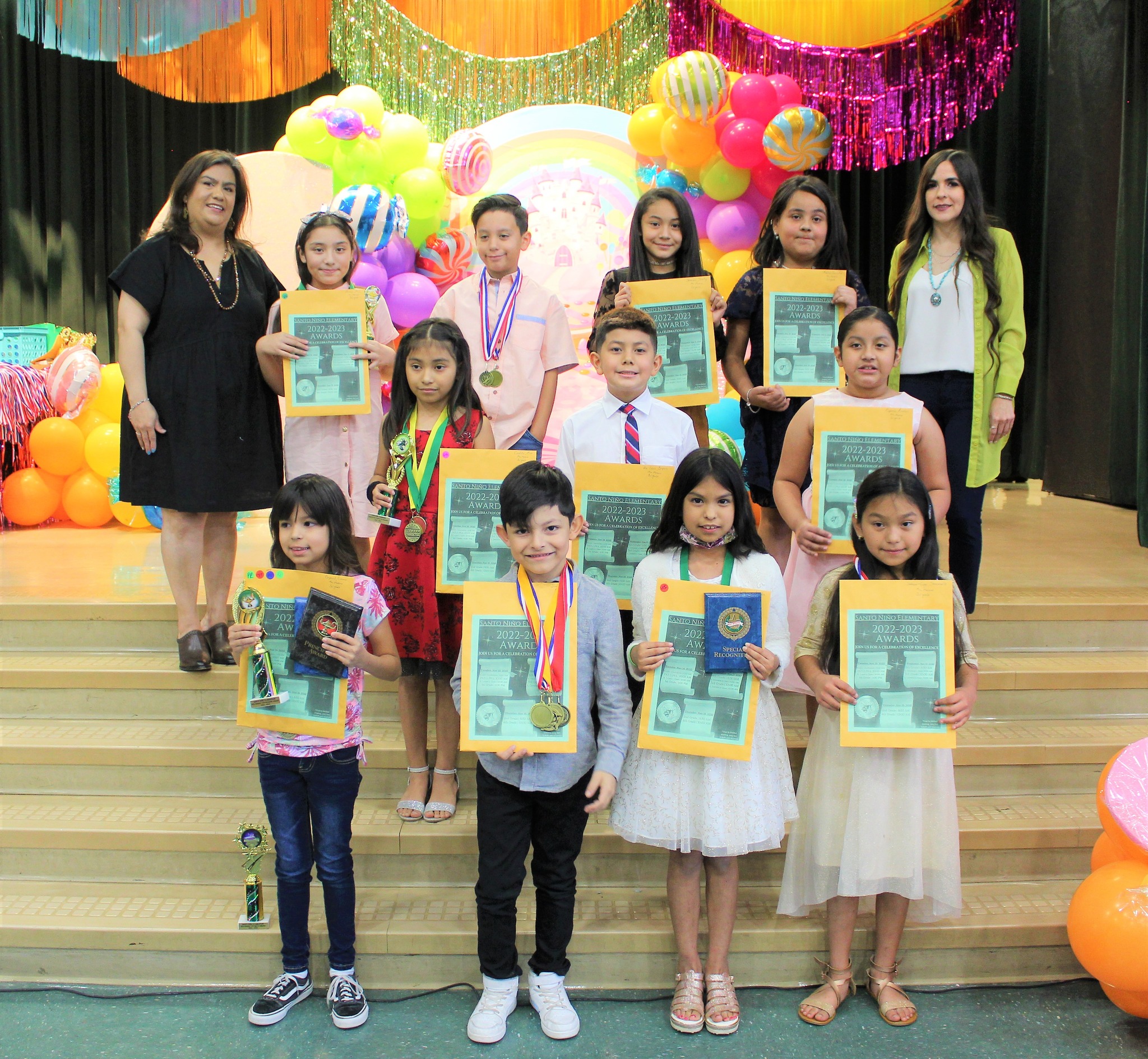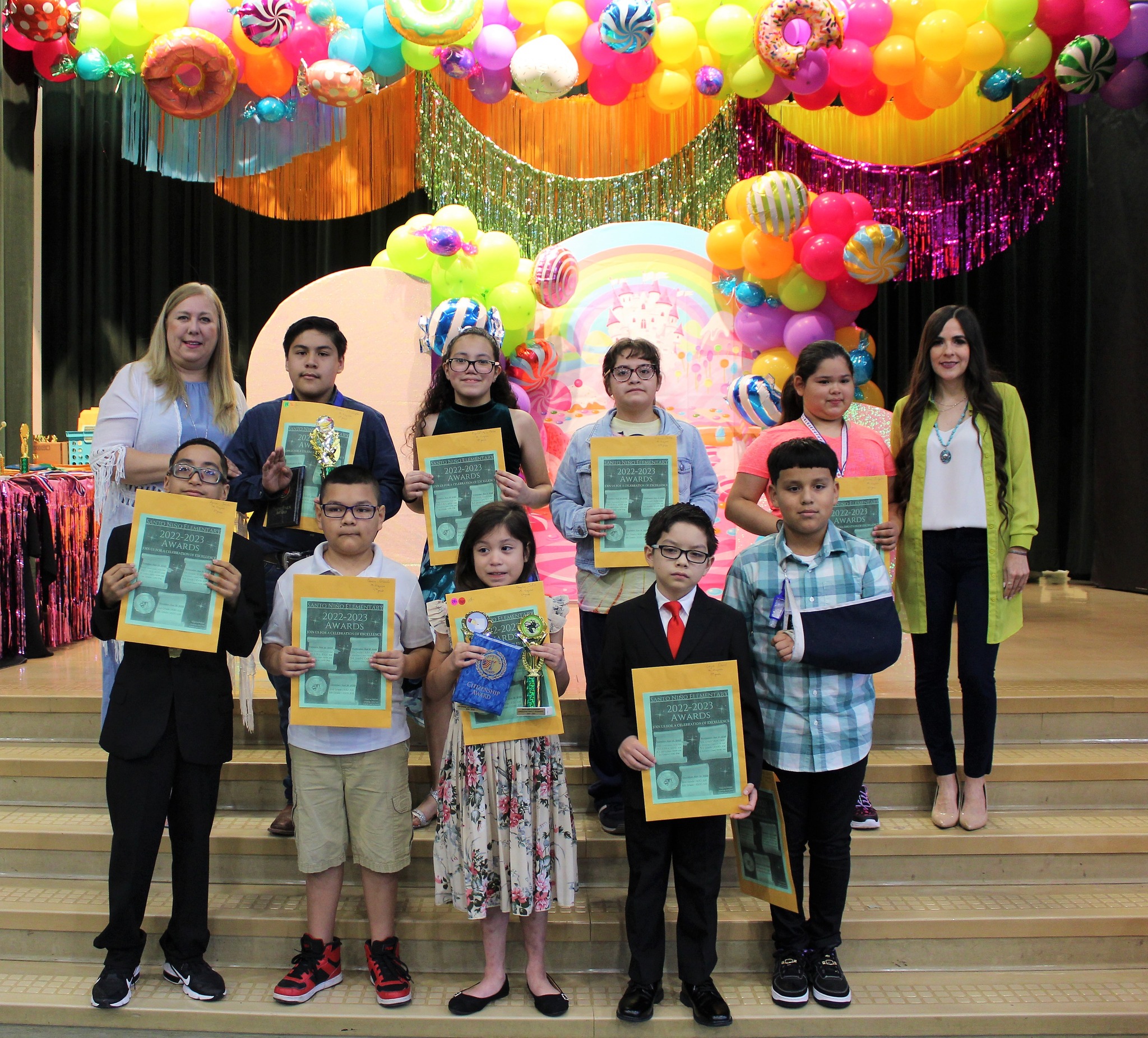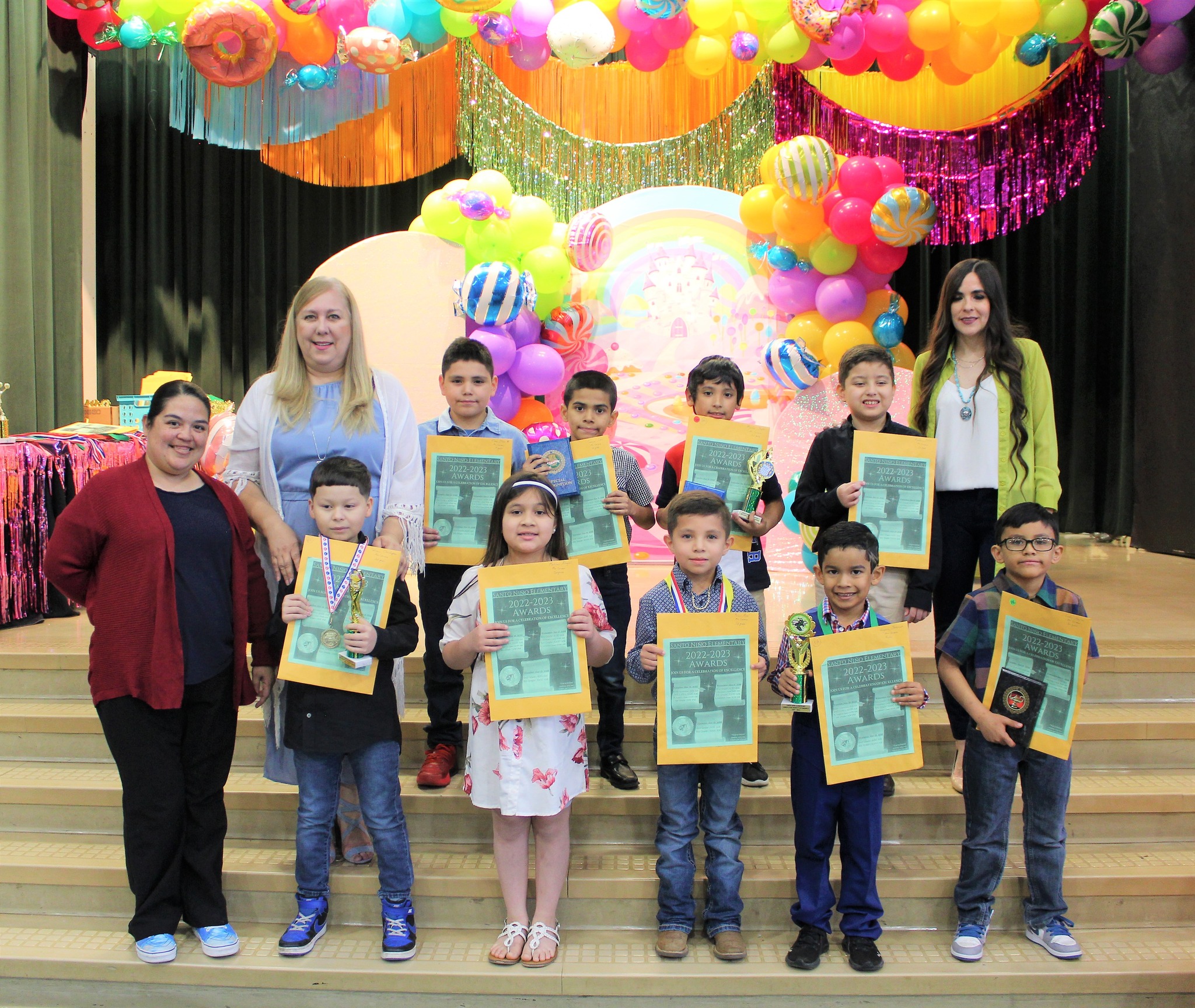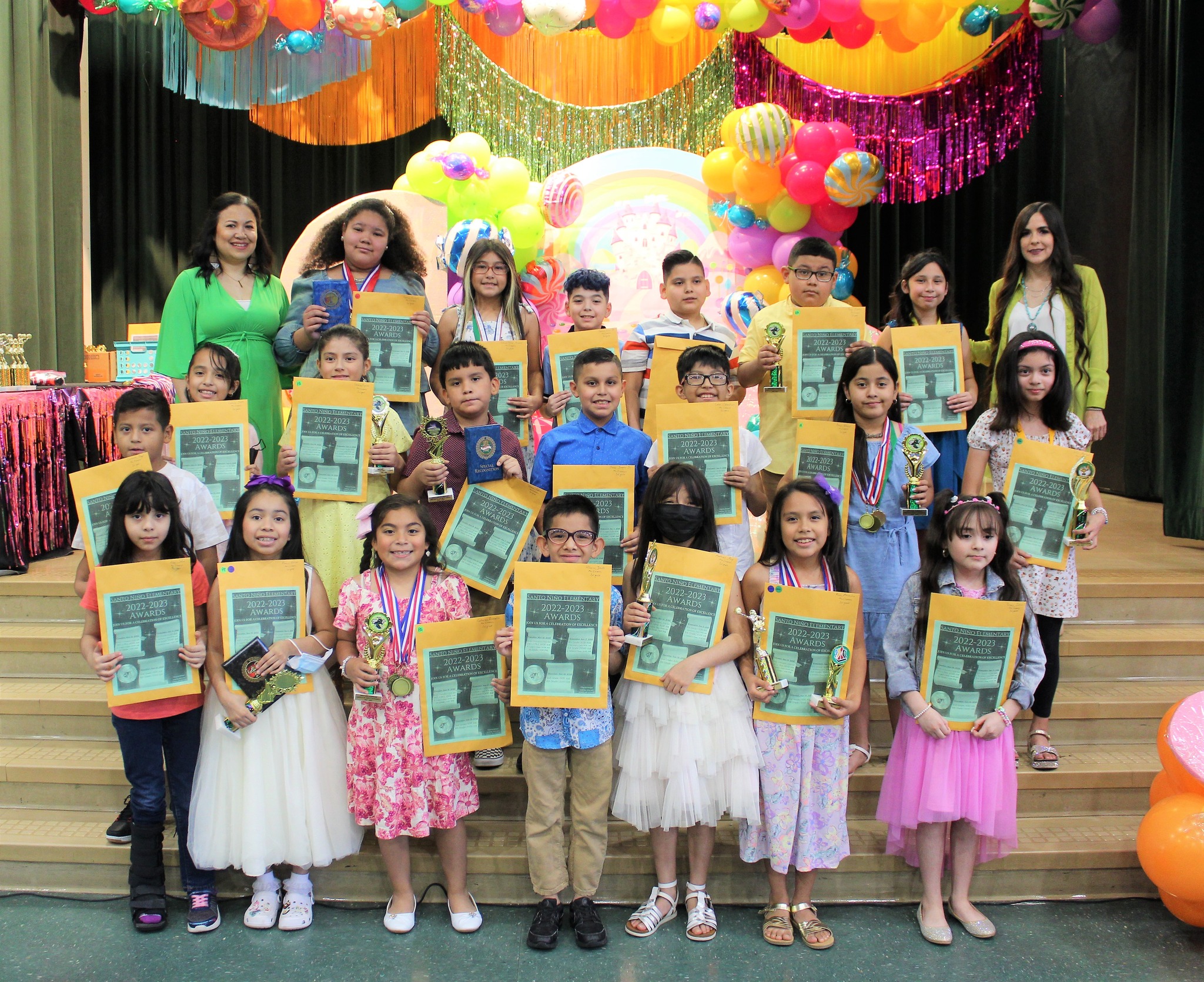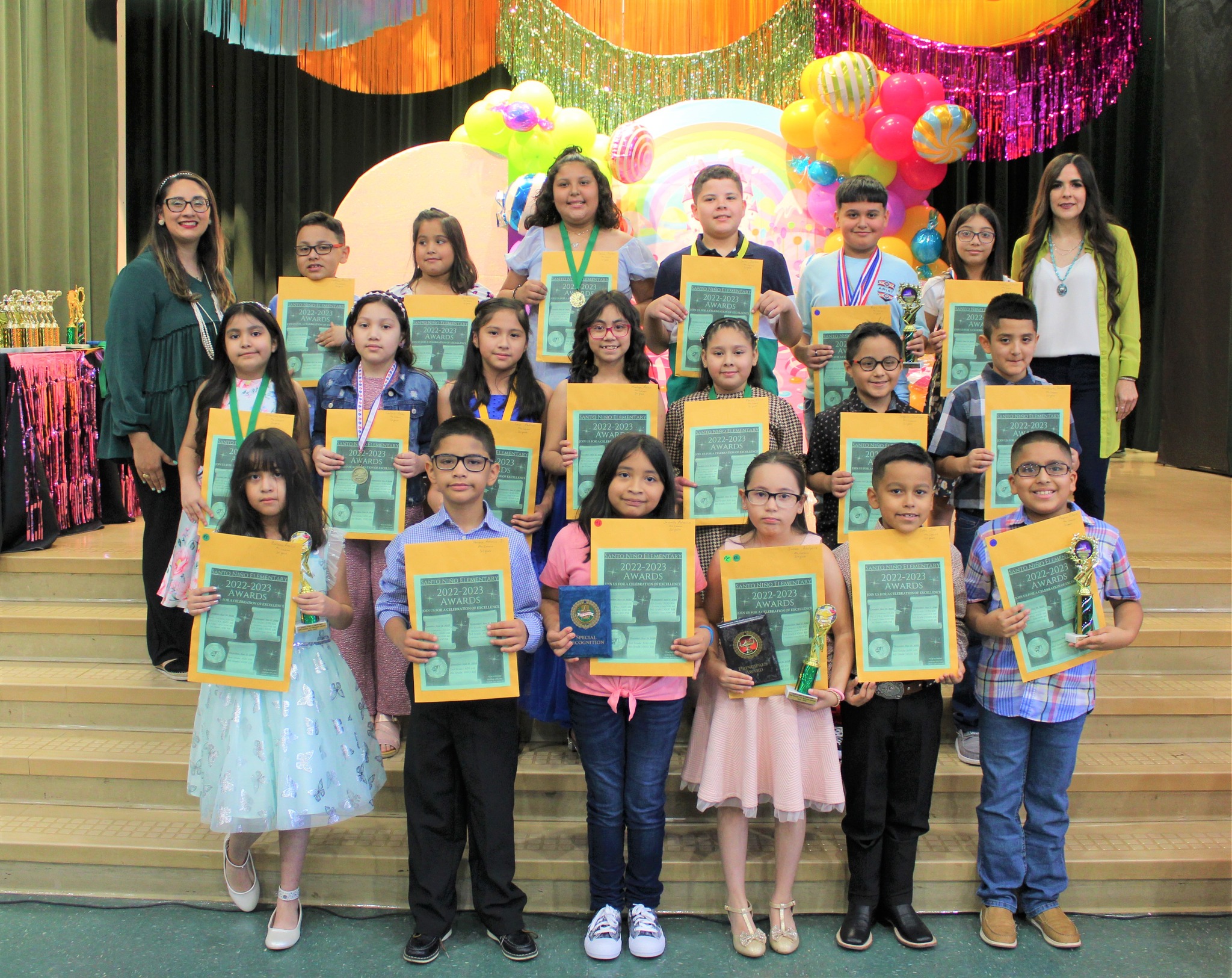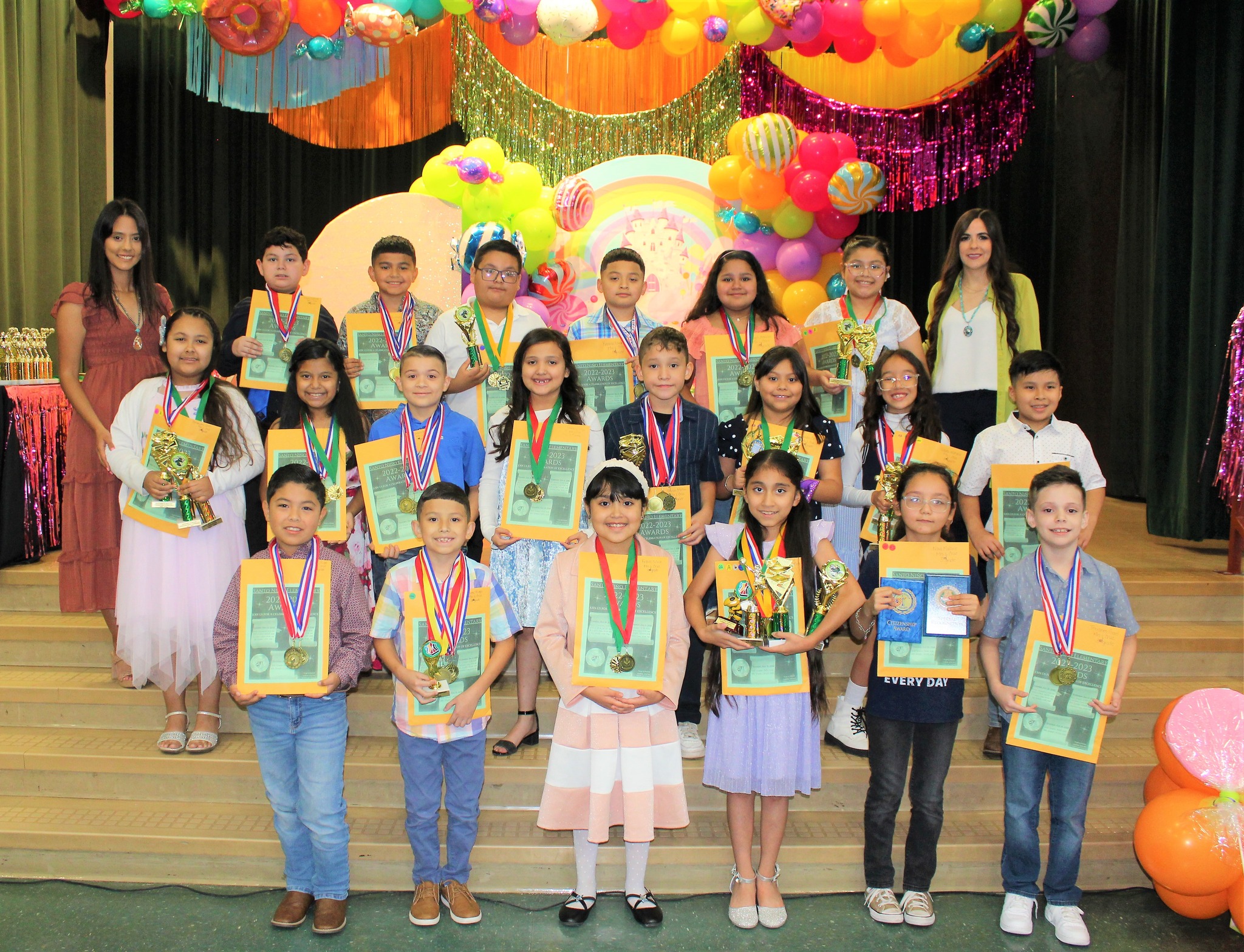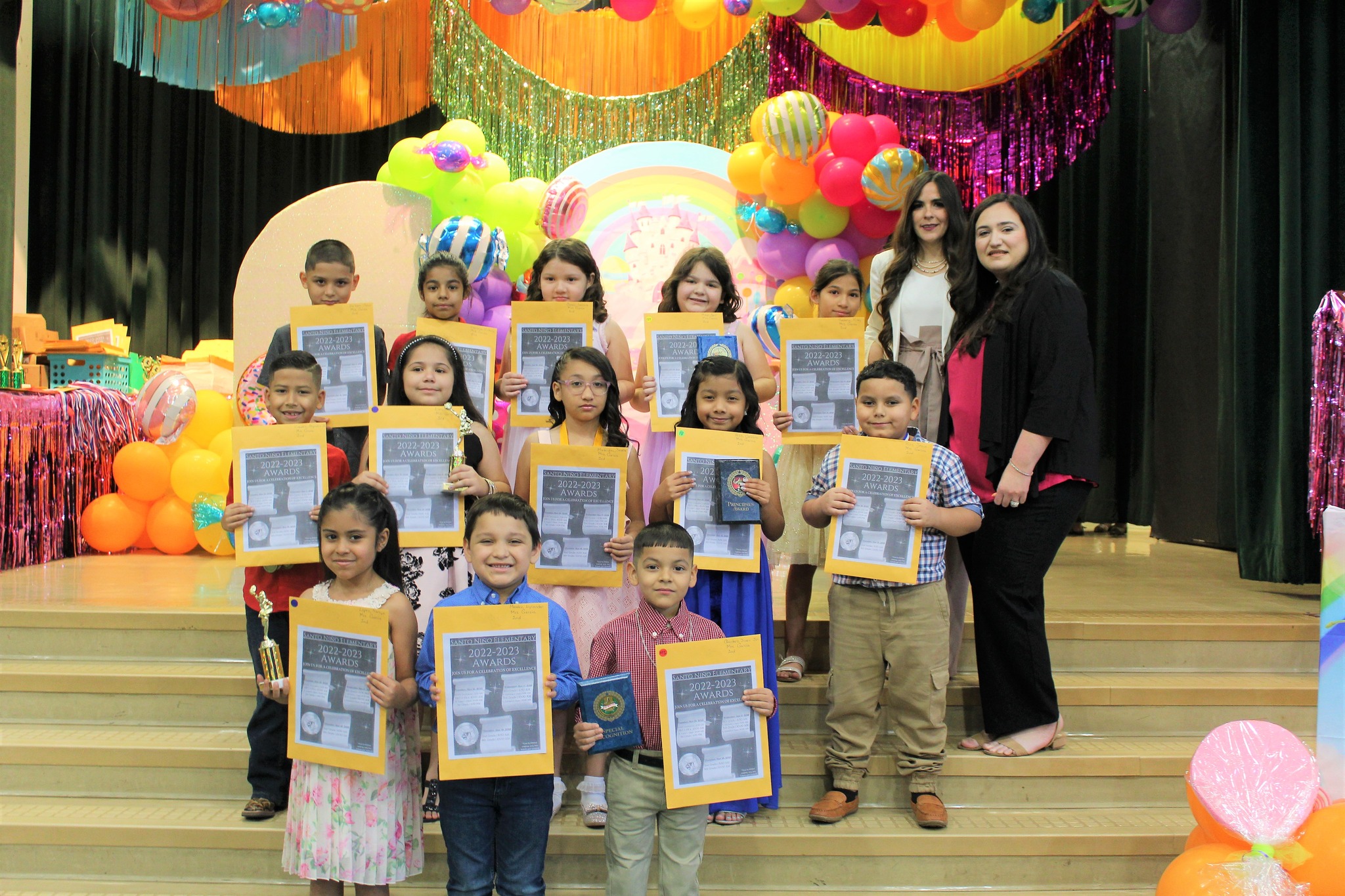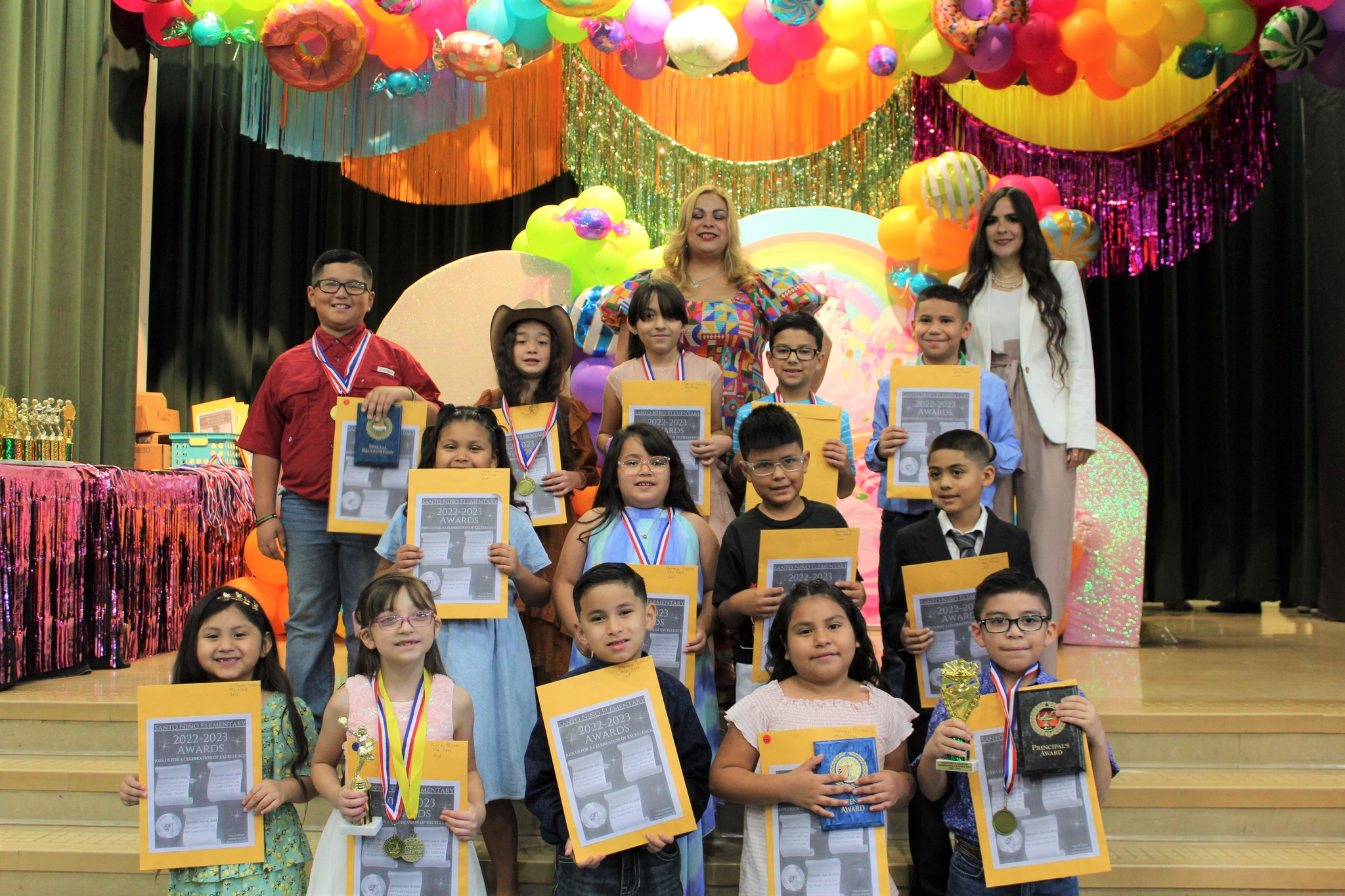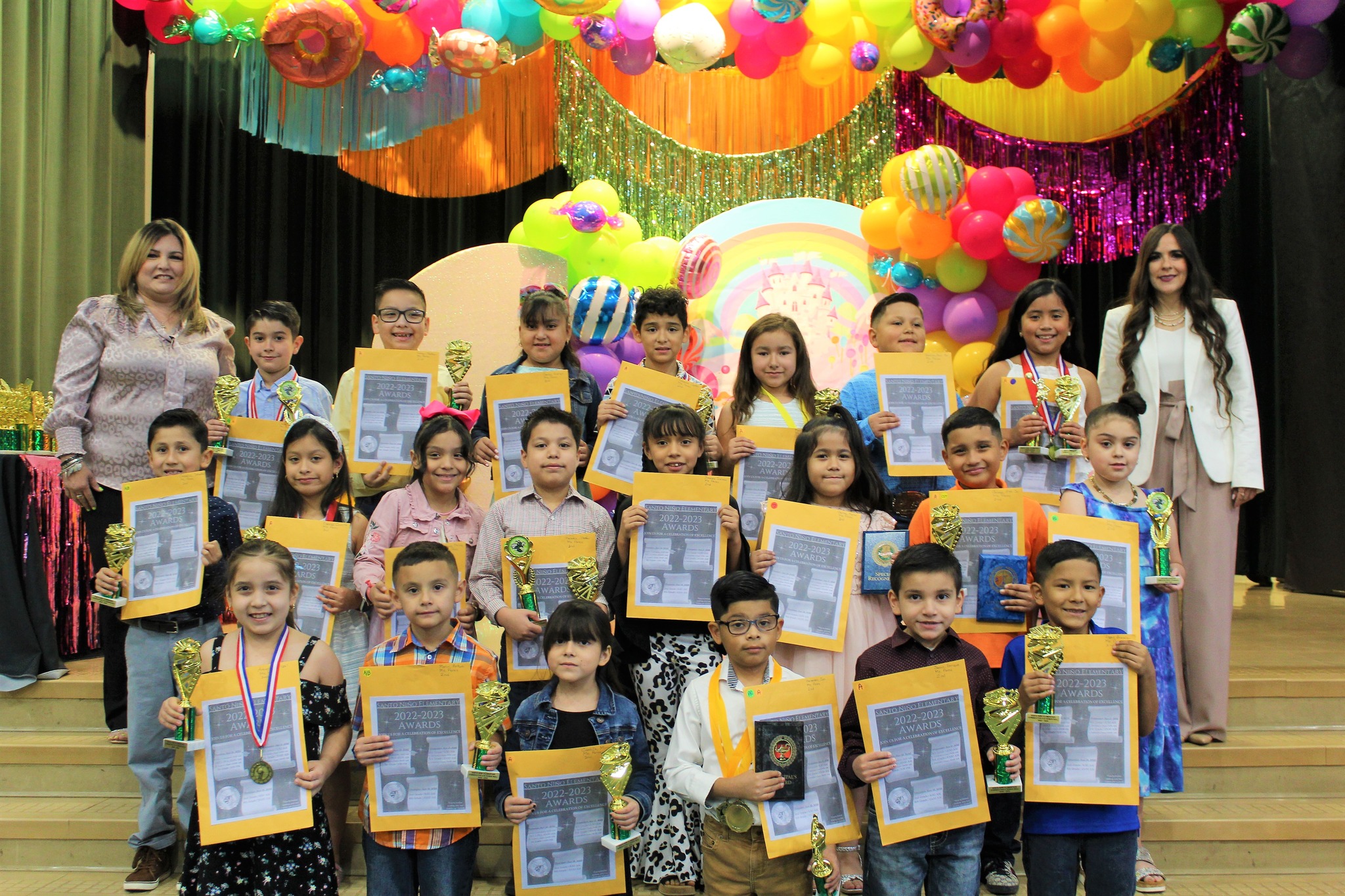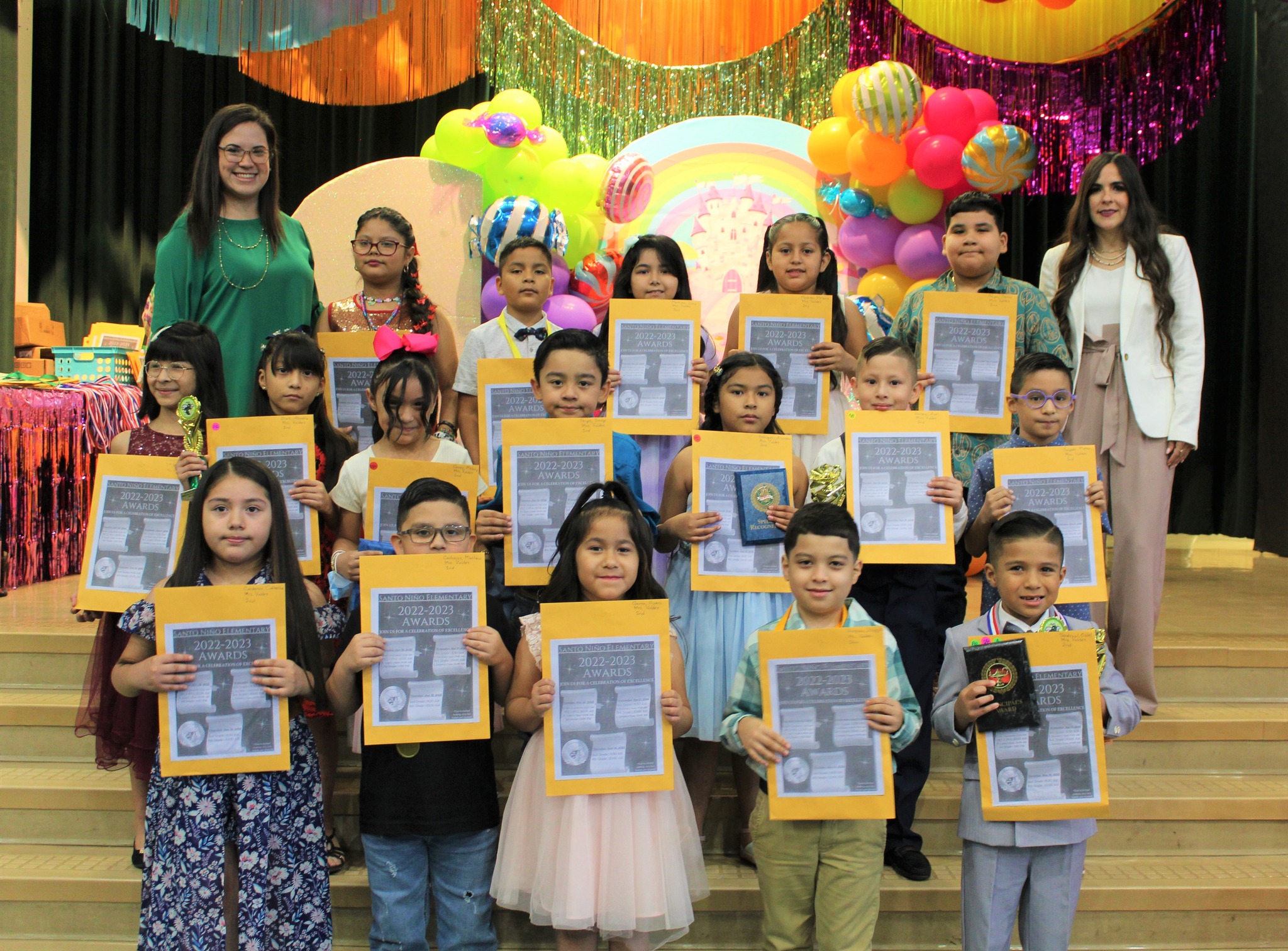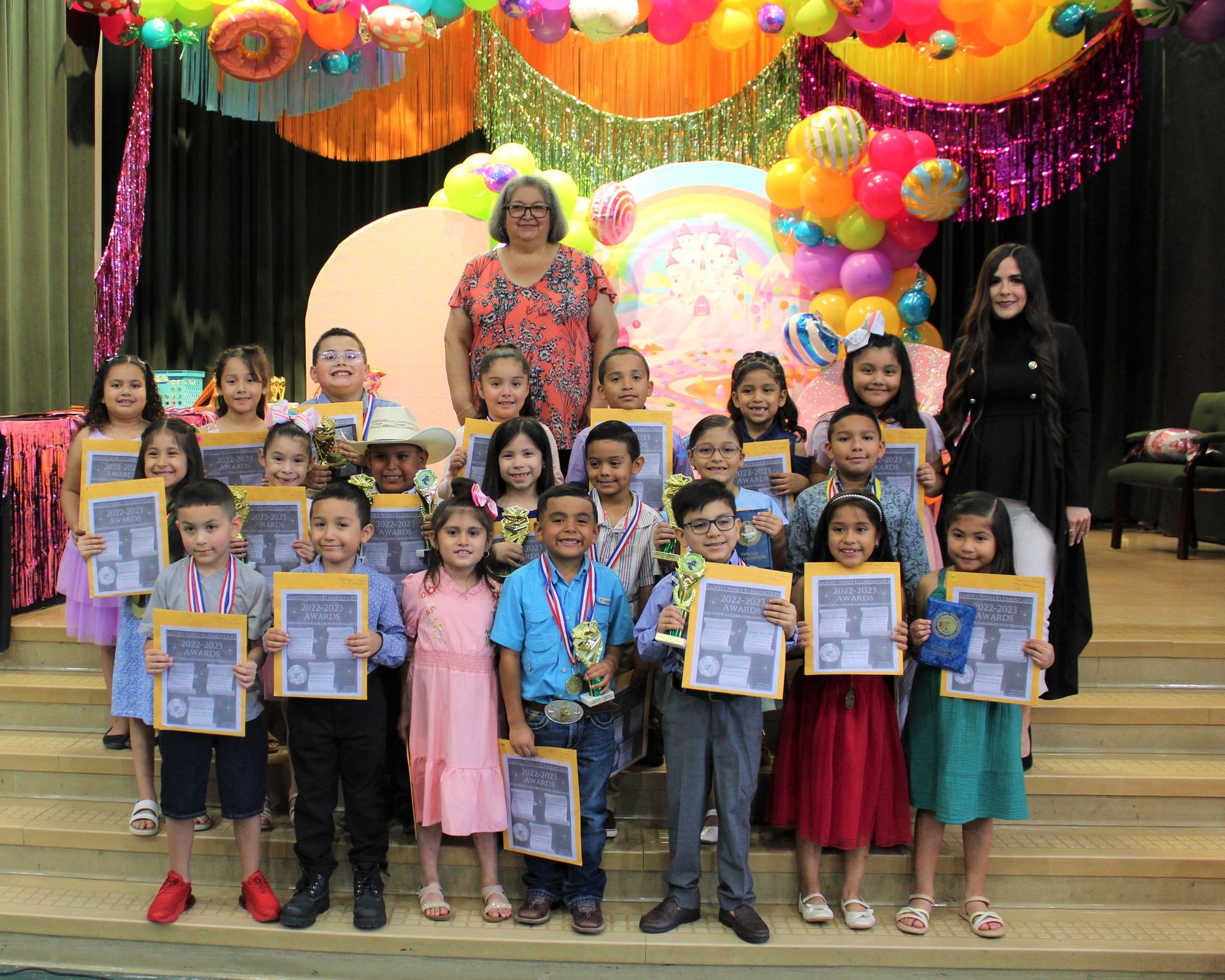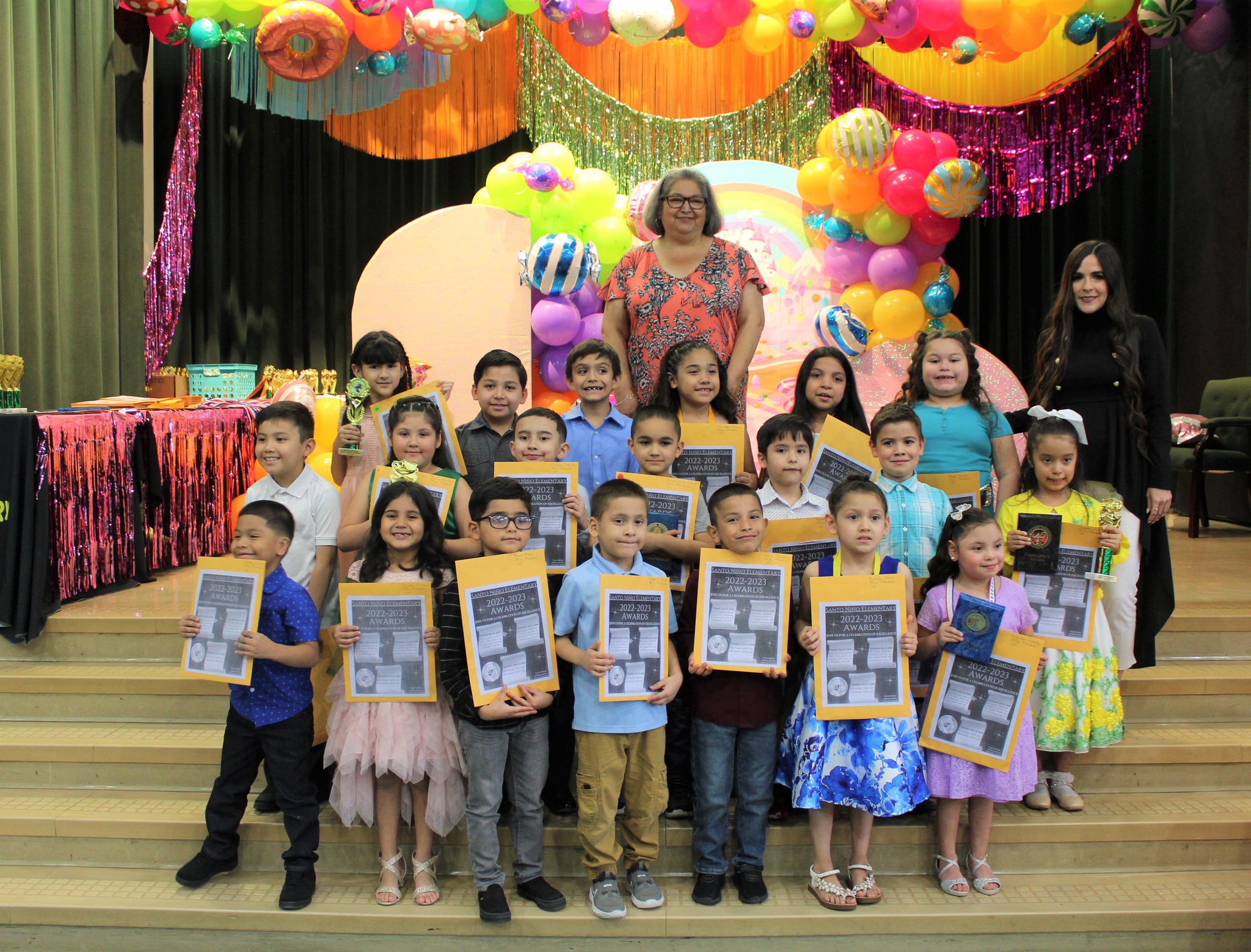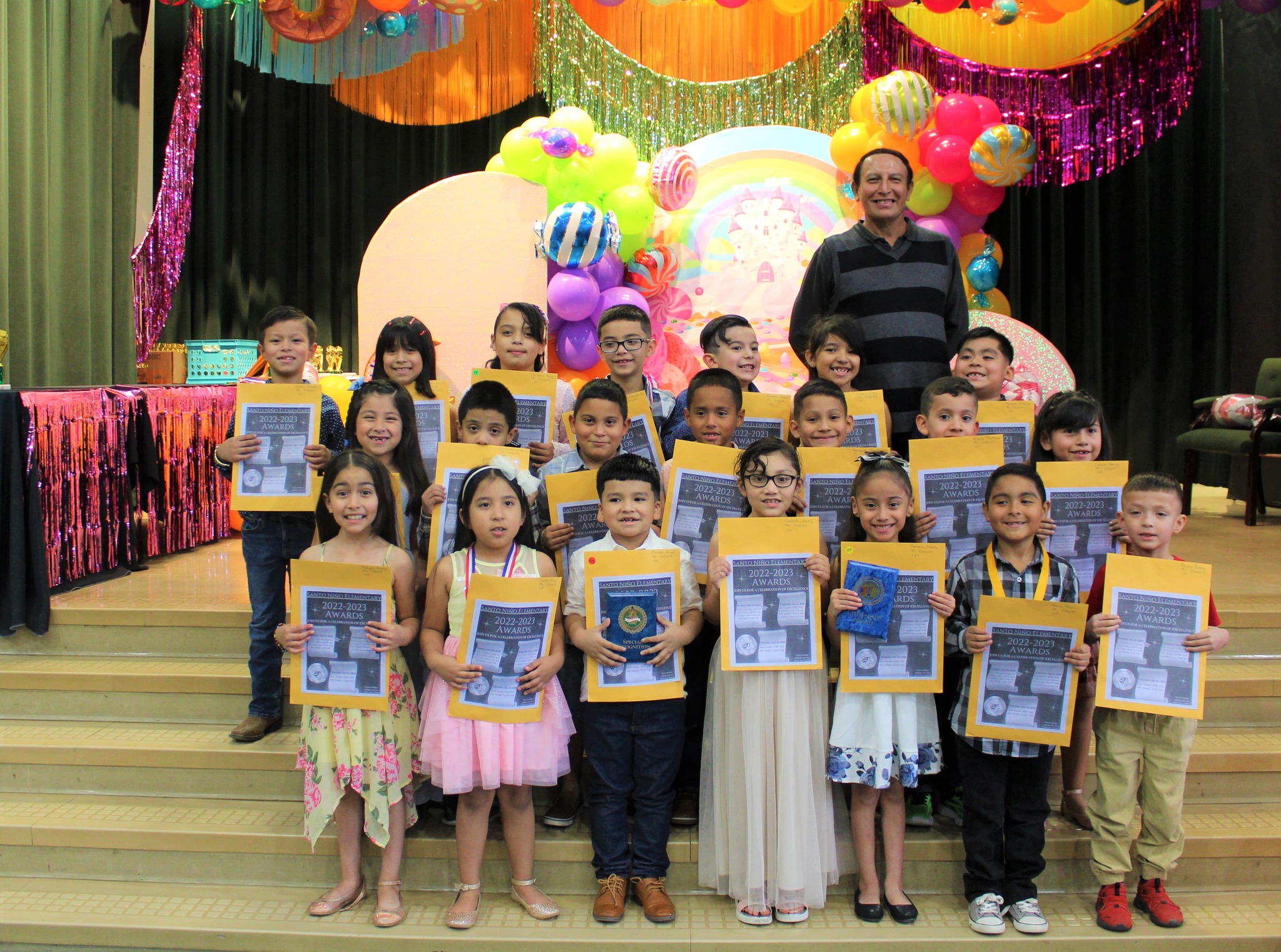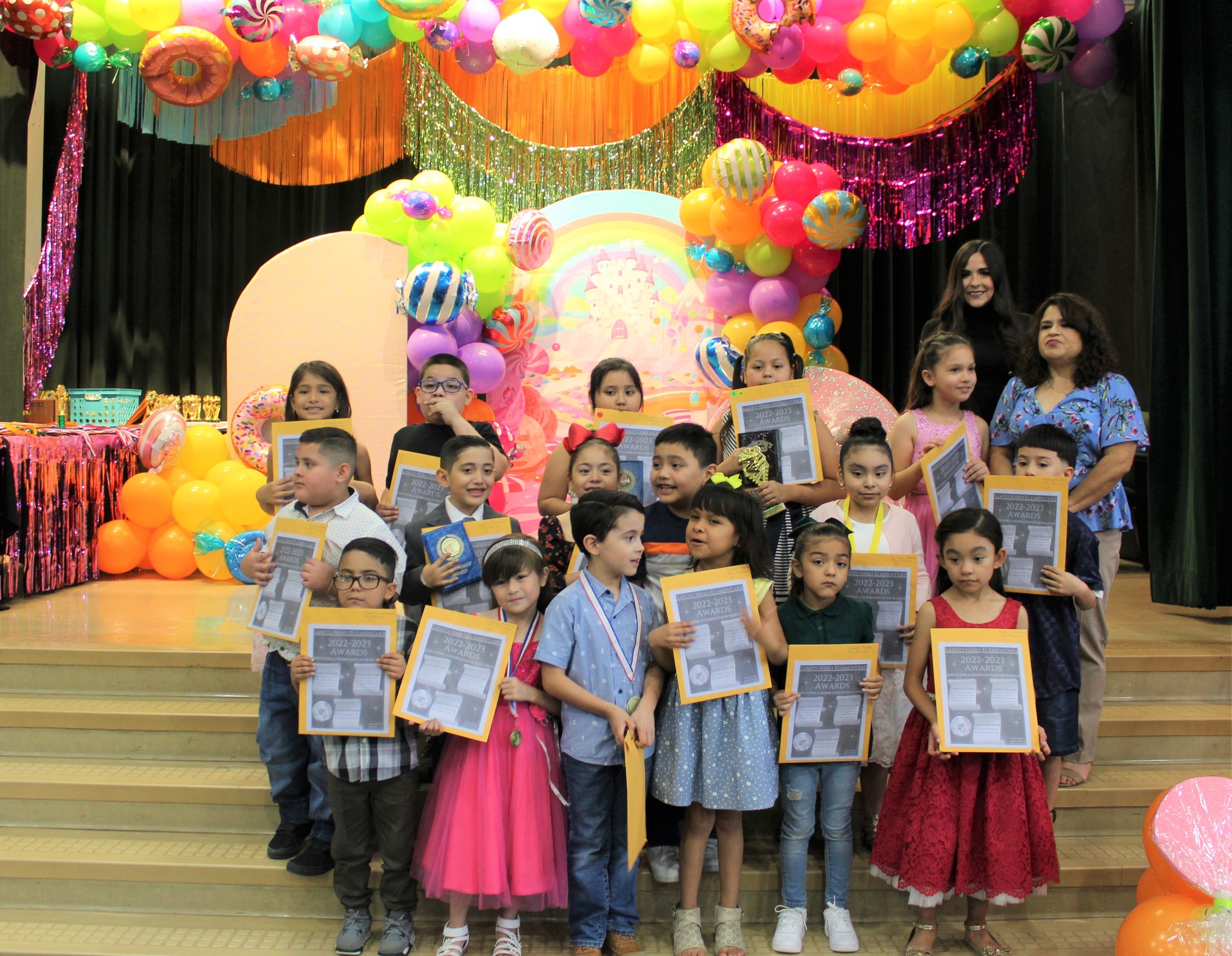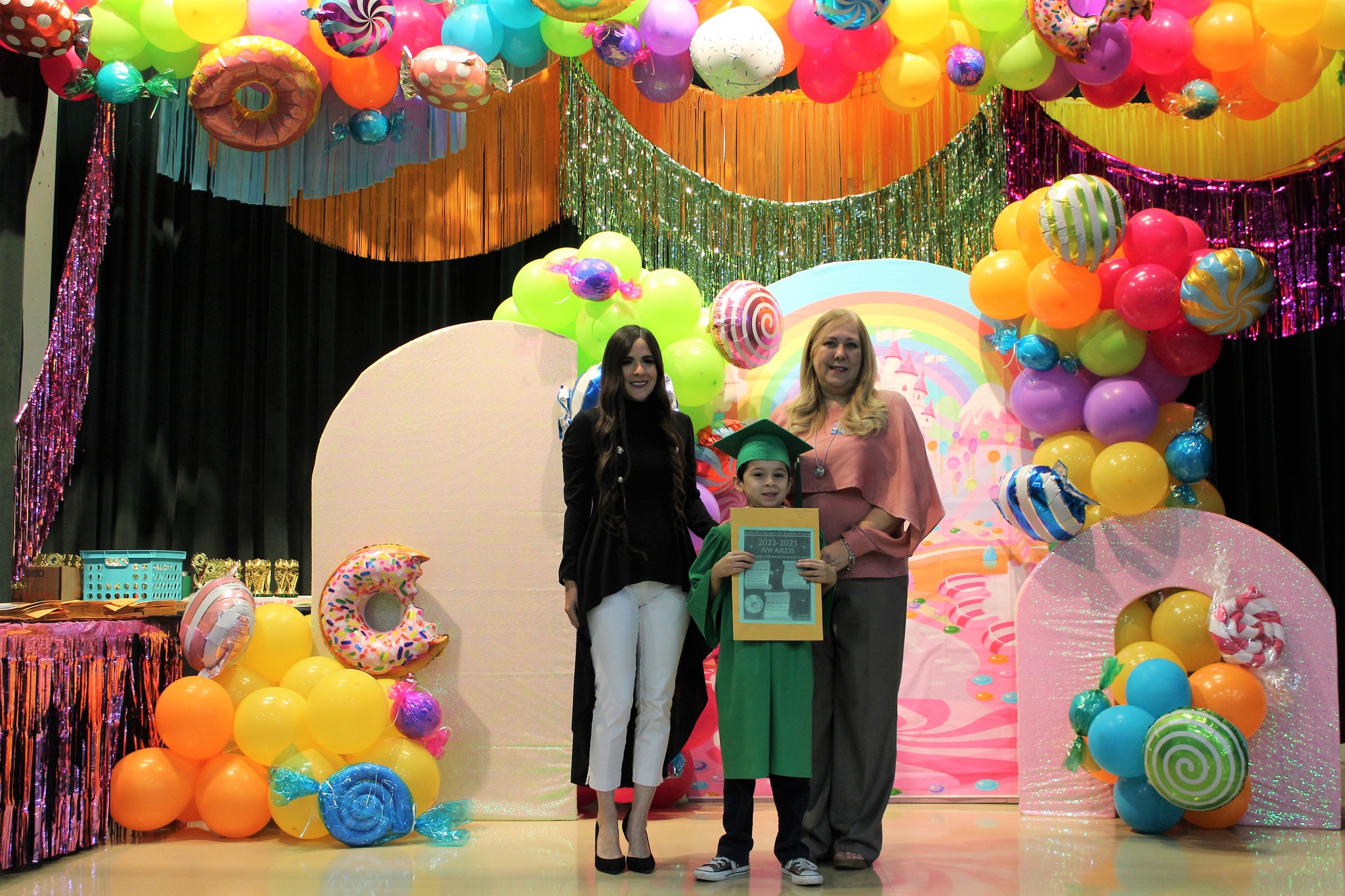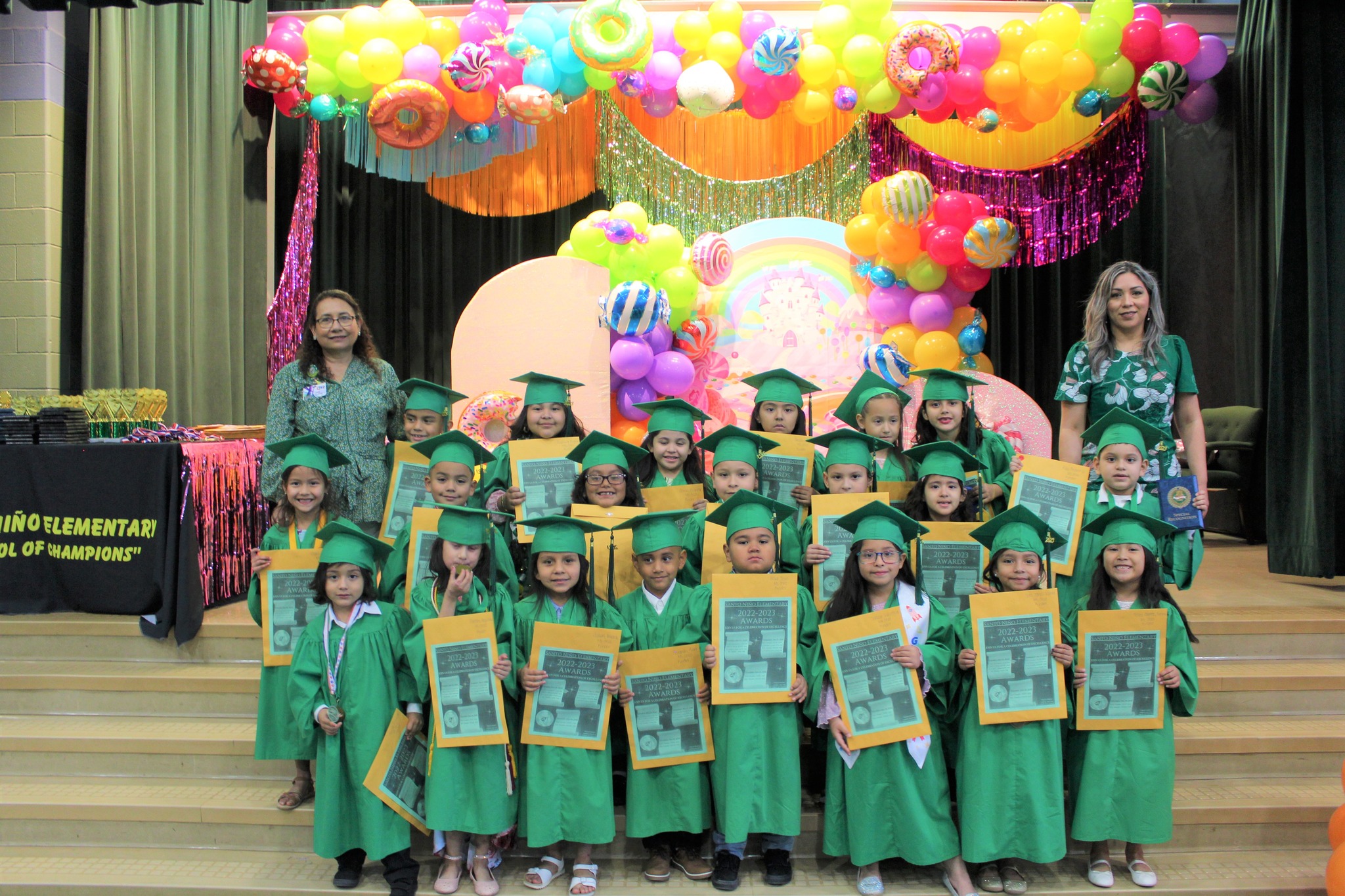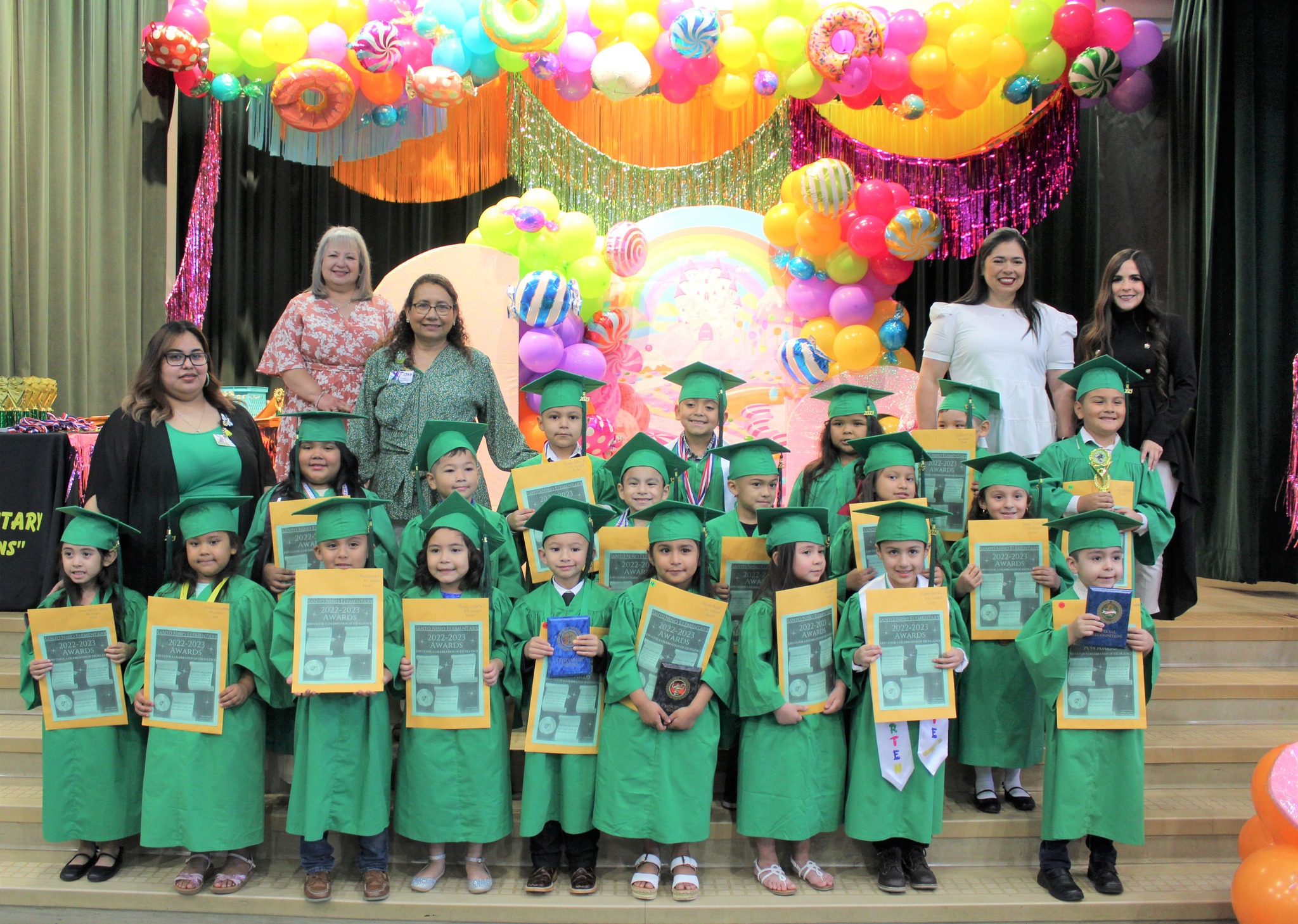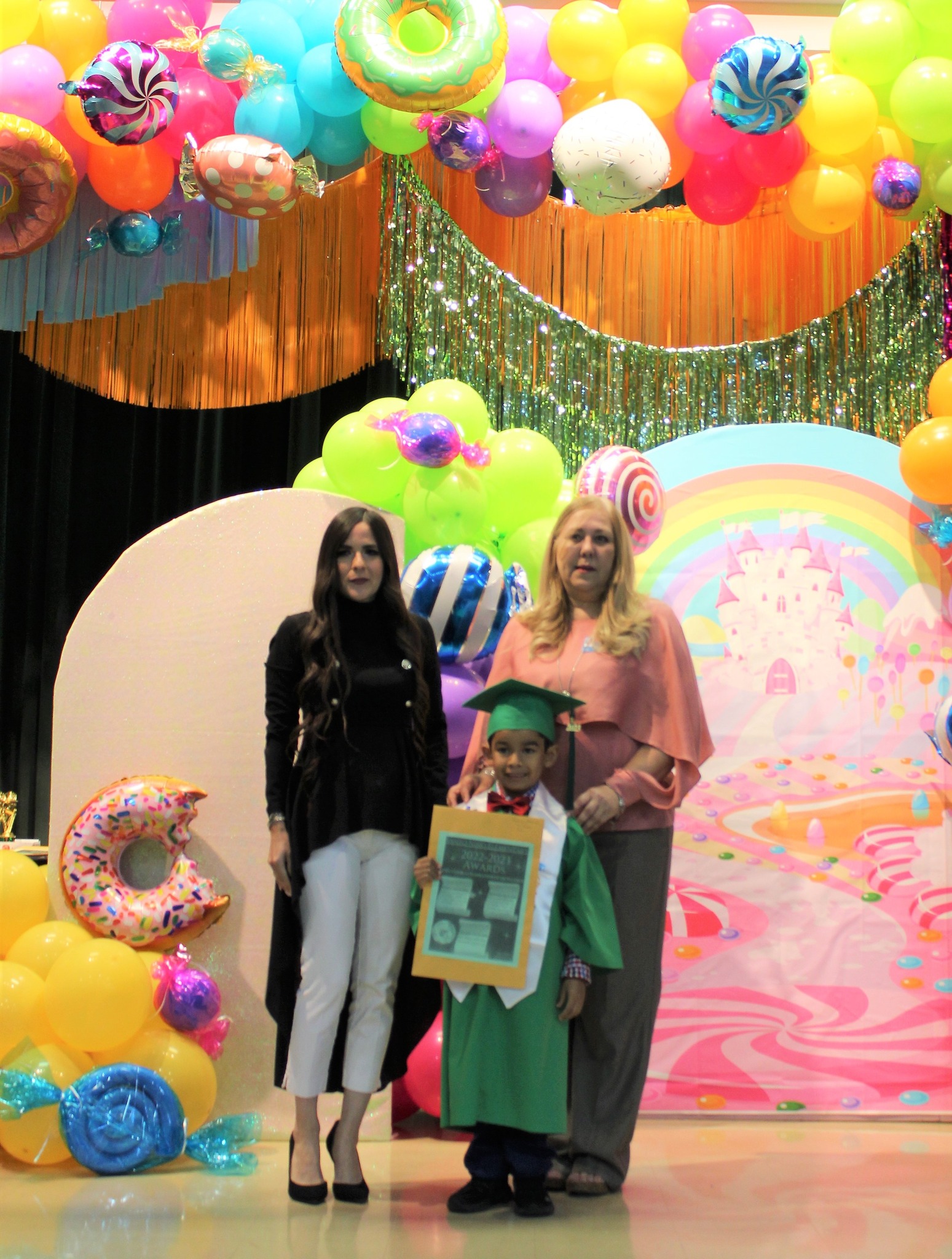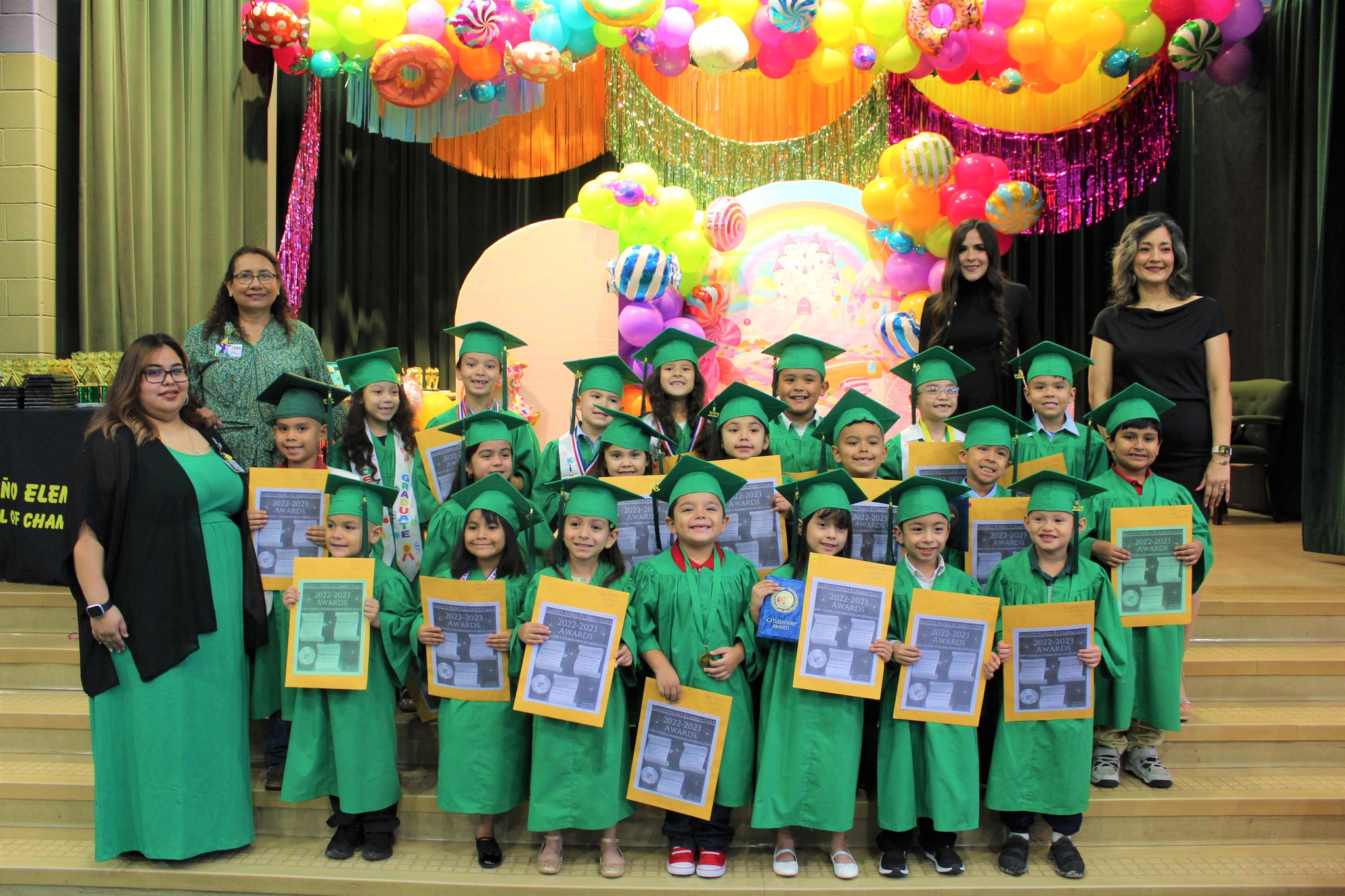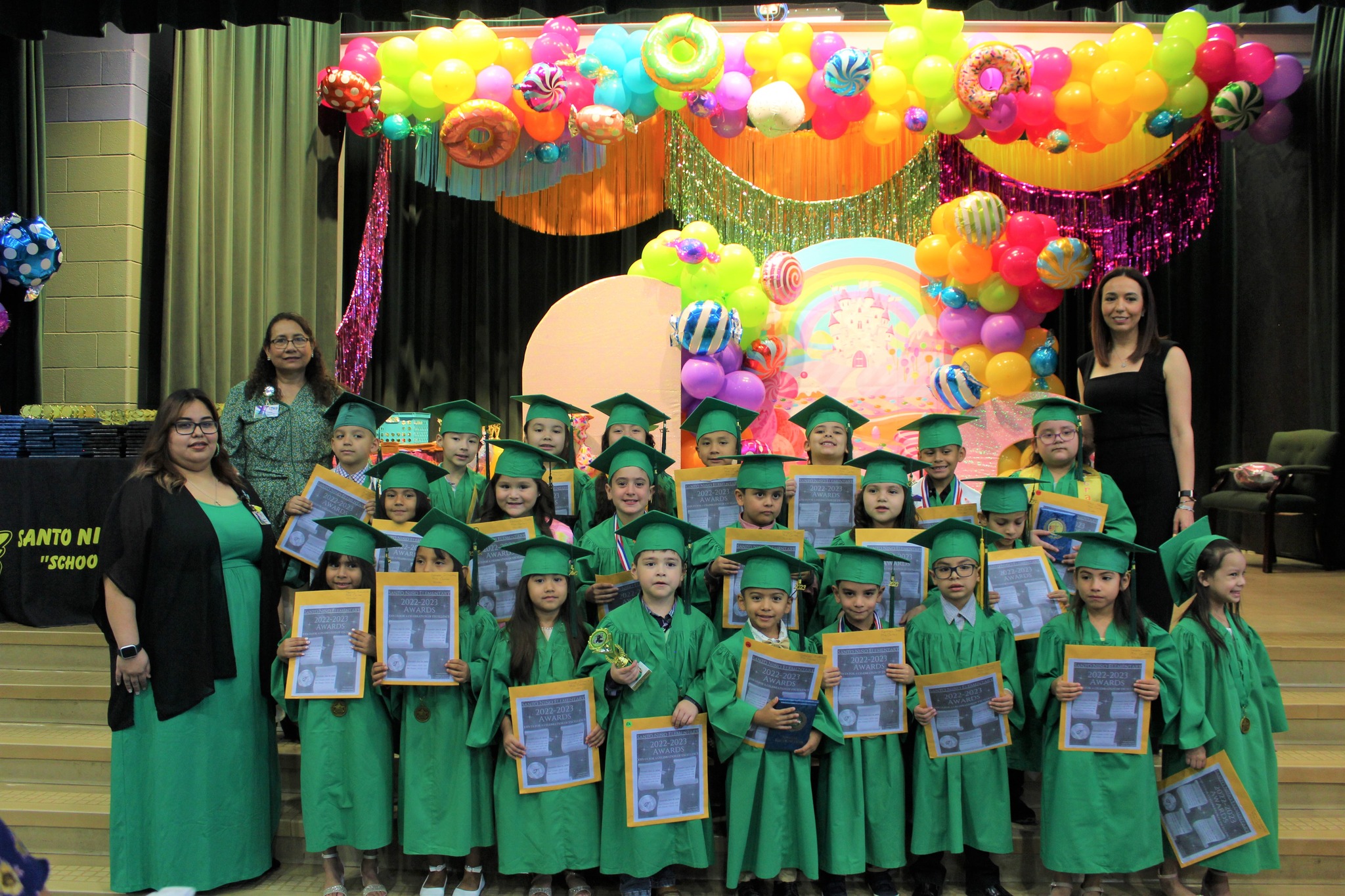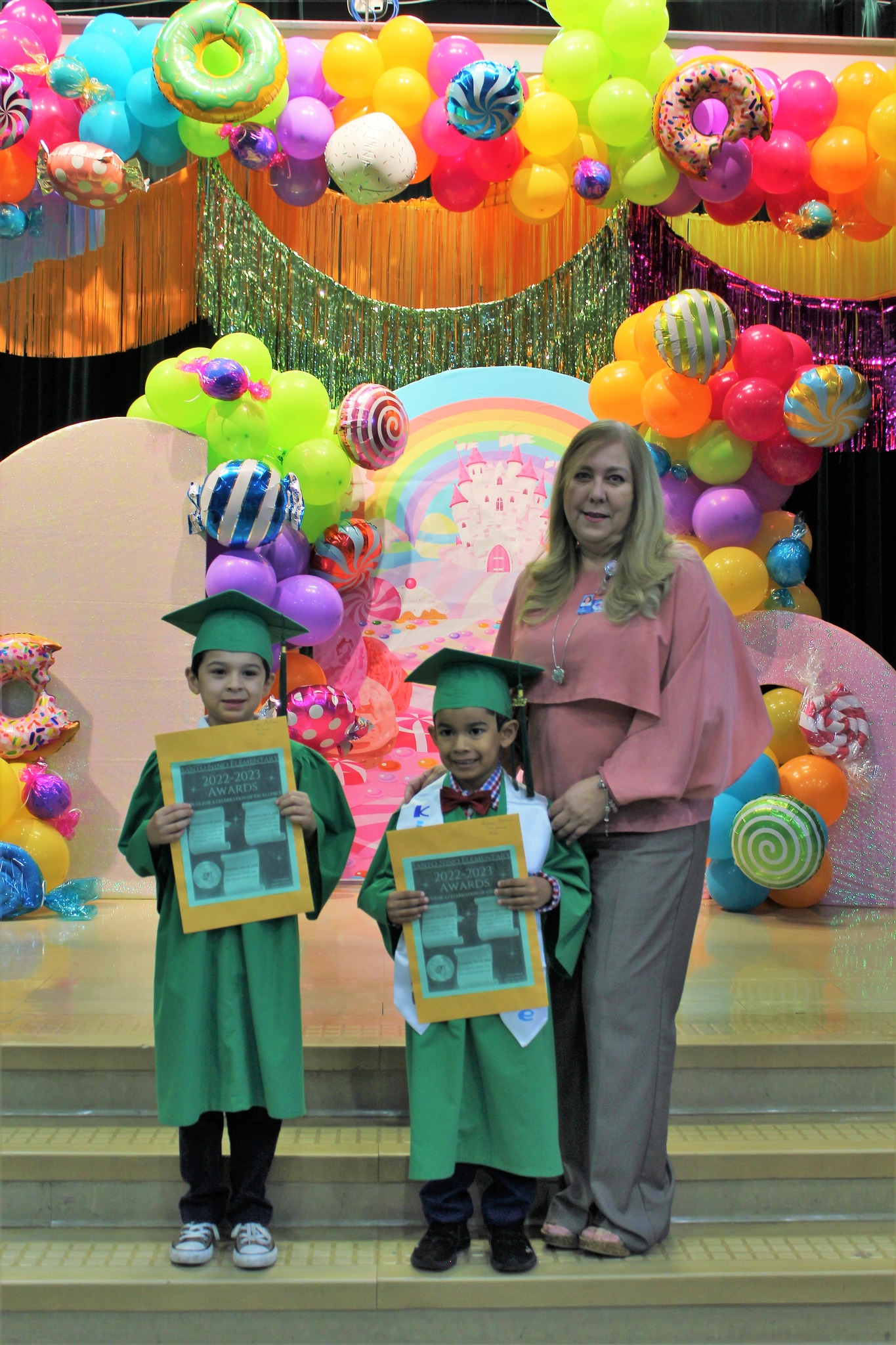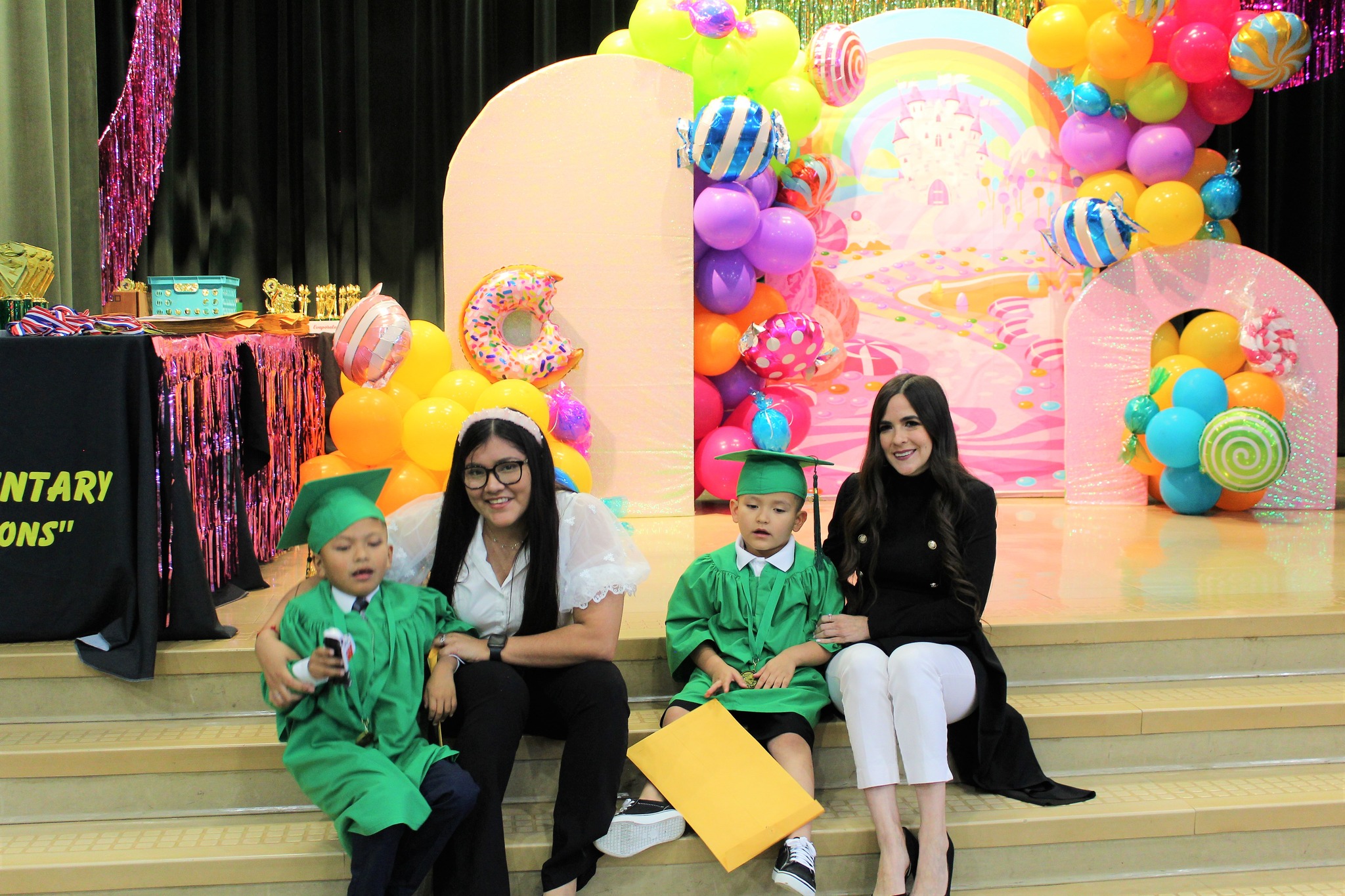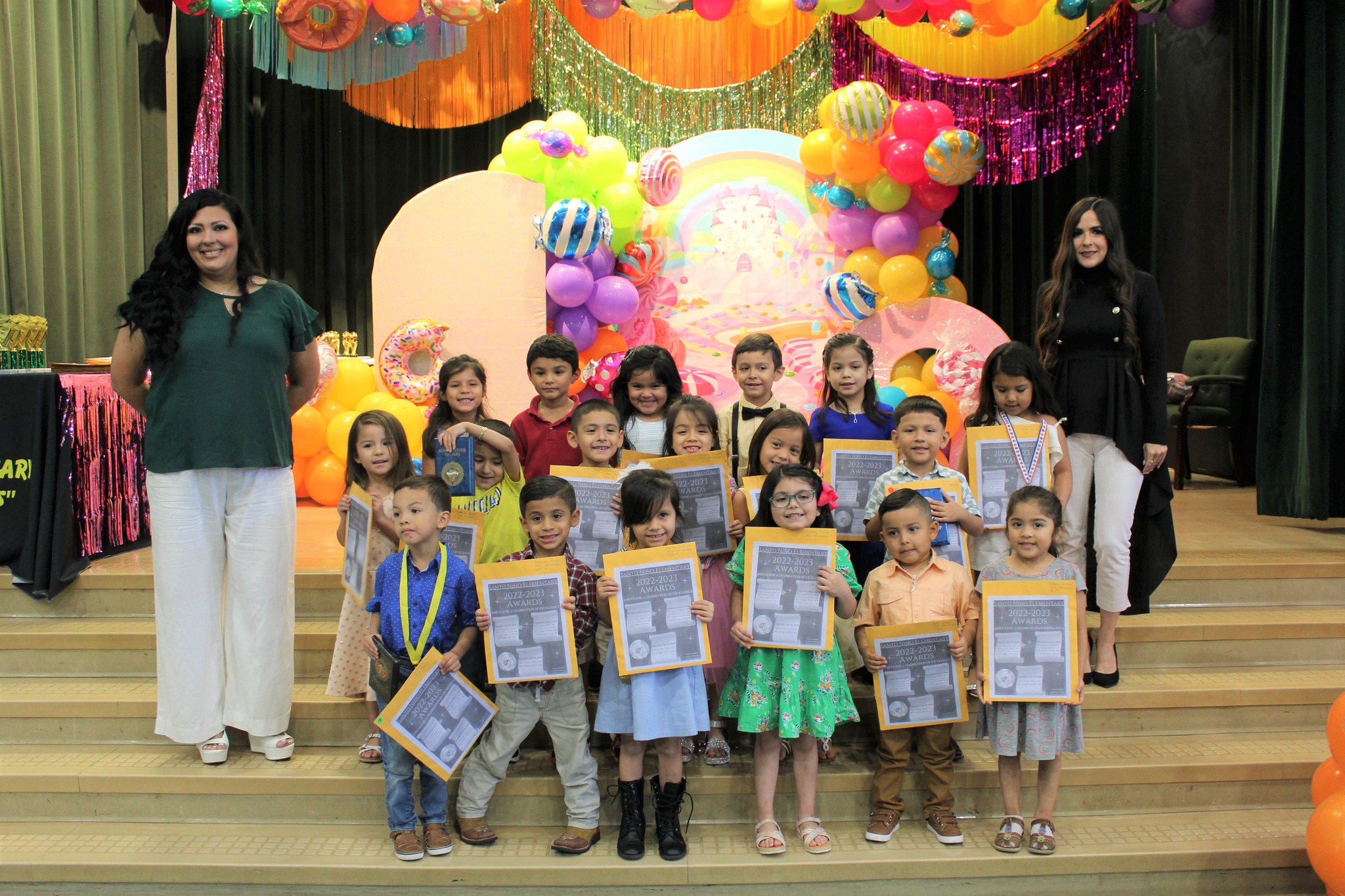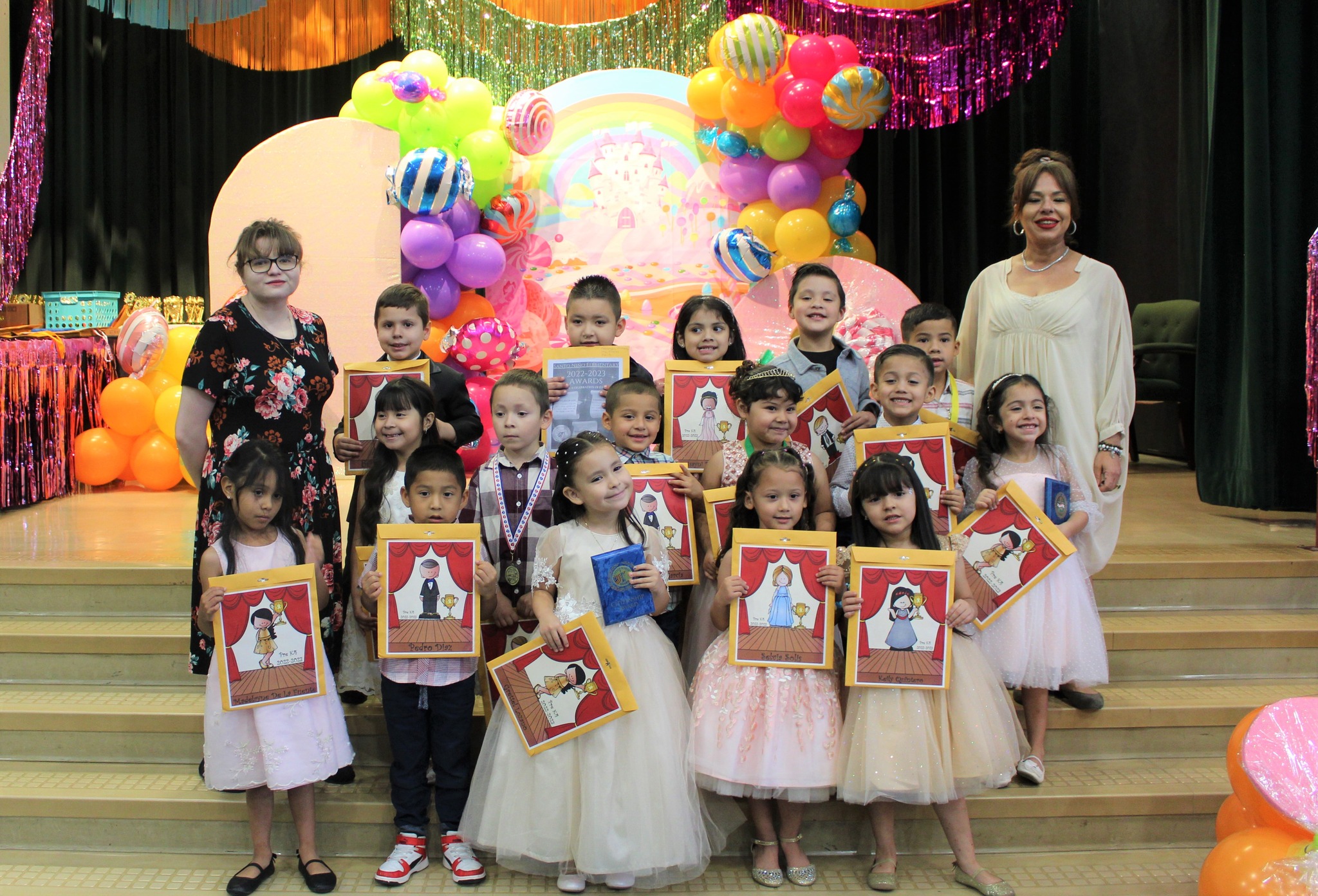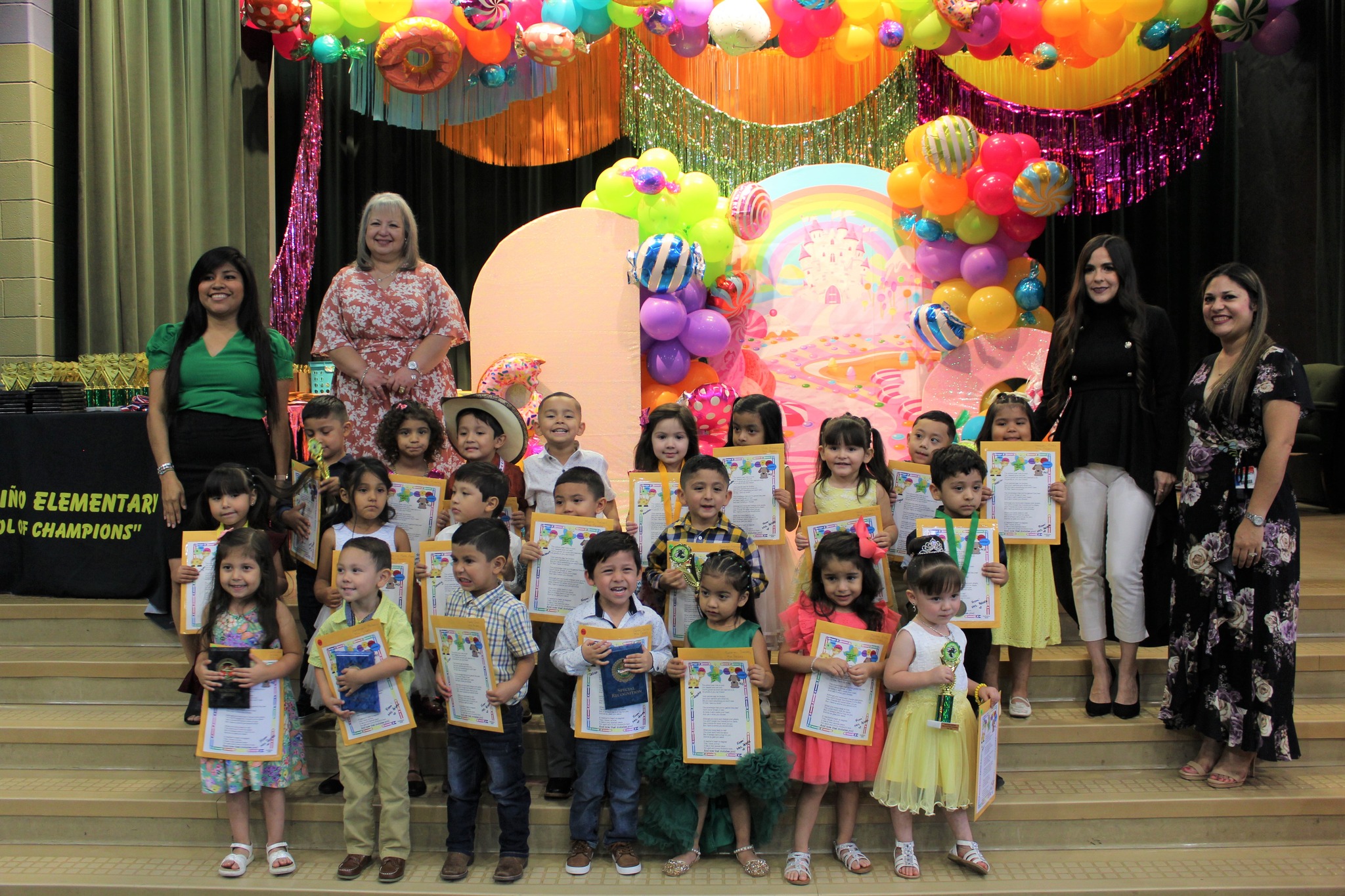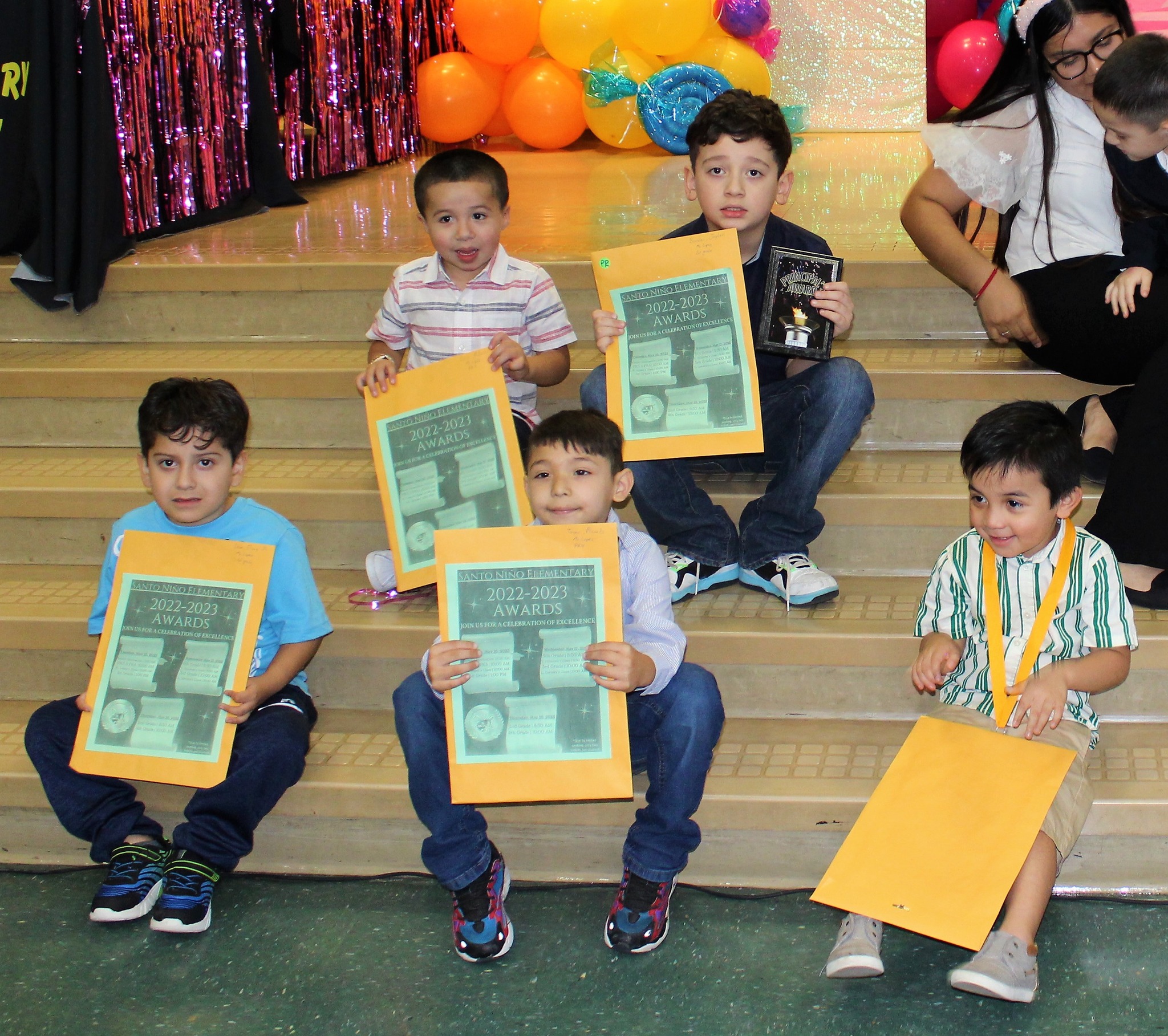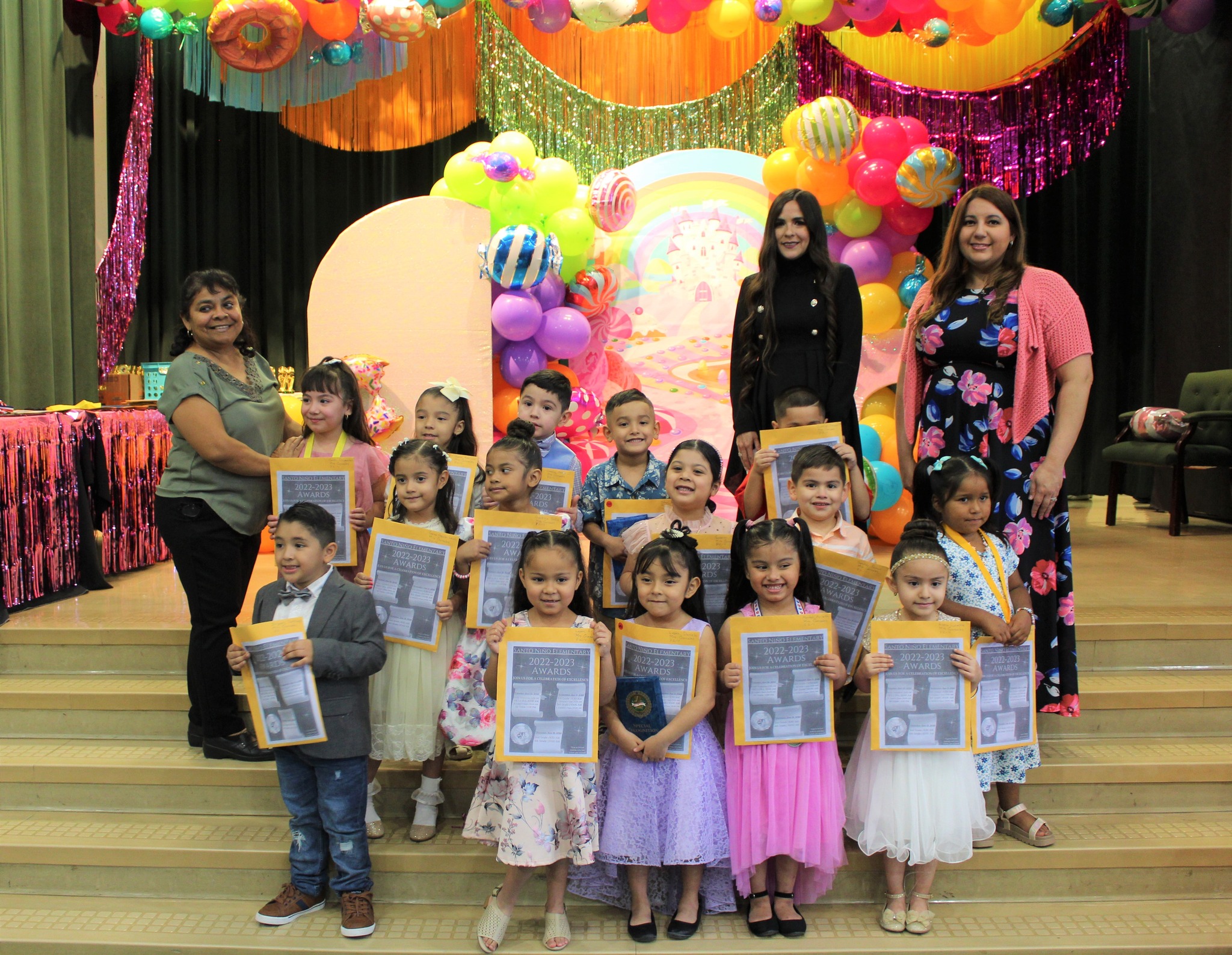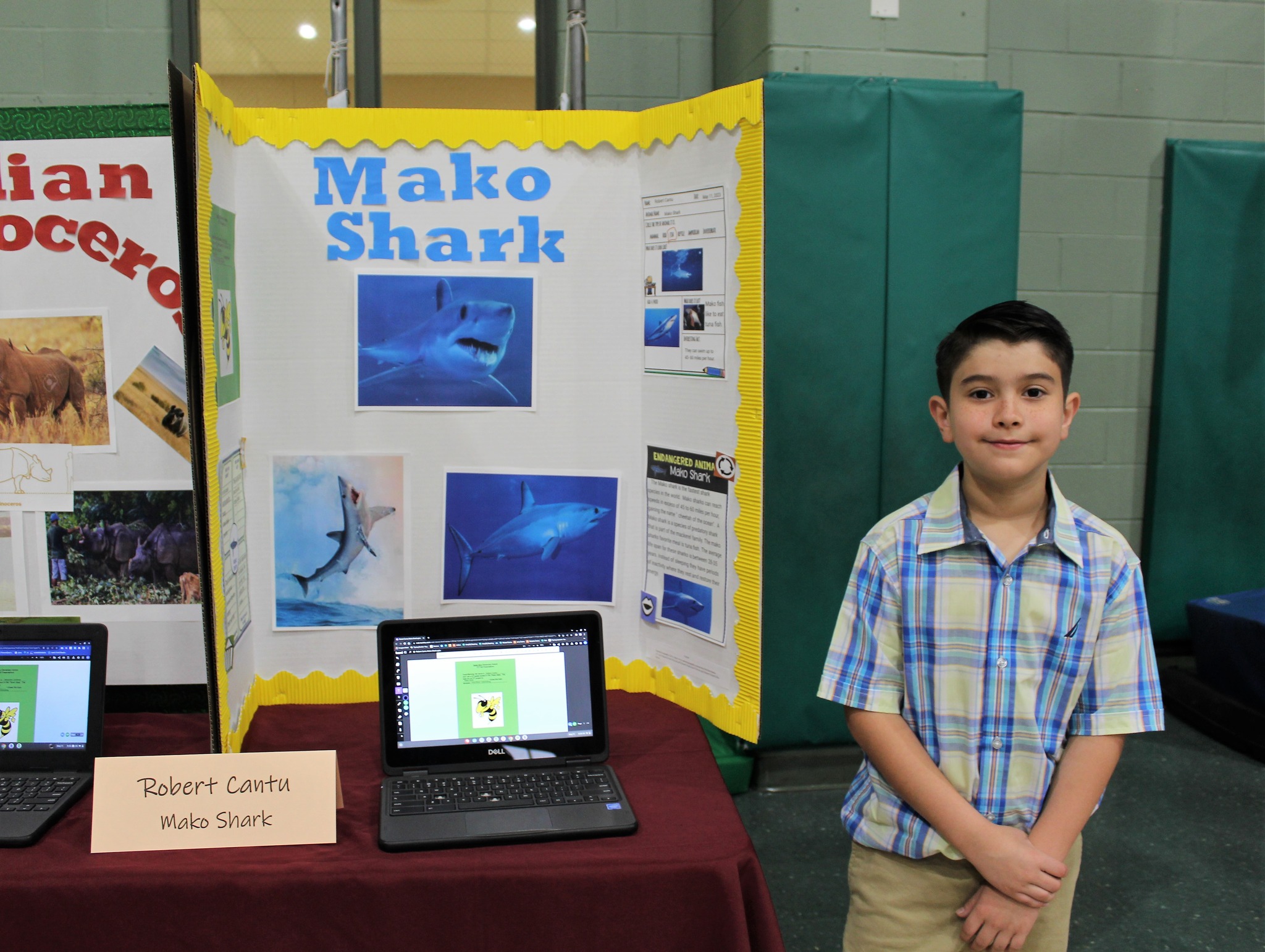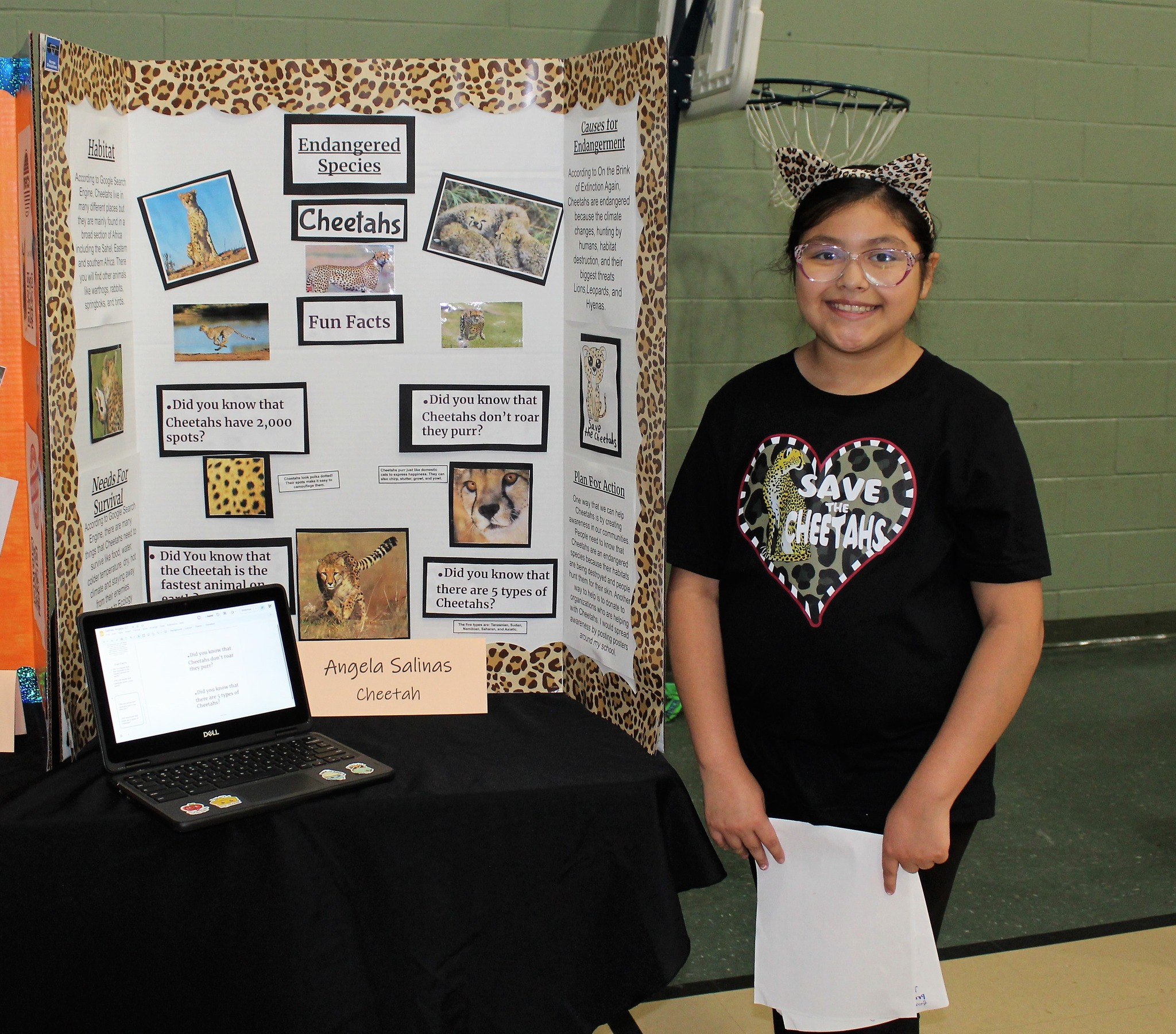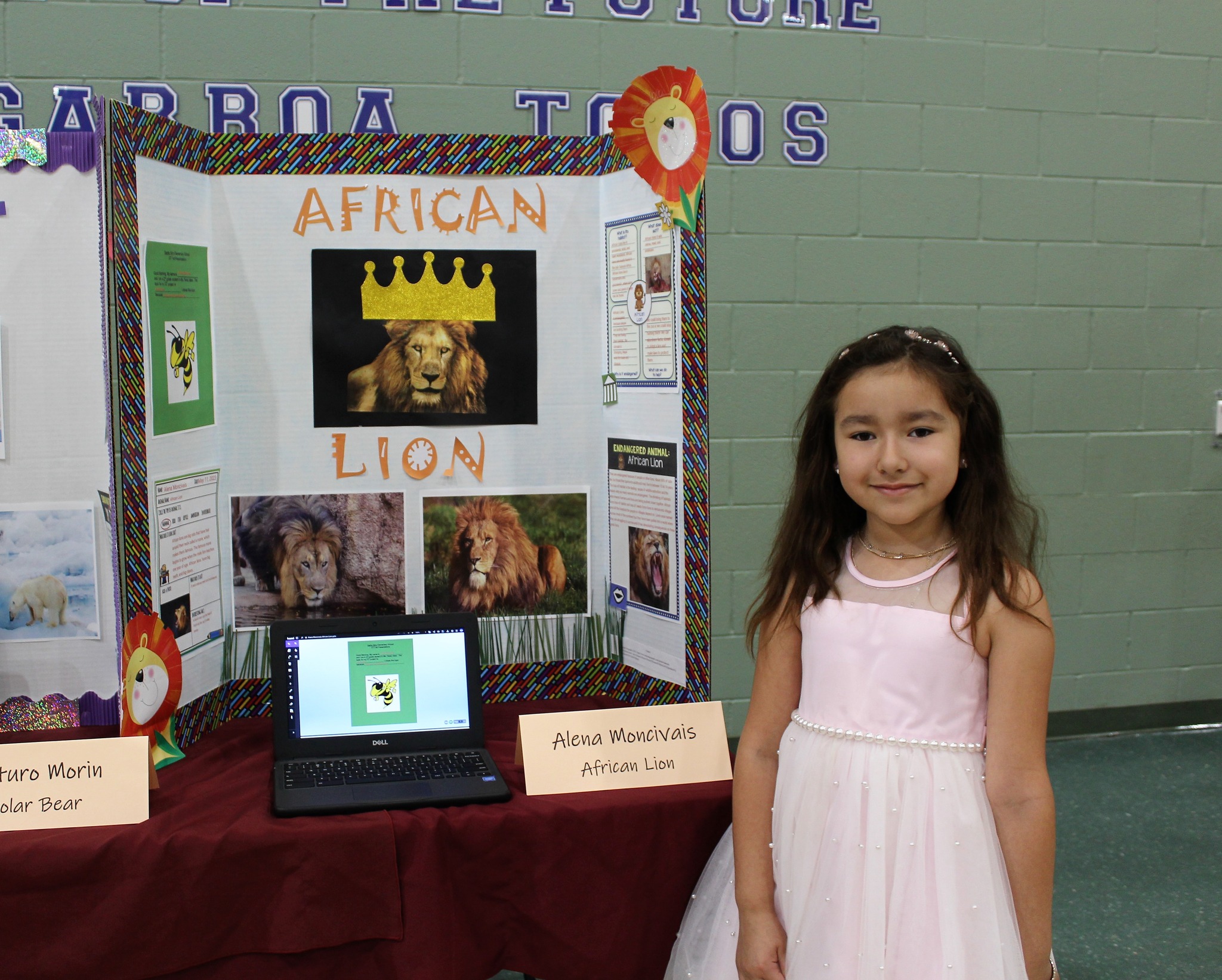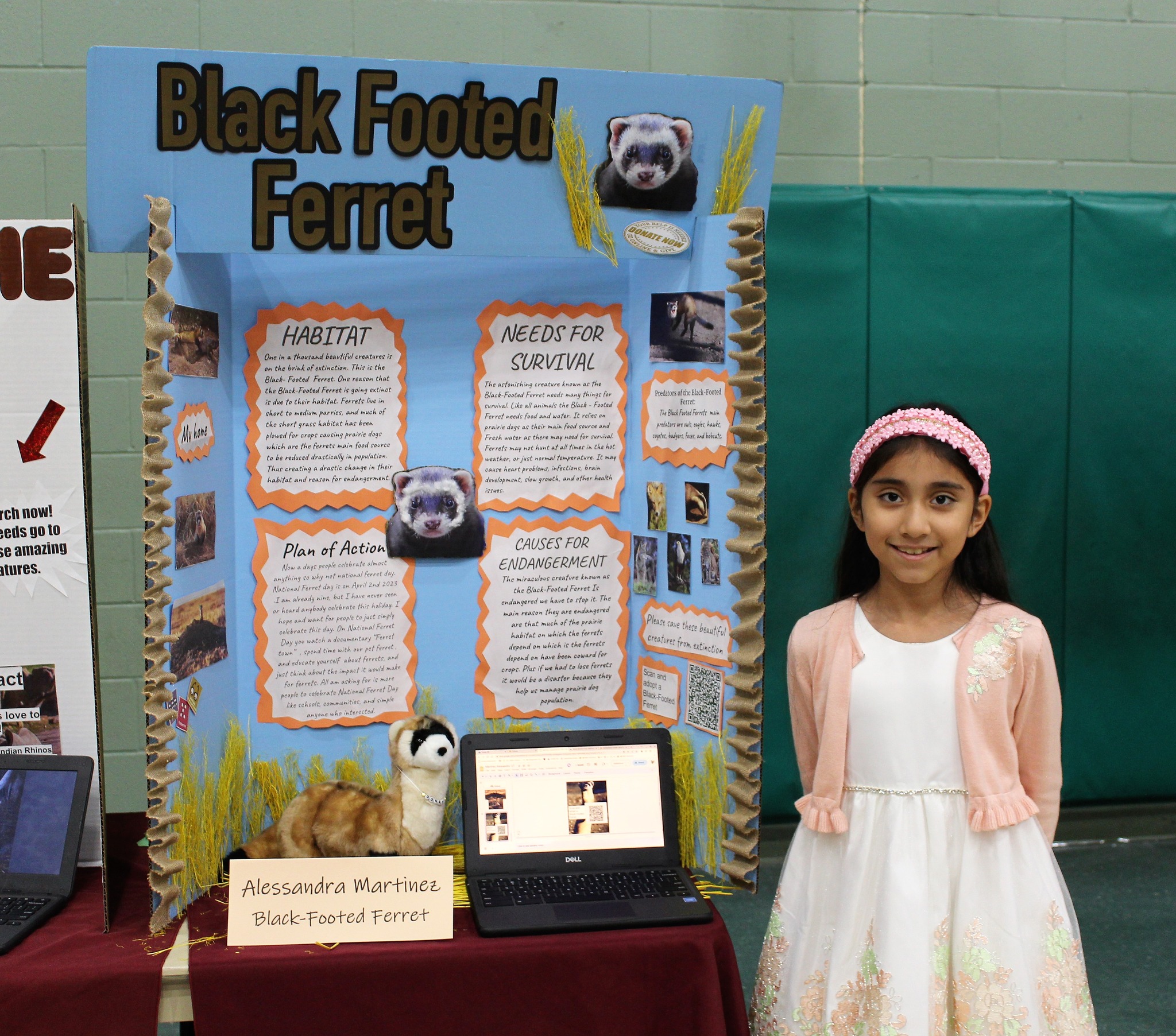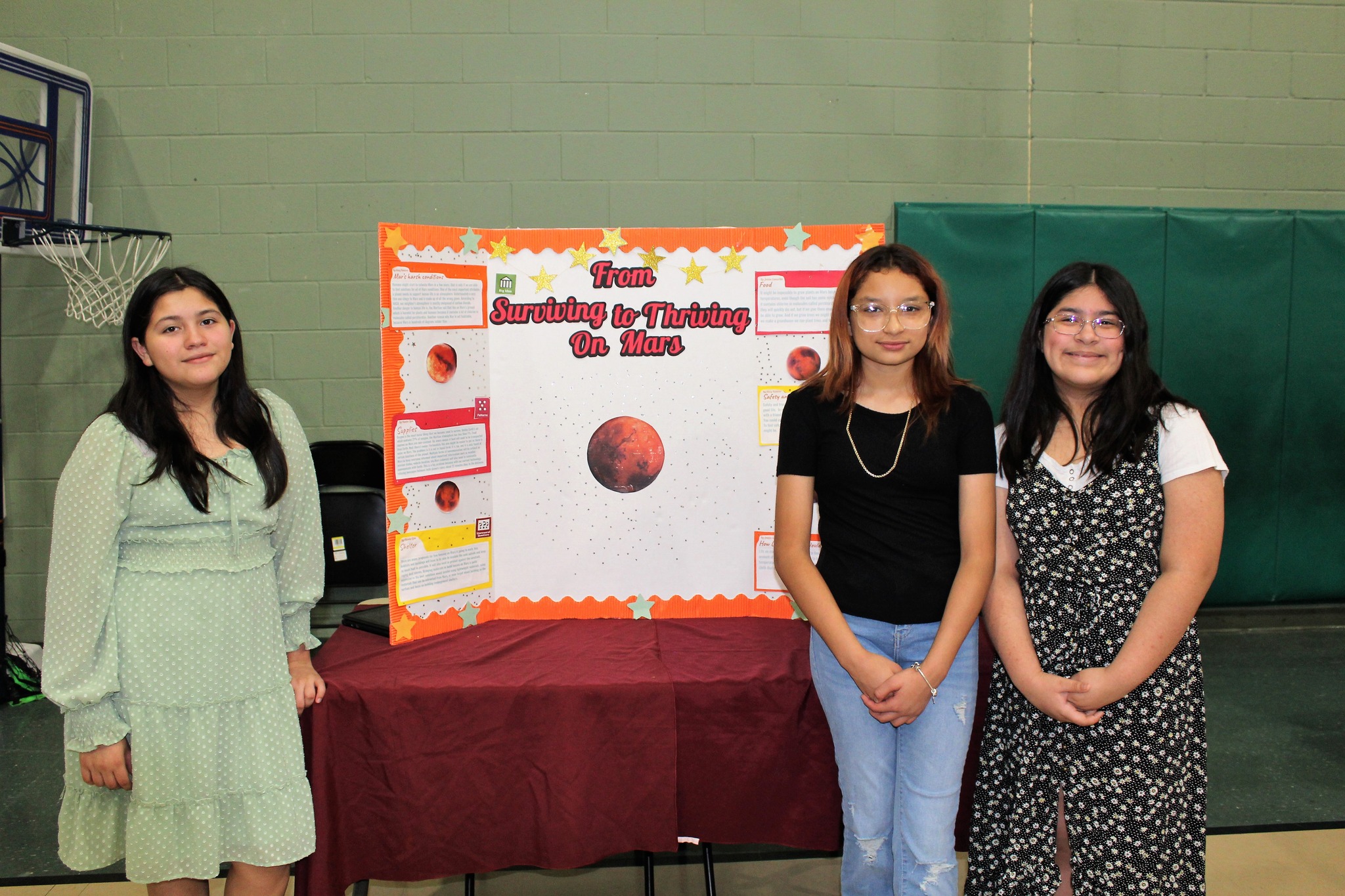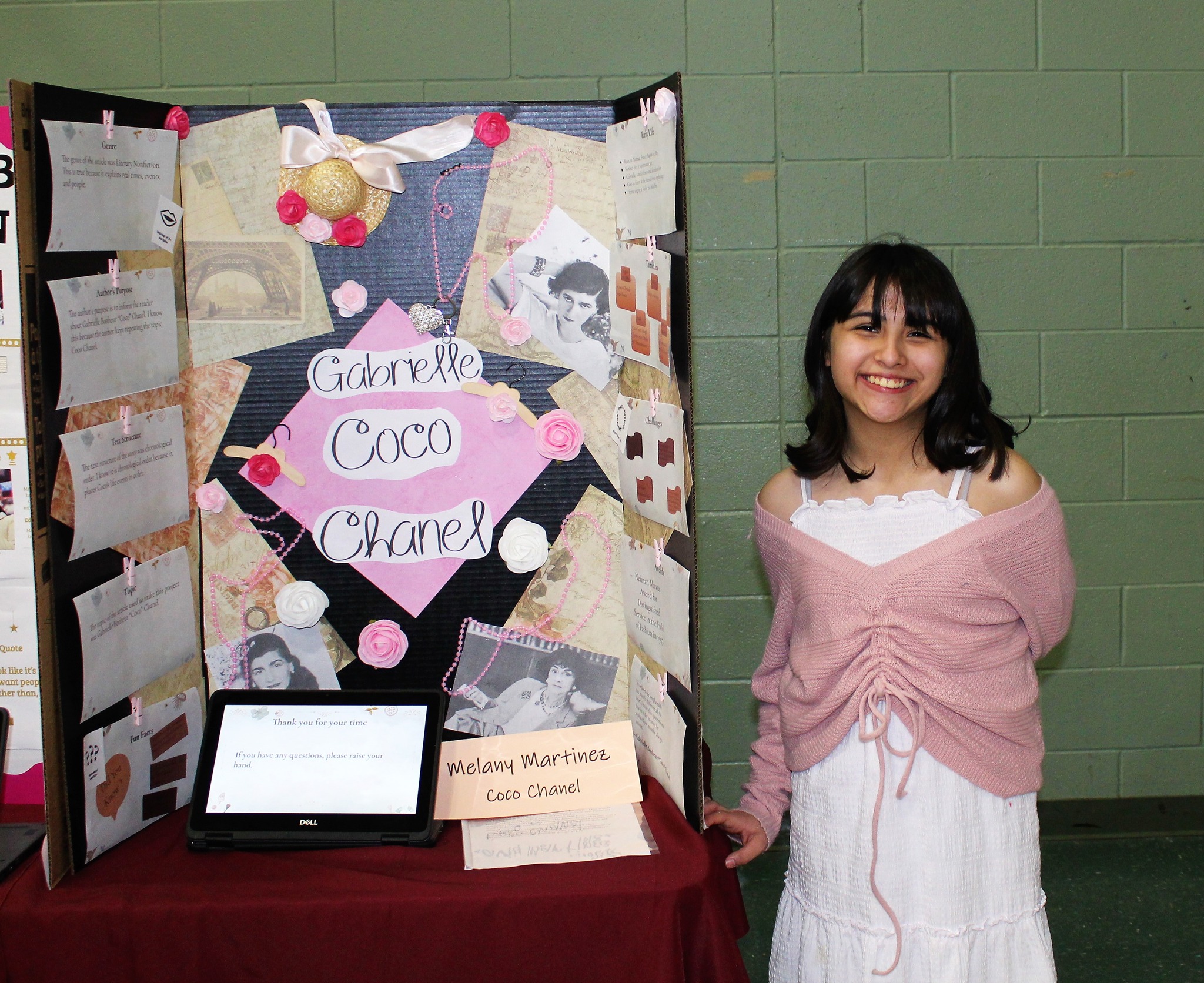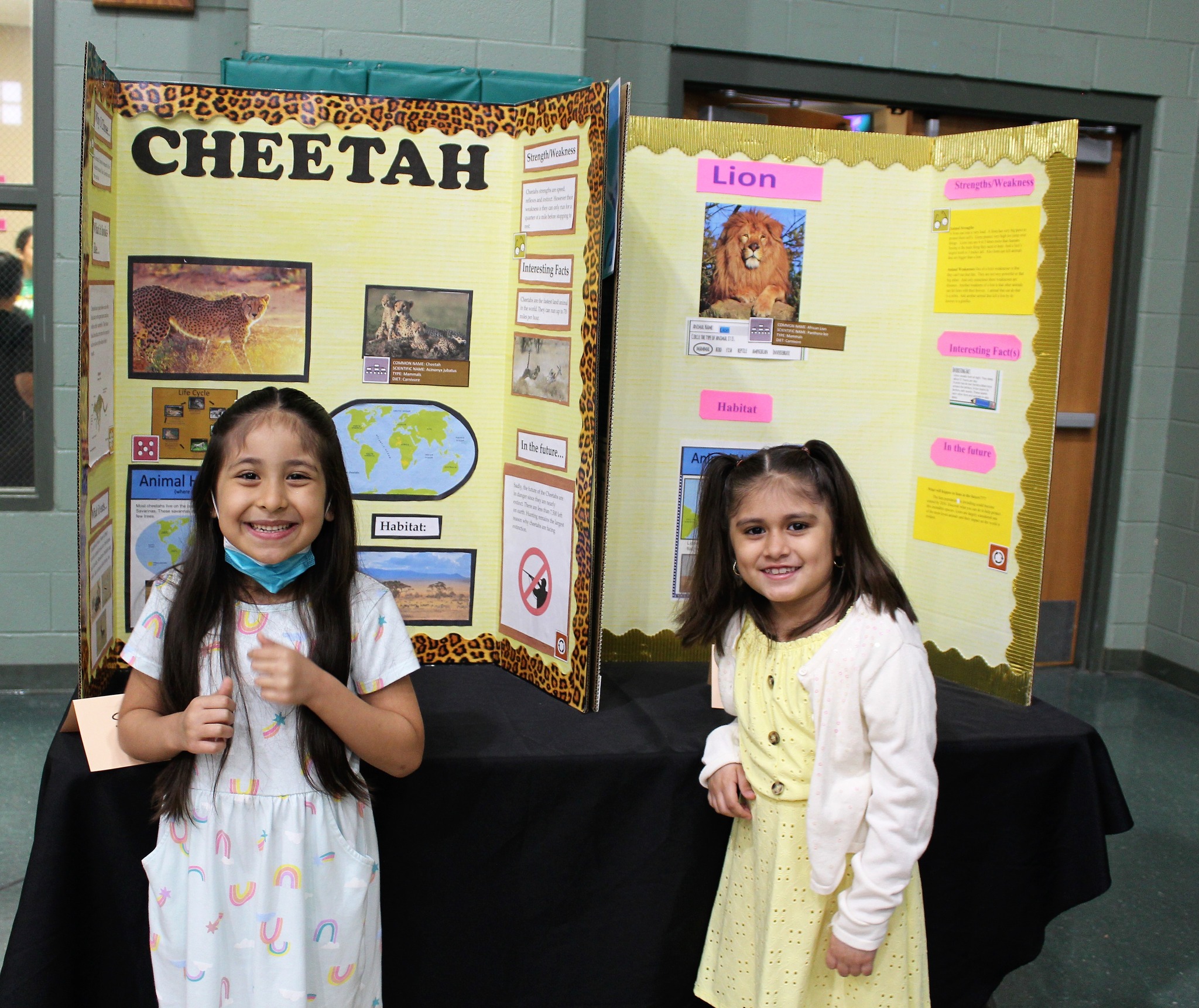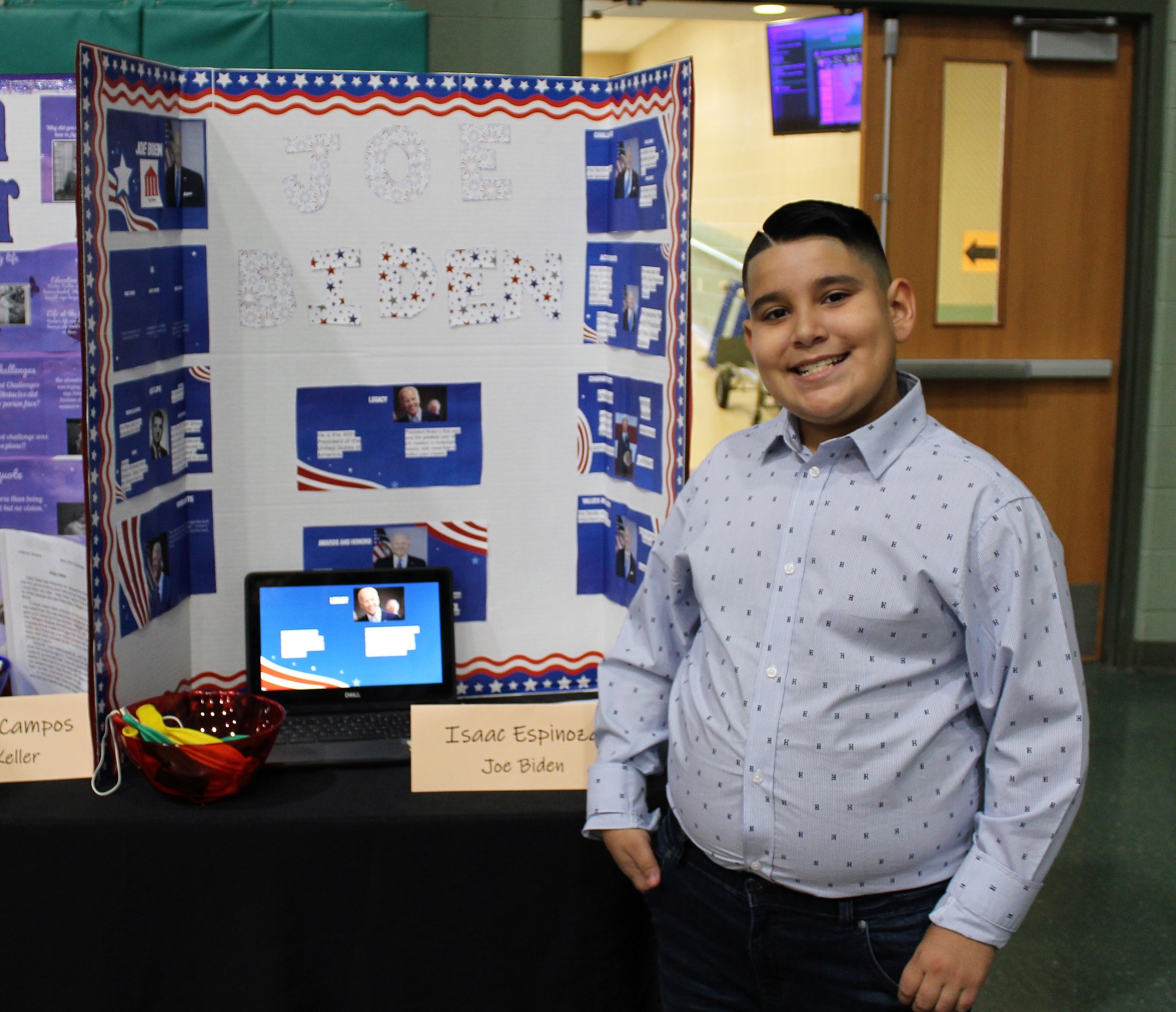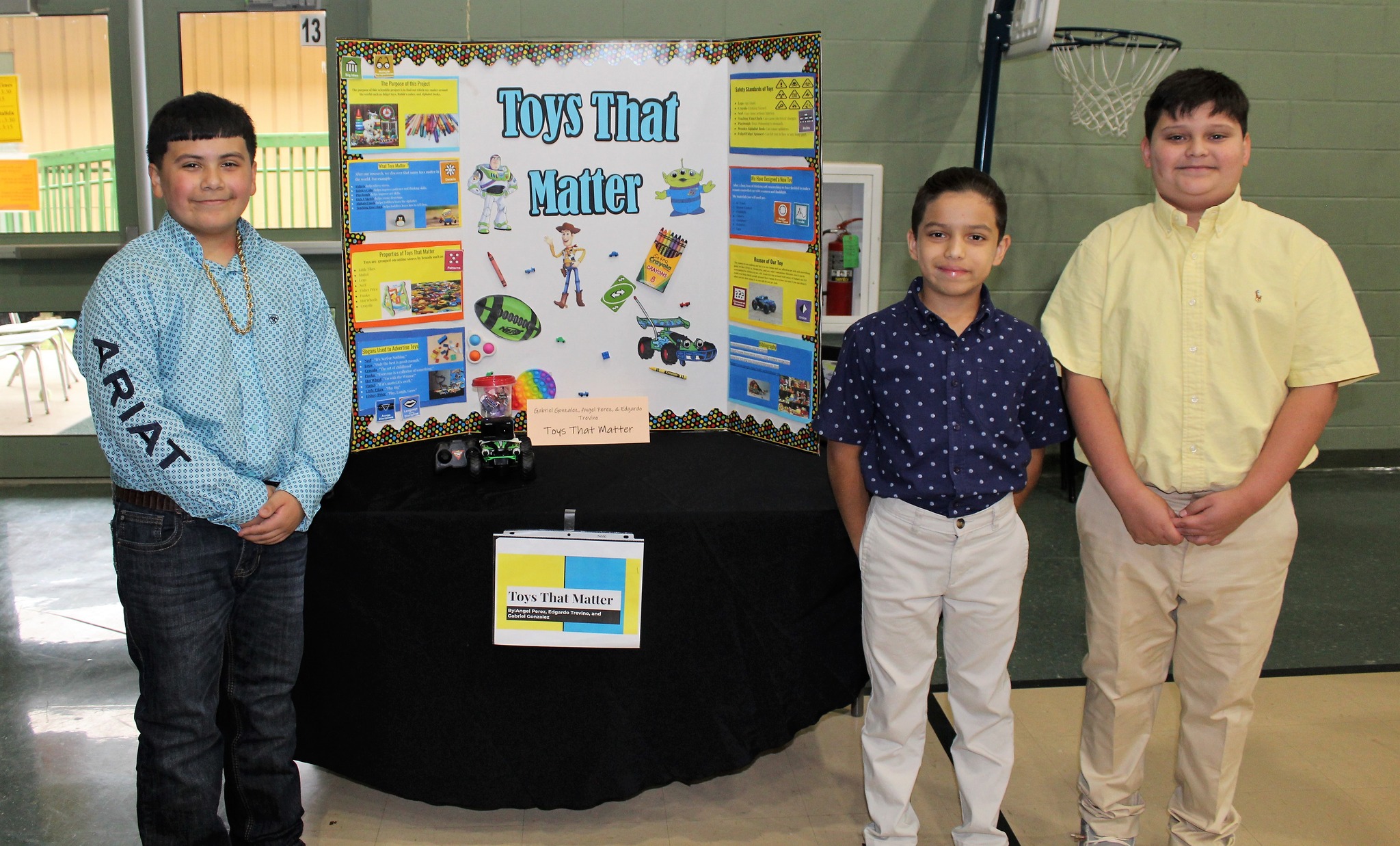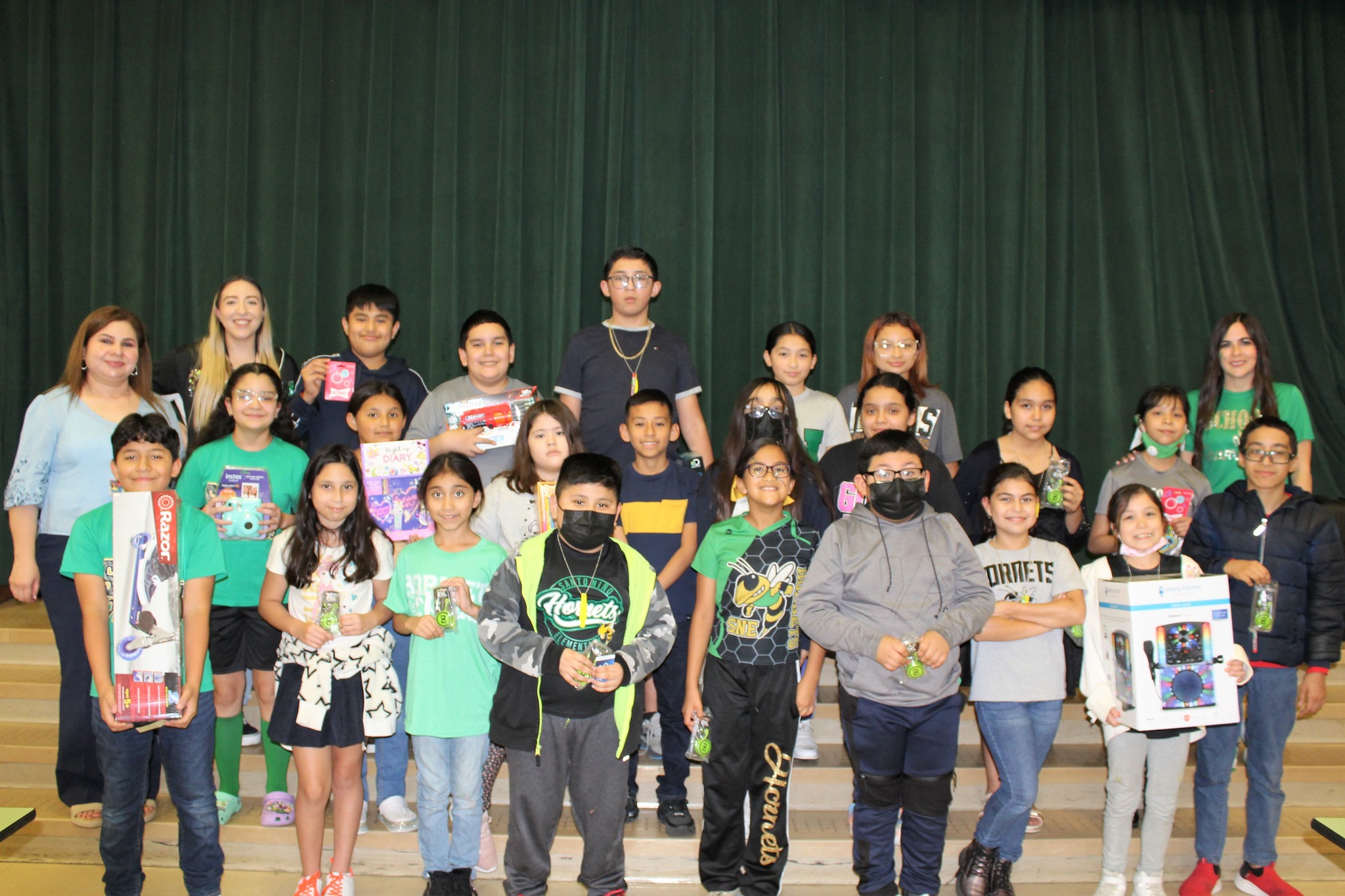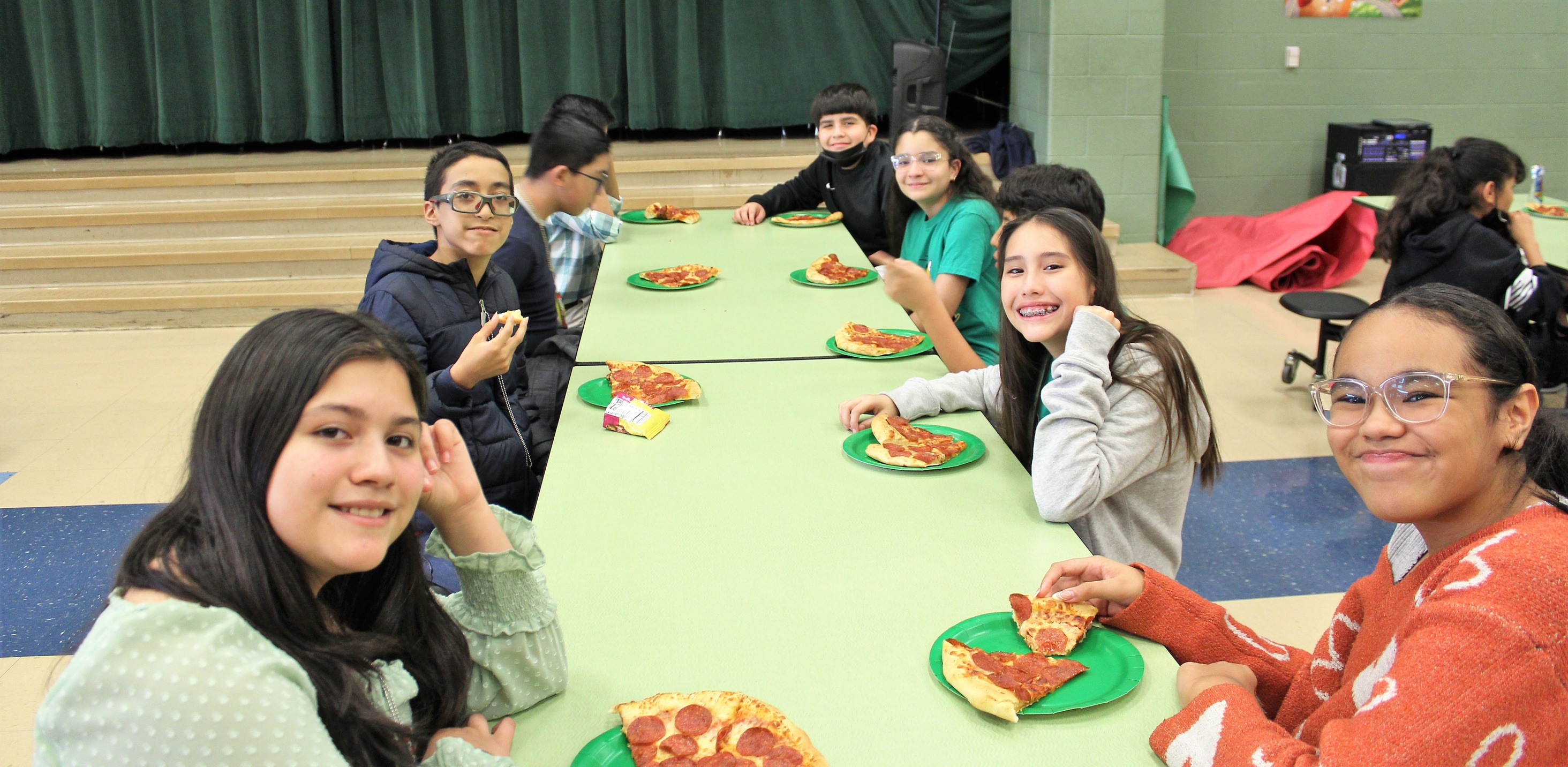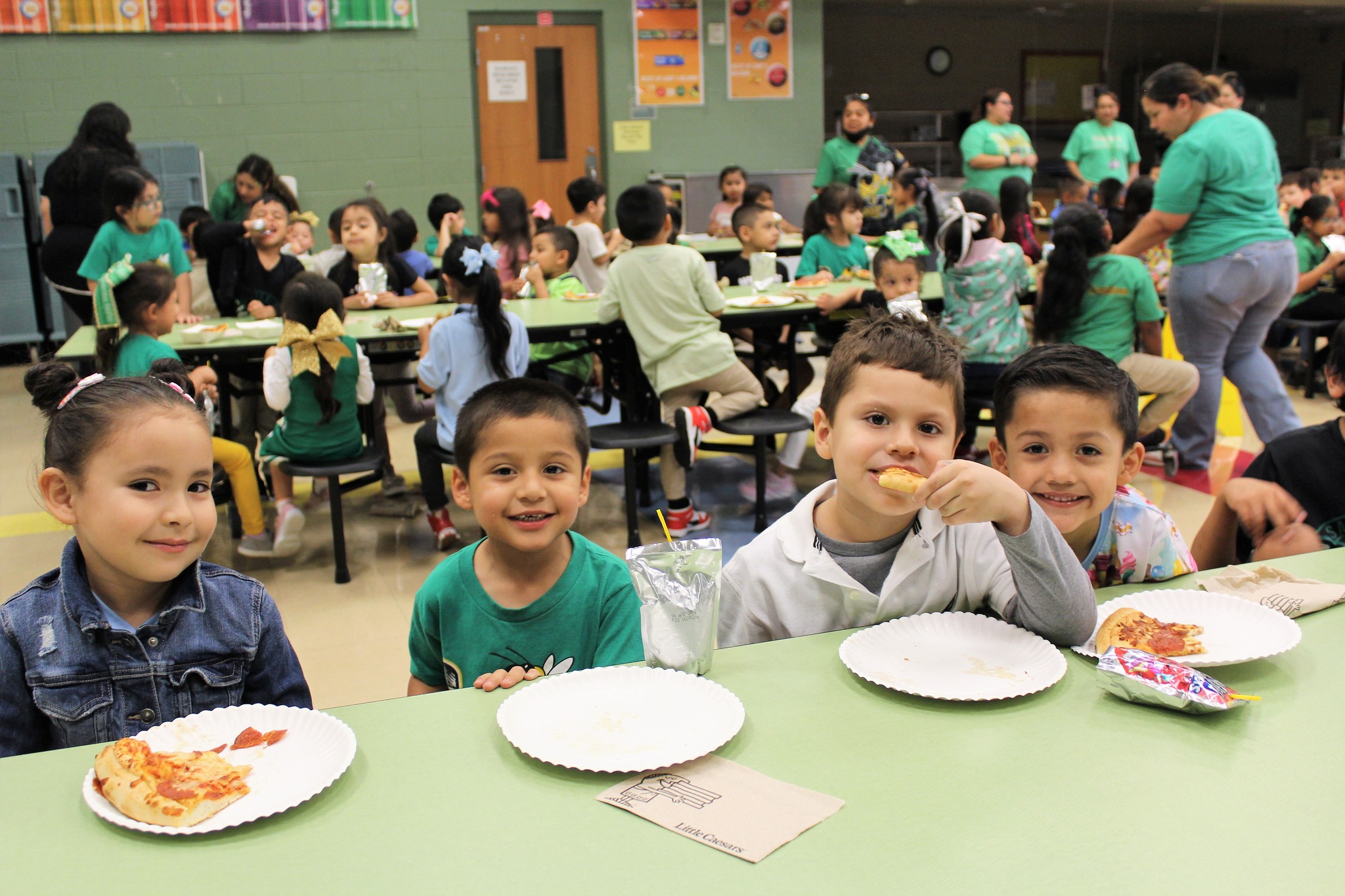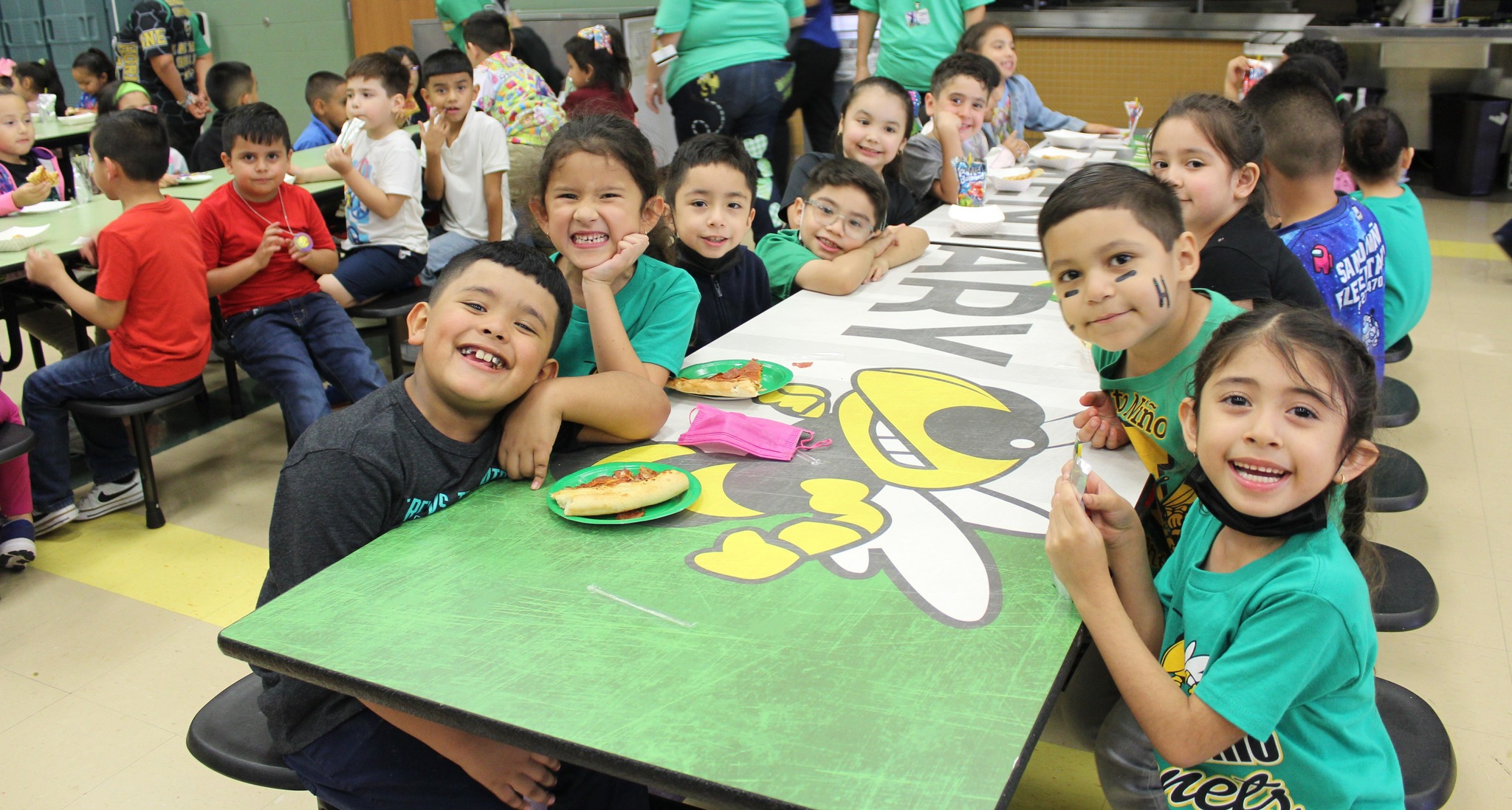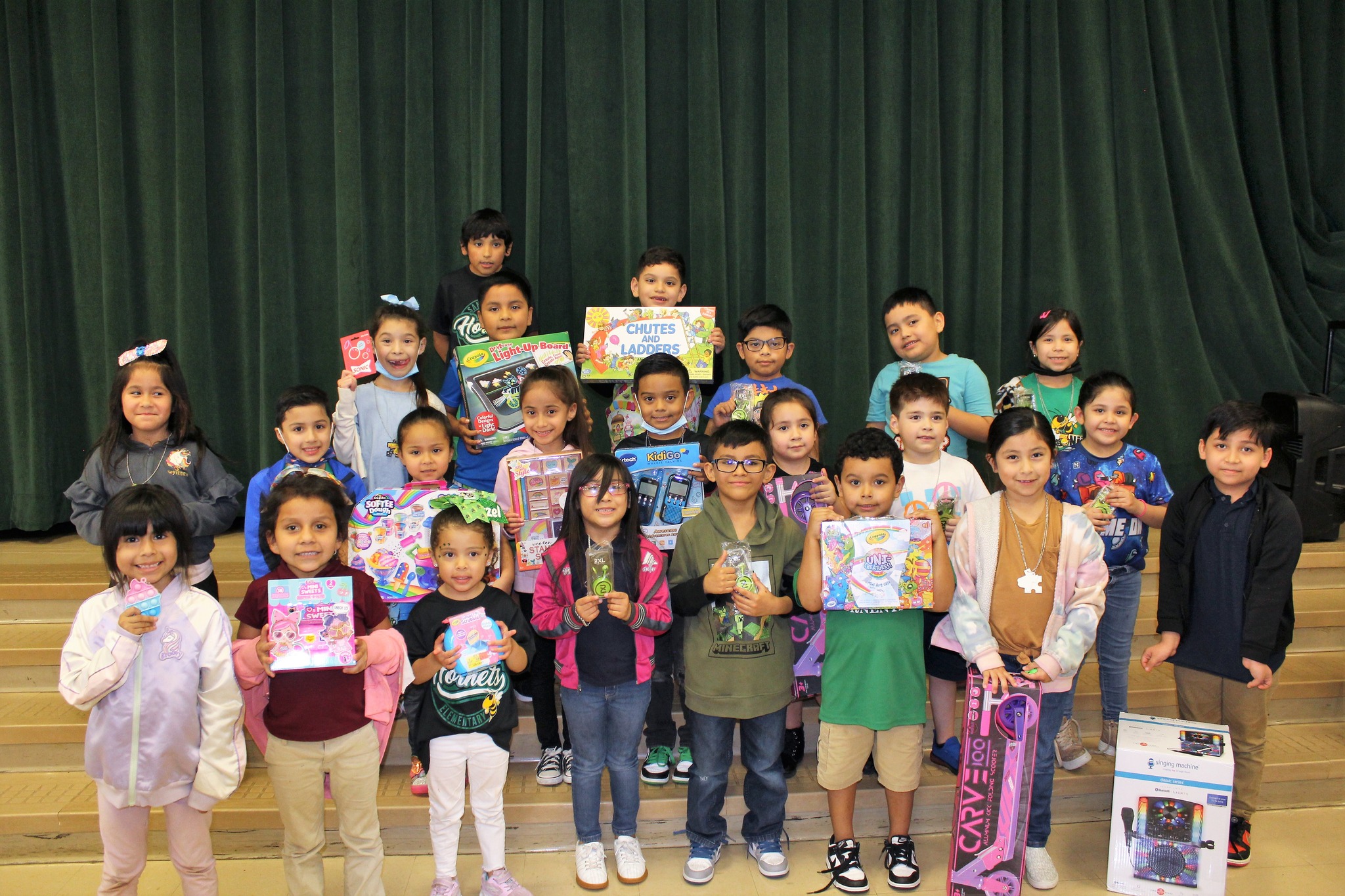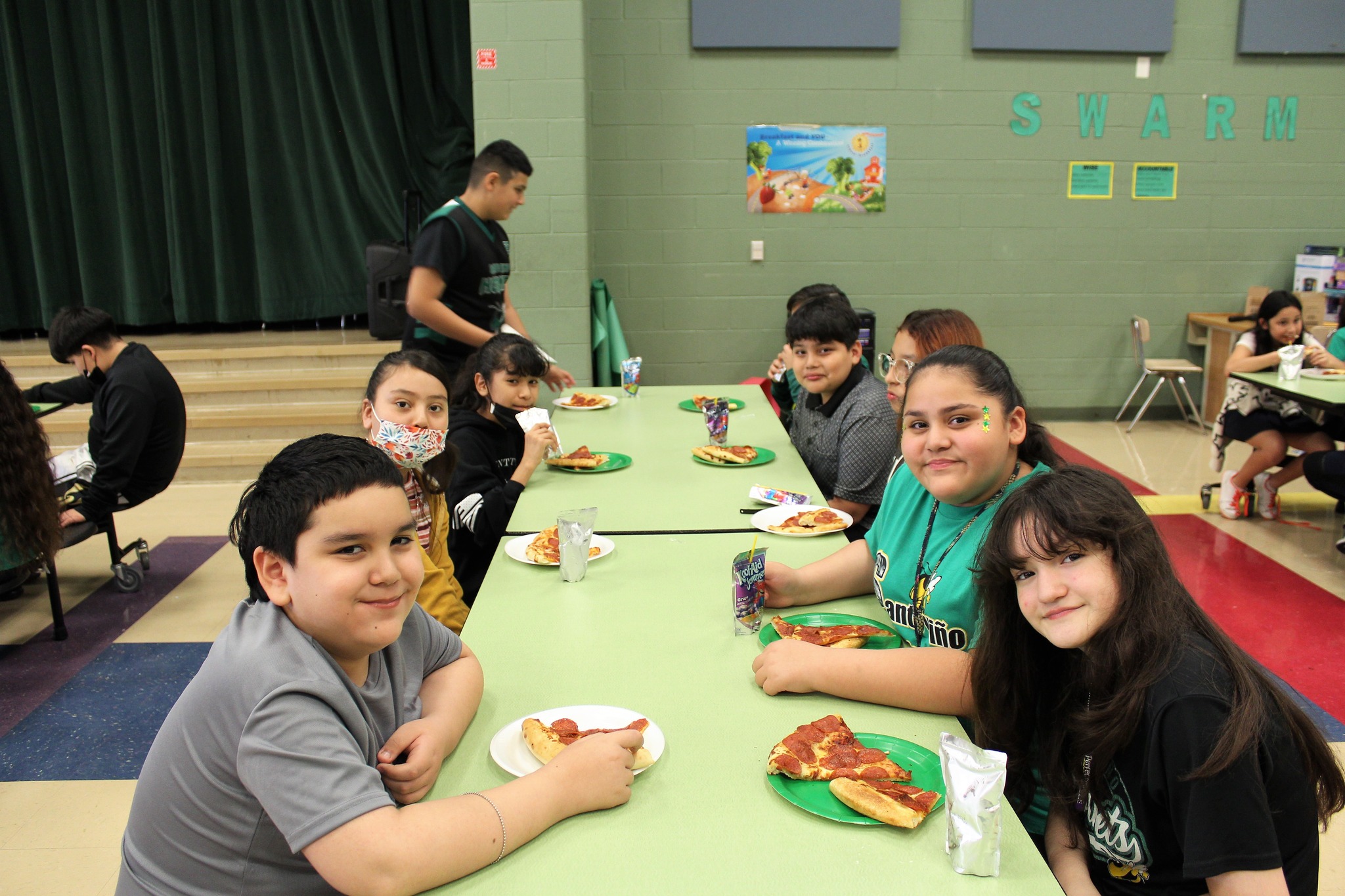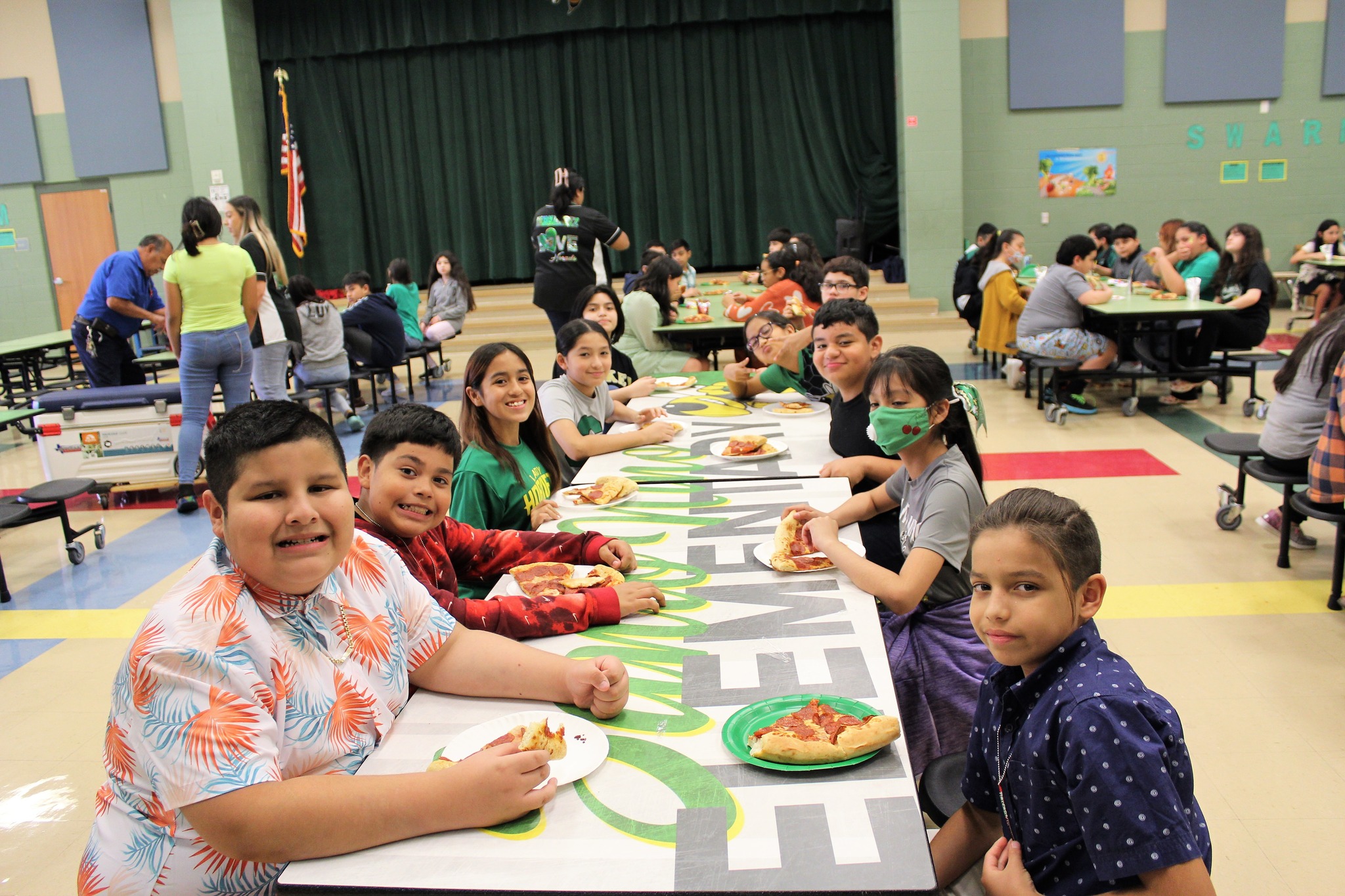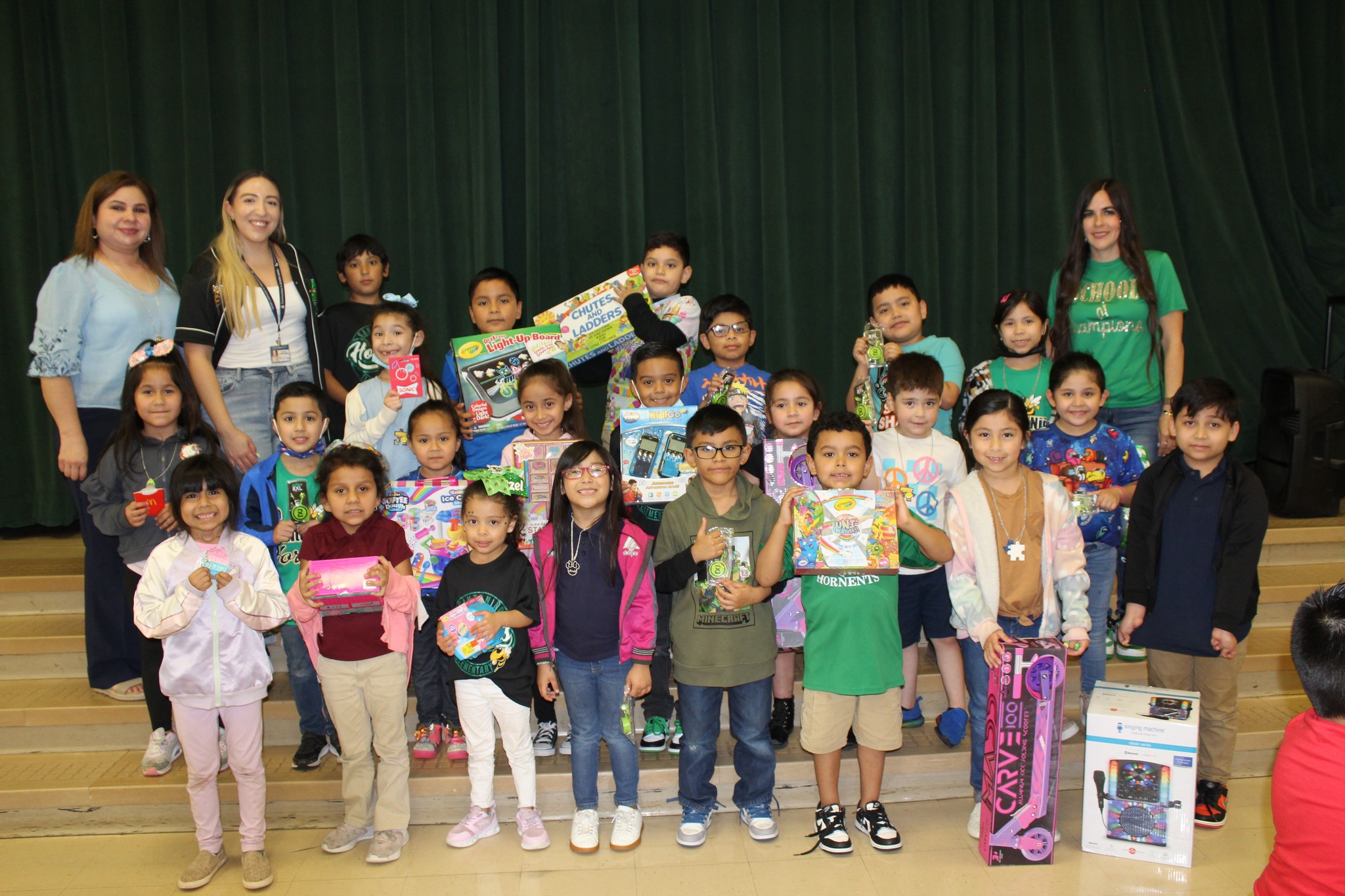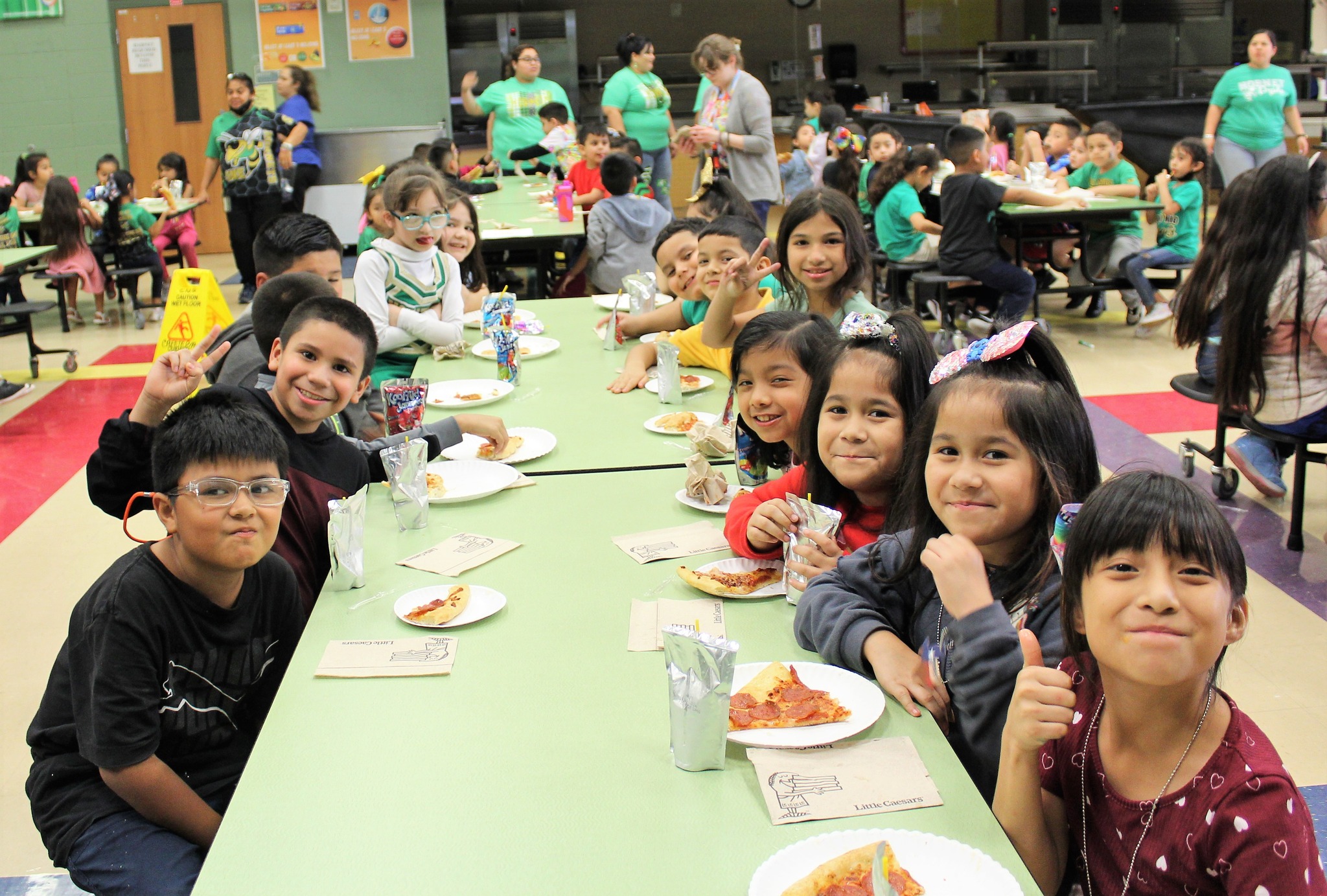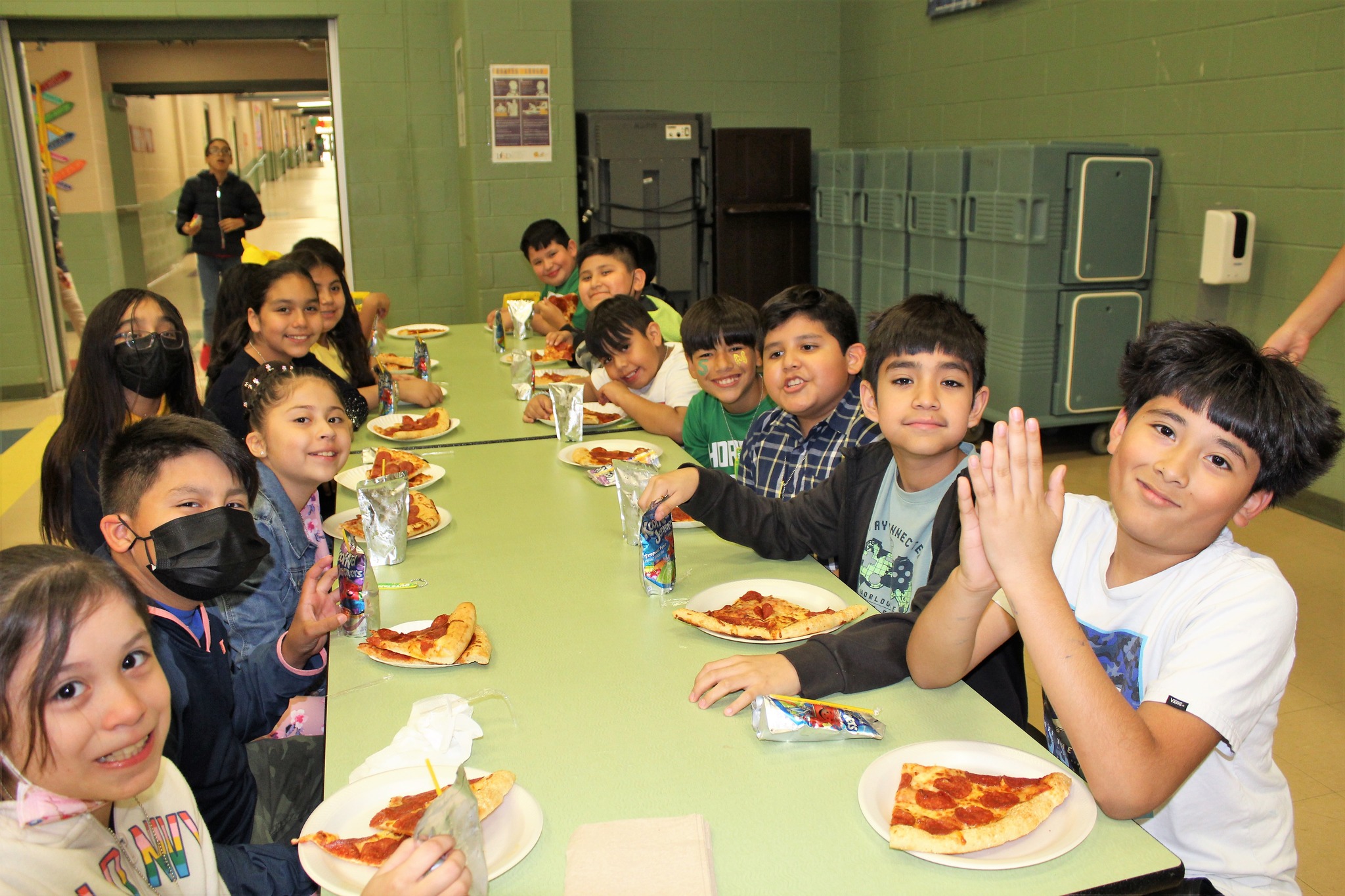 Hornet Alumni (2023 Graduate Visit)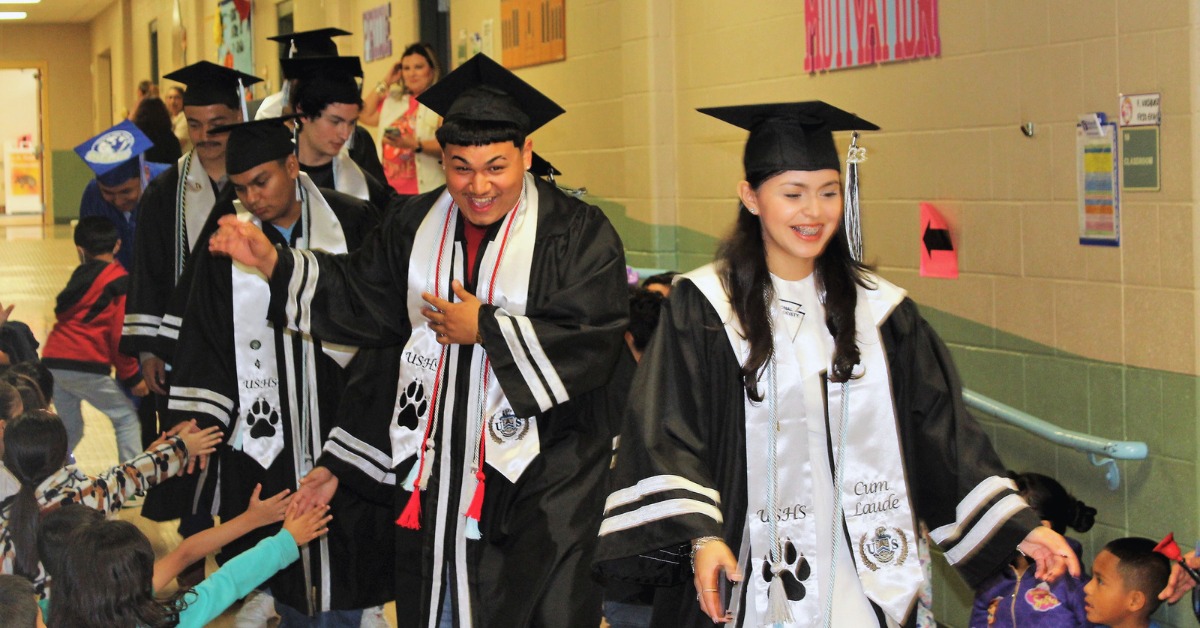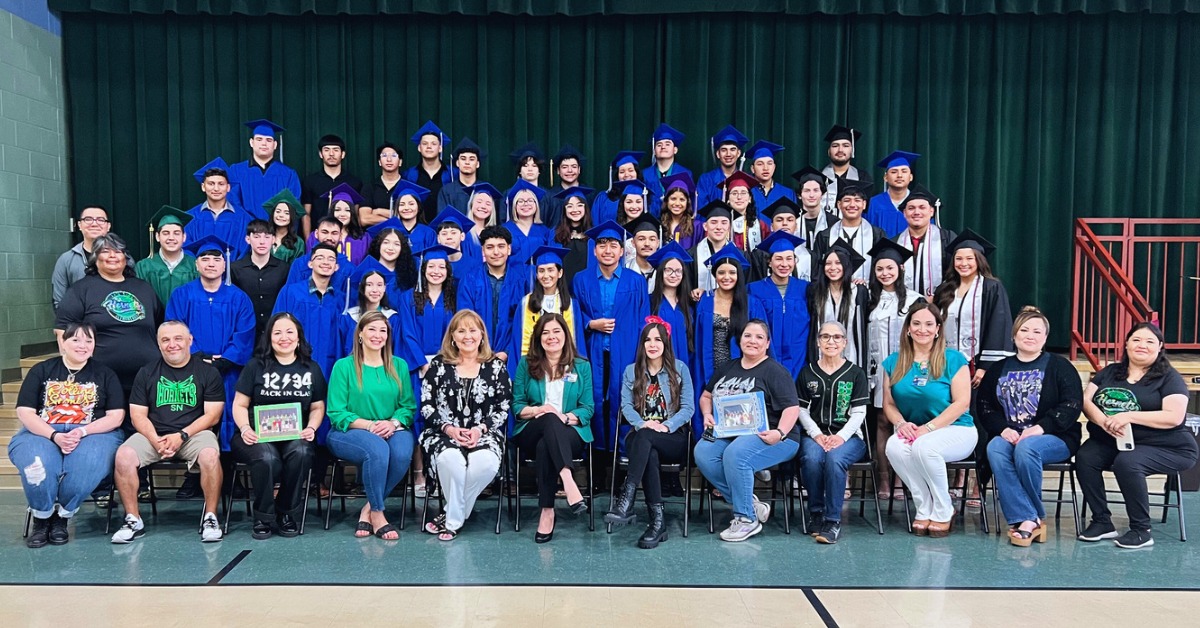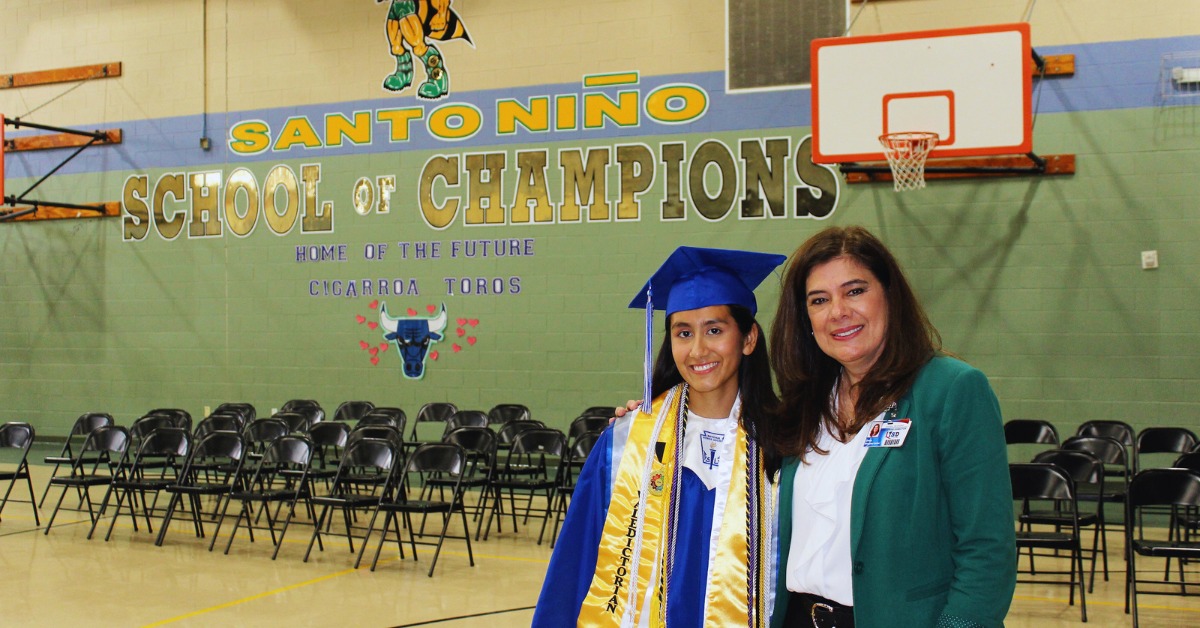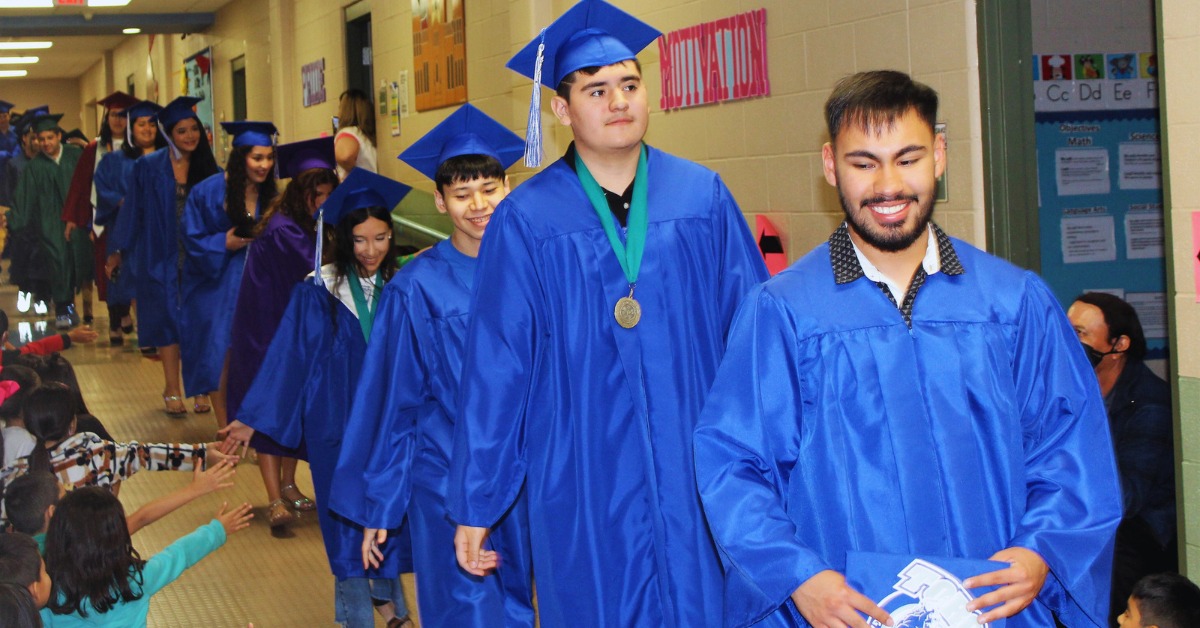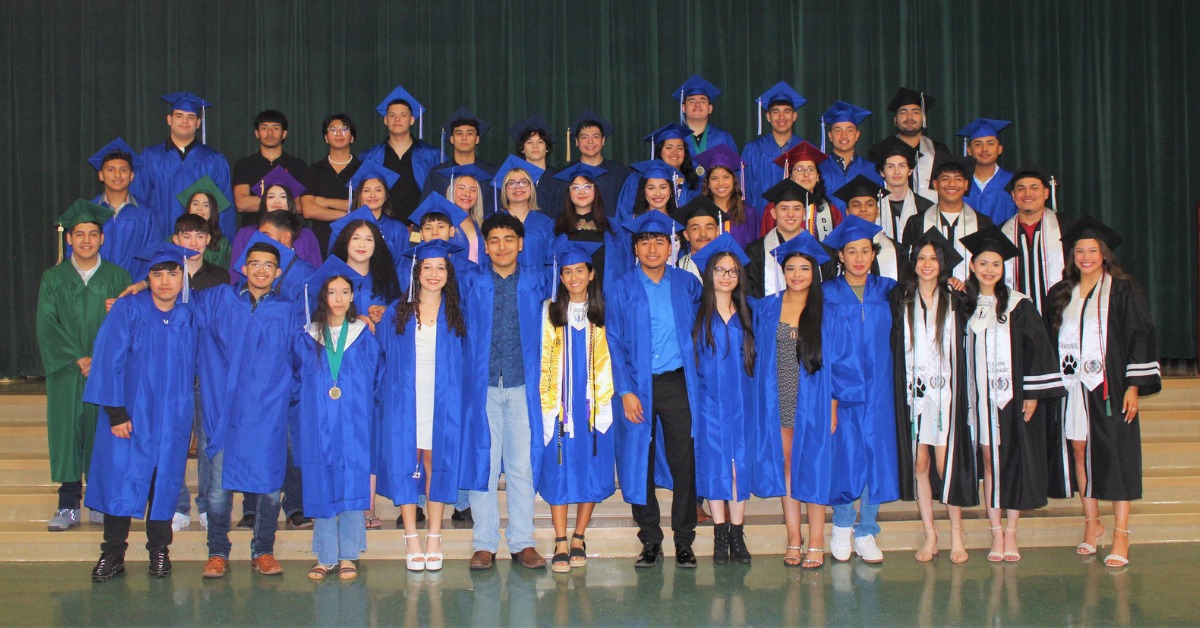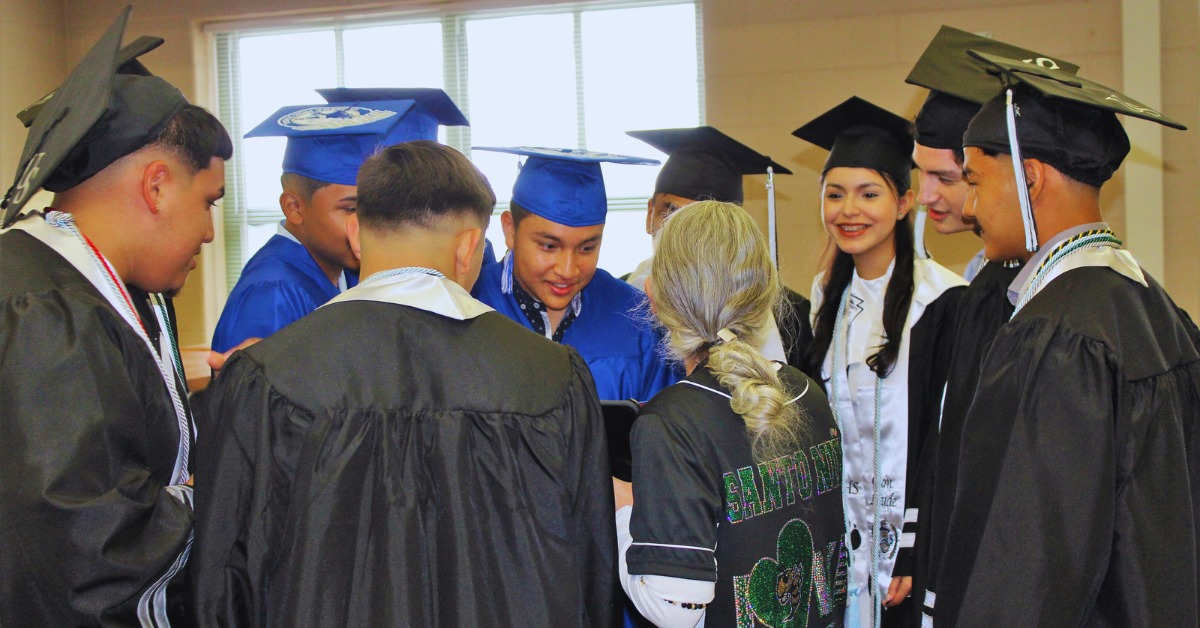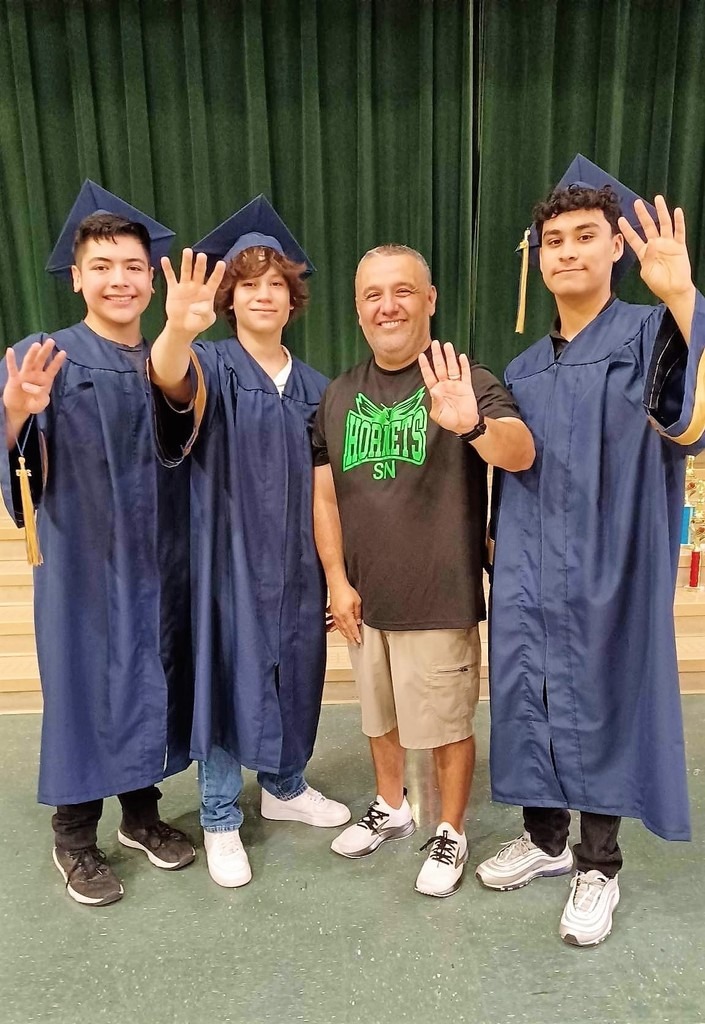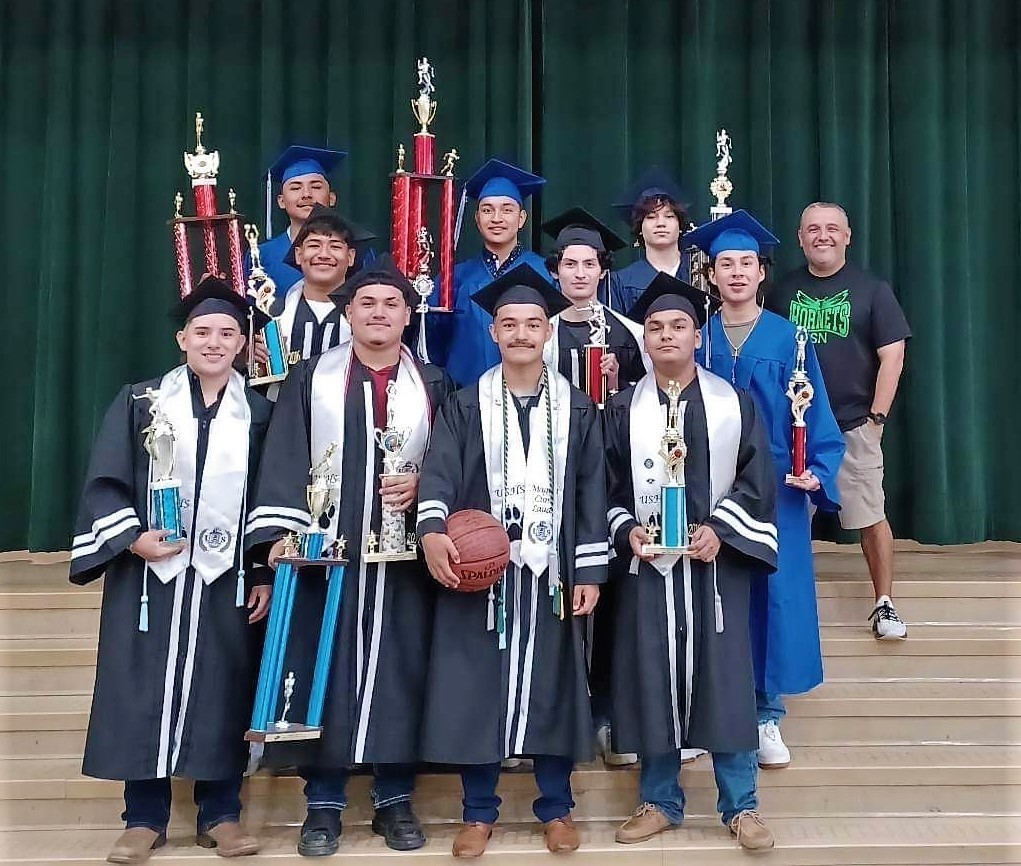 Teacher & Nurses Appreciation Week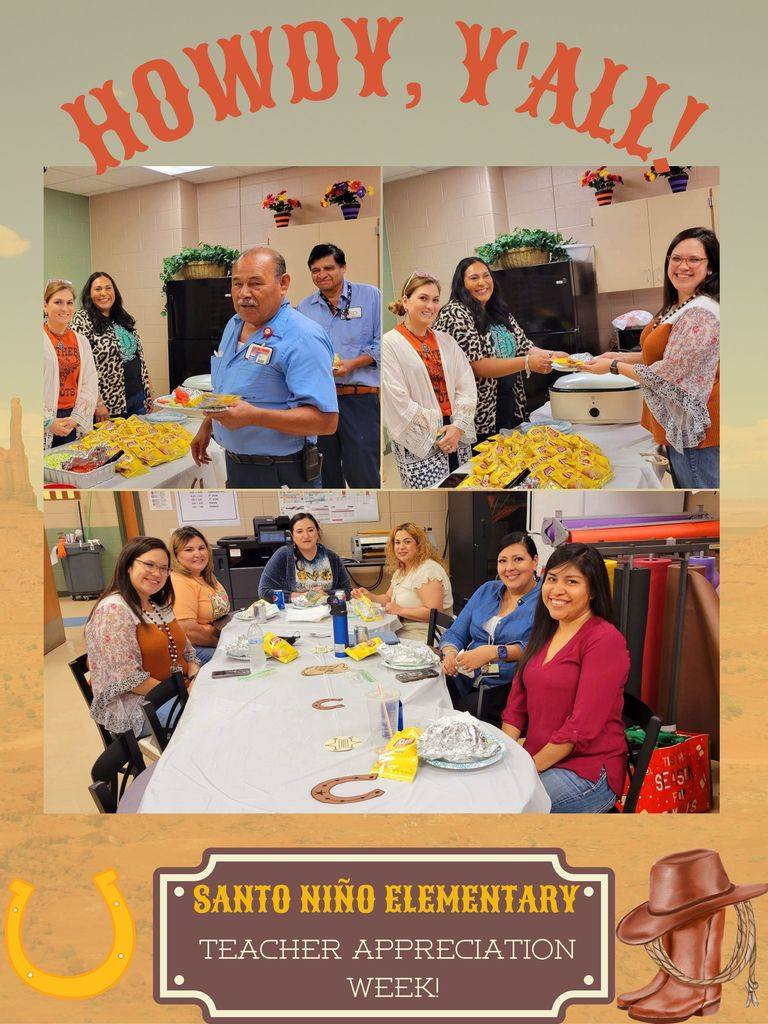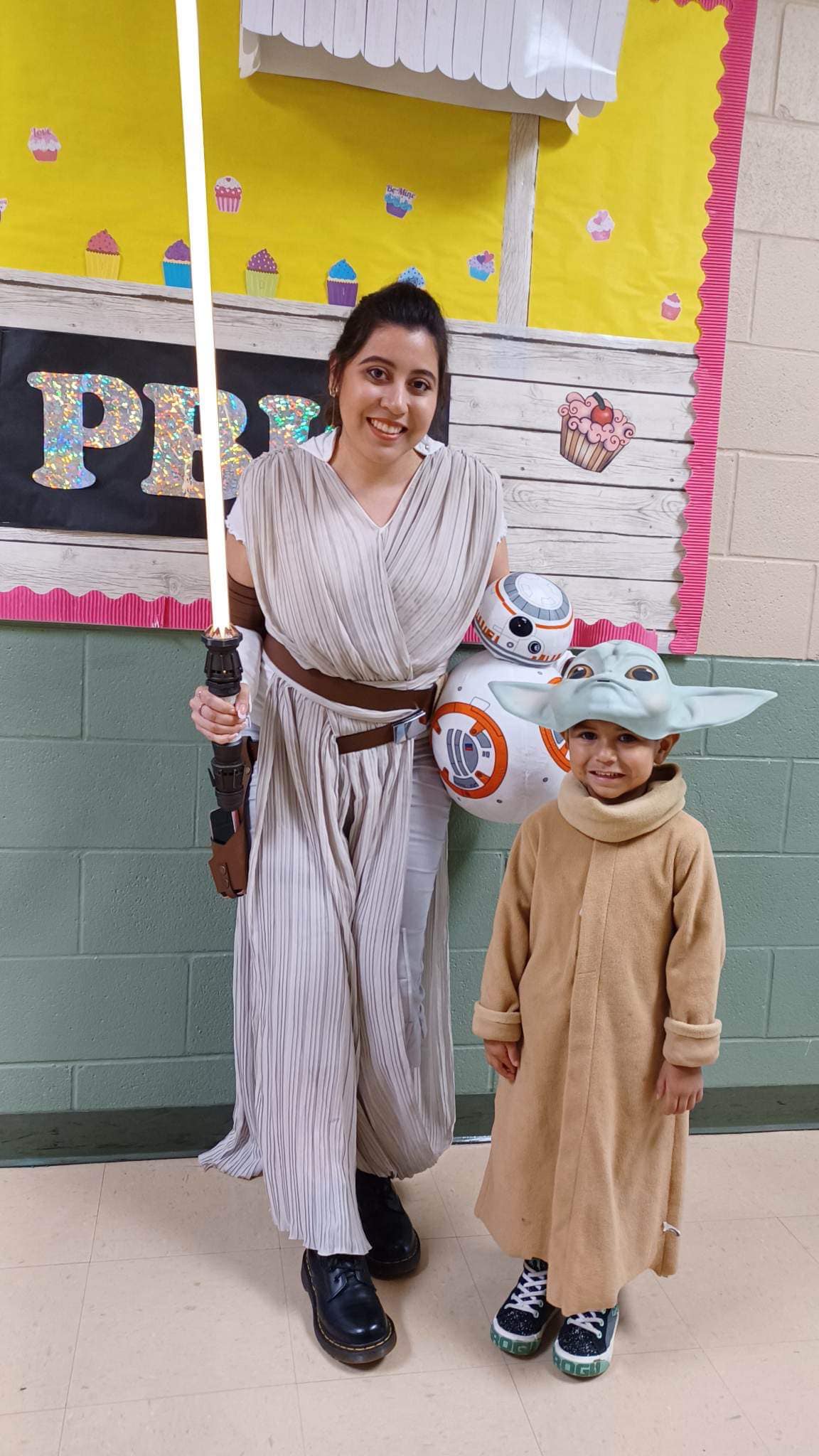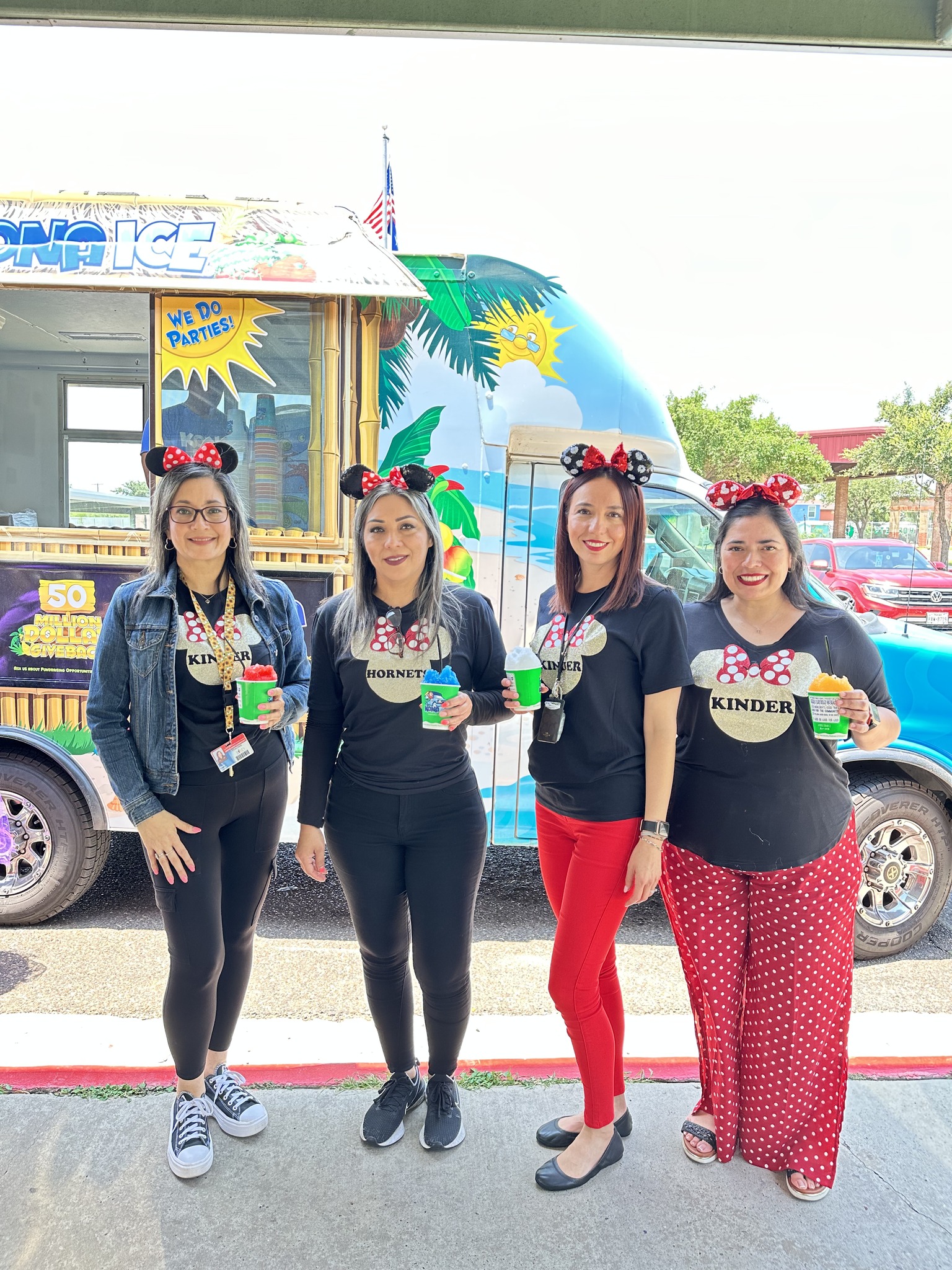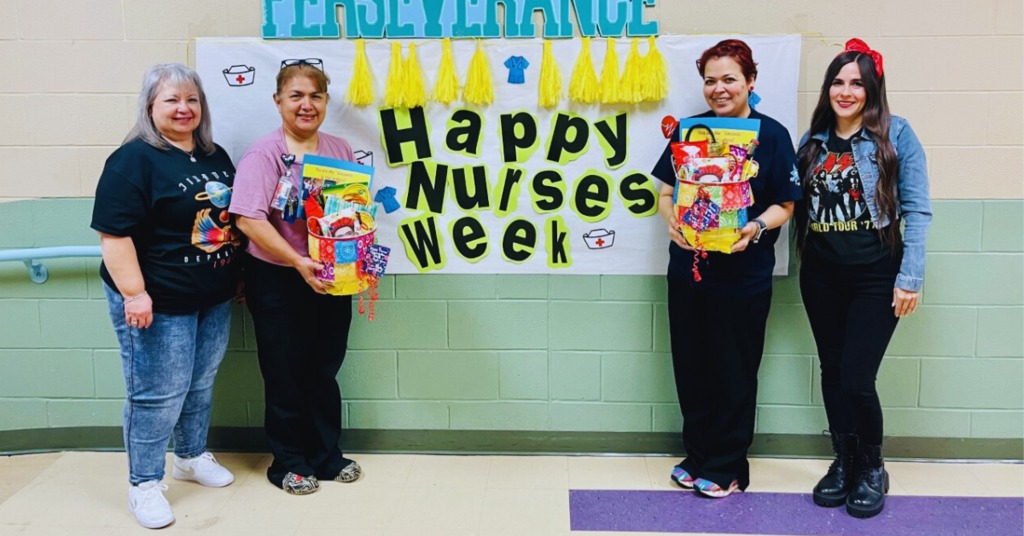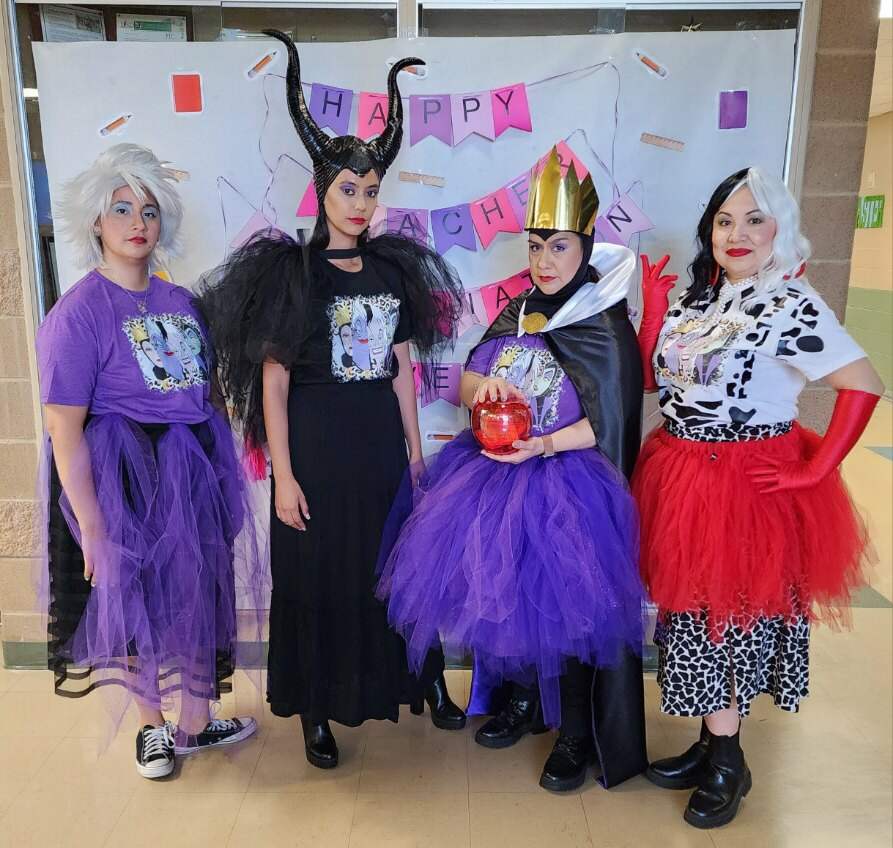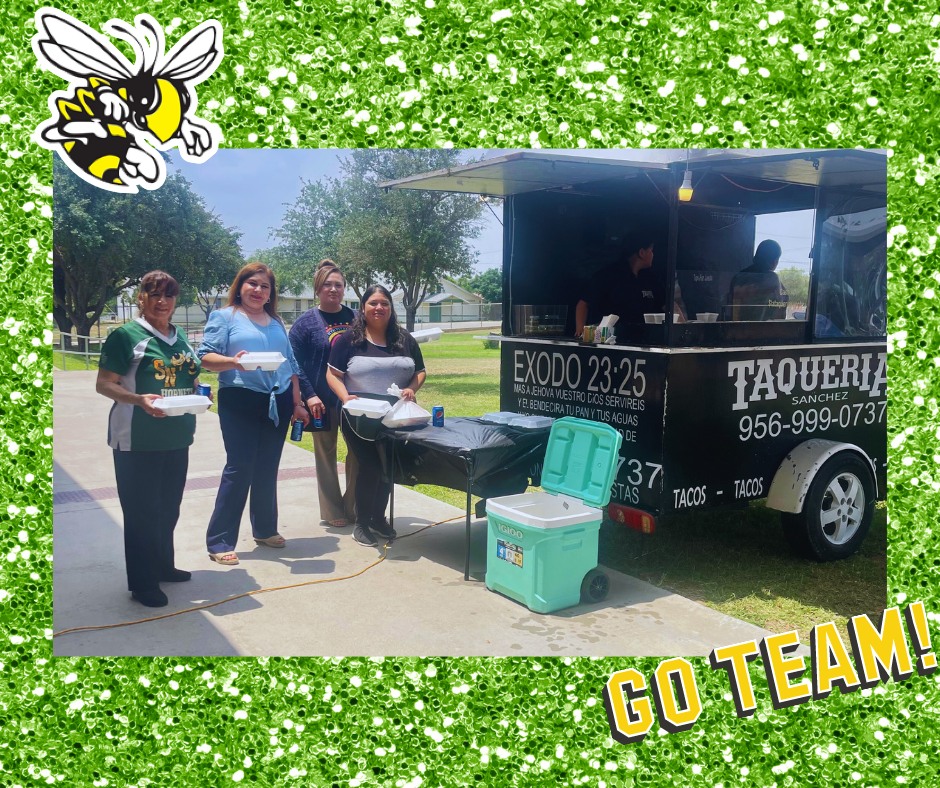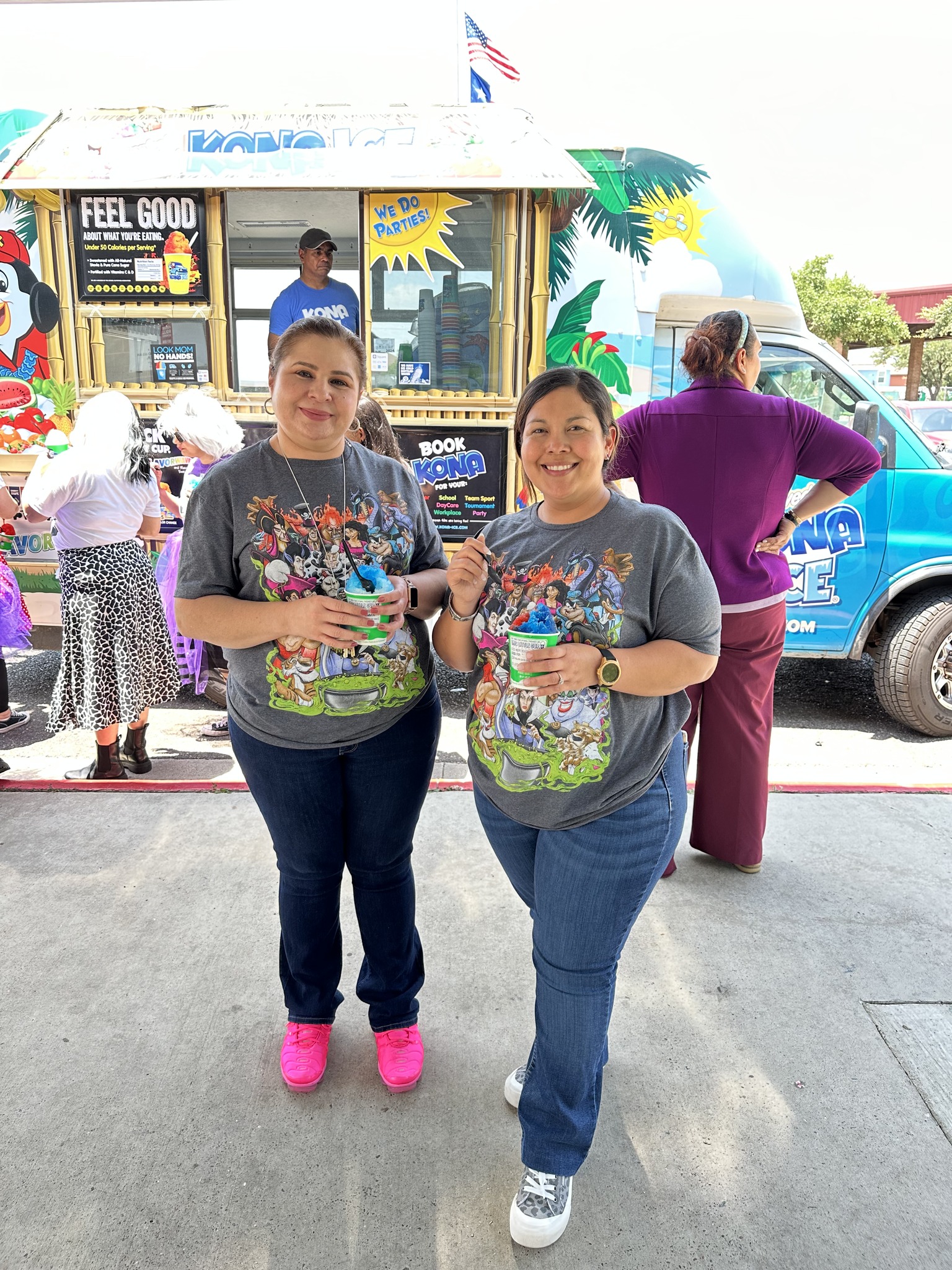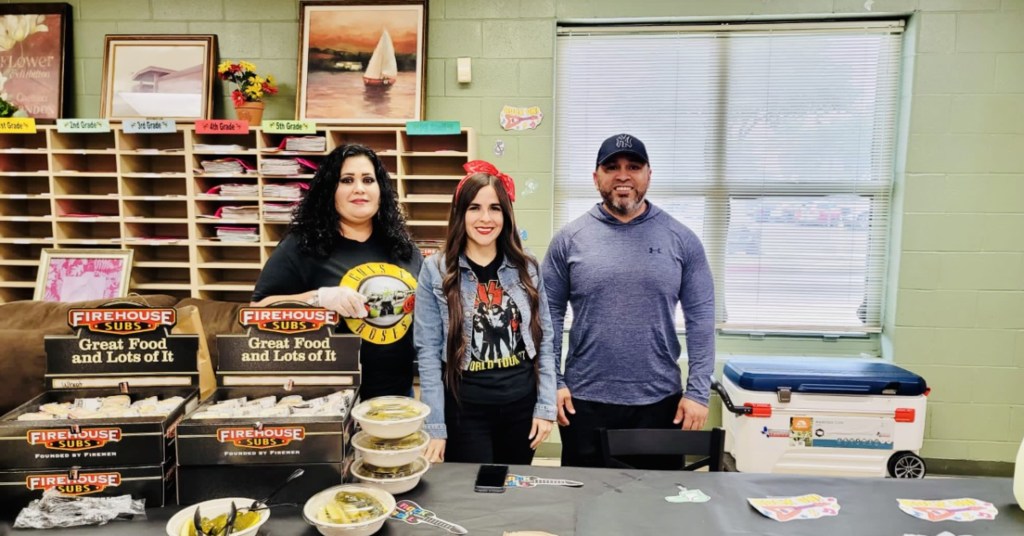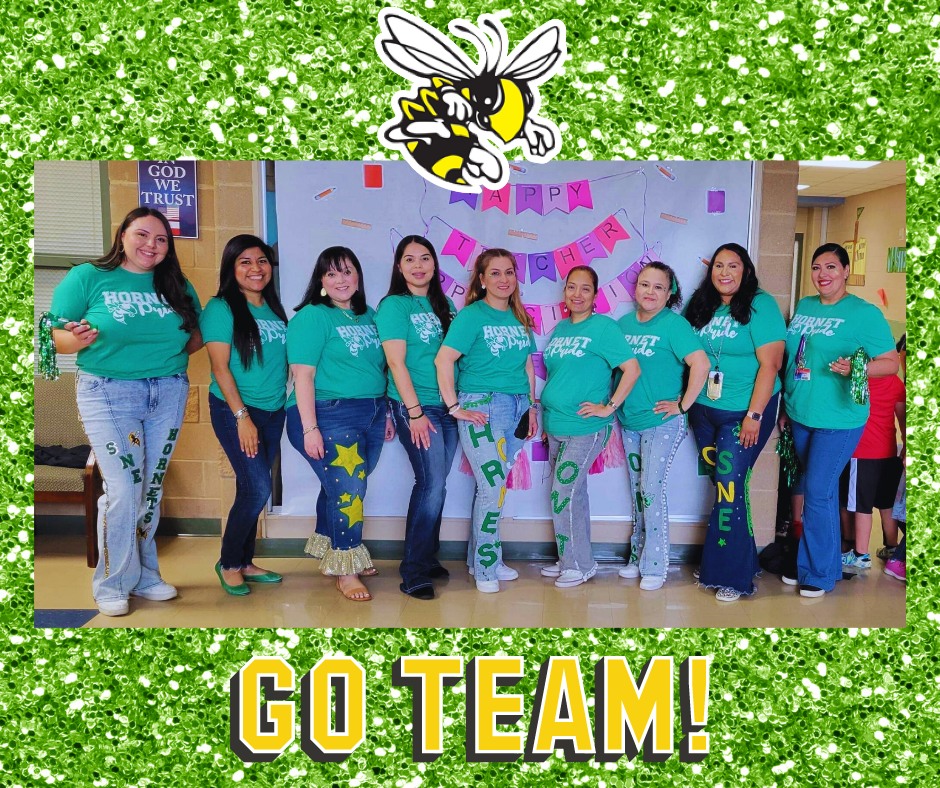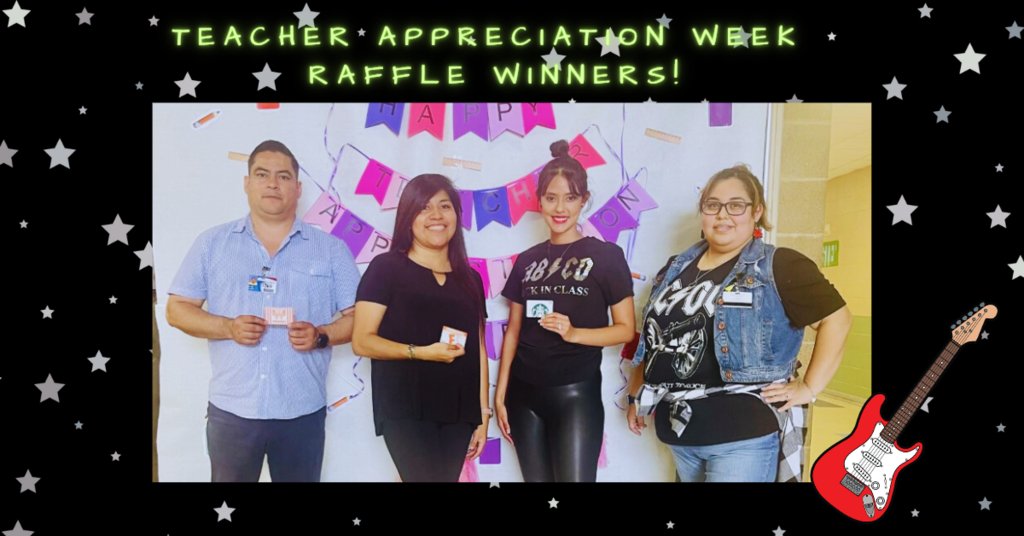 Toro Team Spring Concert
Honor choir performing at the Toro Team Spring Concert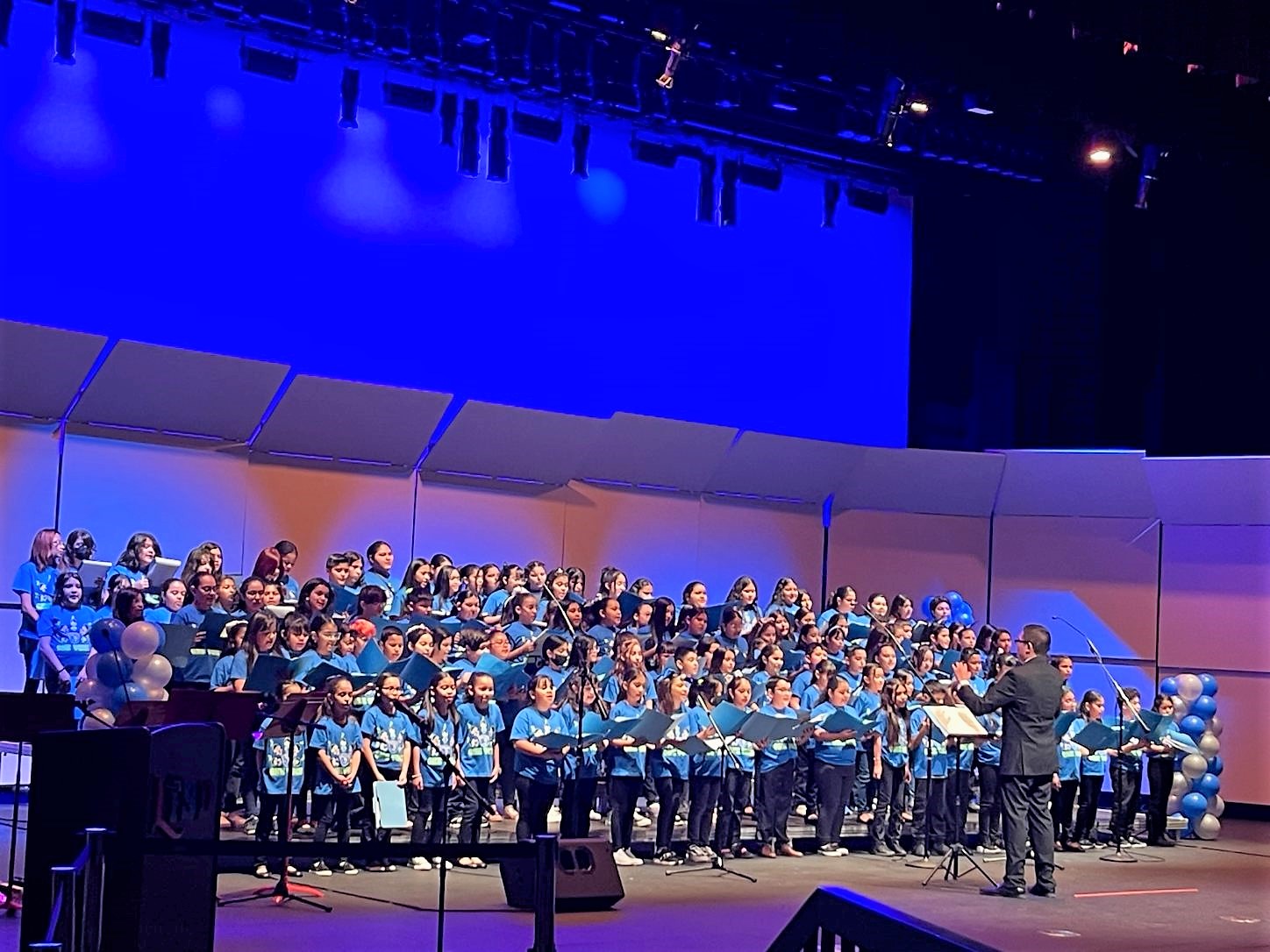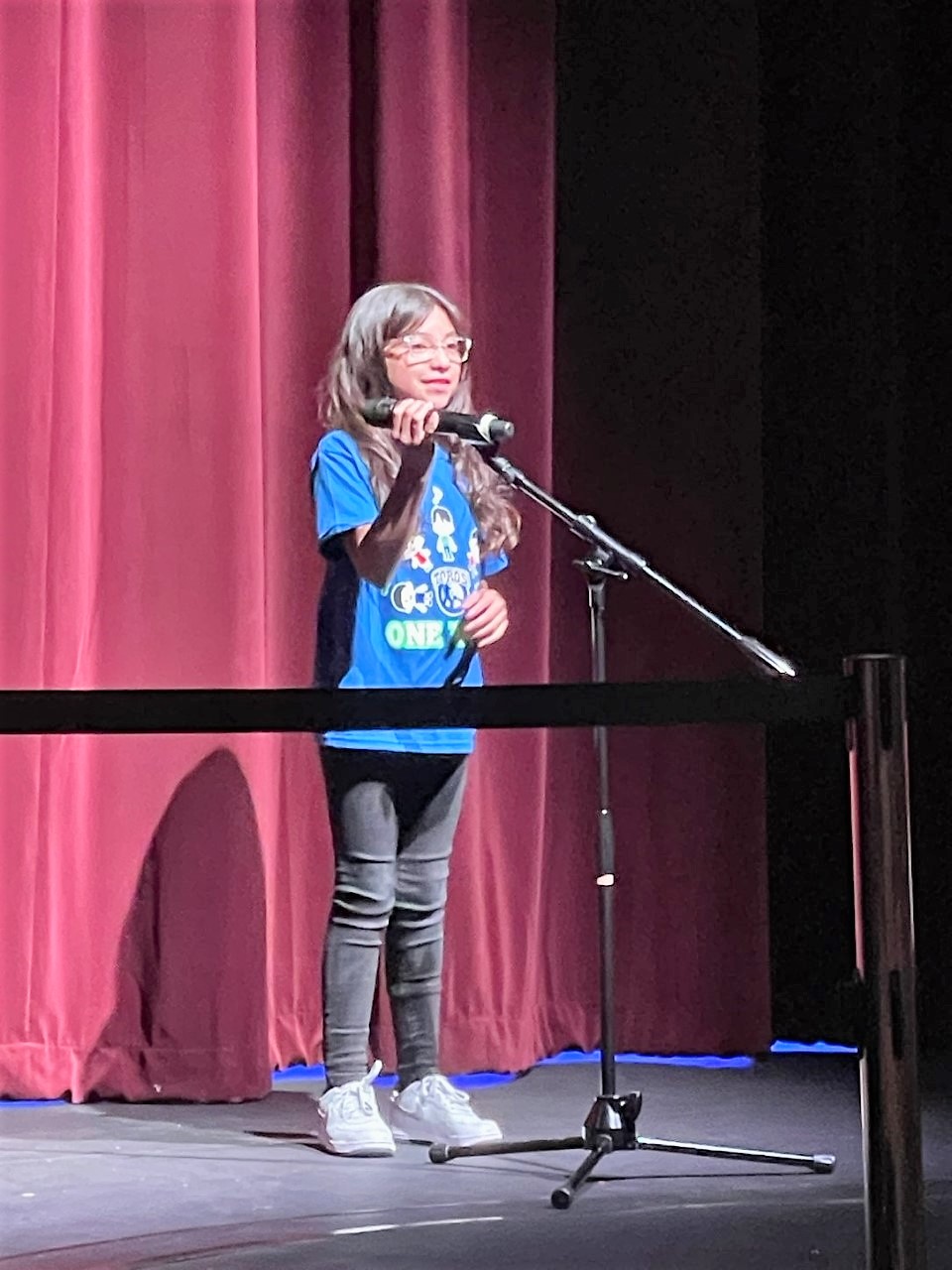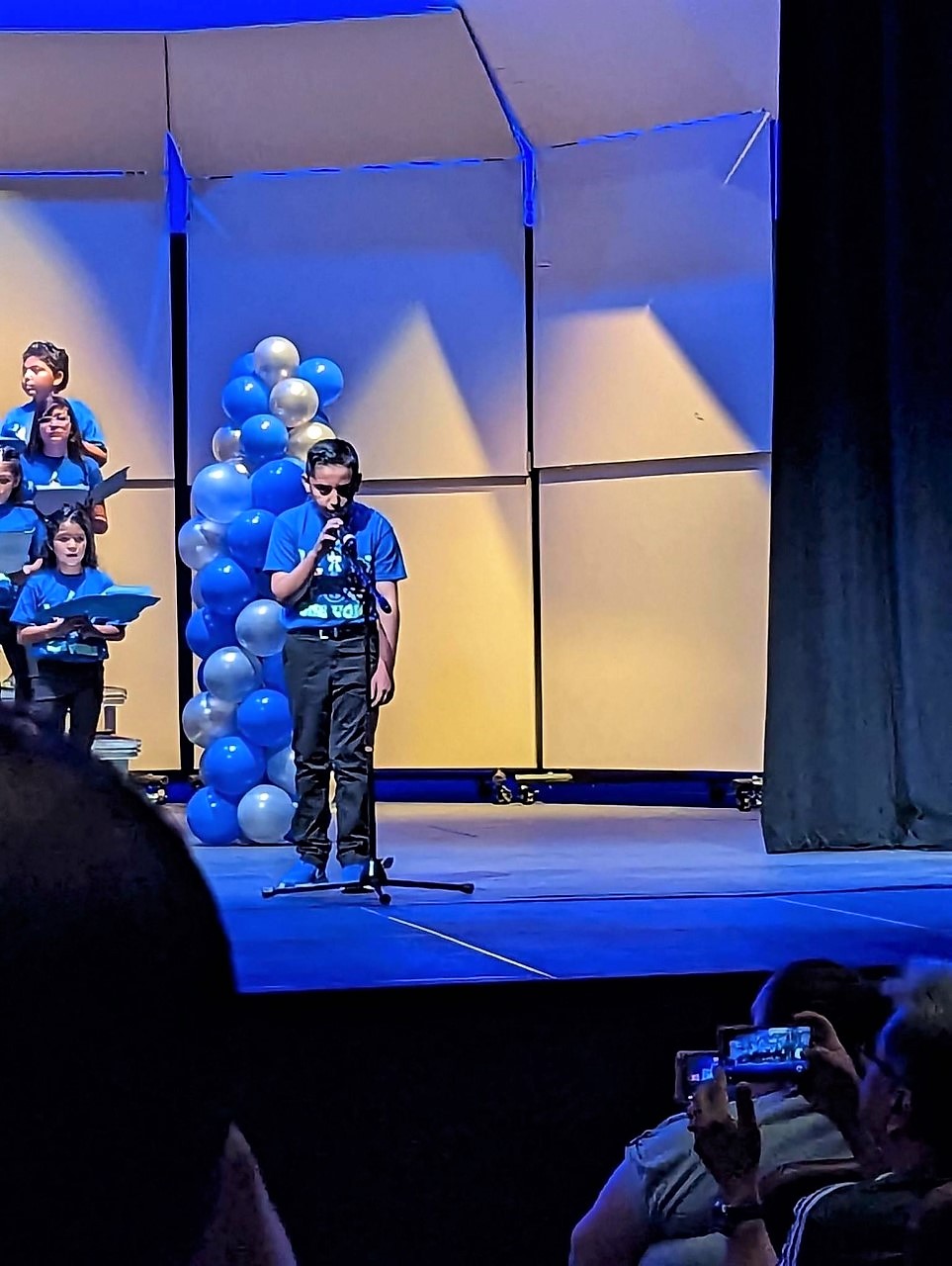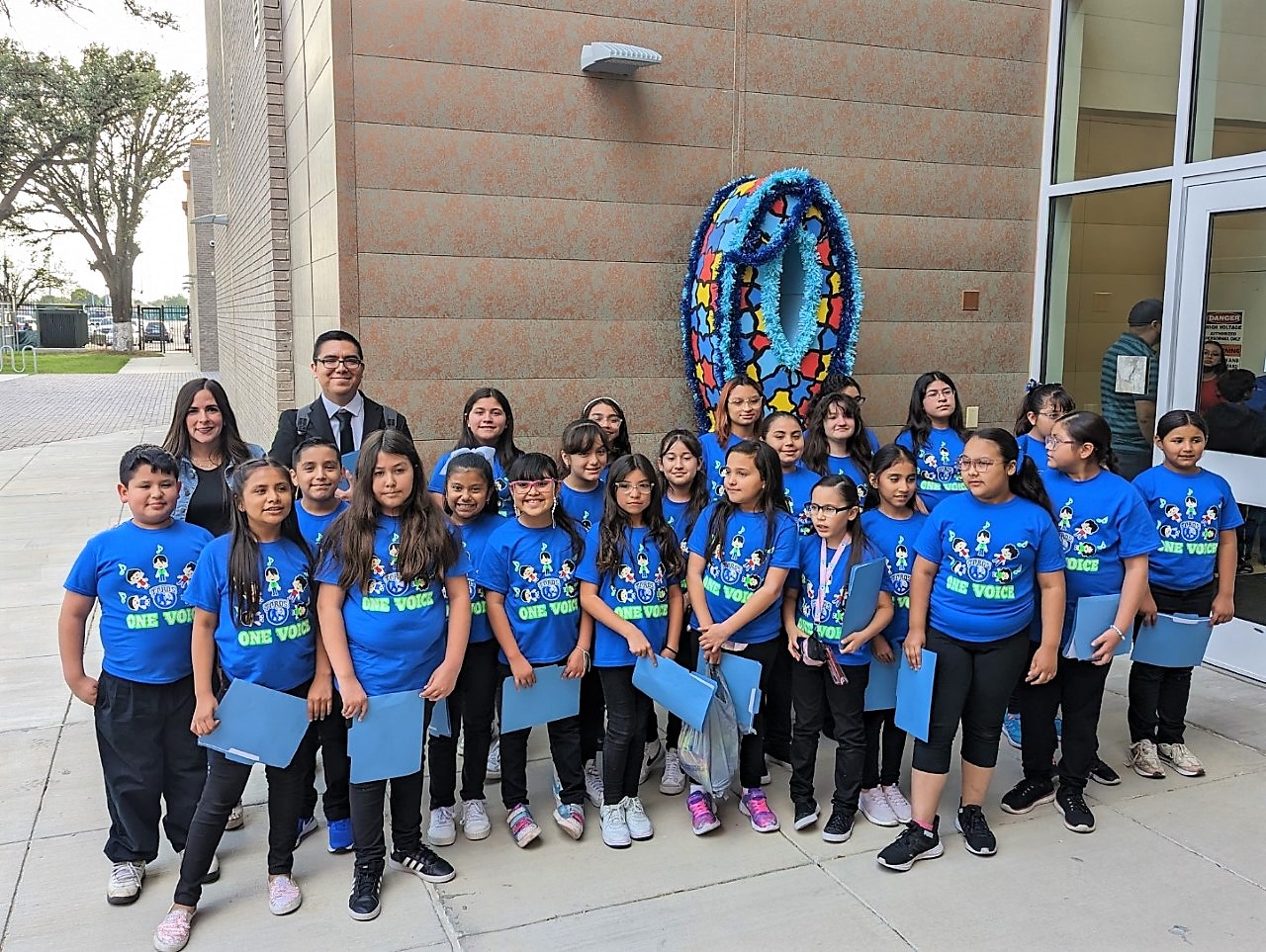 Hornet Track
Hornets finished 2nd in the Laredo ISD Boy & Girls track meet!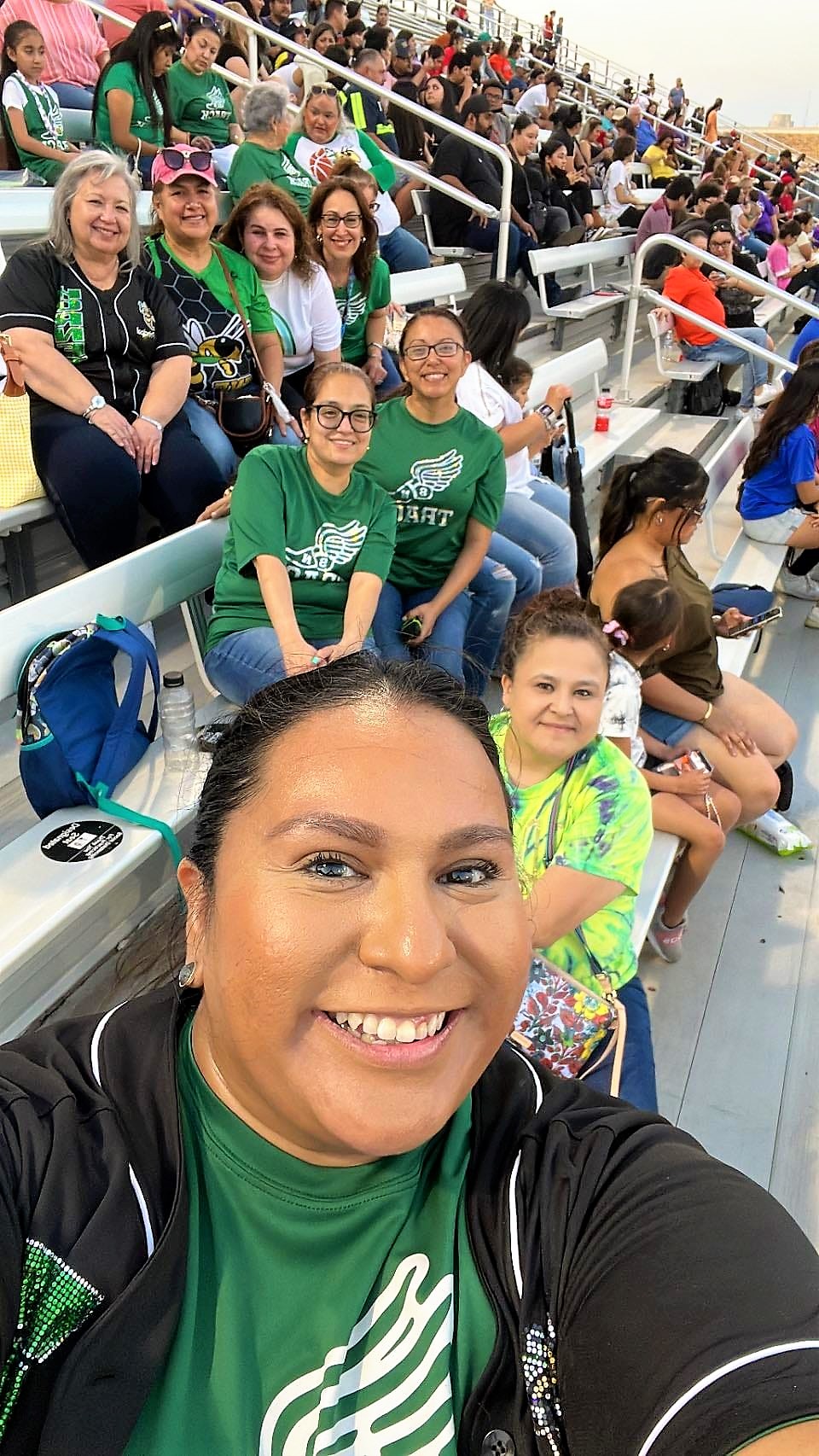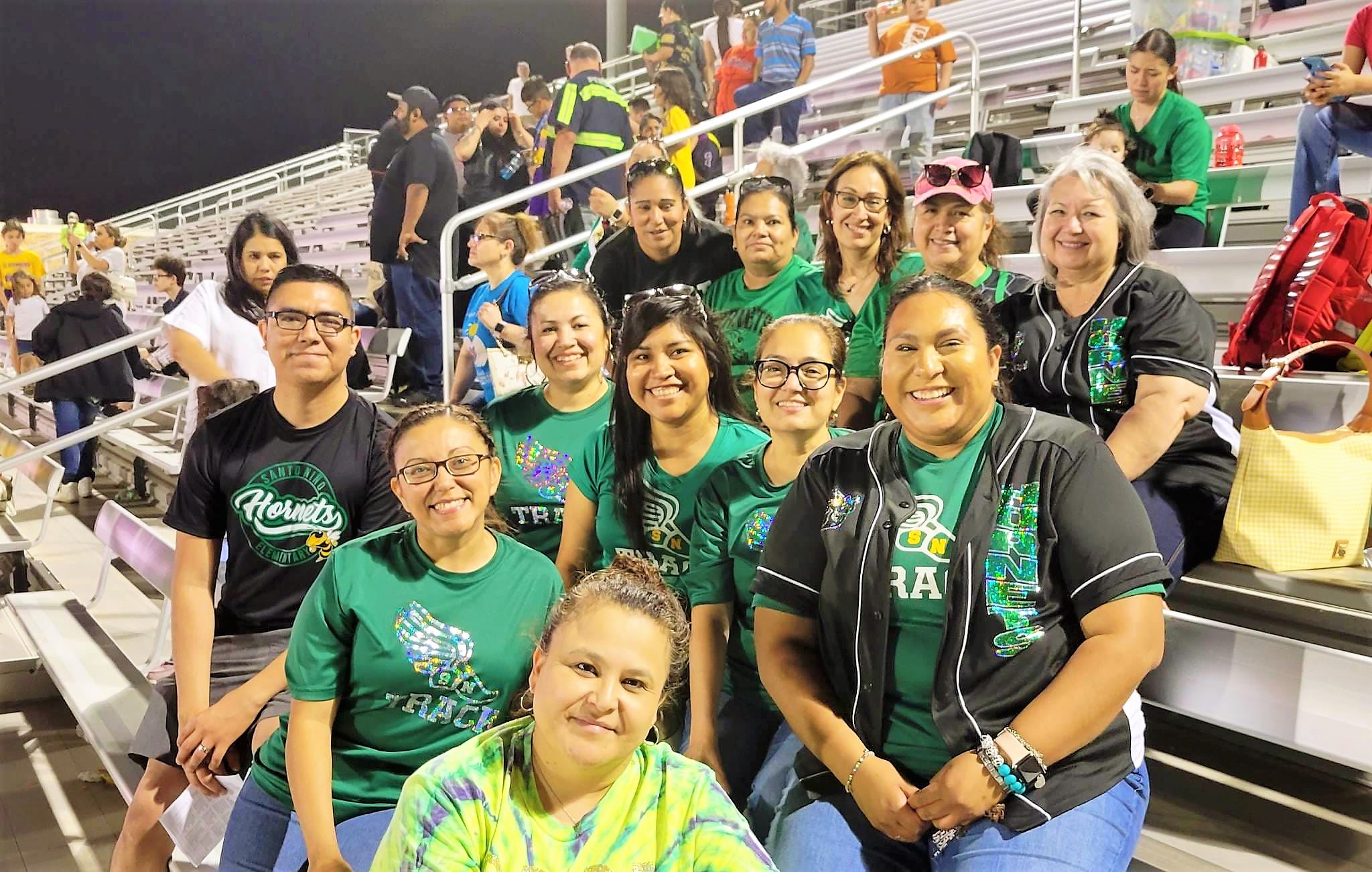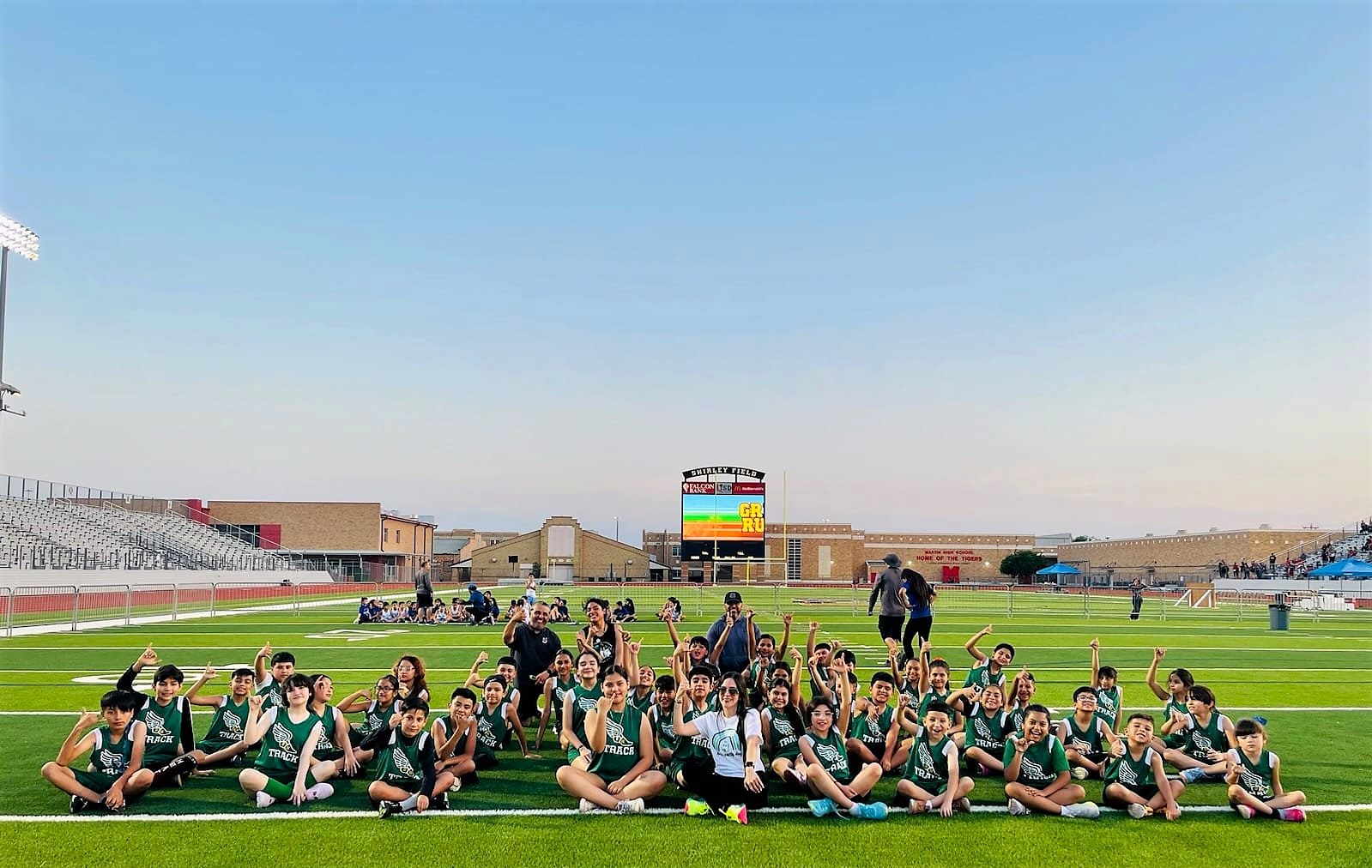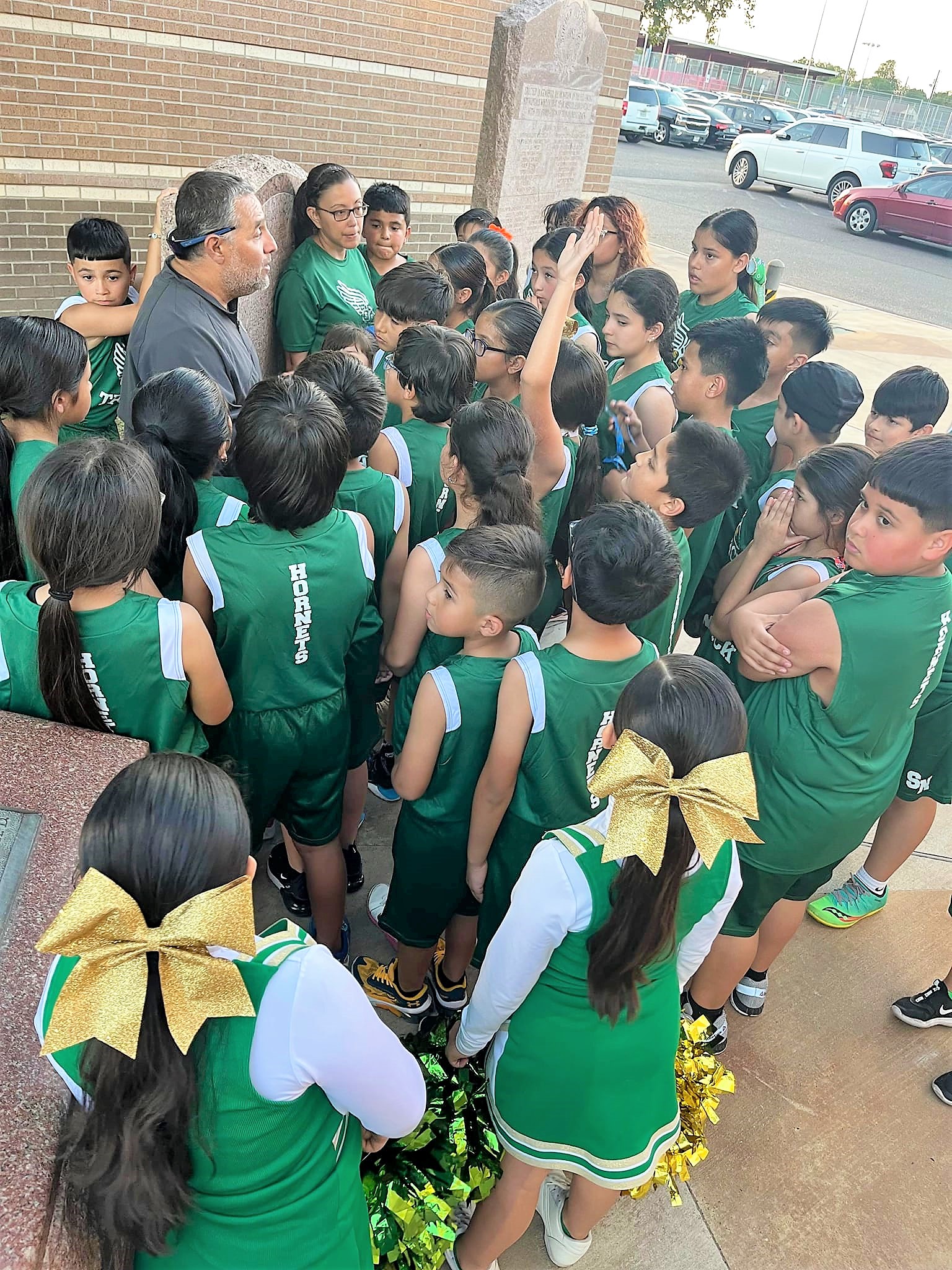 2nd Annual Tree Planting Ceremony
Today we celebrated our 2nd Annual Planting Ceremony in observance of Earth Day. This event serves to highlight the theme for 2023 which is to "Invest in Our Planet''. The journey to invest in our school's garden began last year when Ms. Reed was selected to lead the National Farm-to-School program in which her class learned to become Master Gardeners. Ms. Reed and her class planted several vegetables and fruit trees that still stand today. Although we no longer have this program, it still planted a seed within our hearts to continue to give back to our school.
We would like to extend our gratitude to City Councilman Mr. Gilbert Gonzalez, Commissioner Jesse Gonzalez, and Laredo ISD Board President Monica Garcia. They have each kindly donated a tree. Their contribution helps us continue our goal of beautifying our campus and reiterate the importance of protecting our planet.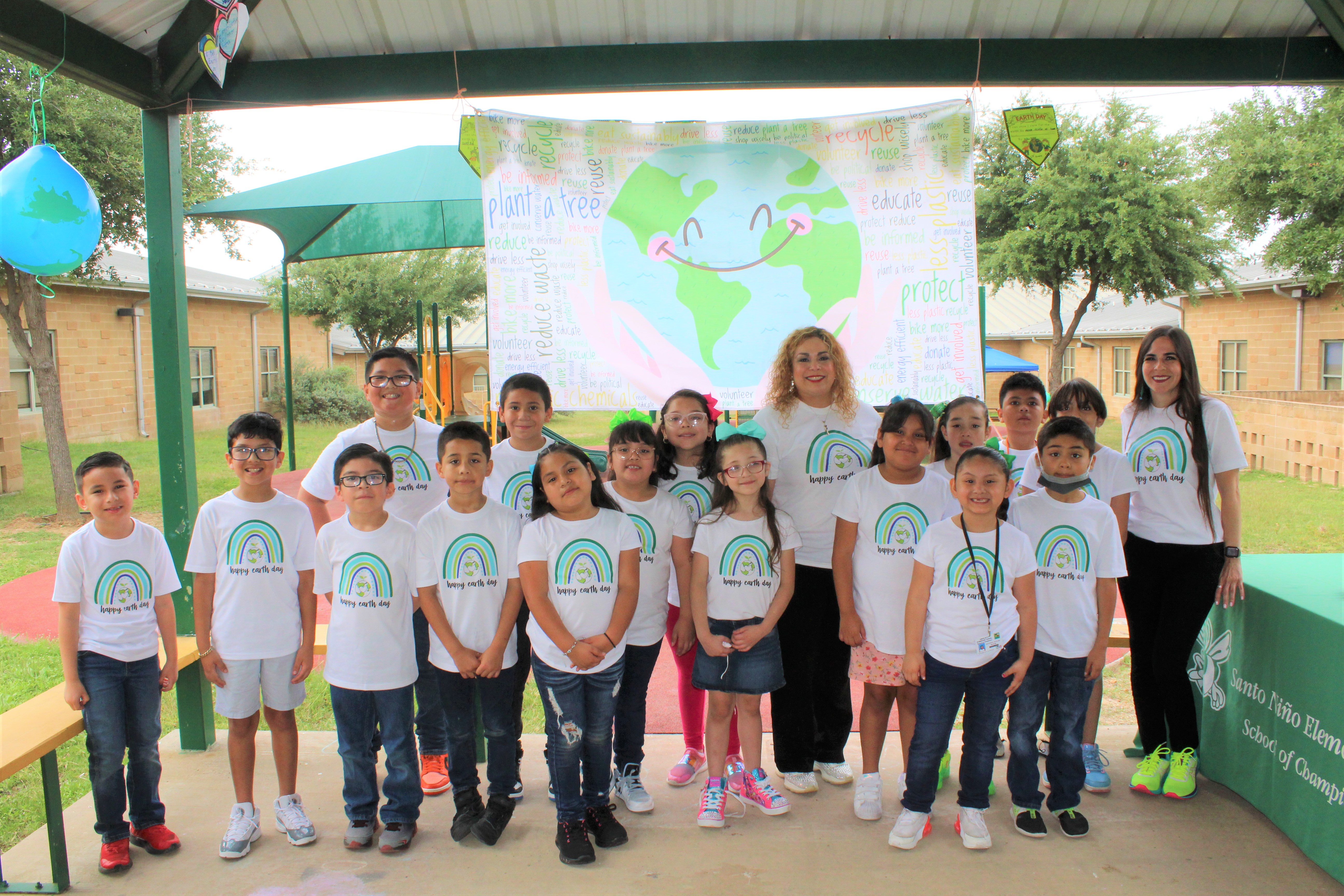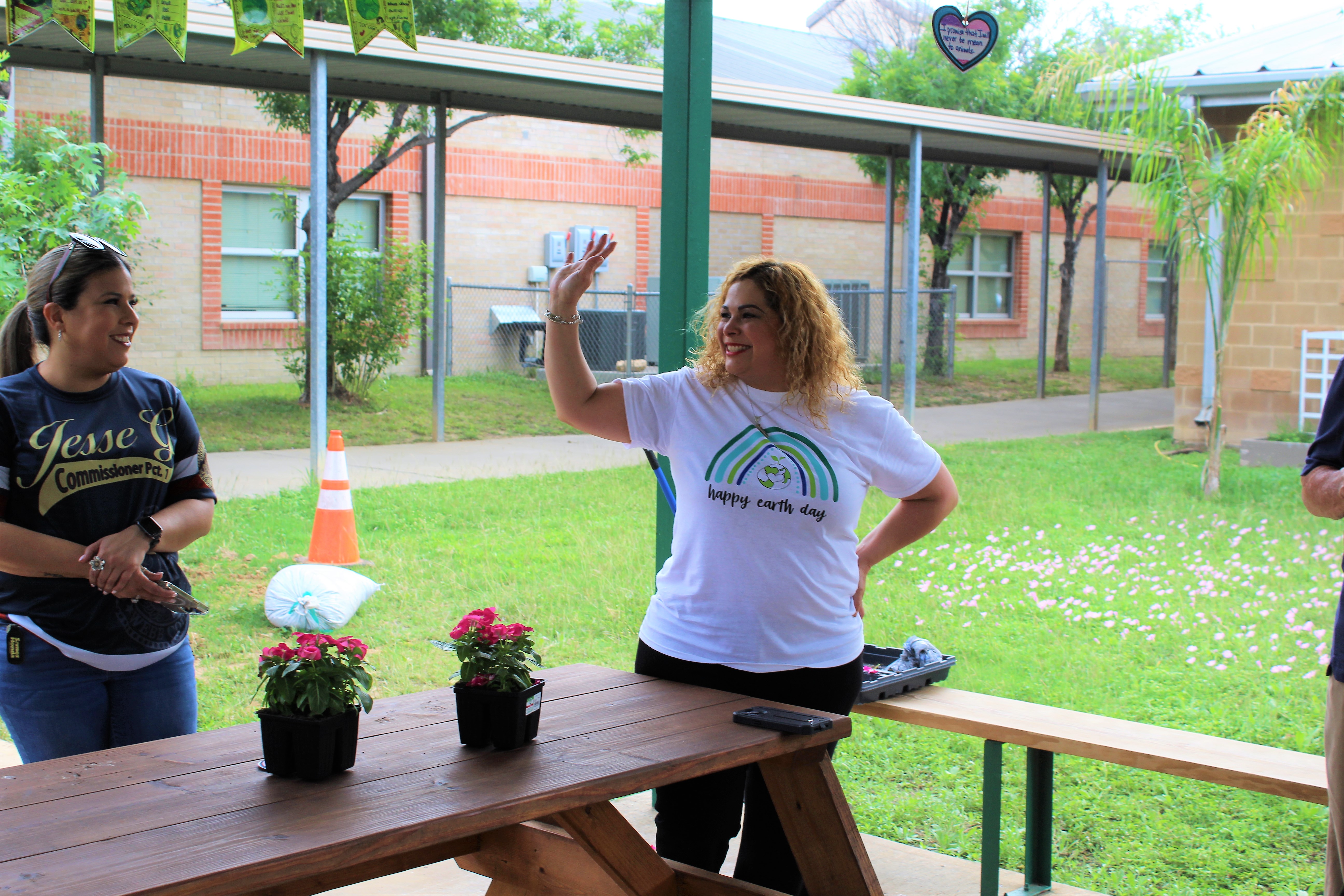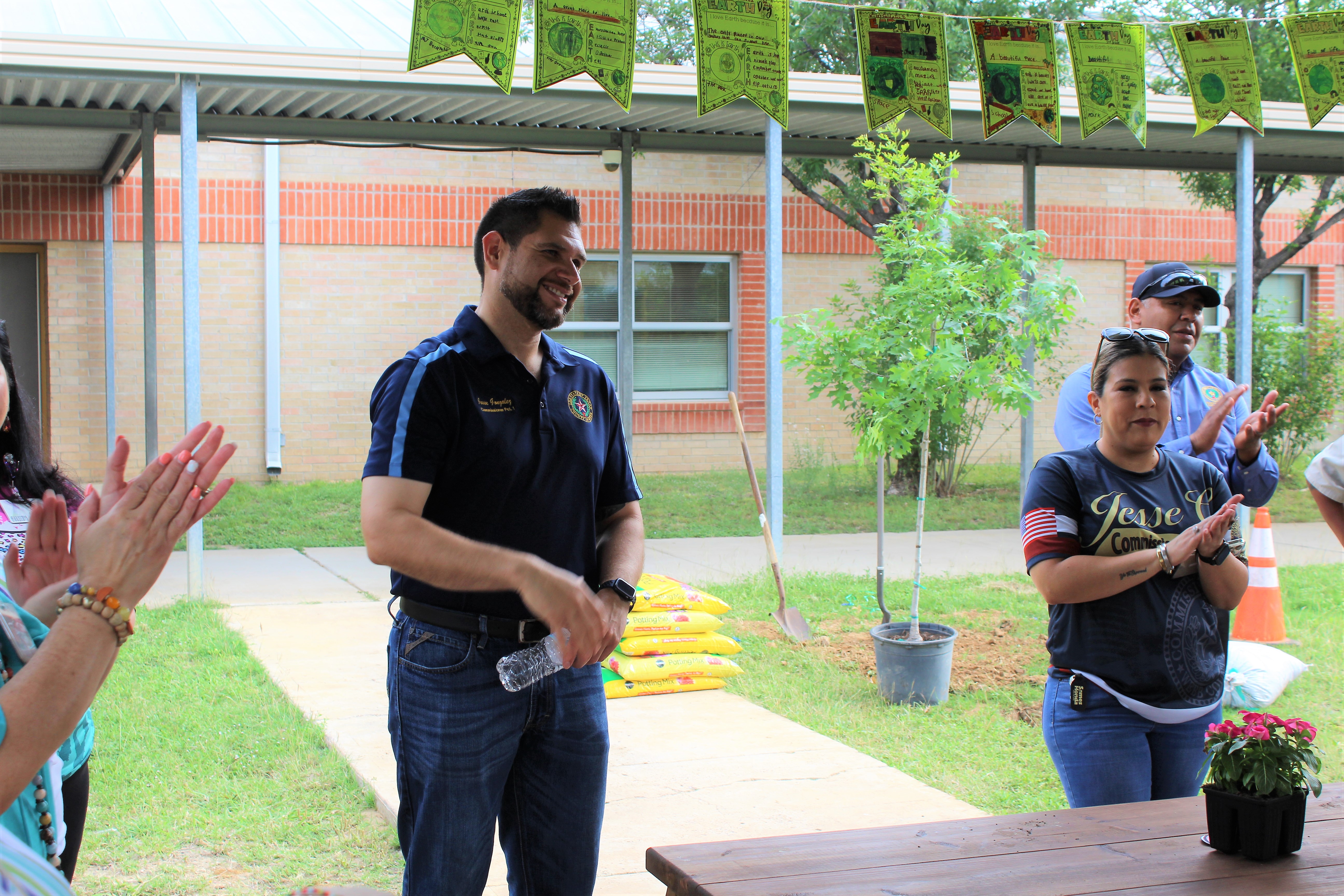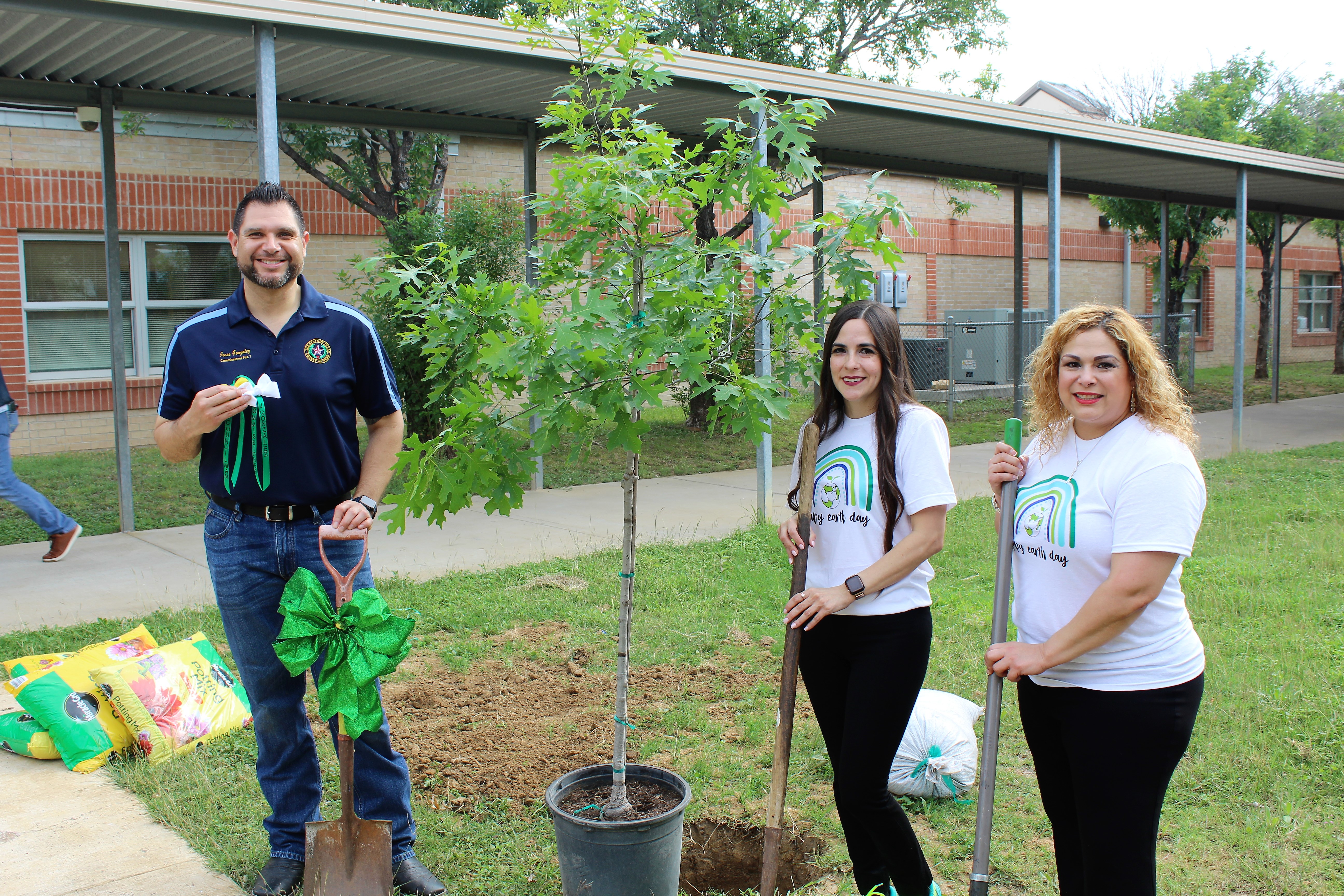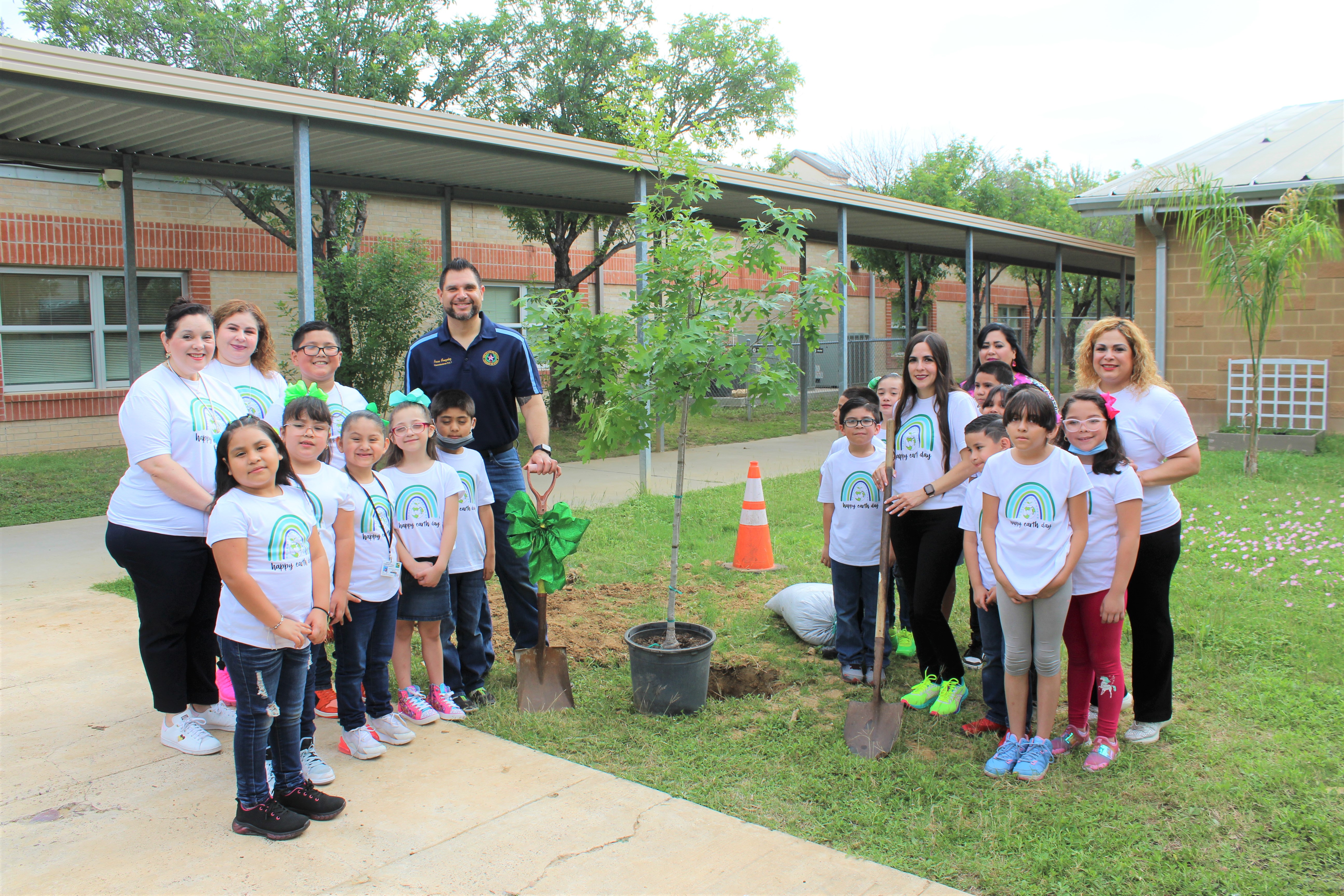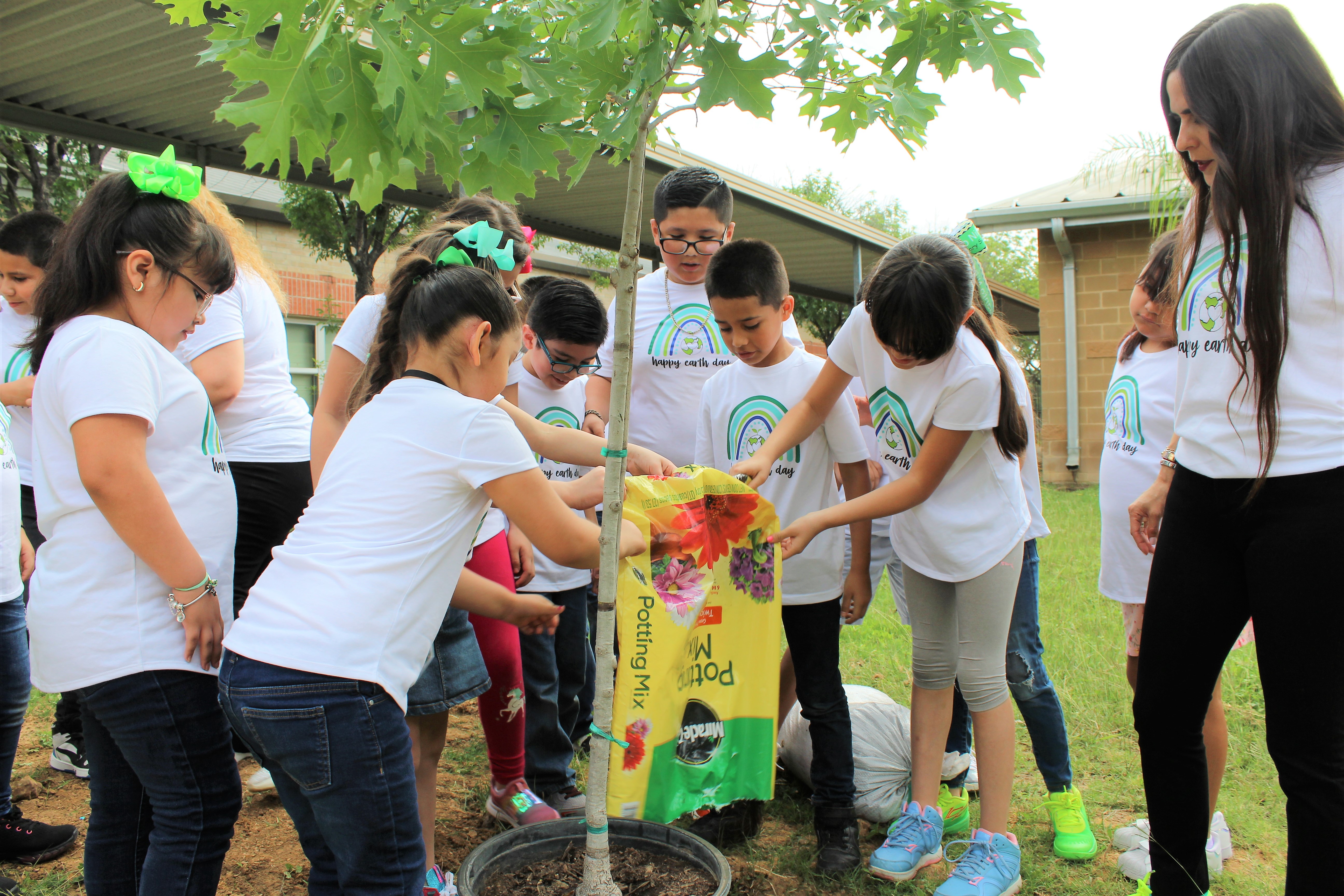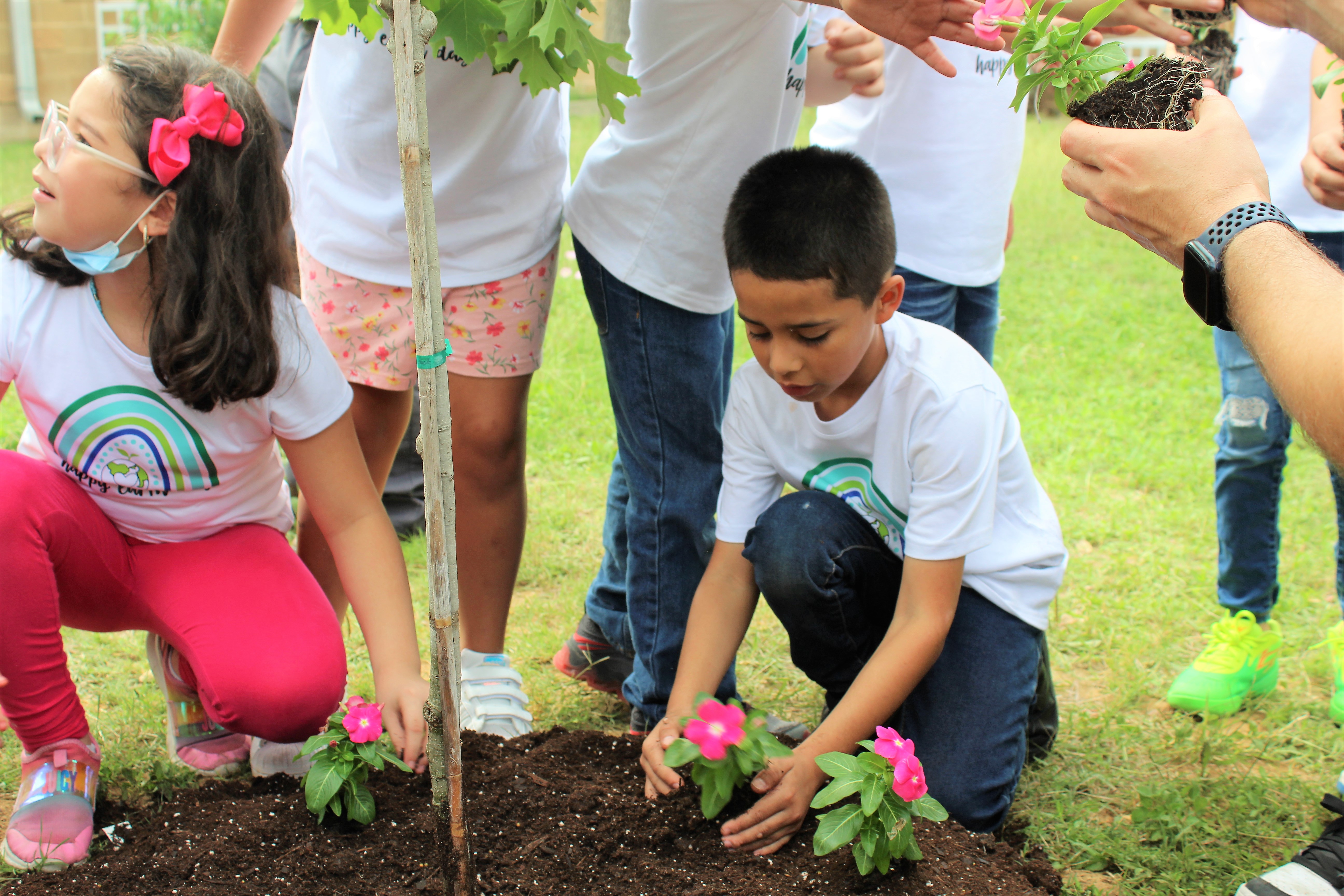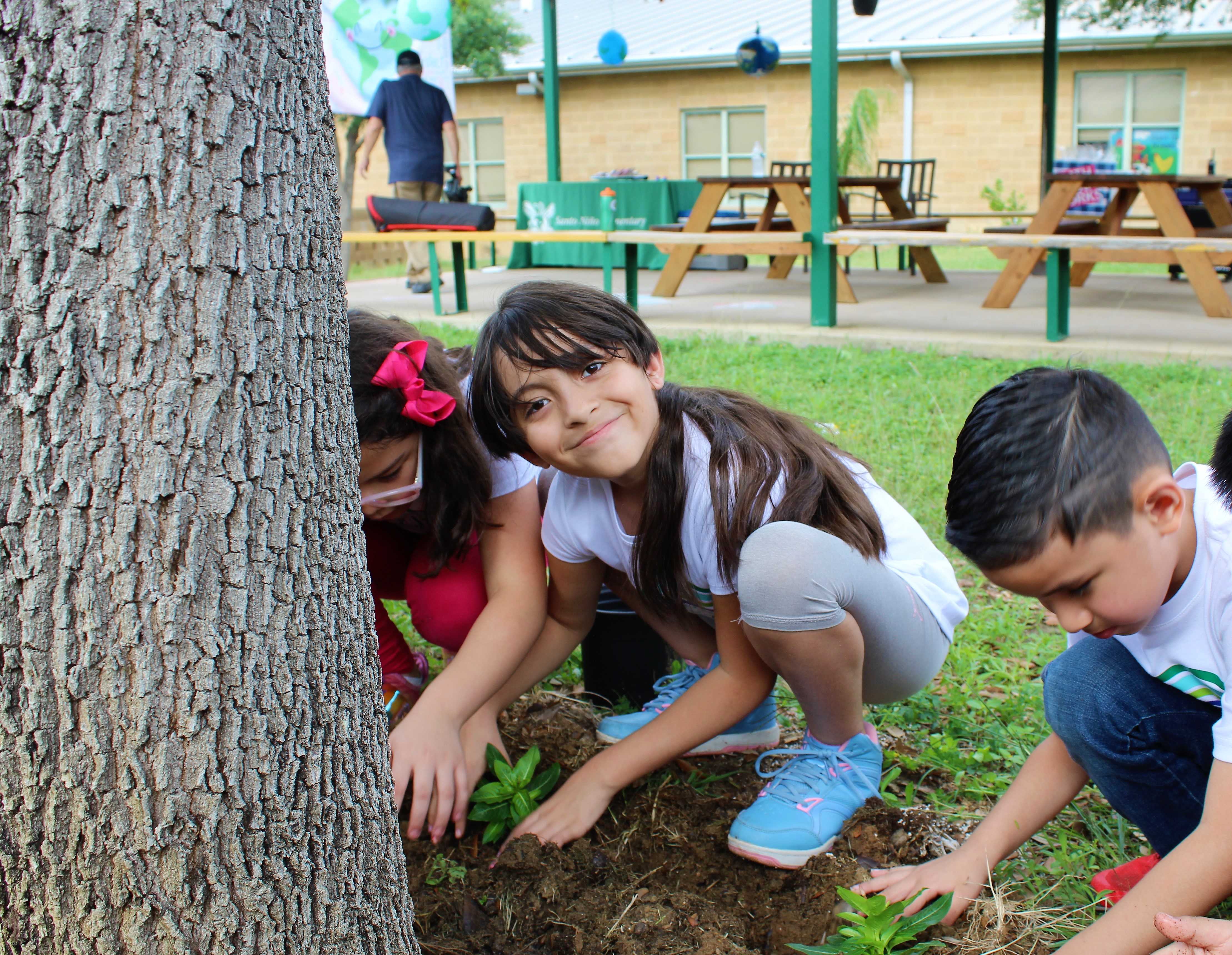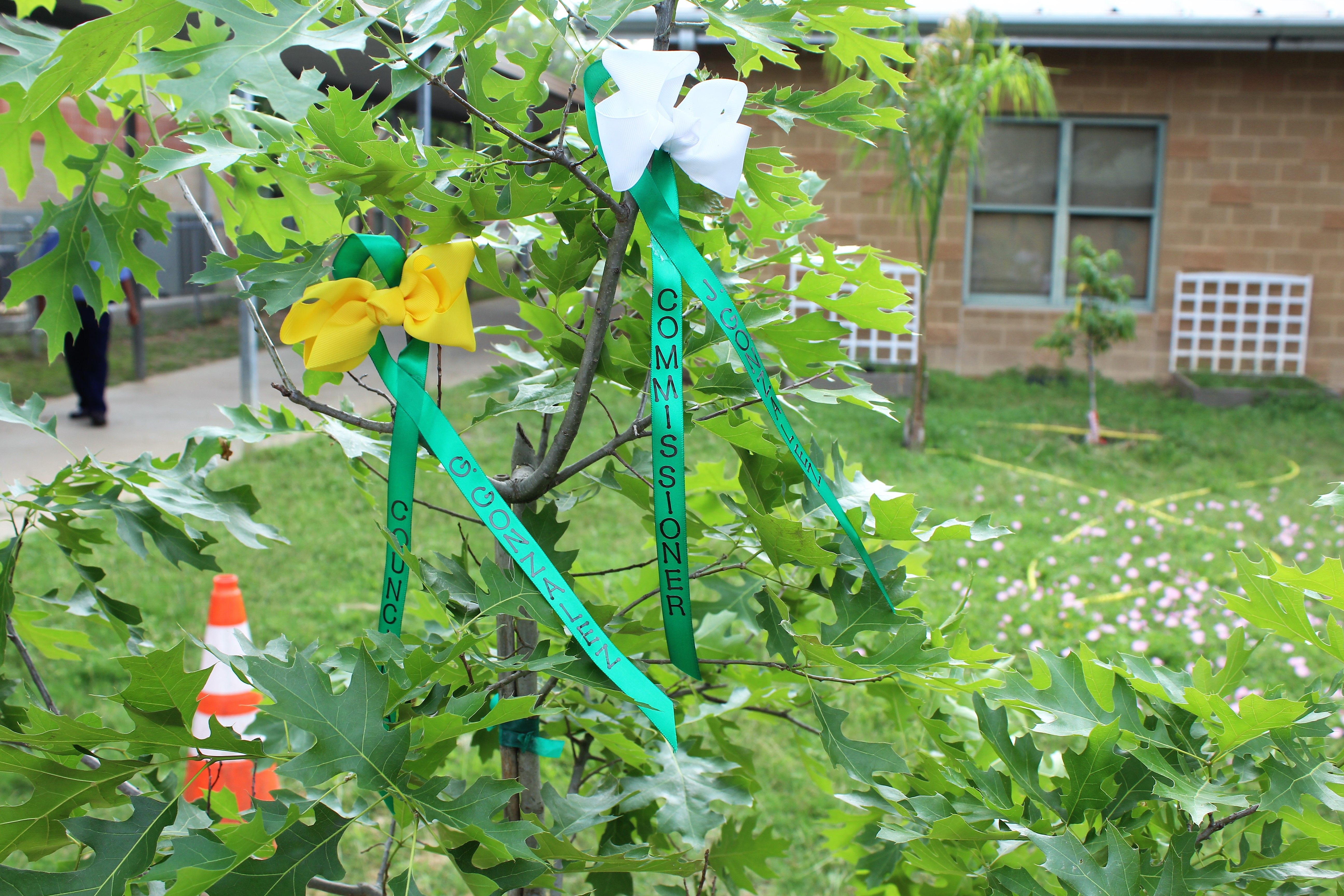 STAAR Testing
Our cafeteria staff showing their support for our Hornets taking the STAAR!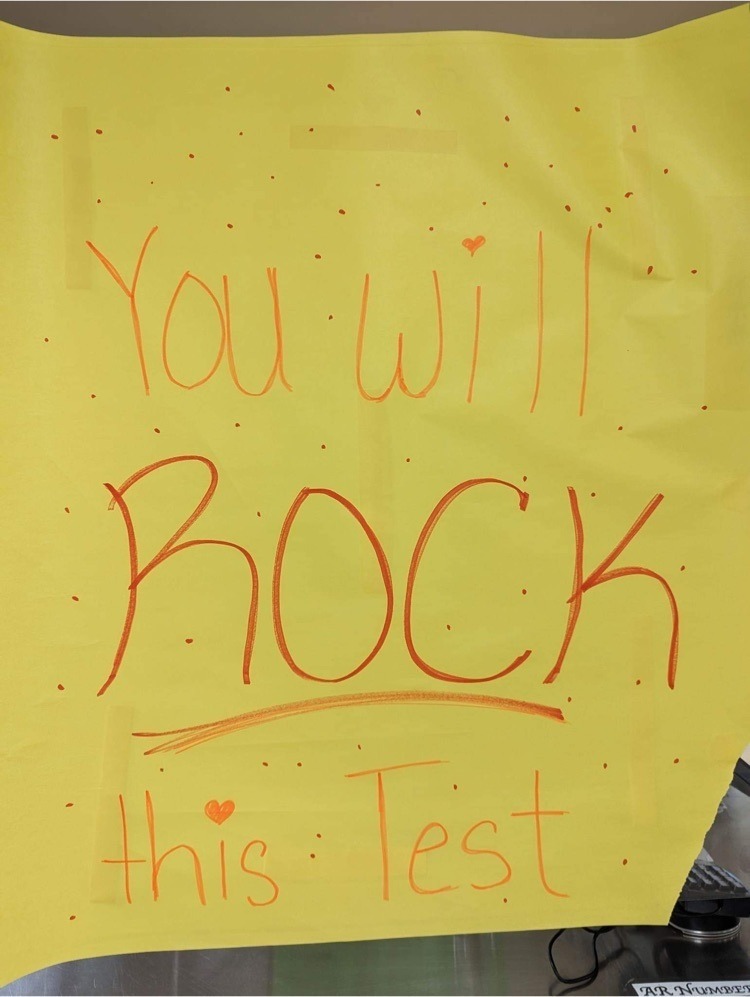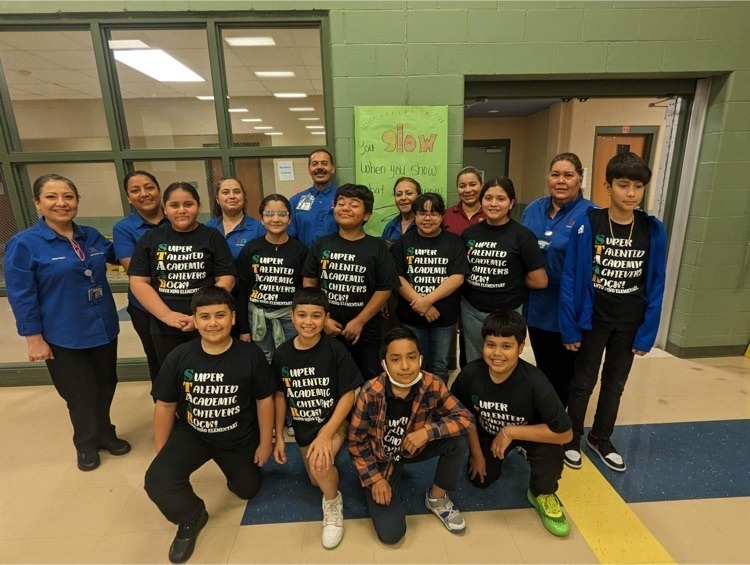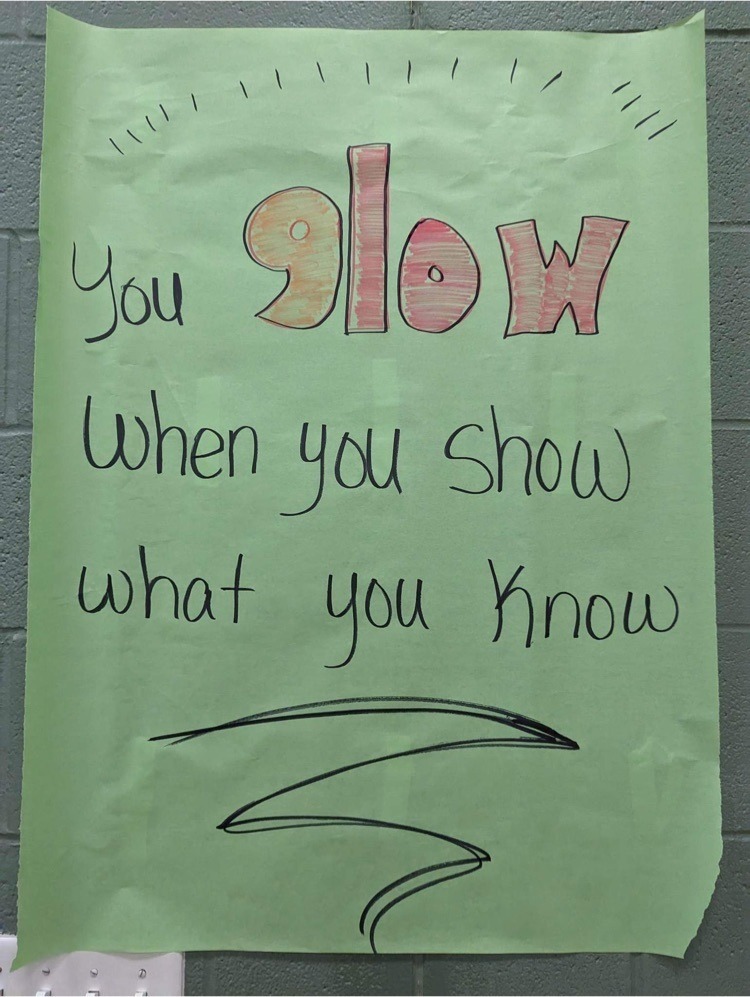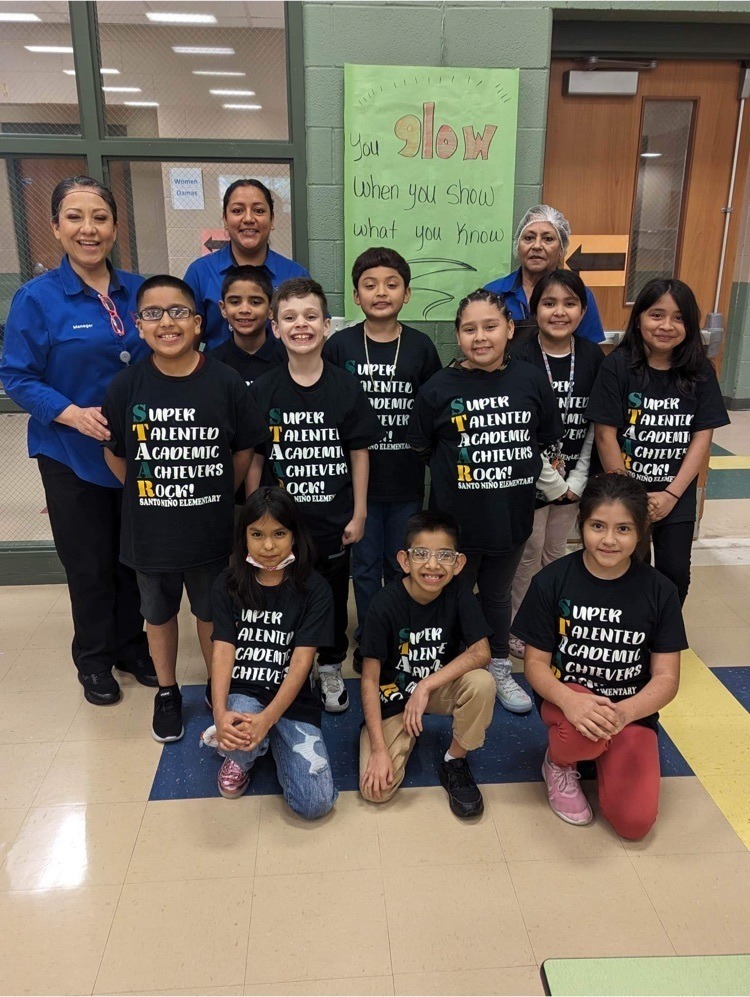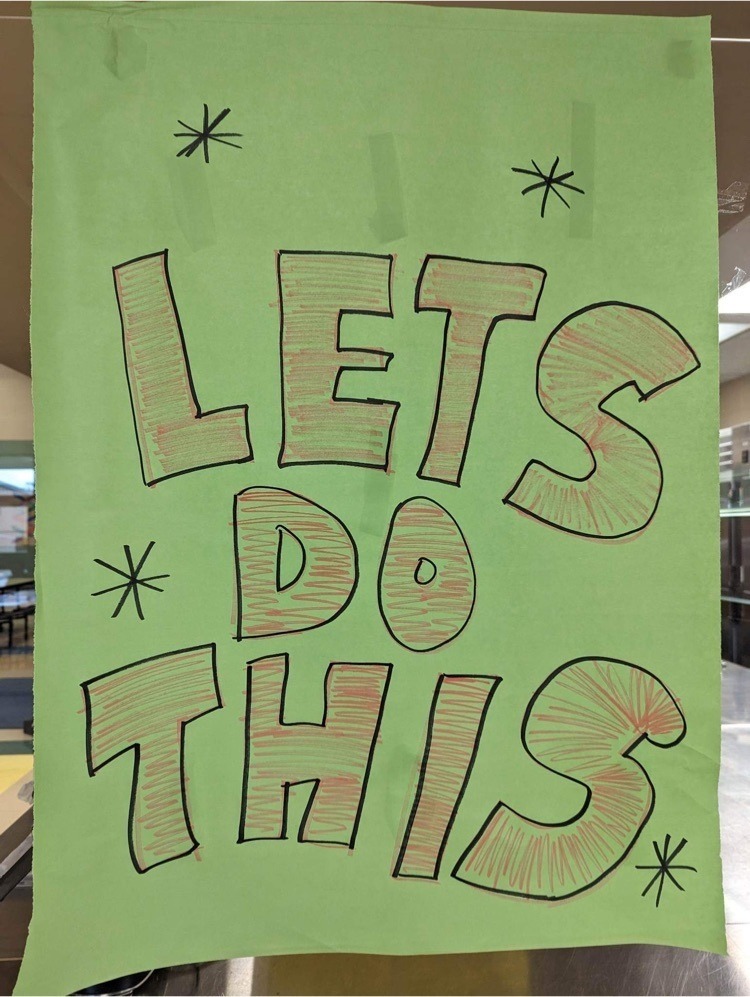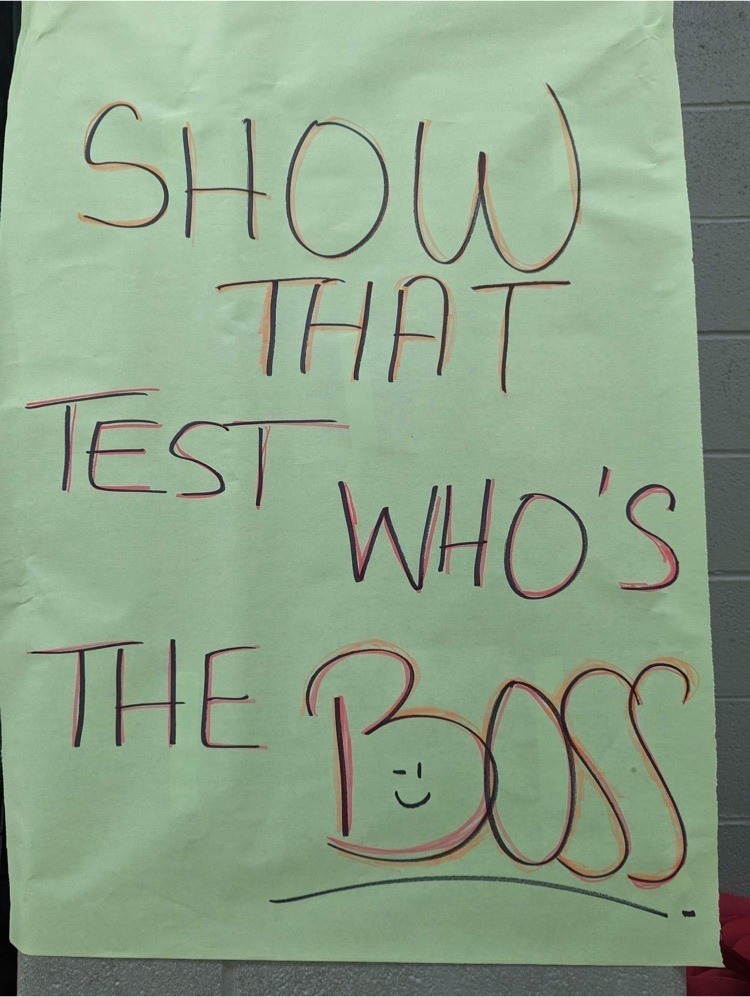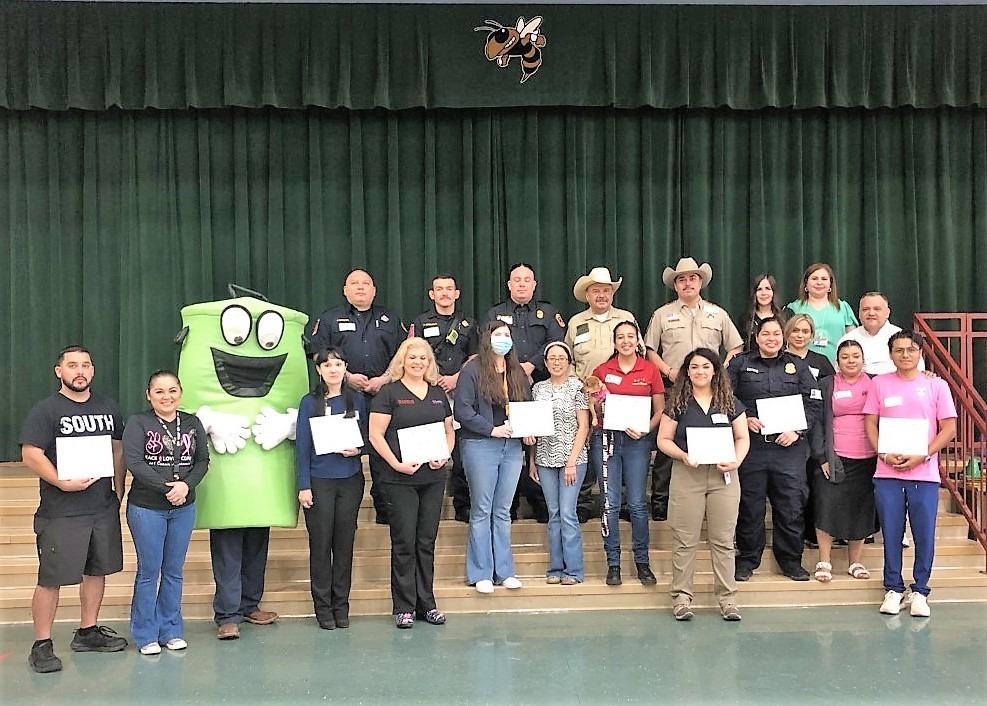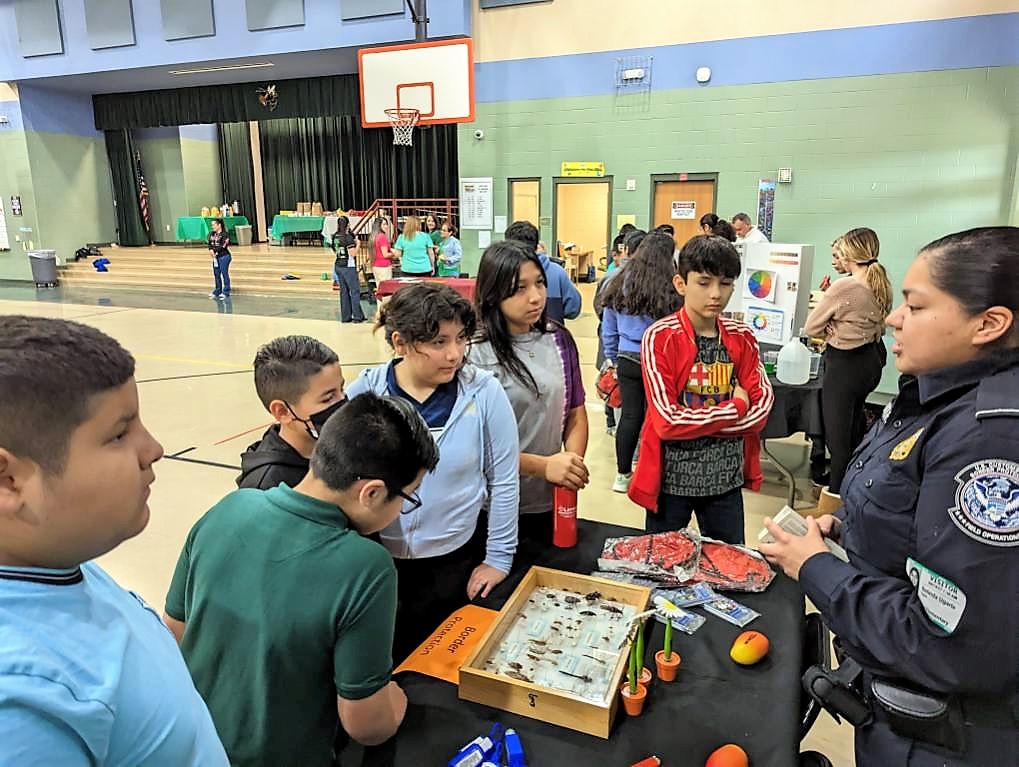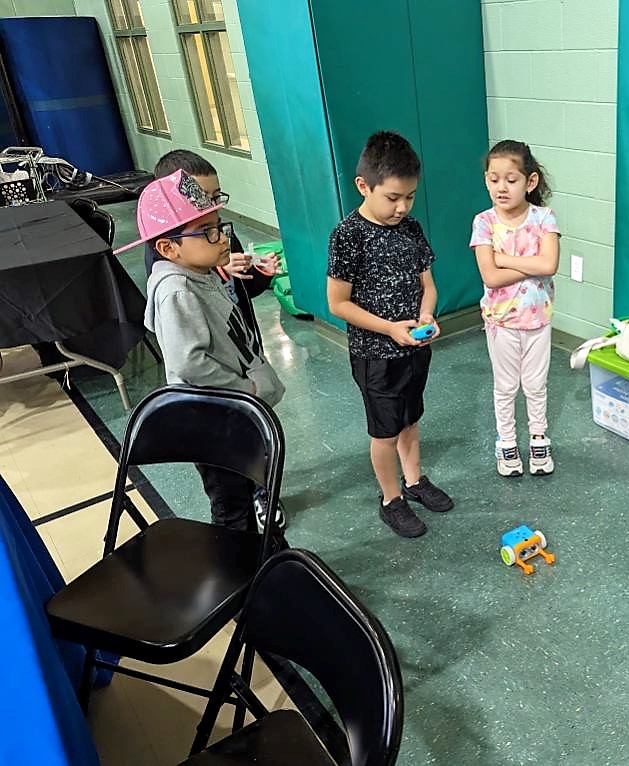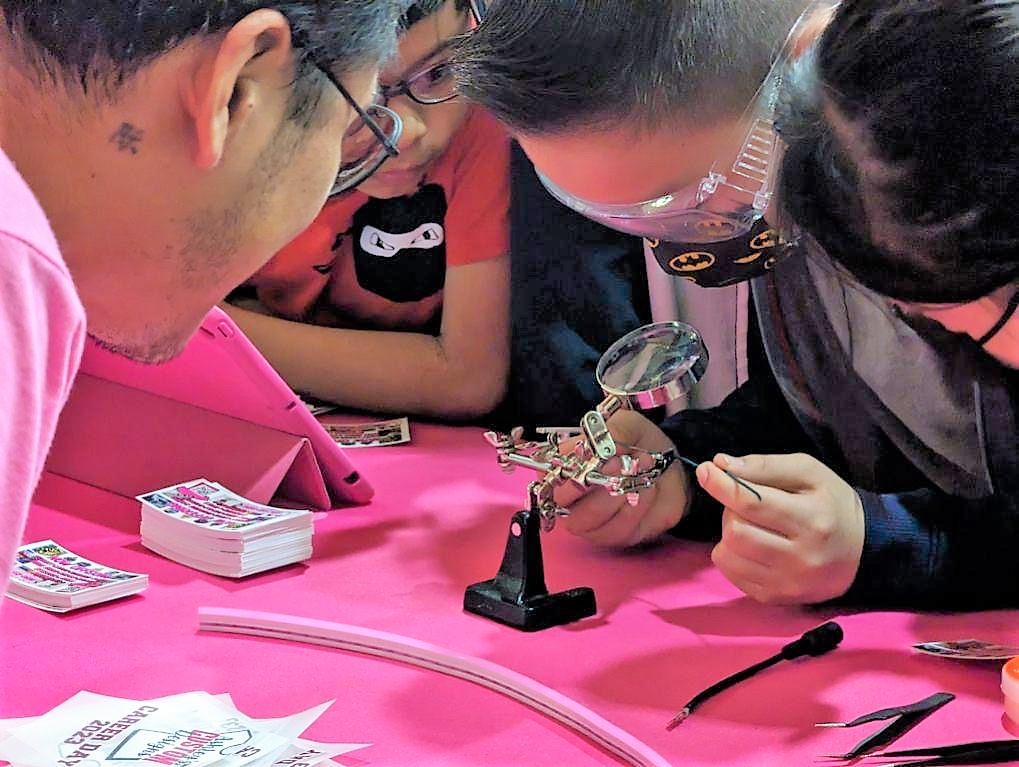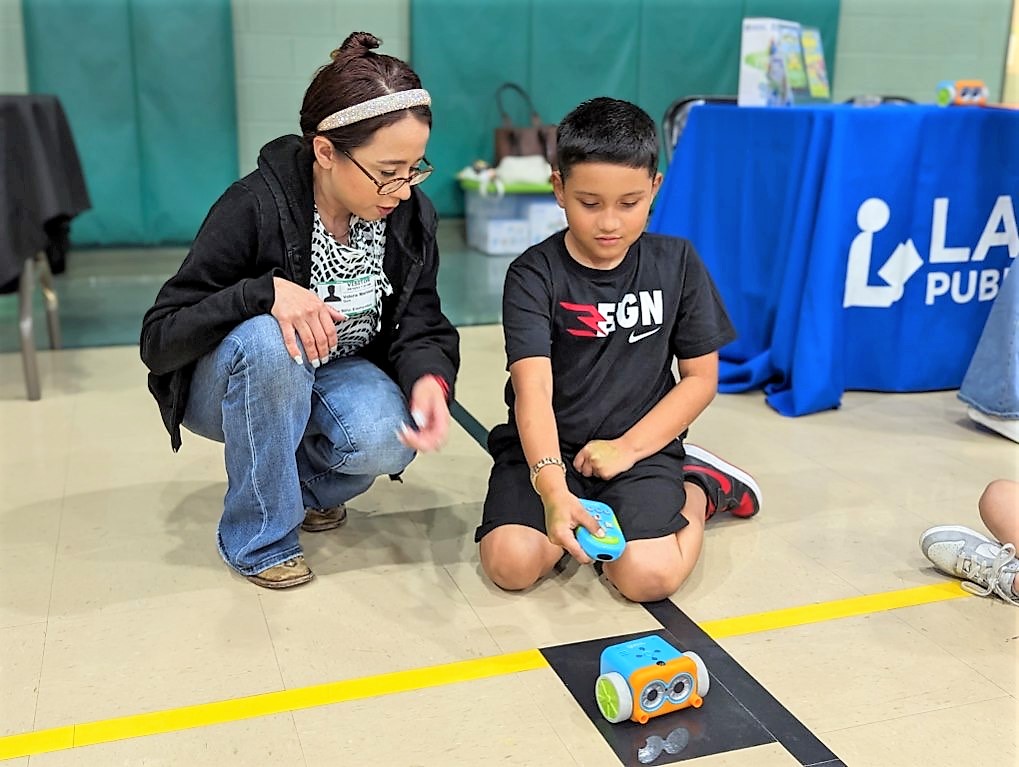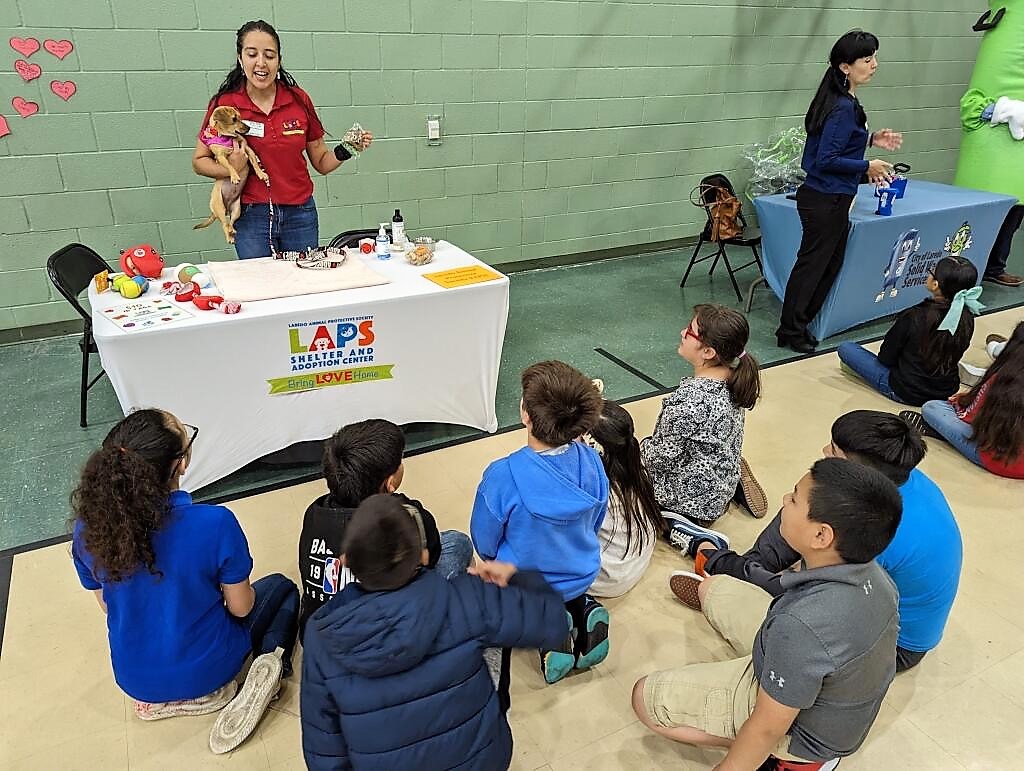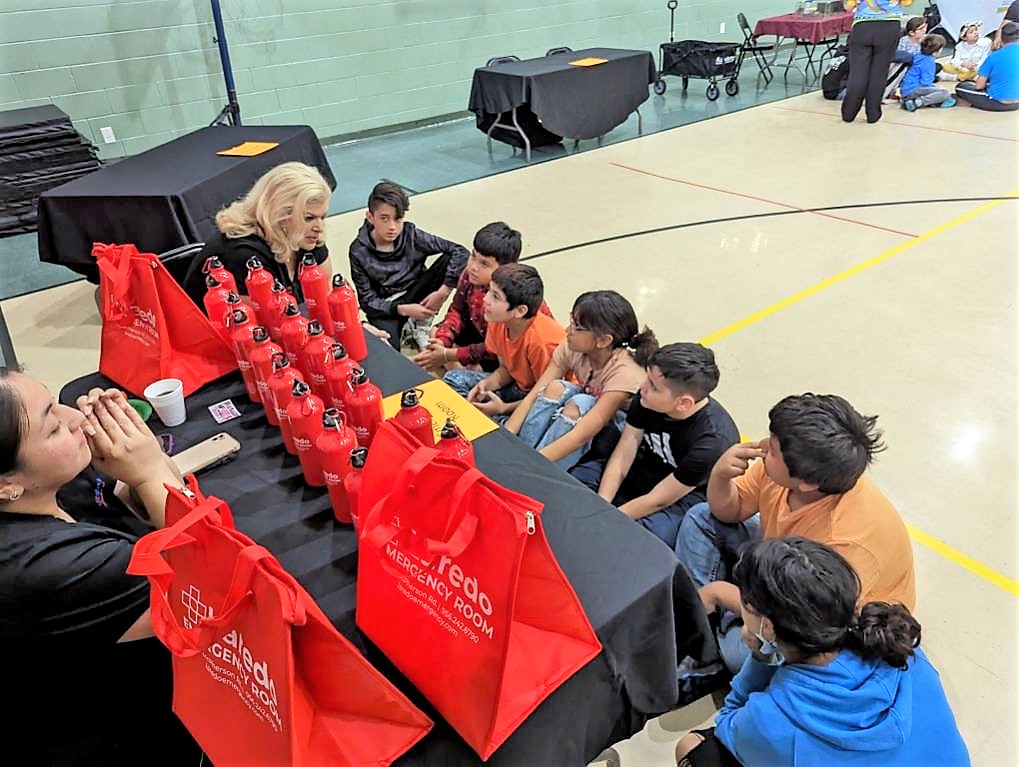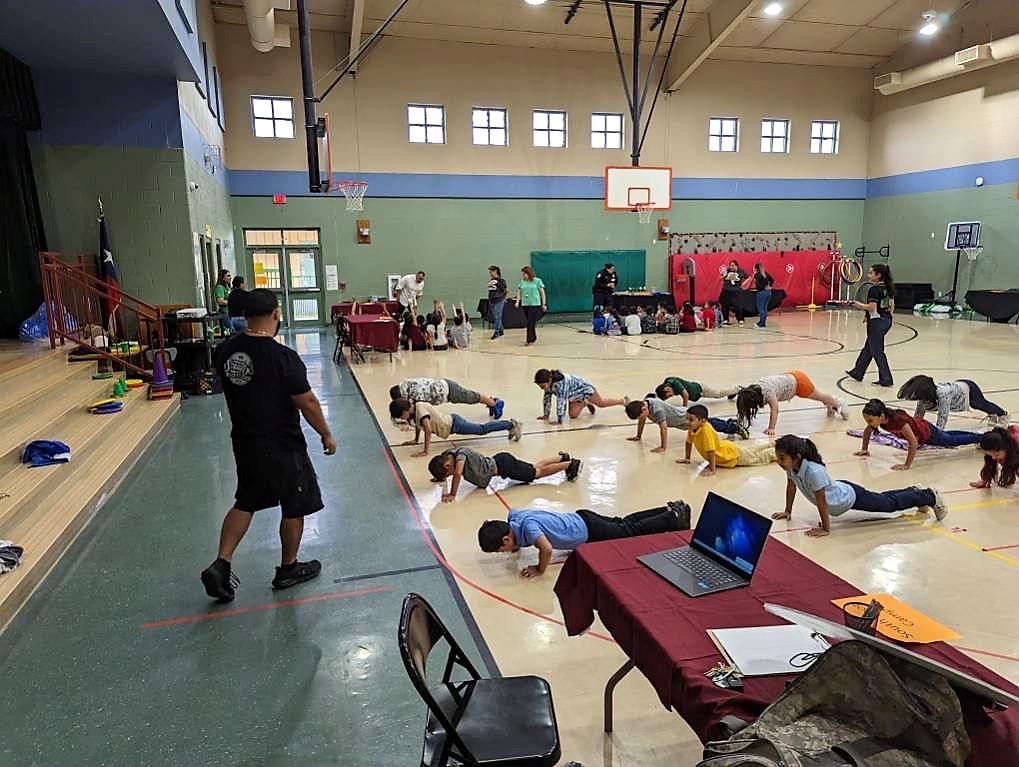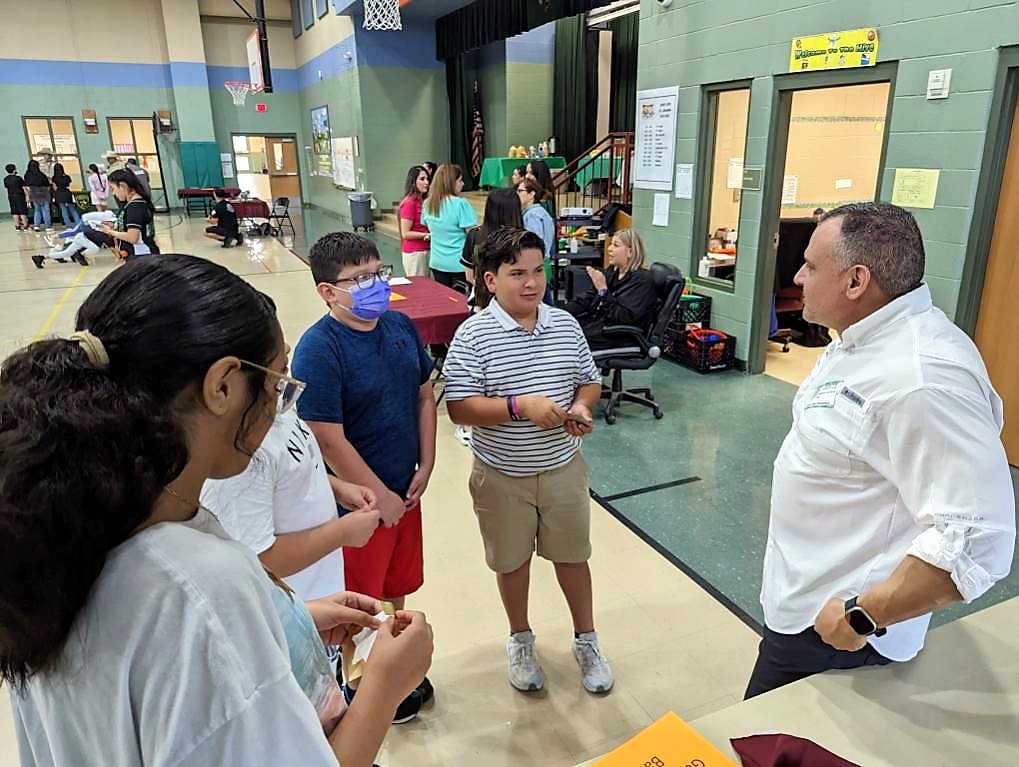 National Library Week
We "Literature-ly" can't thank our librarian and library assistant enough for all they do for our campus!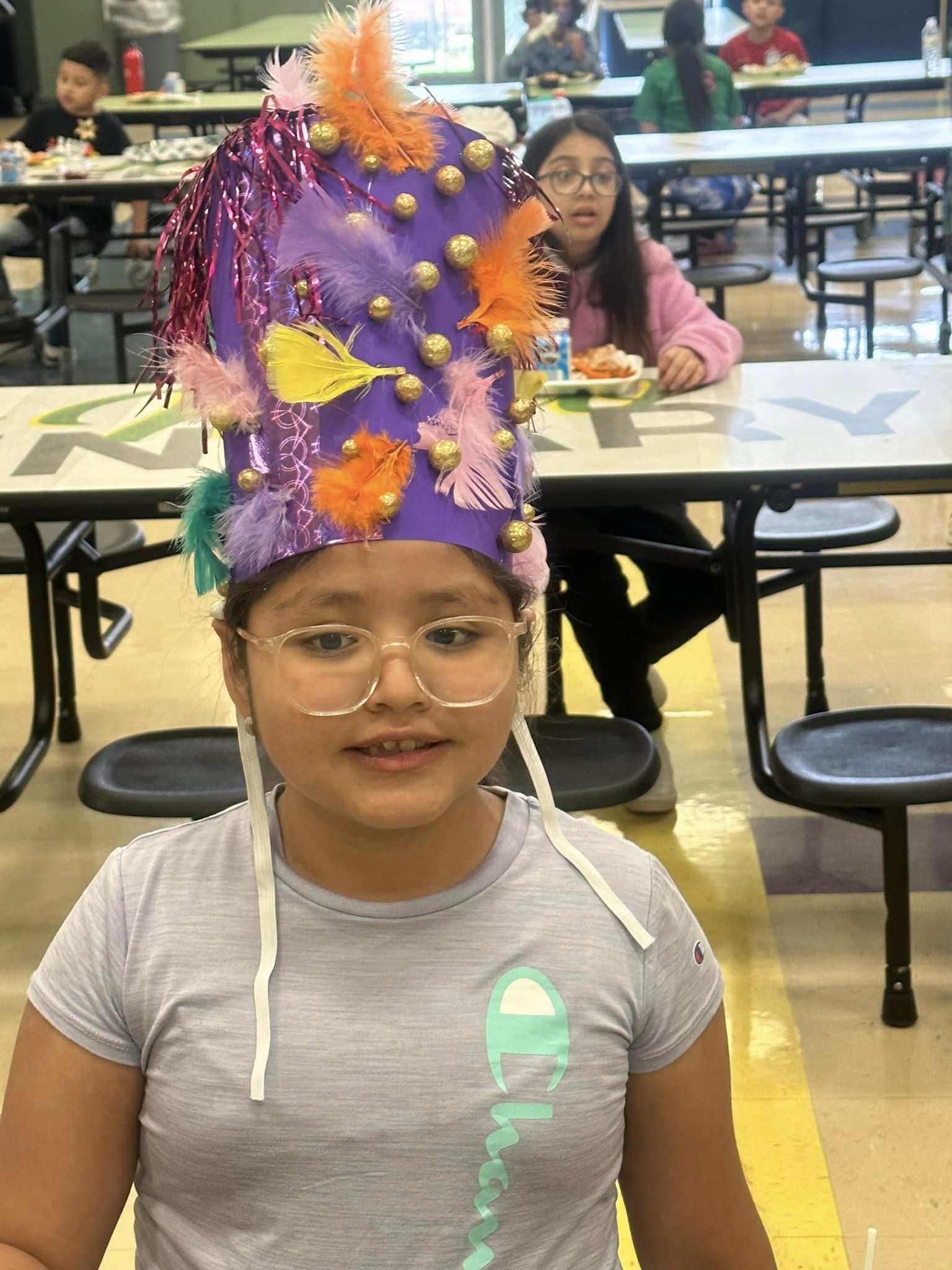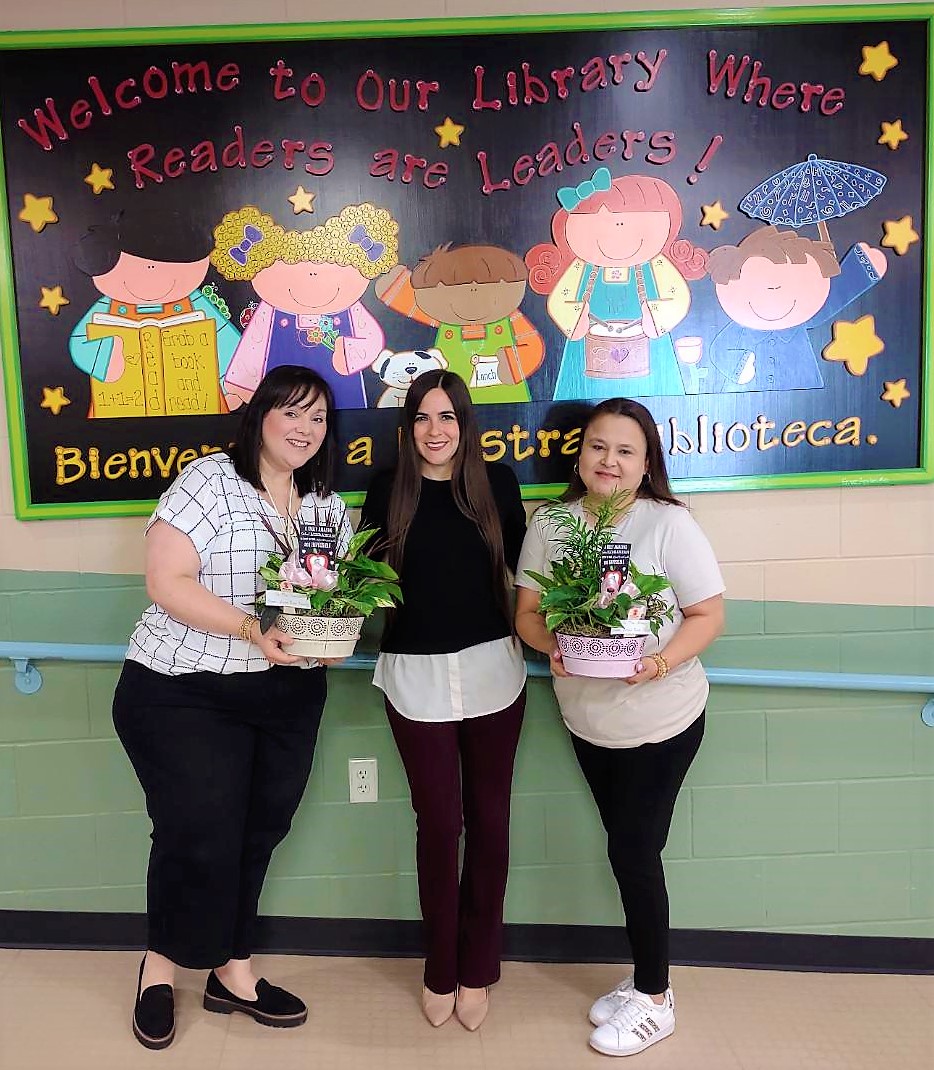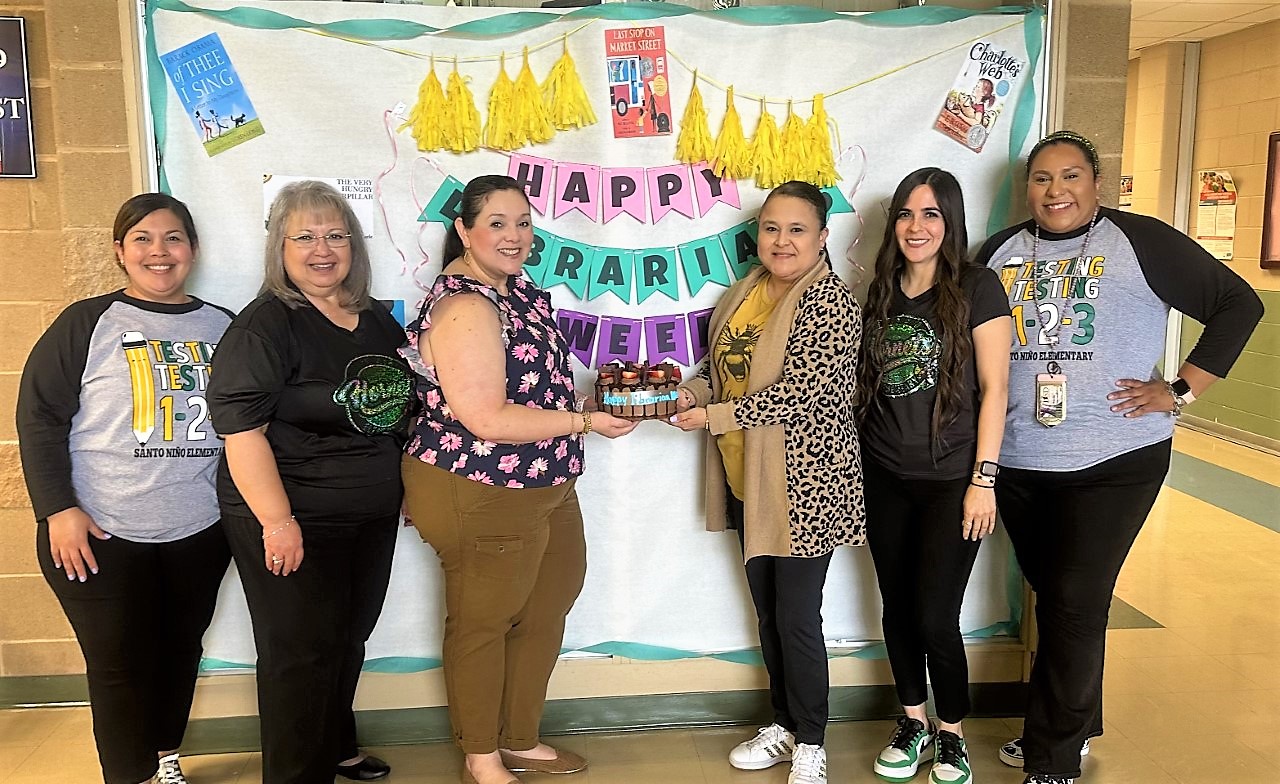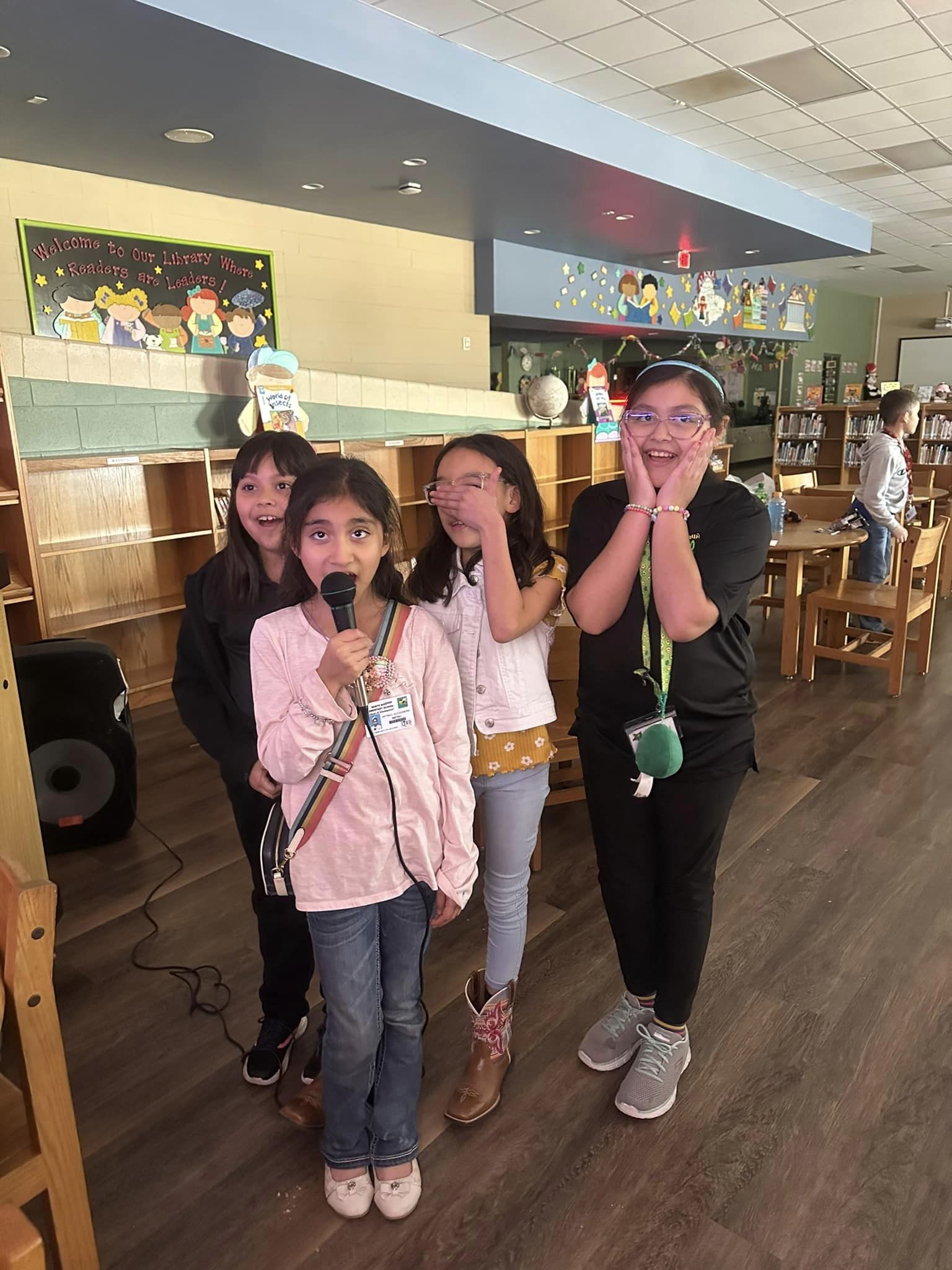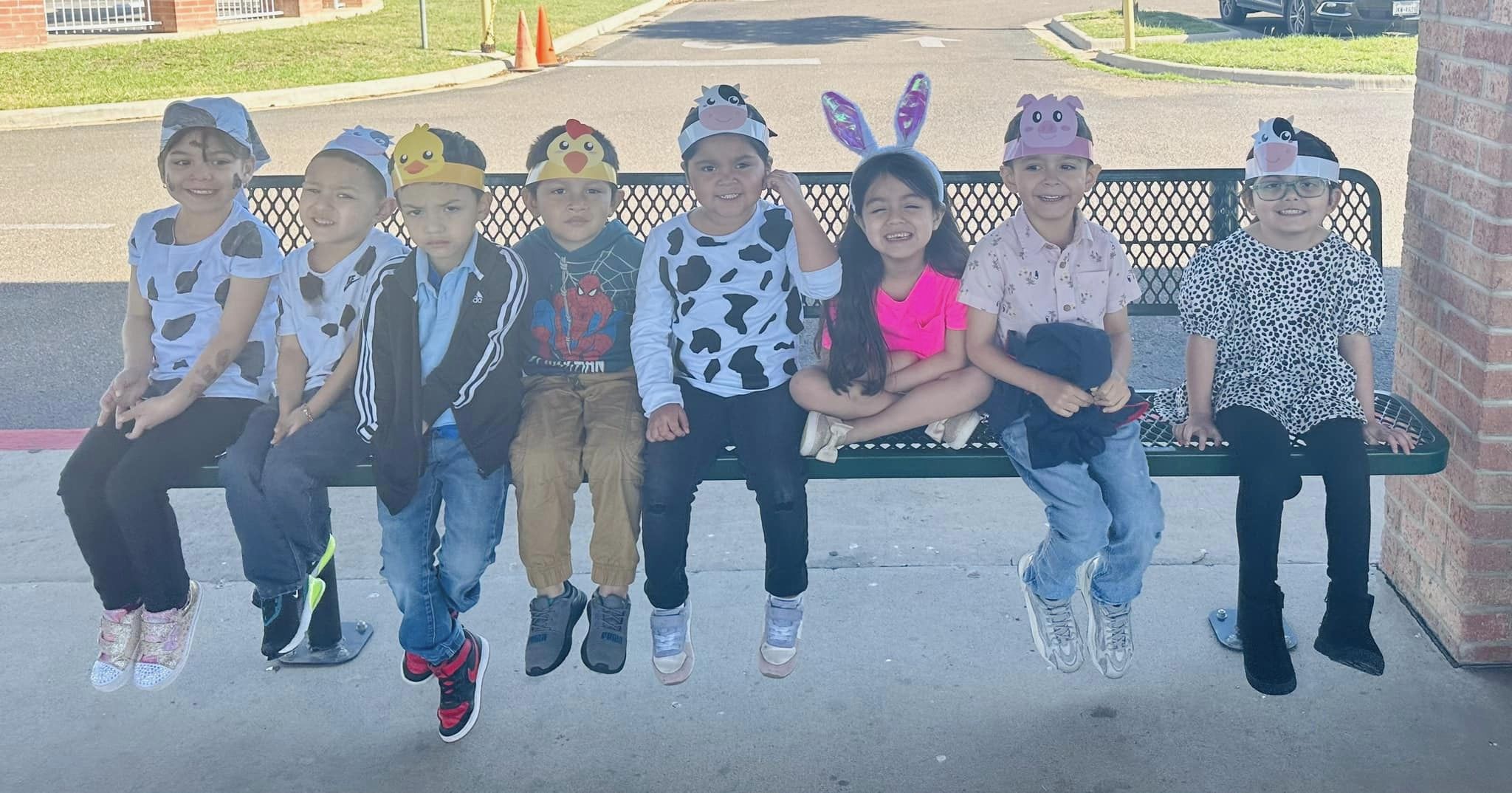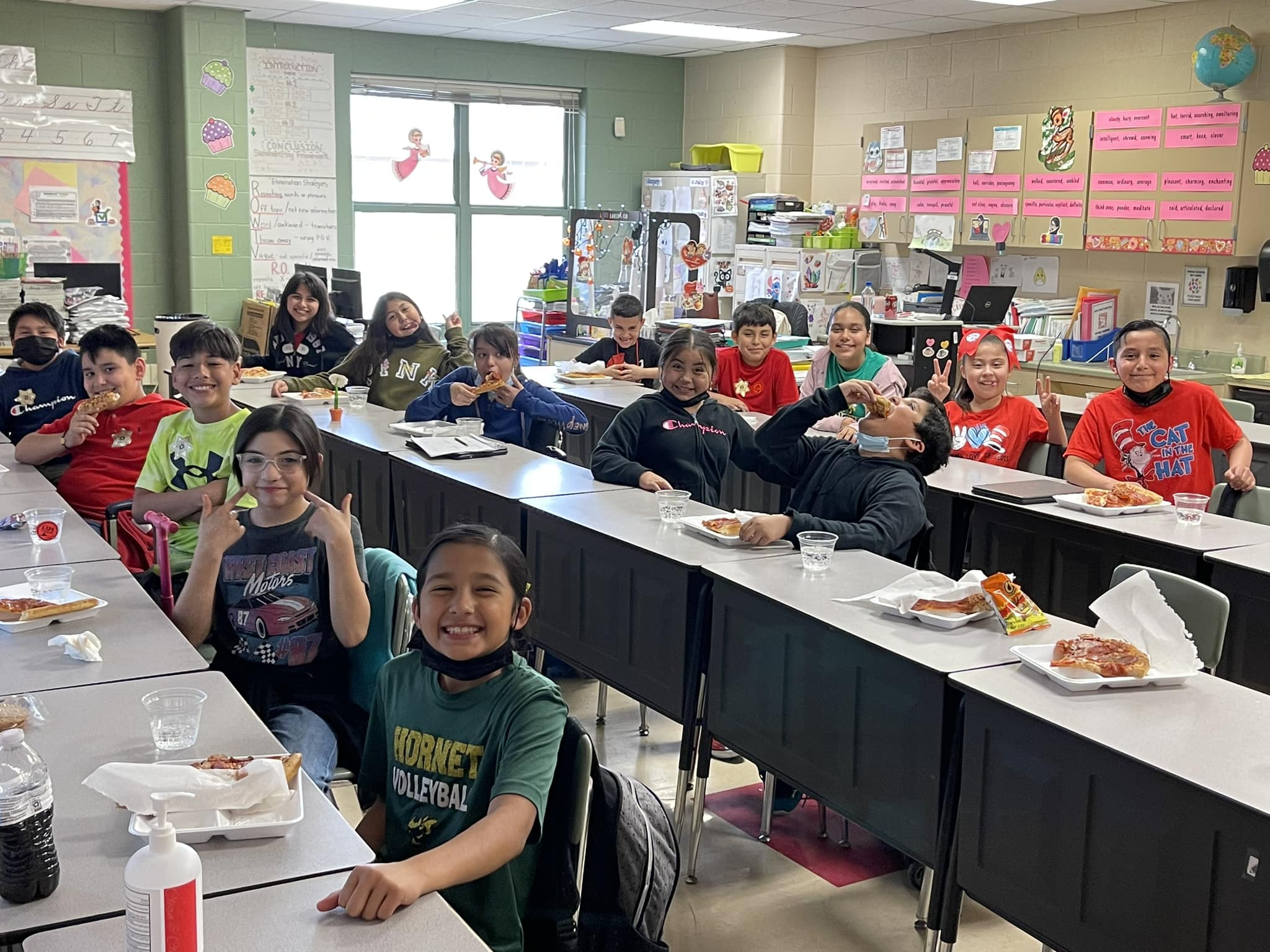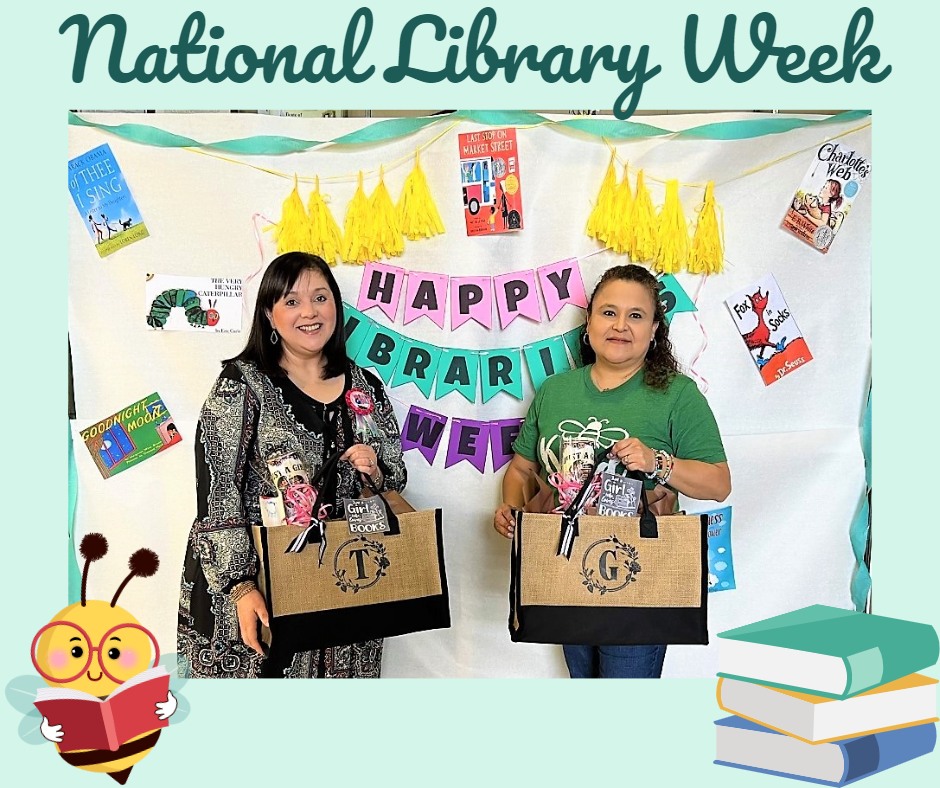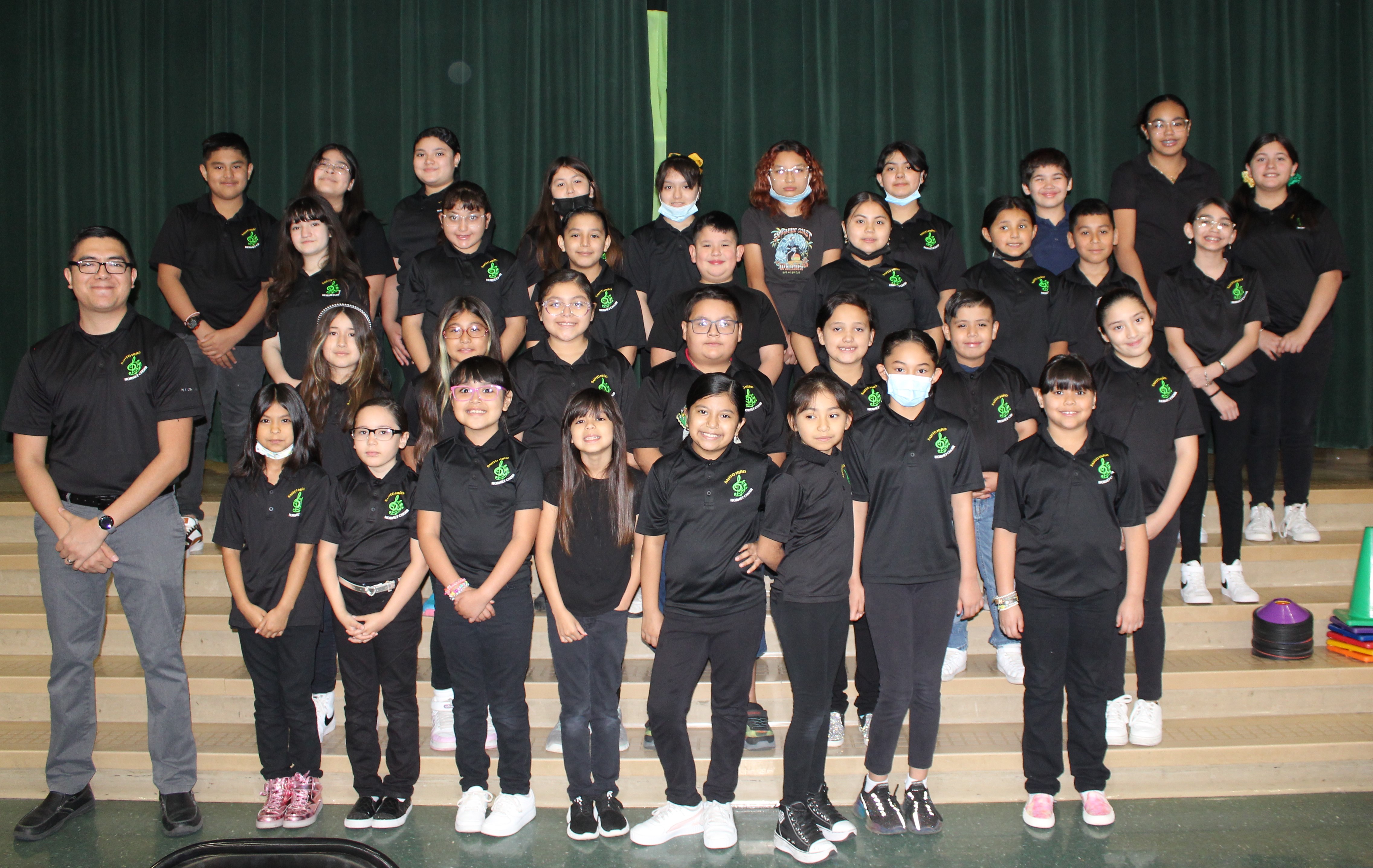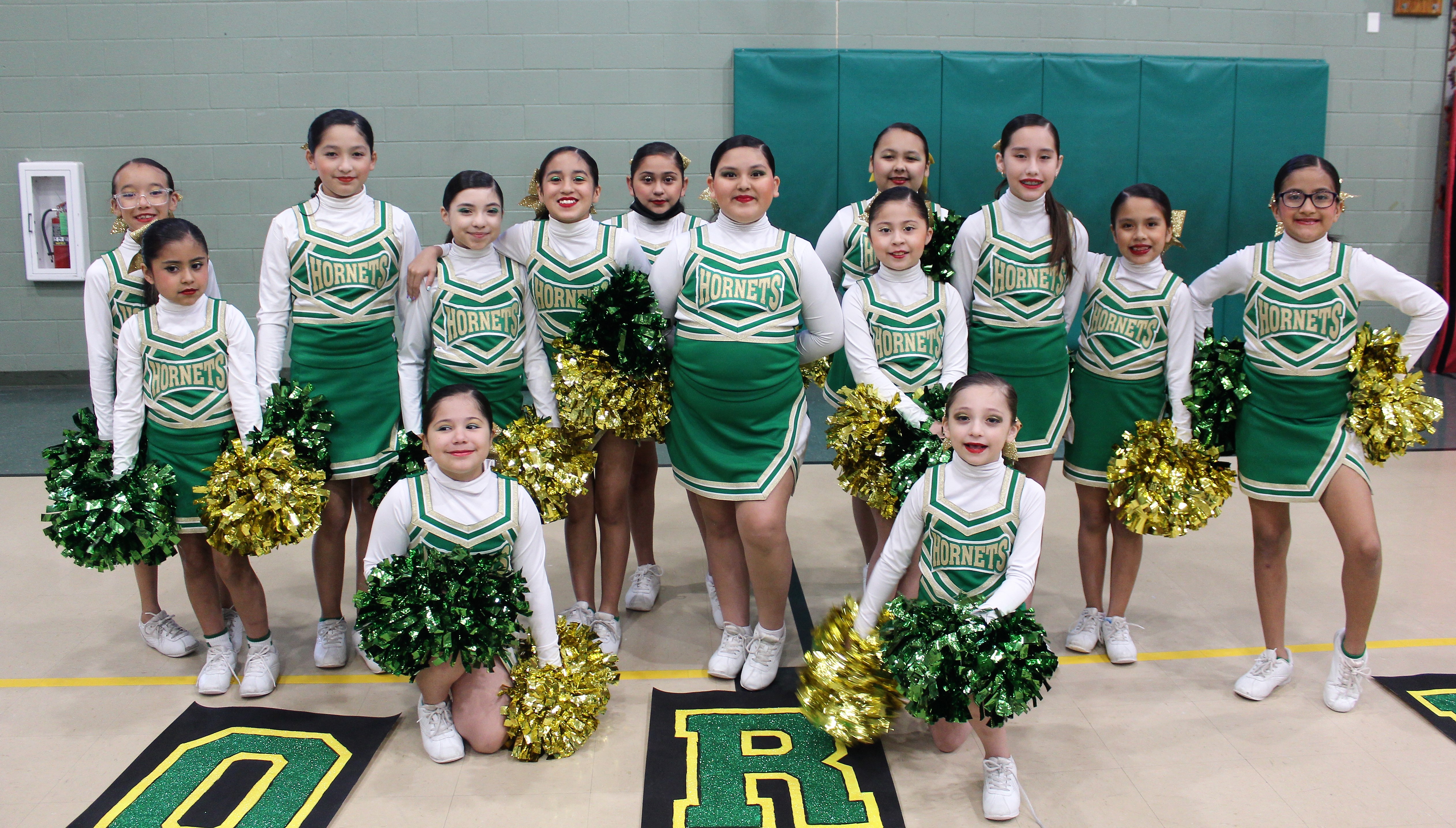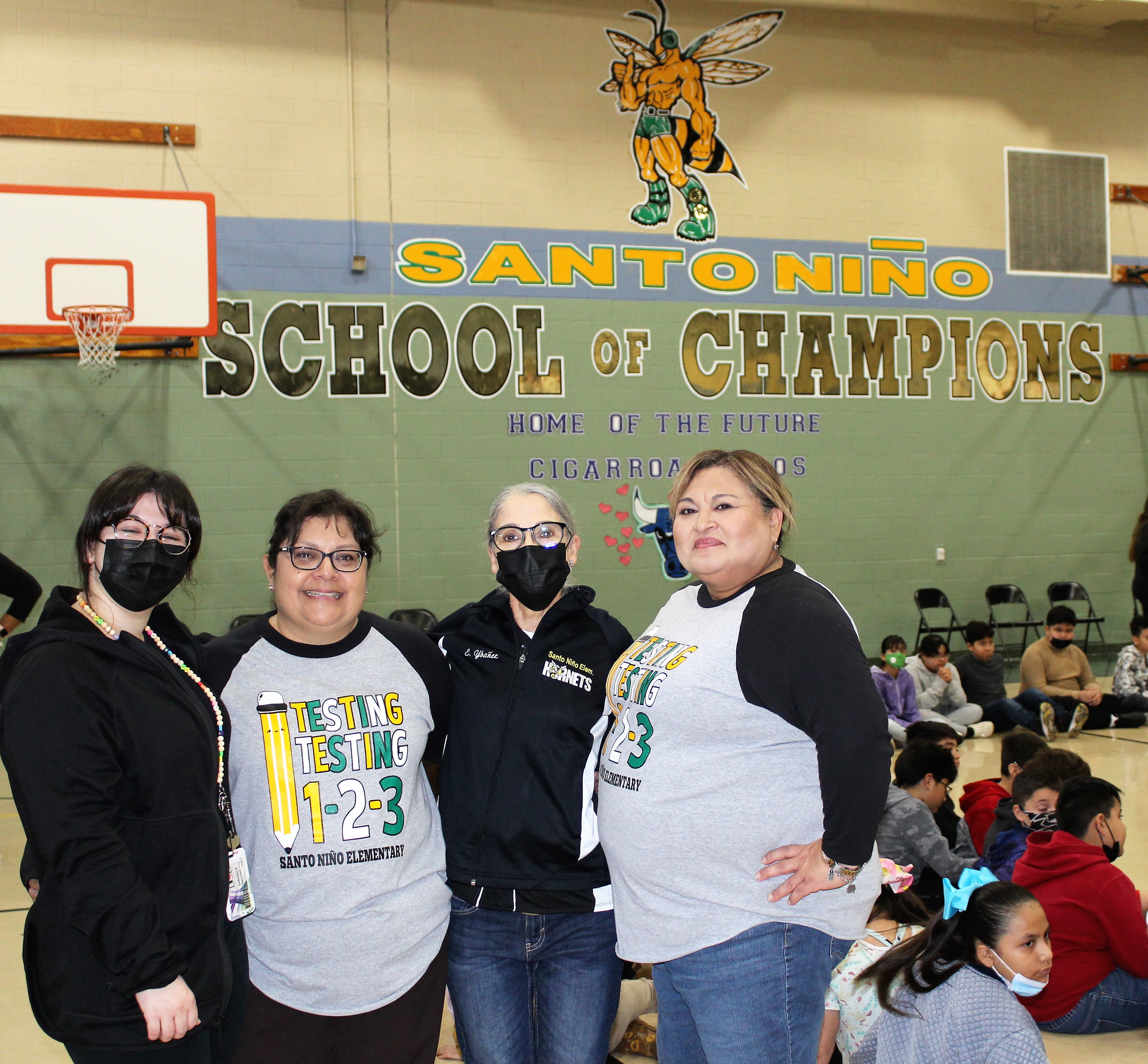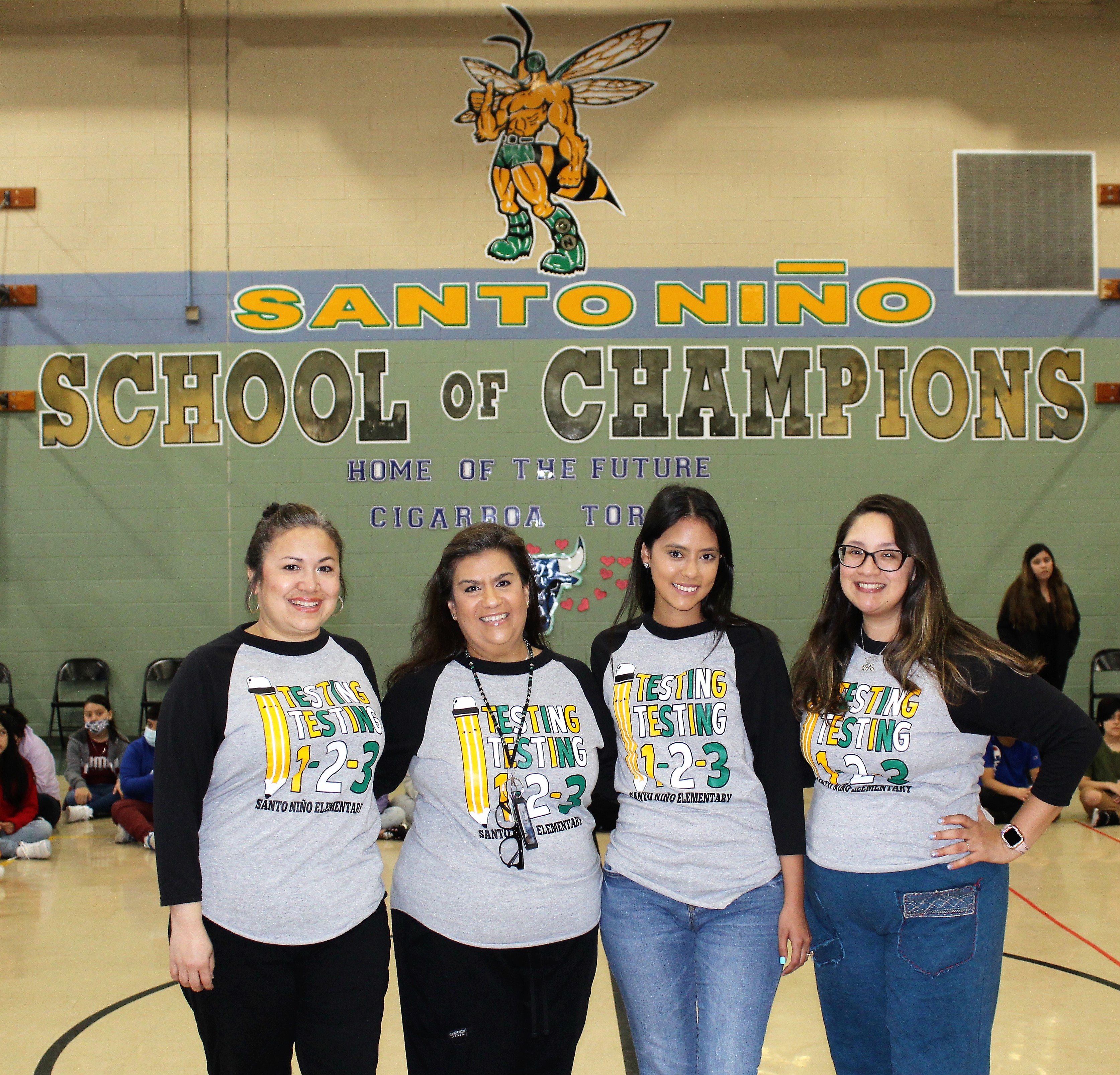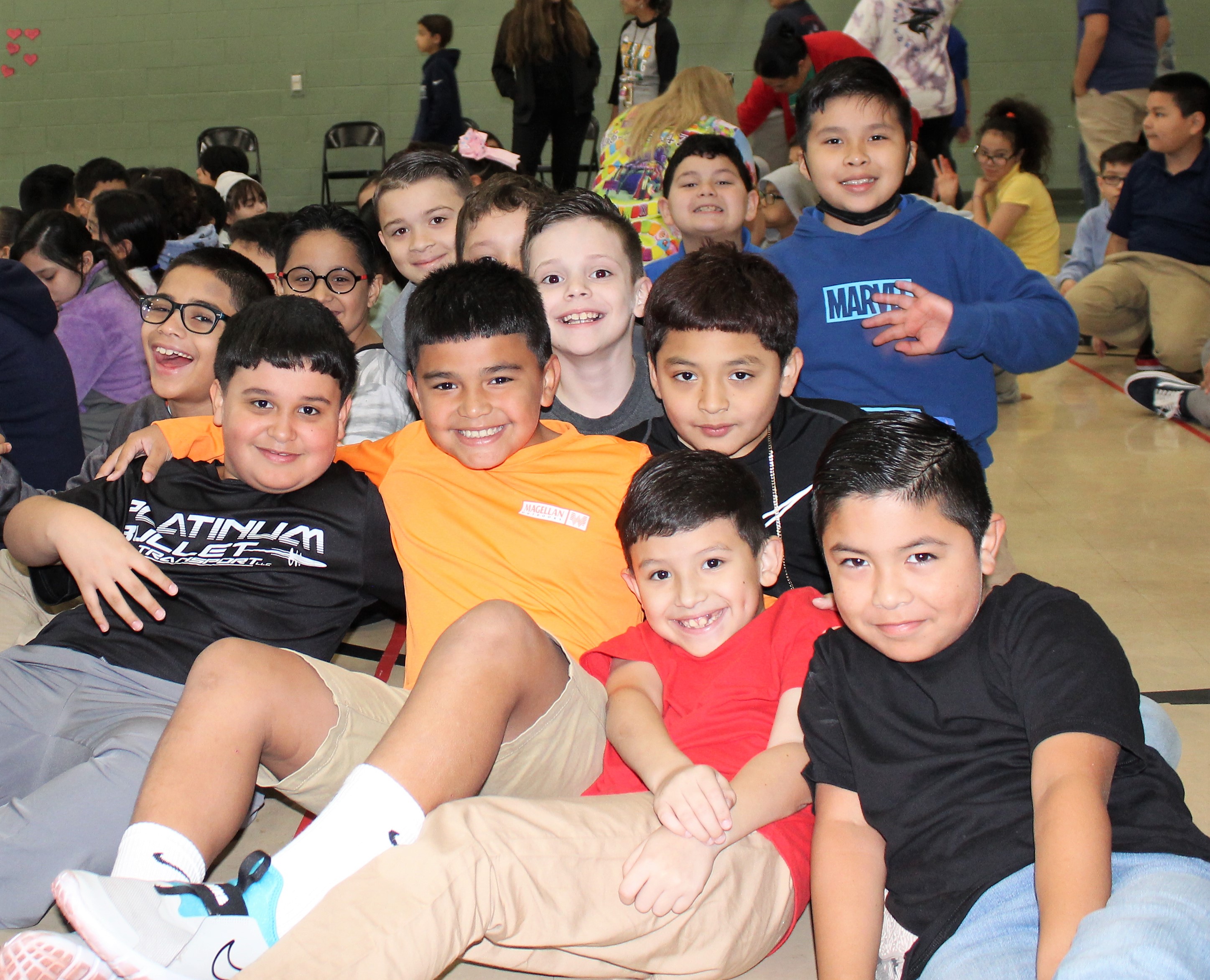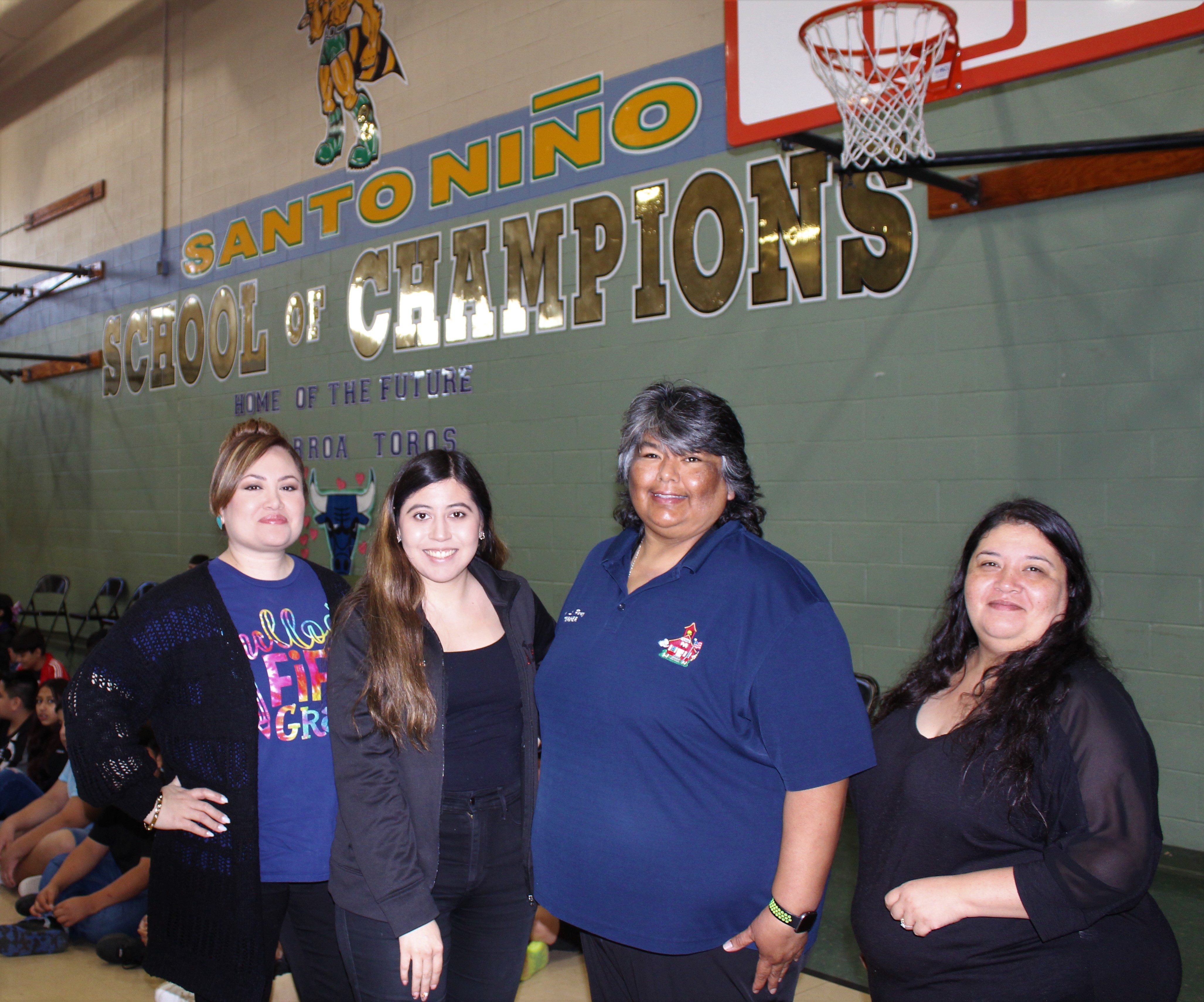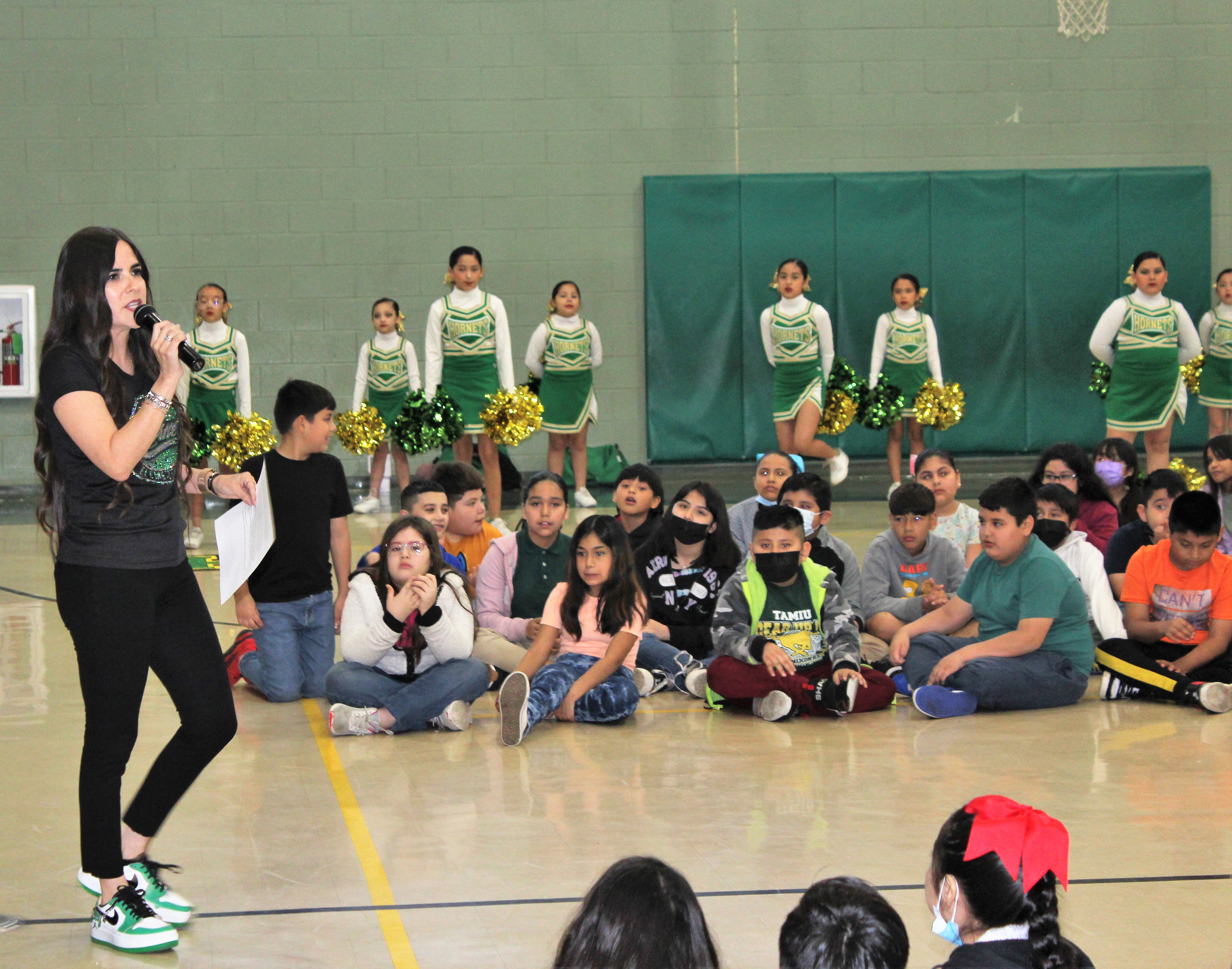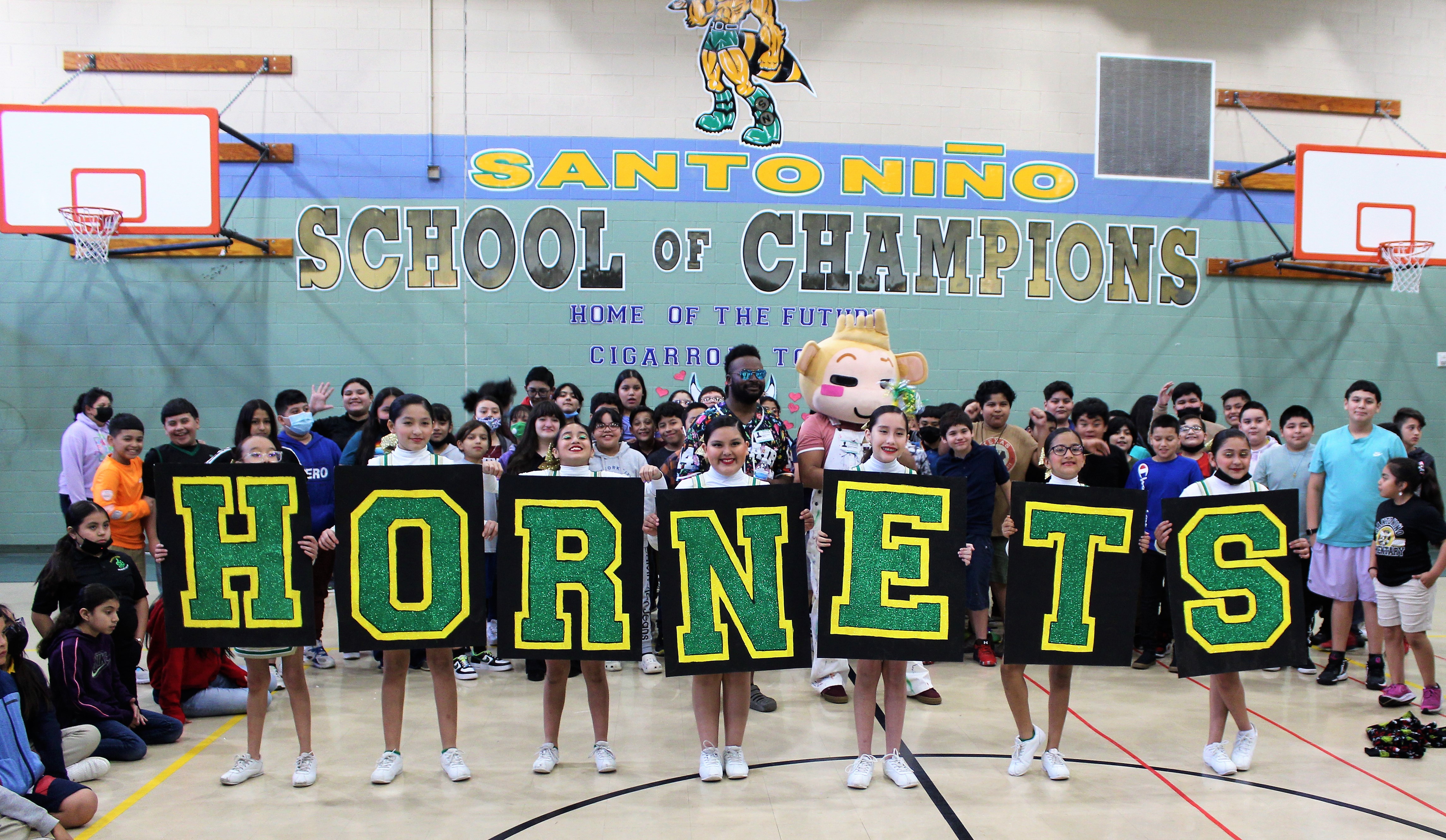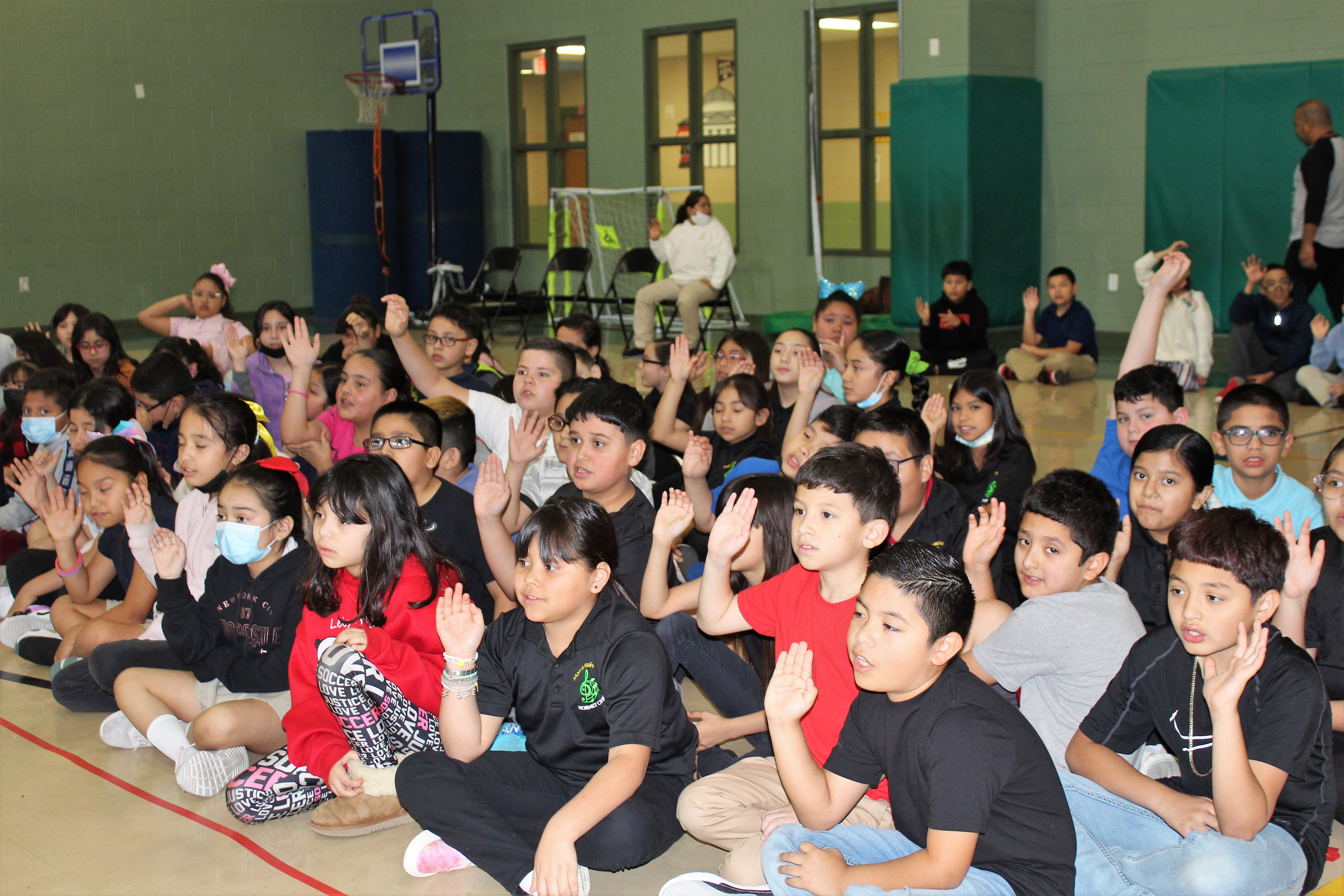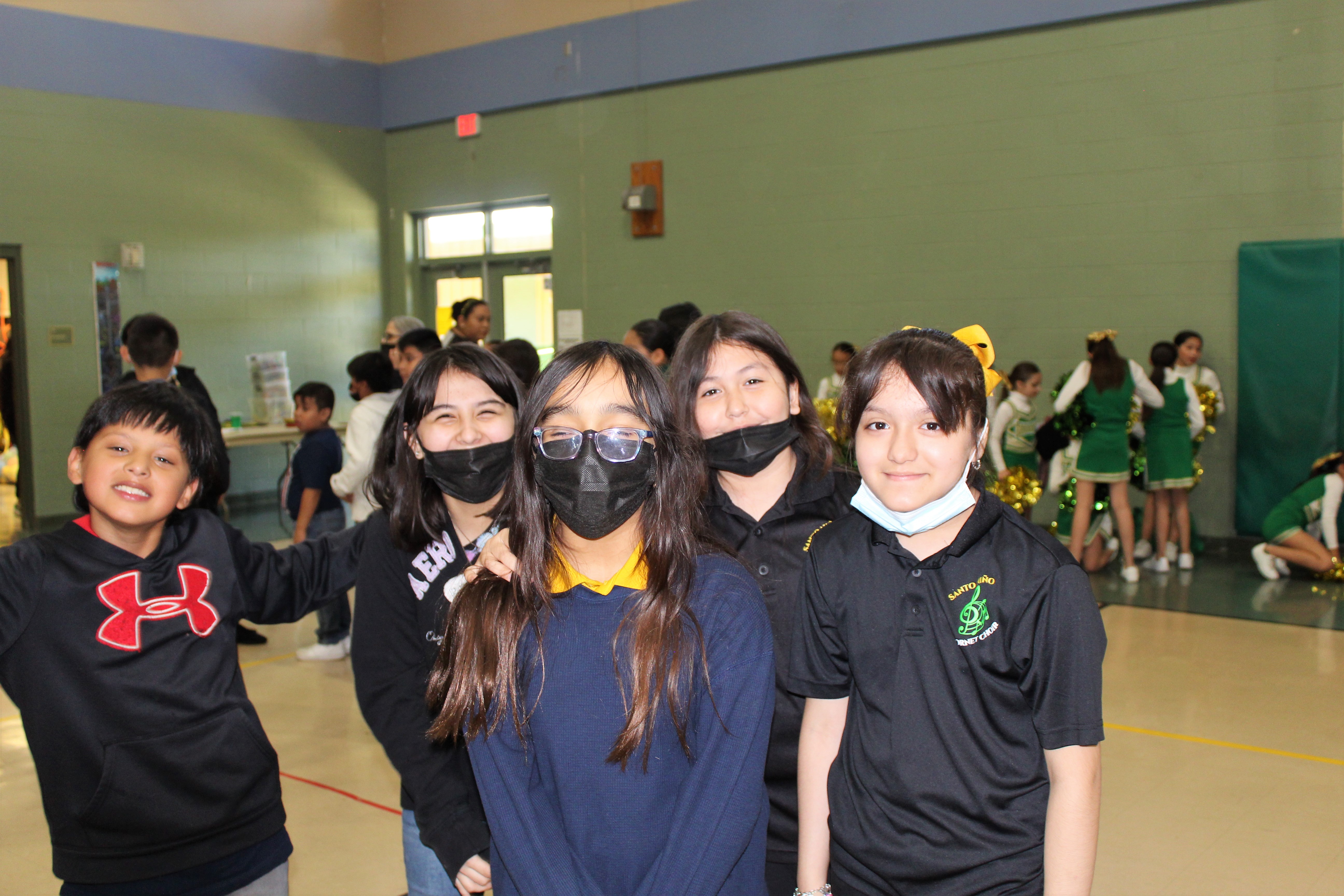 Week of the Young Child Parade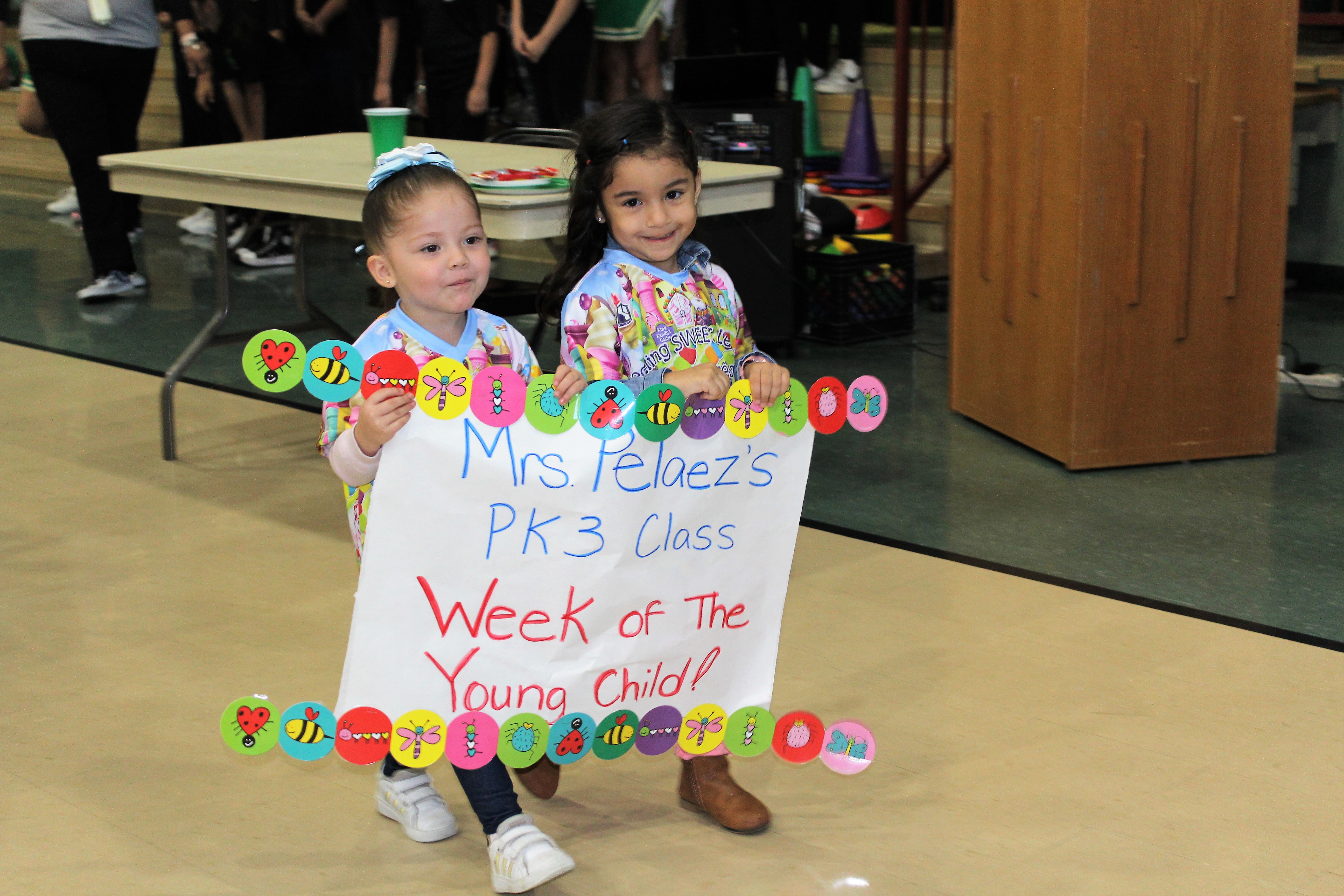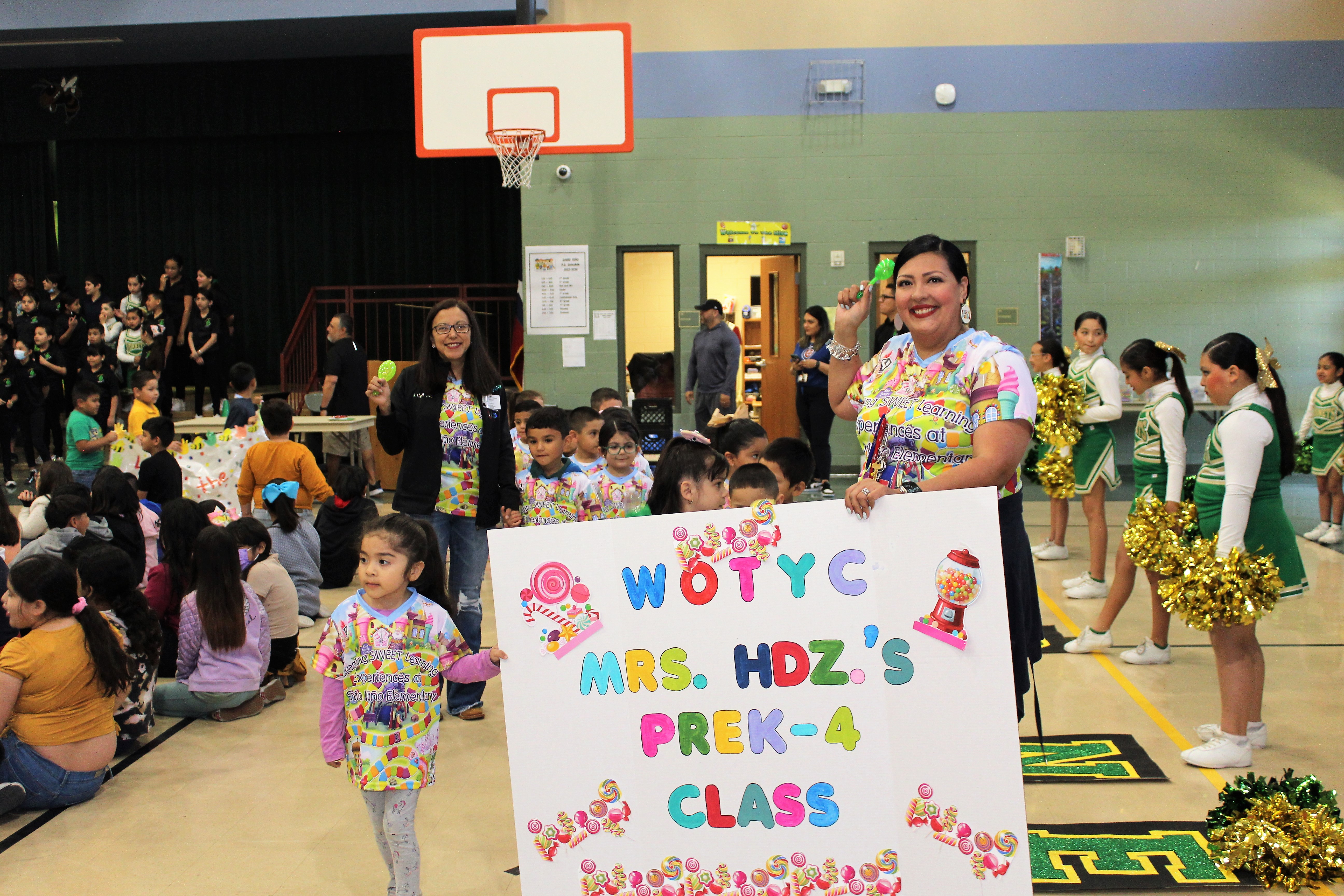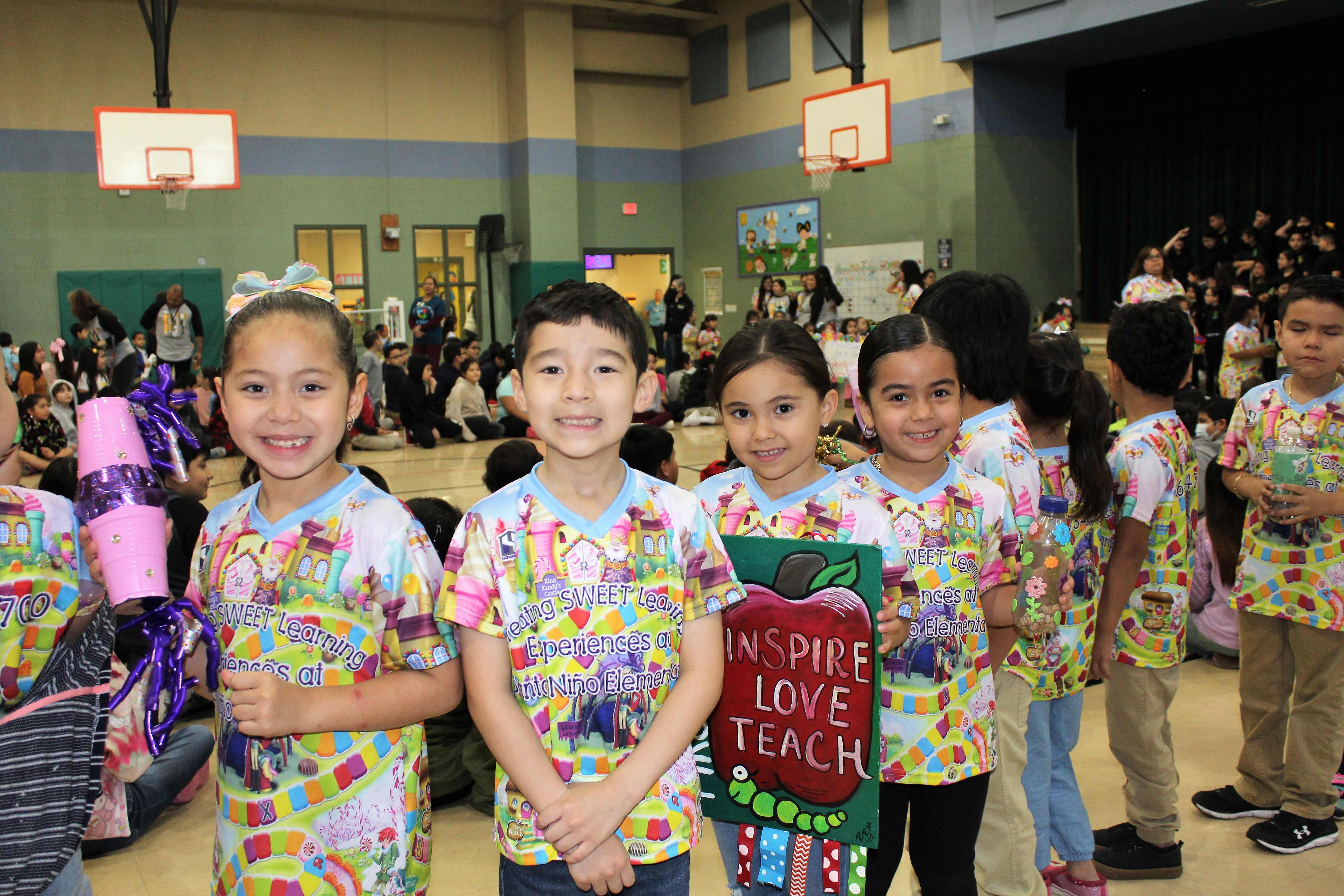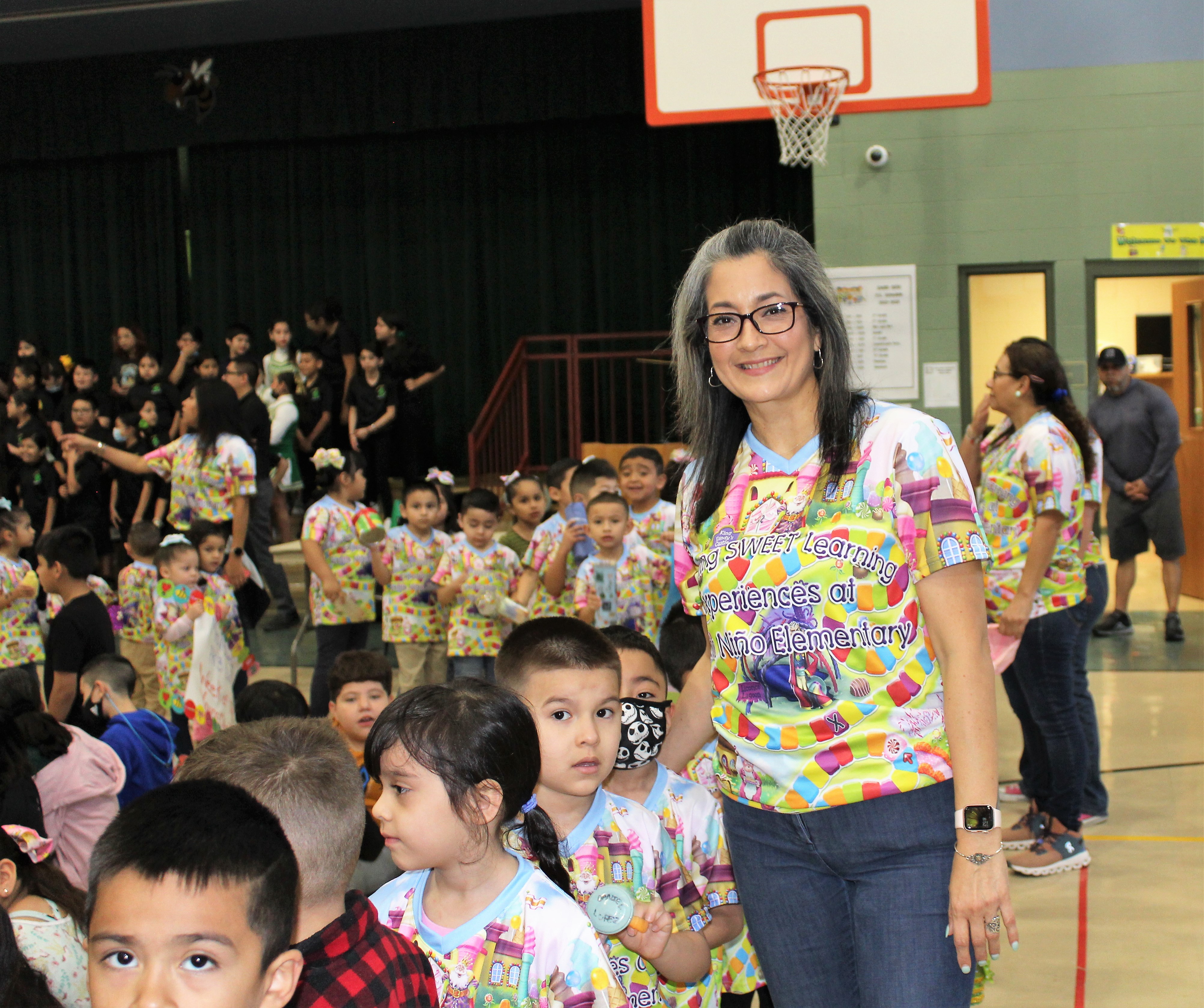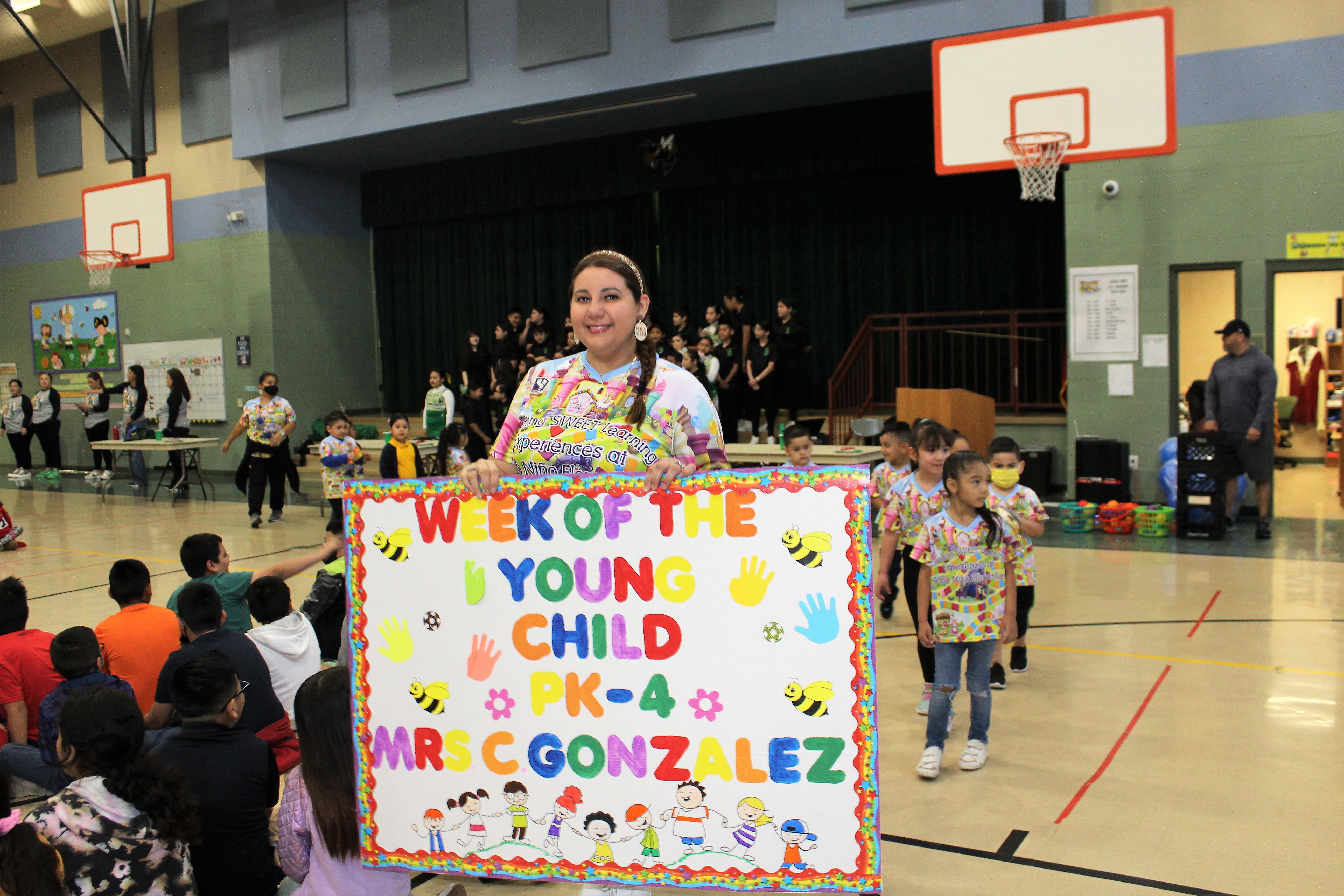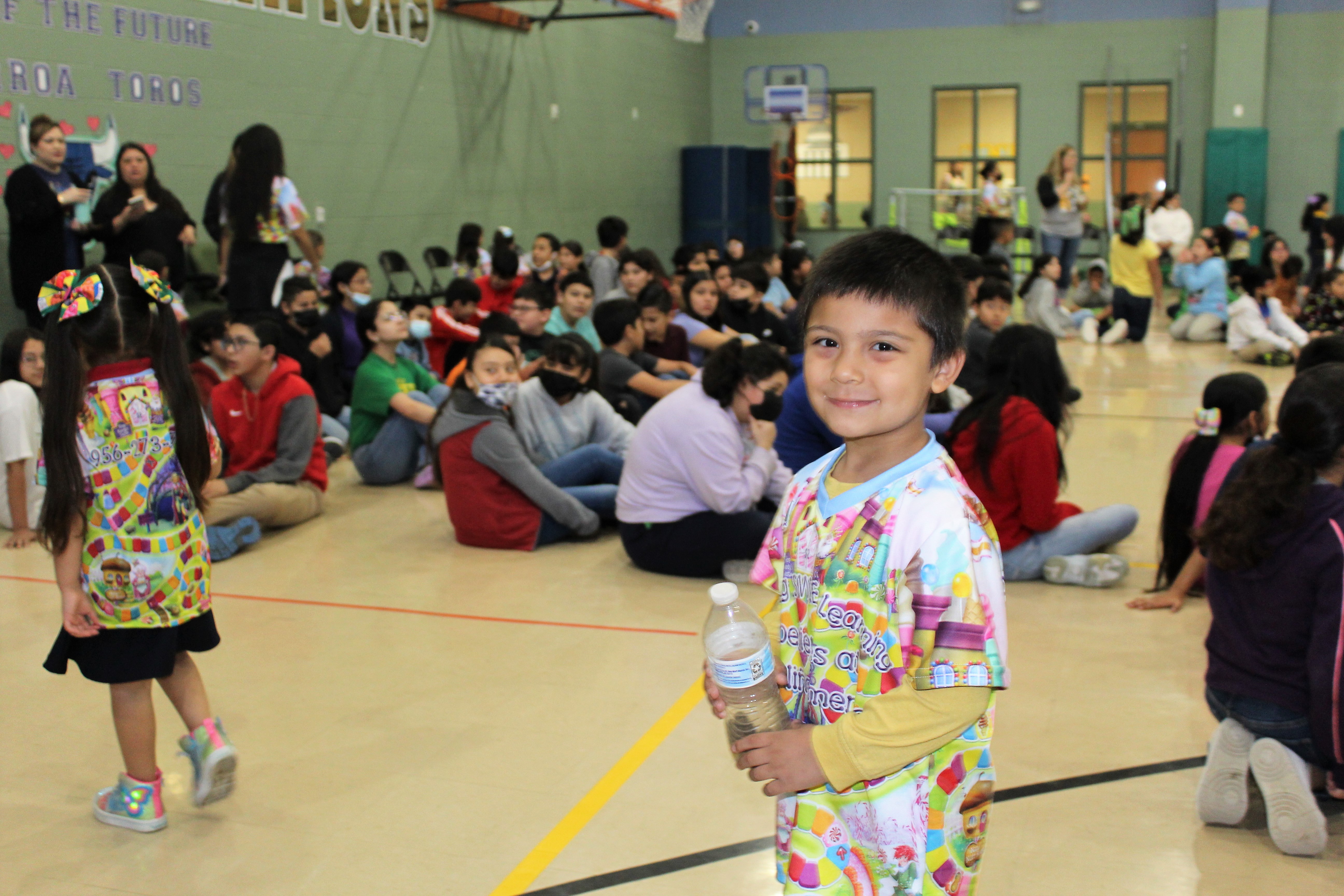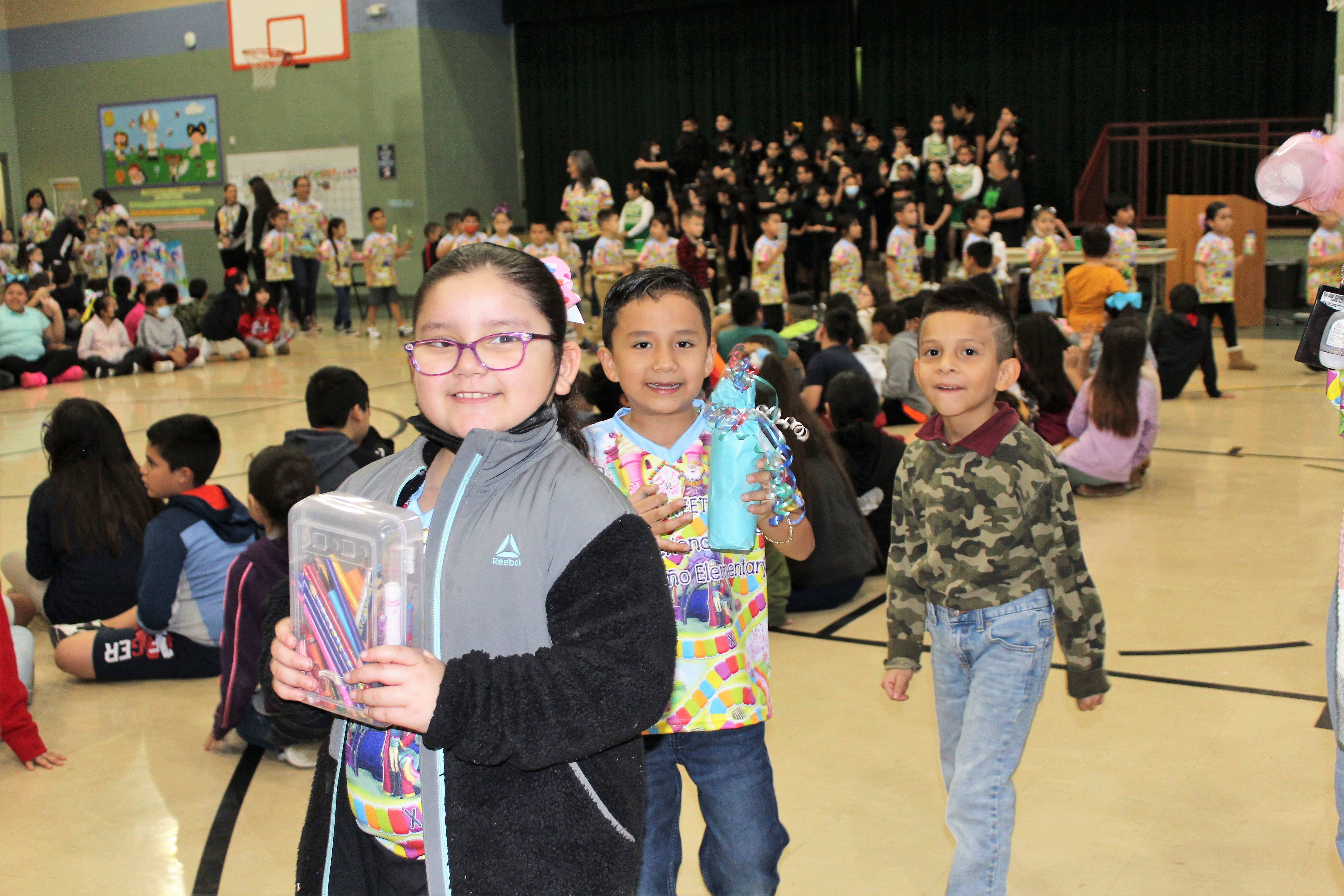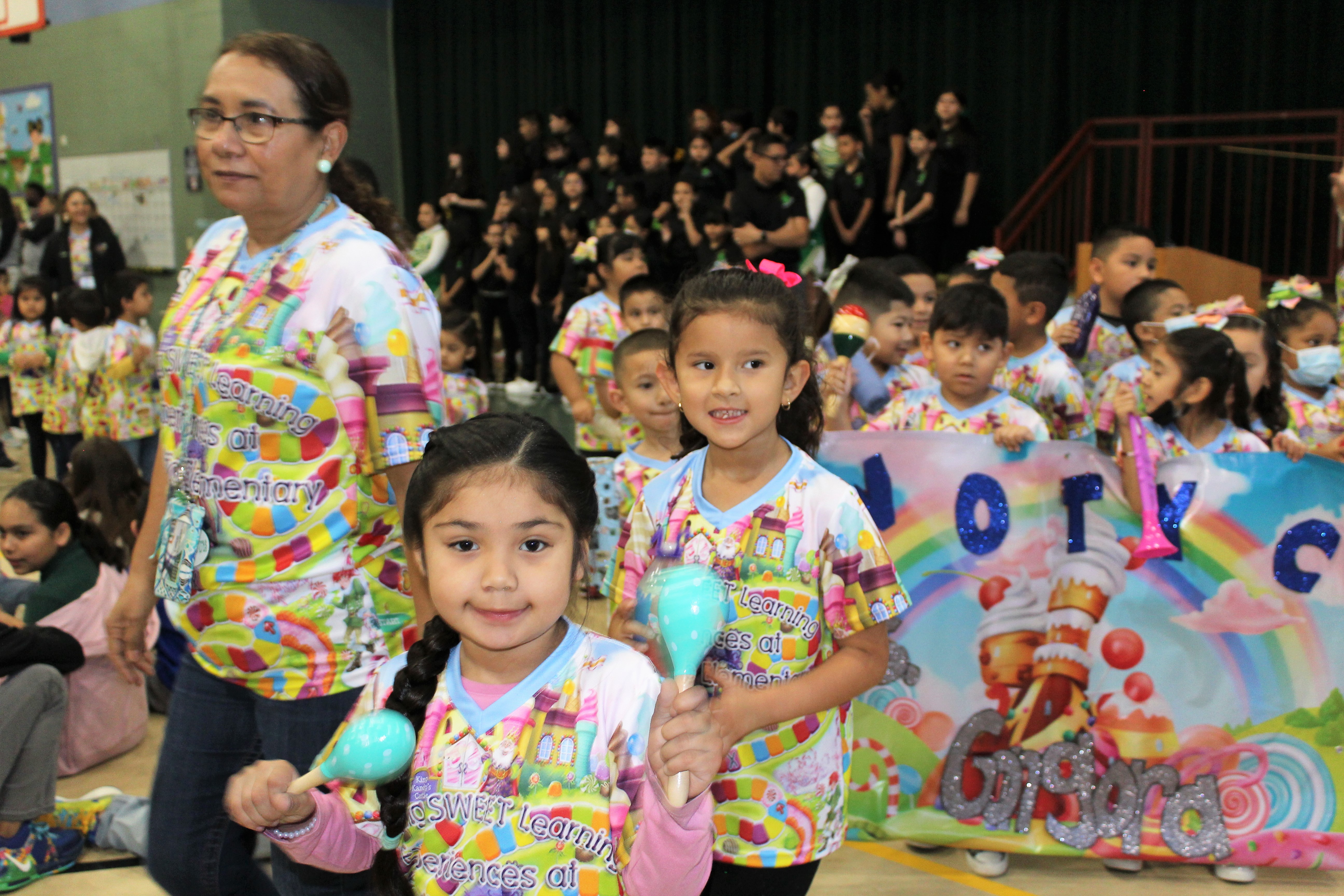 April Student of the Month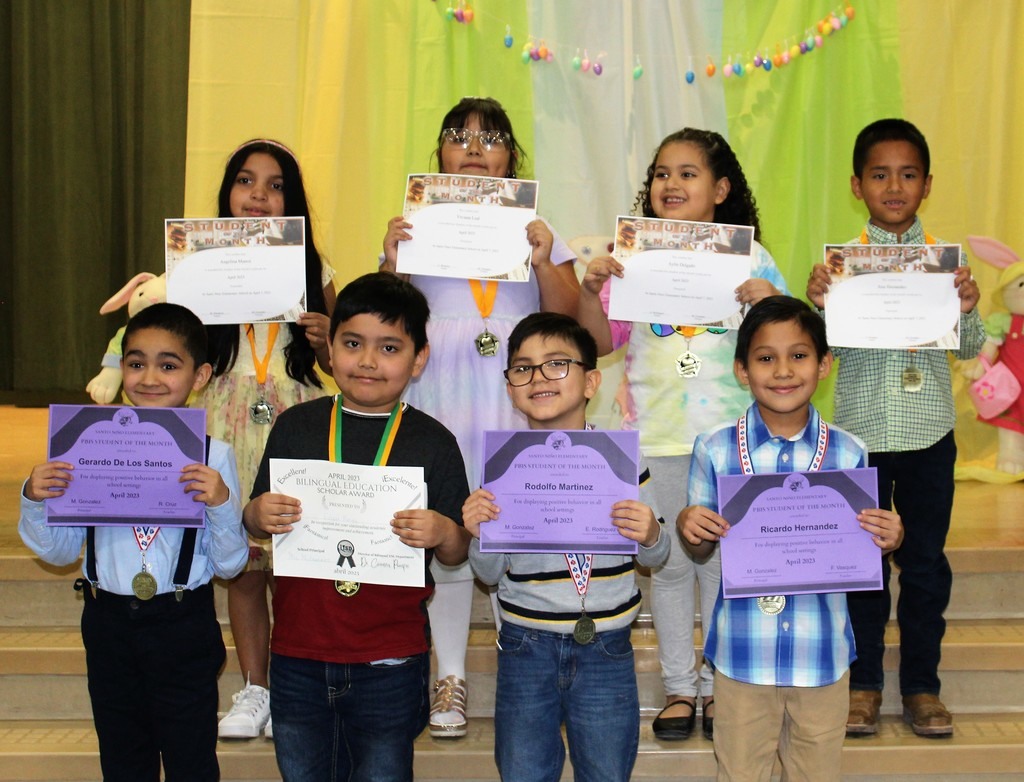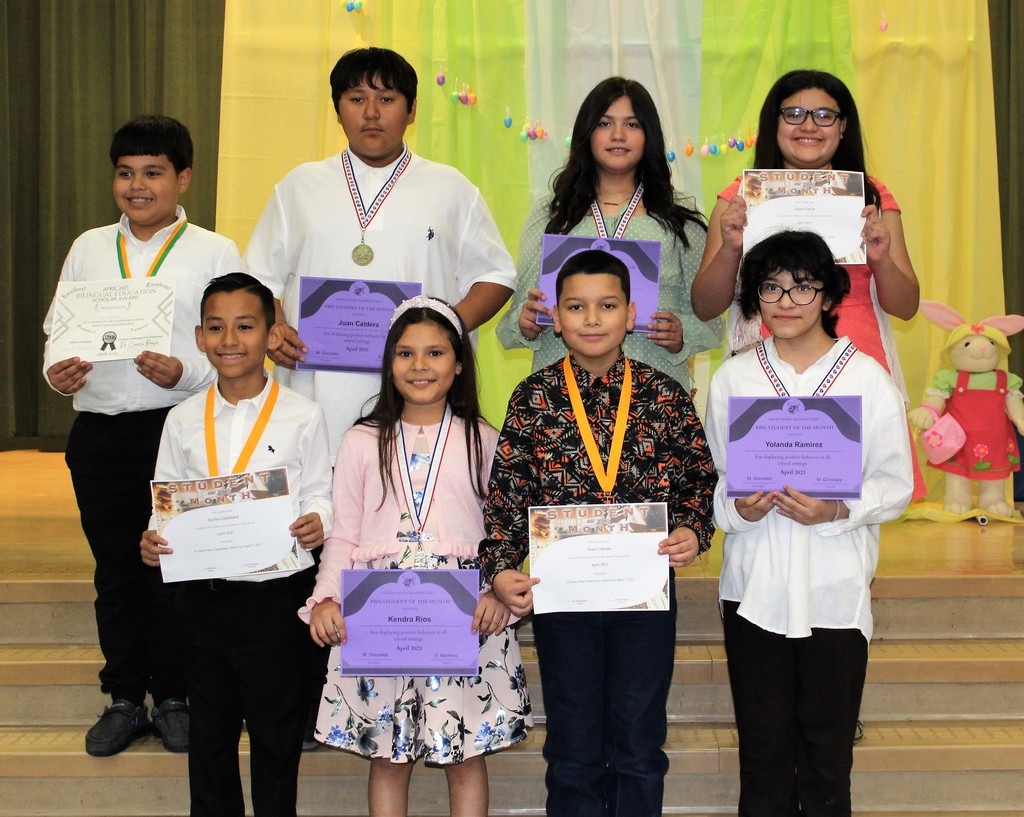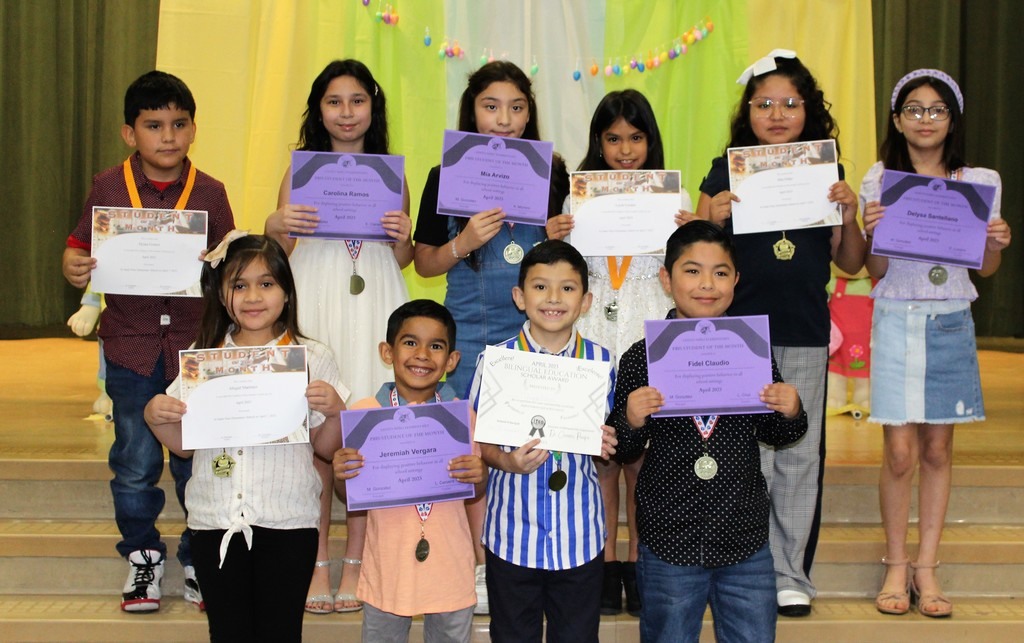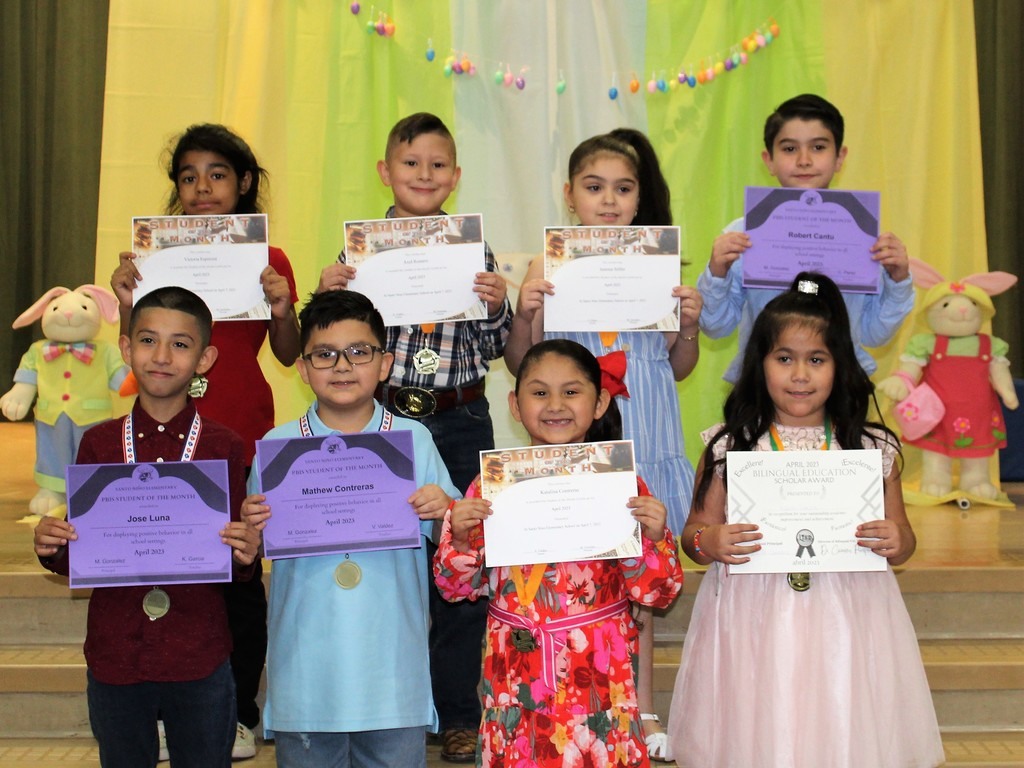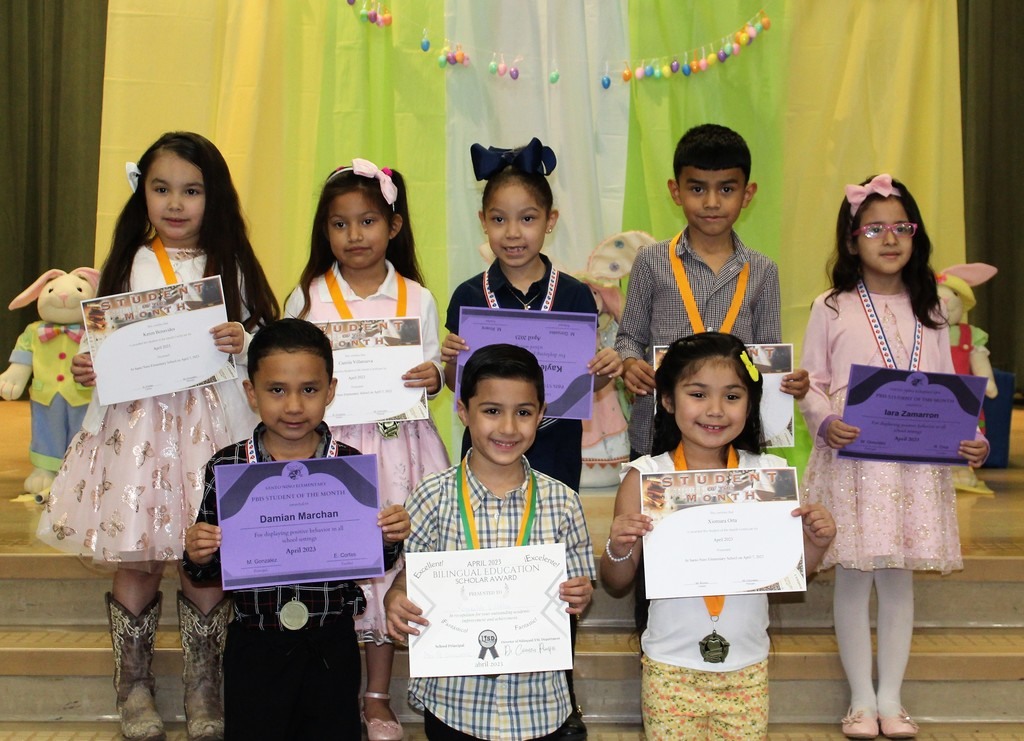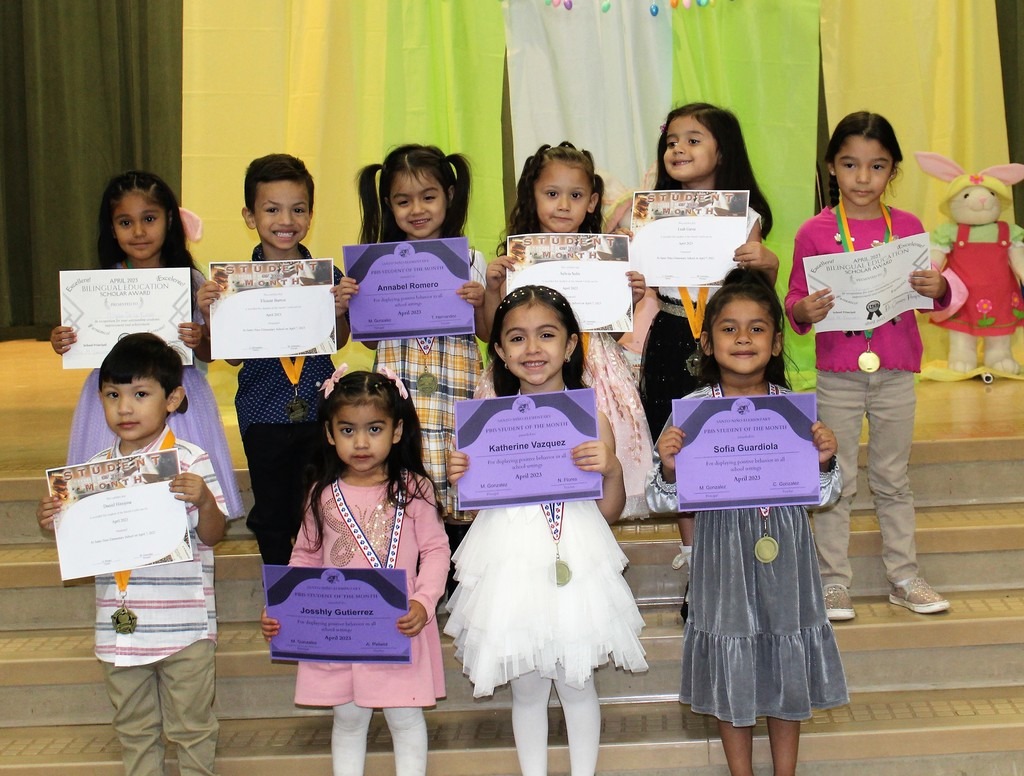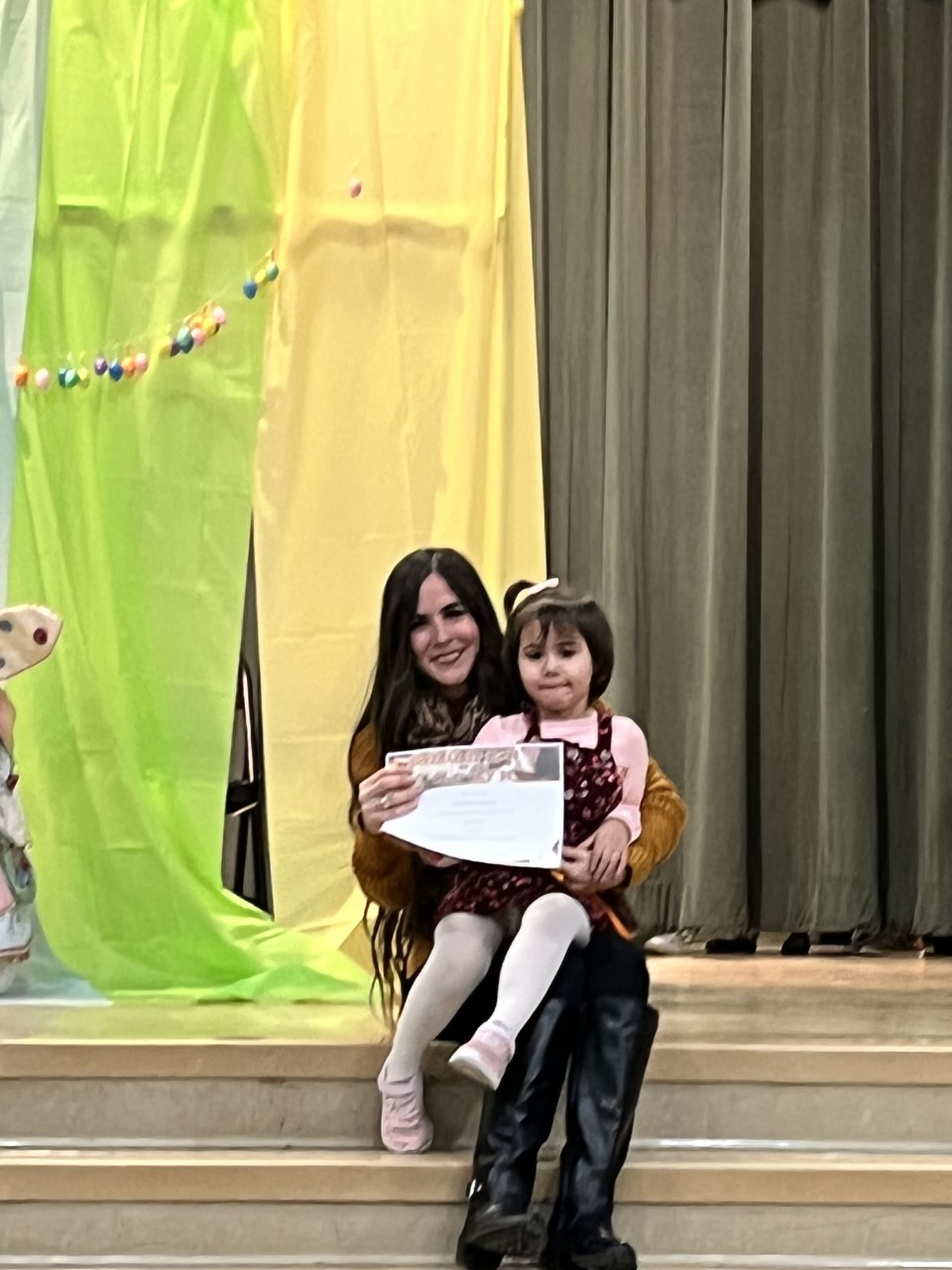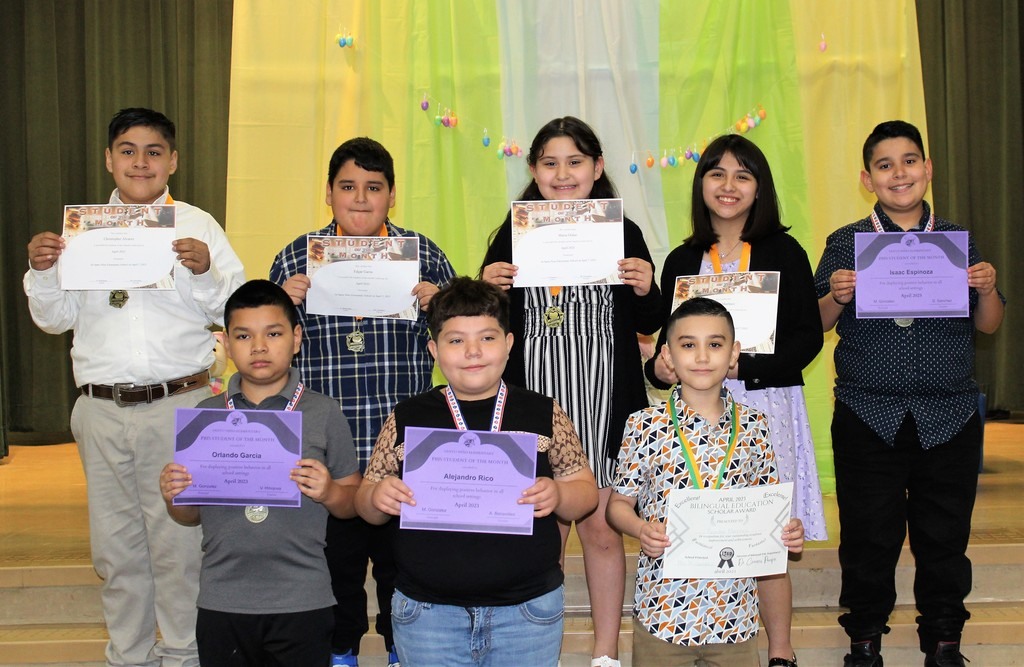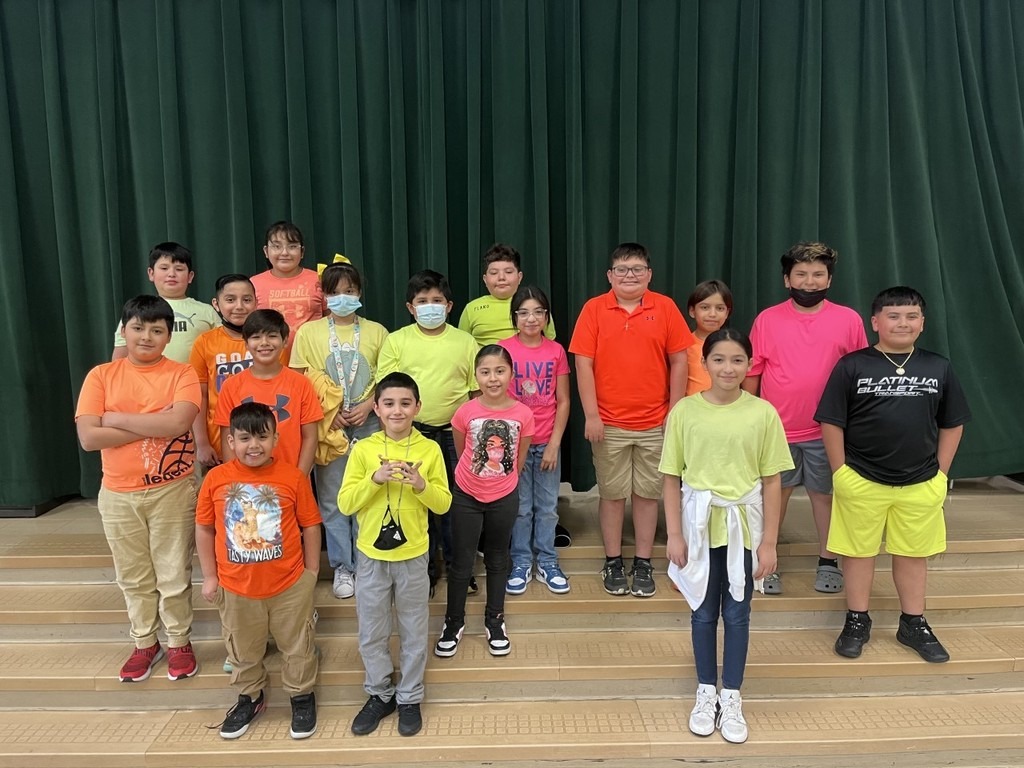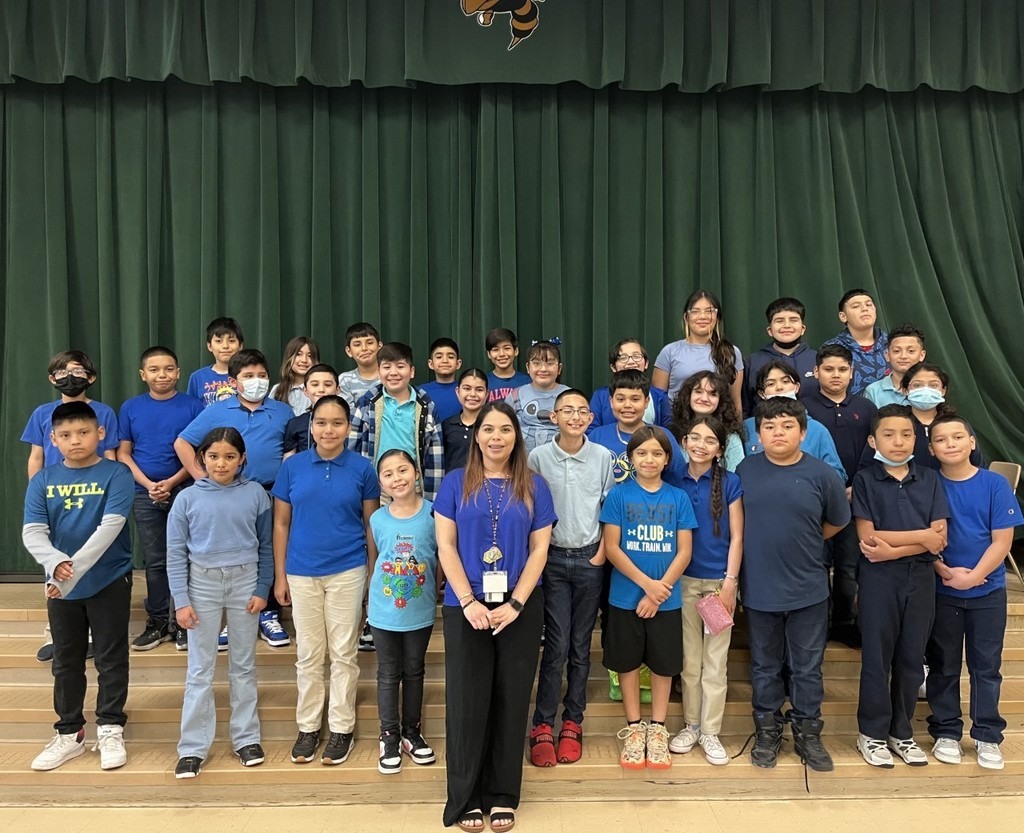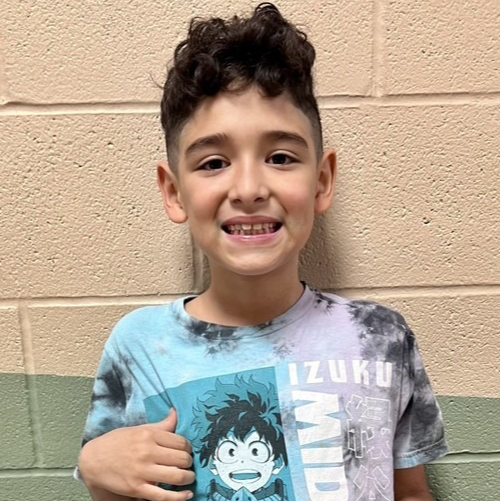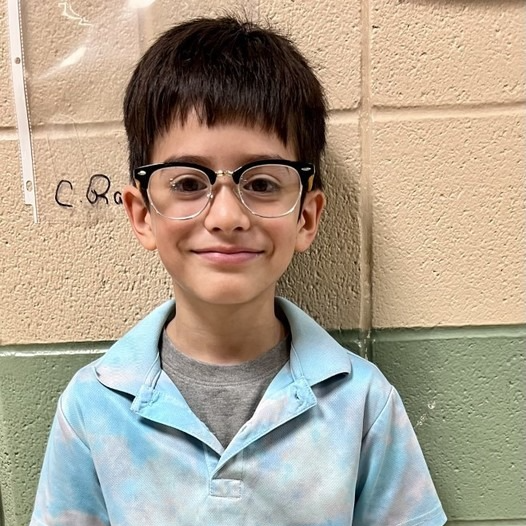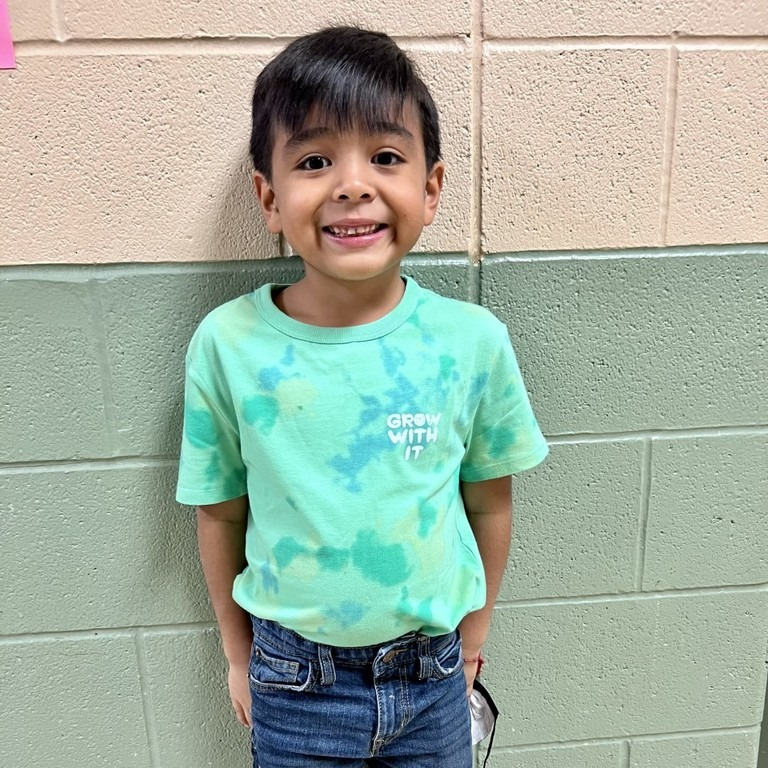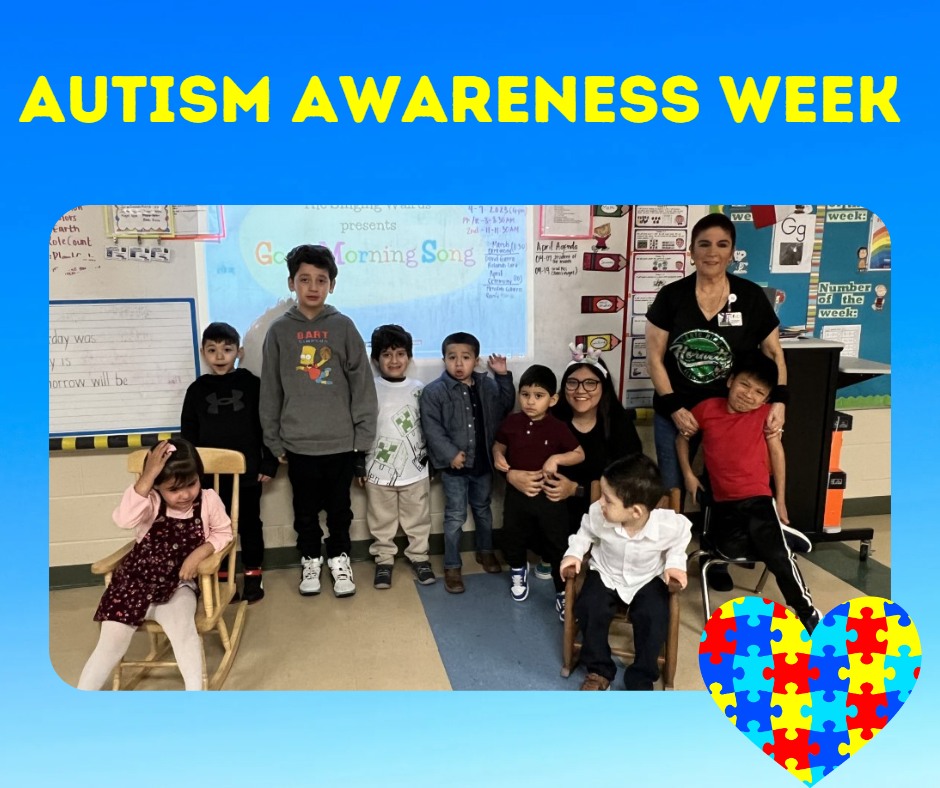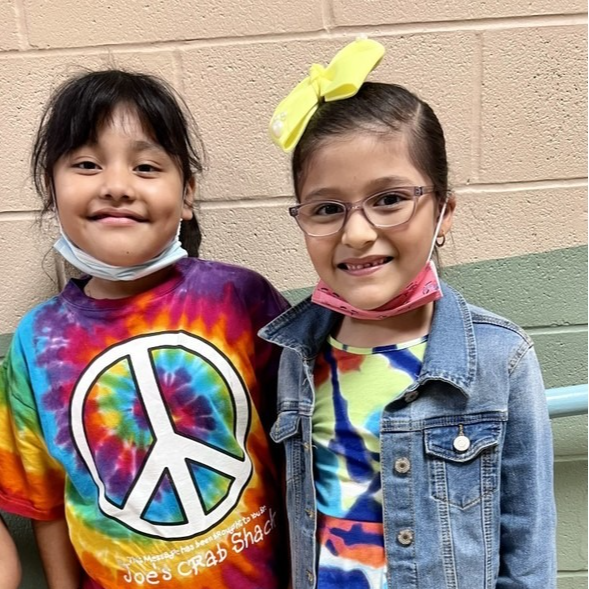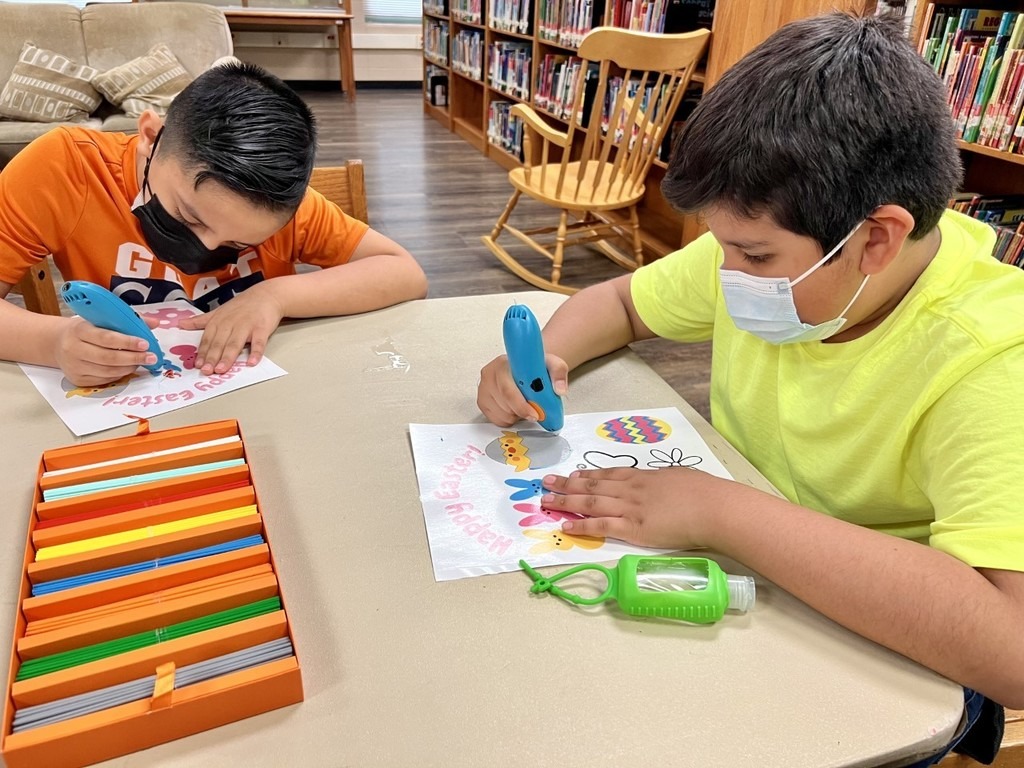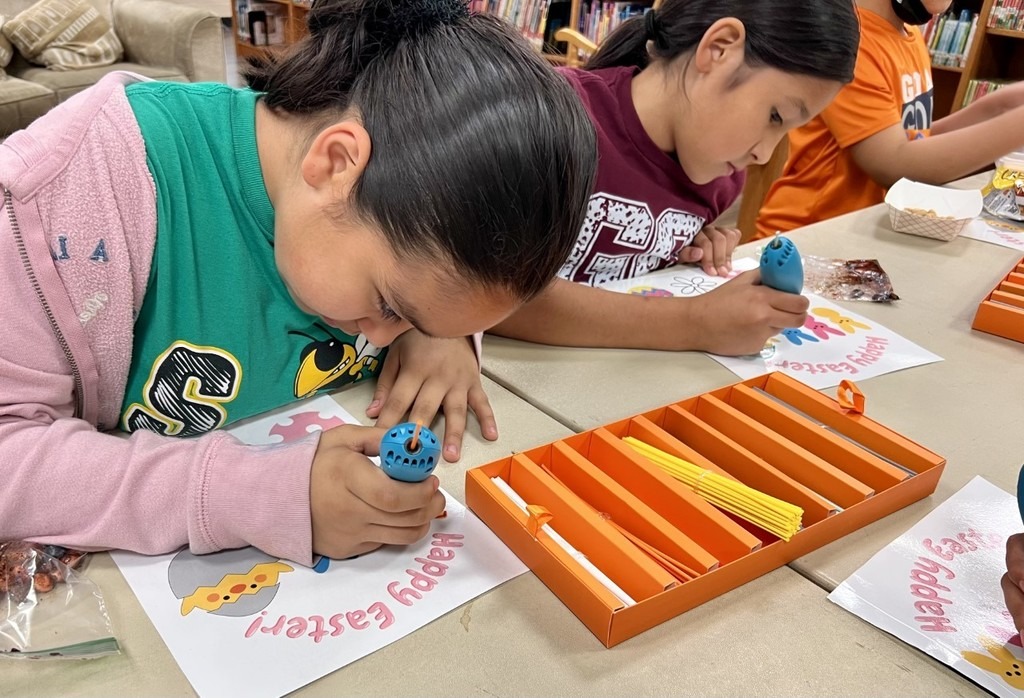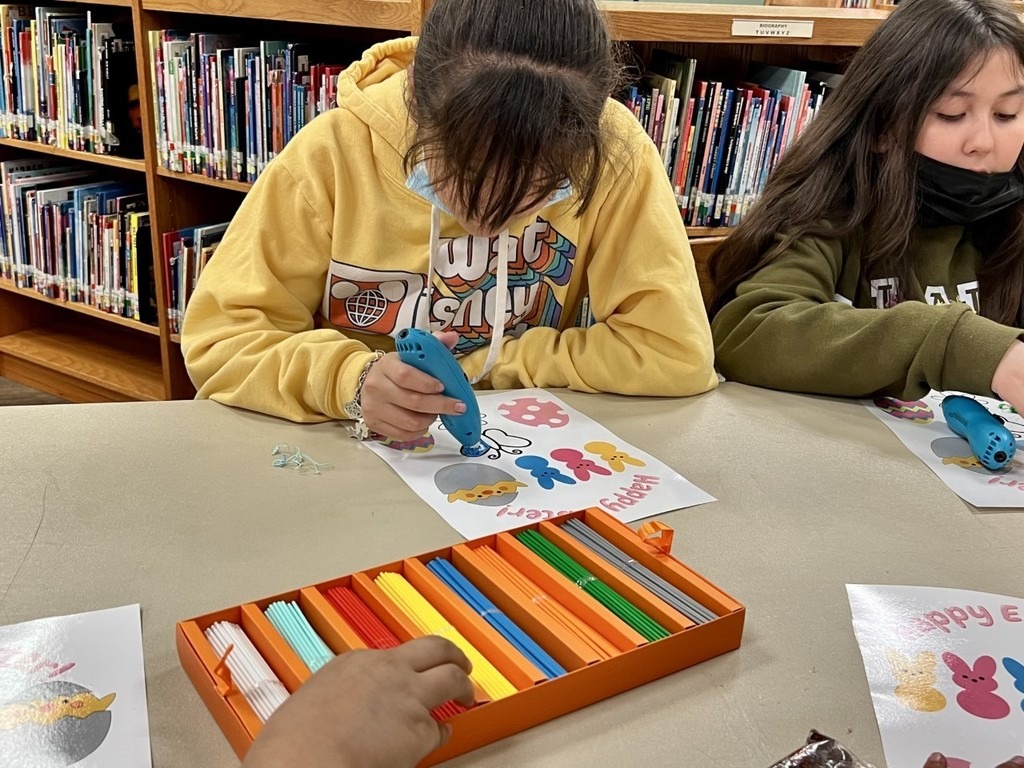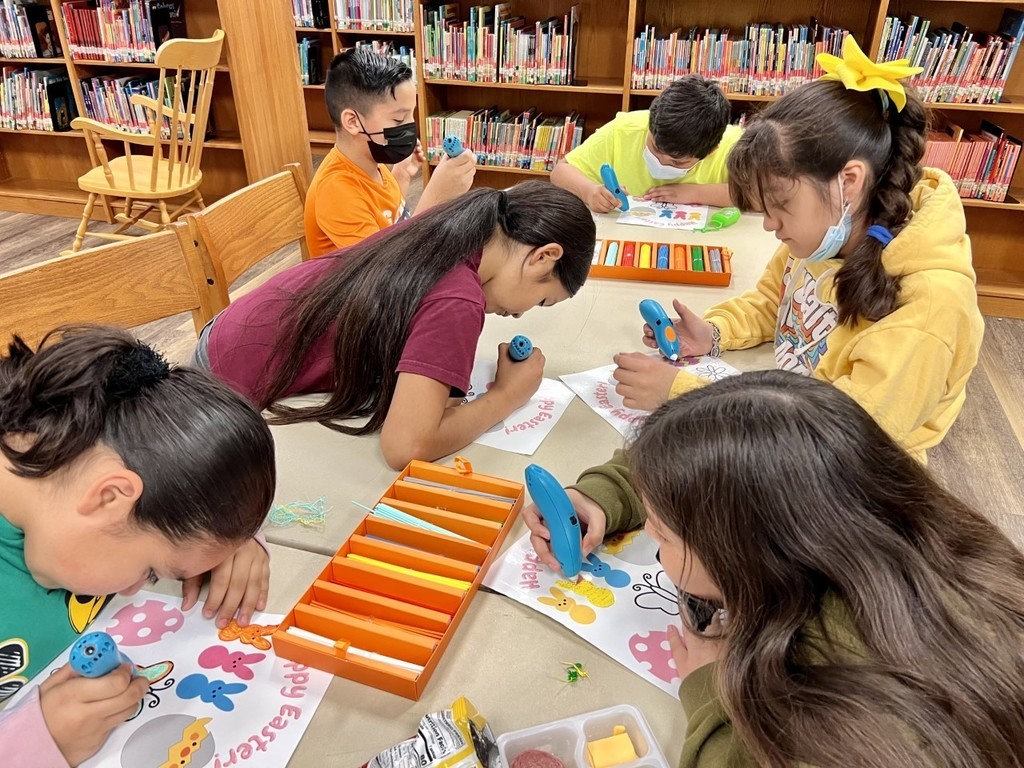 LISD Child Nutrition Program 8th Annual "Be a Star with School Breakfast" Singing Contest
Hornets competing in the LISD Child Nutrition Program 8th Annual "Be a Star with School Breakfast" Singing Contest under the direction of our music teacher, Mr. Rodriguez.
Singers: Silvia F. , Kendra S., Juliana C., and Evelynn C.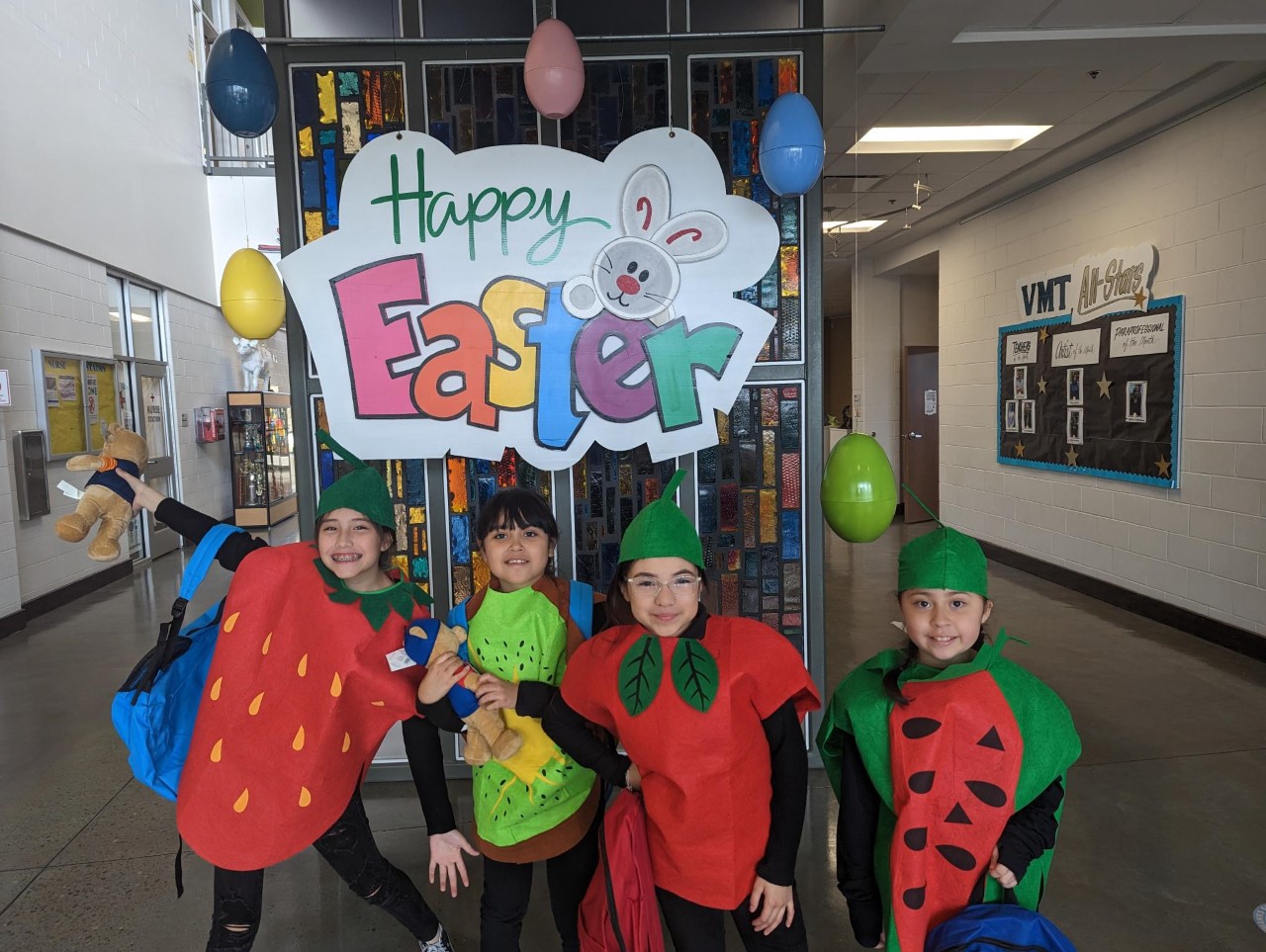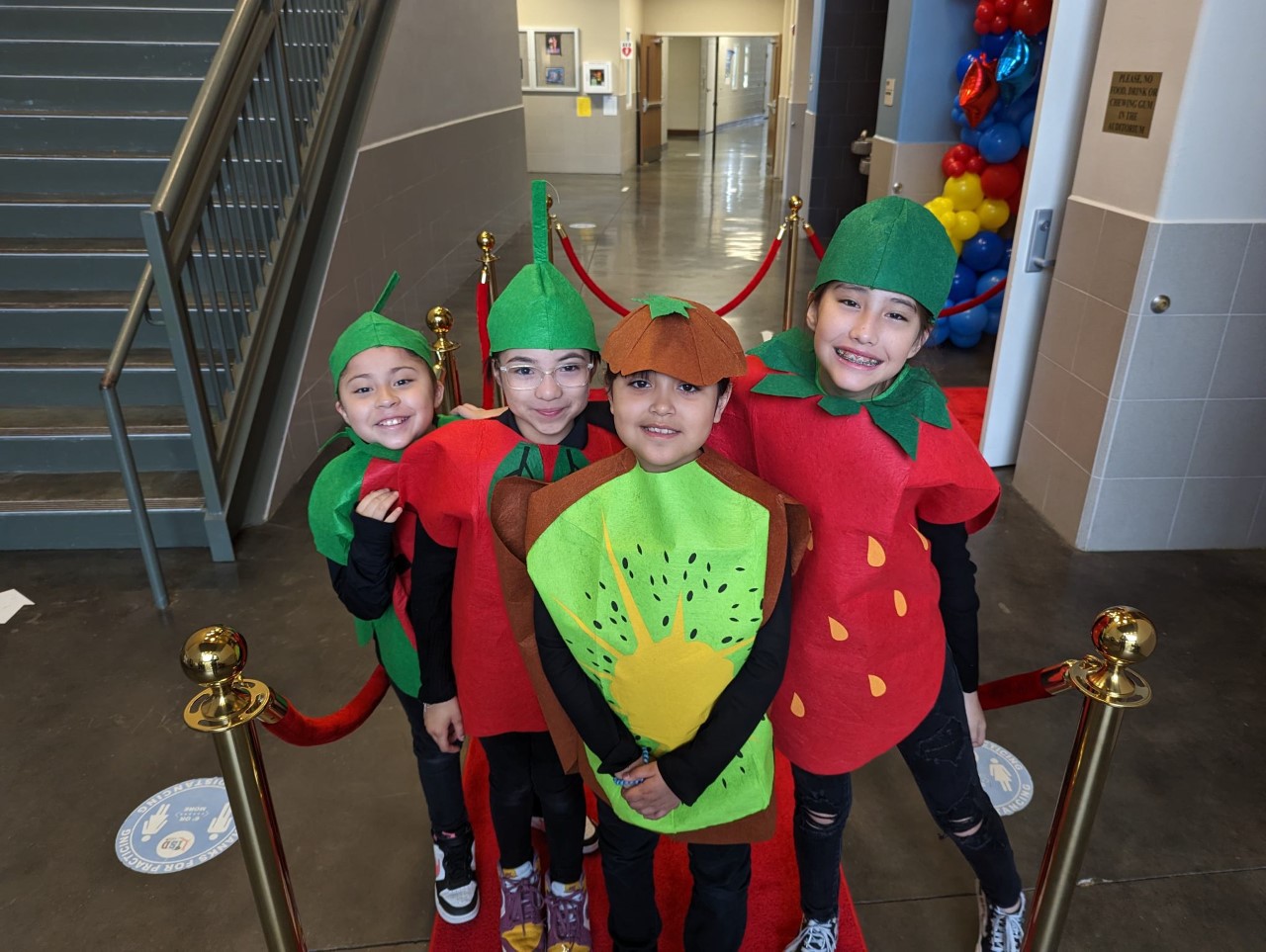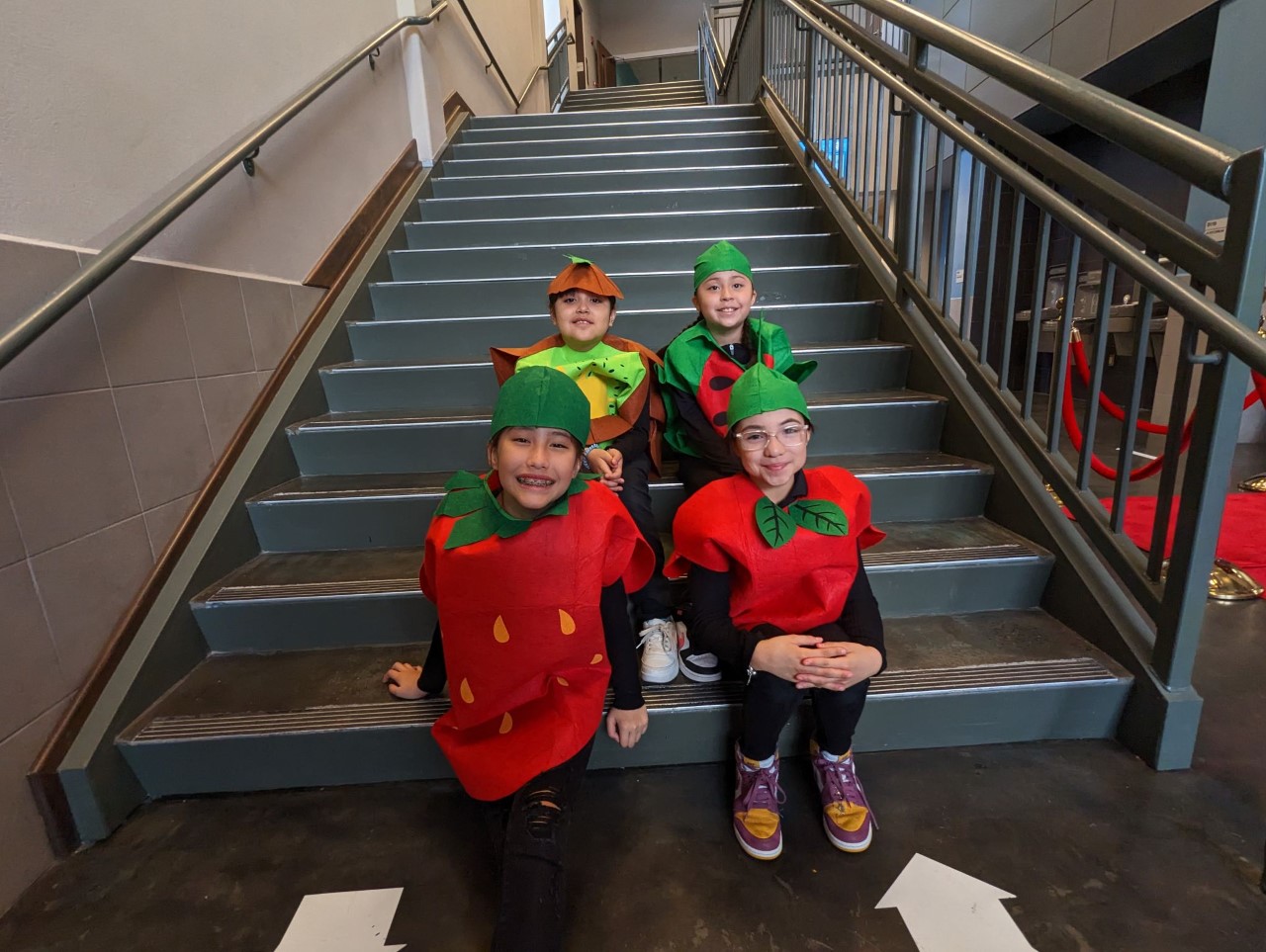 March Student of the Month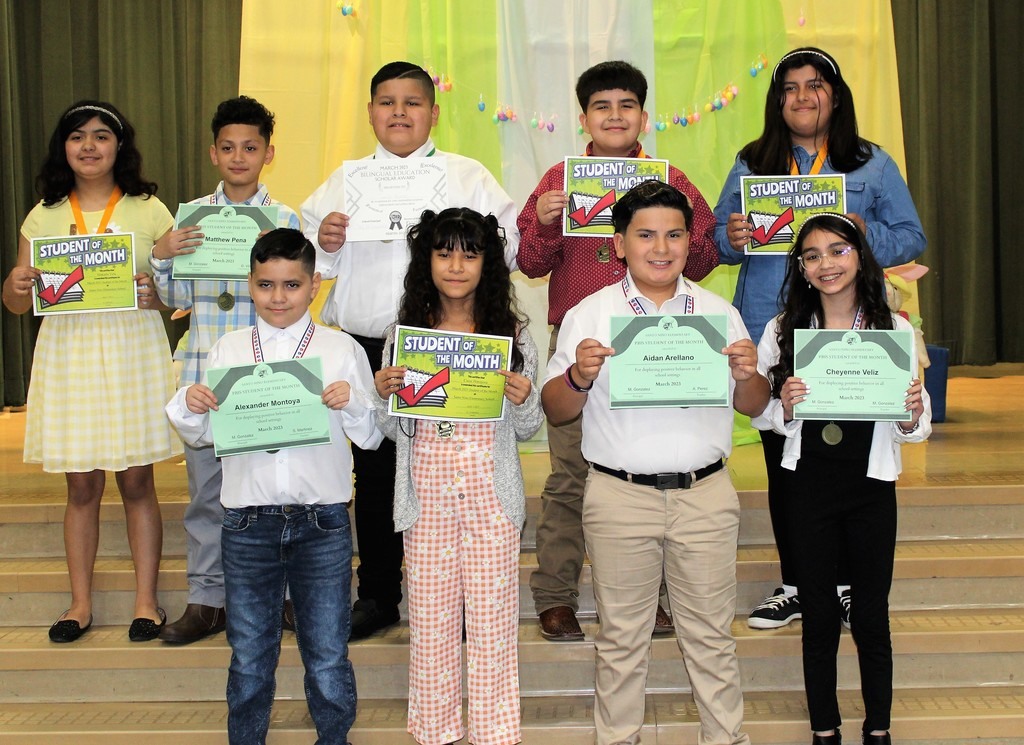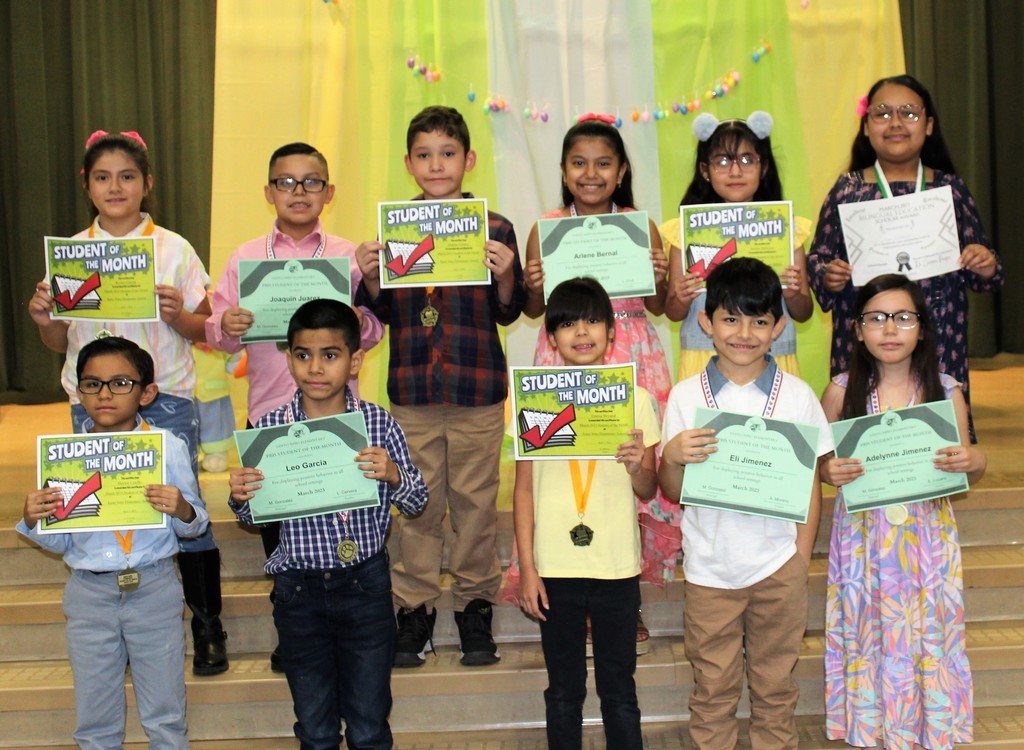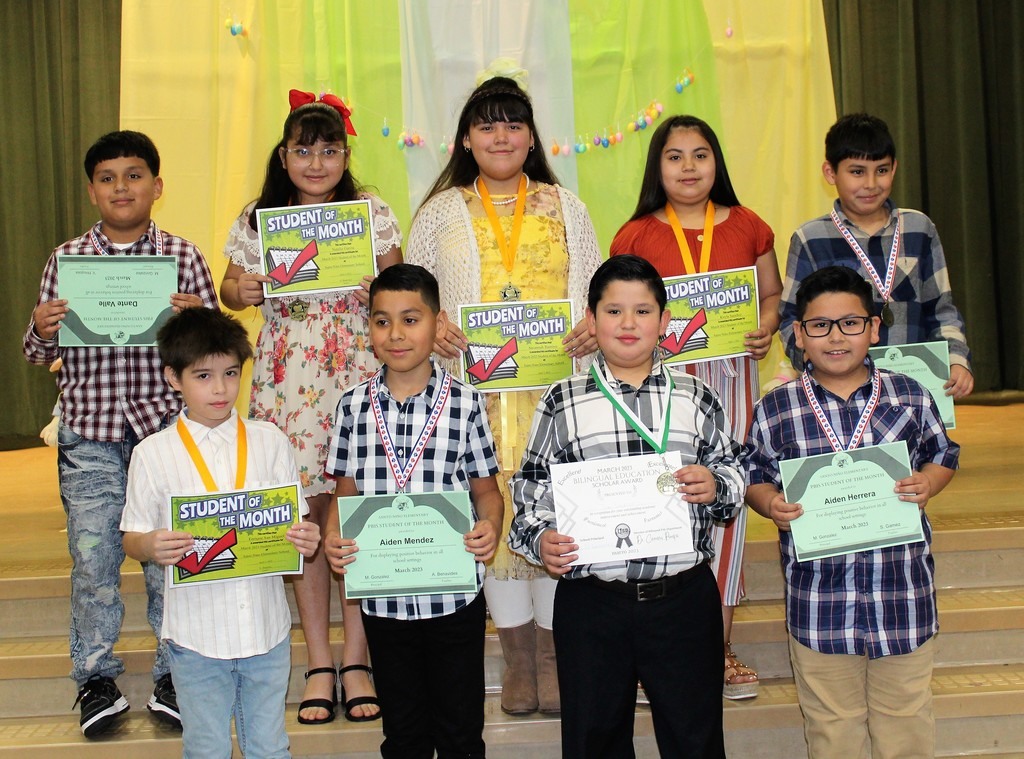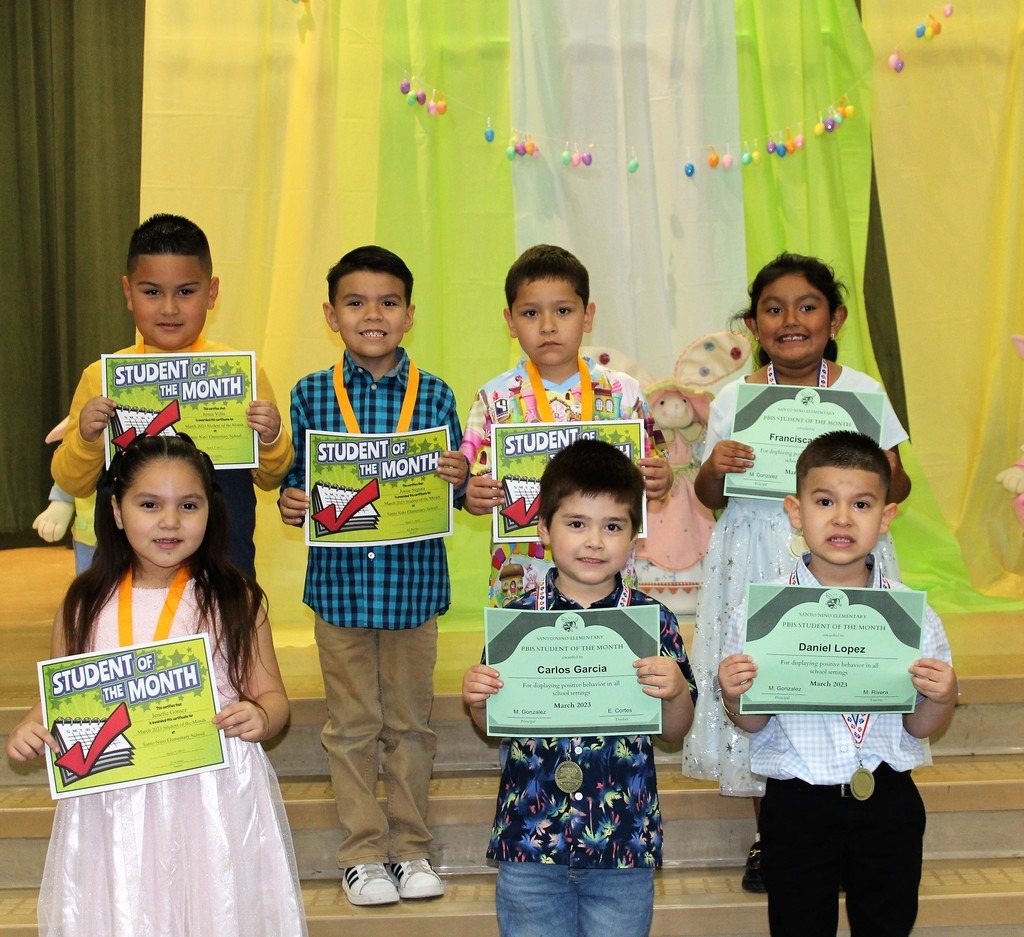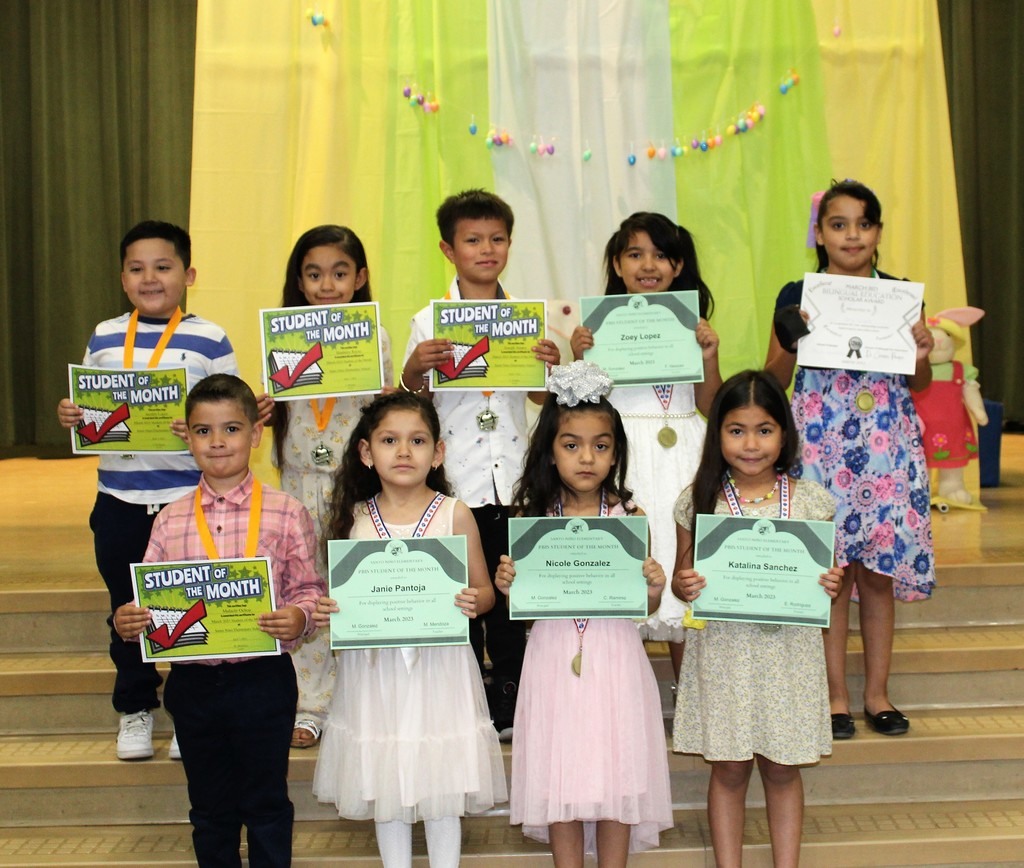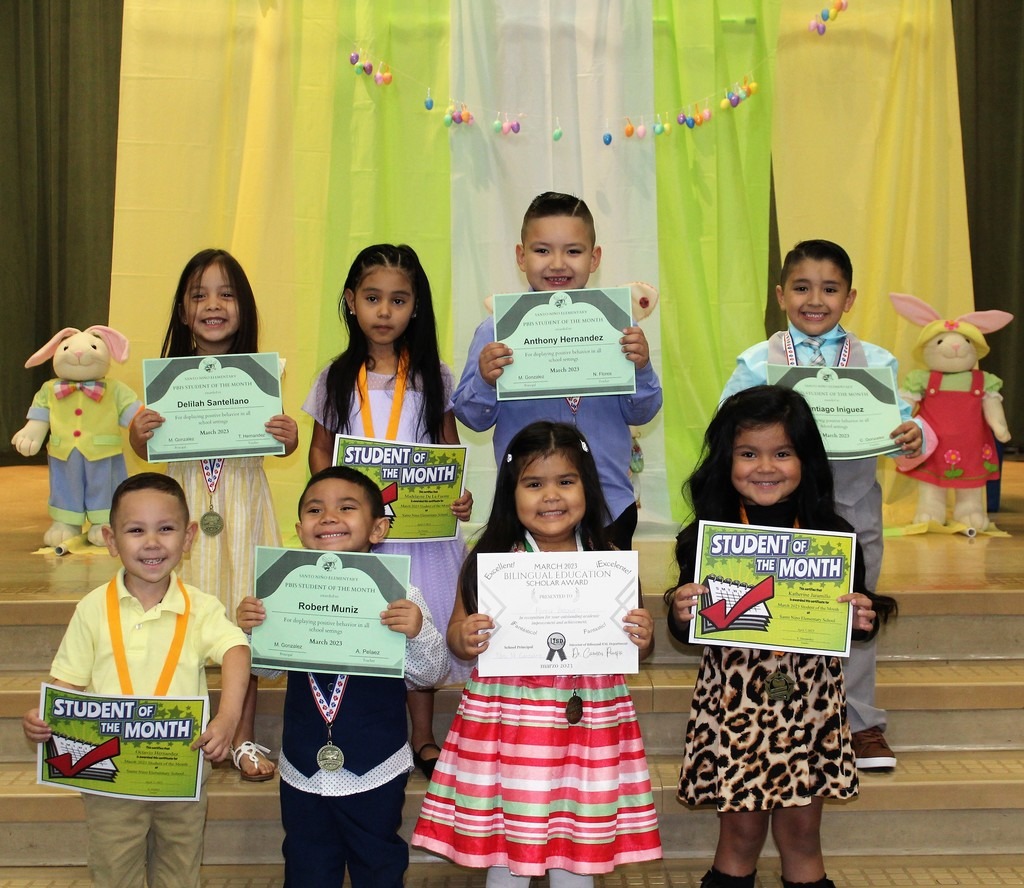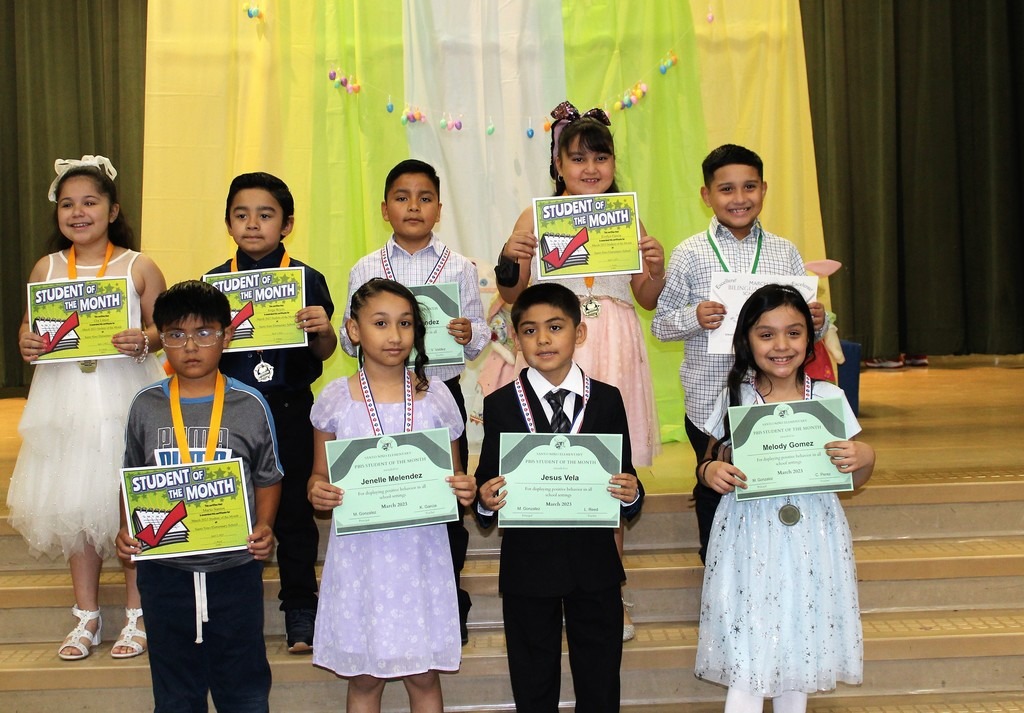 Math Olympics
Hornets representing the Toro Team at the 2023 Math Olympics!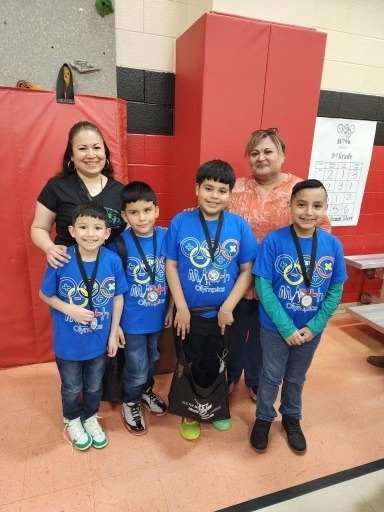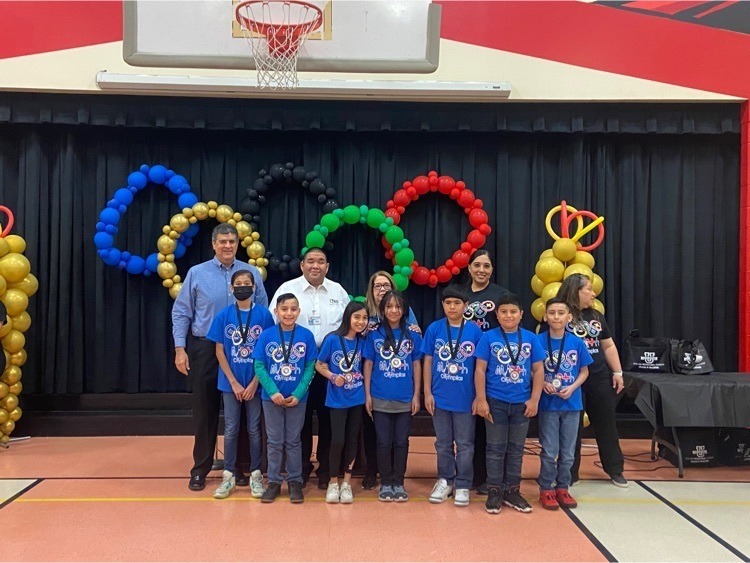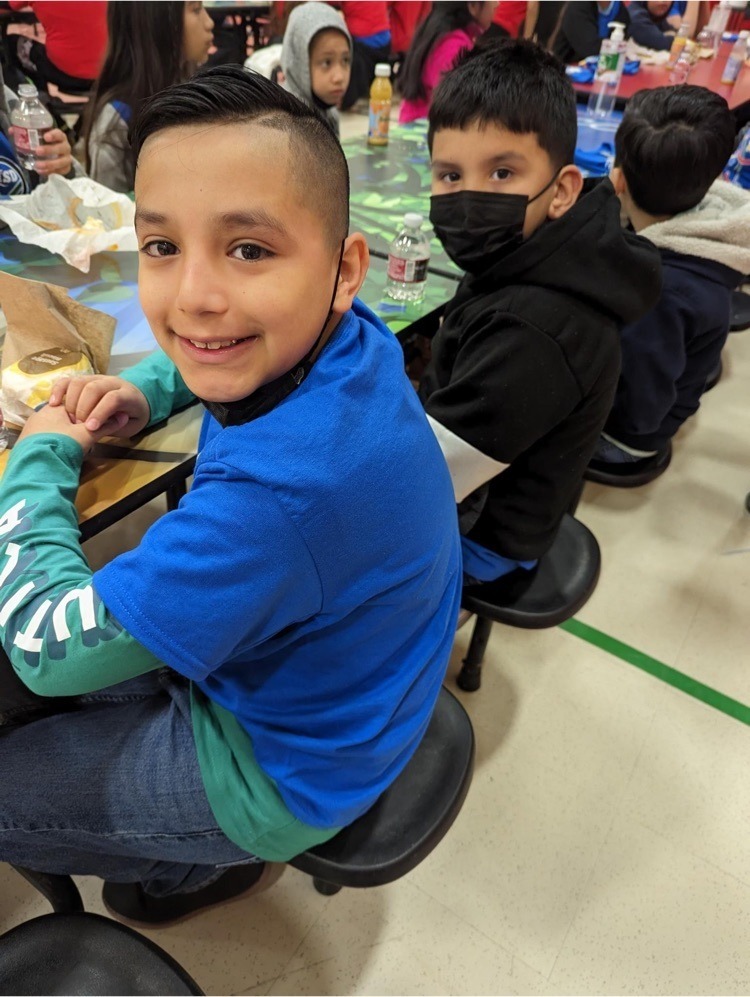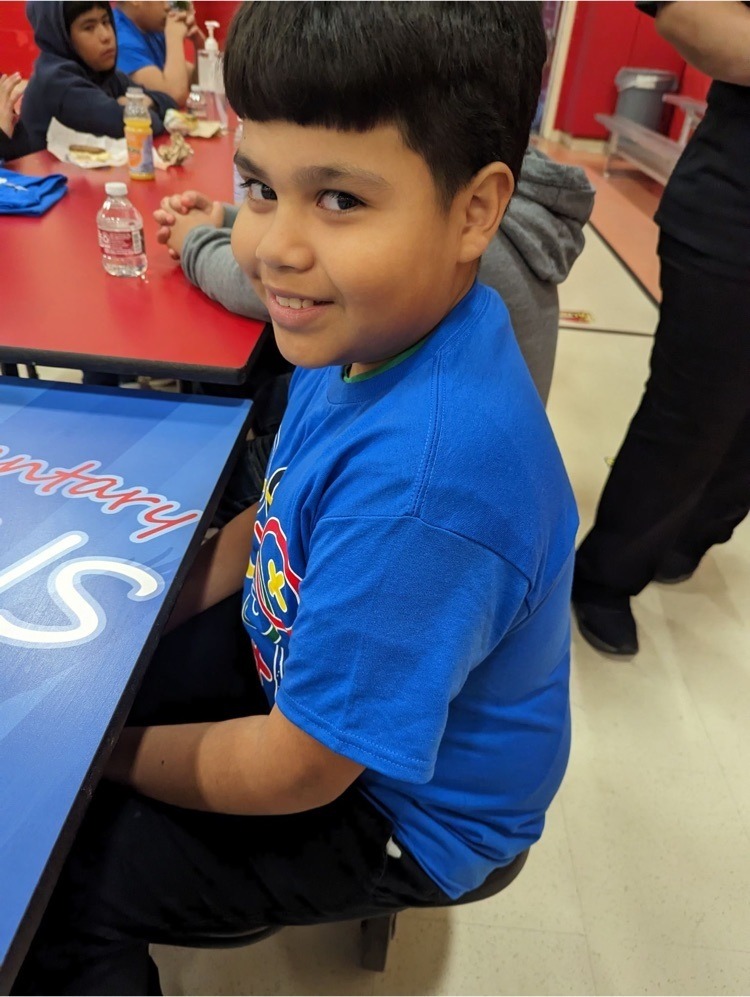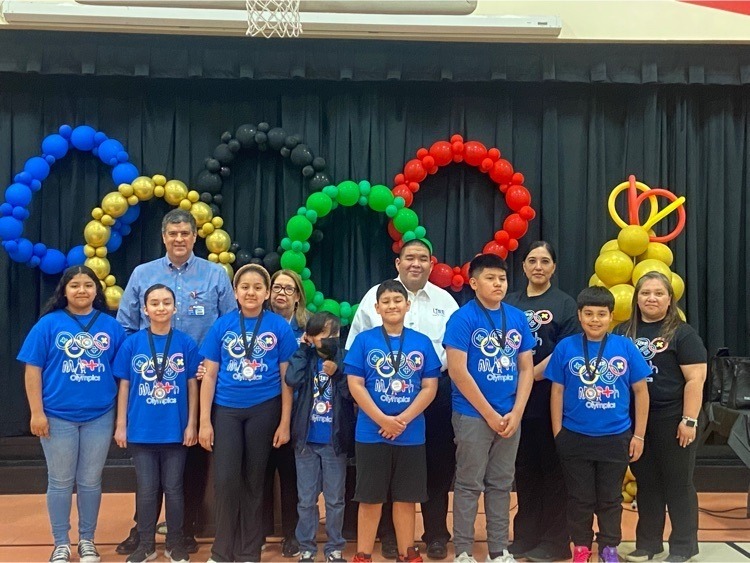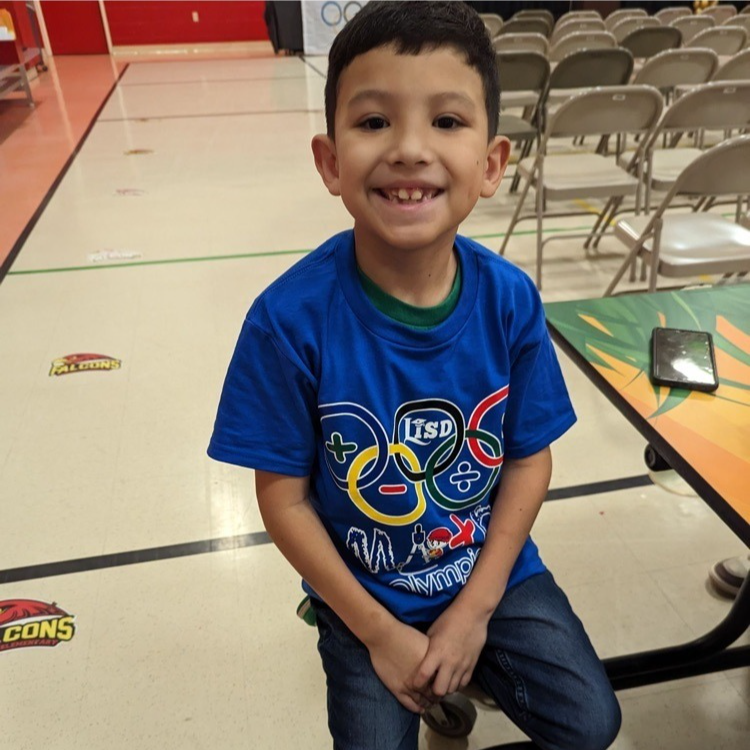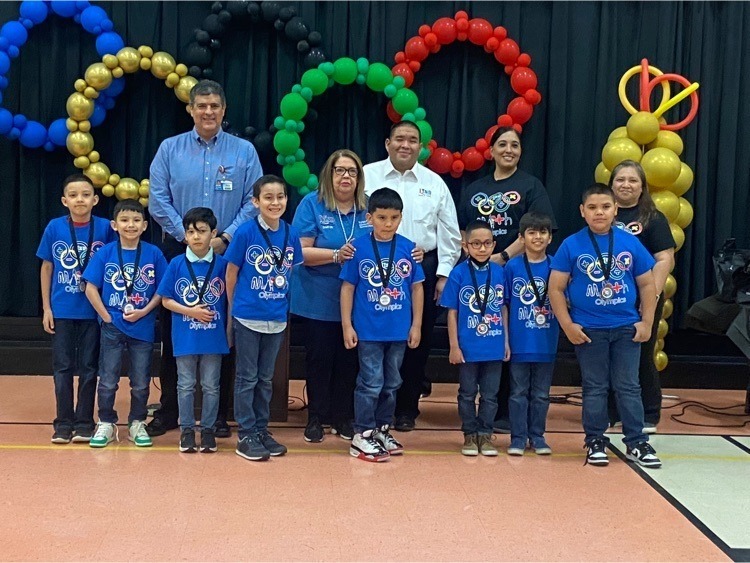 Superintendent Student Advisory Committee Visits SNE!
The Superintendent Student Advisory Committee from García Early College visited SNE to read "The Bad Seed" to our students!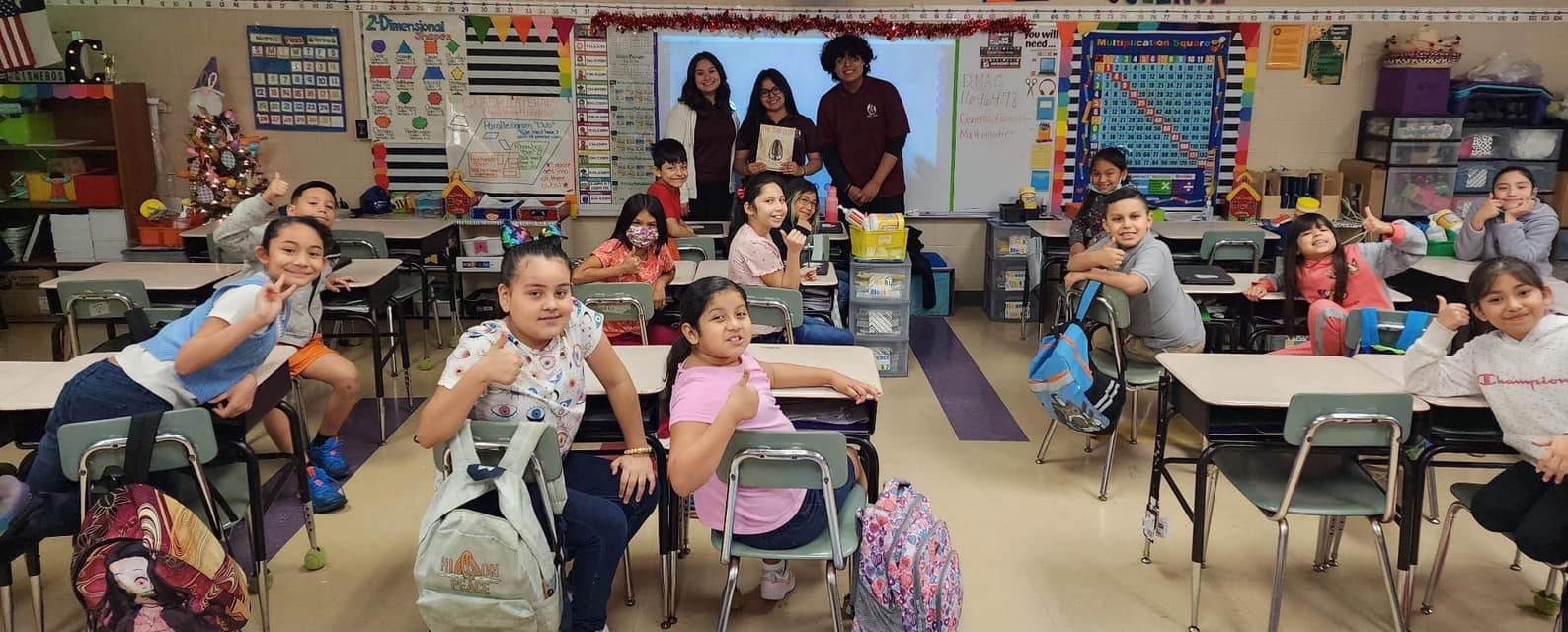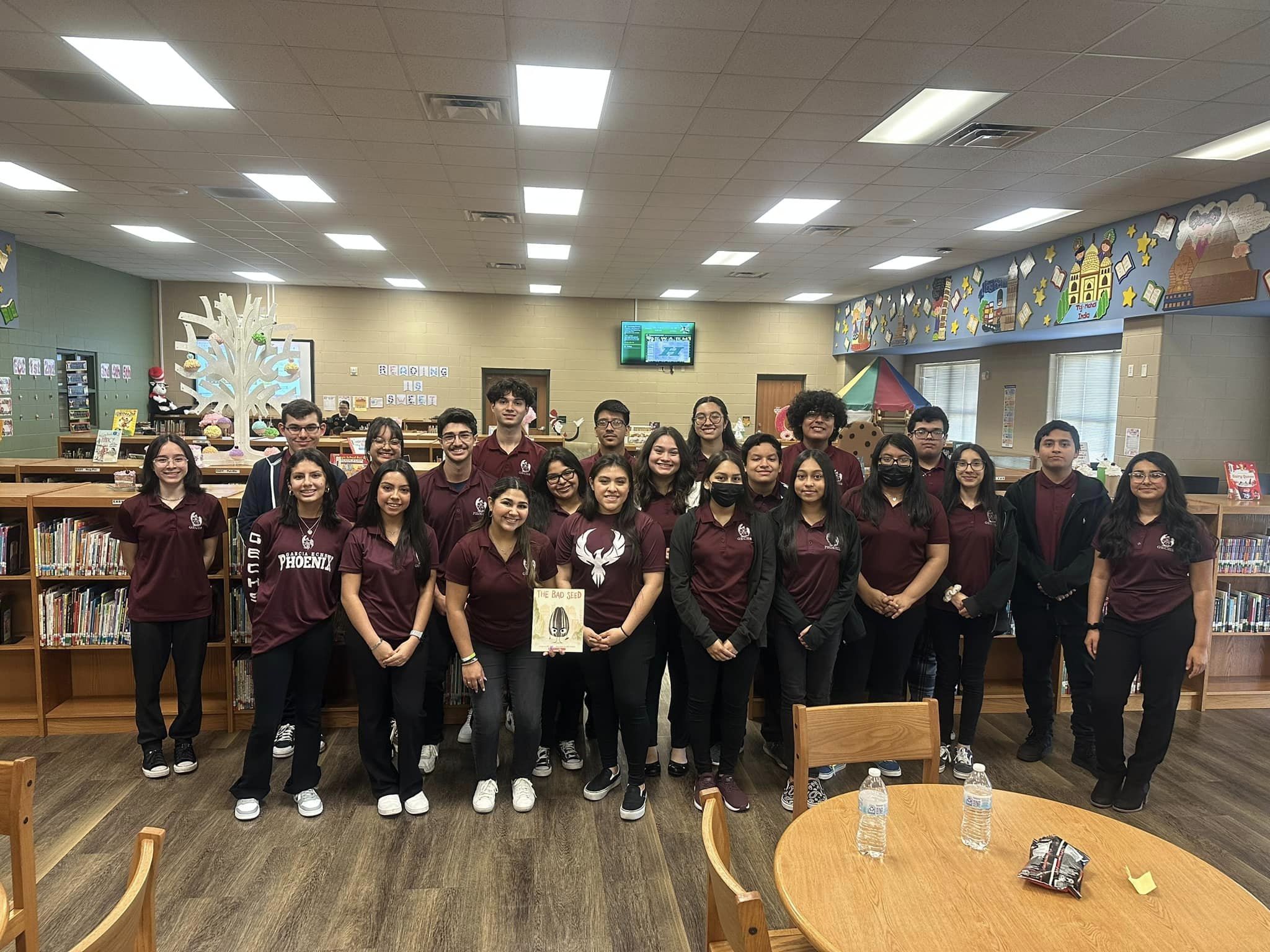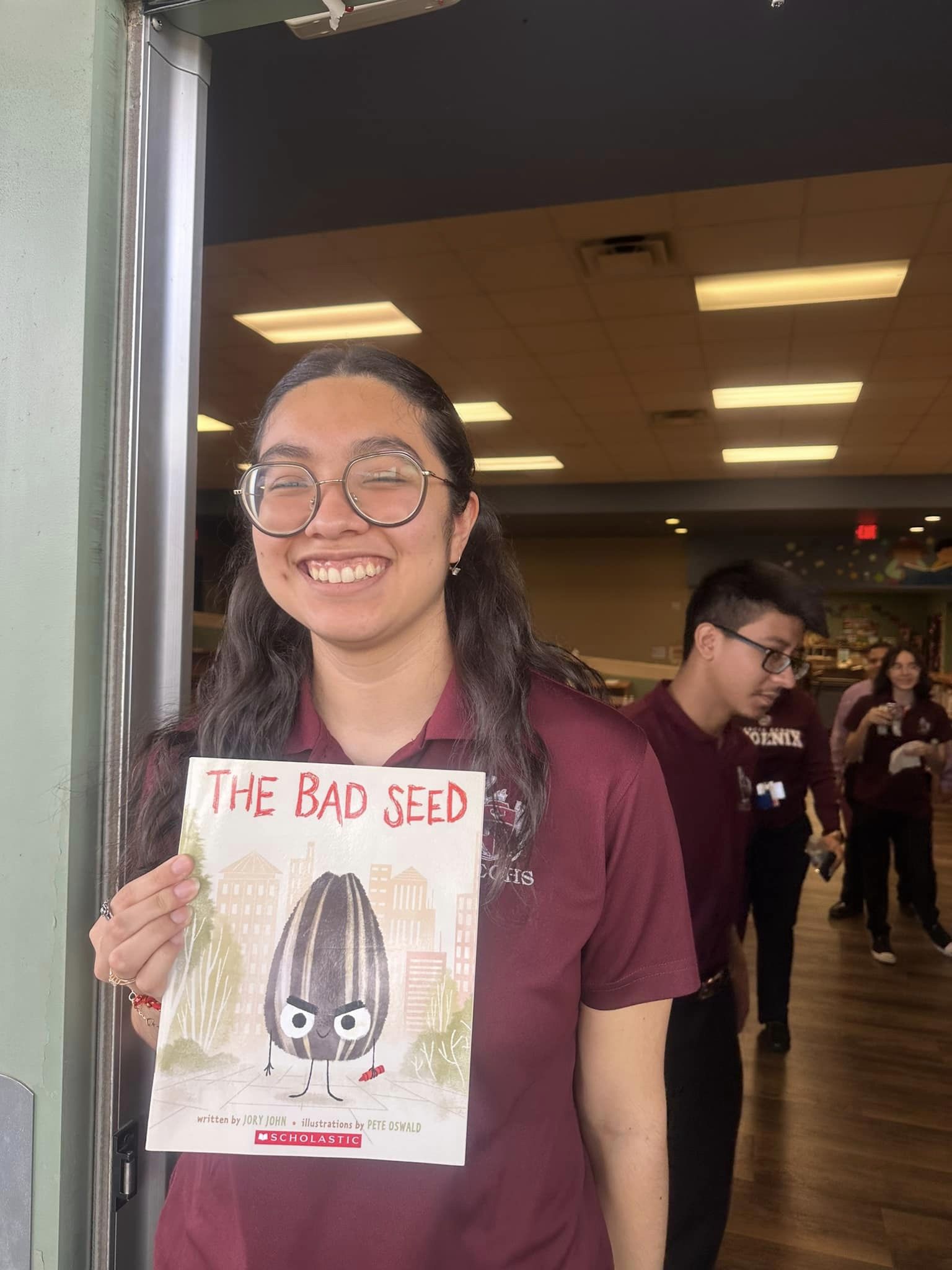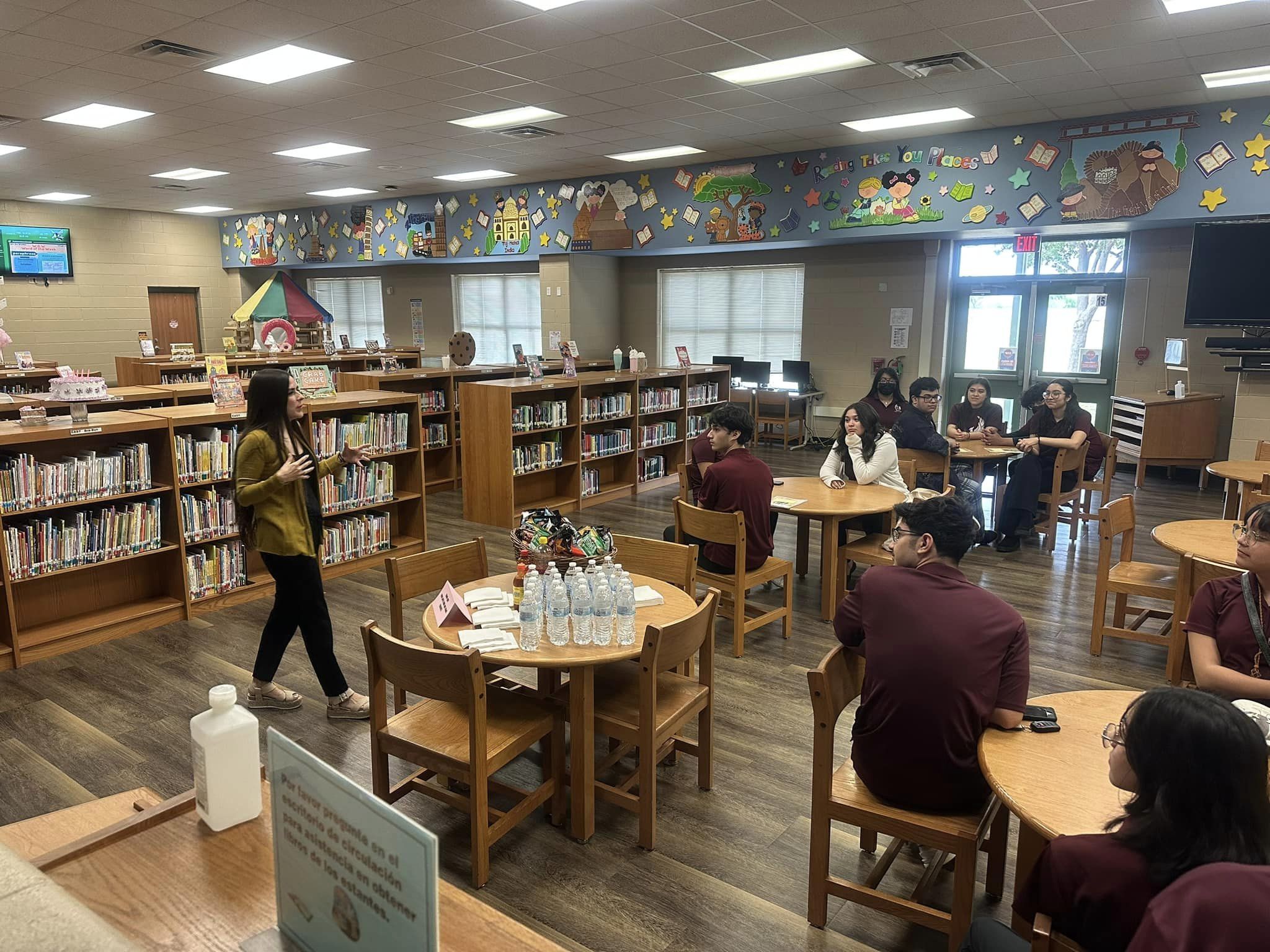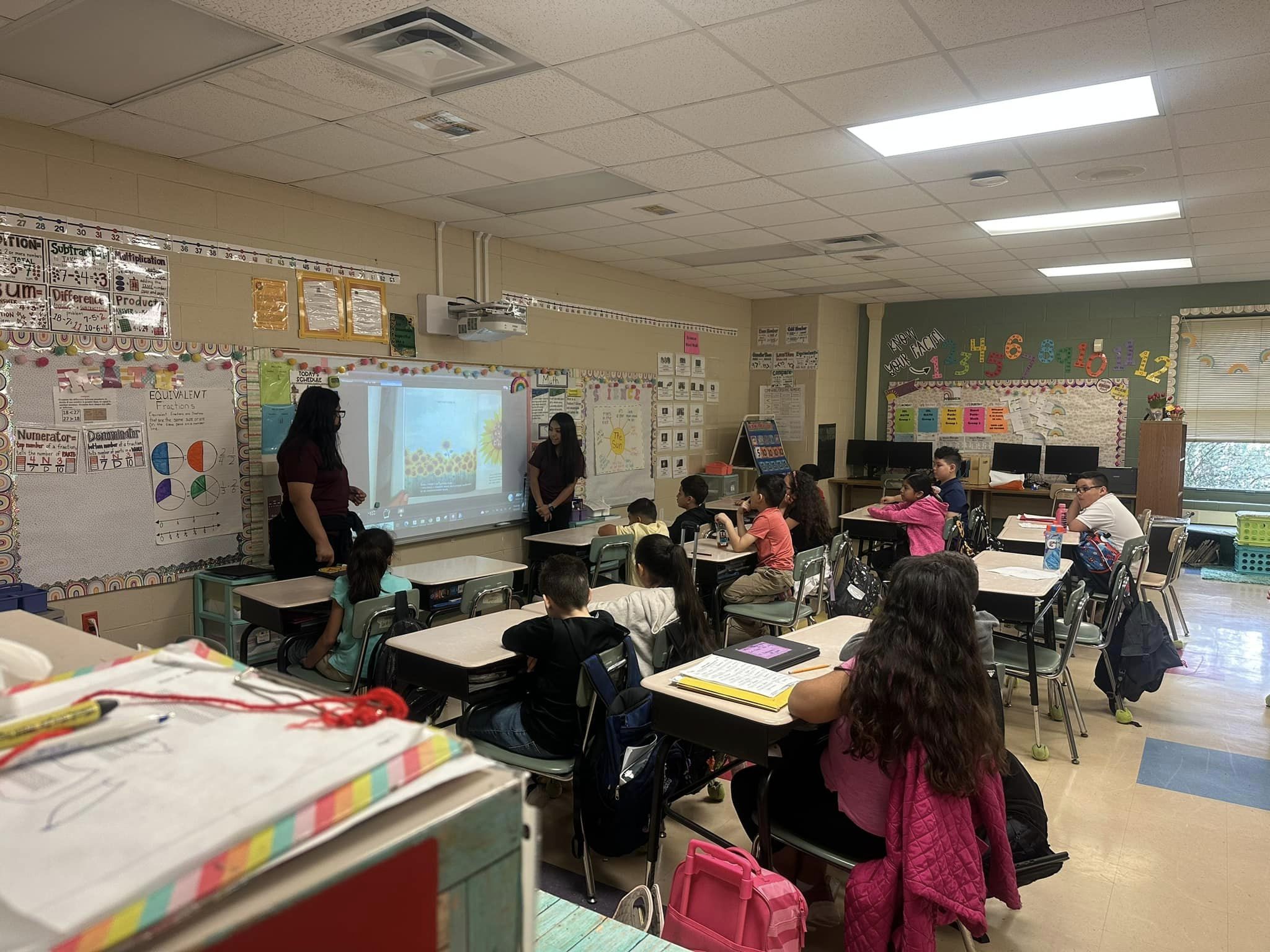 Pizza with the Principal
Students with perfect attendance were treated to a pizza party with Principal Gonzalez!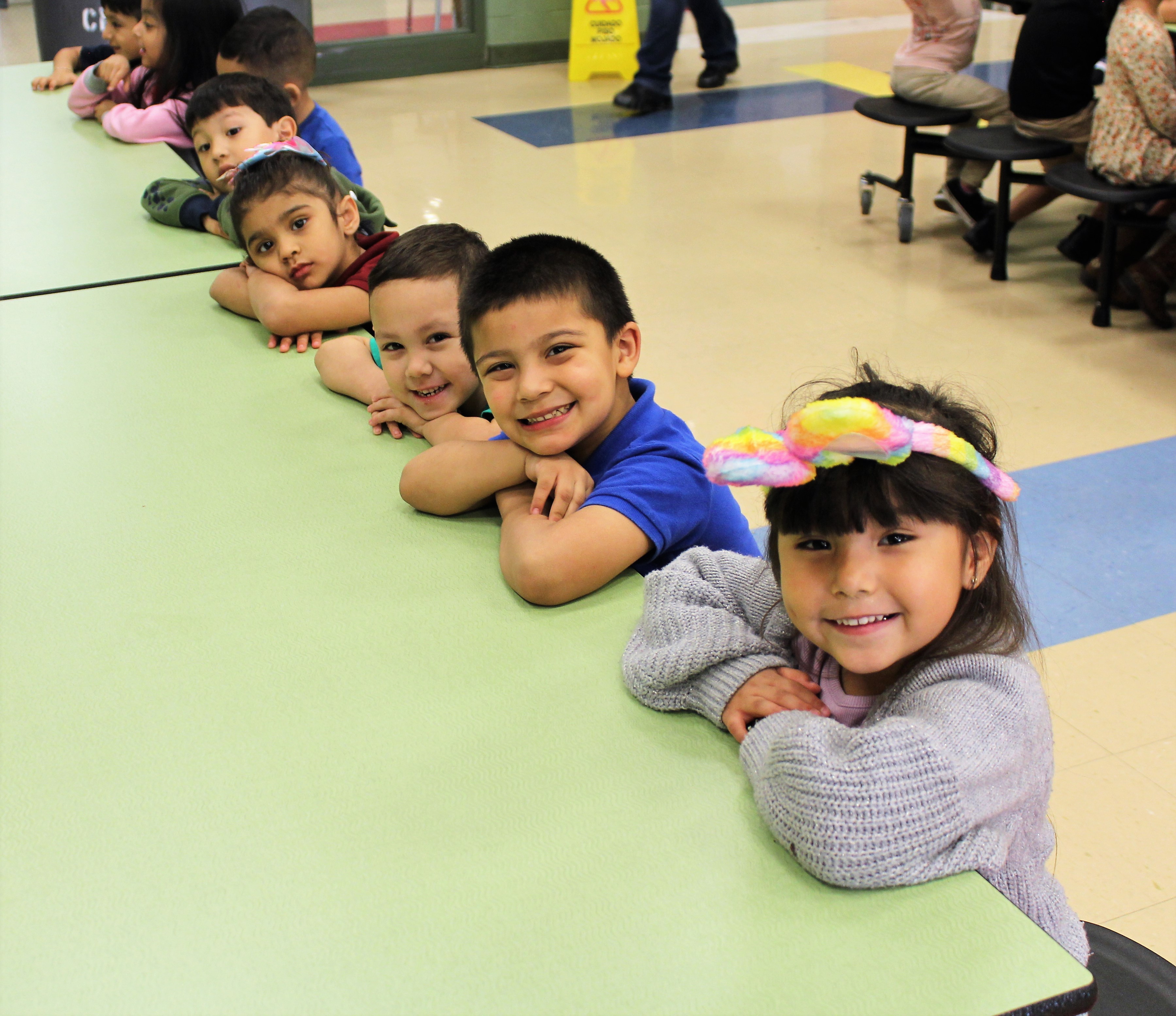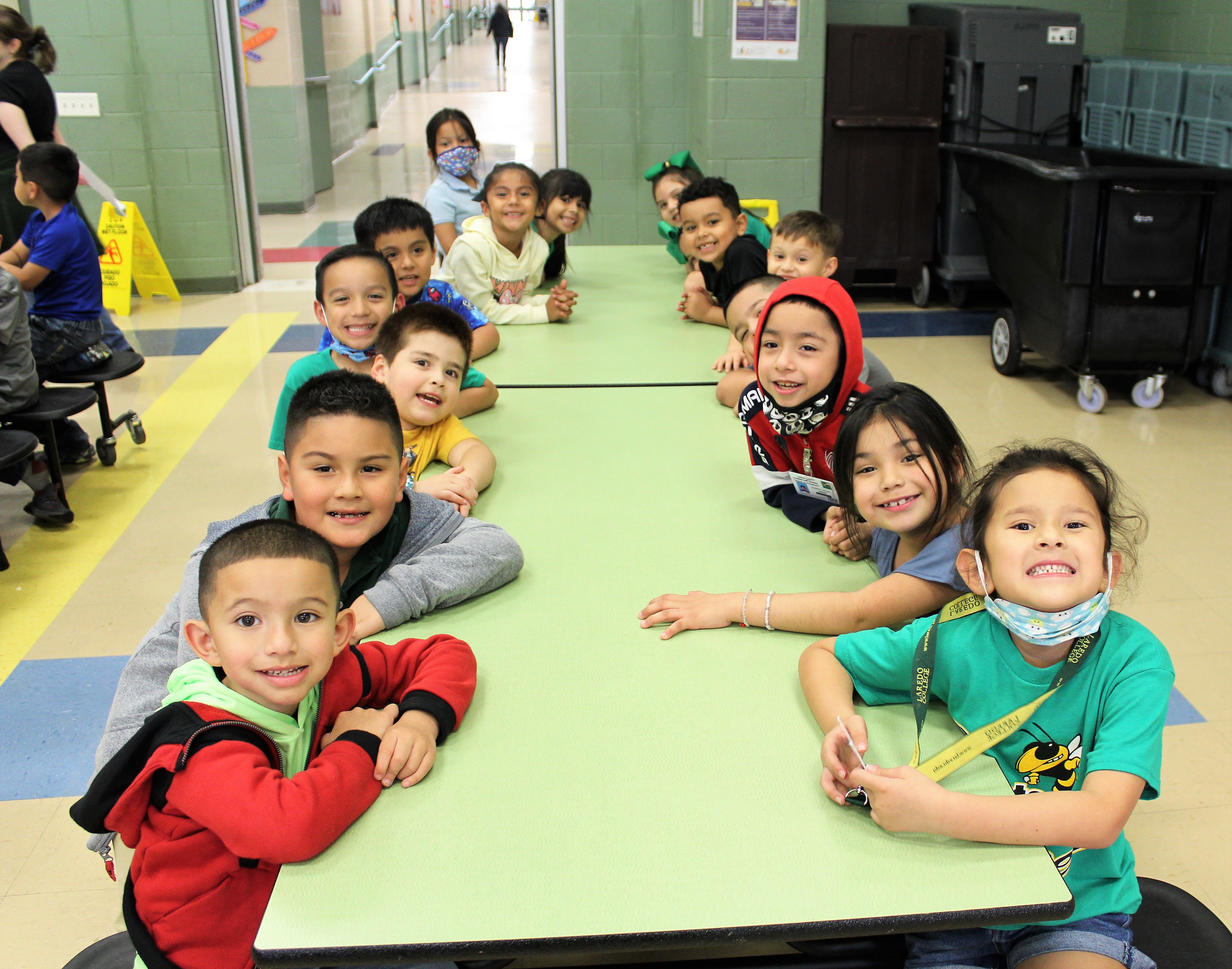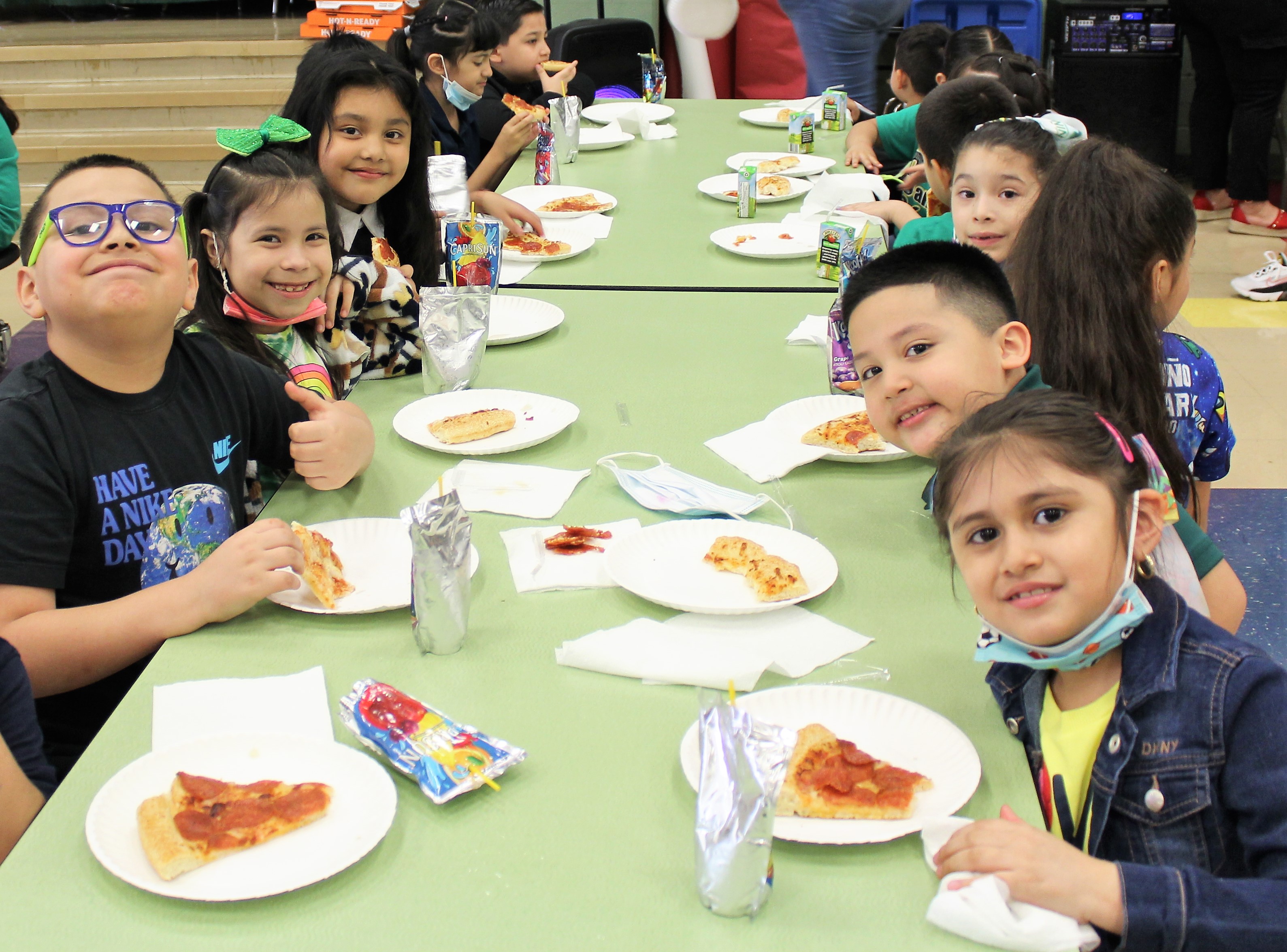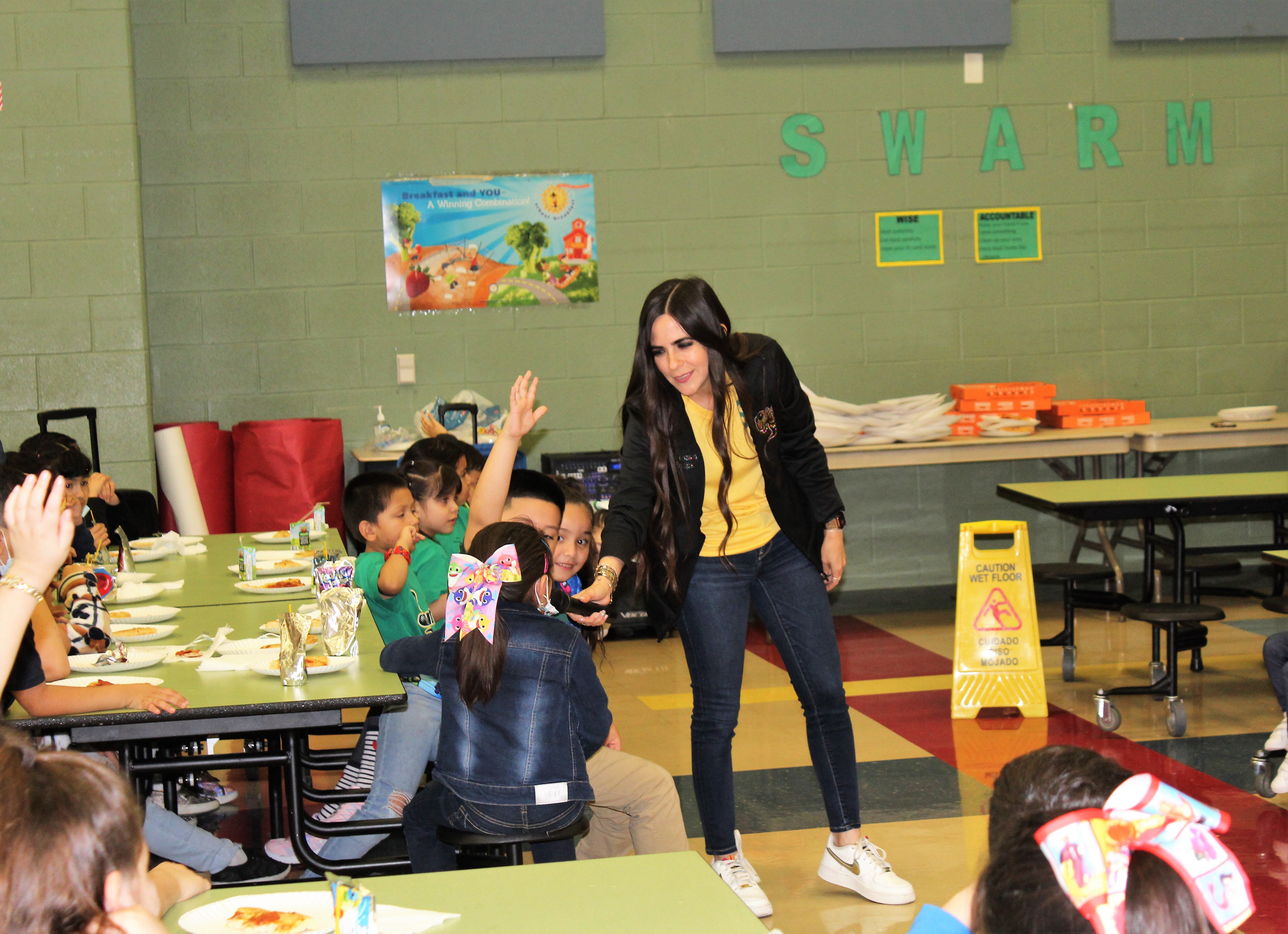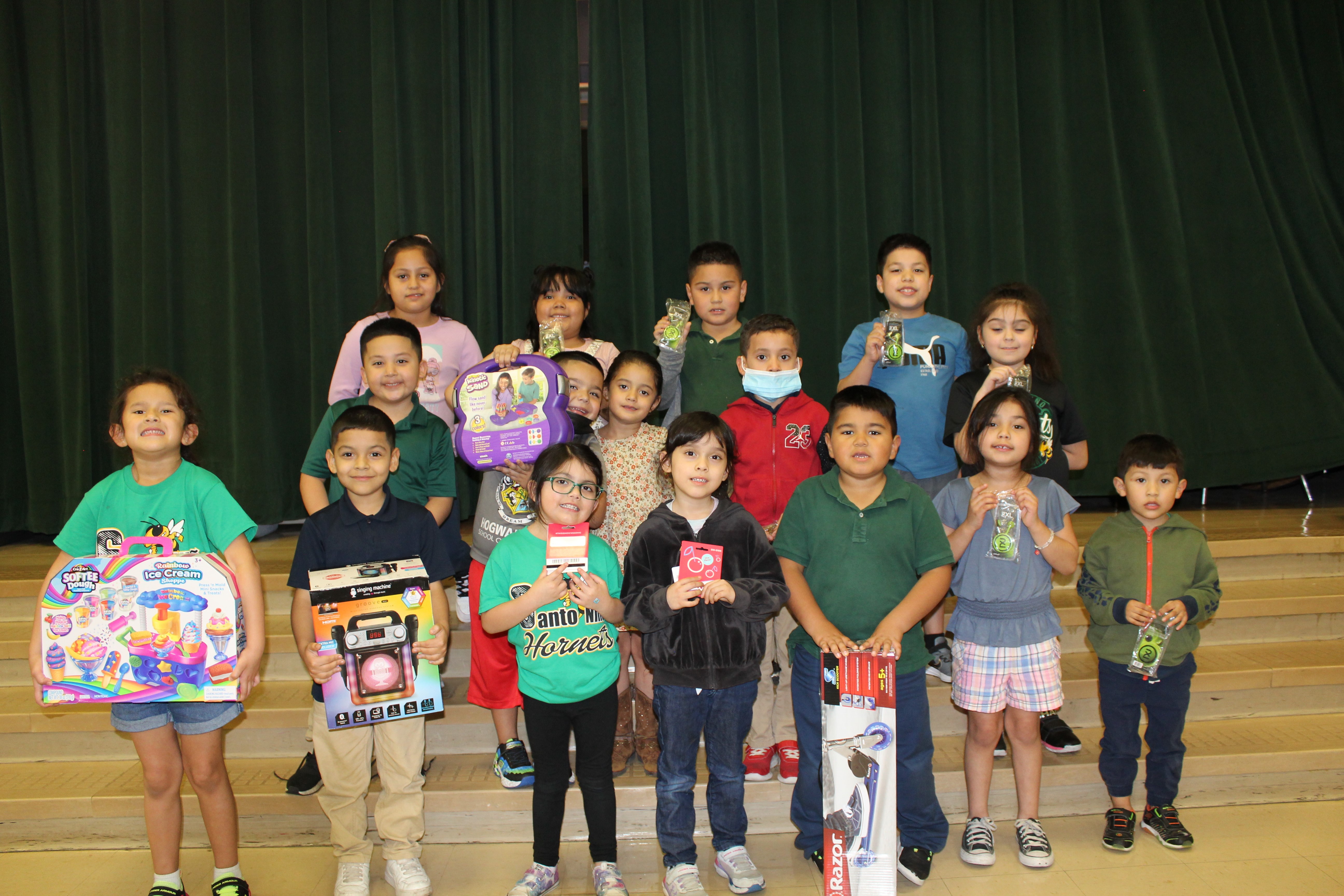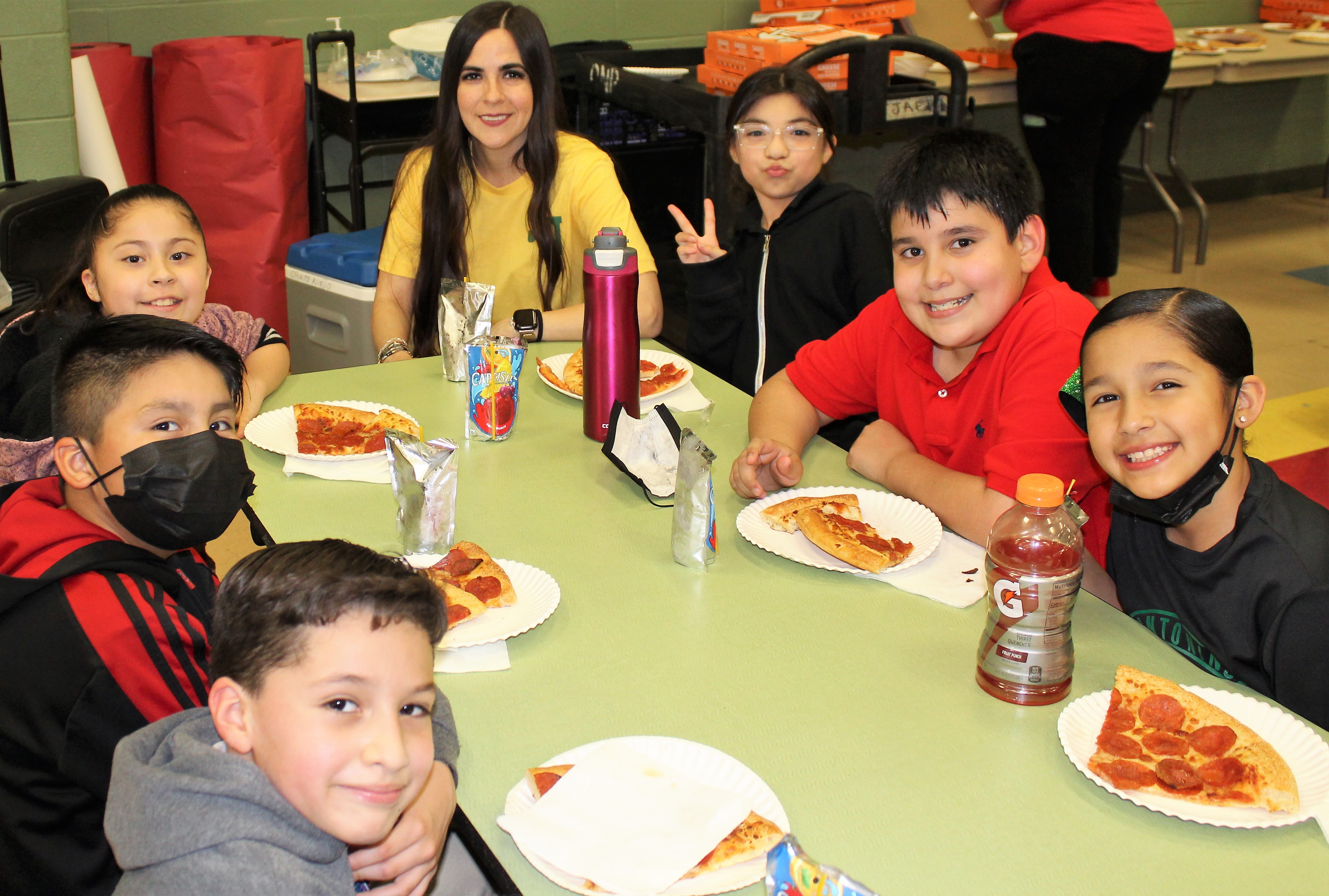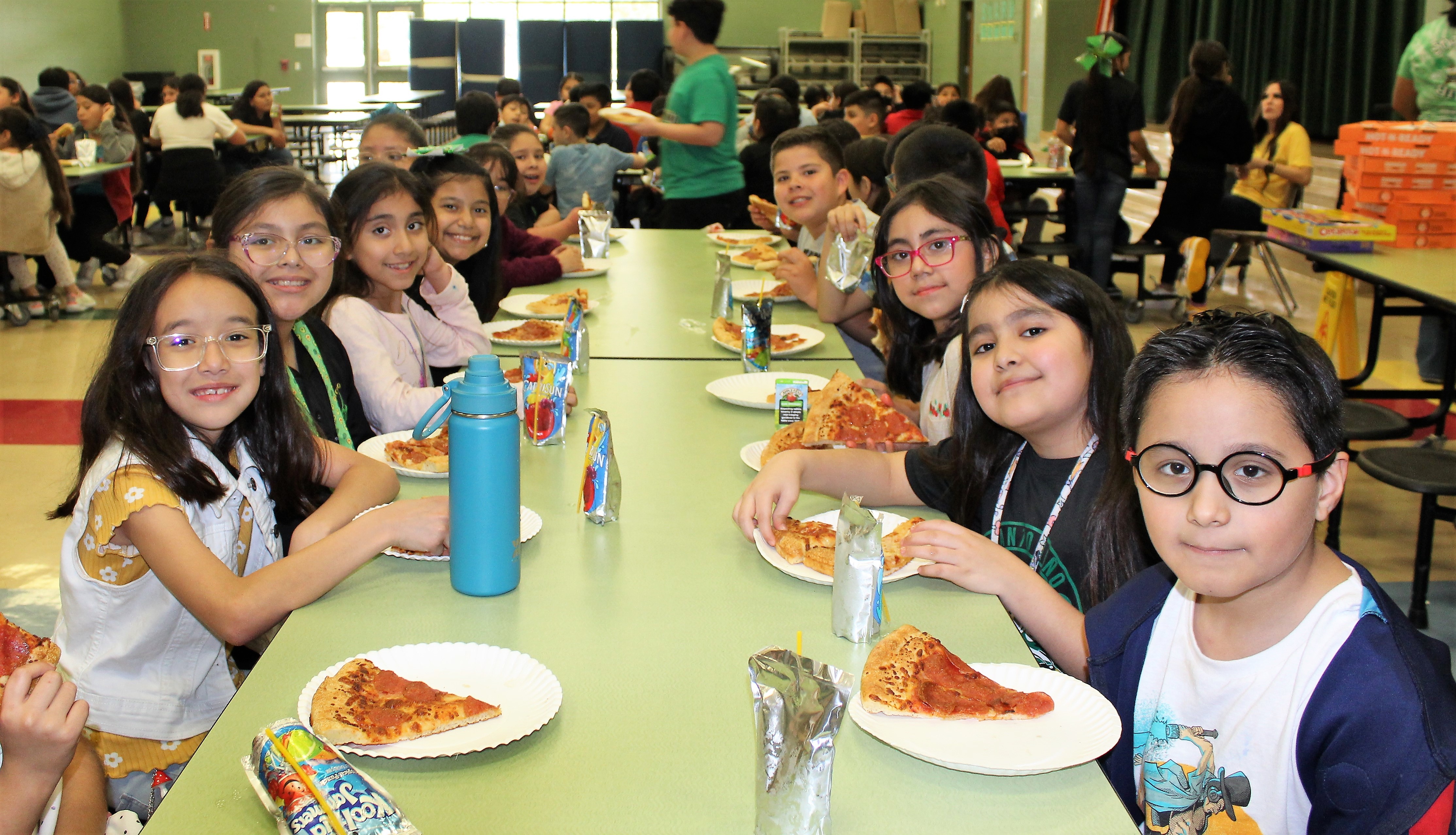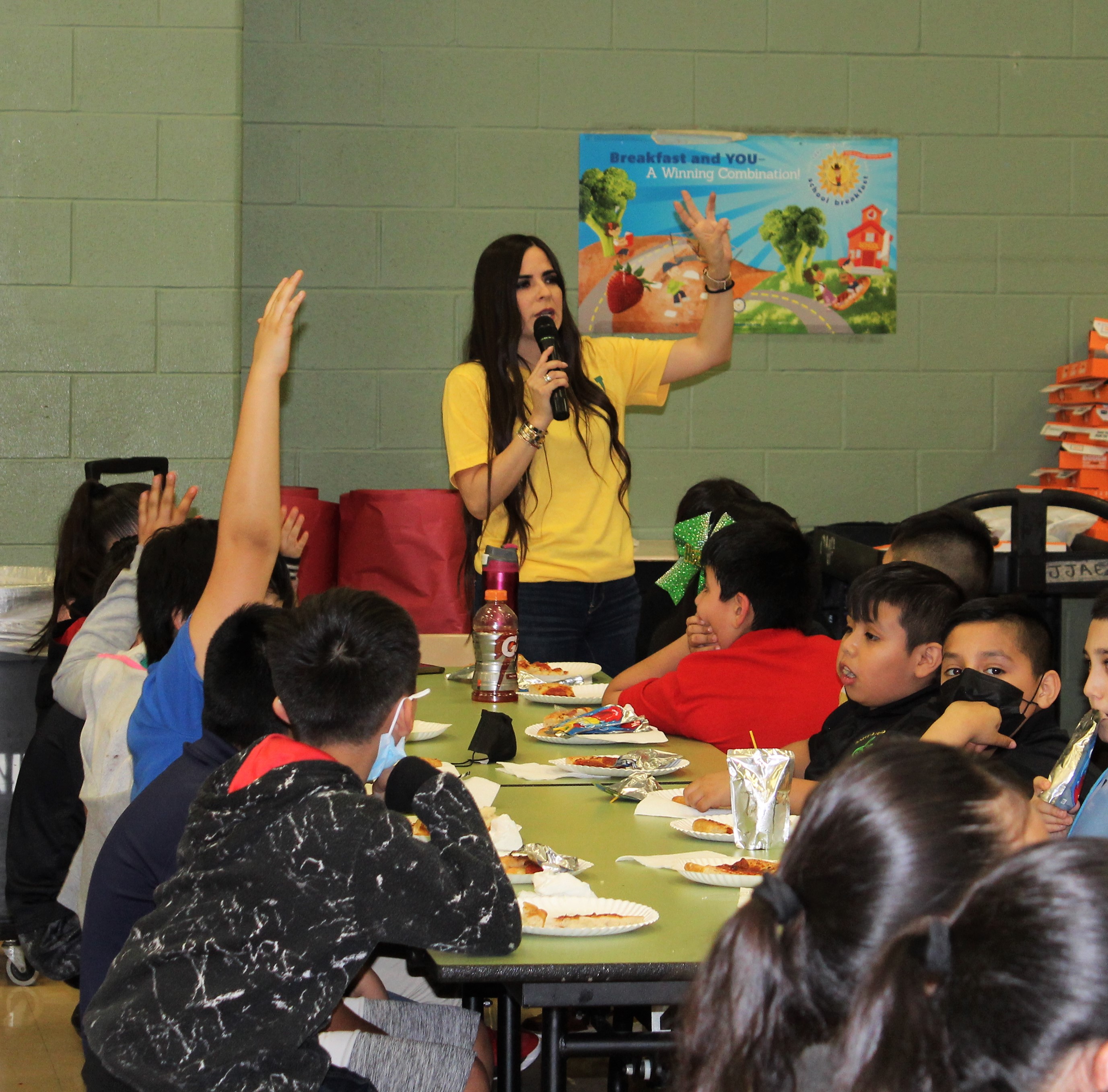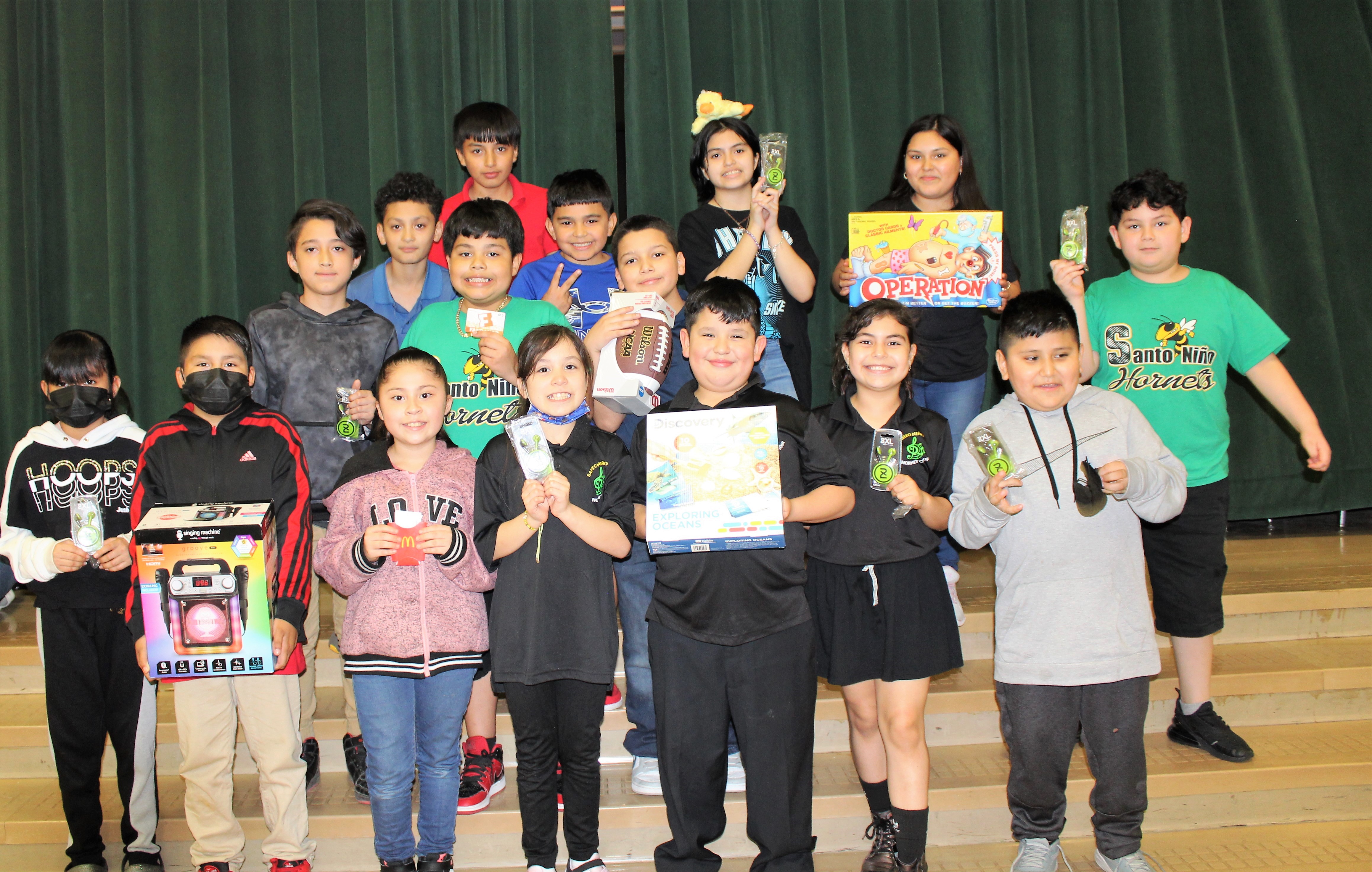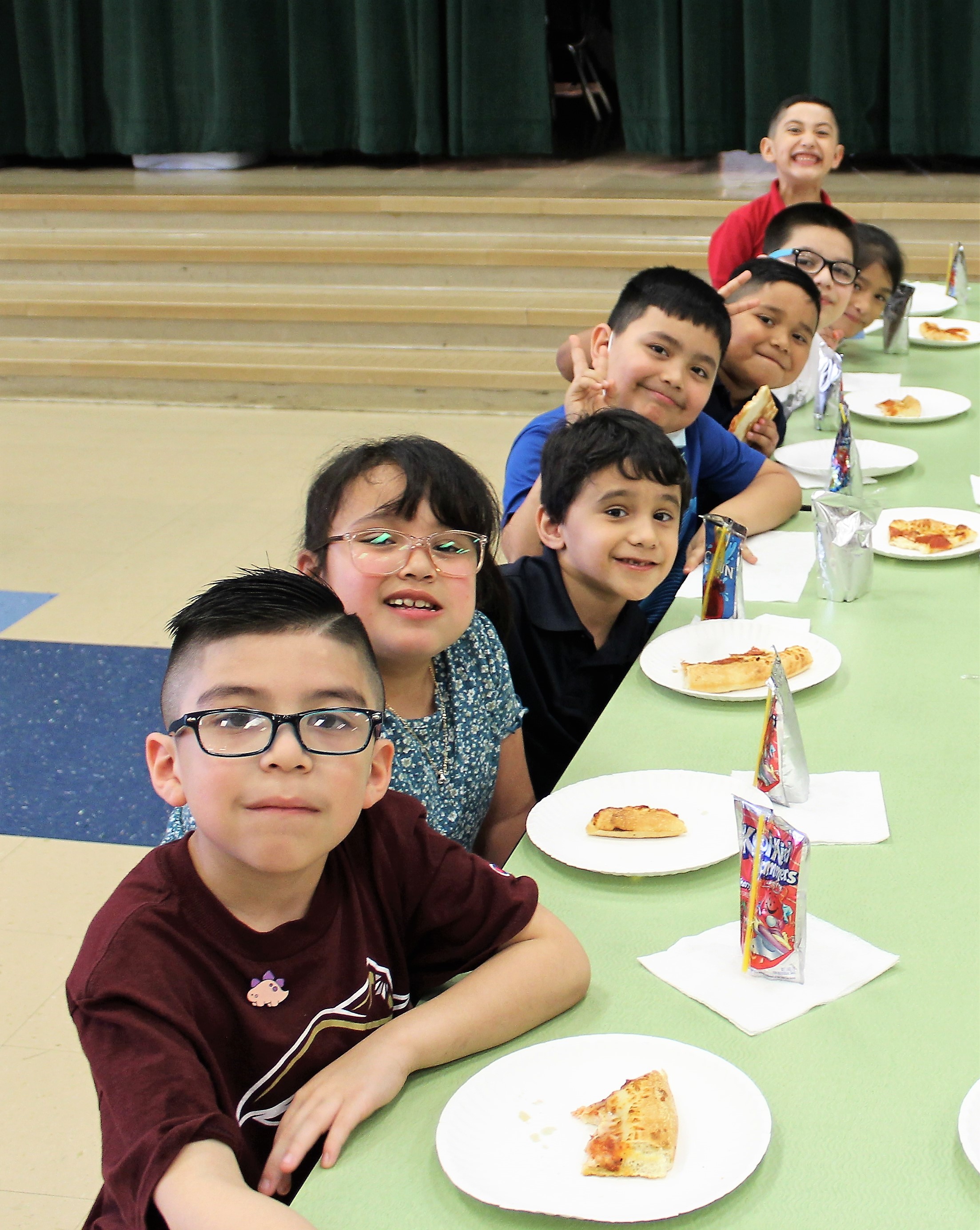 February Student of the Month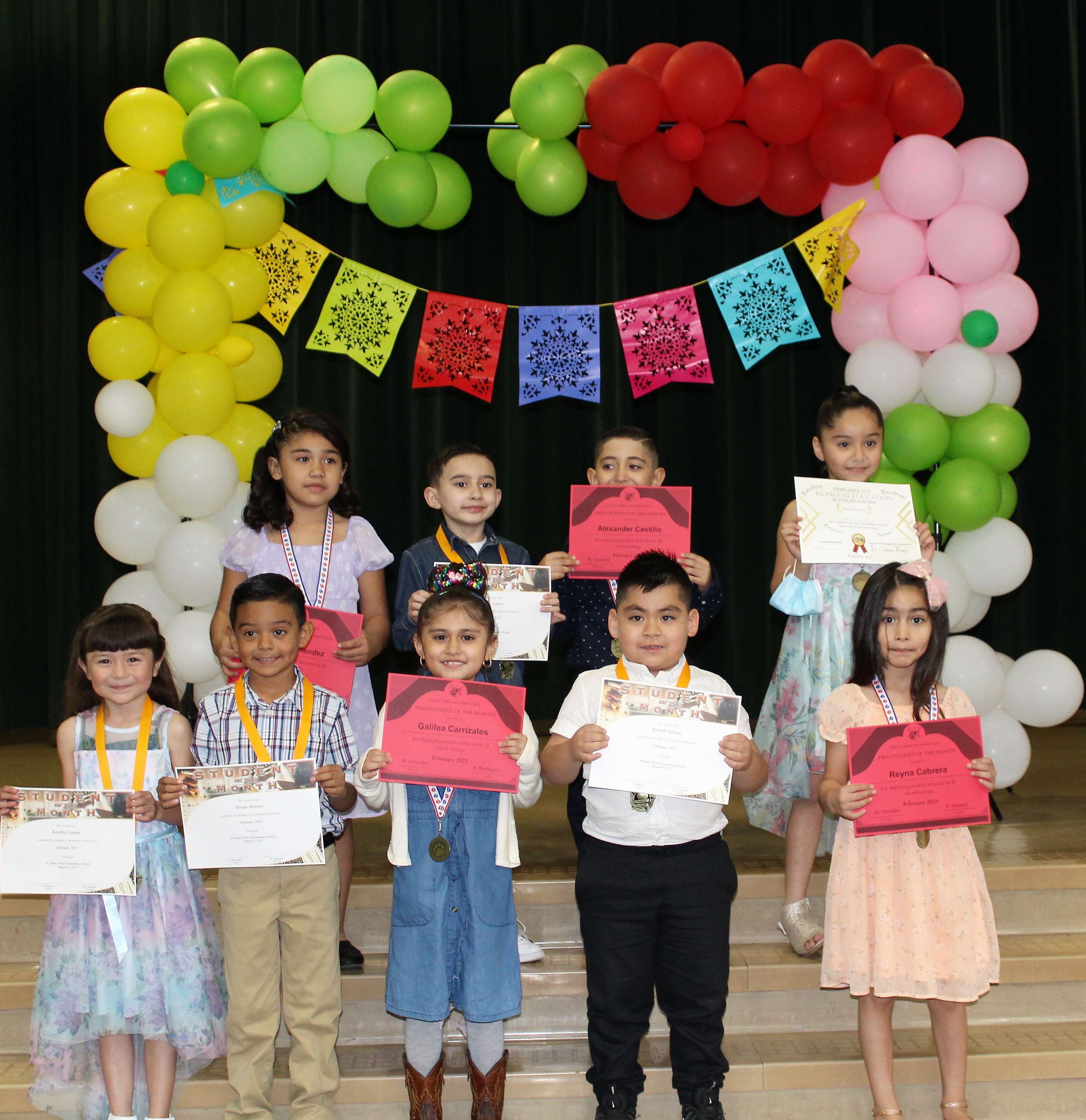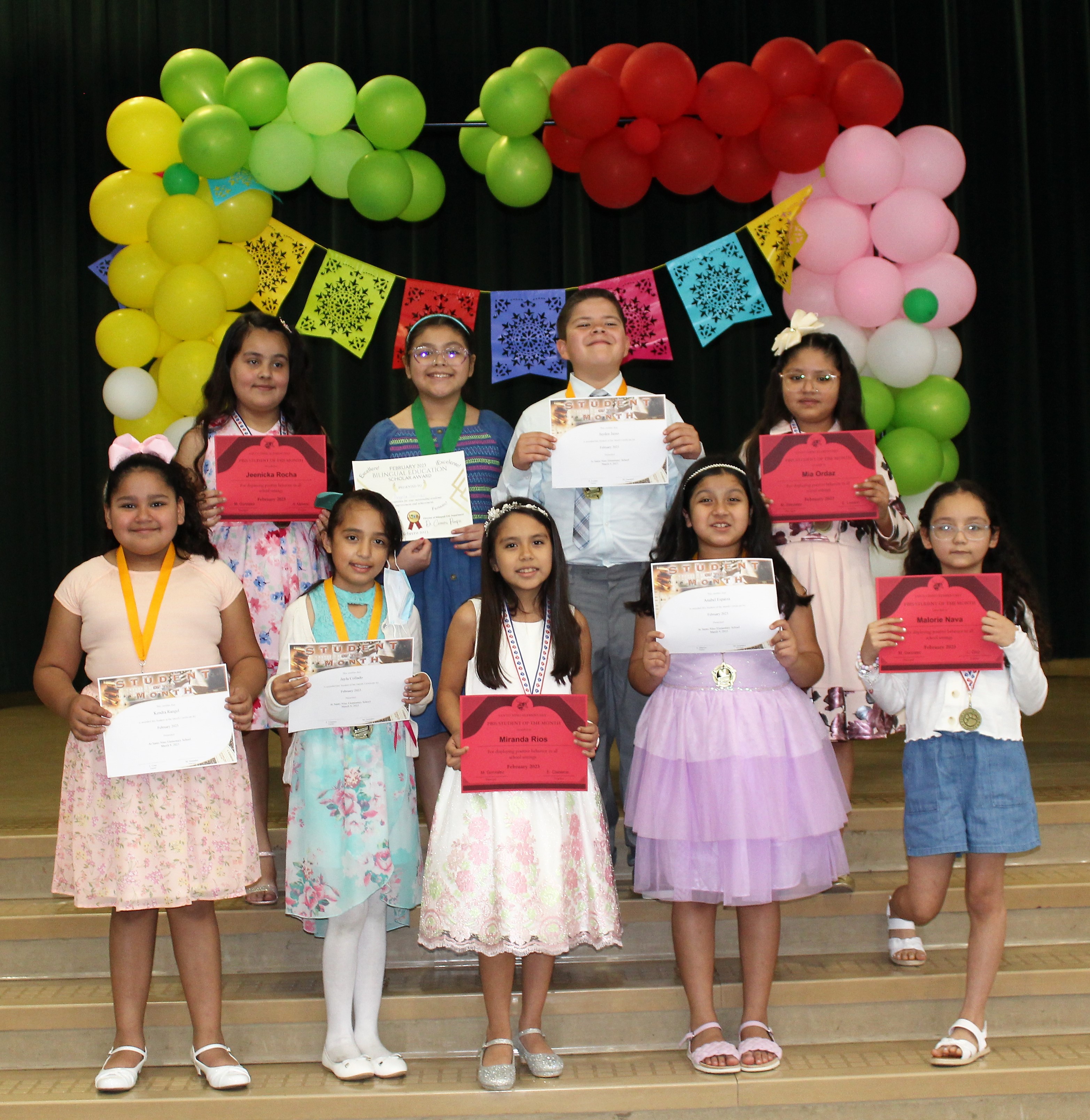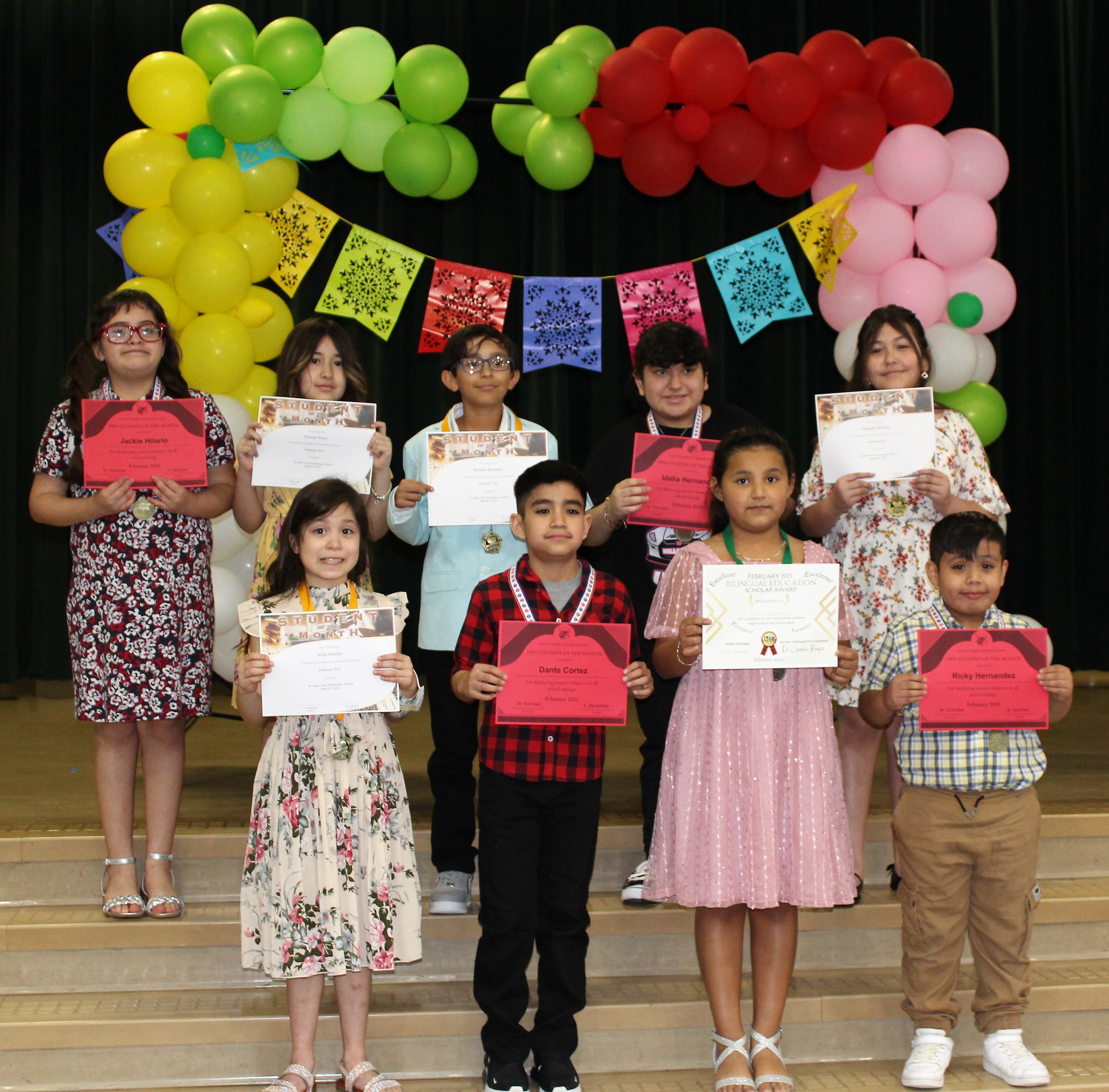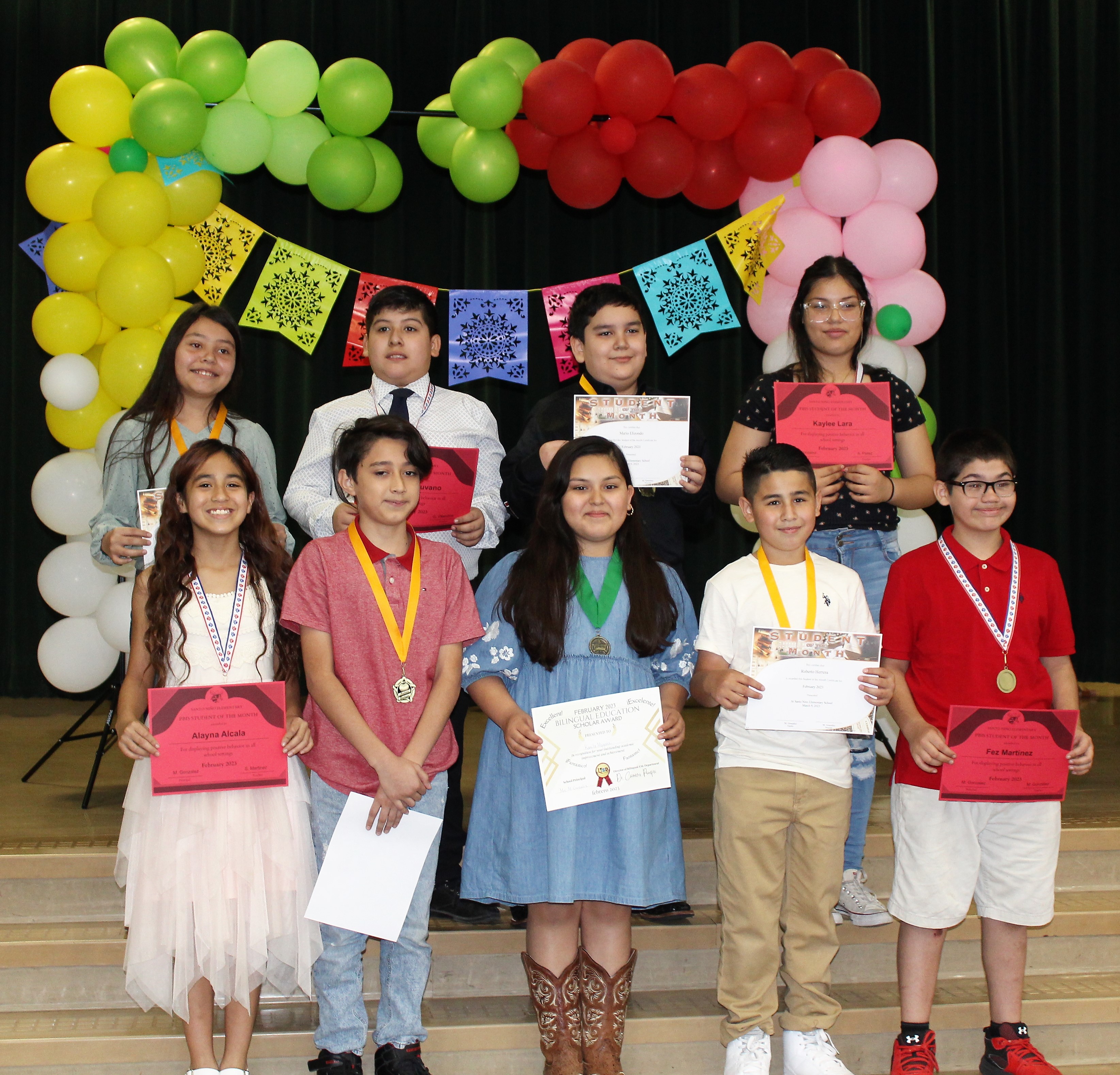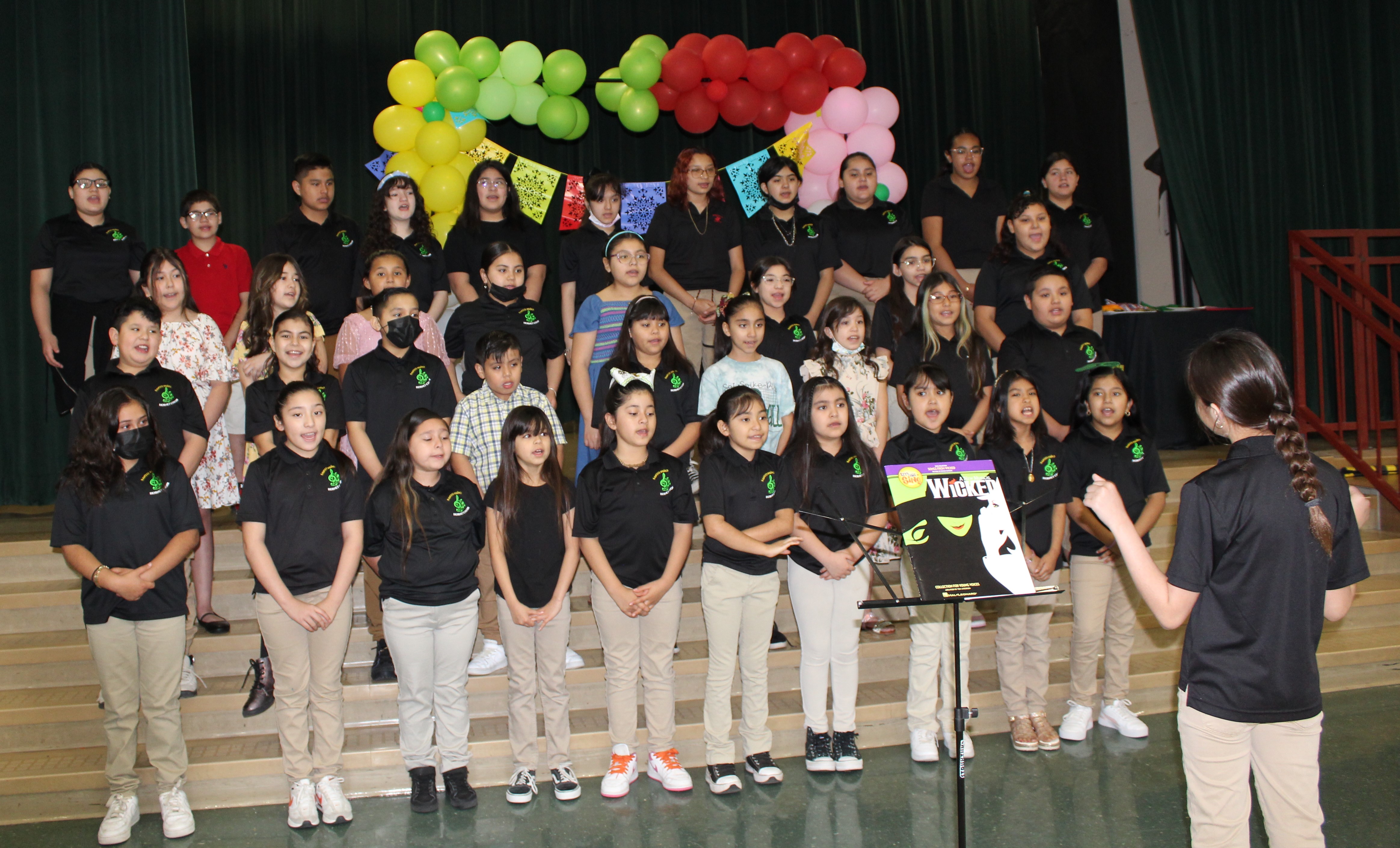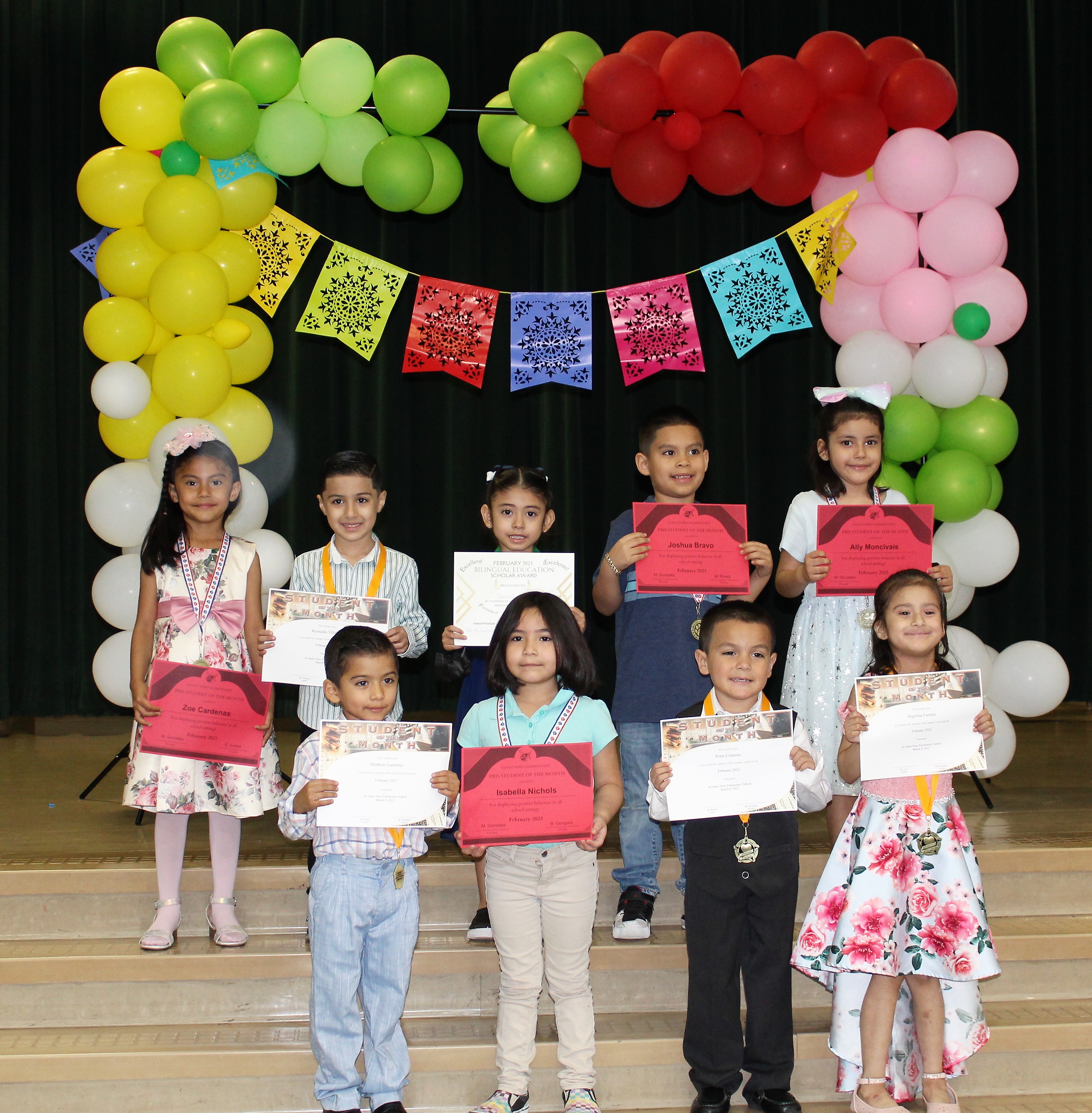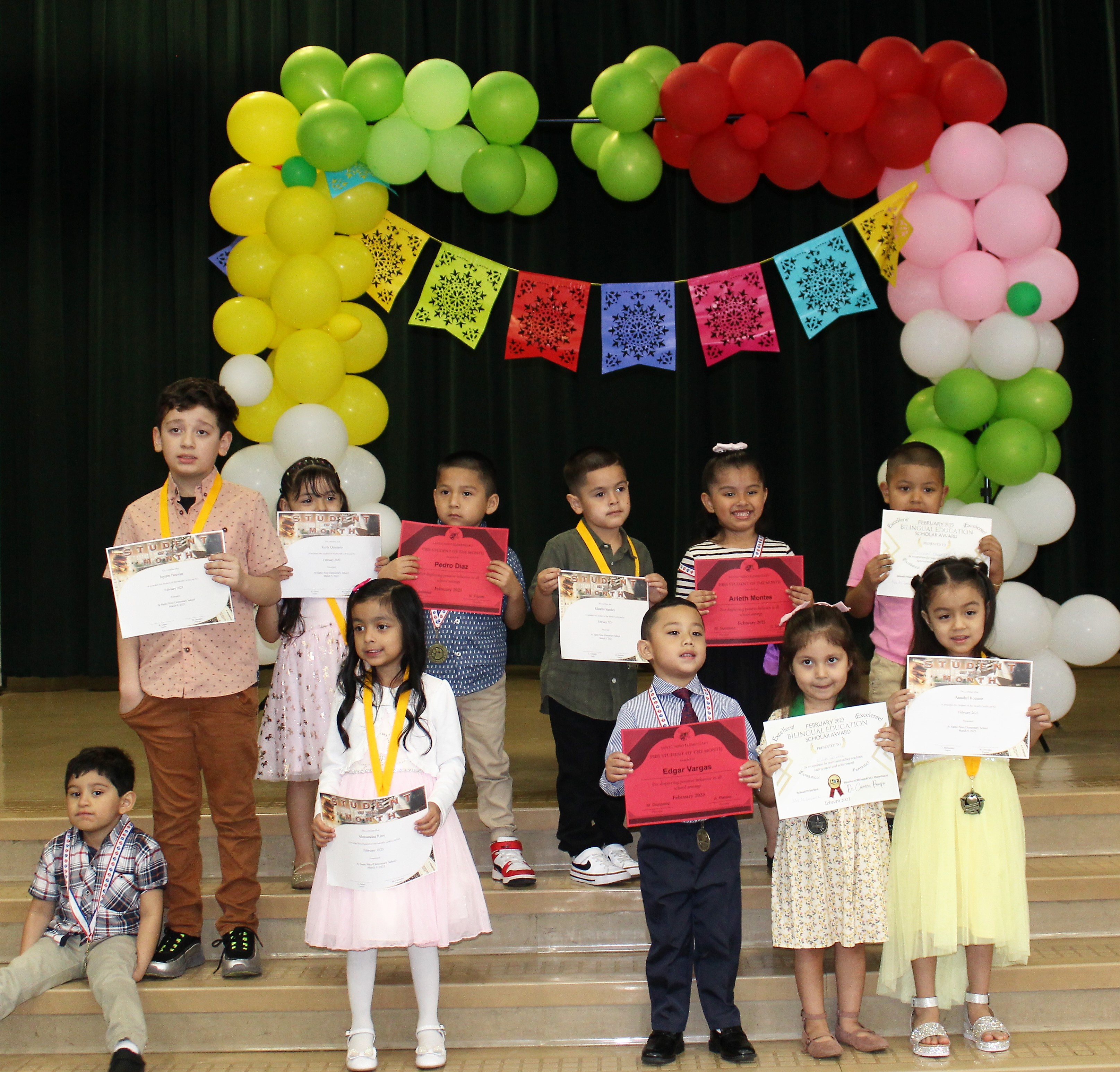 Family Reading Night
Amazing turnout for our Family Reading Night. Thank you to all the parents, students, and teachers that contributed to its great success!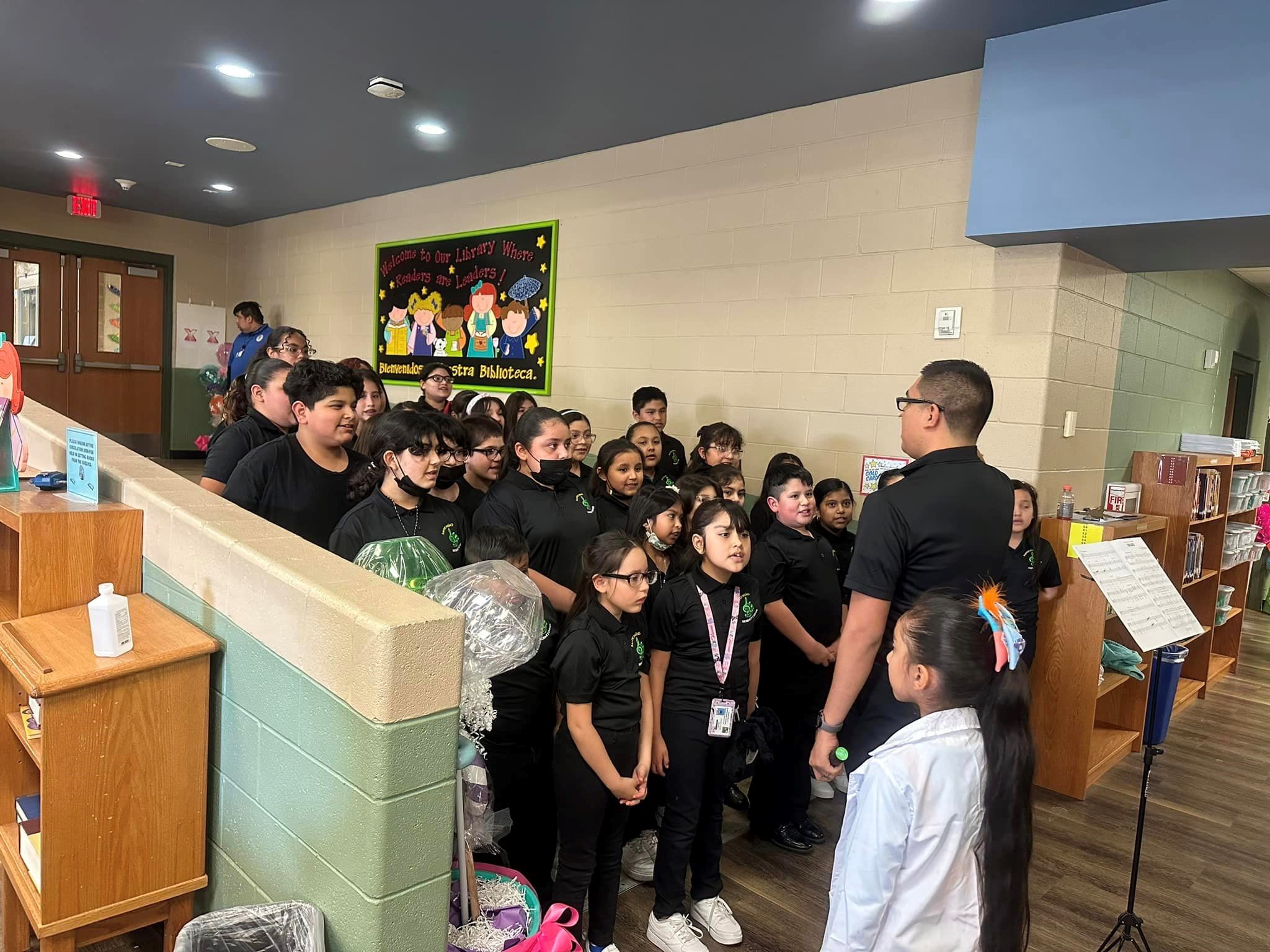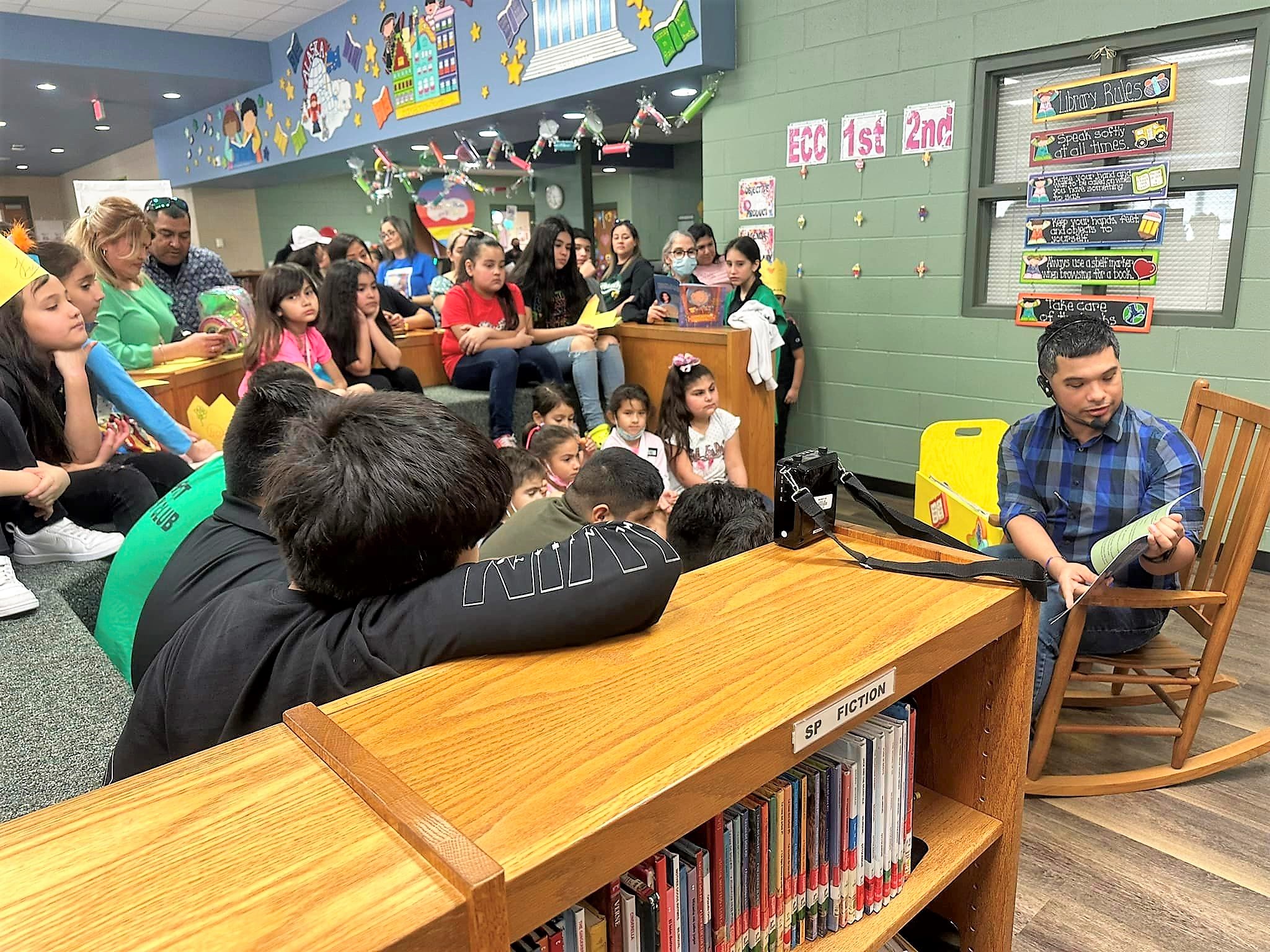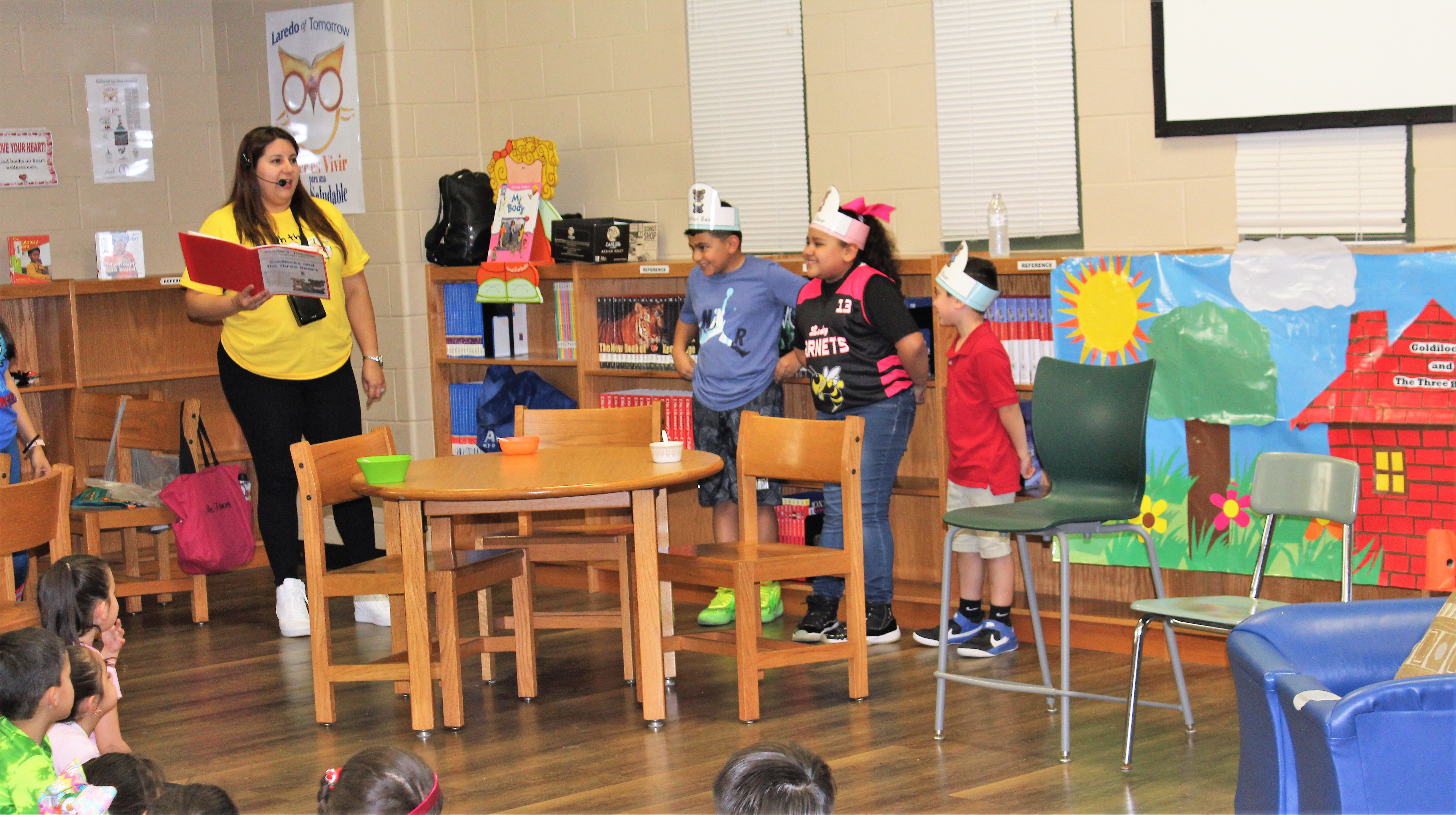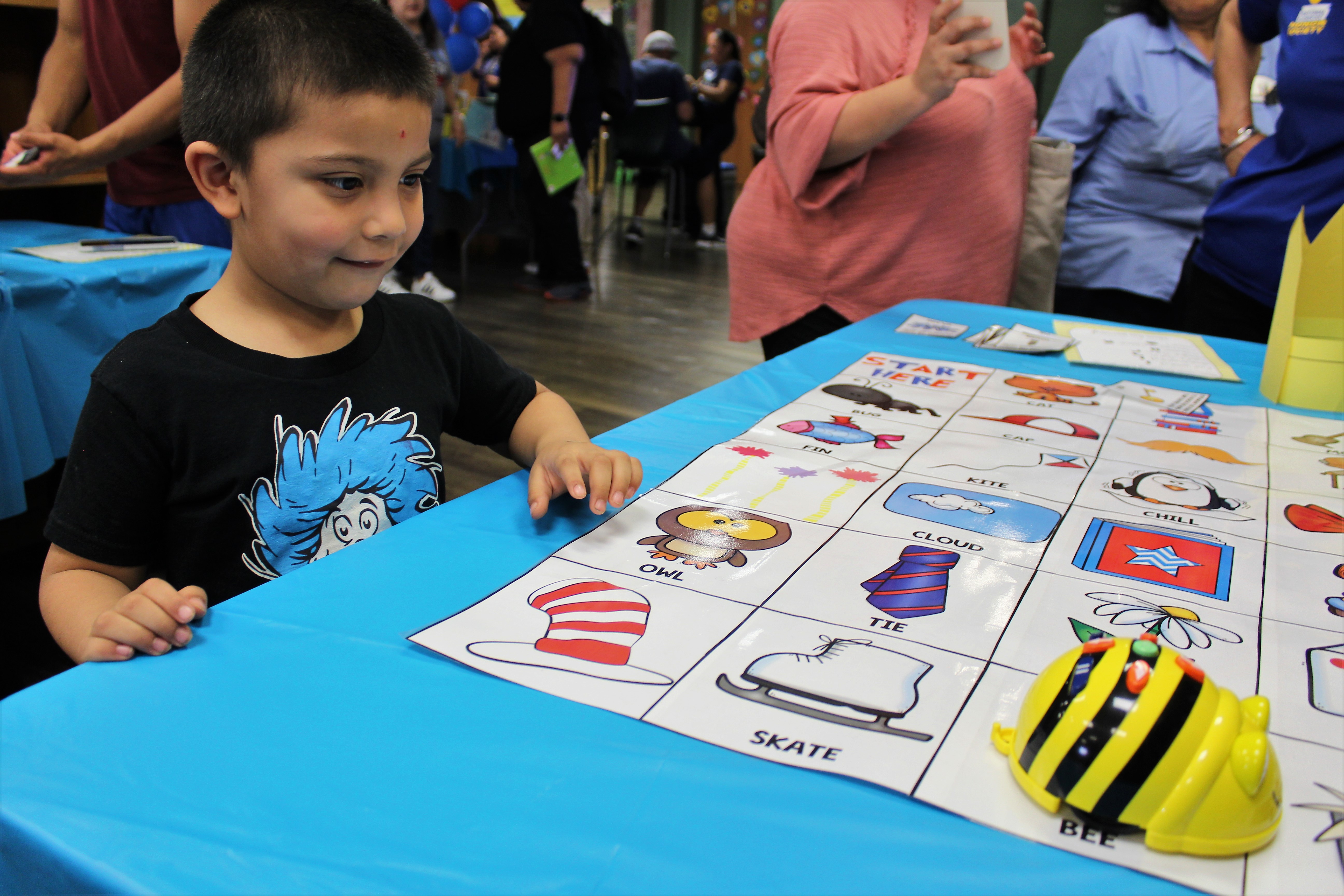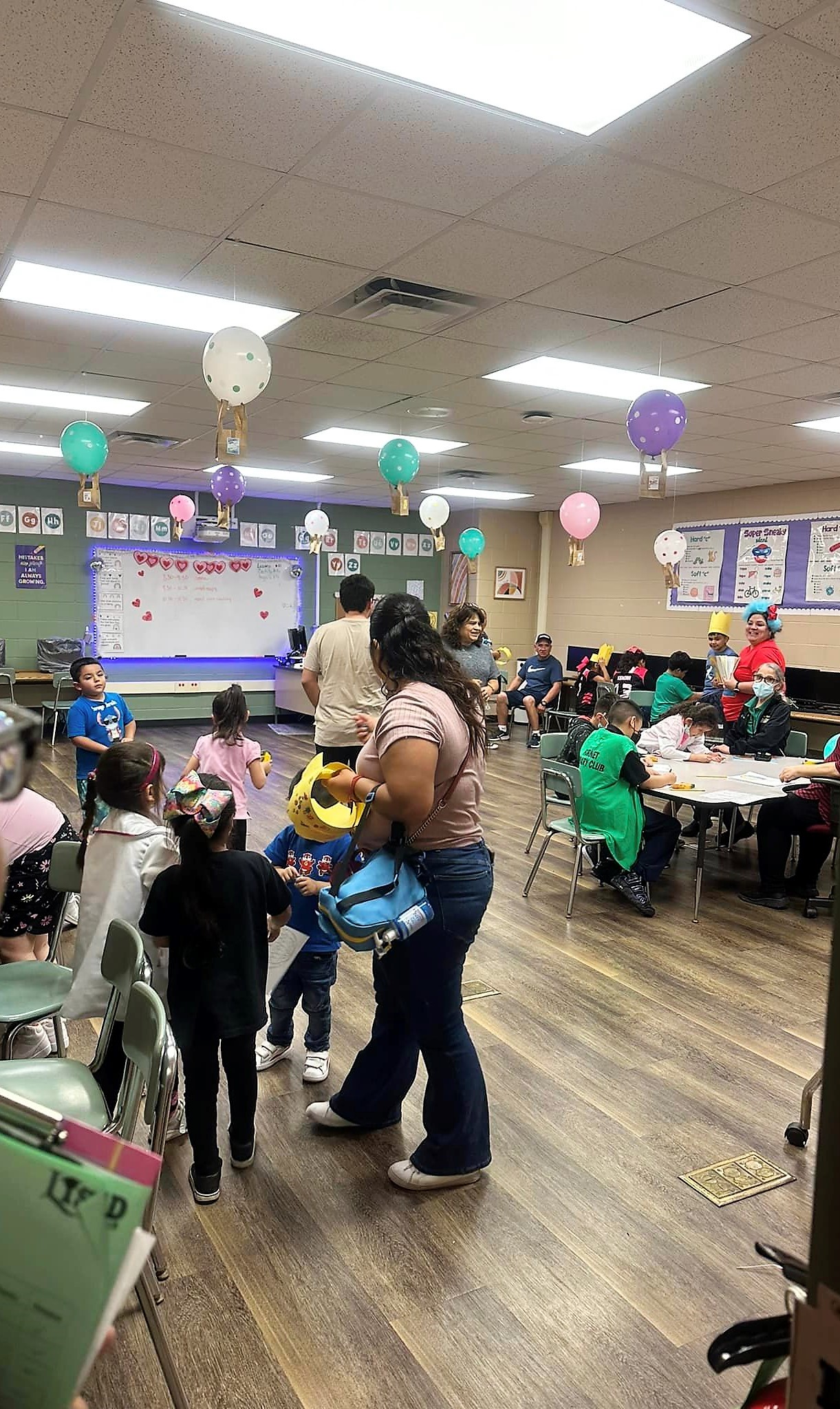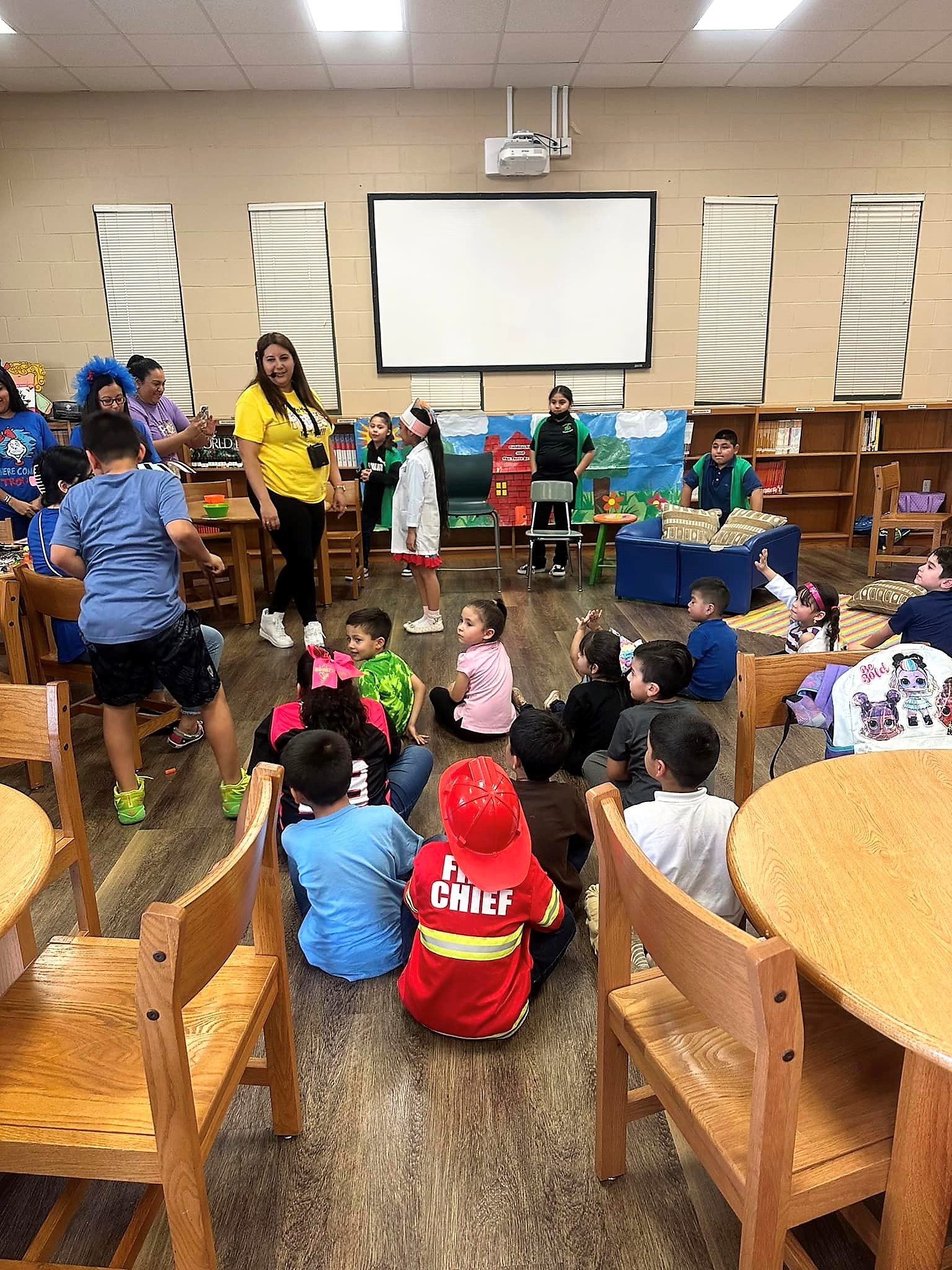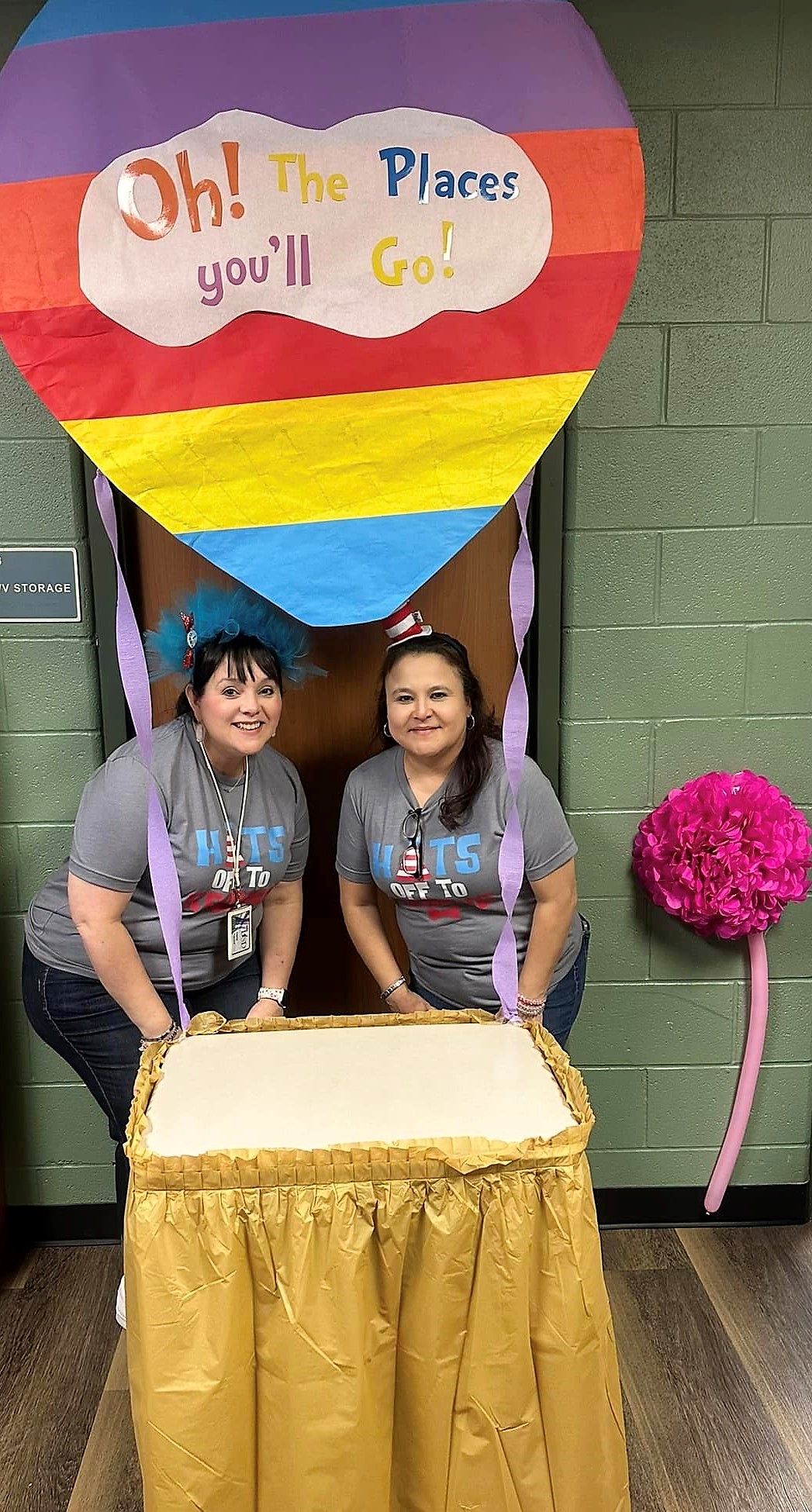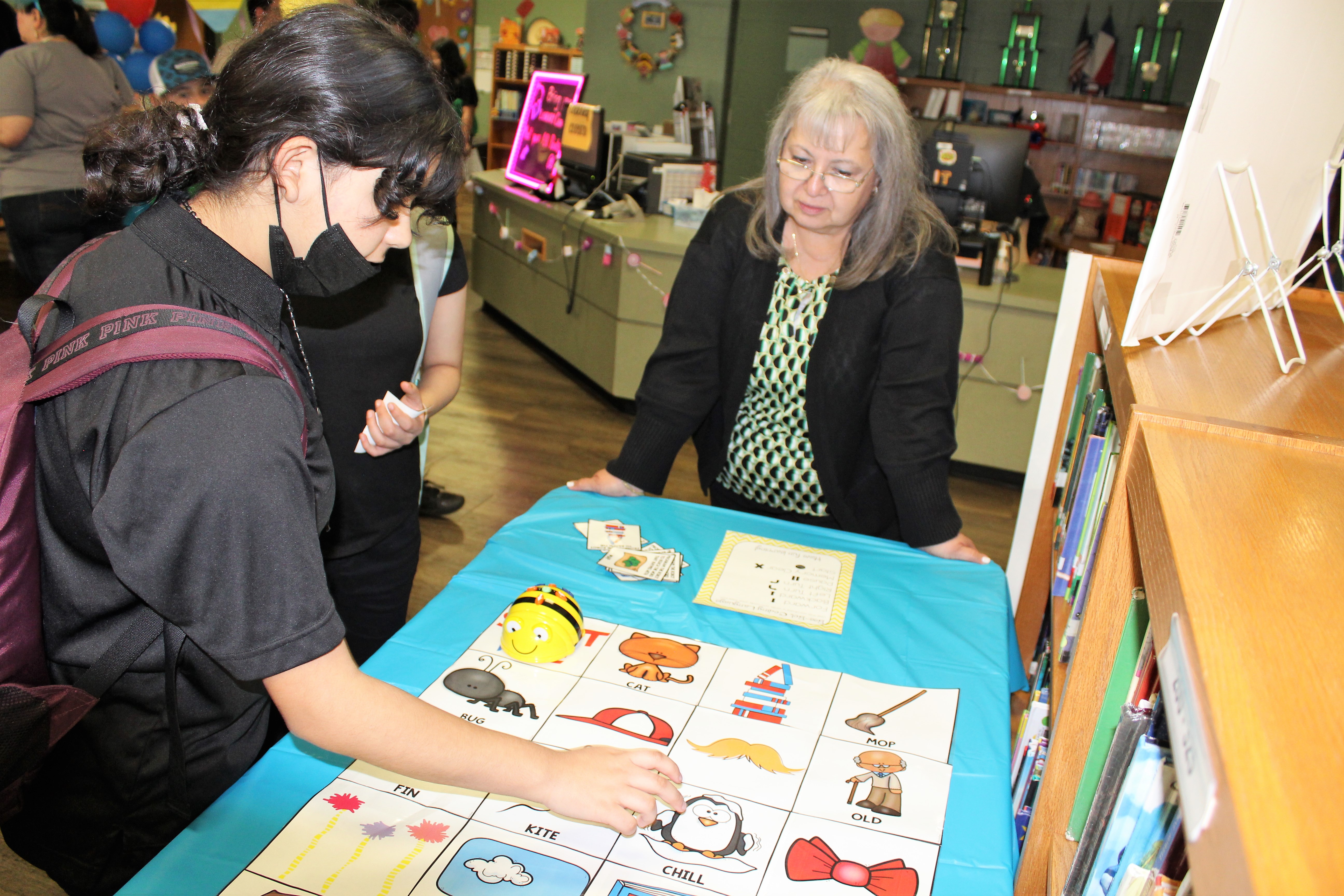 Coat Them with Love
Our NEHS students made a special visit to Las Alturas Nursing Home where they distributed the items they collected during the "Coat Them with Love" drive.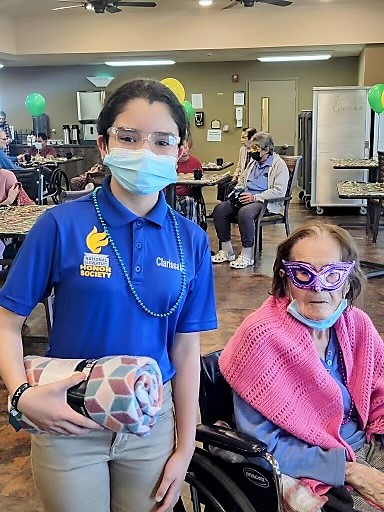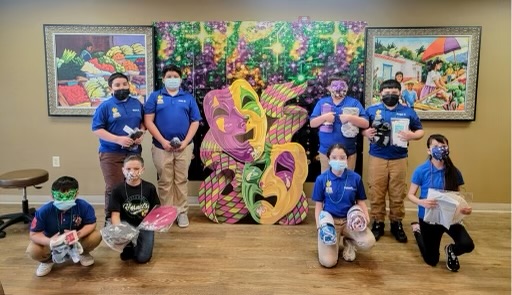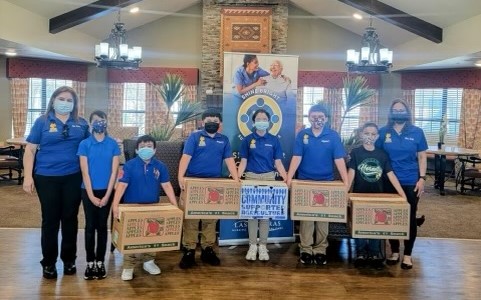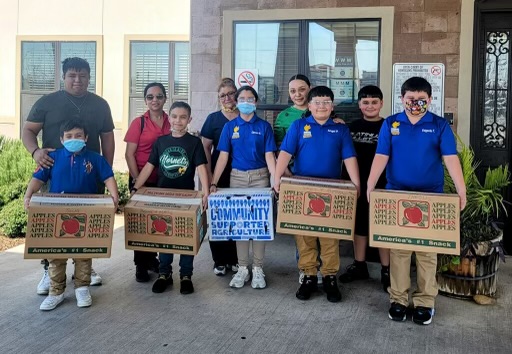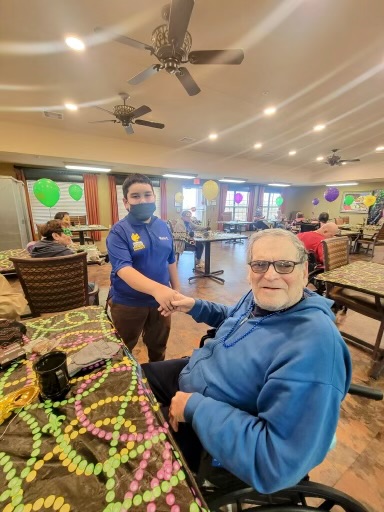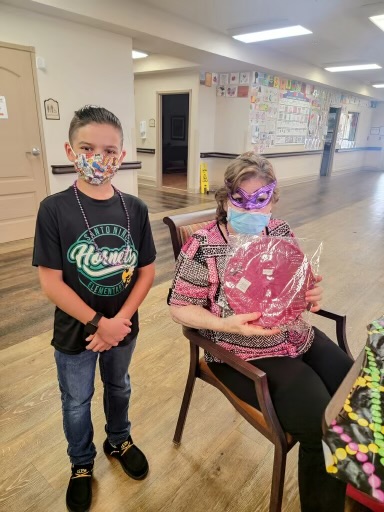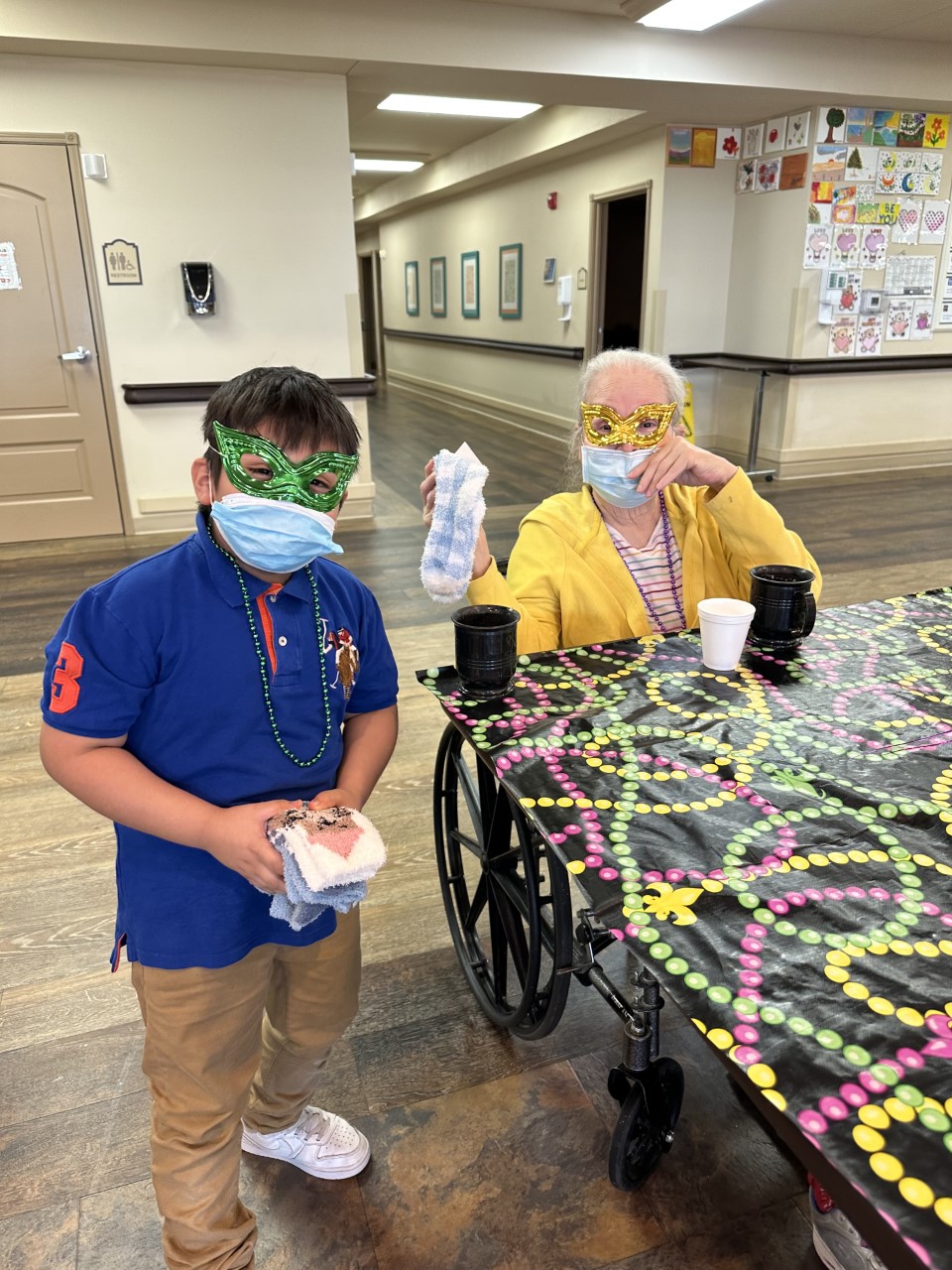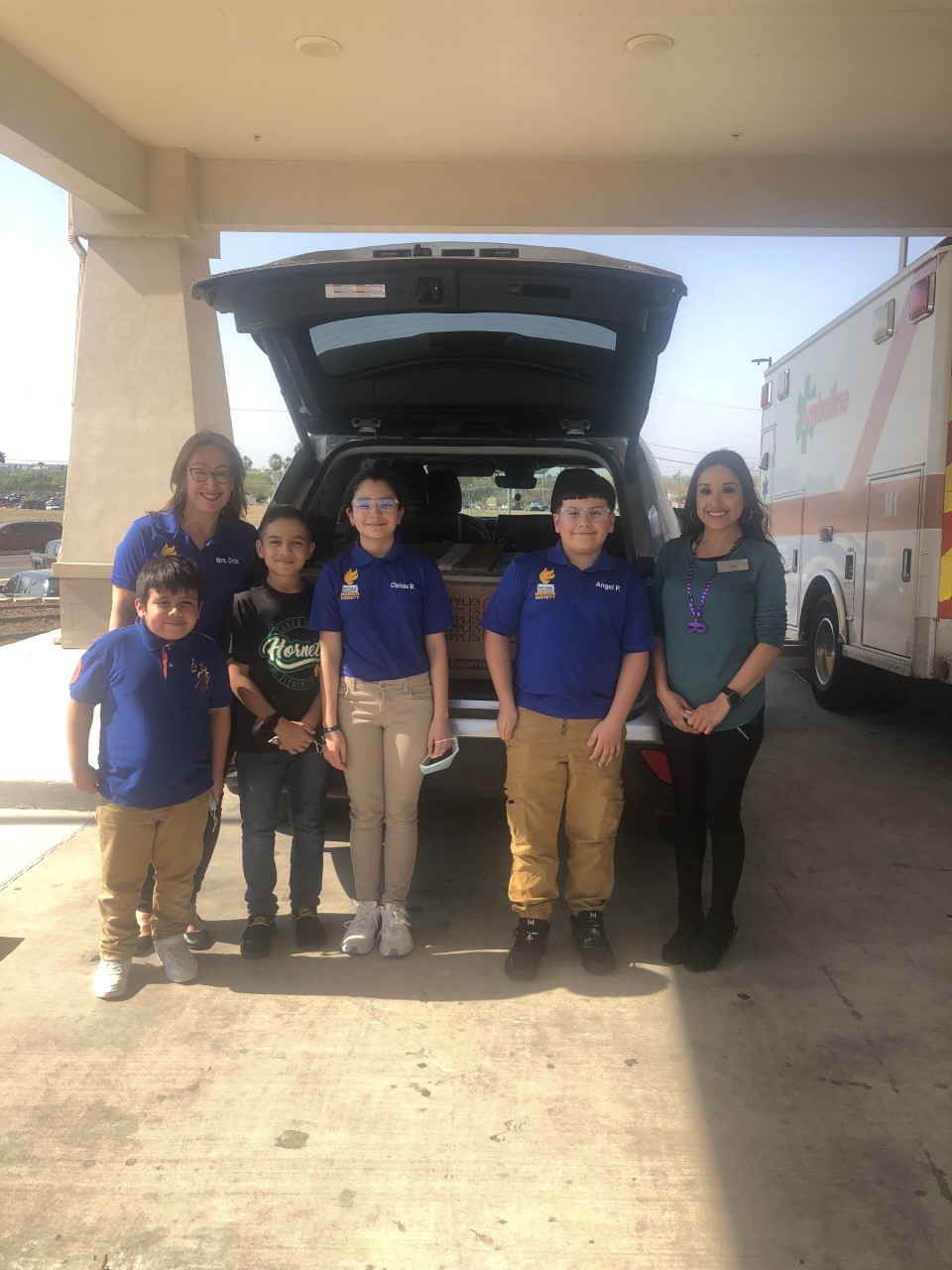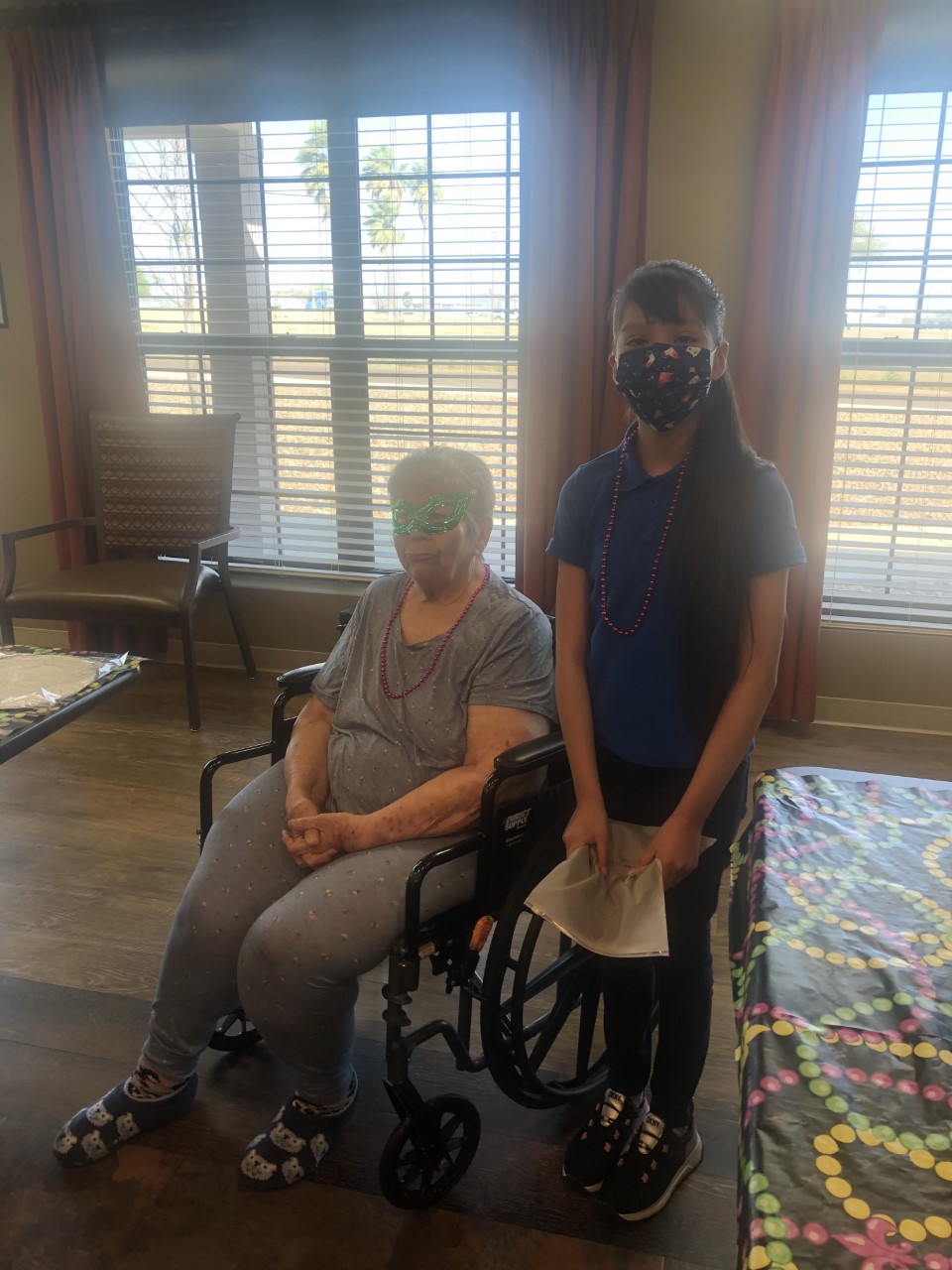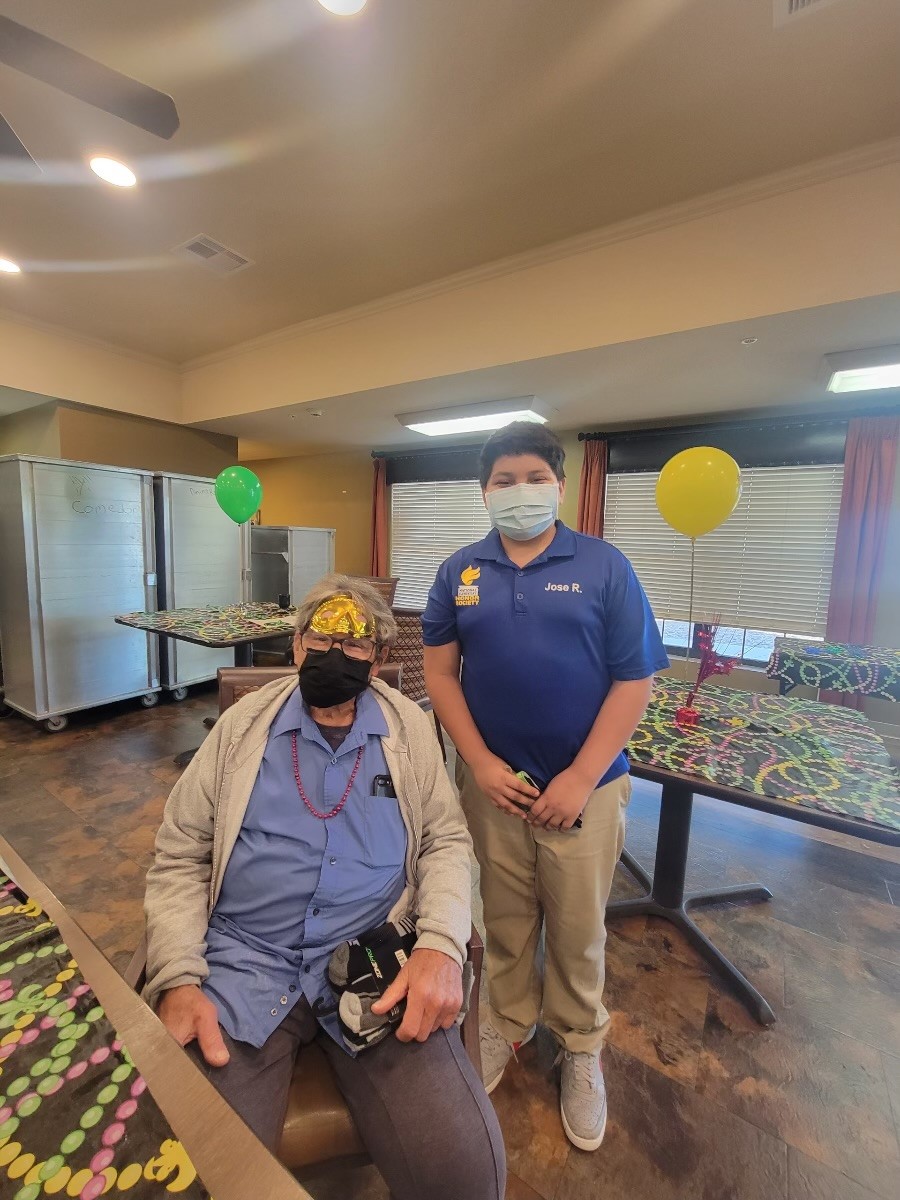 National School Counseling Week
We'd like to wish our amazing counselor, Ms. Pena, a Happy National School Counseling Week!
We are grateful for all you do! Thank you for the difference you make every single day! You make us Hornet Proud!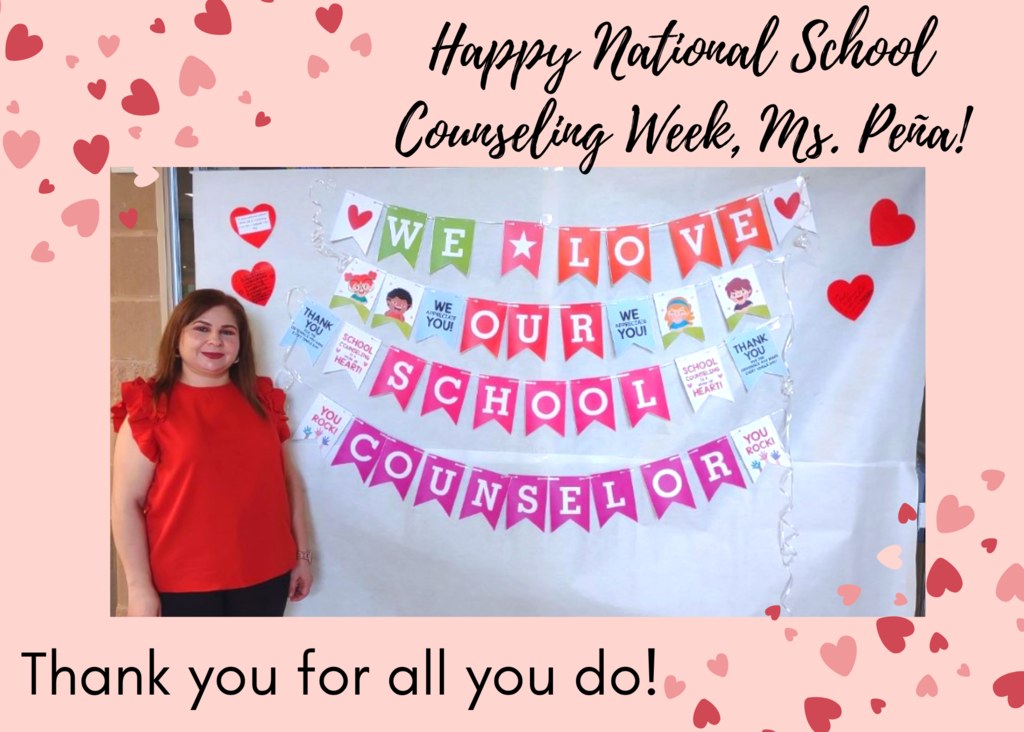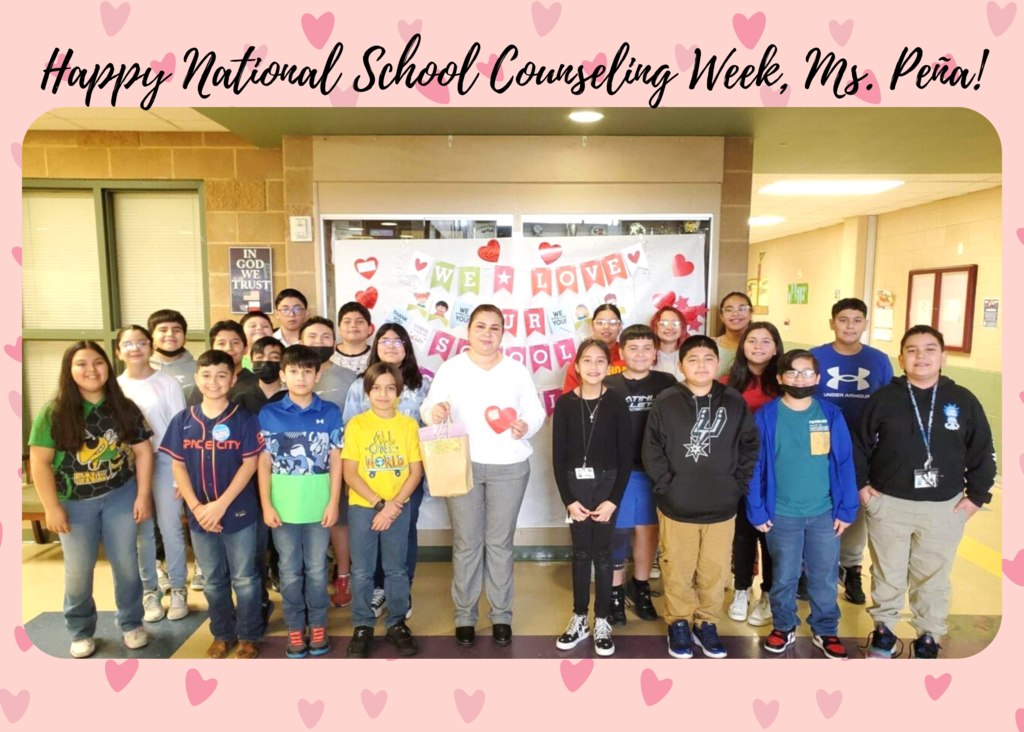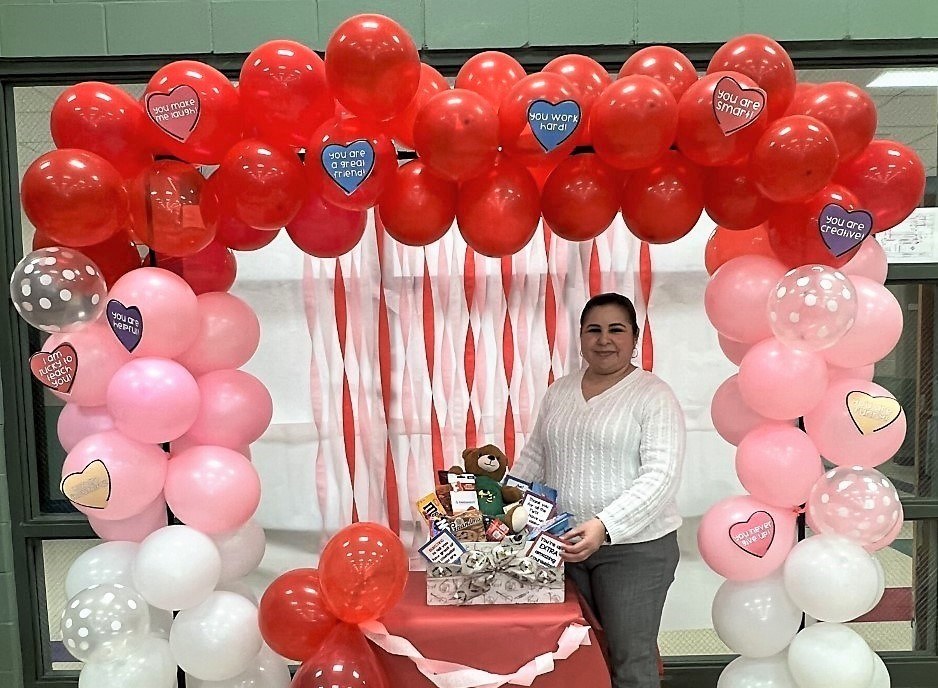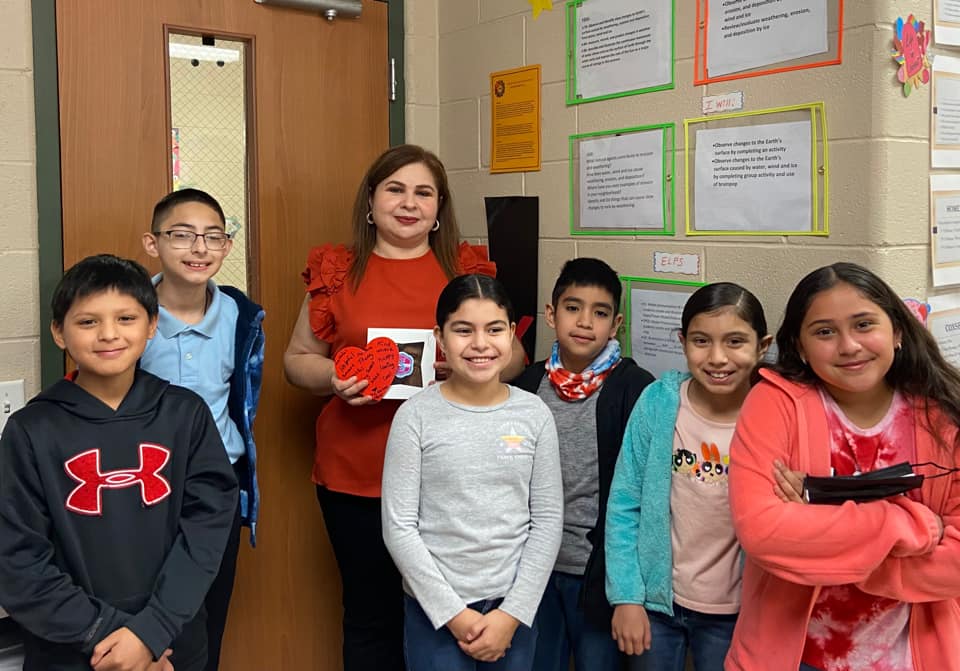 LISD Reading Fair
Congratulations to Ms. Lorena Cruz and her class for placing 2nd place in the 3rd-grade division and to Ms. Gabriela Sanchez and Ms. Estela Ybanez's class for placing 1st place in the 4th-grade division of the LISD Reading Fair! Amazing work! You make us HORNET PROUD!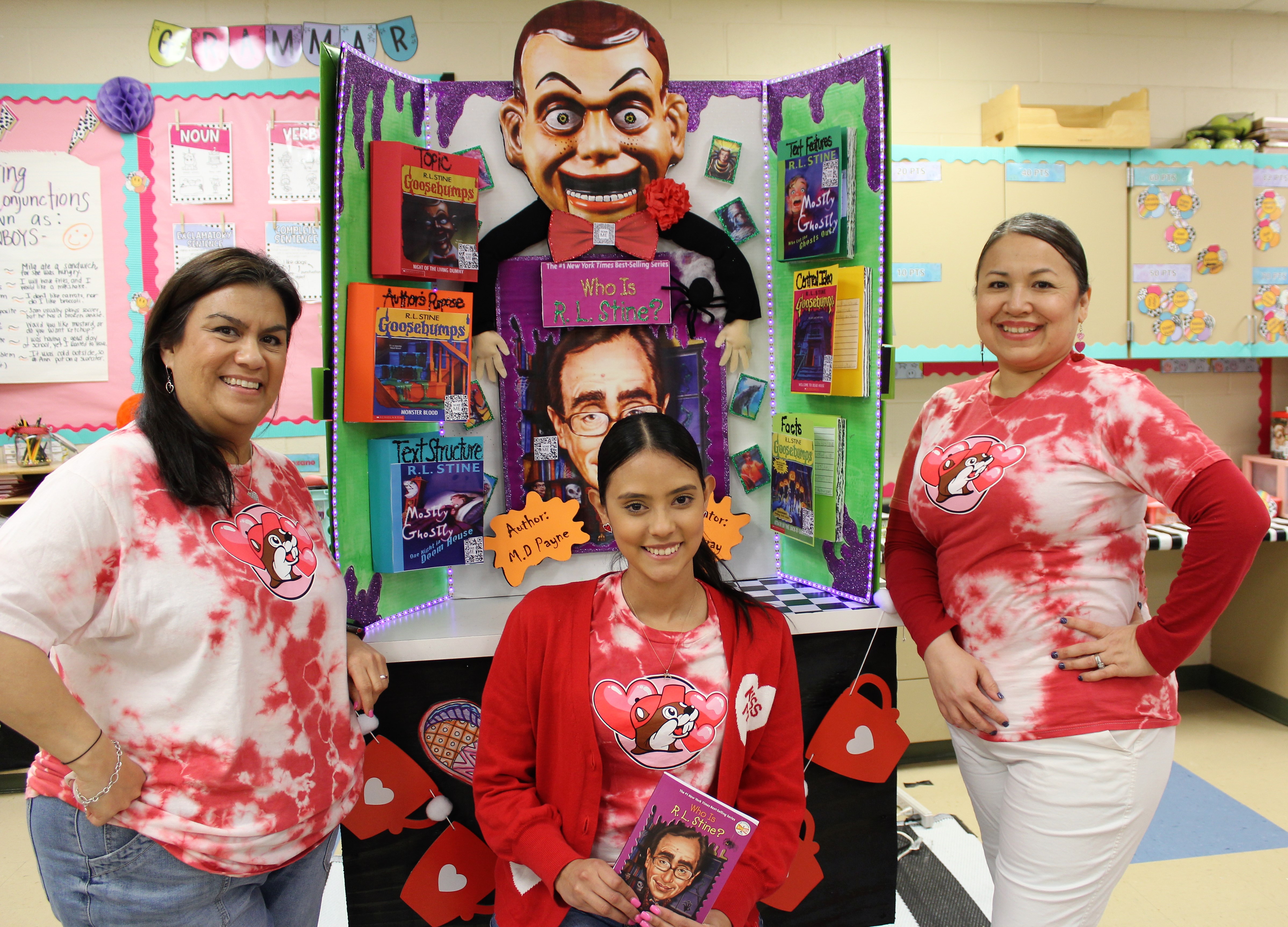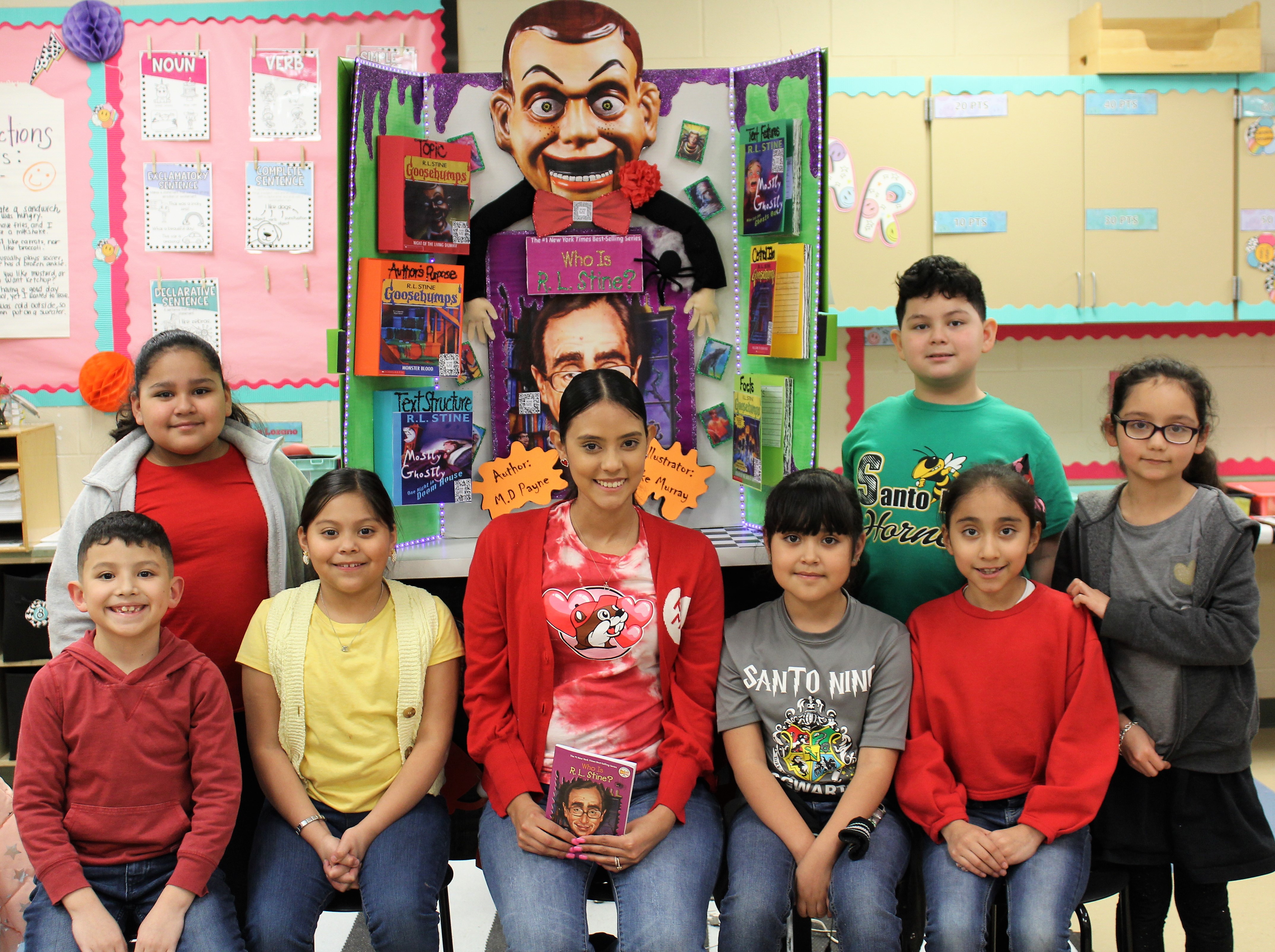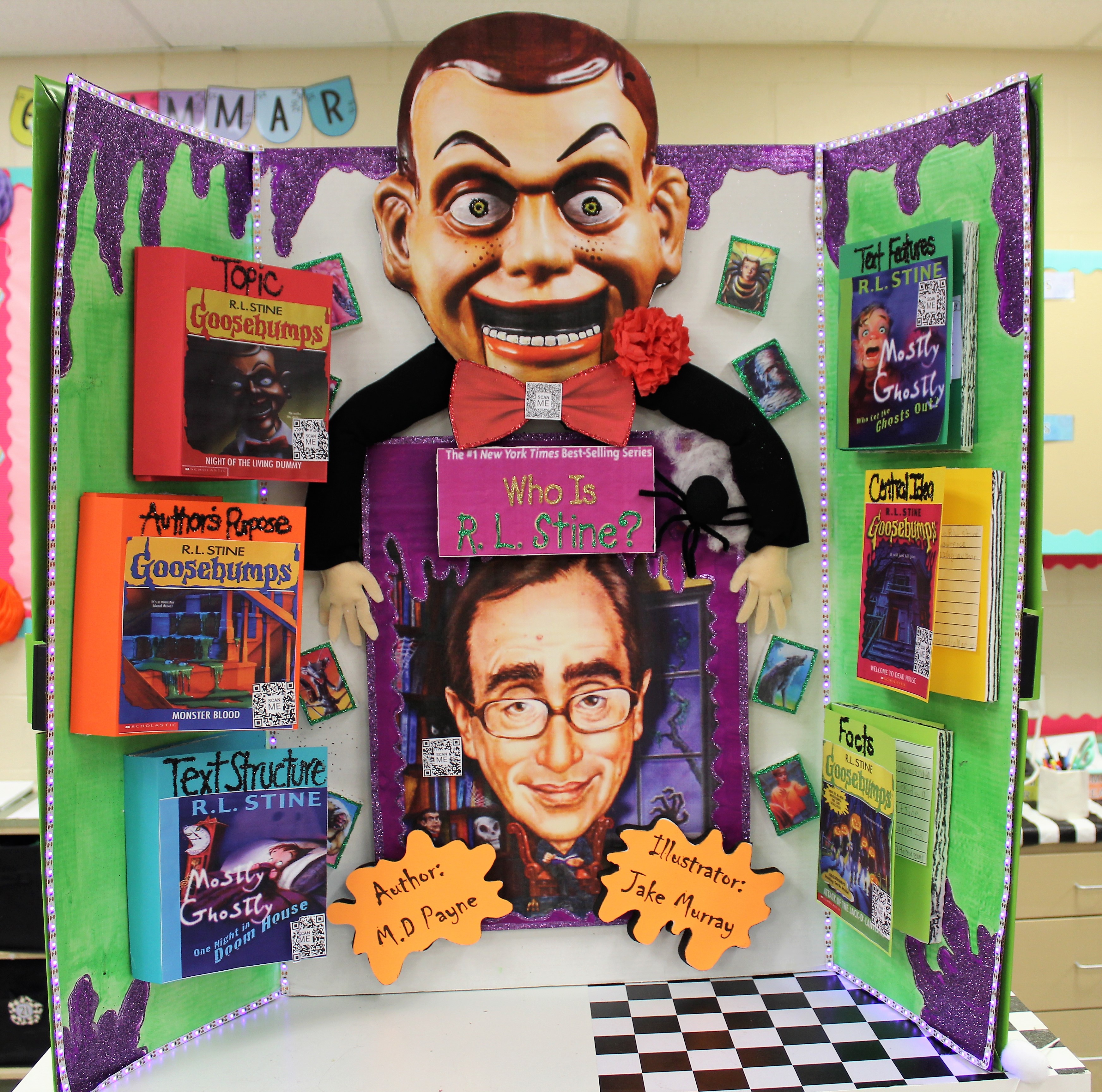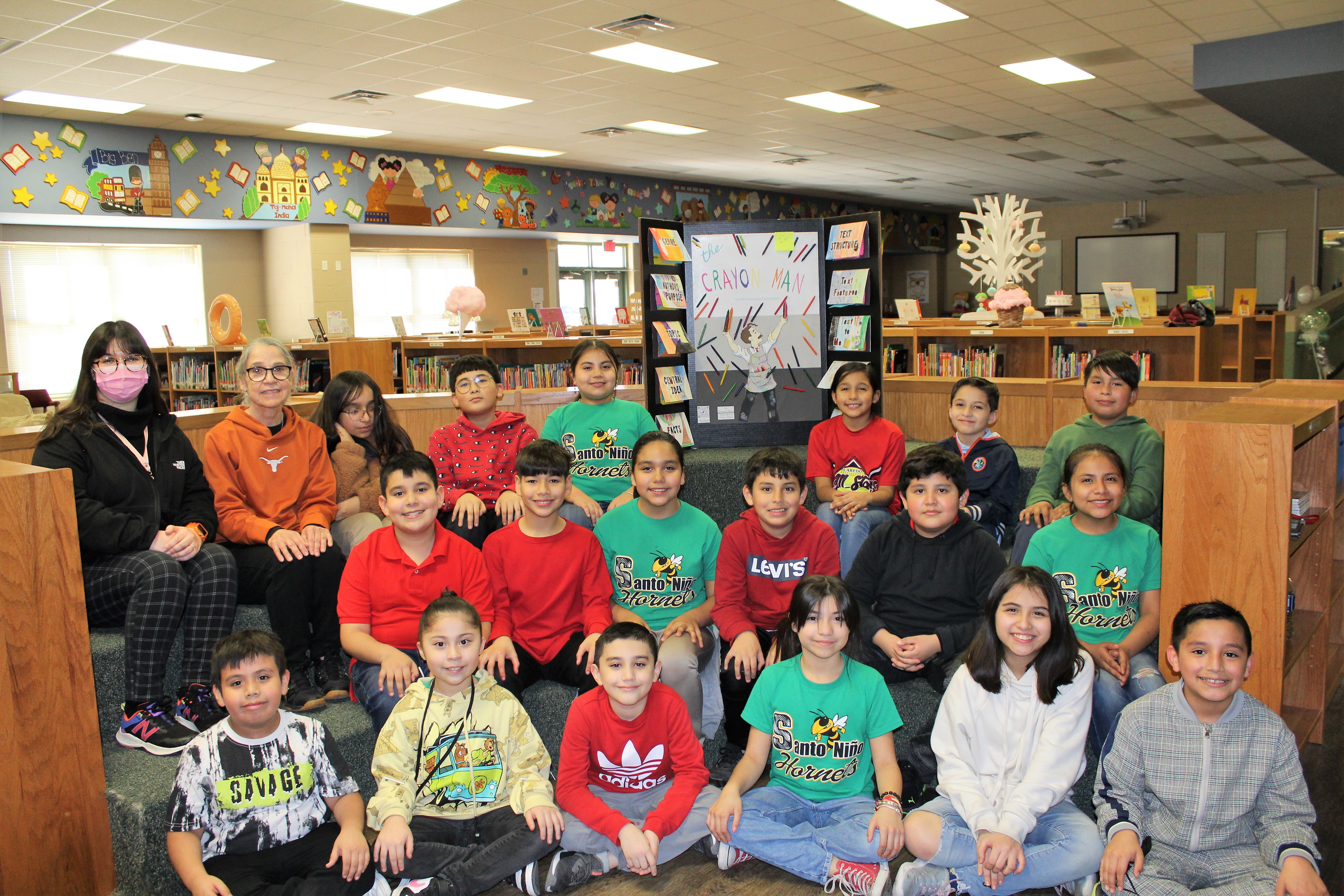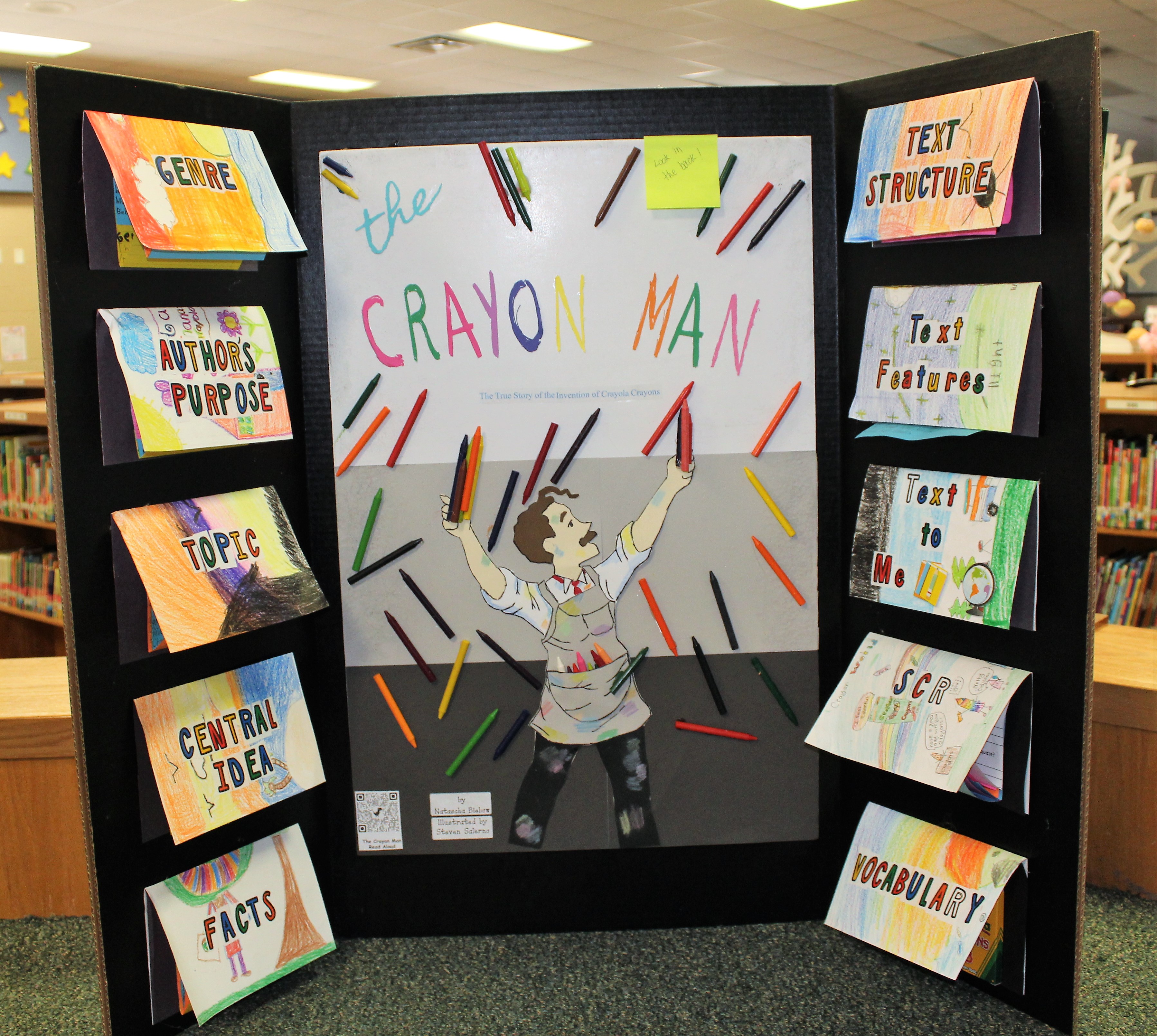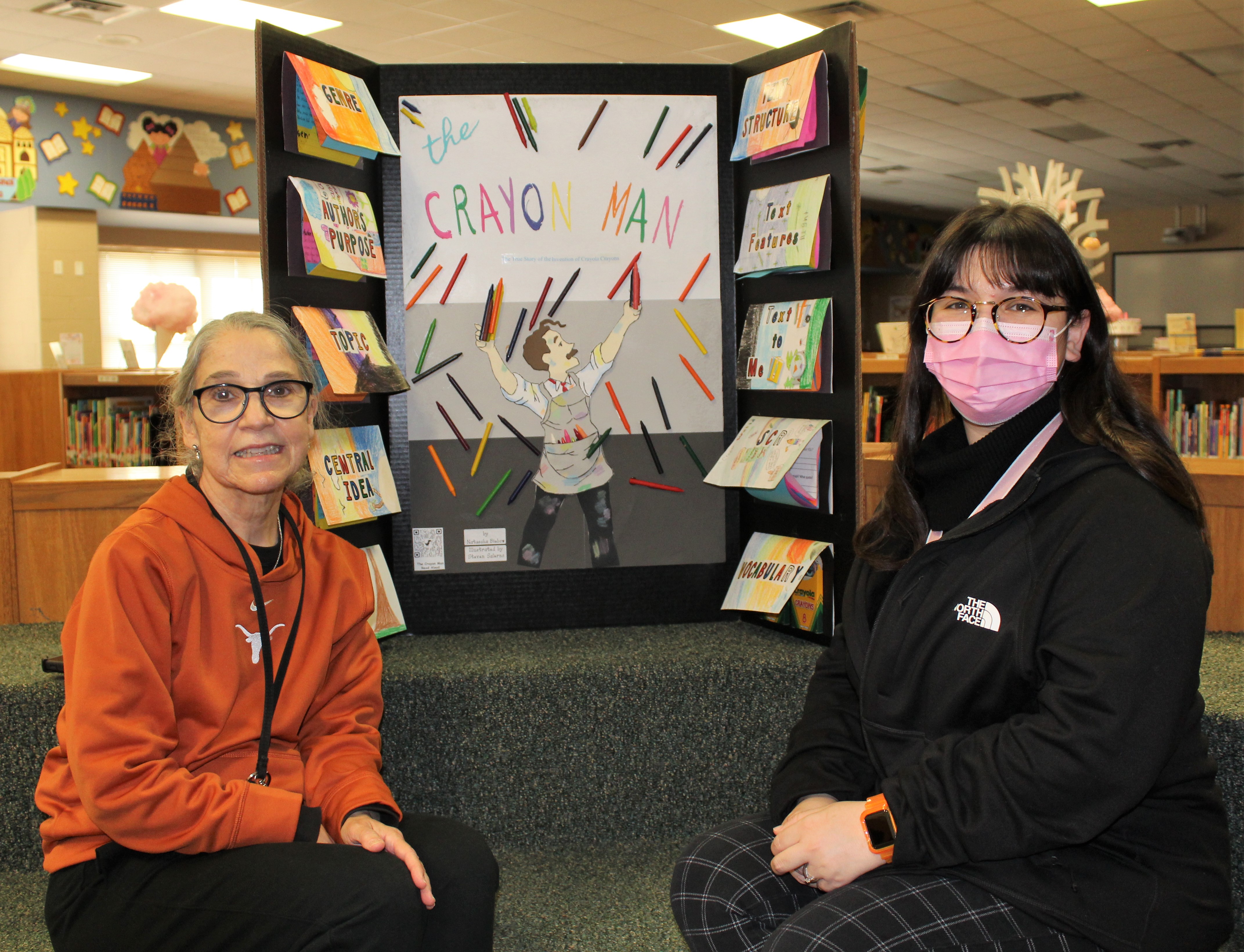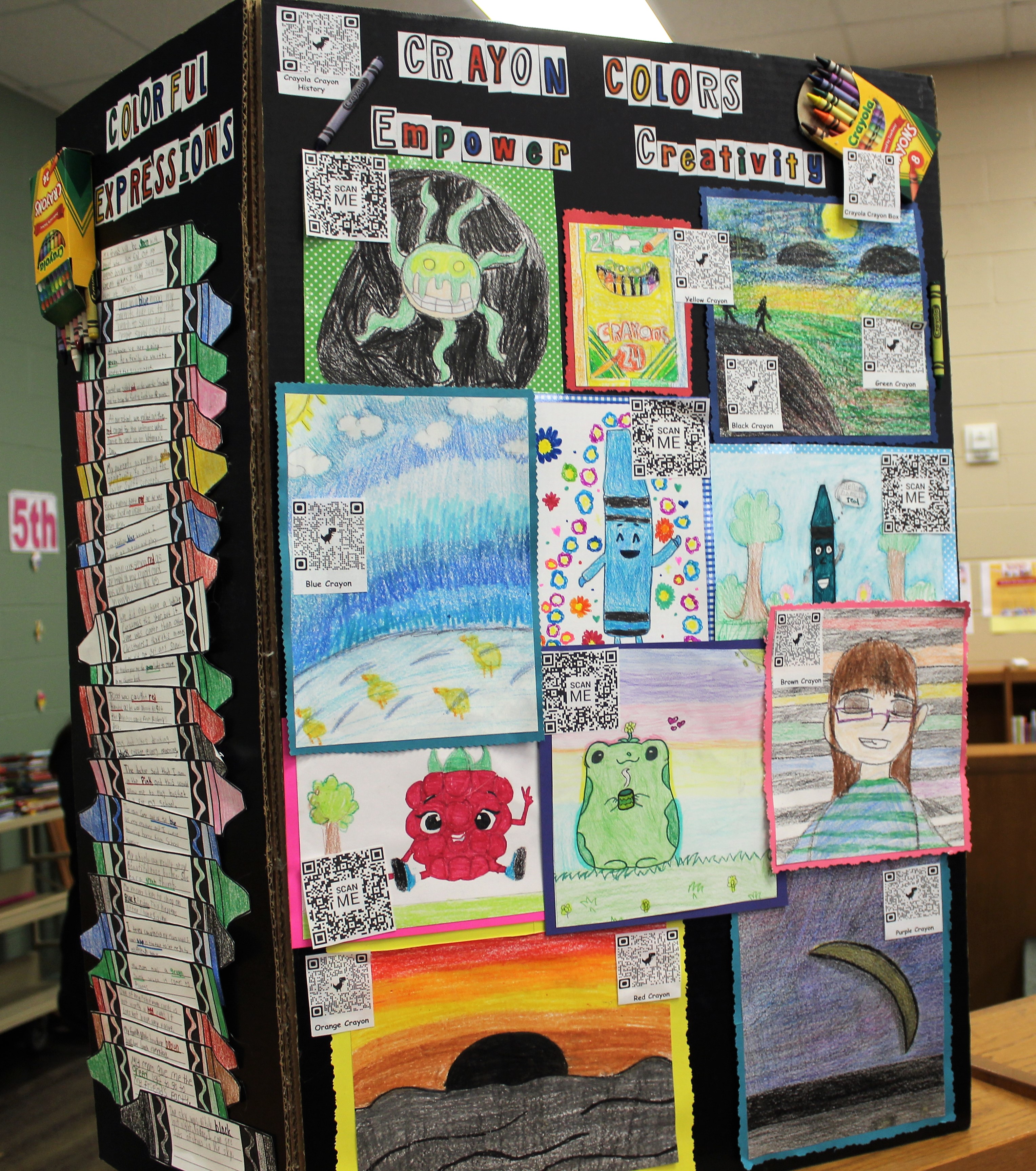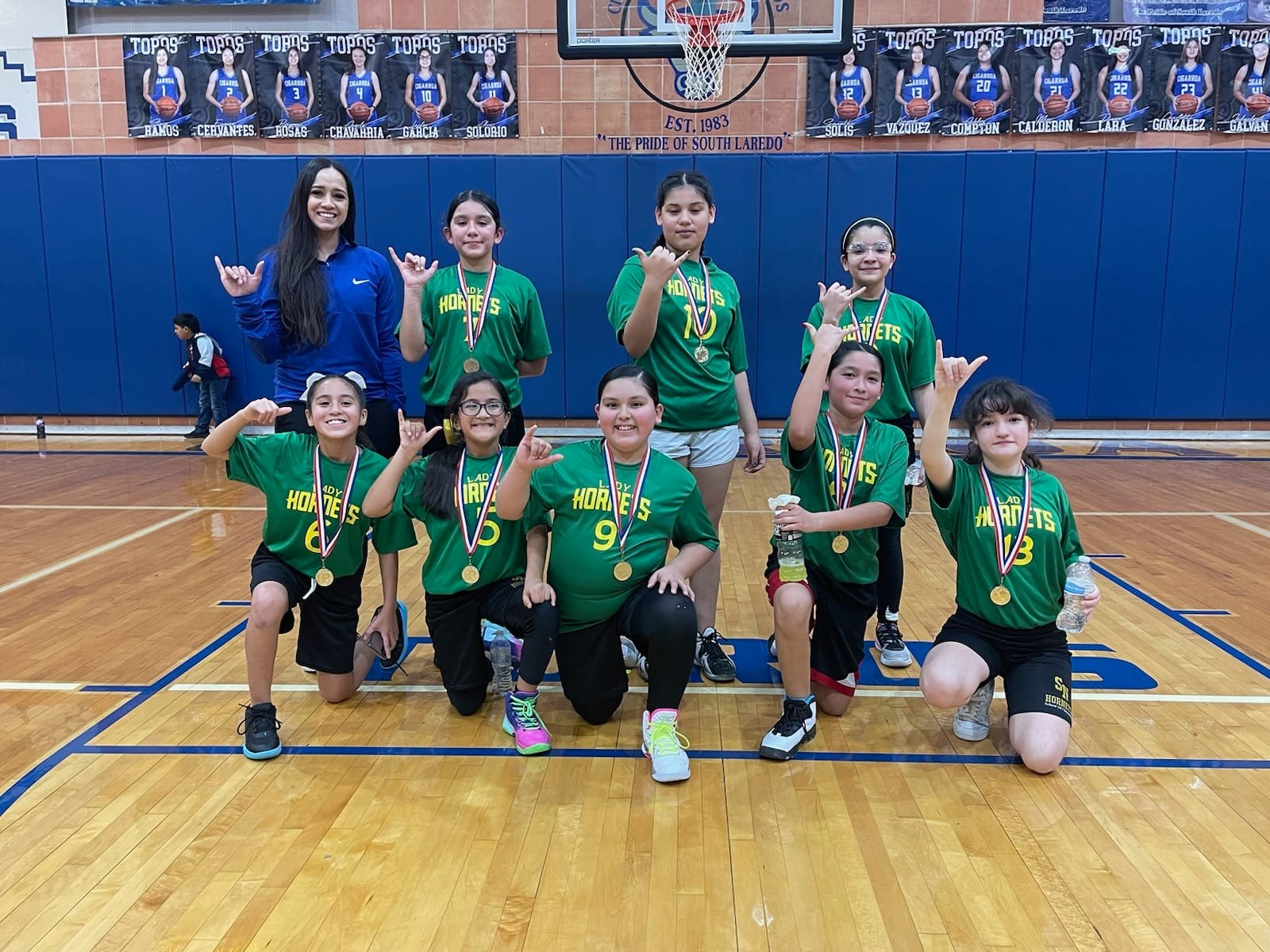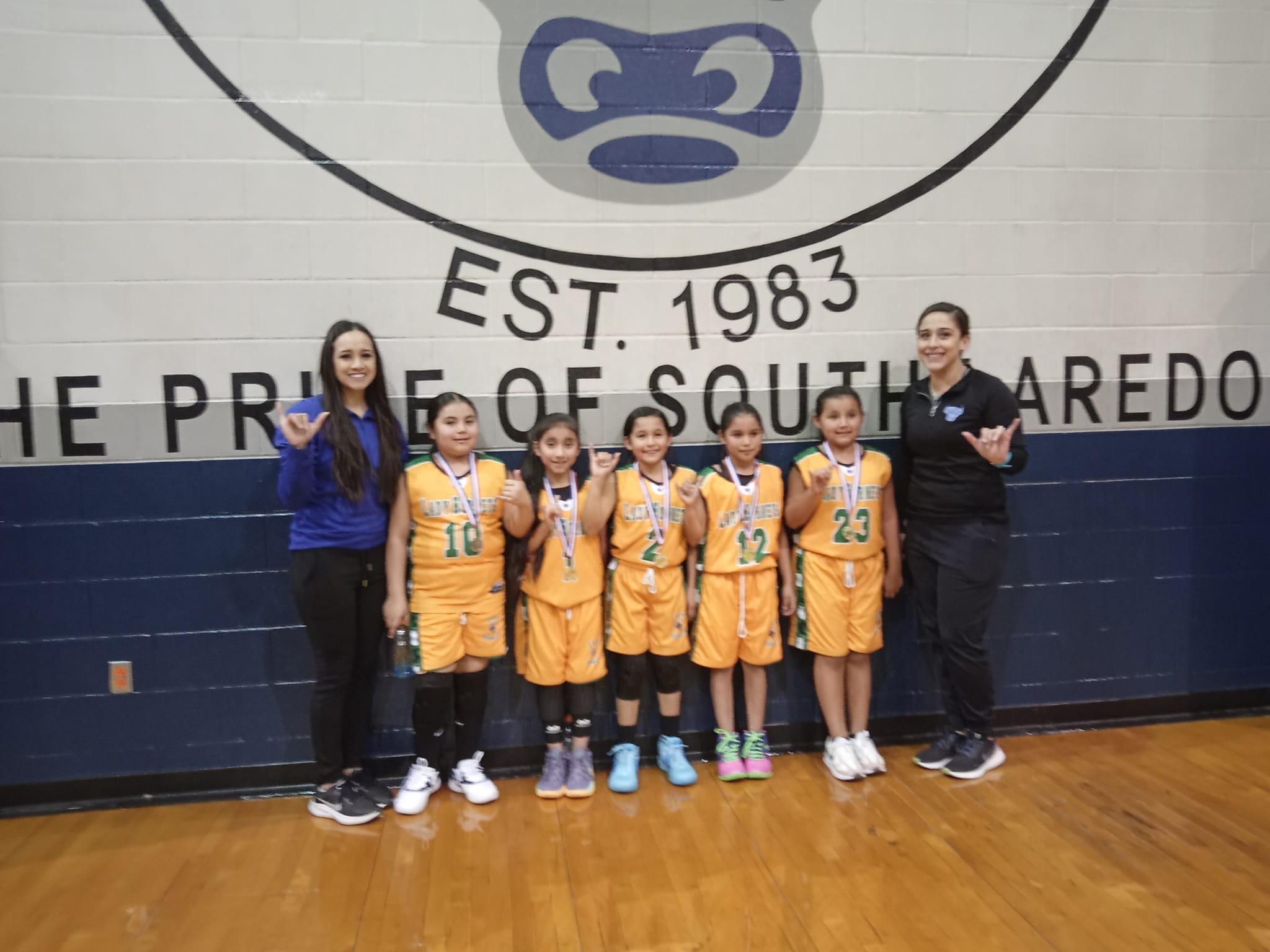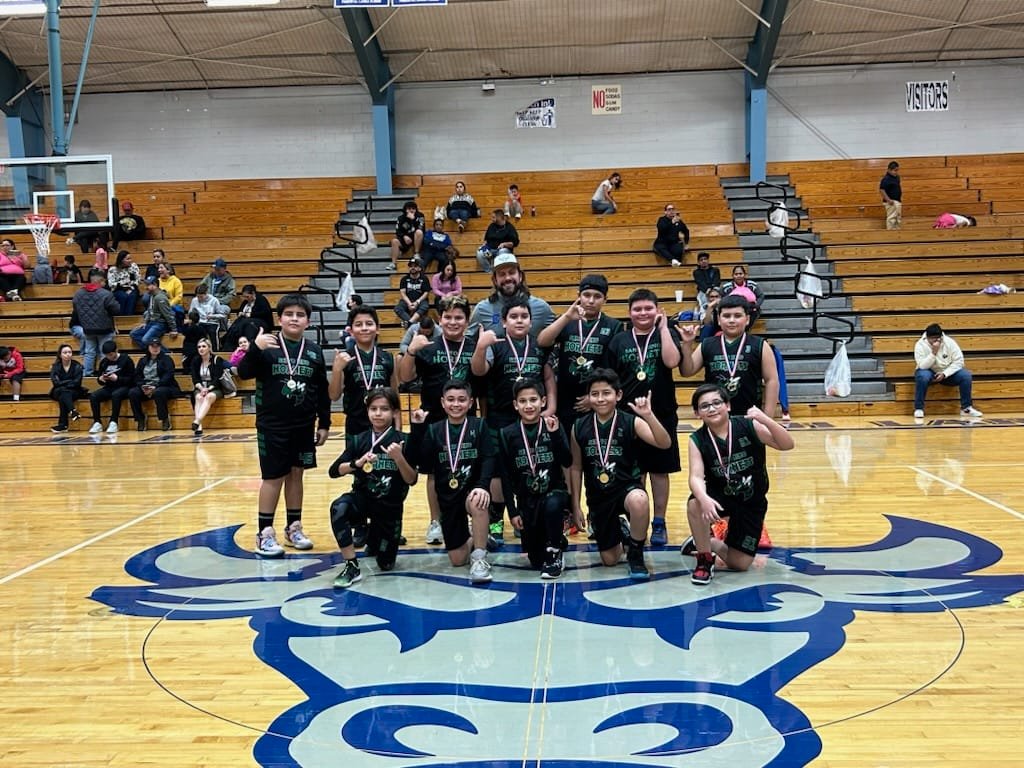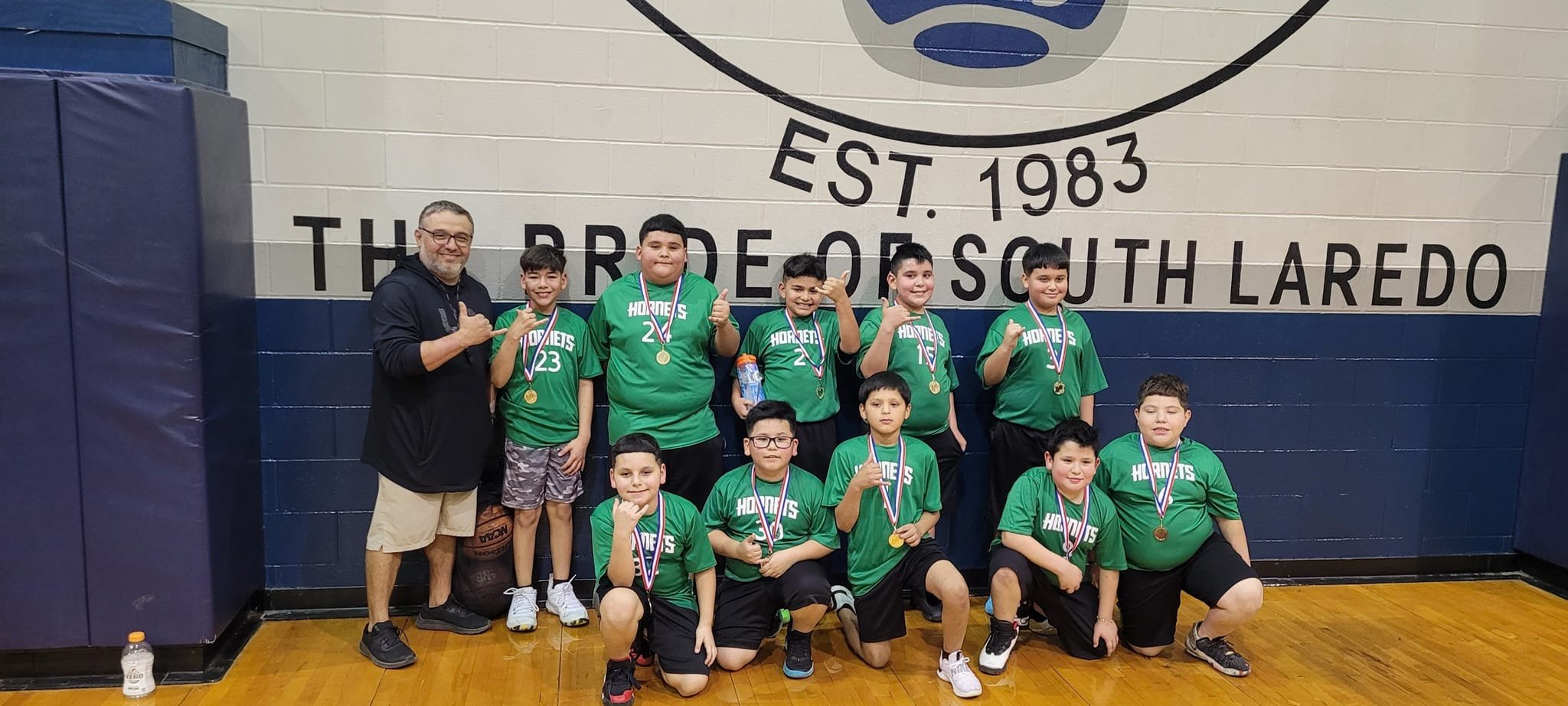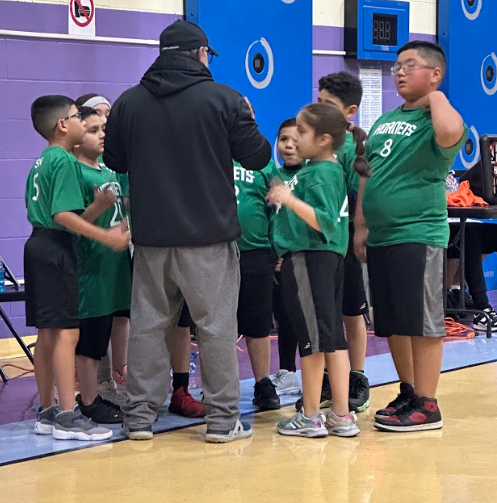 16th Annual Technology Expo
Our Mighty Hornets showcasing their amazing technology projects and competing in a Code-a-Thon at the 16th Annual Technology Expo! We are so proud of all their hard work and effort! A big thank you to our sponsors Ms. Valdez and Ms. Quiroga for making this event a success for our students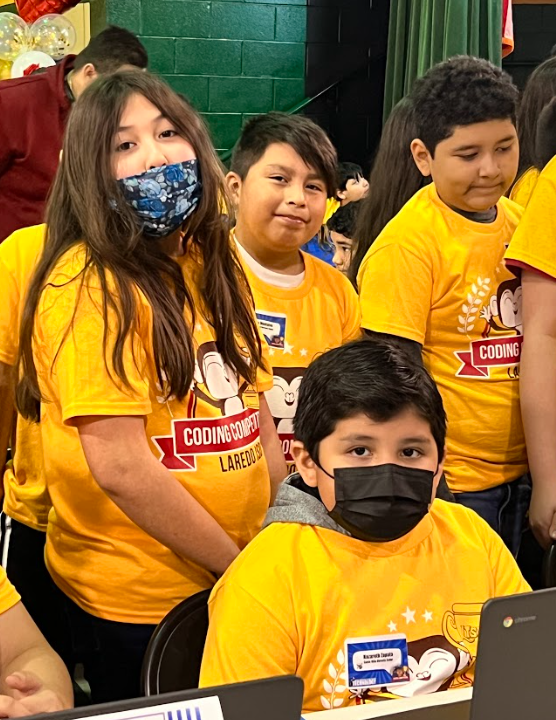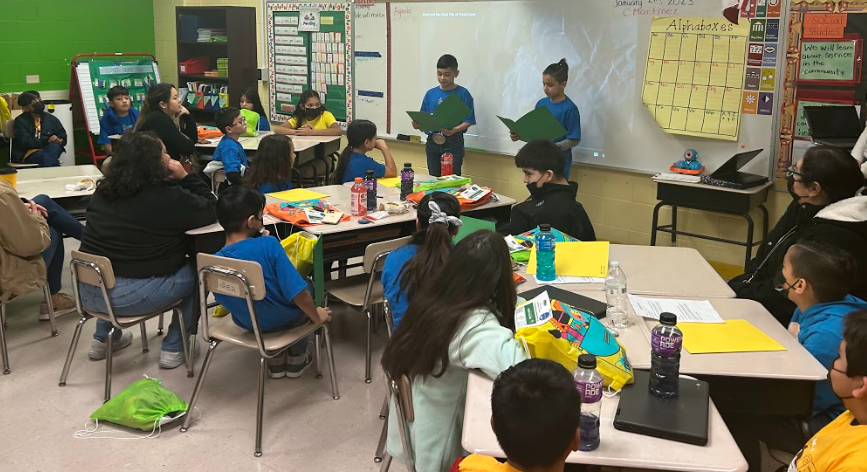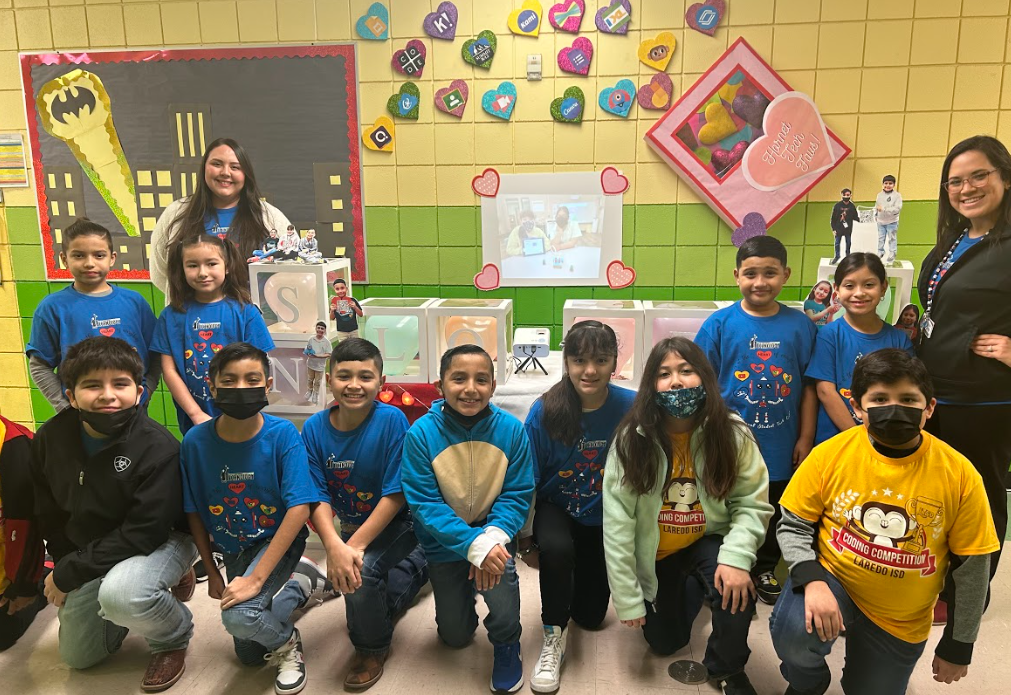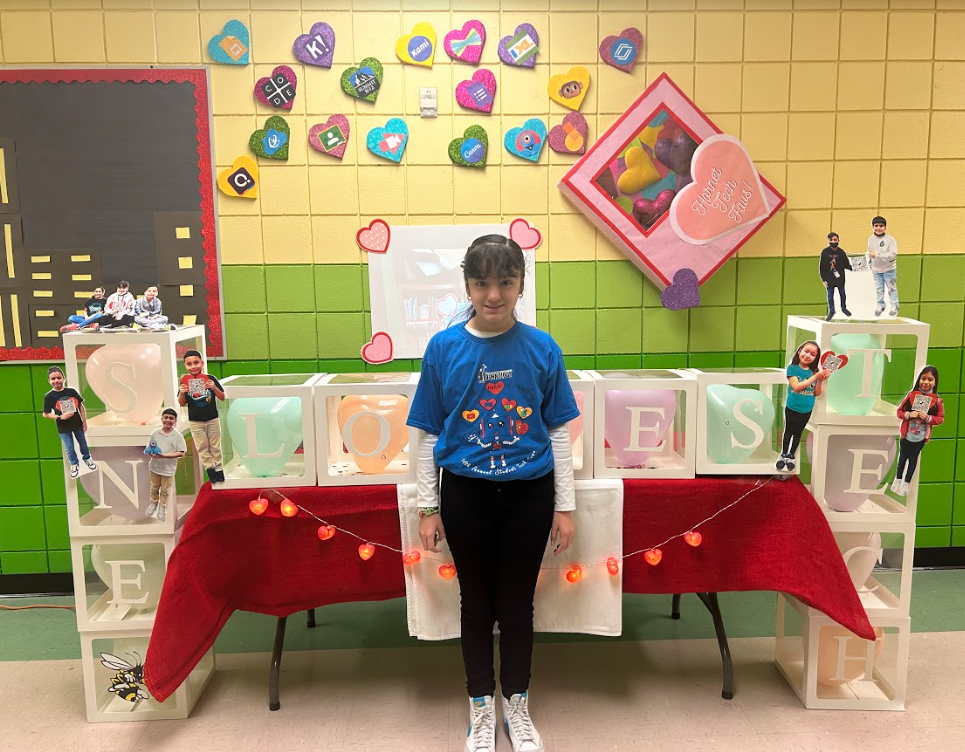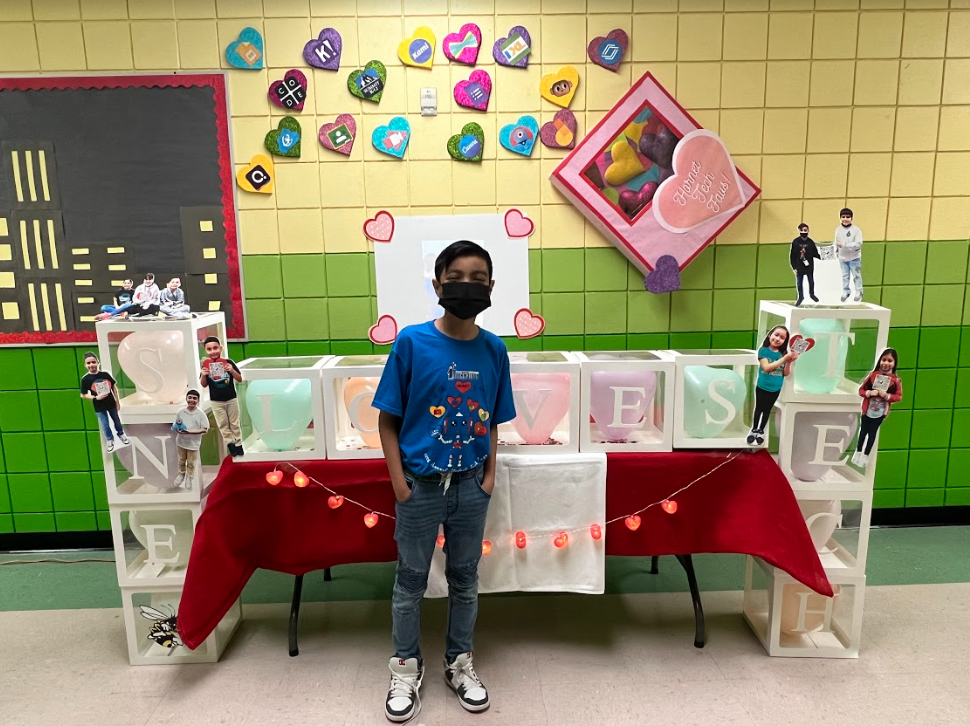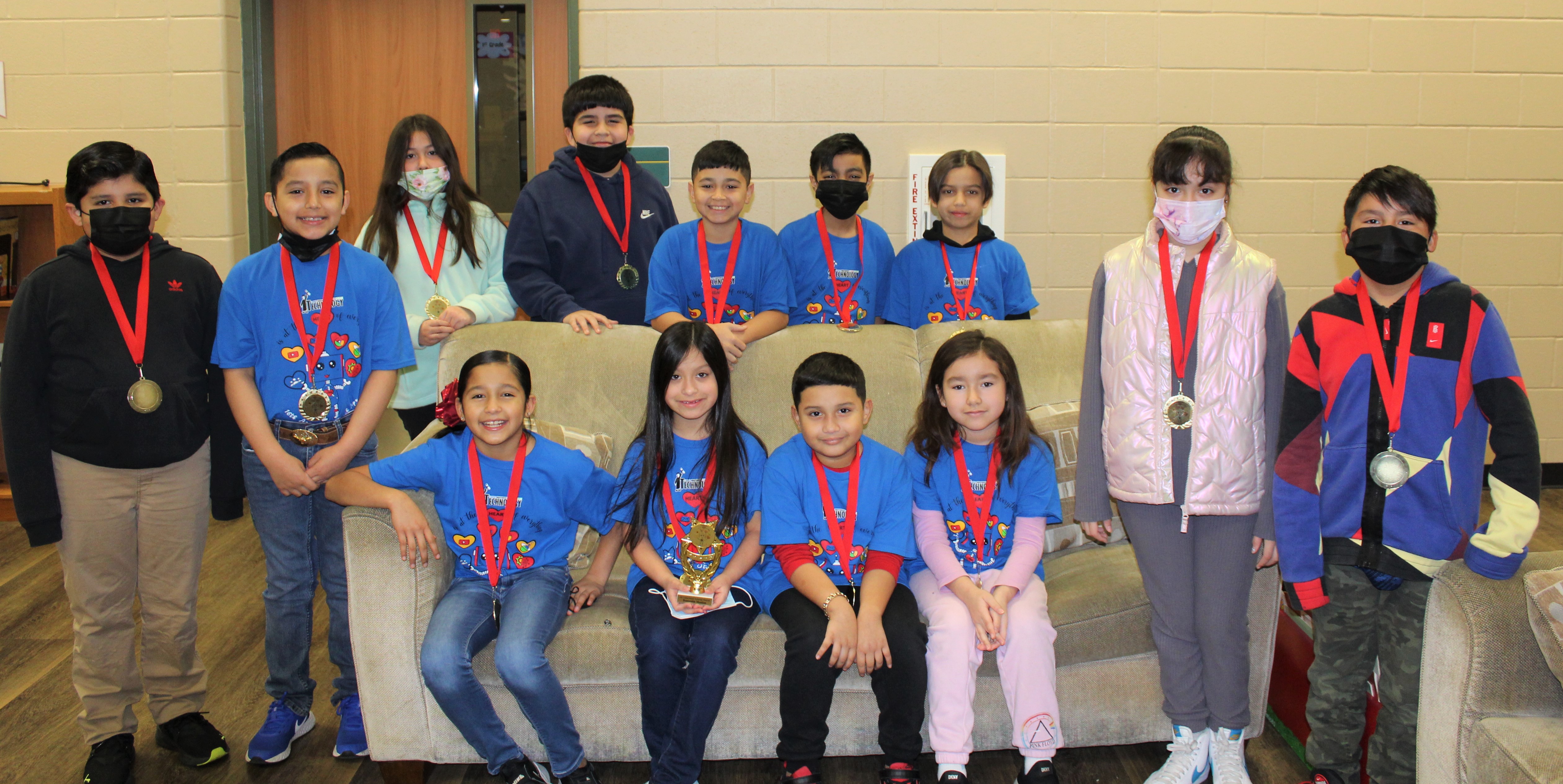 January Student of the Month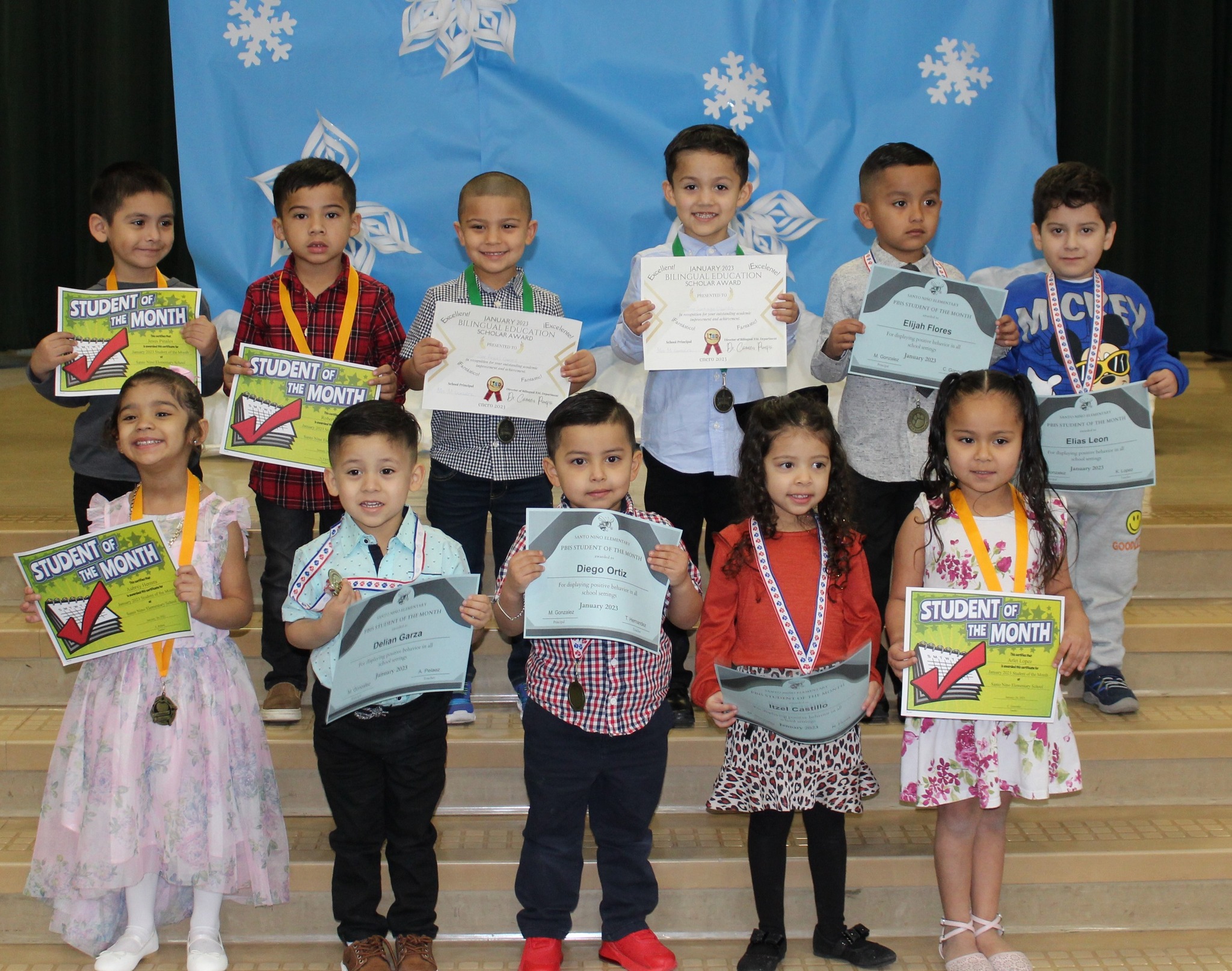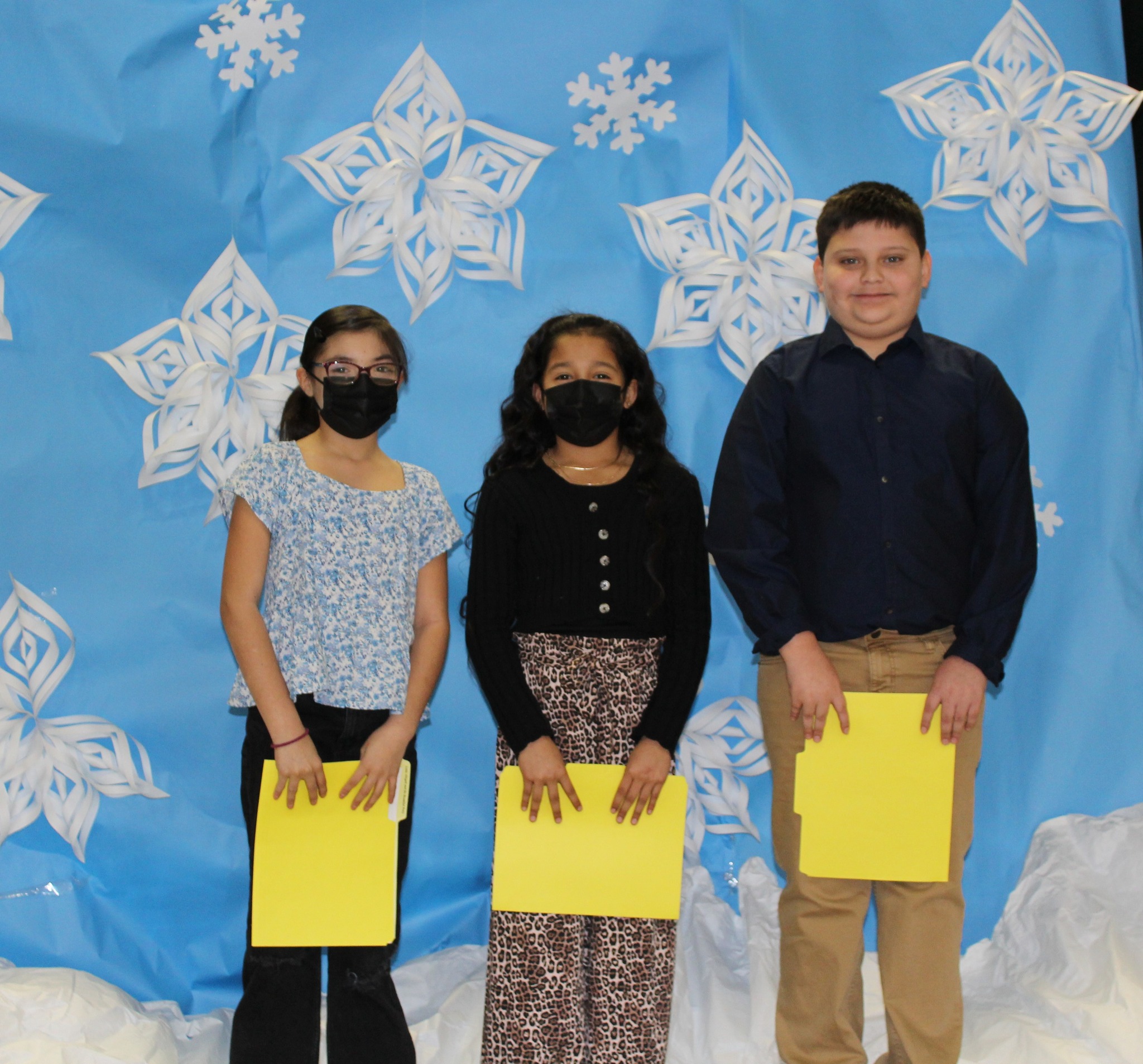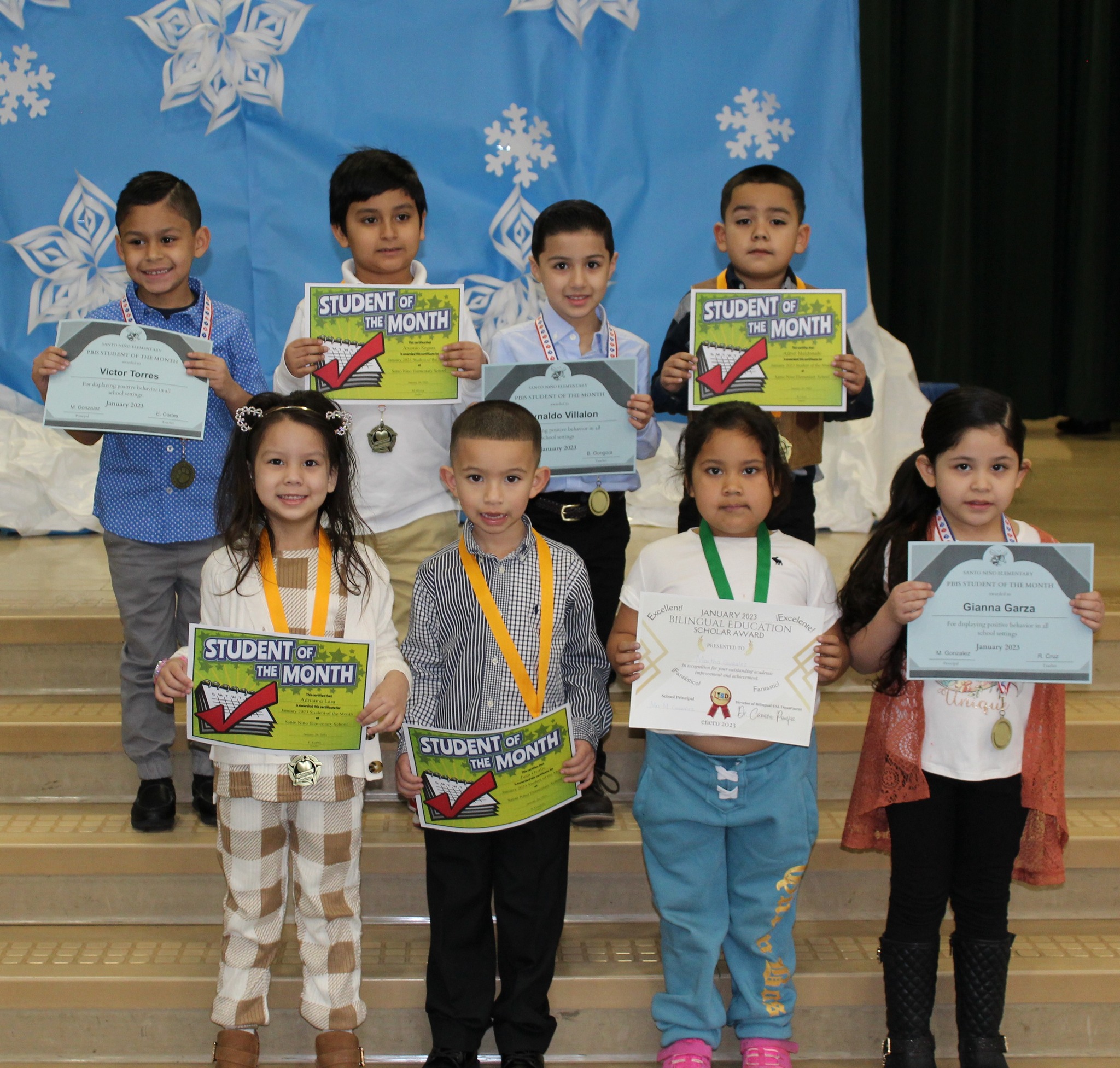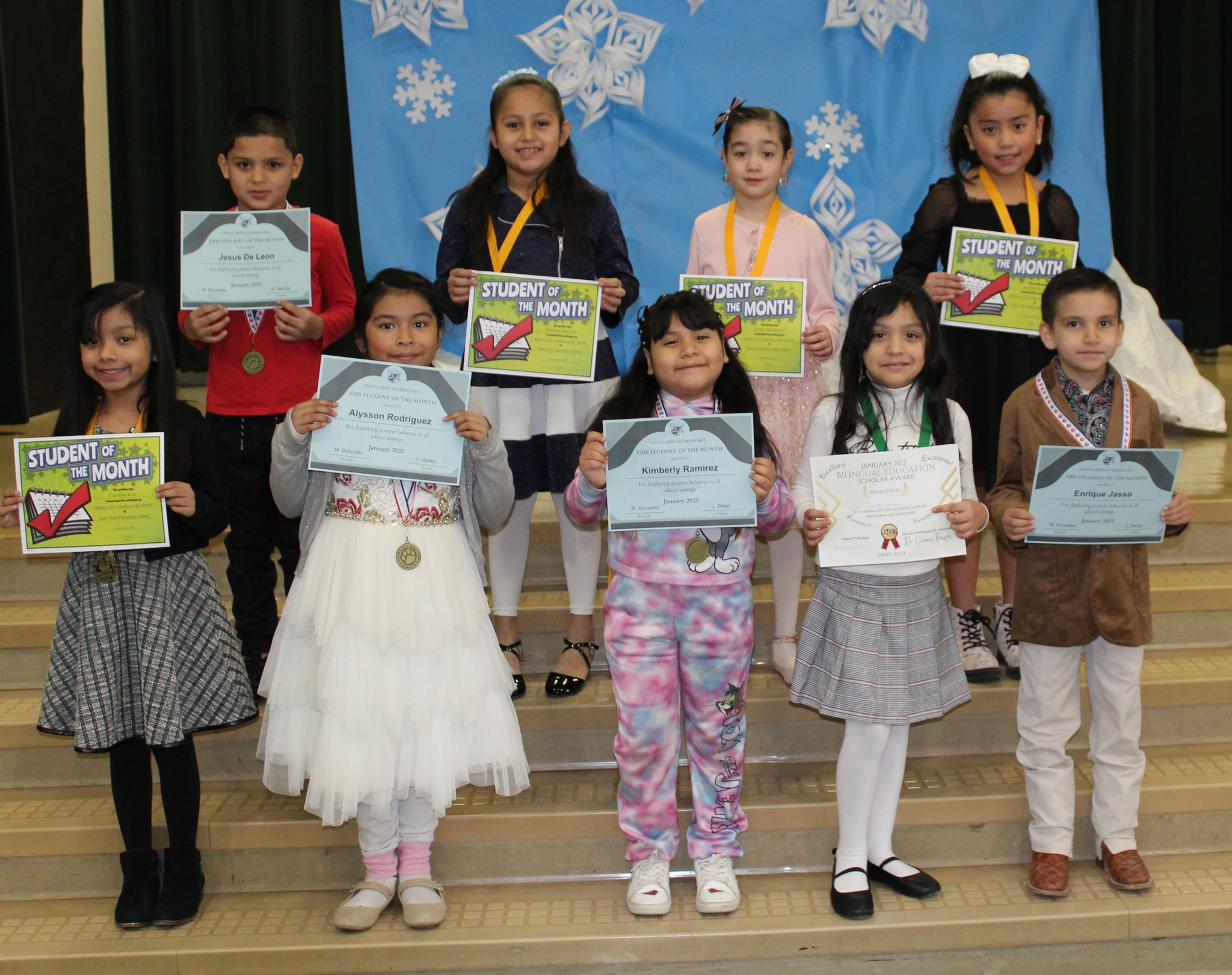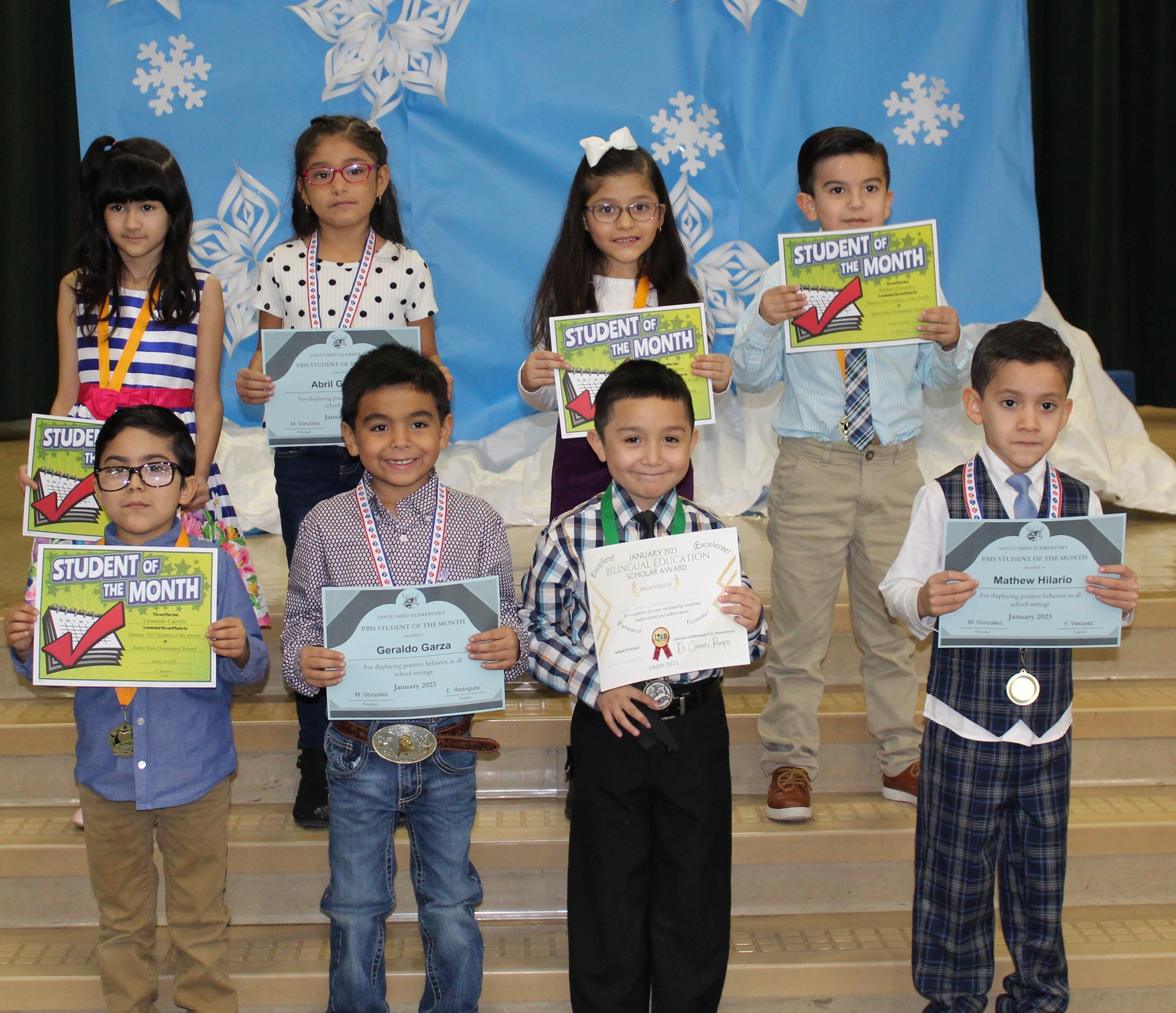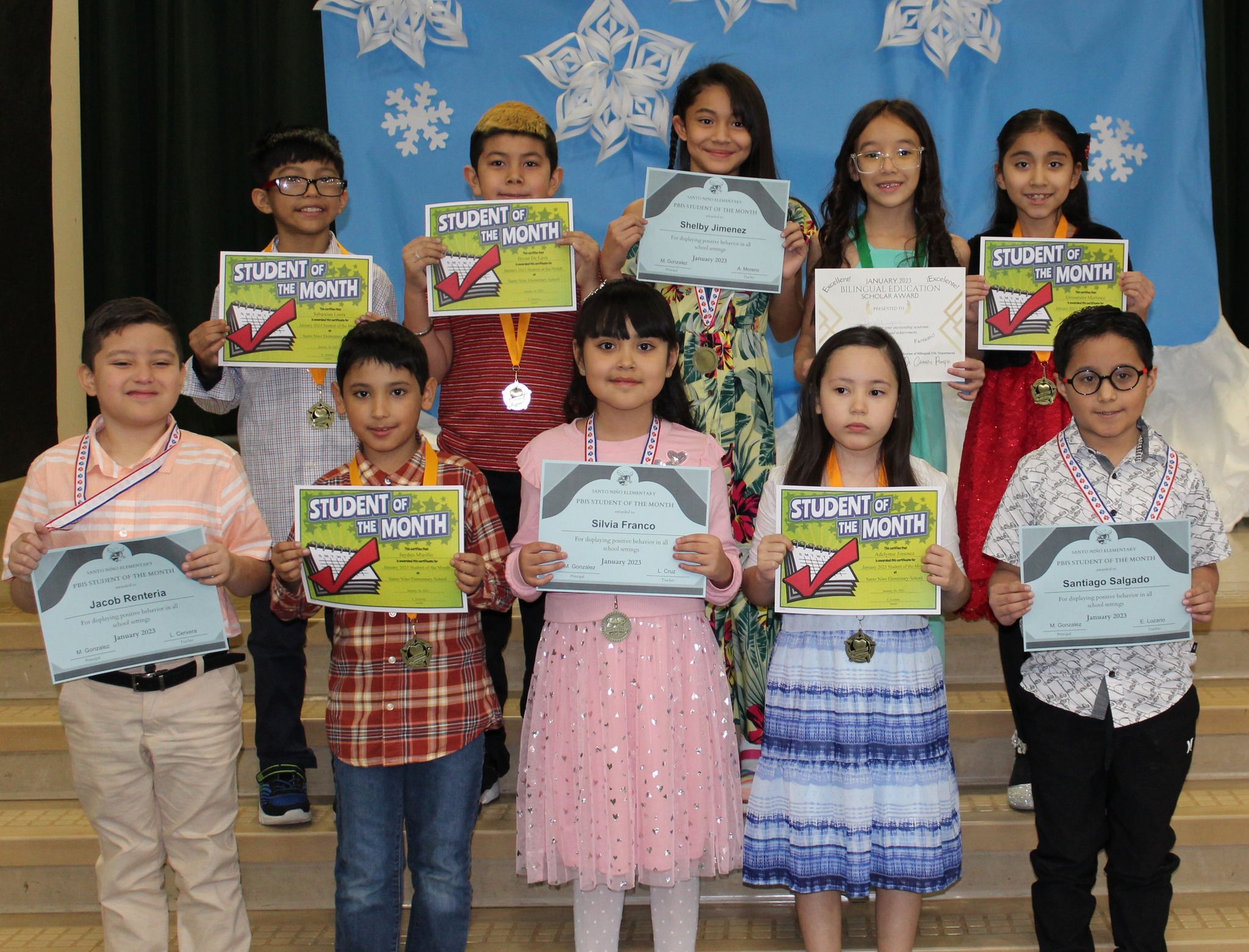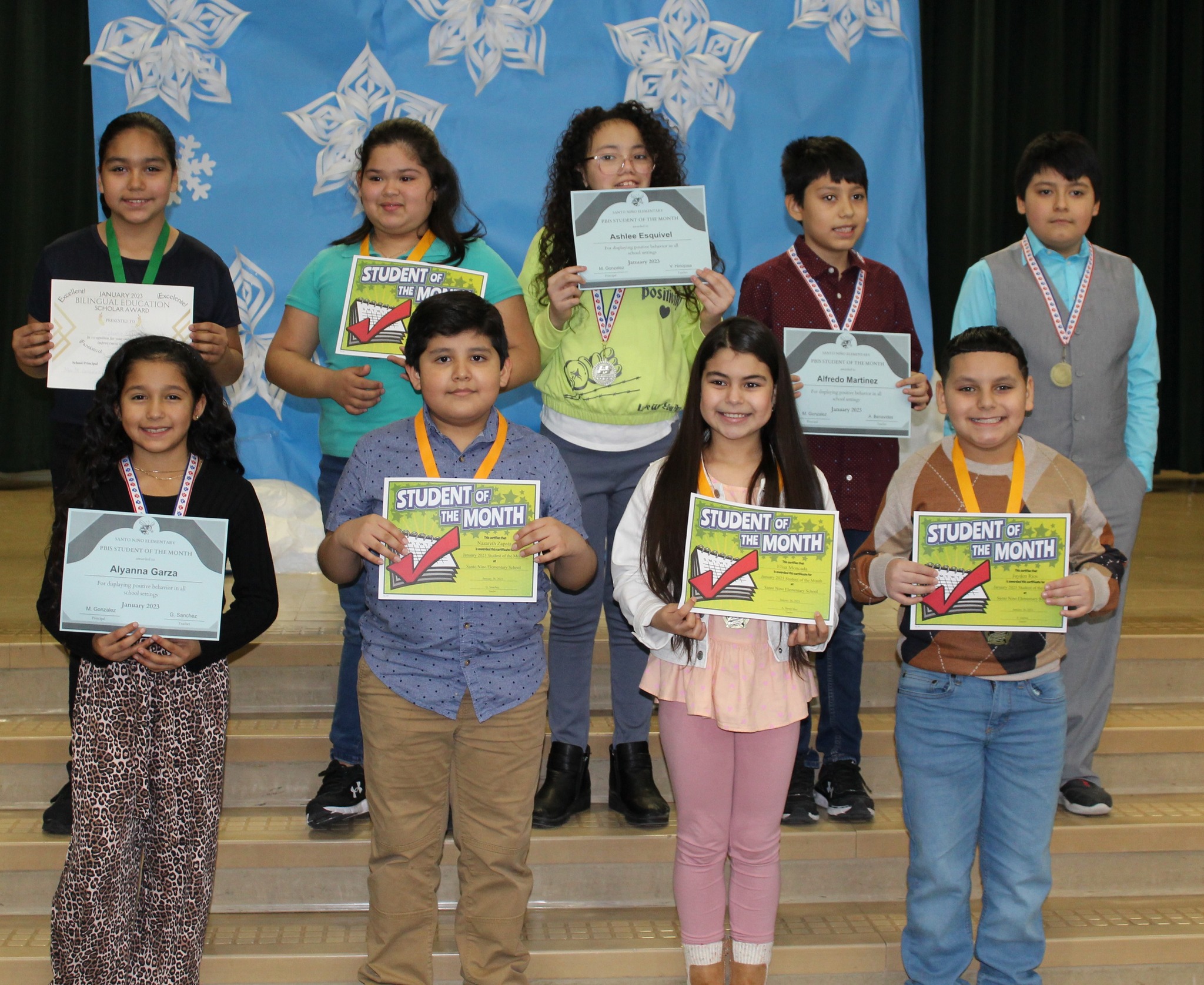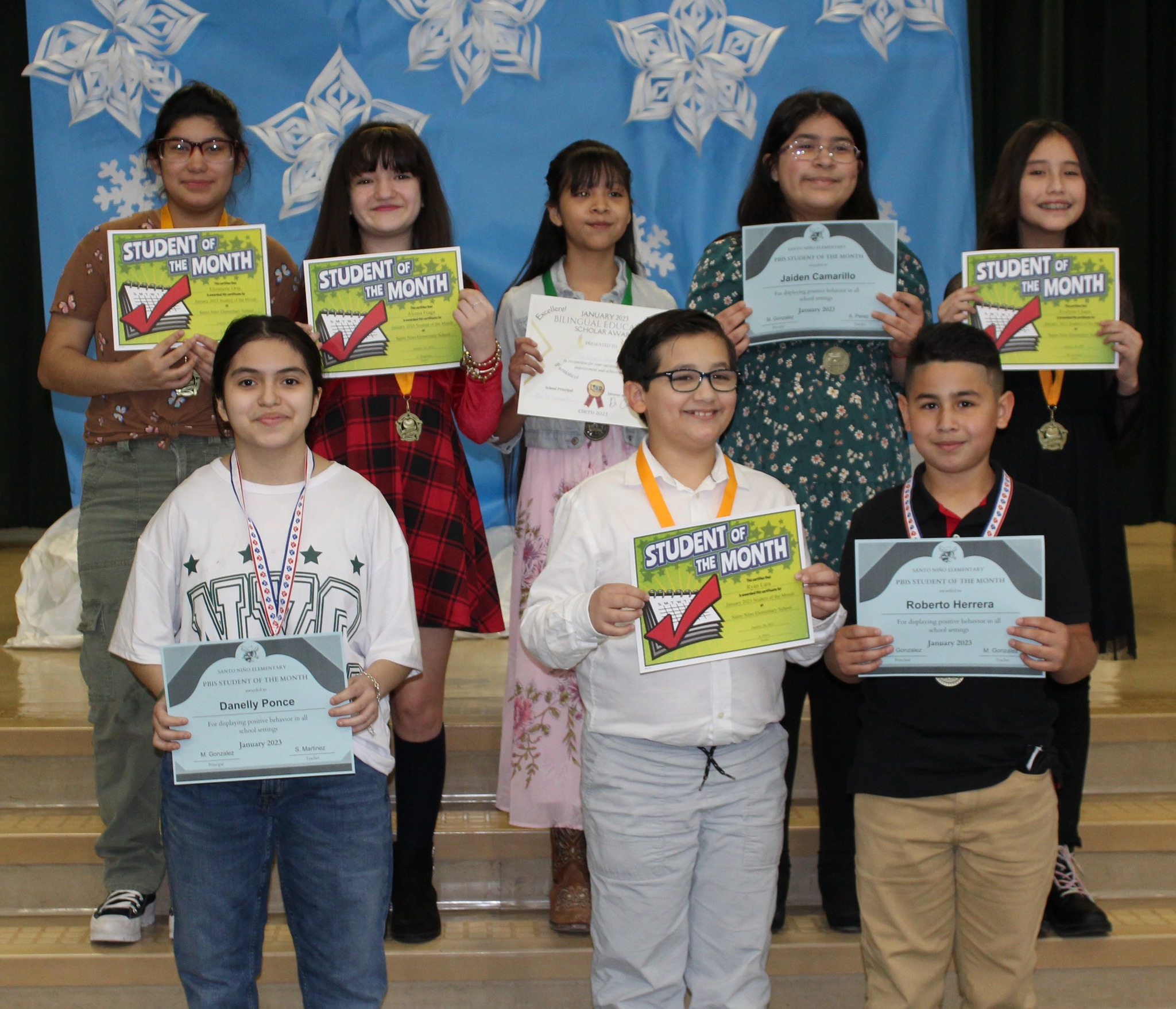 Hornet Sports
Congratulations to our kinder basketball team for winning the championship! You make us Hornet Proud!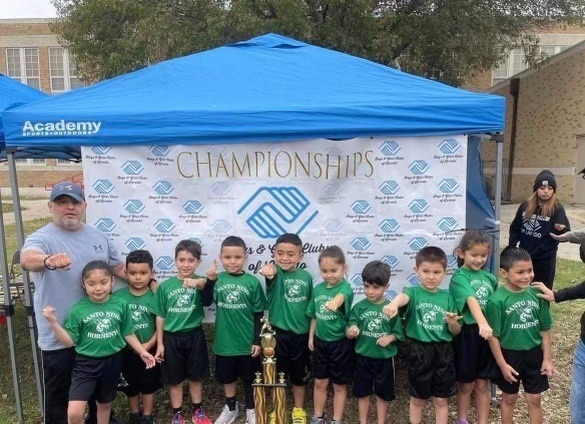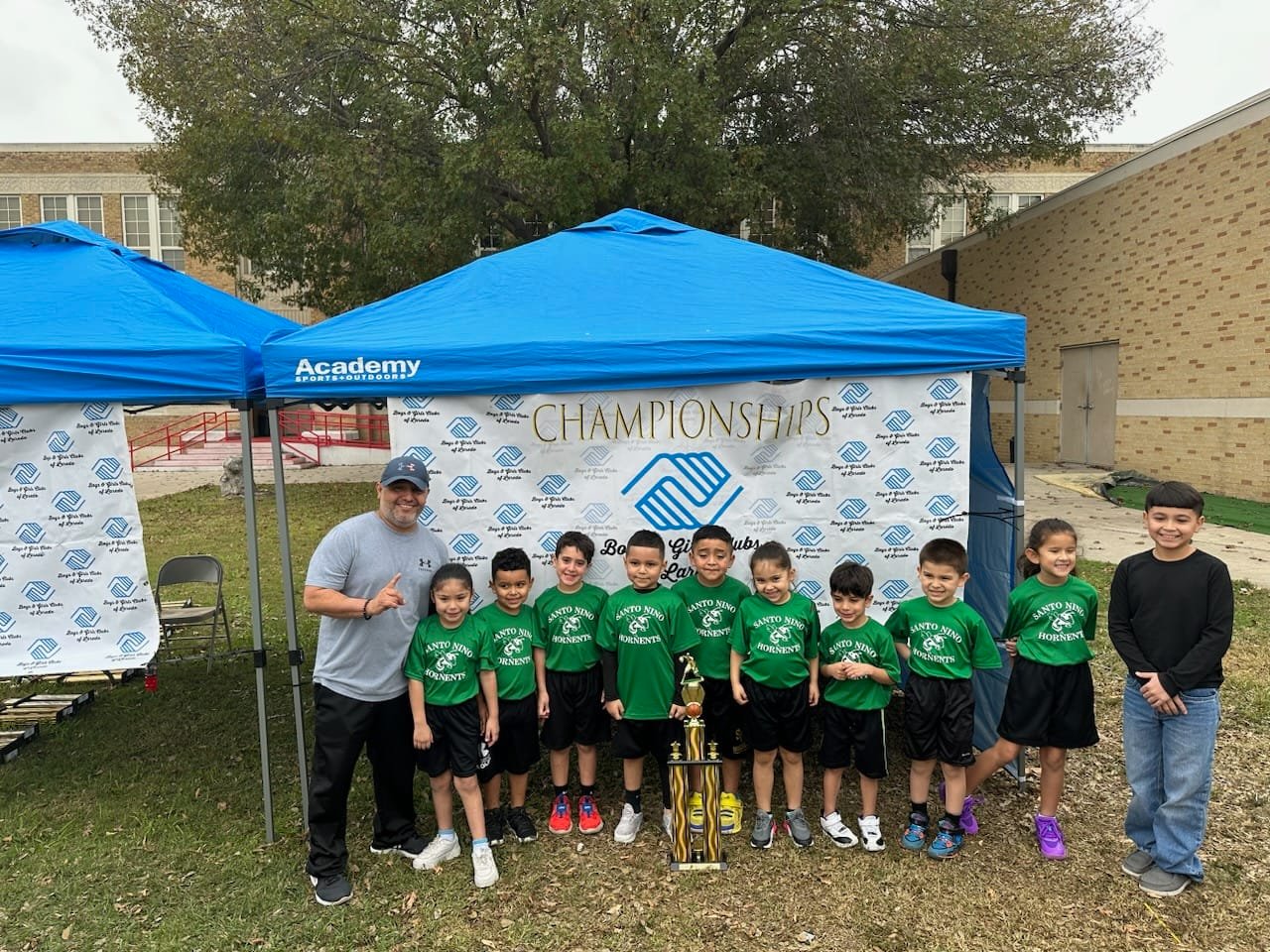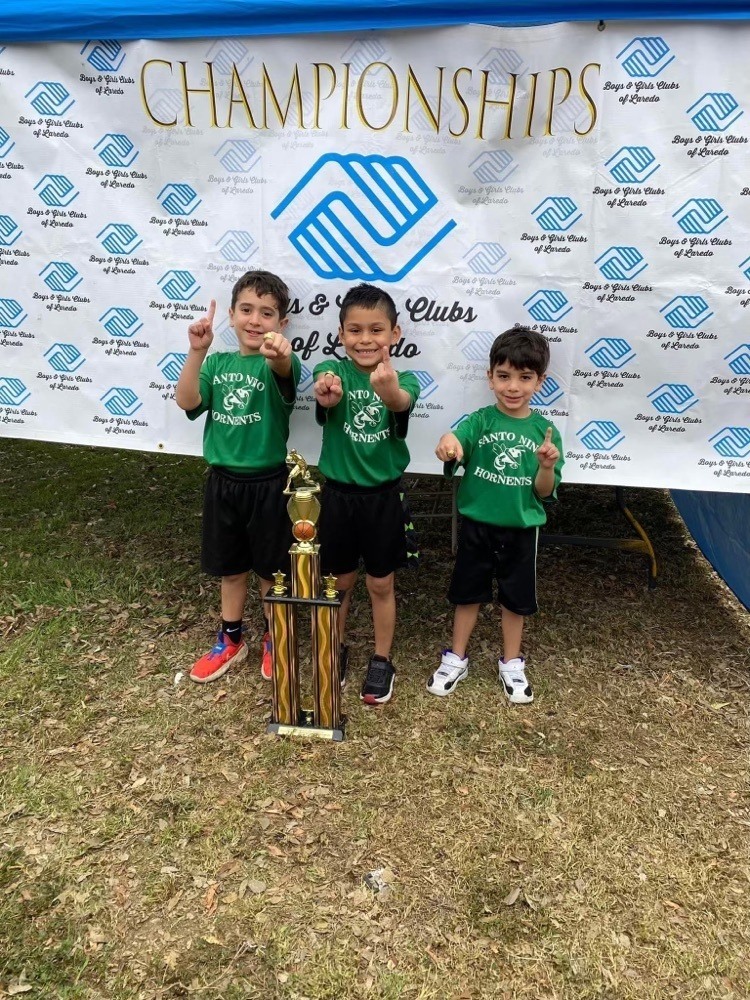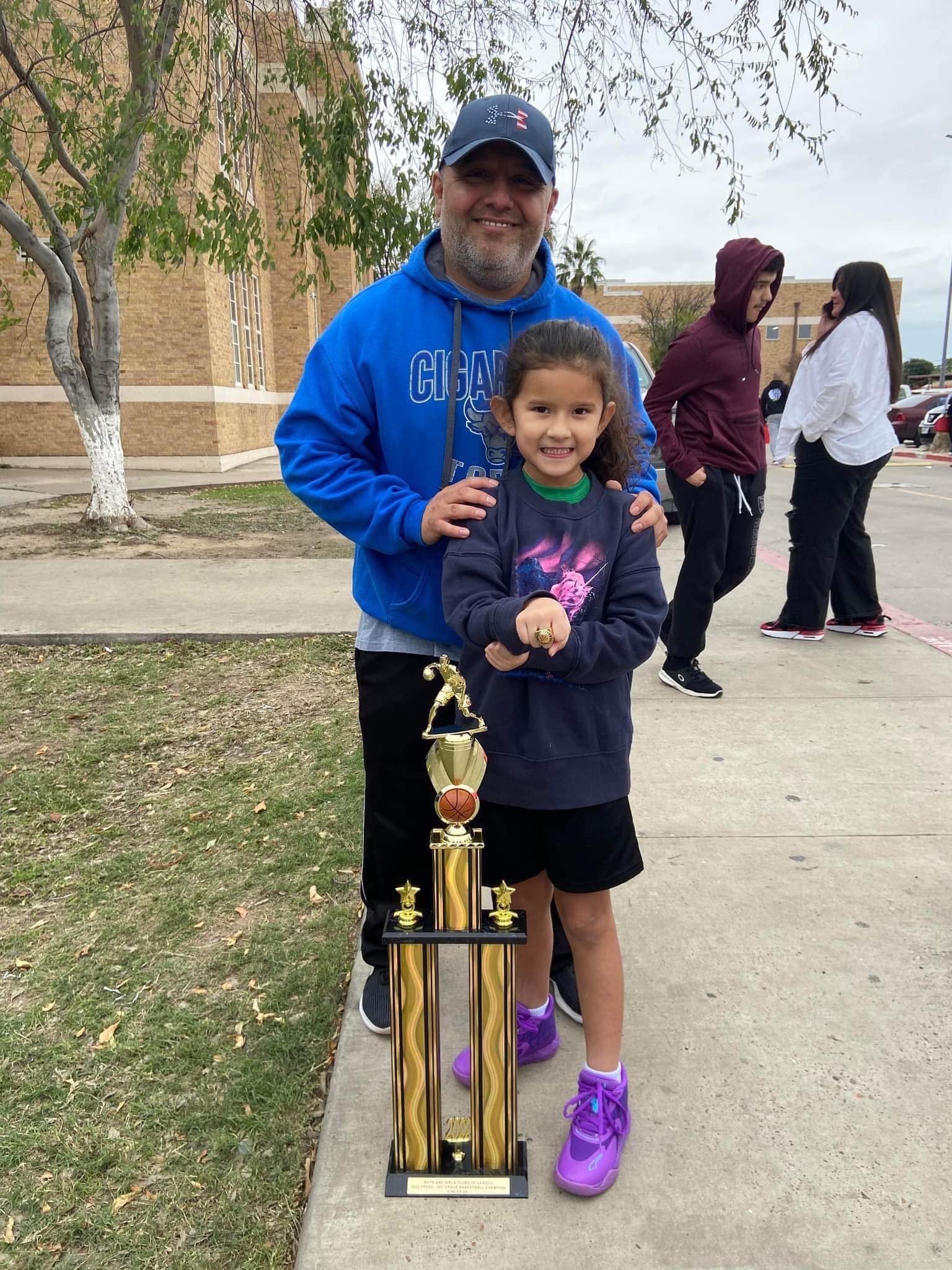 Hornet Choir
Our Honor Choir caroling at Mall Del Norte!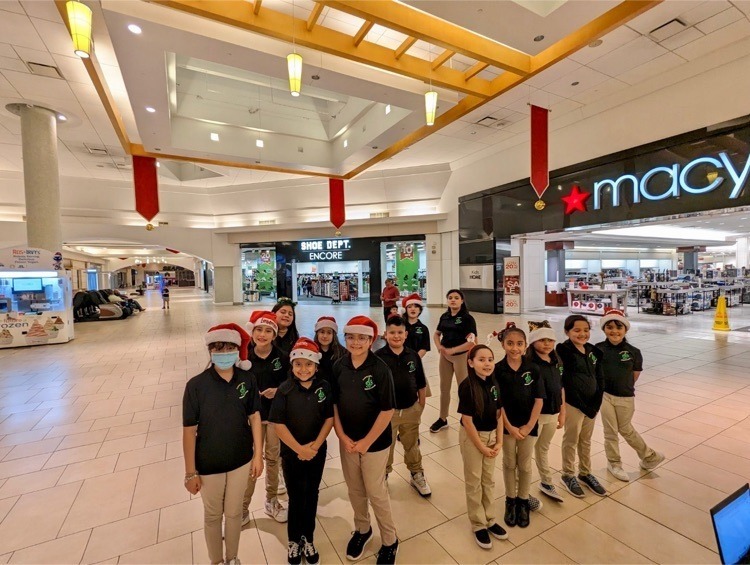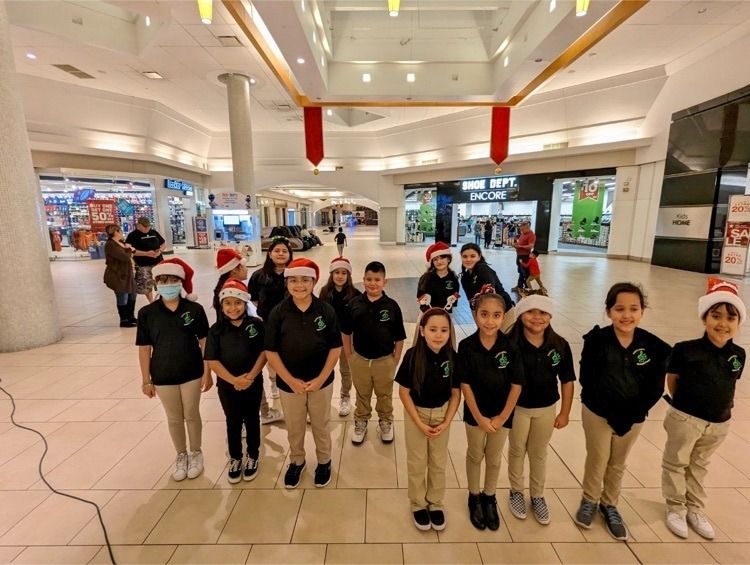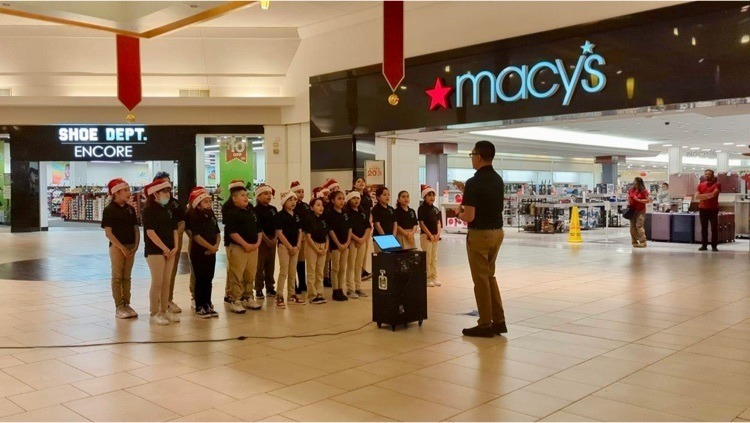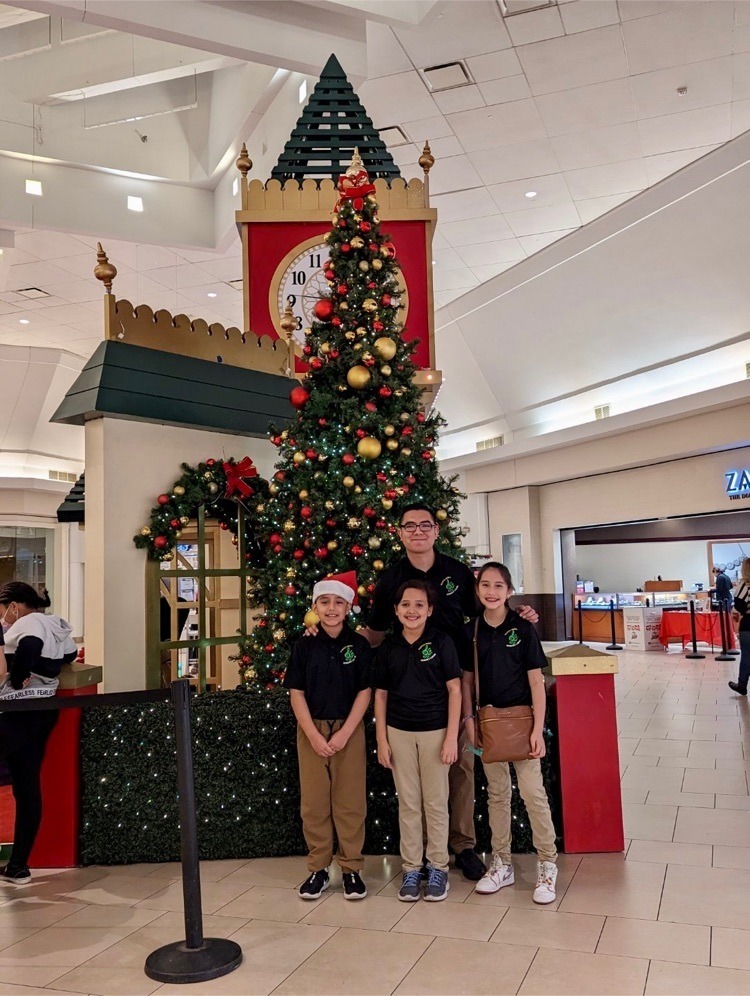 District UIL Meet
Hornets take home 1st place at the District UIL Meet!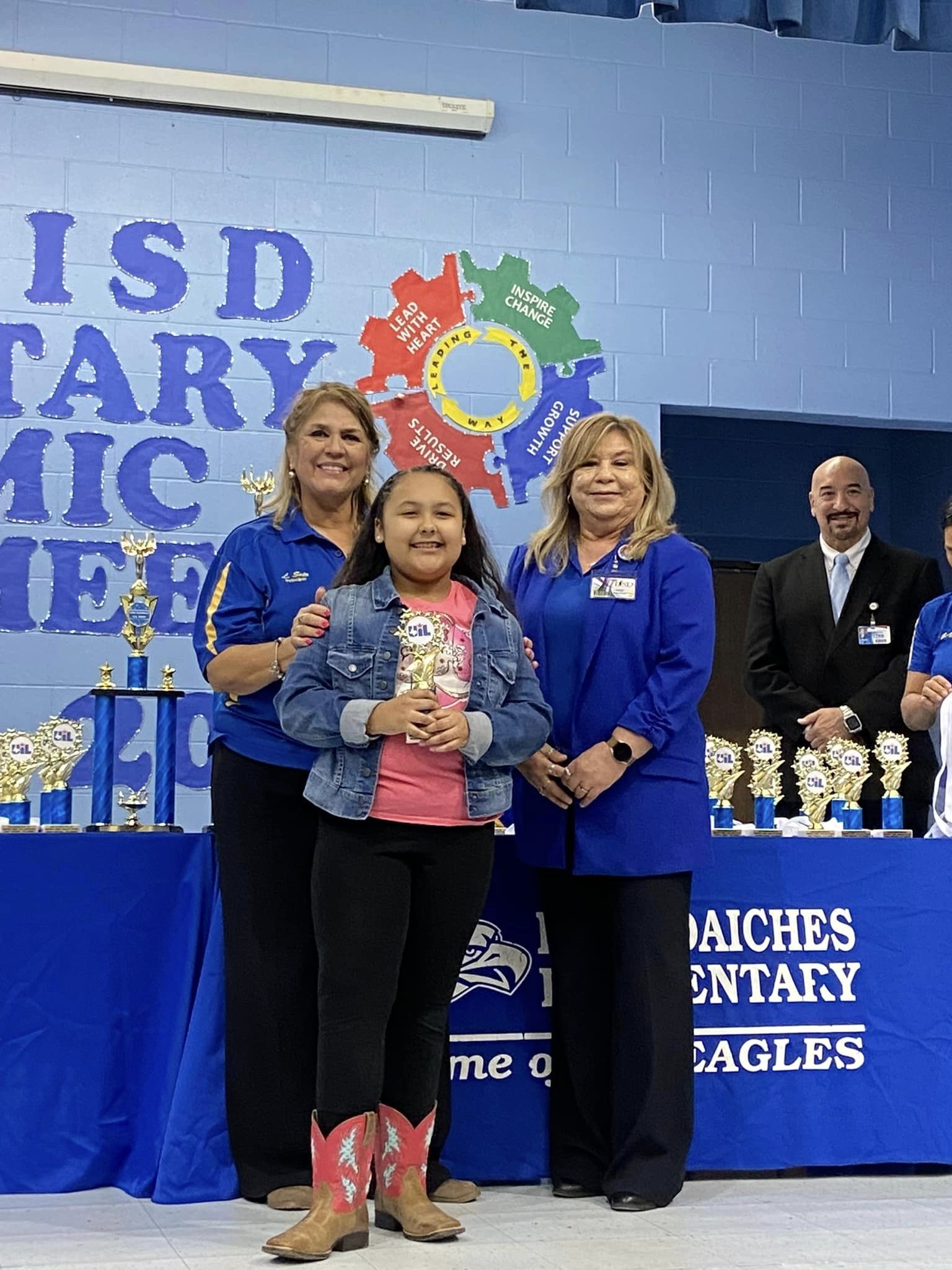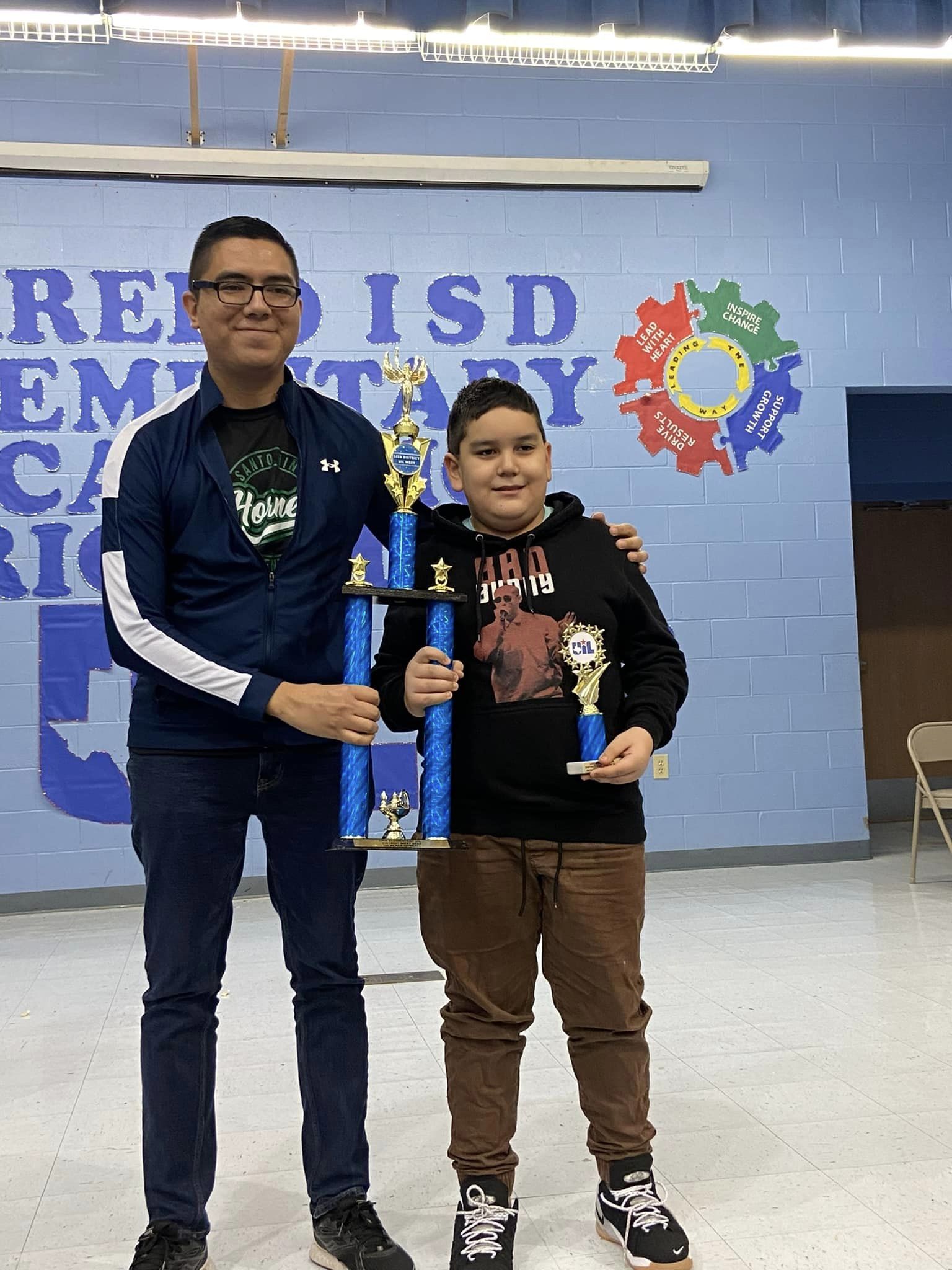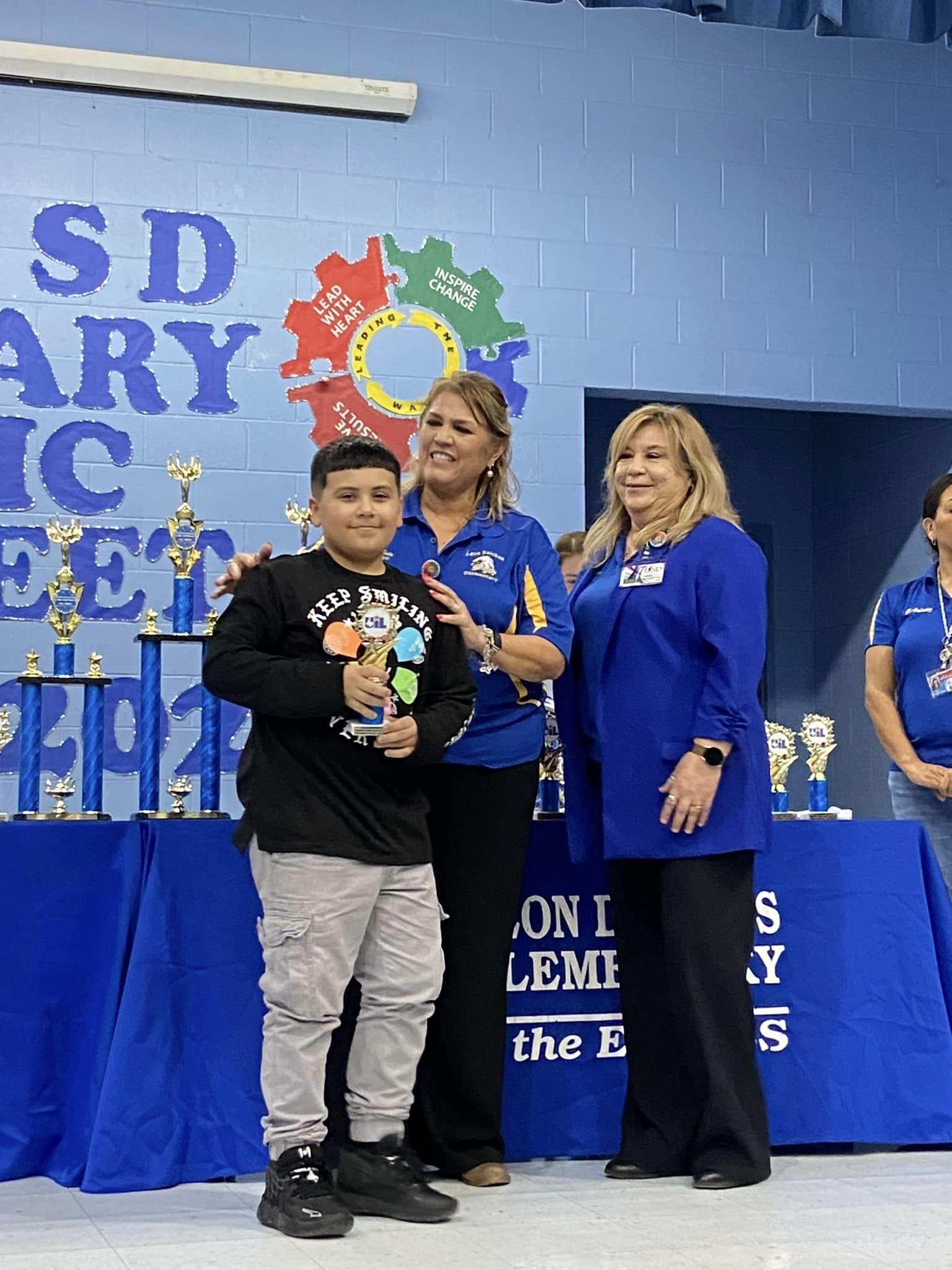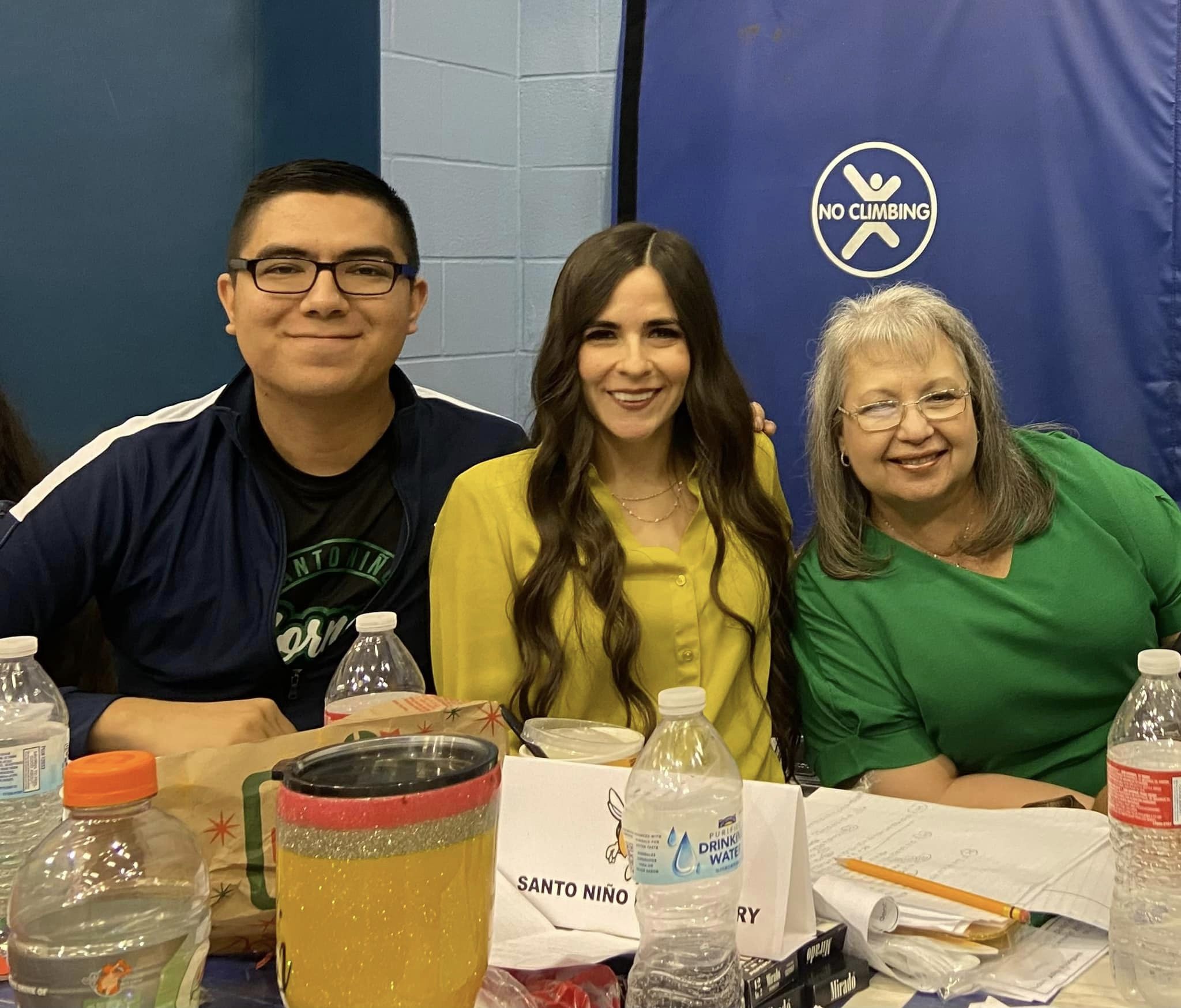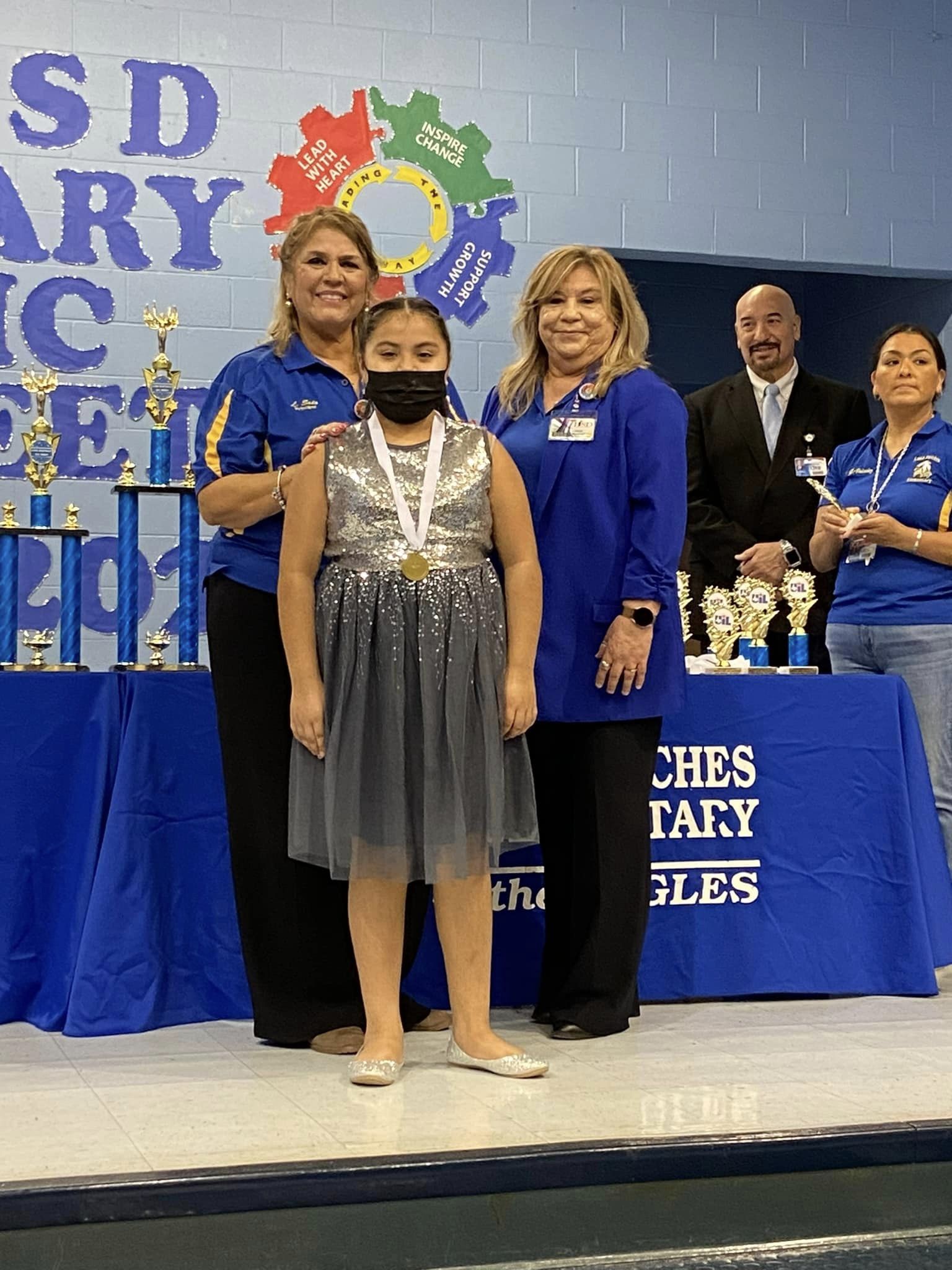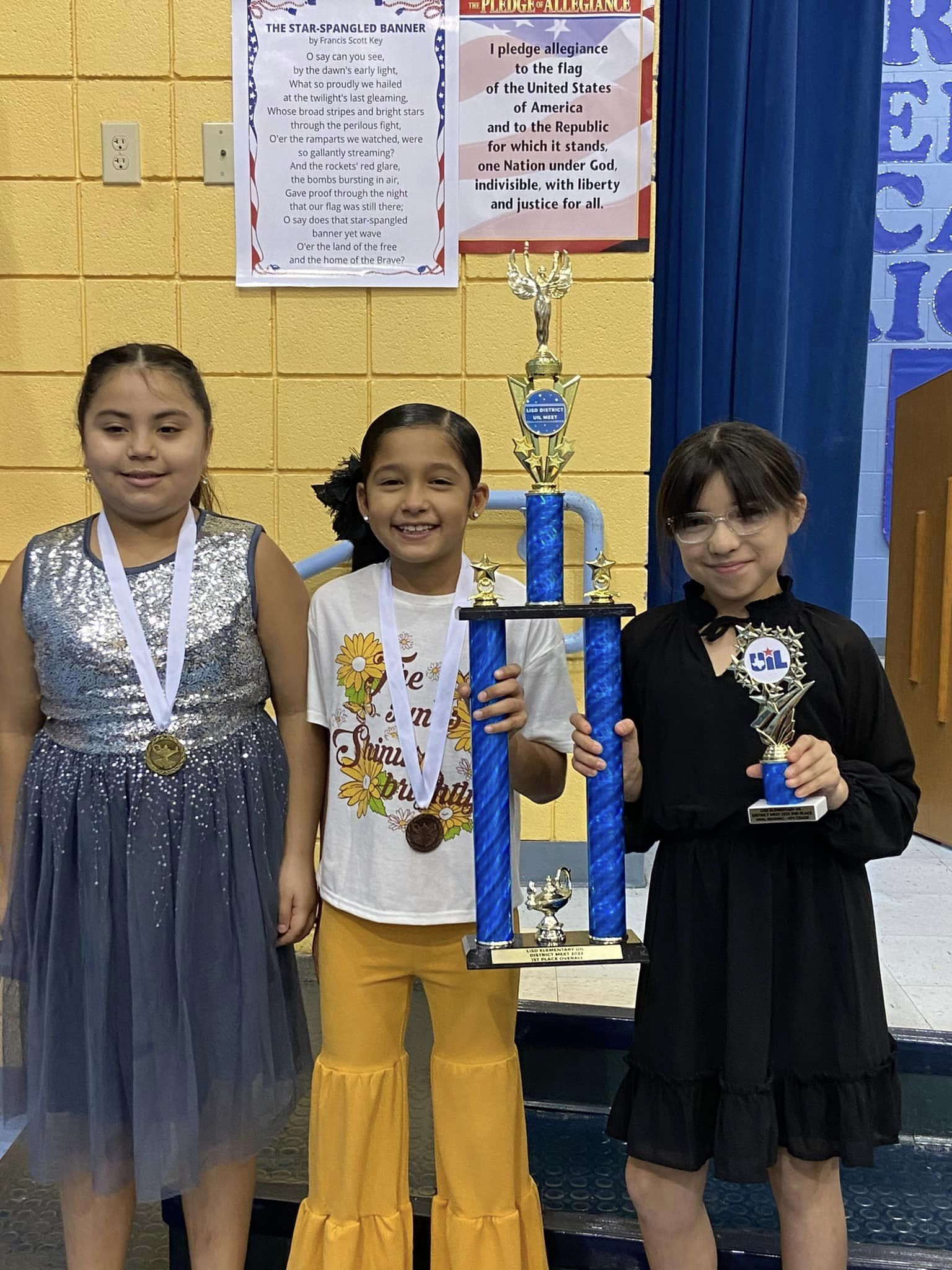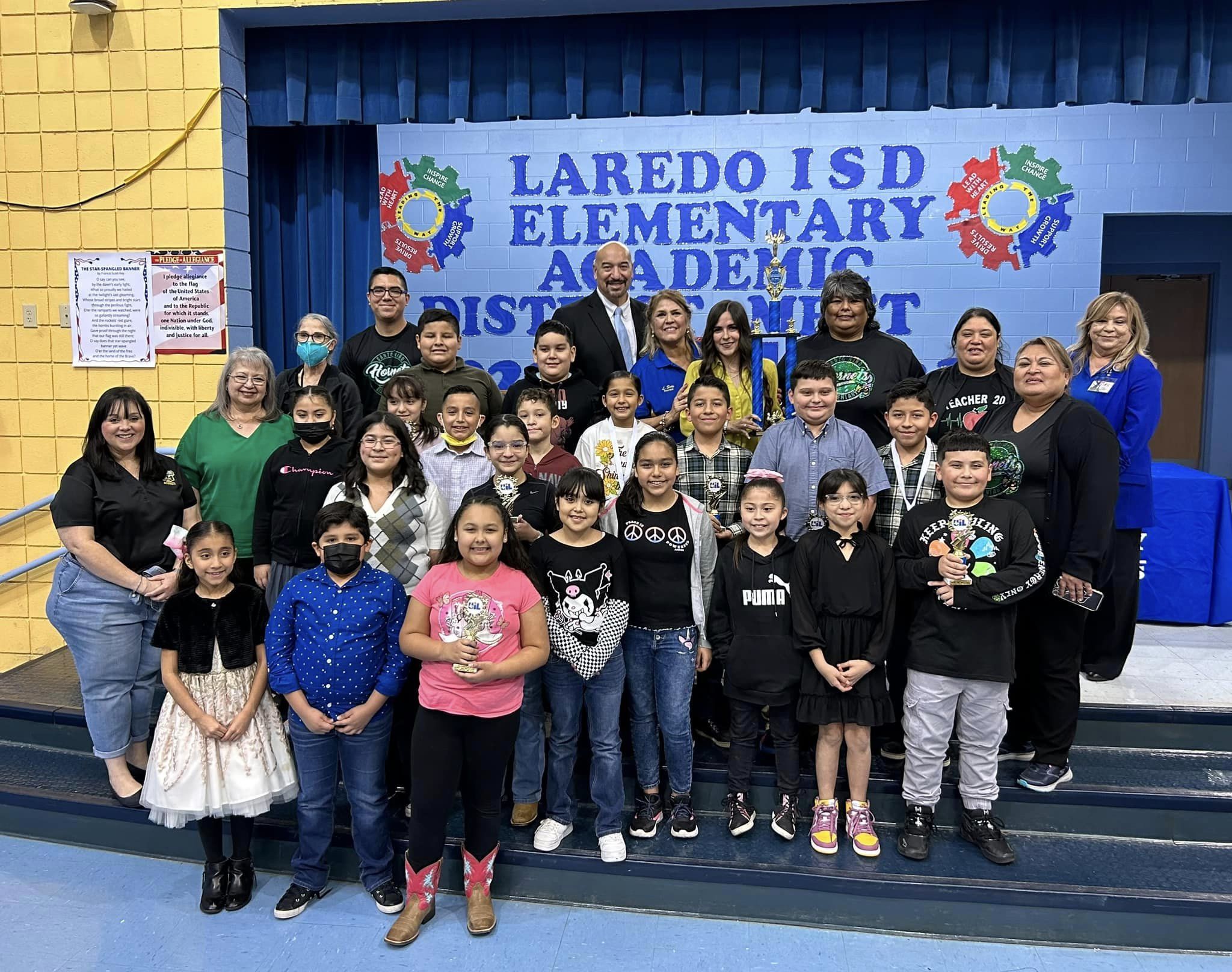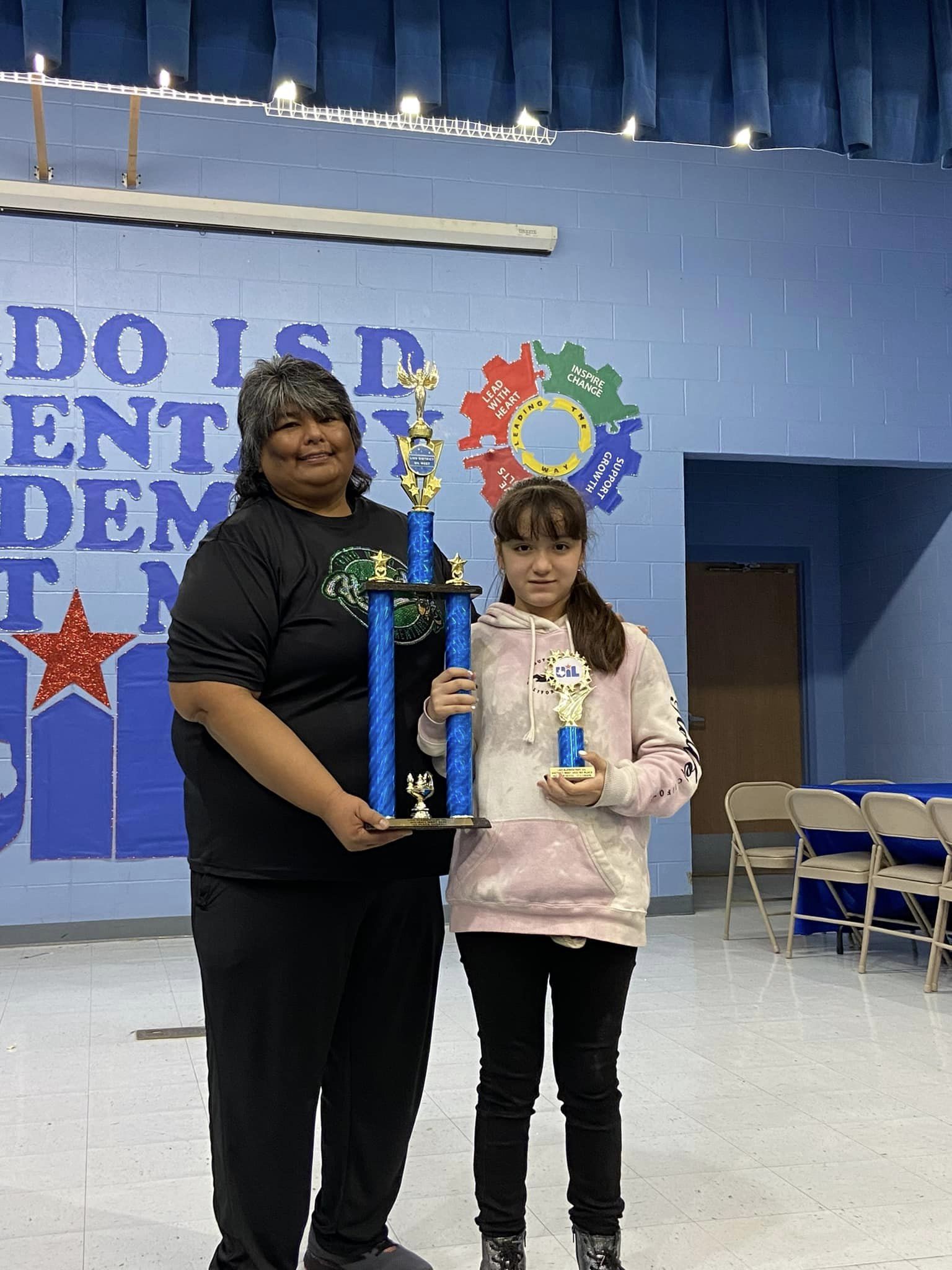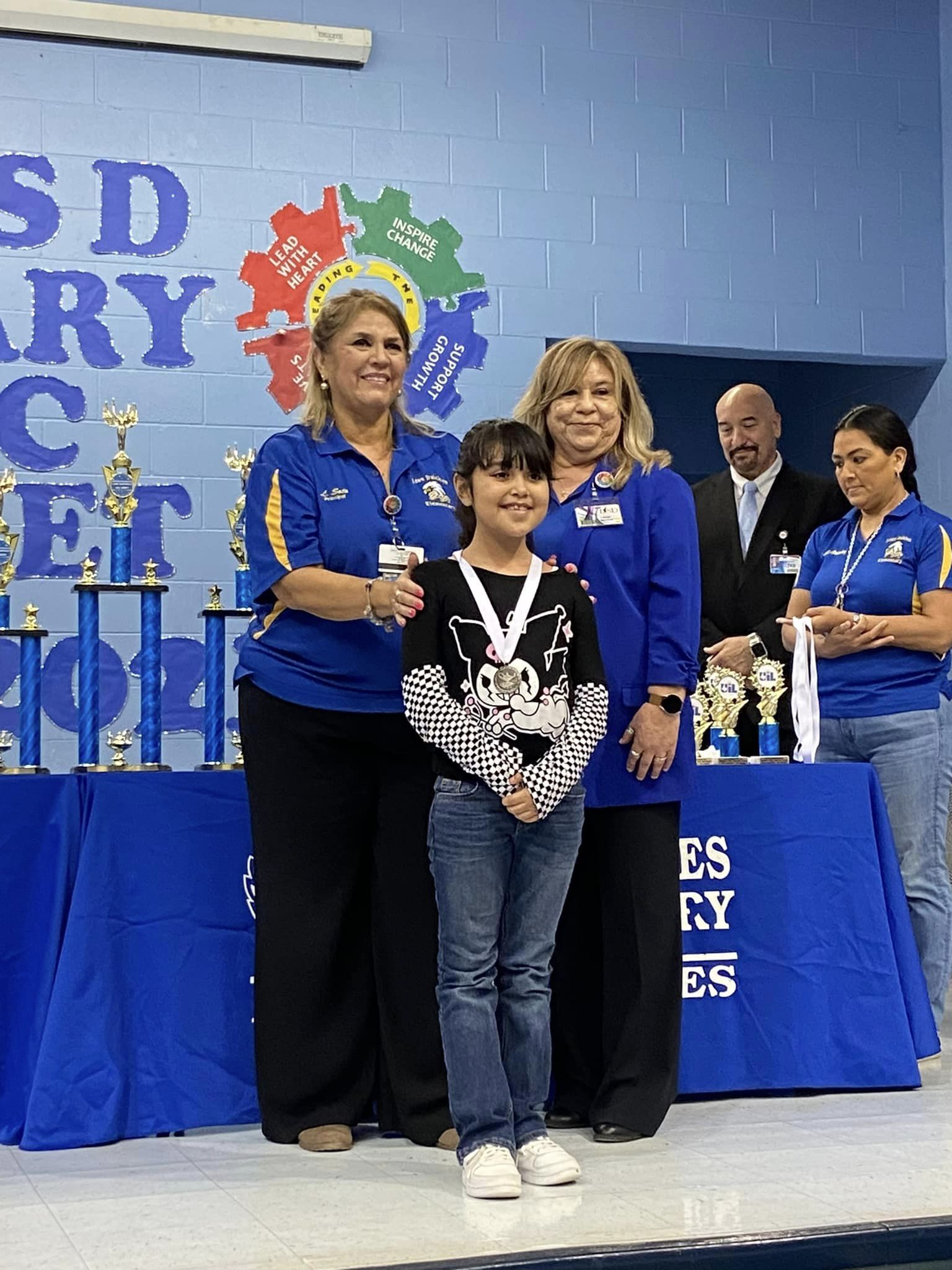 Hornet Chess Club
Hornets competing at the LISD Chess Tournament!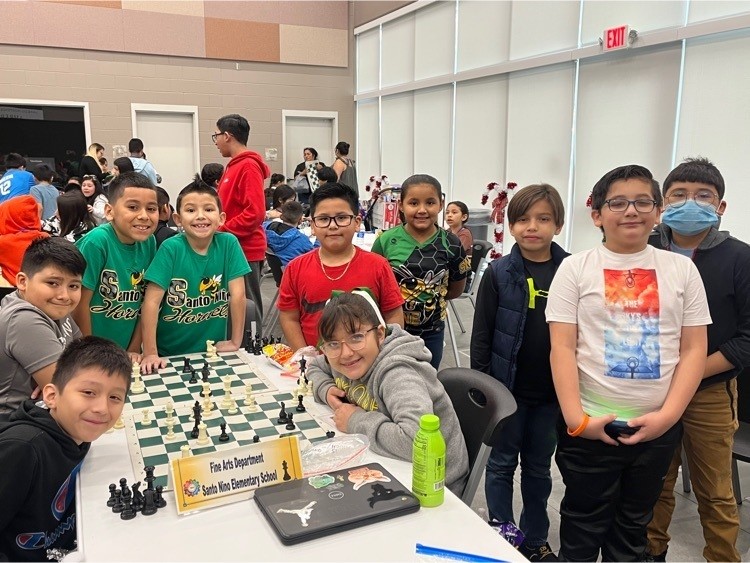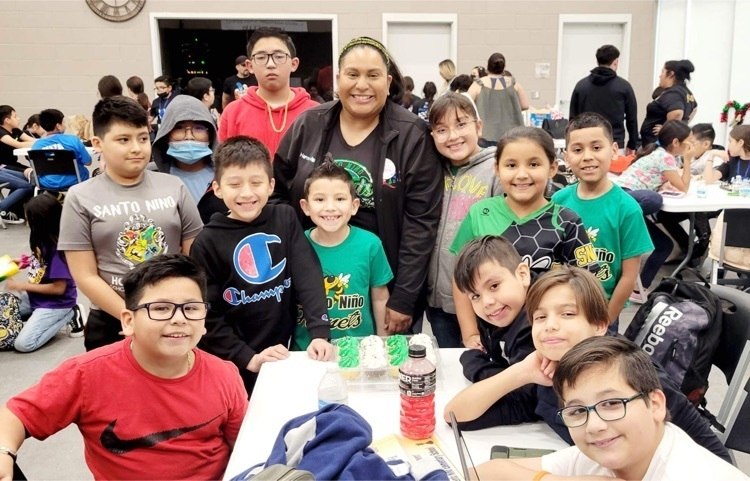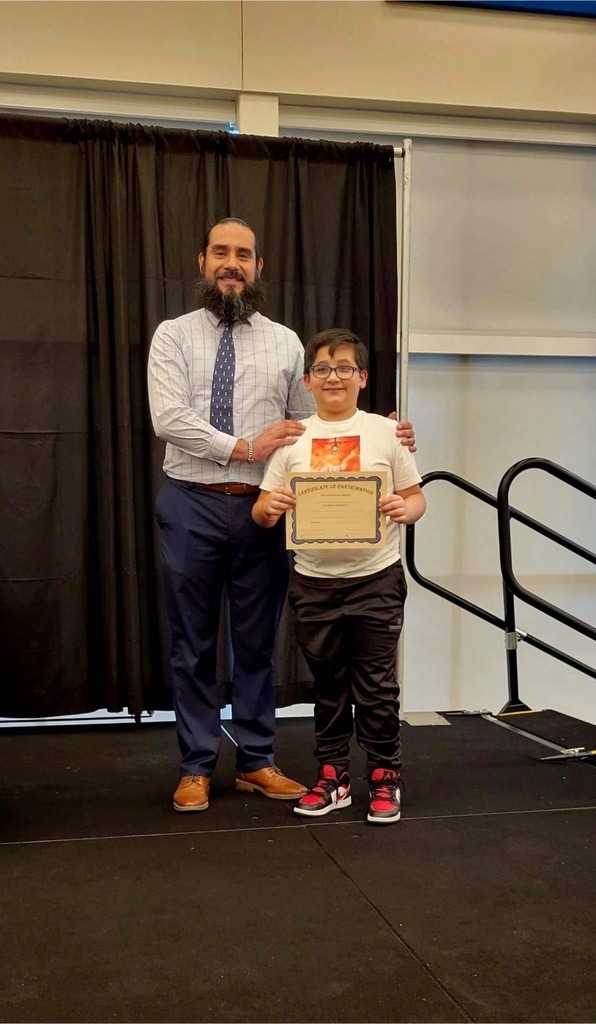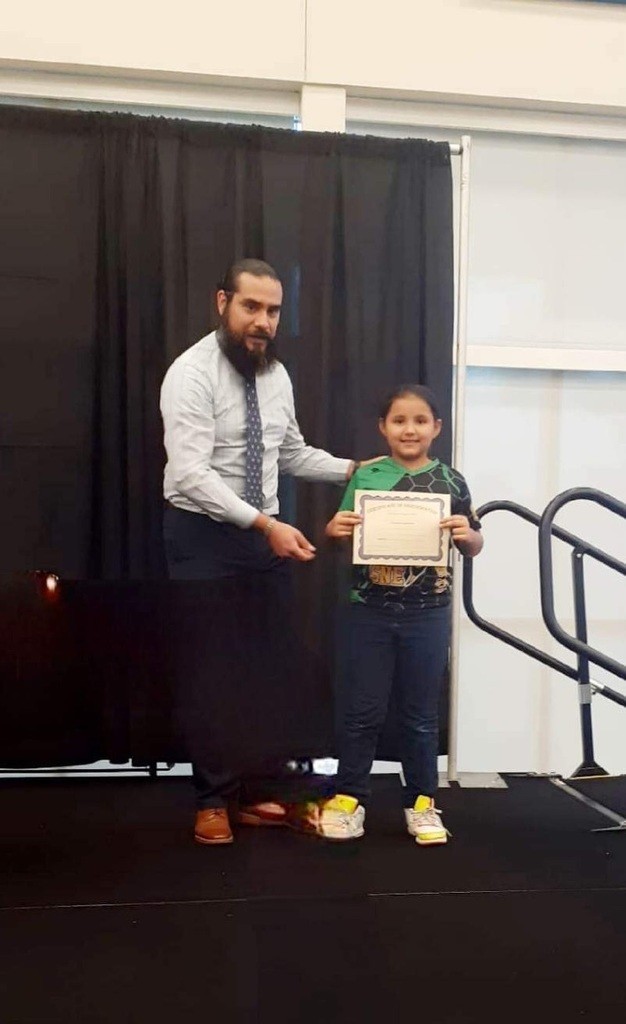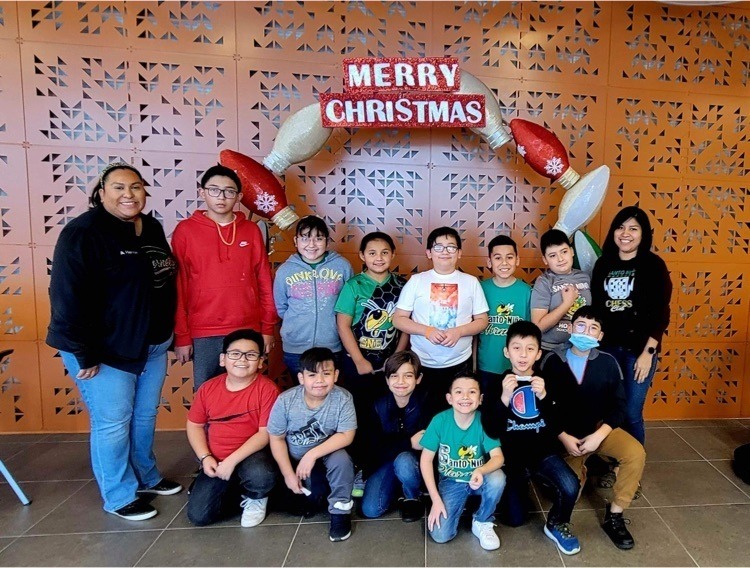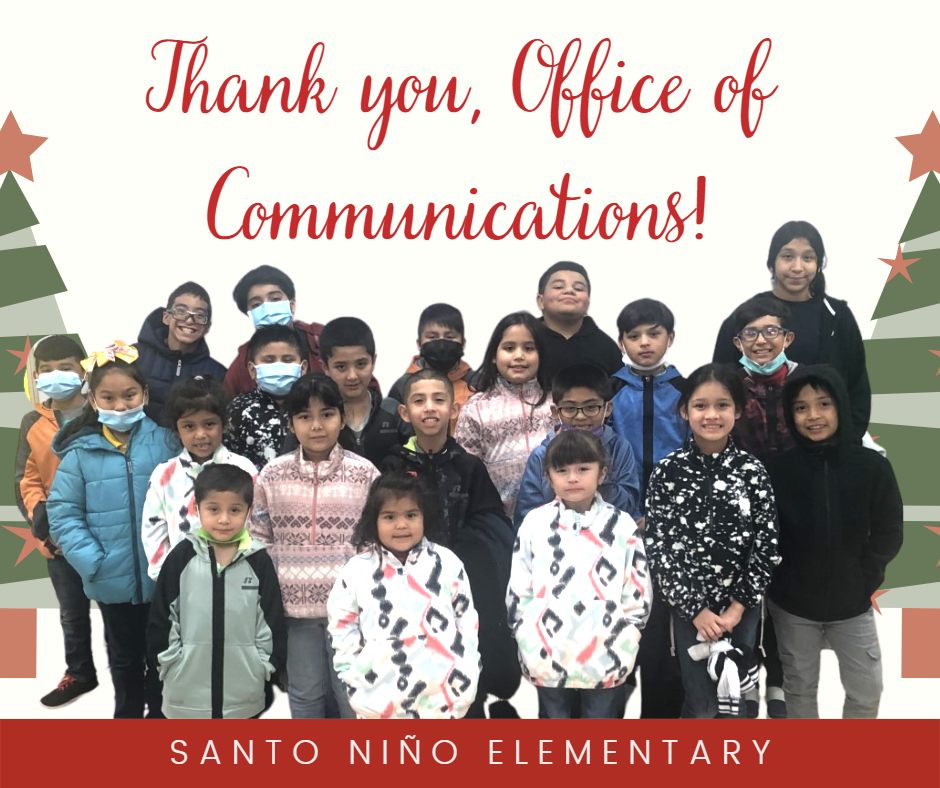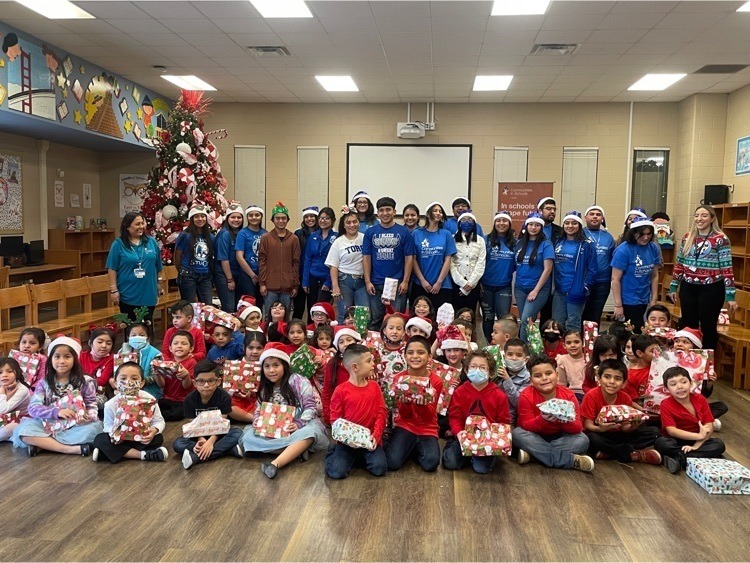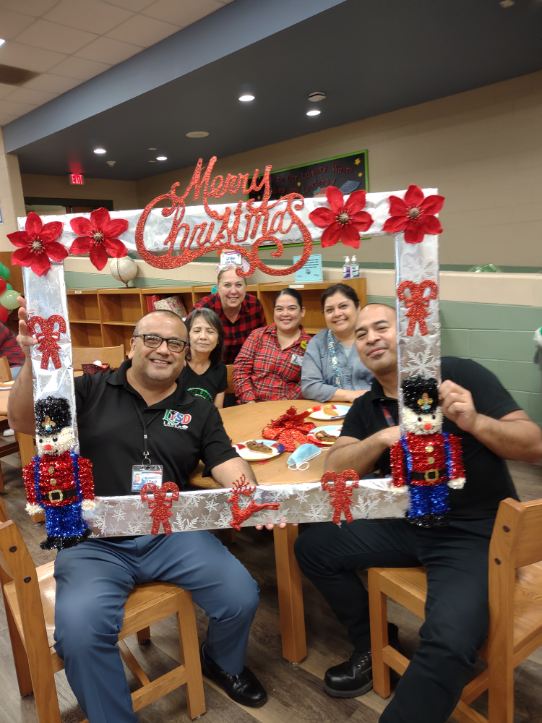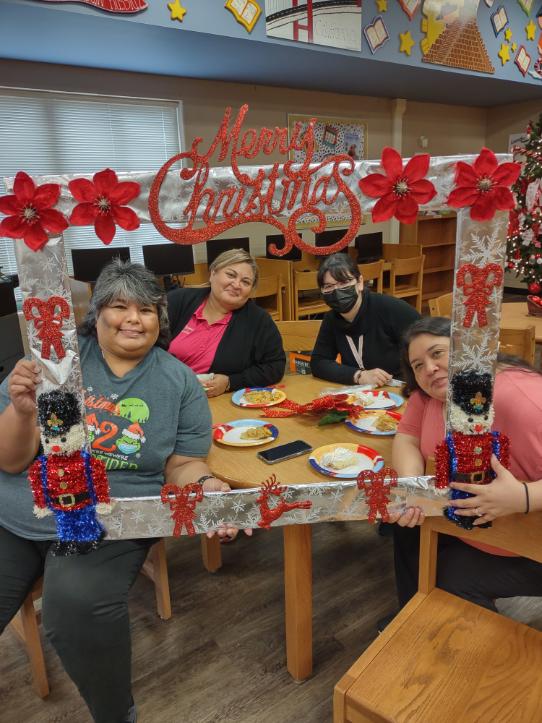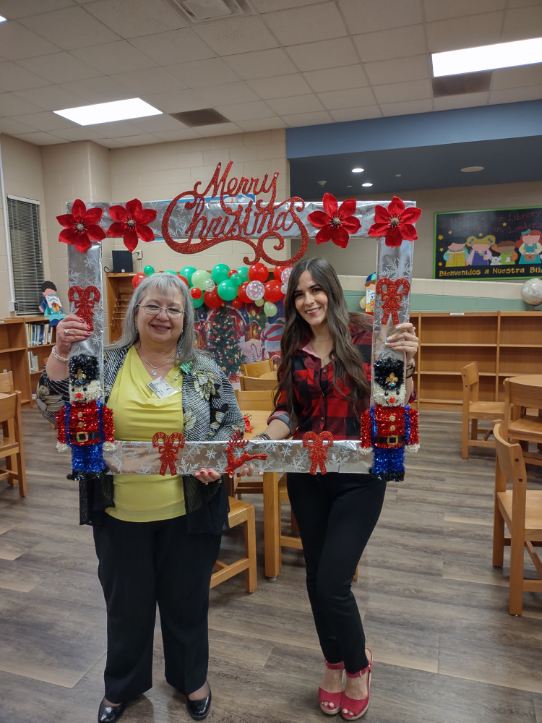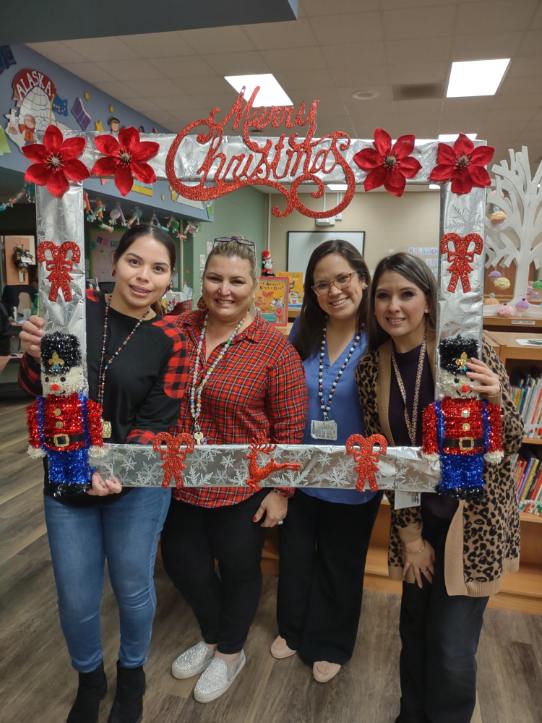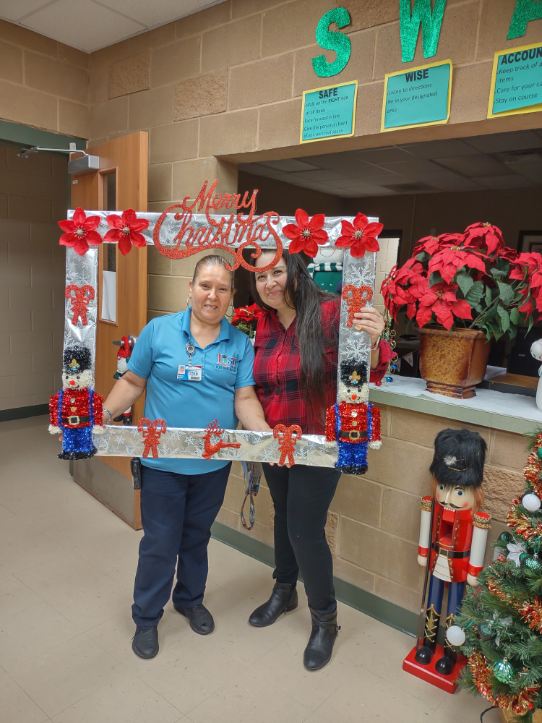 Hornet Code-A-Thon
Our Hornet coders competing for the district meet!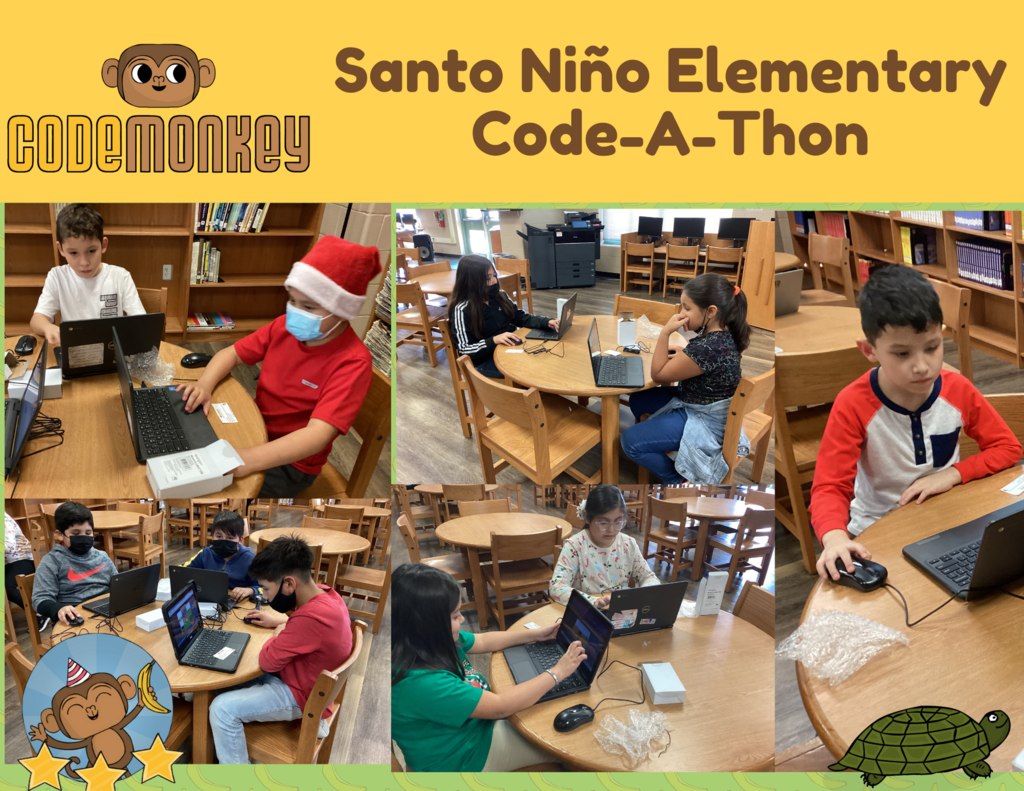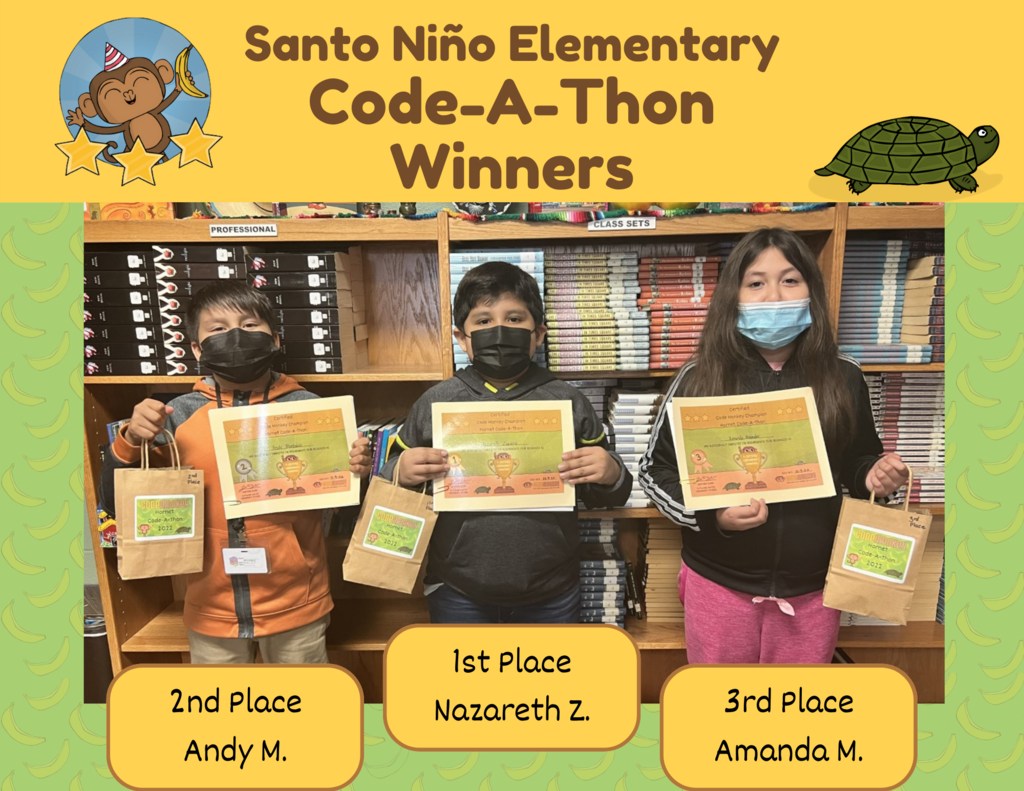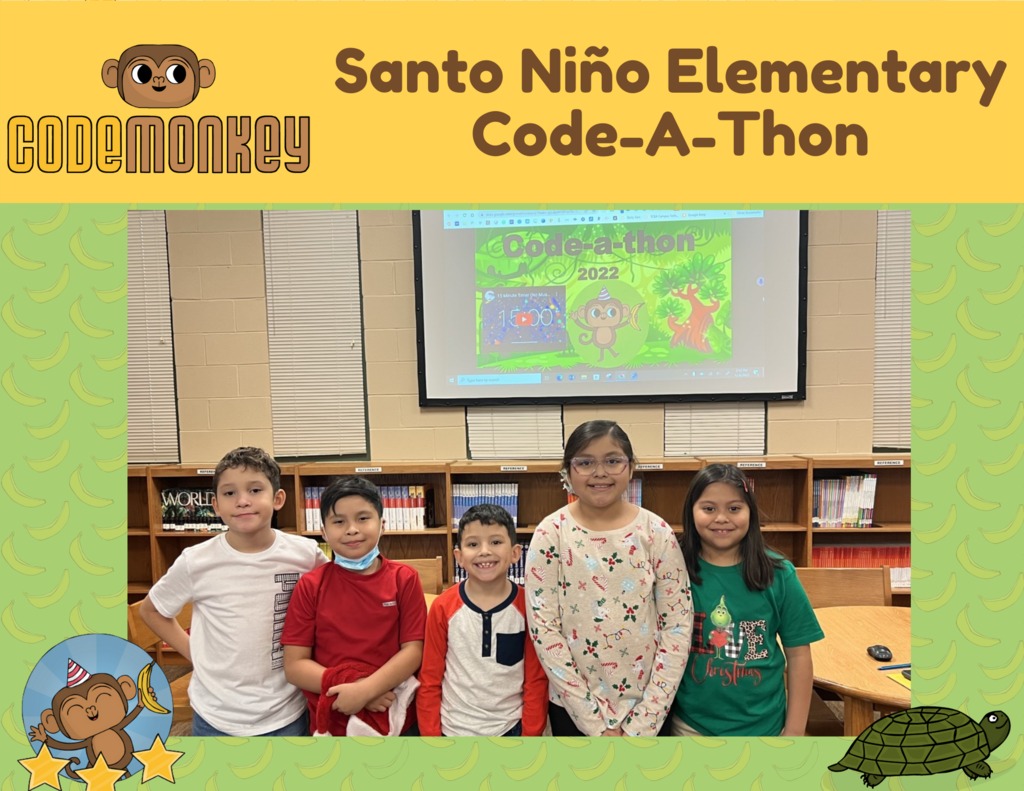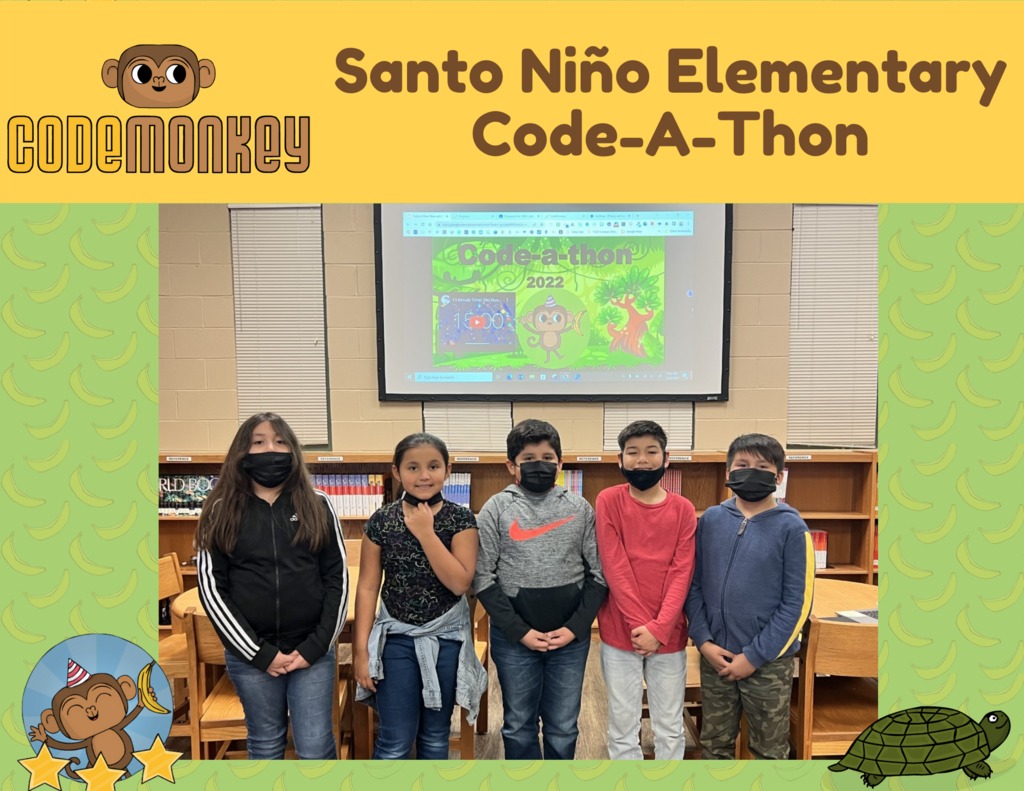 Toro Team Christmas Choir Concert
Hornet Honor Choir performing at the Laredo ISD Toro Team Christmas Concert!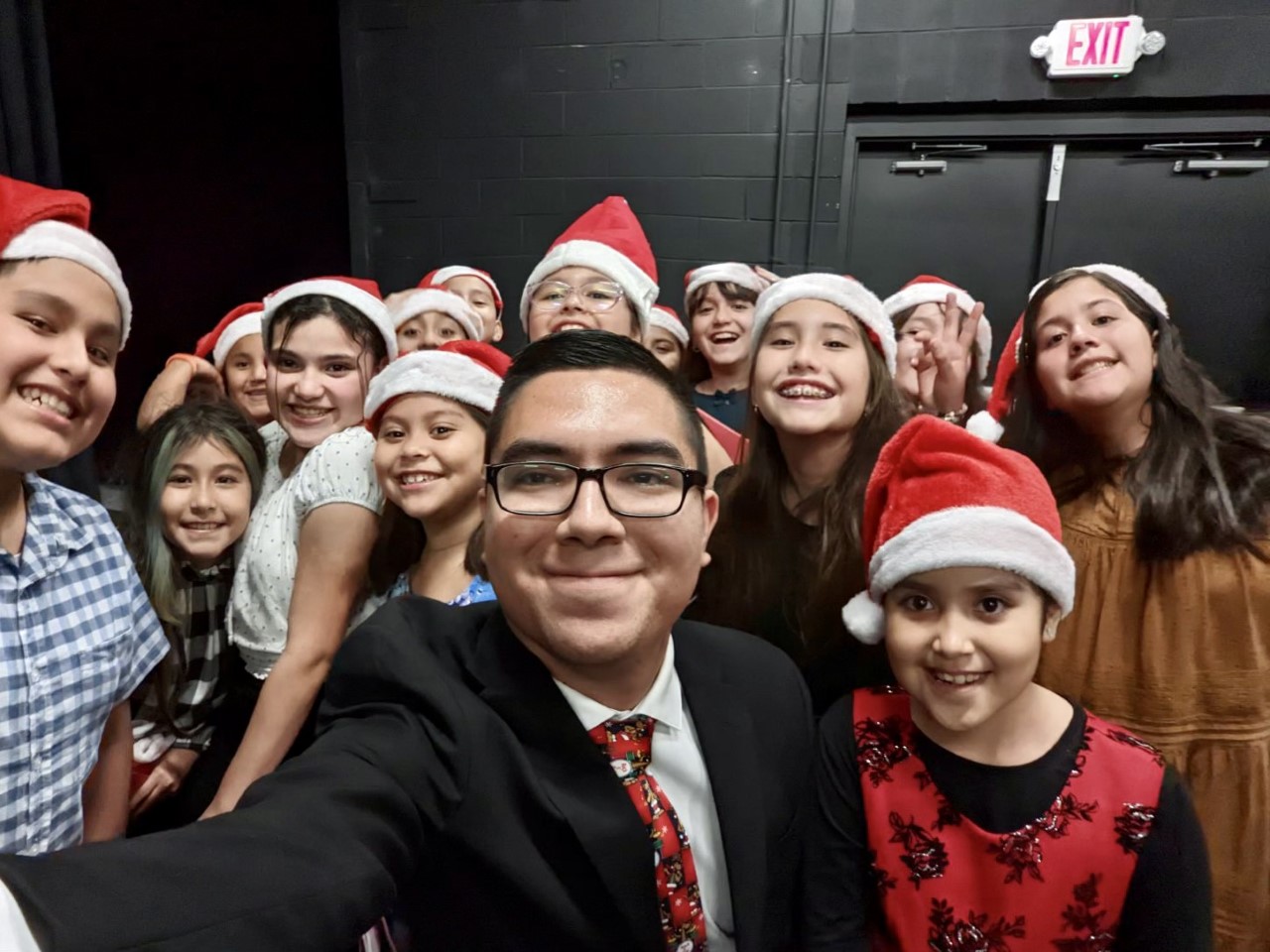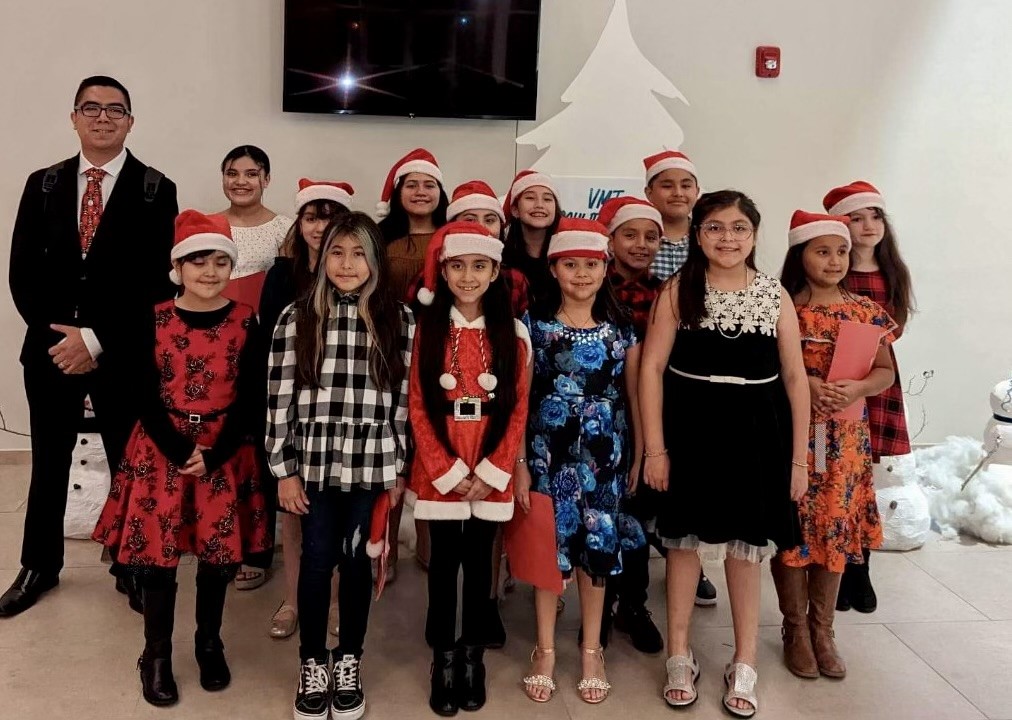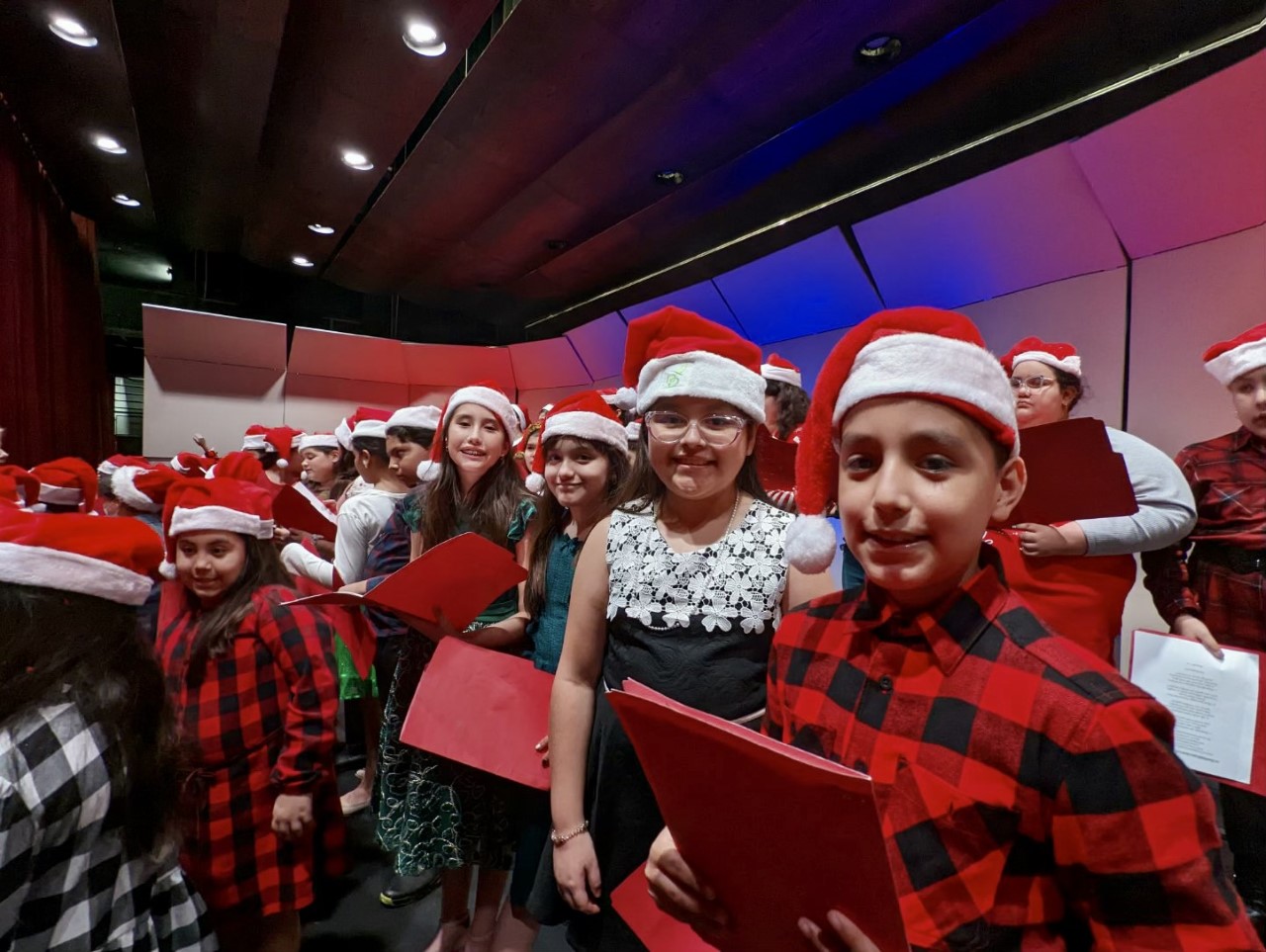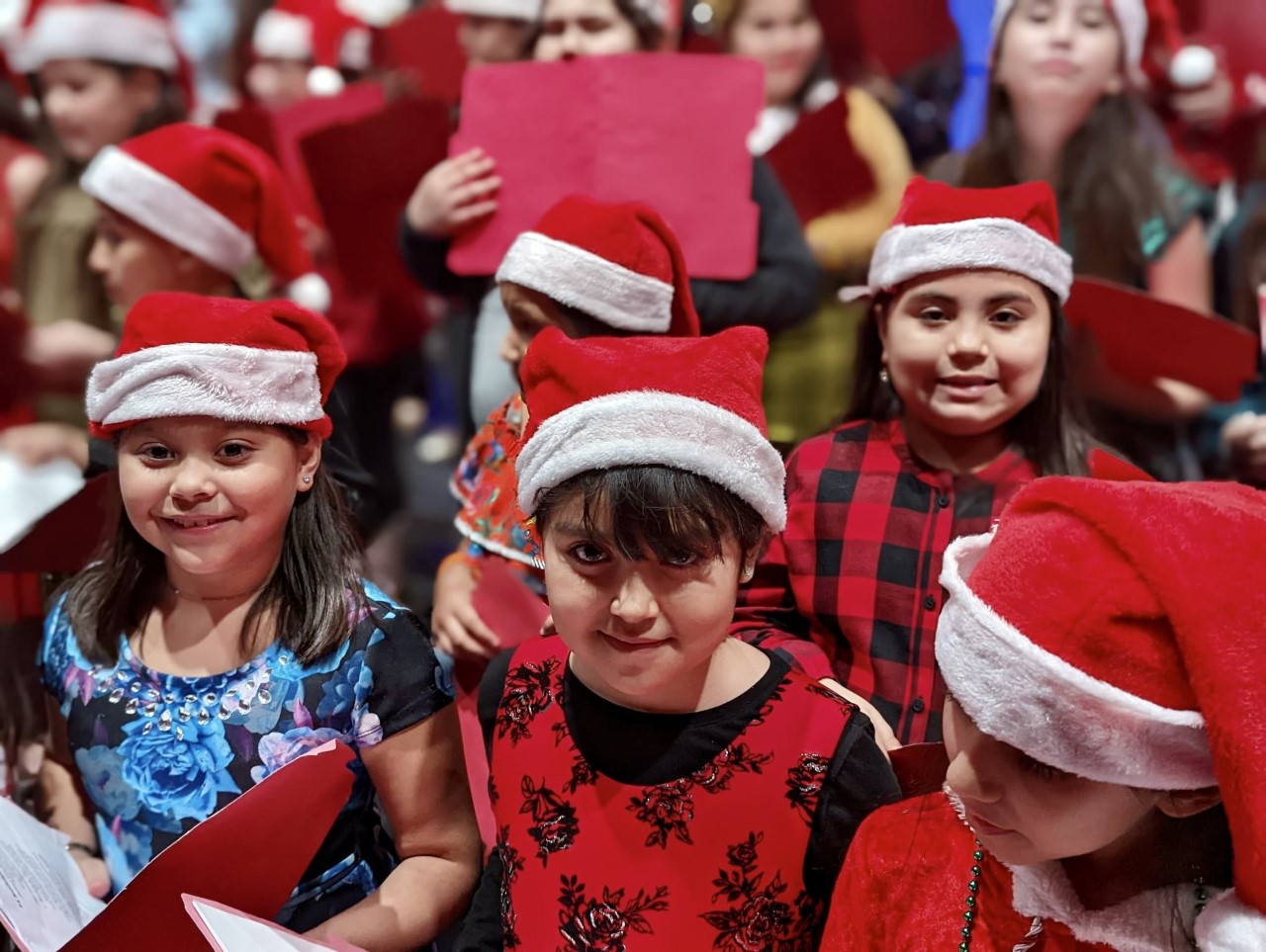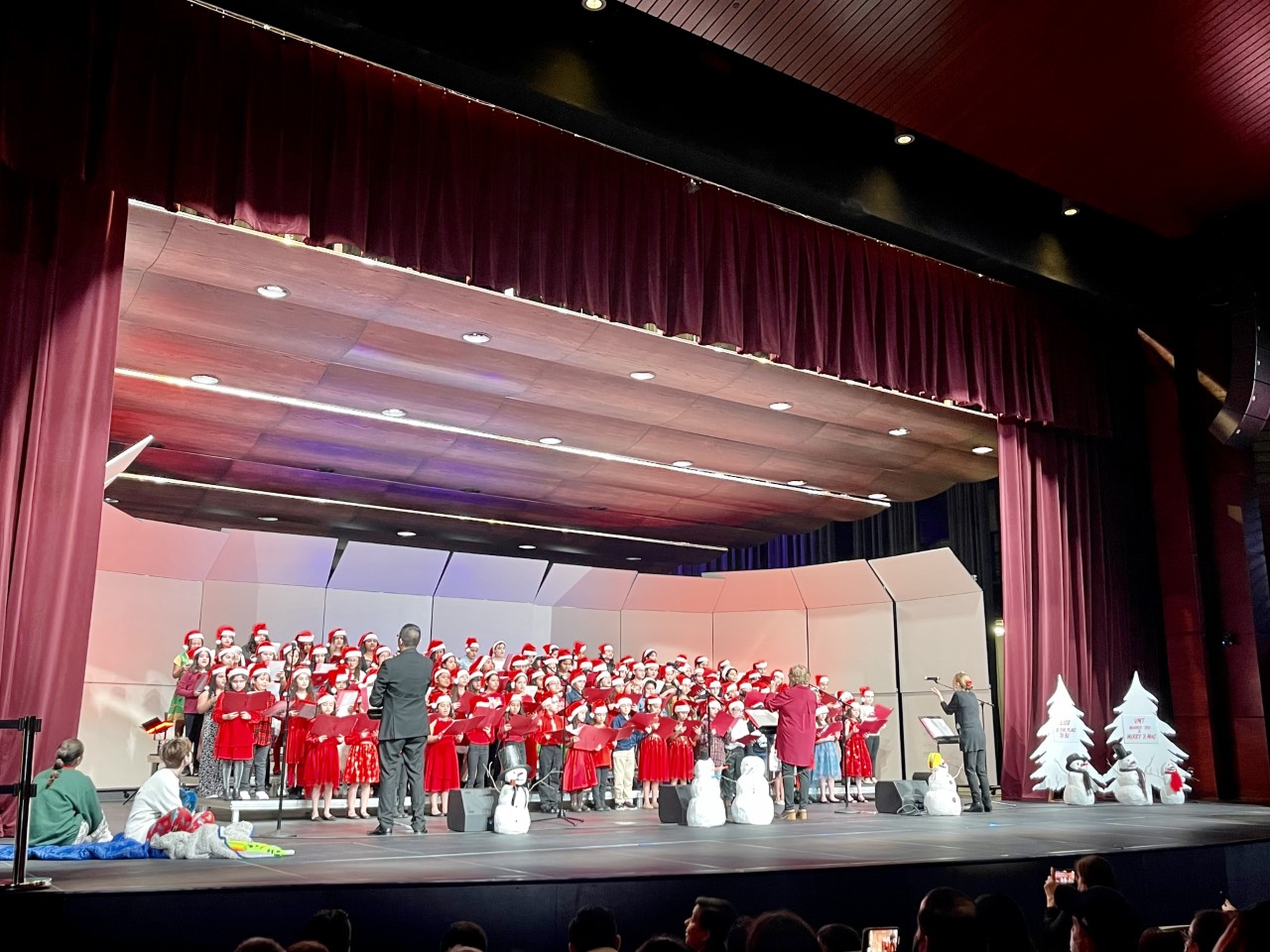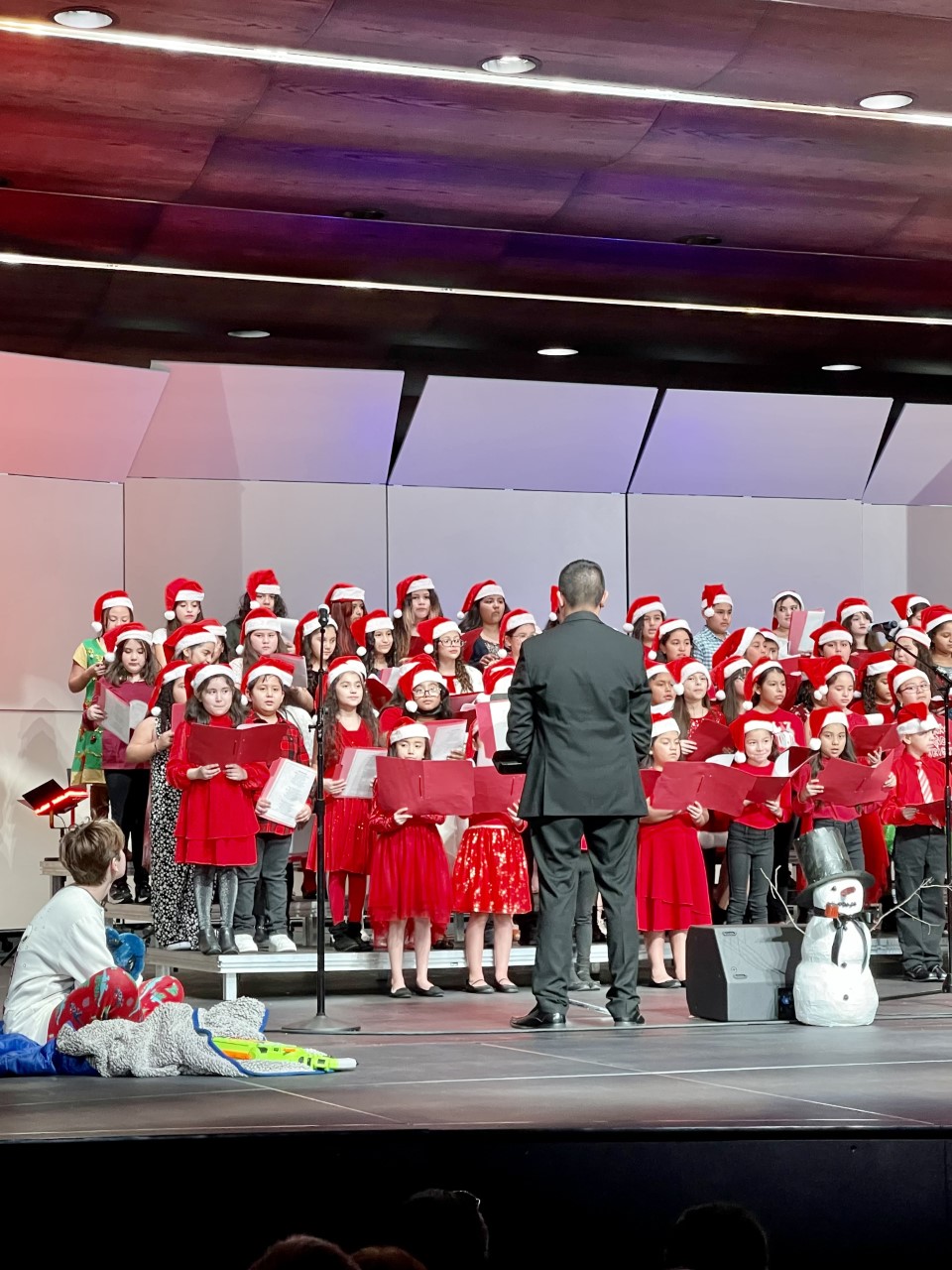 Computer Science Education Week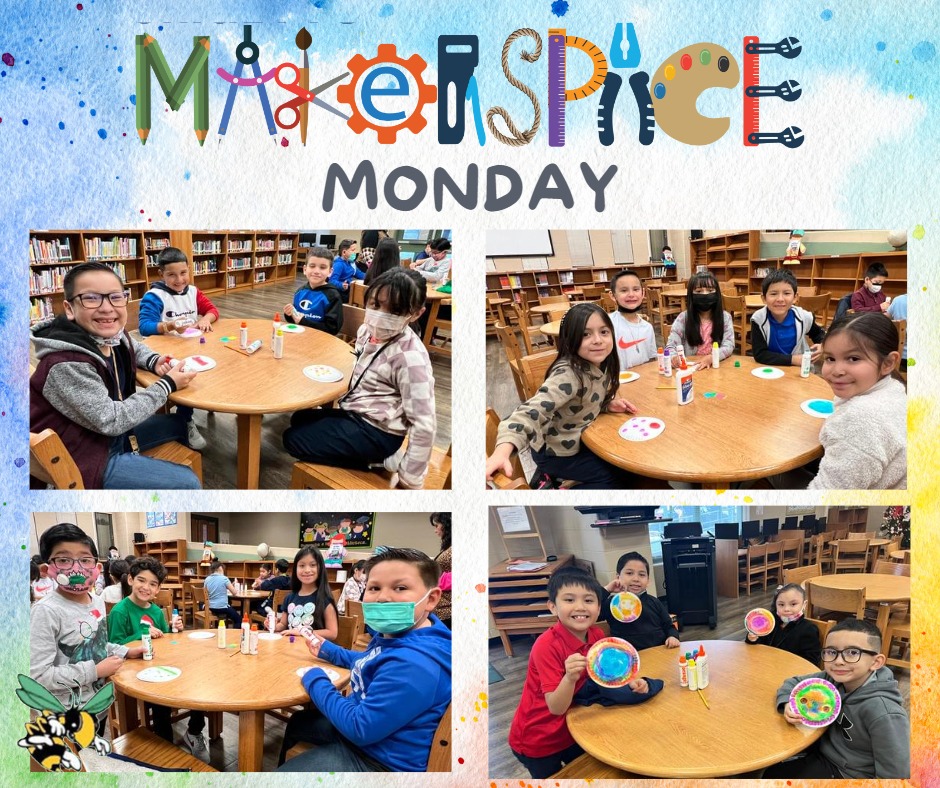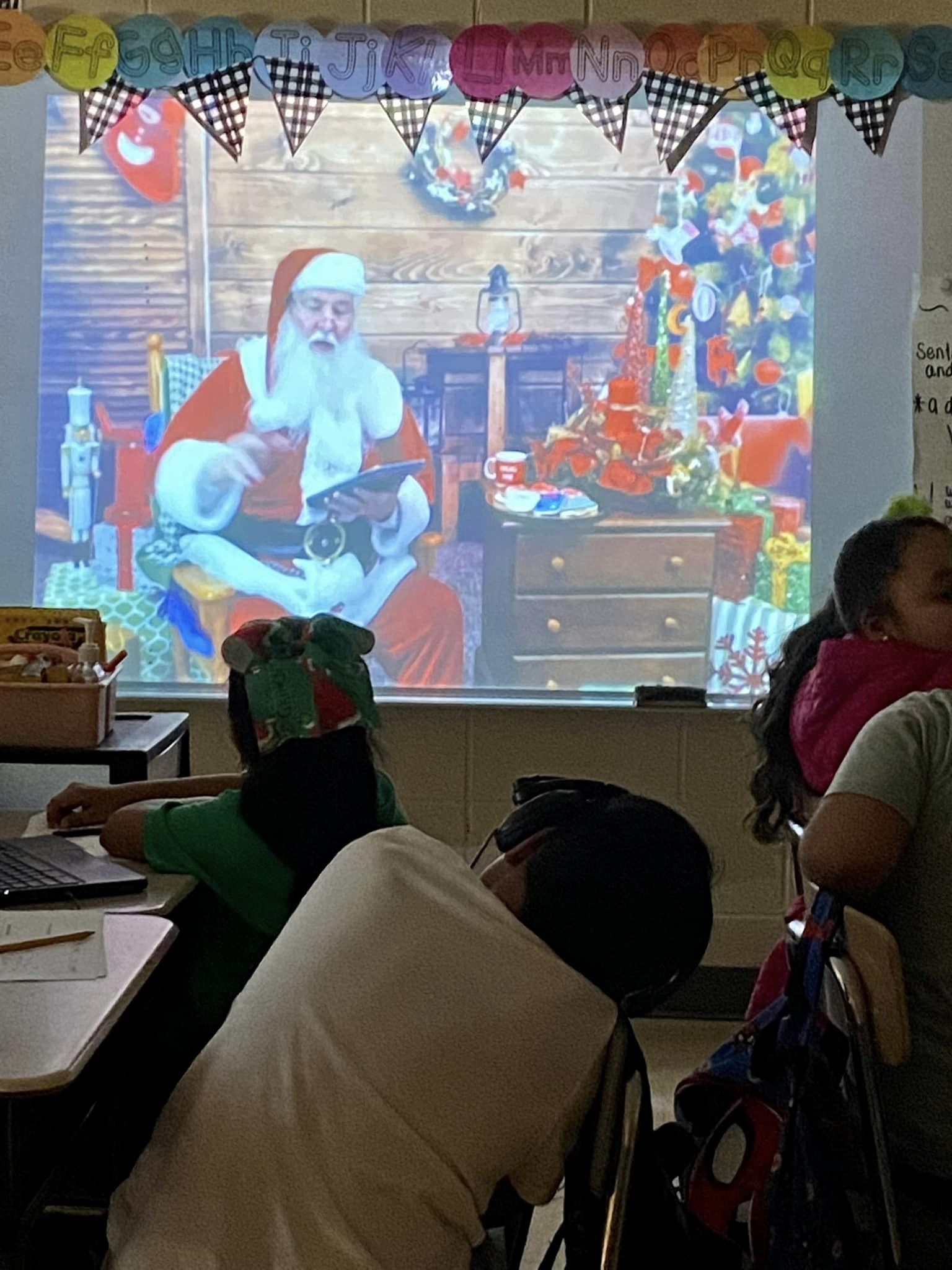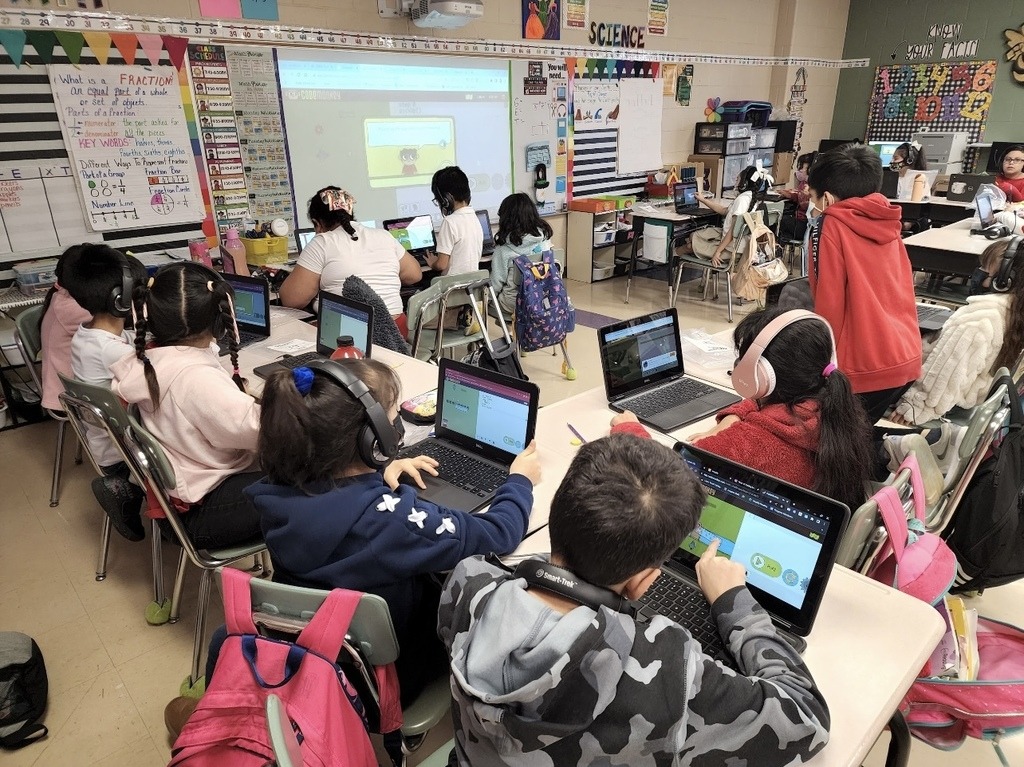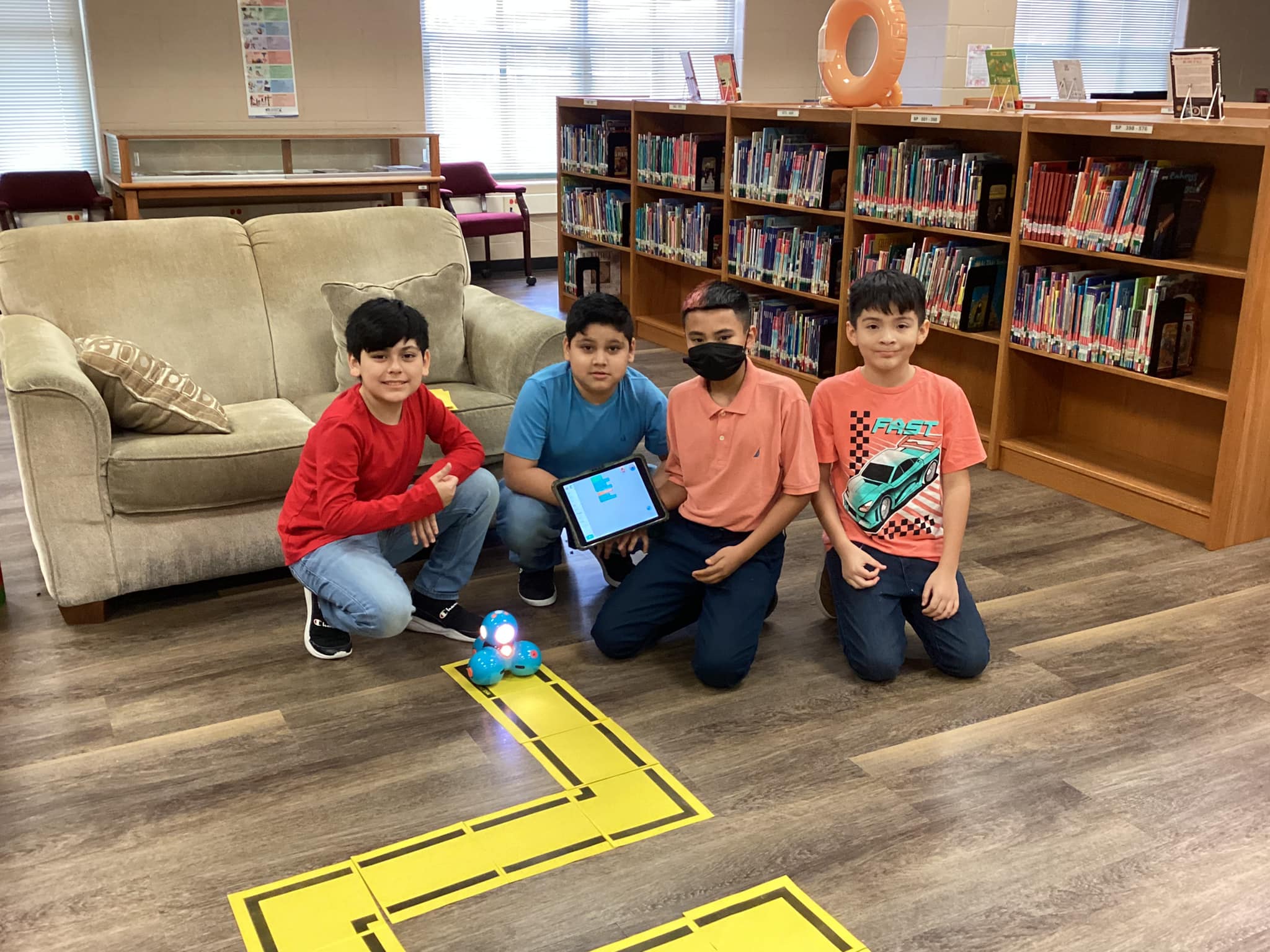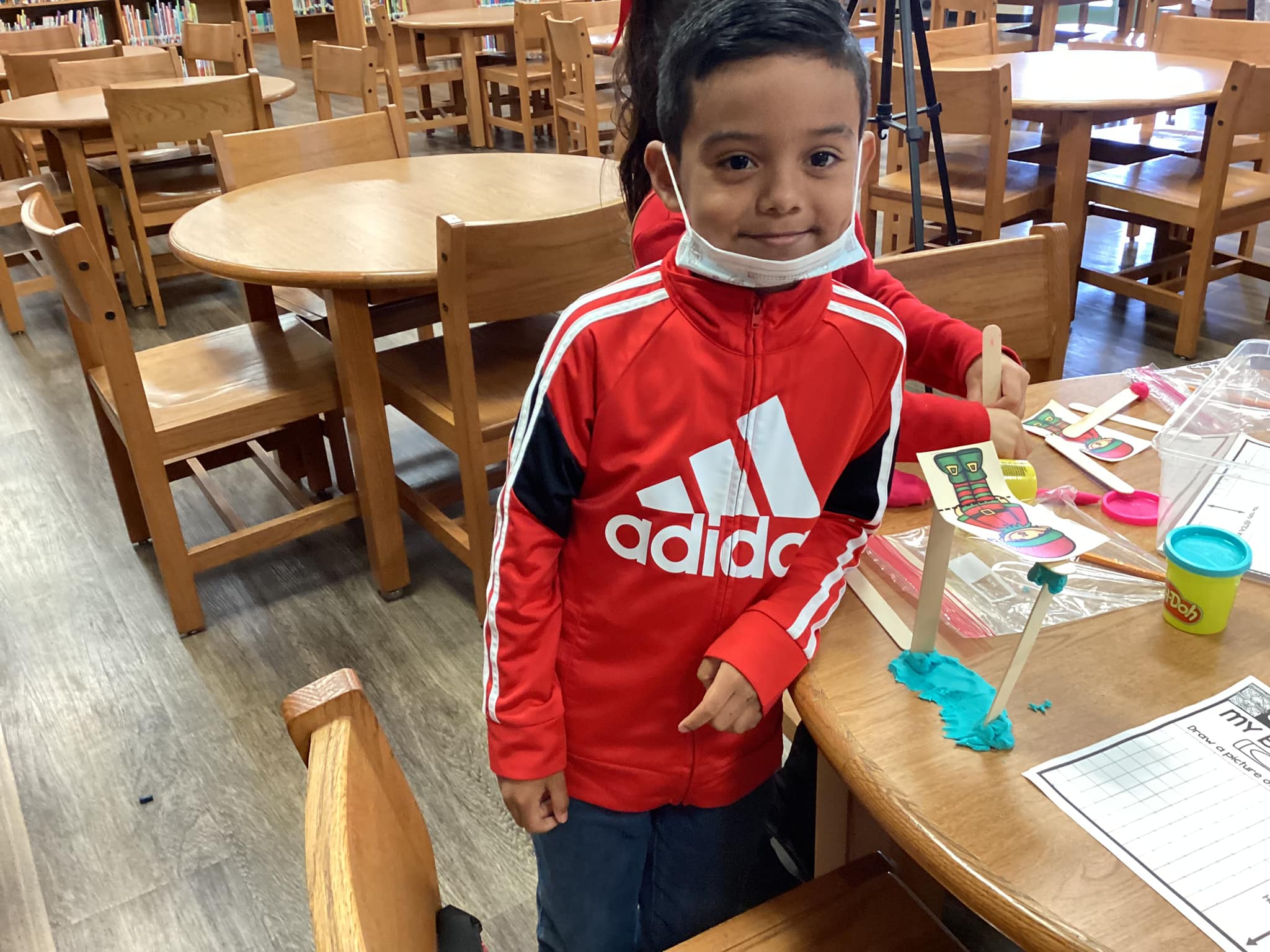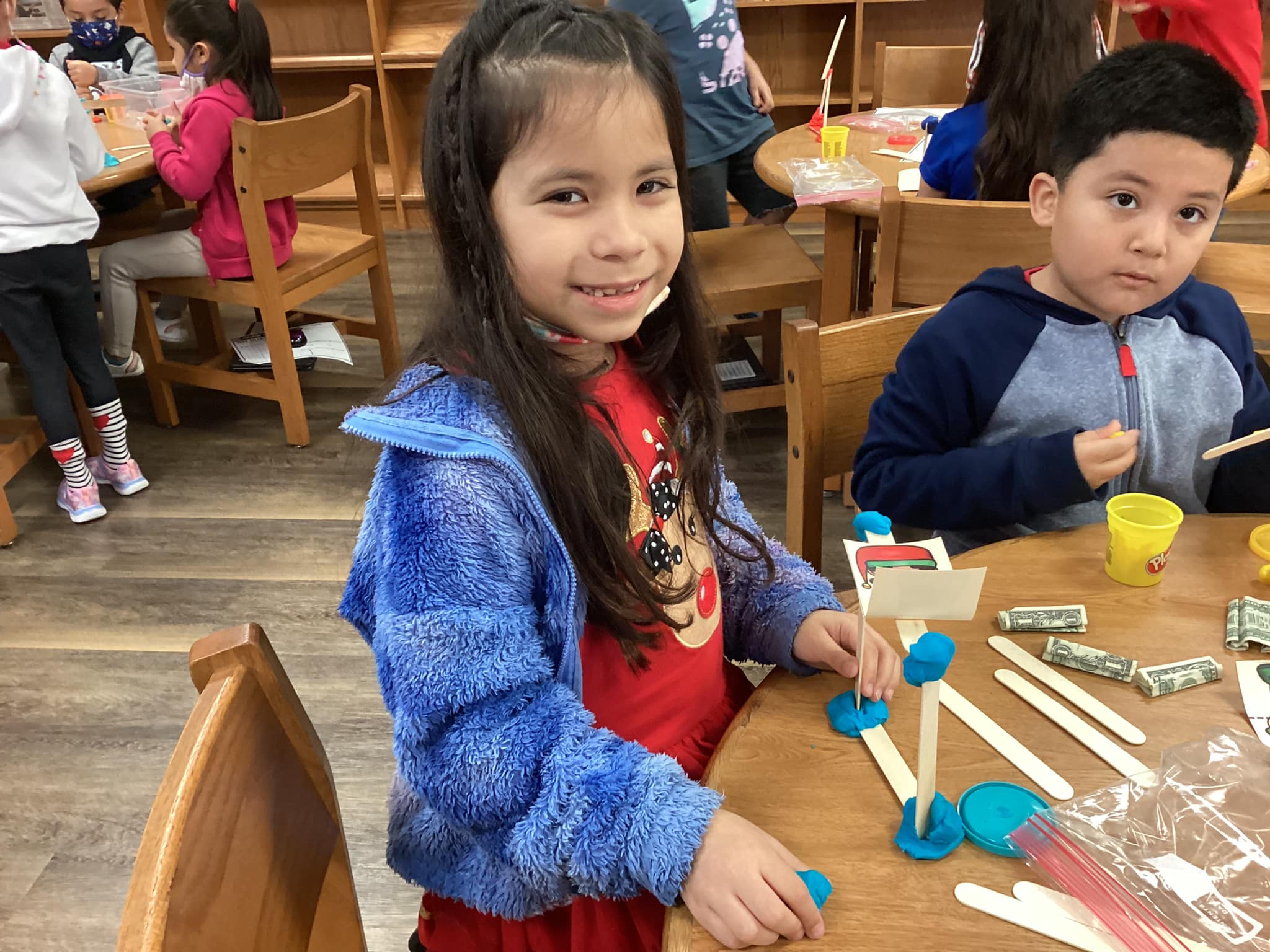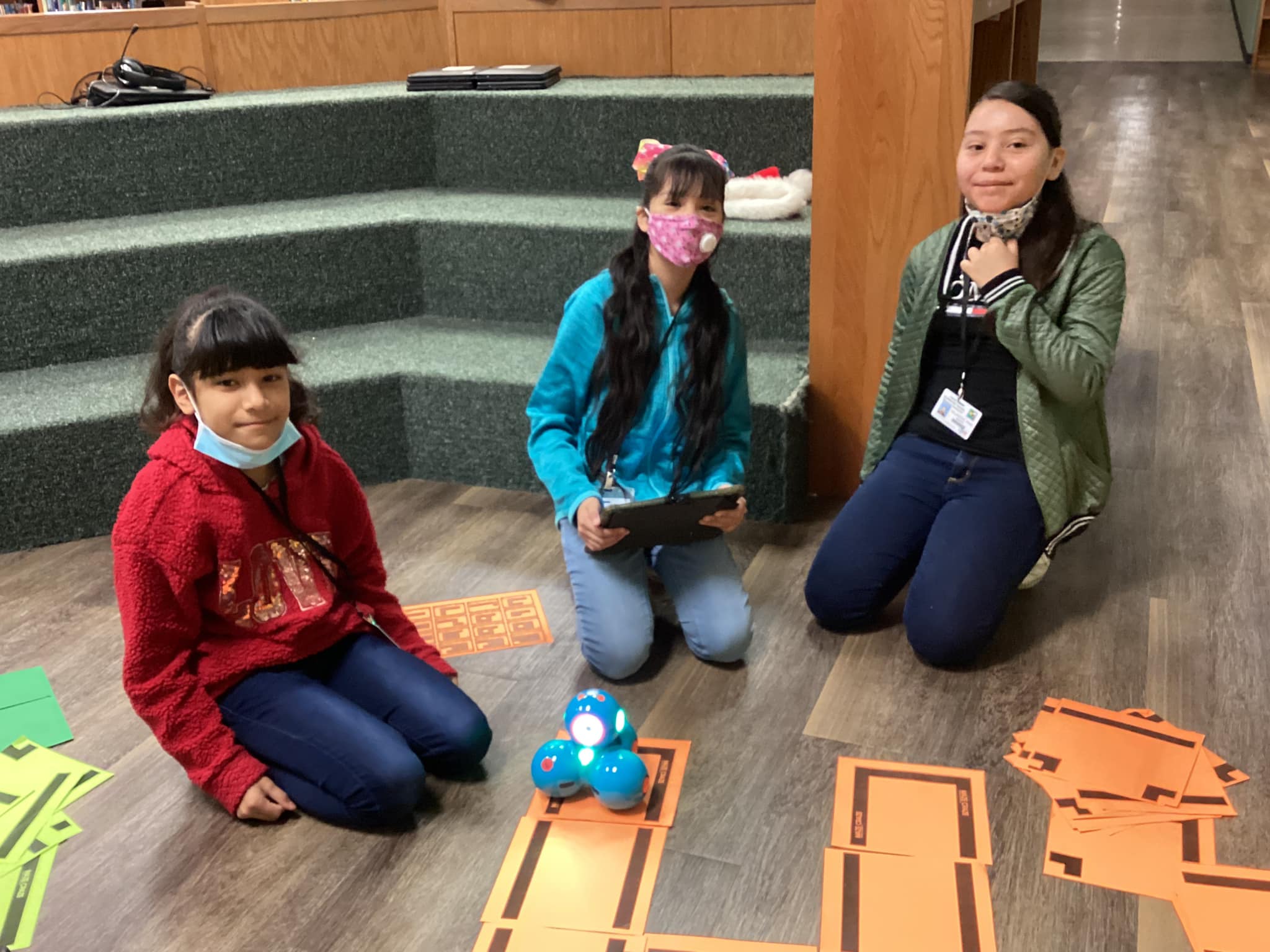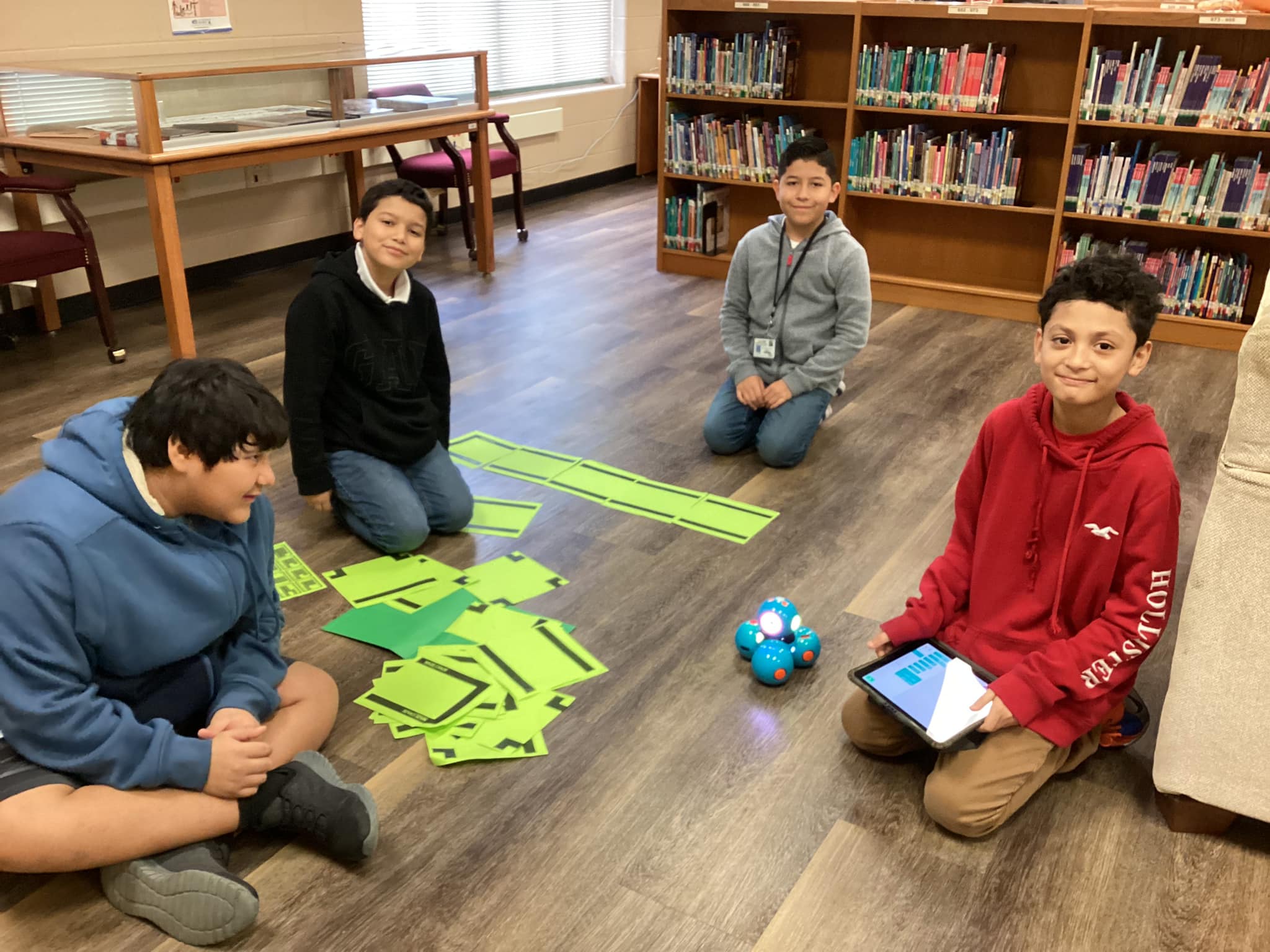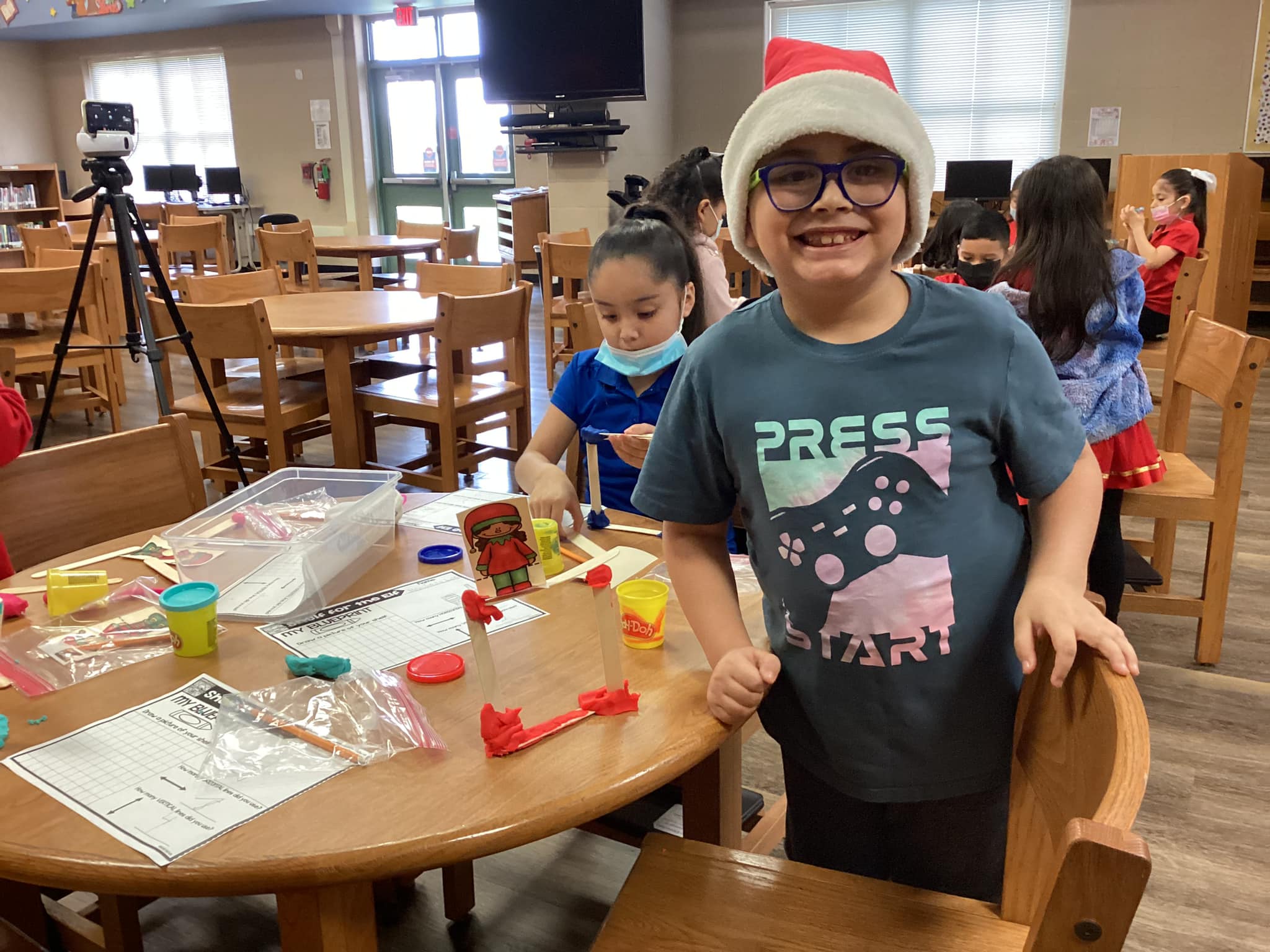 Movies with Santa
Santo Nino's top AR Readers were treated today with a movie with Santa and Peter Piper Pizza. Way to go Hornets! Keep on Reading!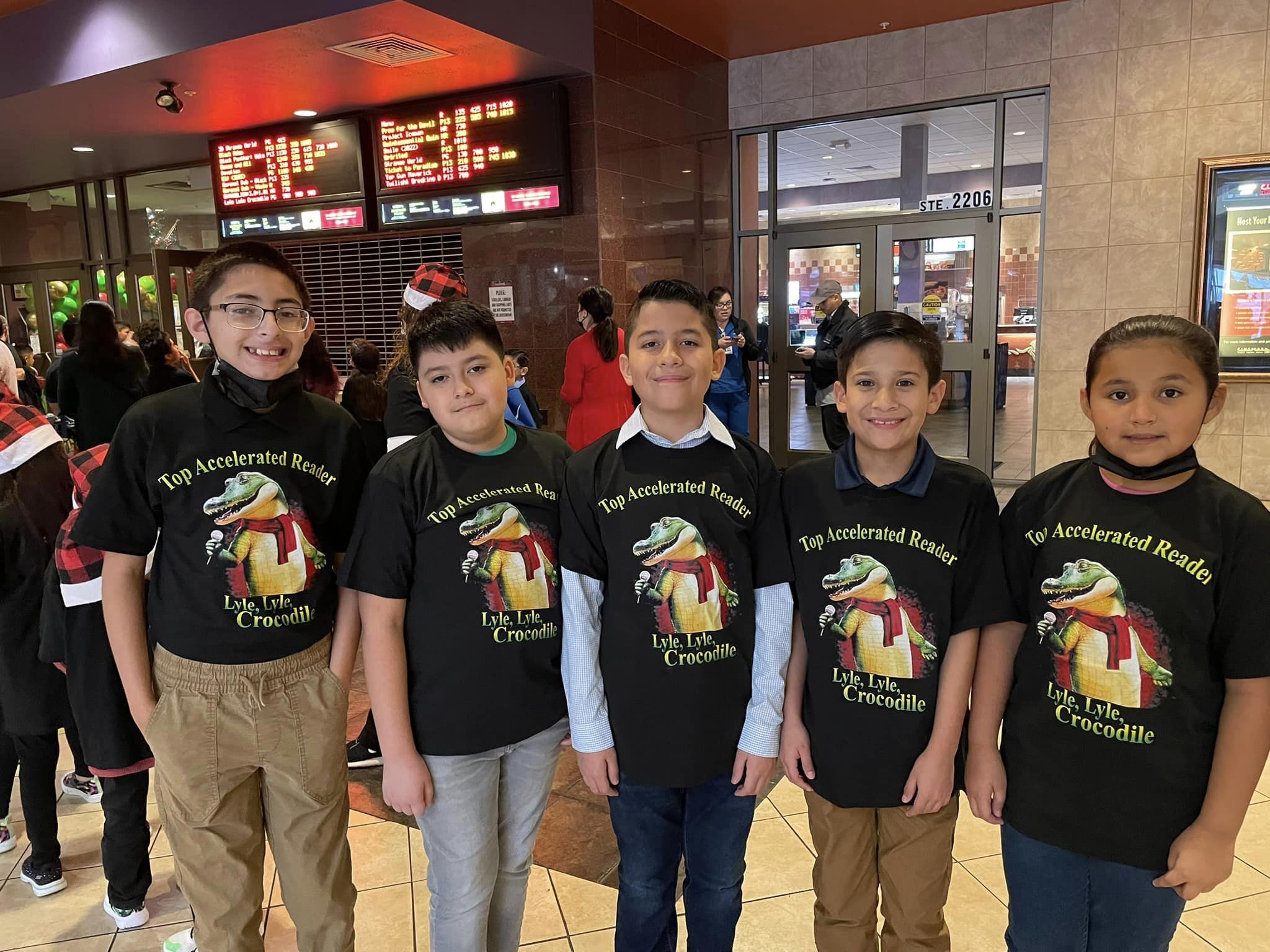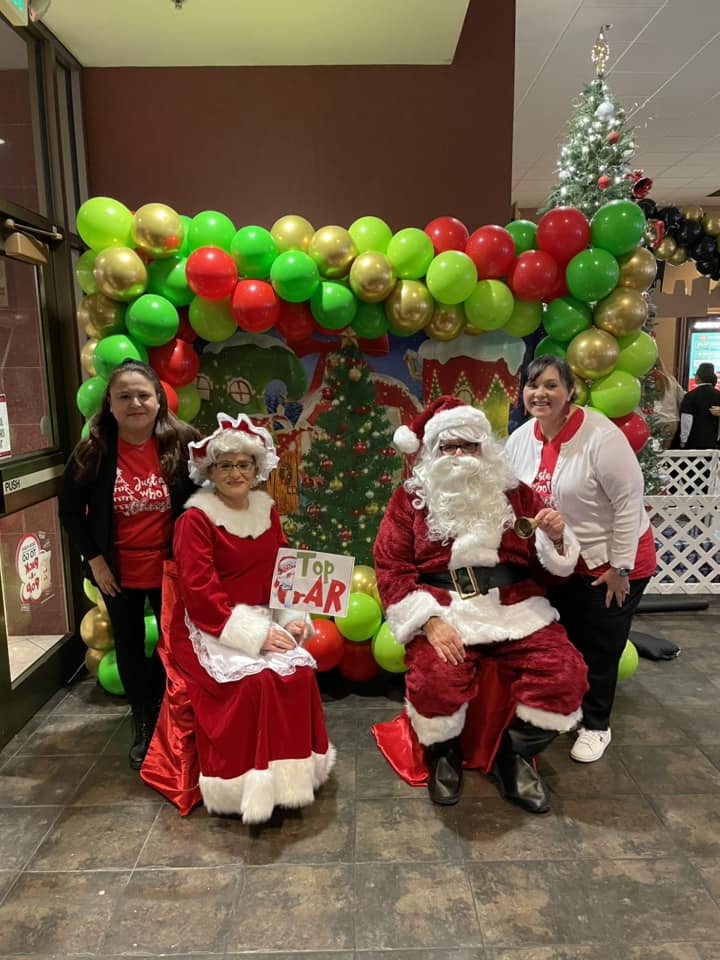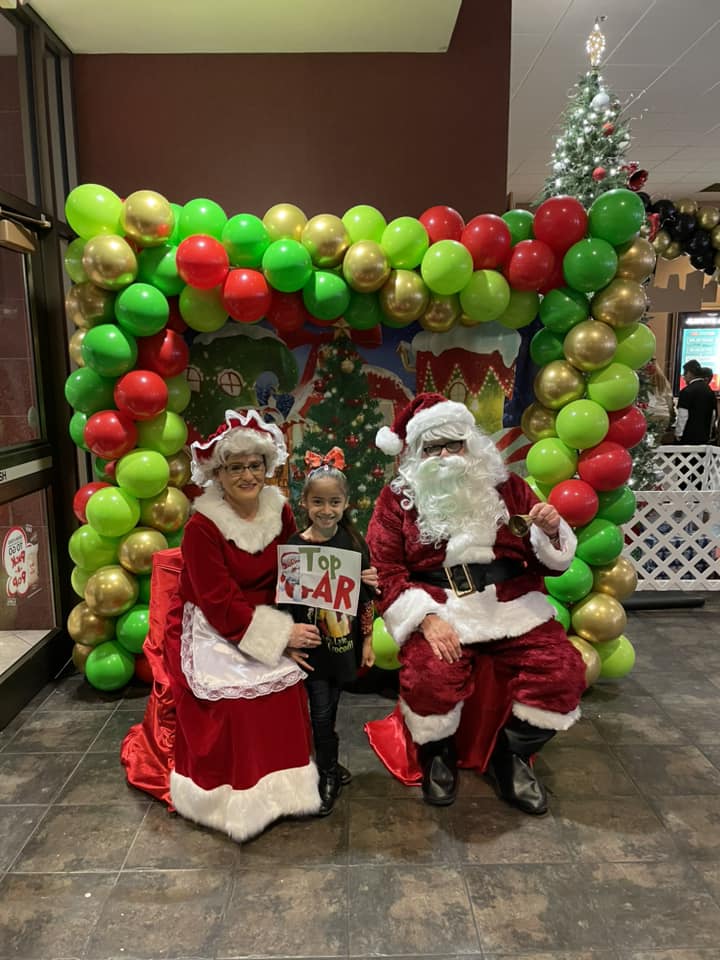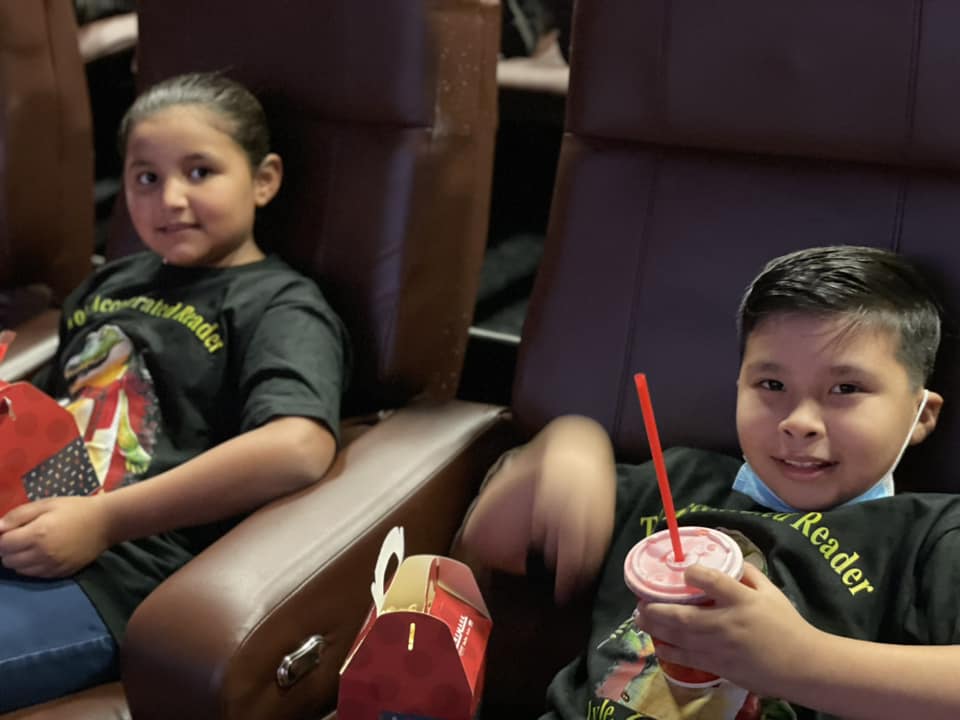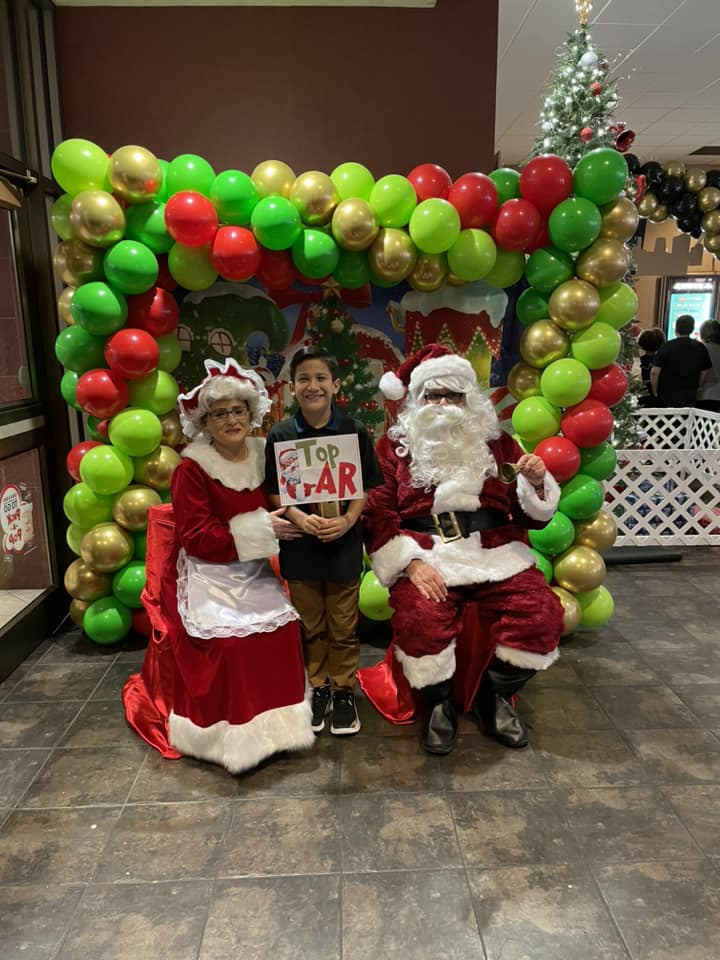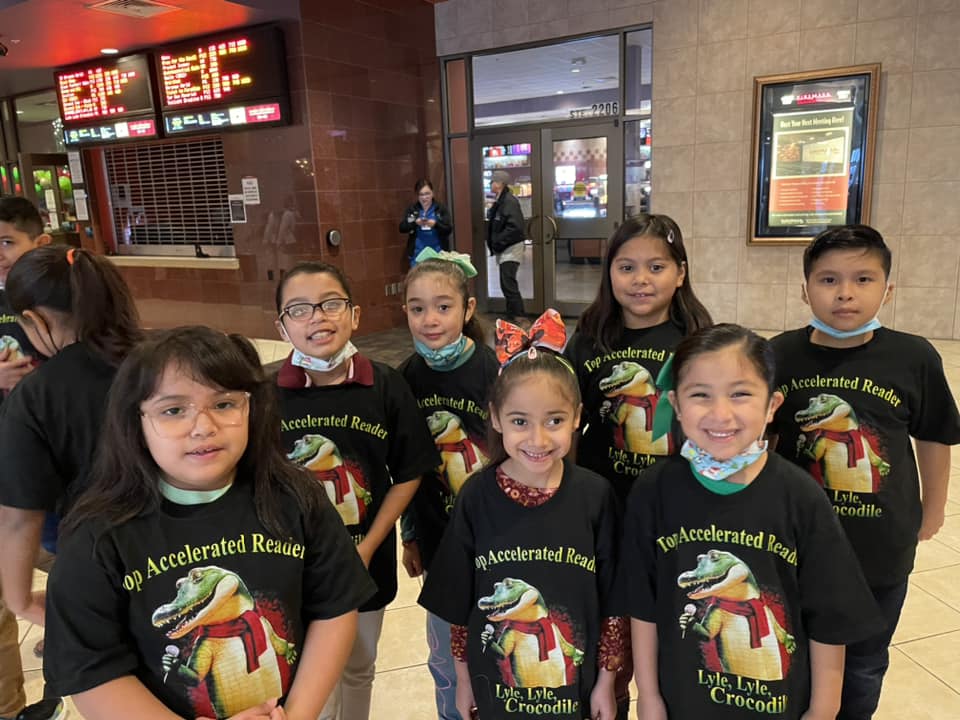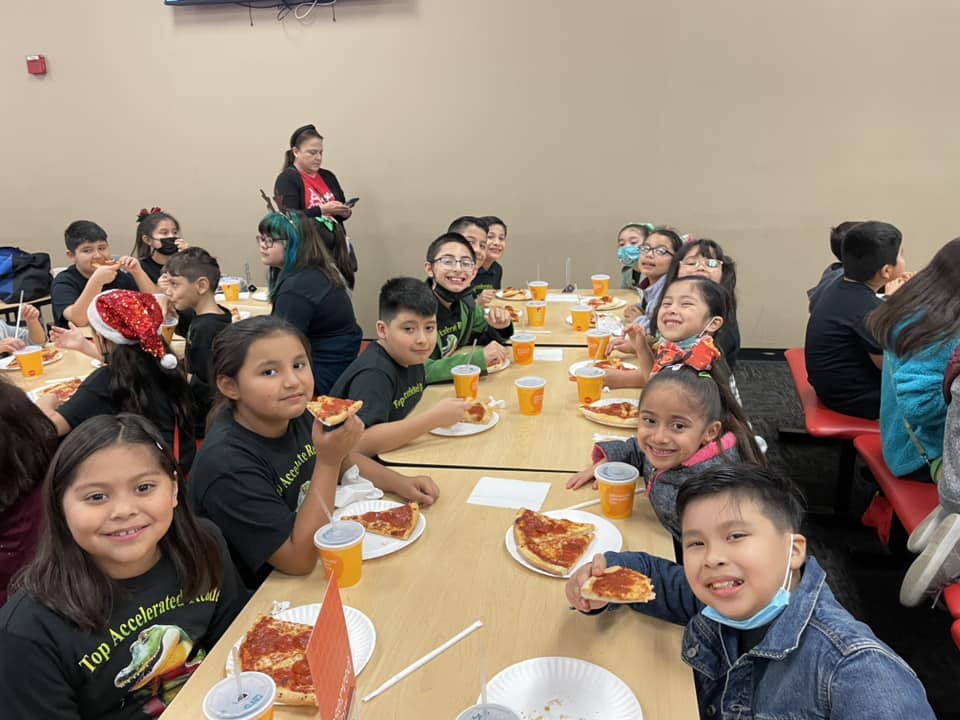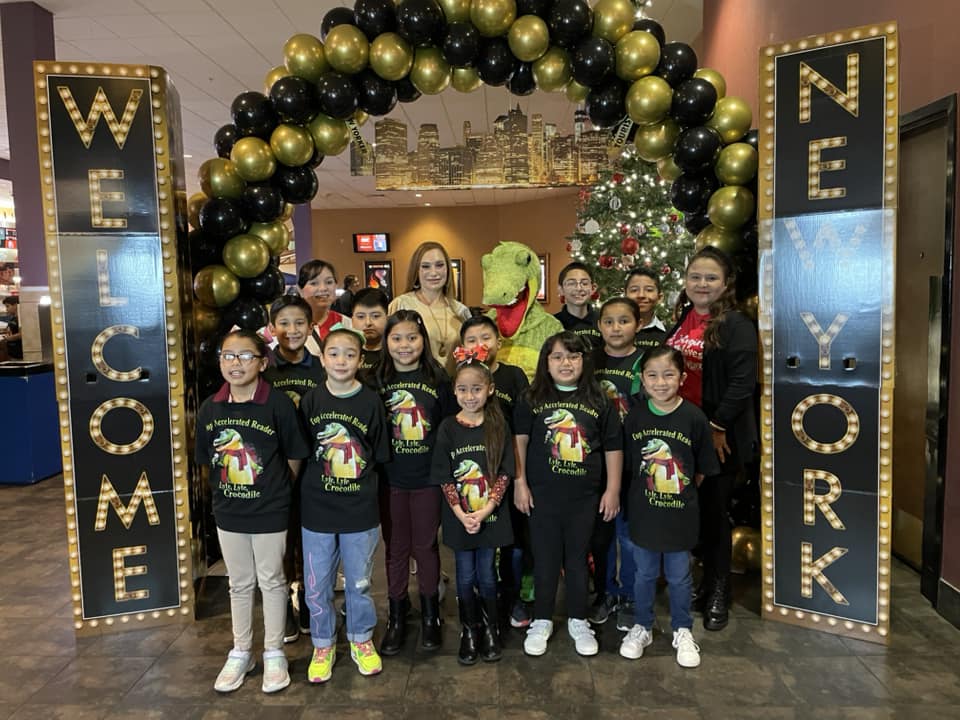 National Elementary Honor Society Induction Ceremony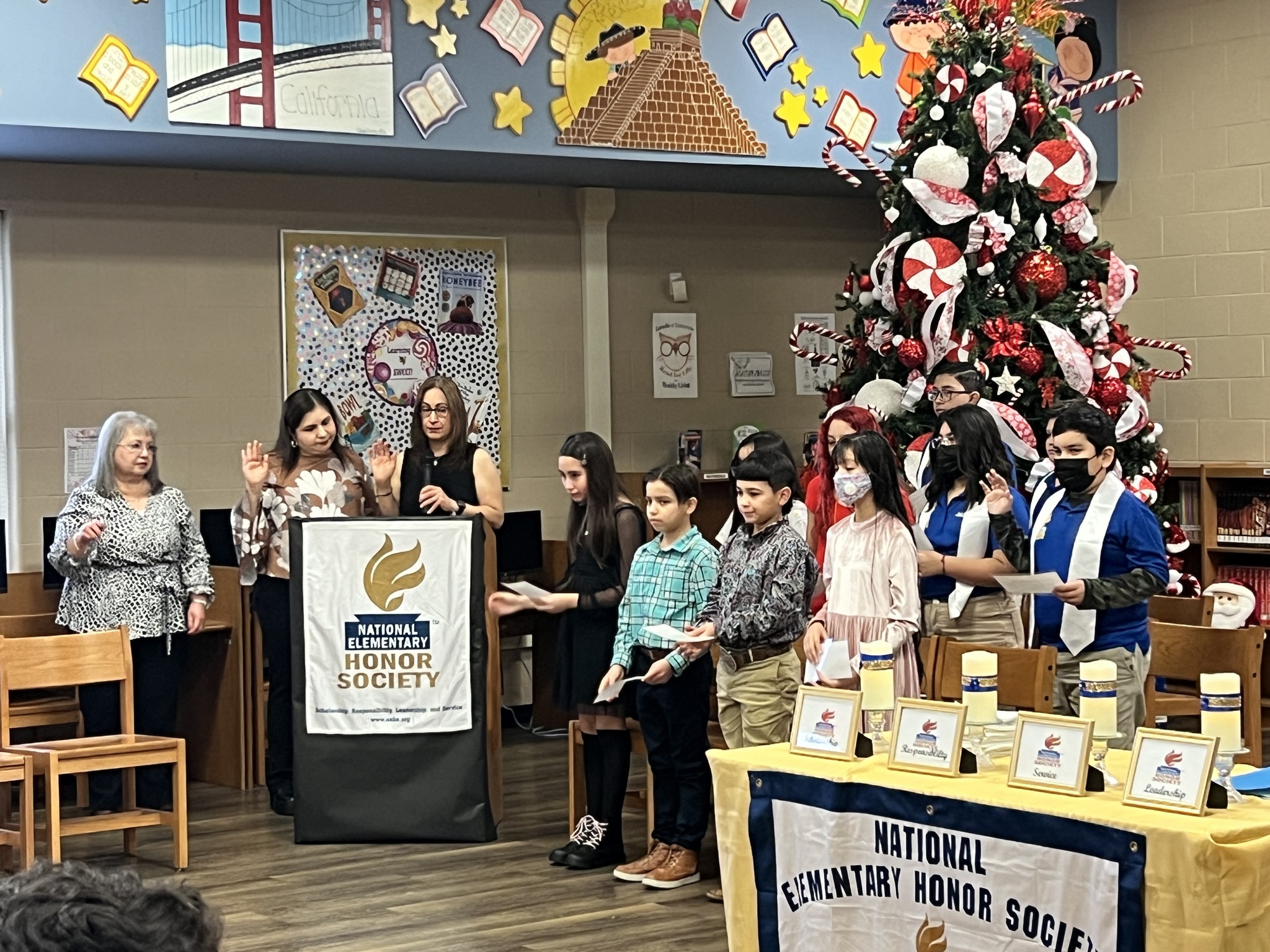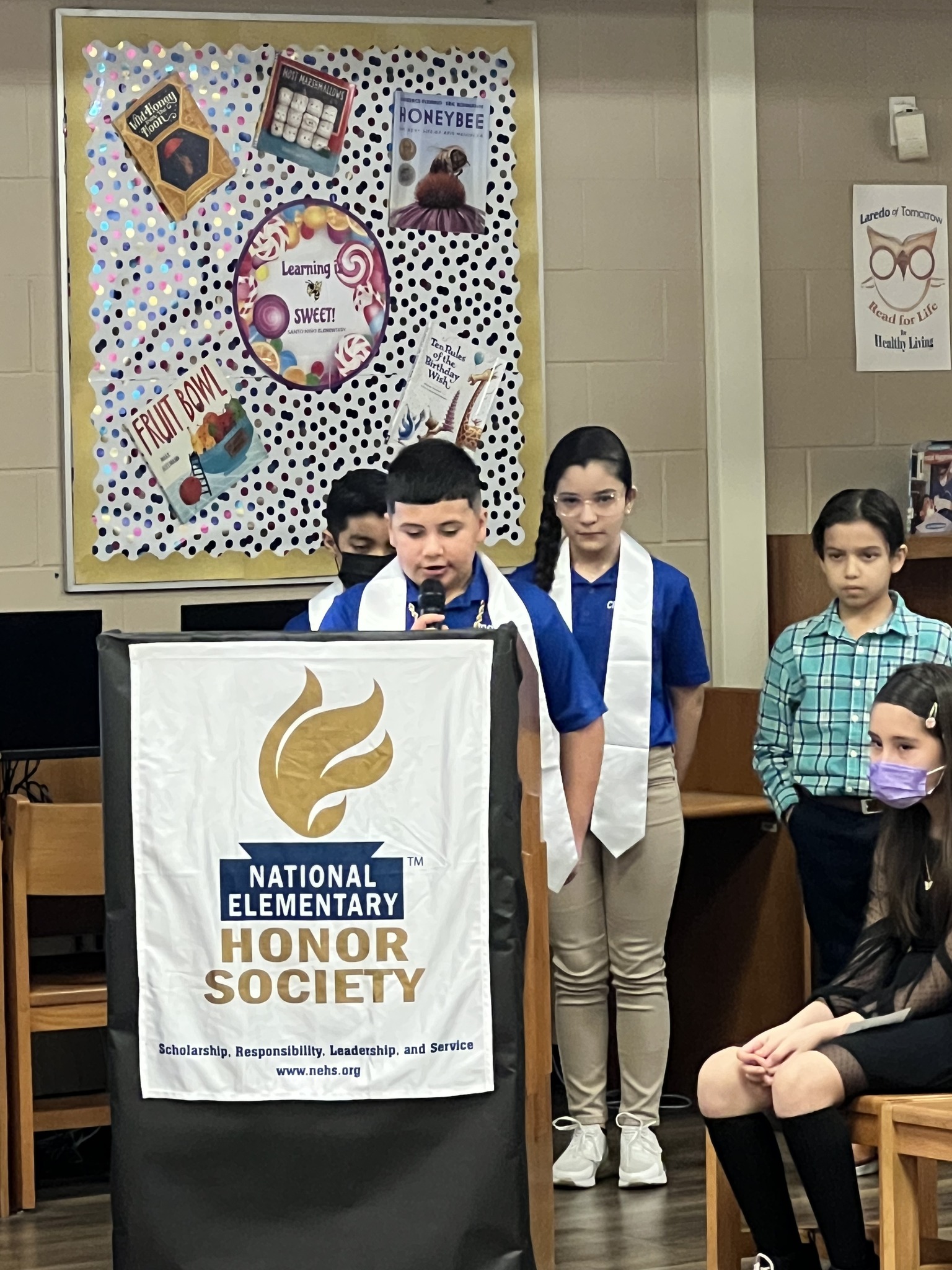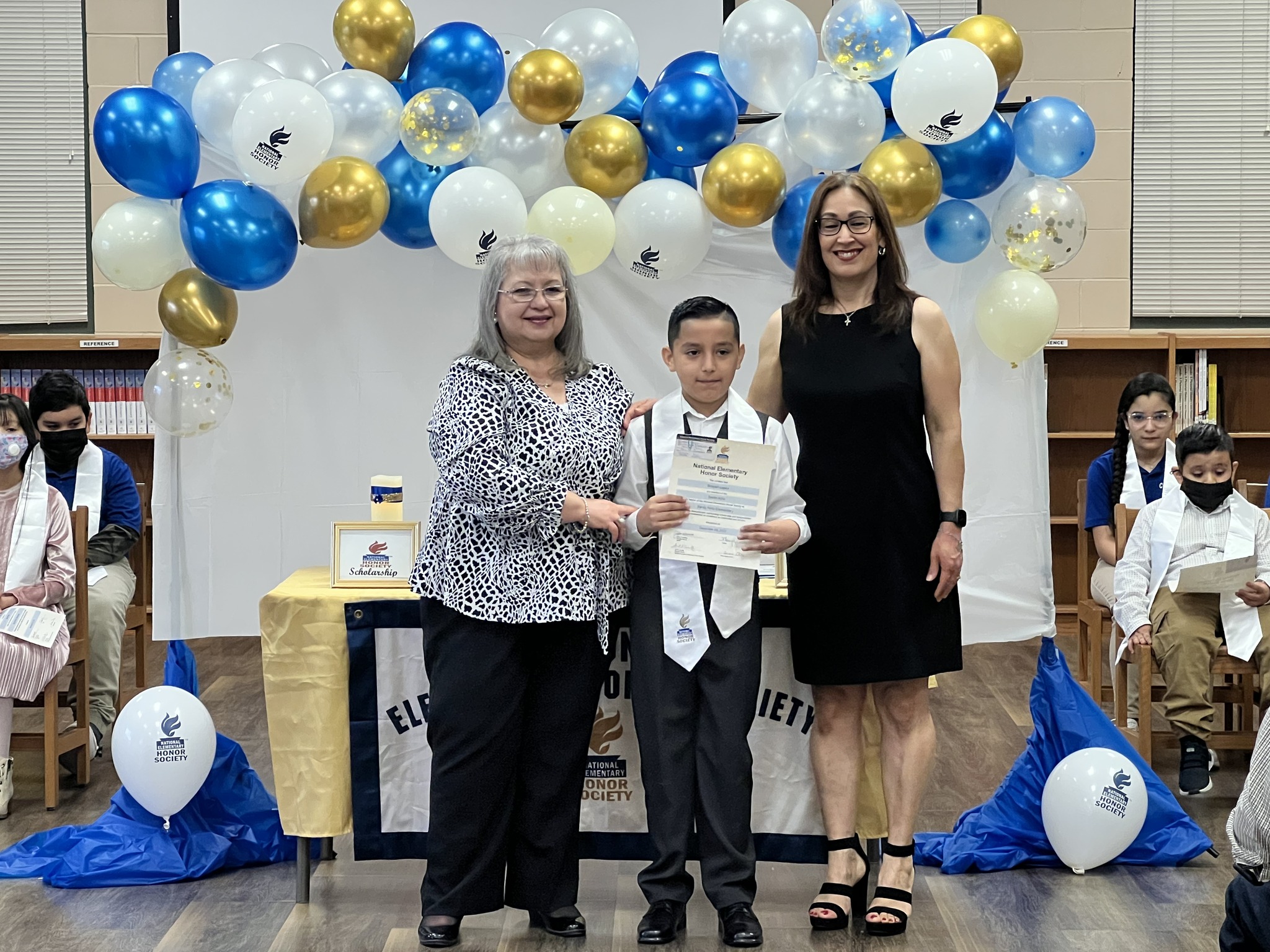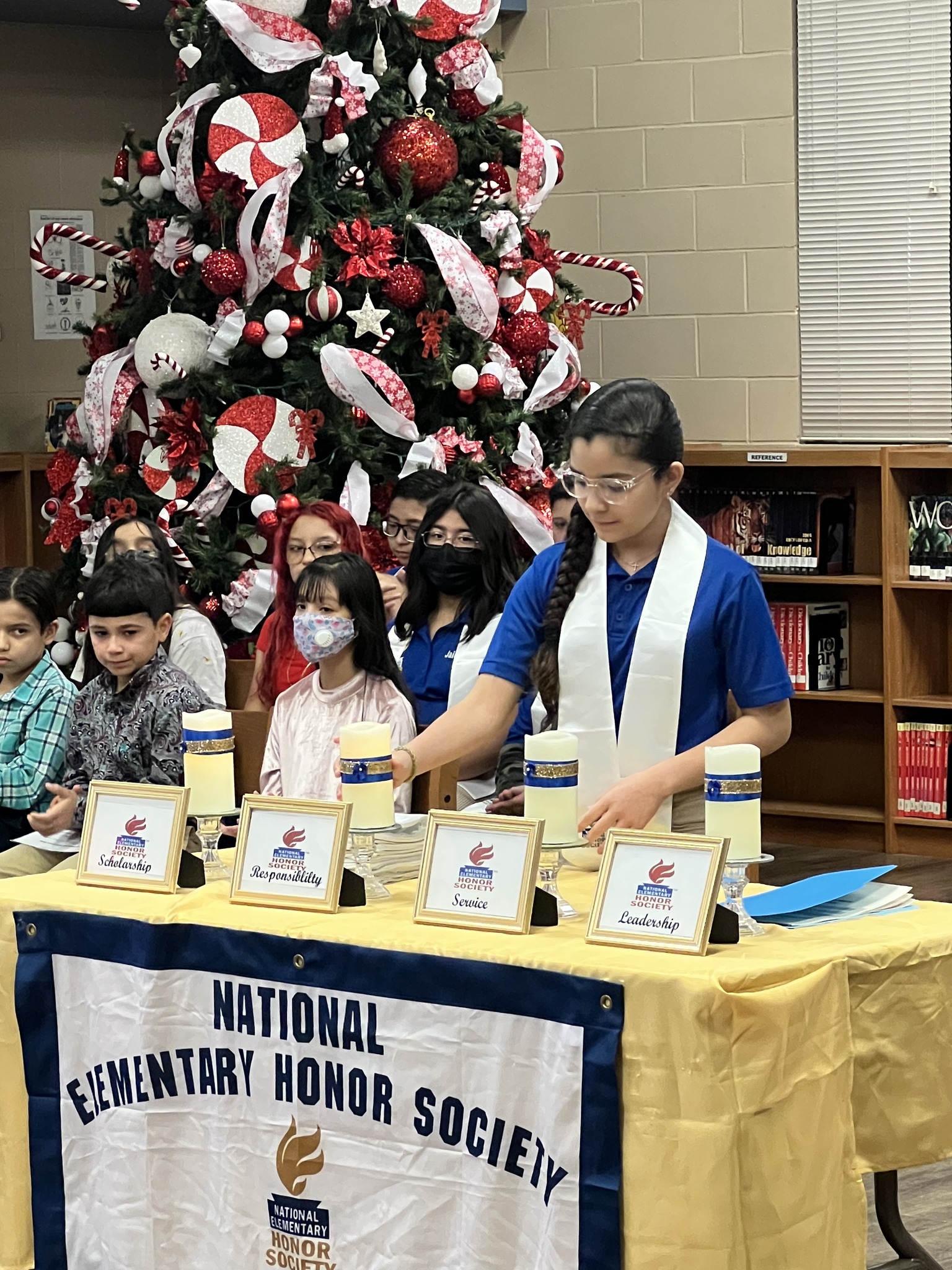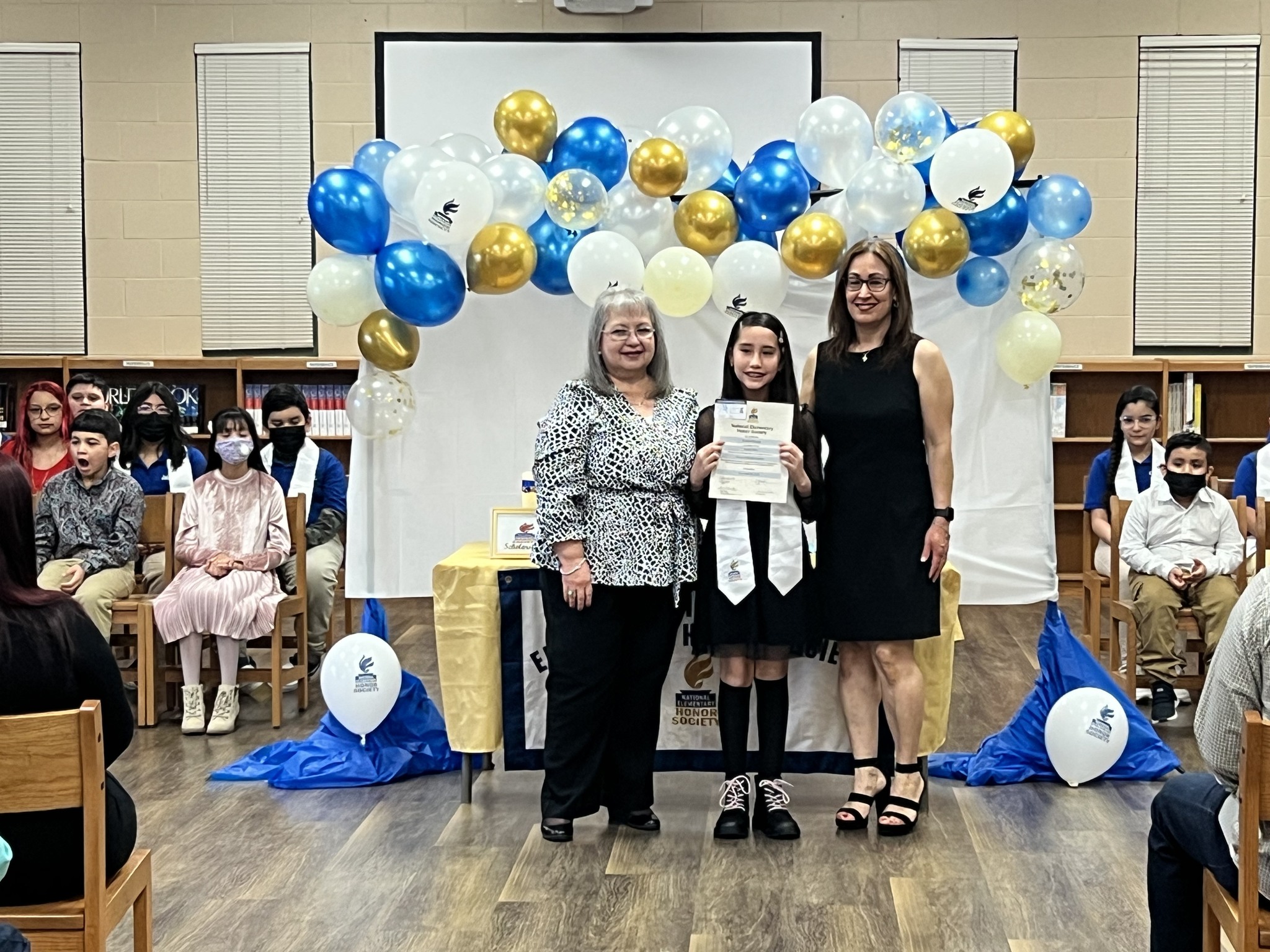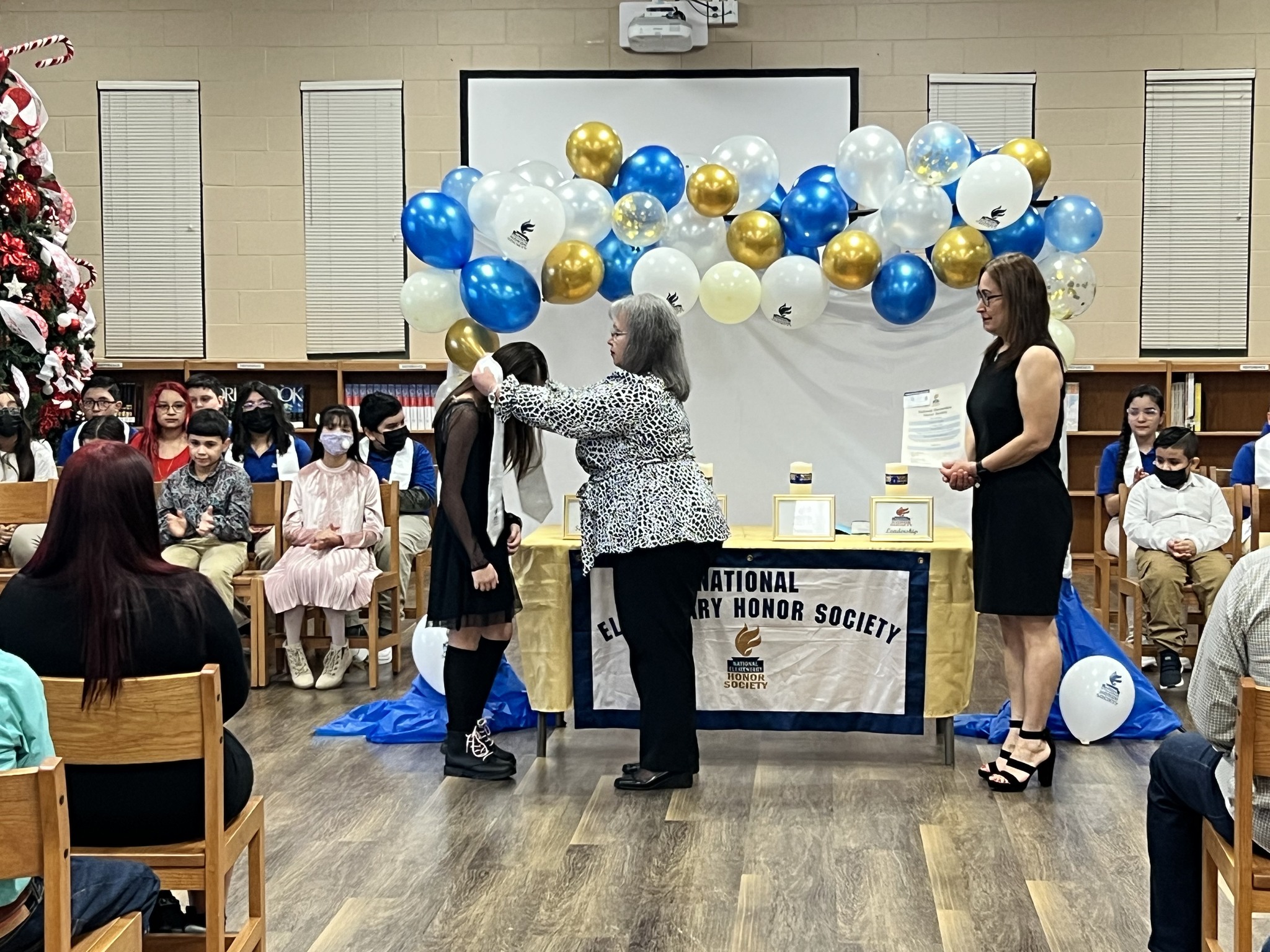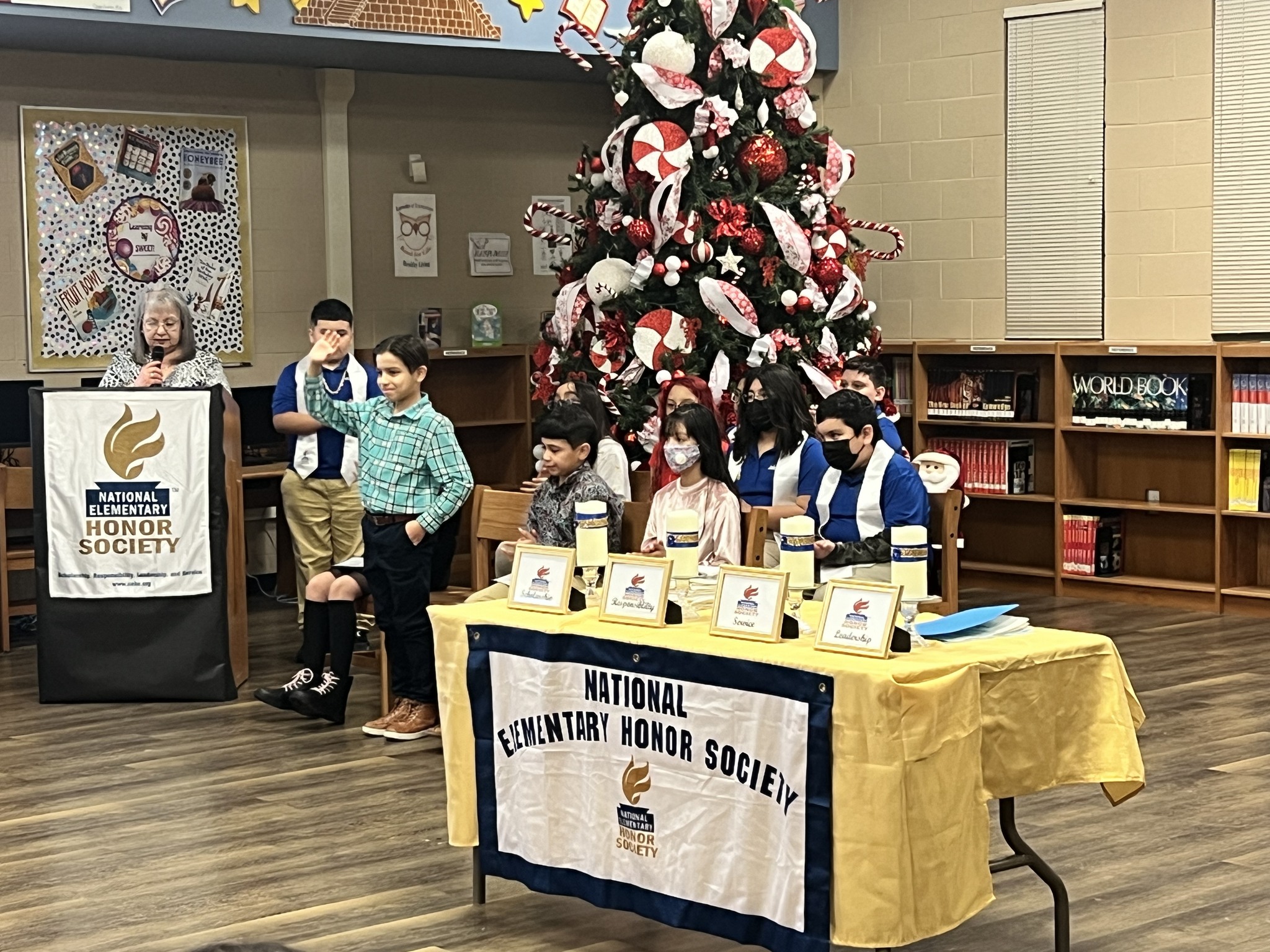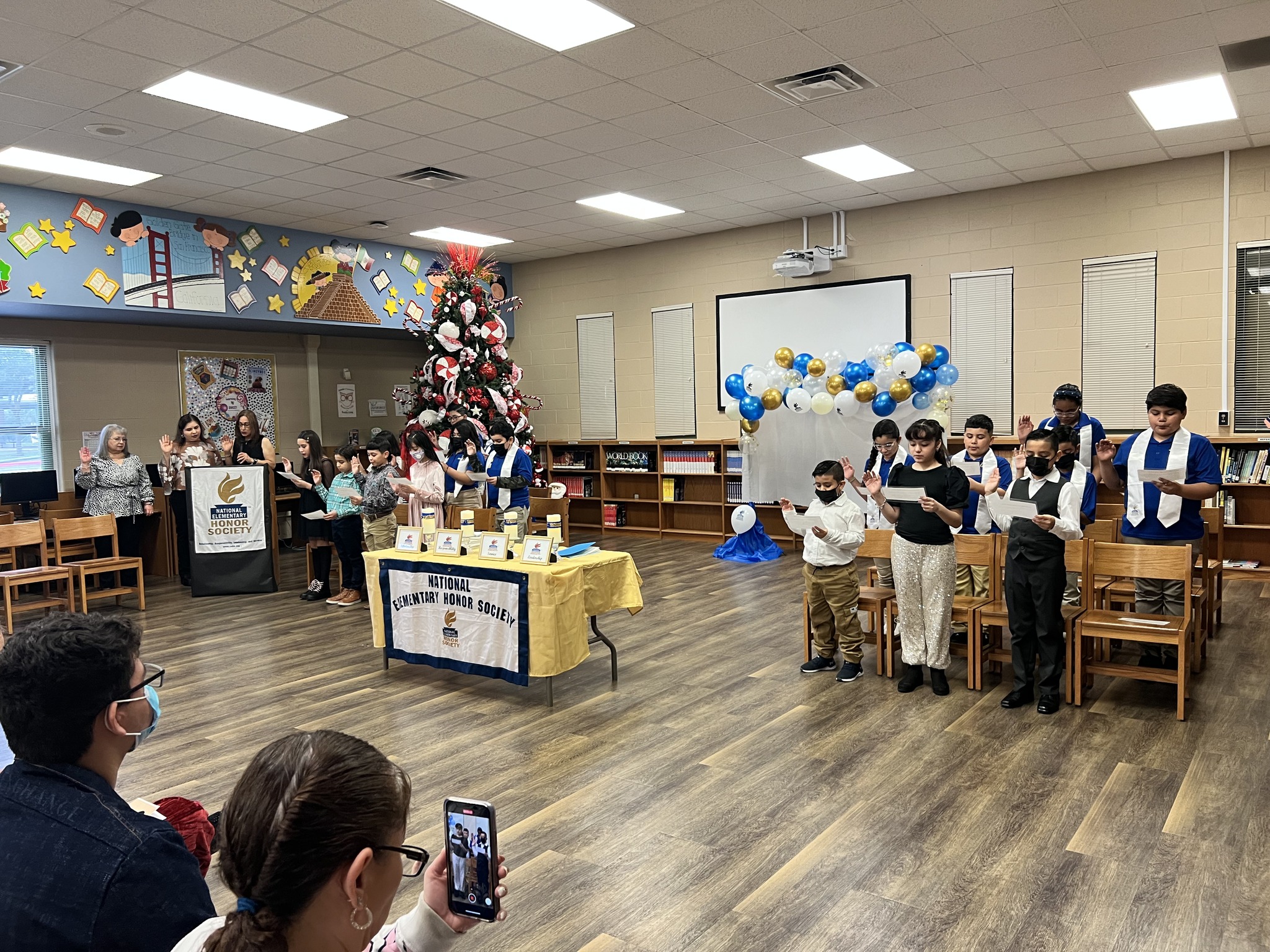 November Student of the Month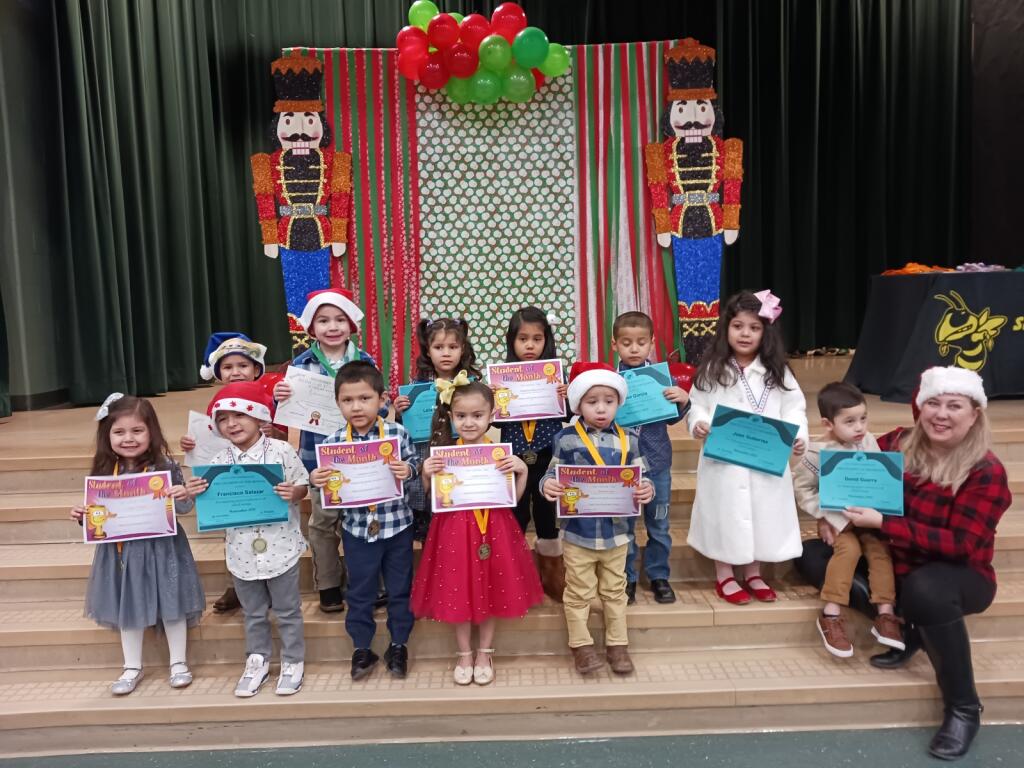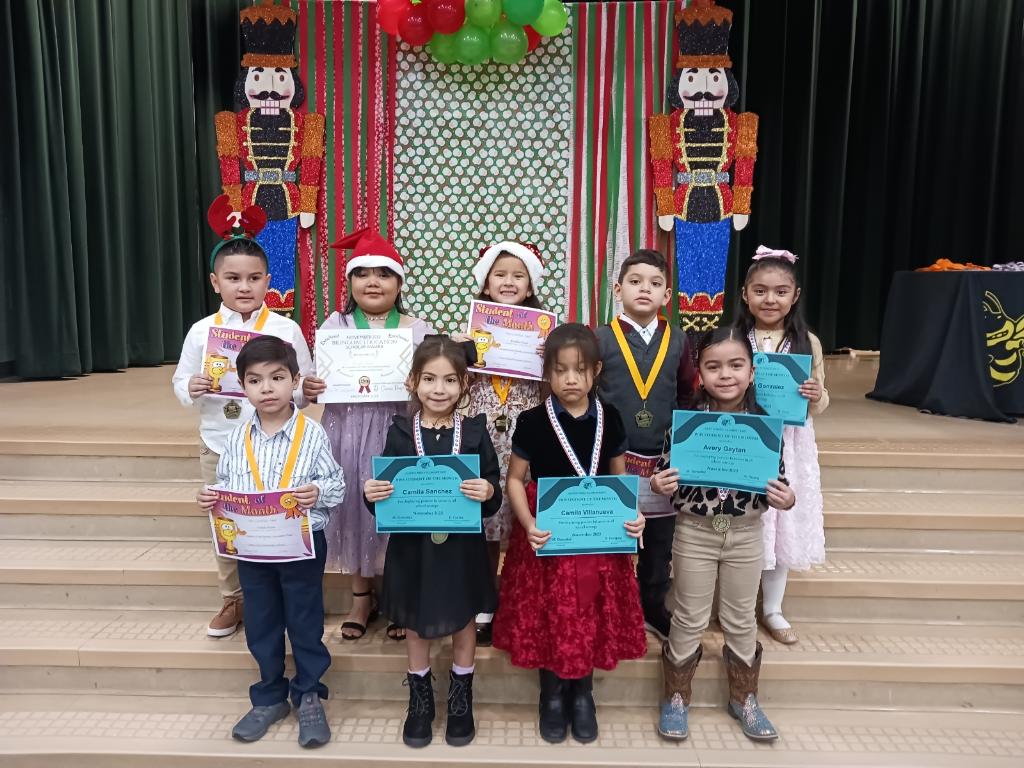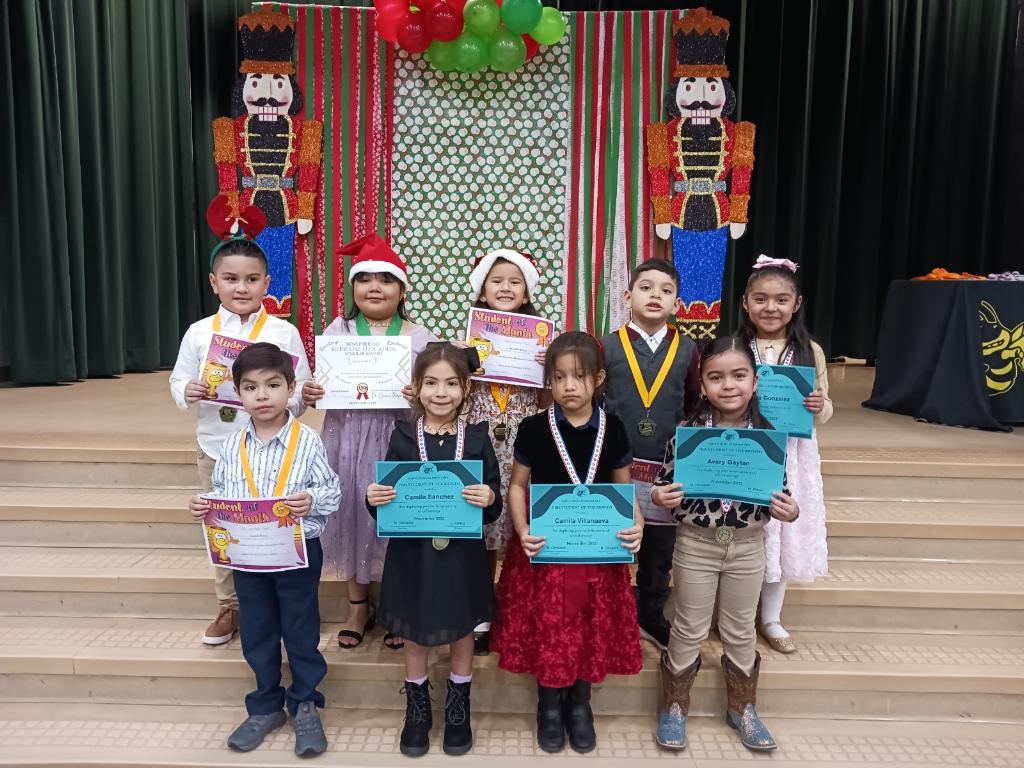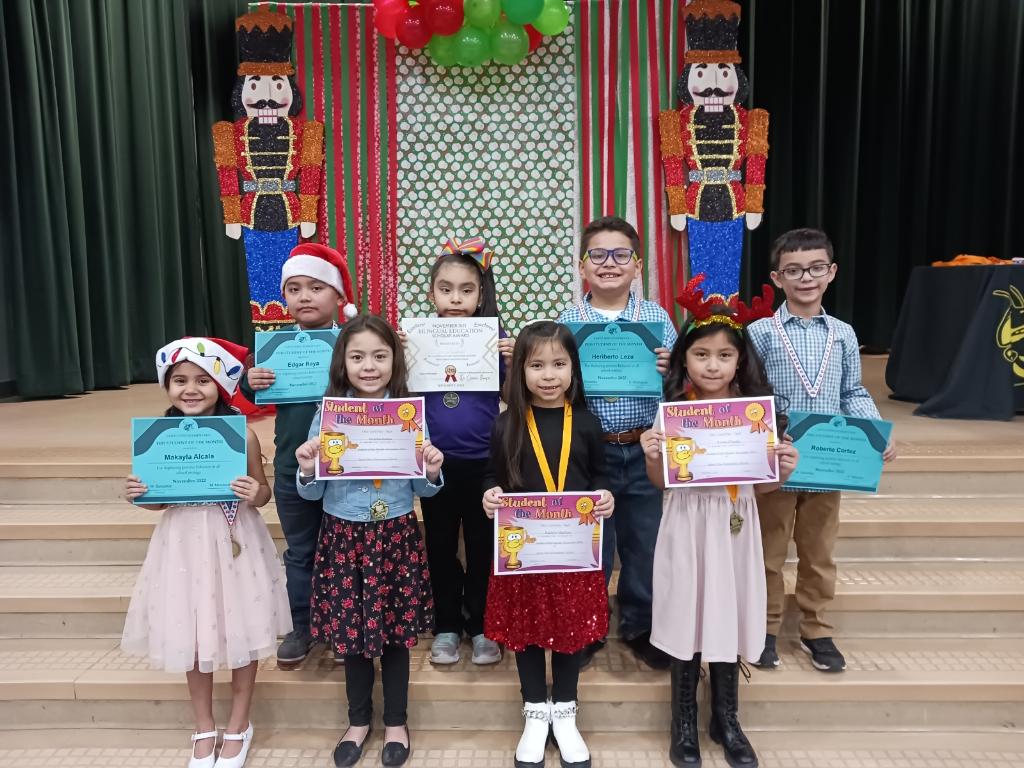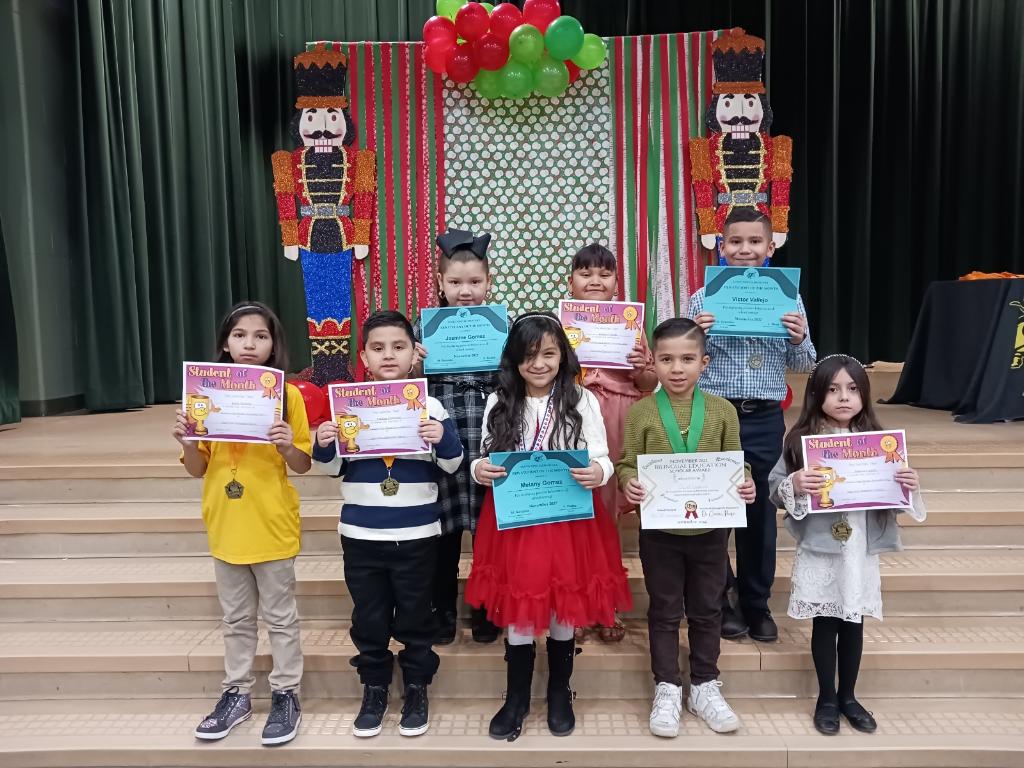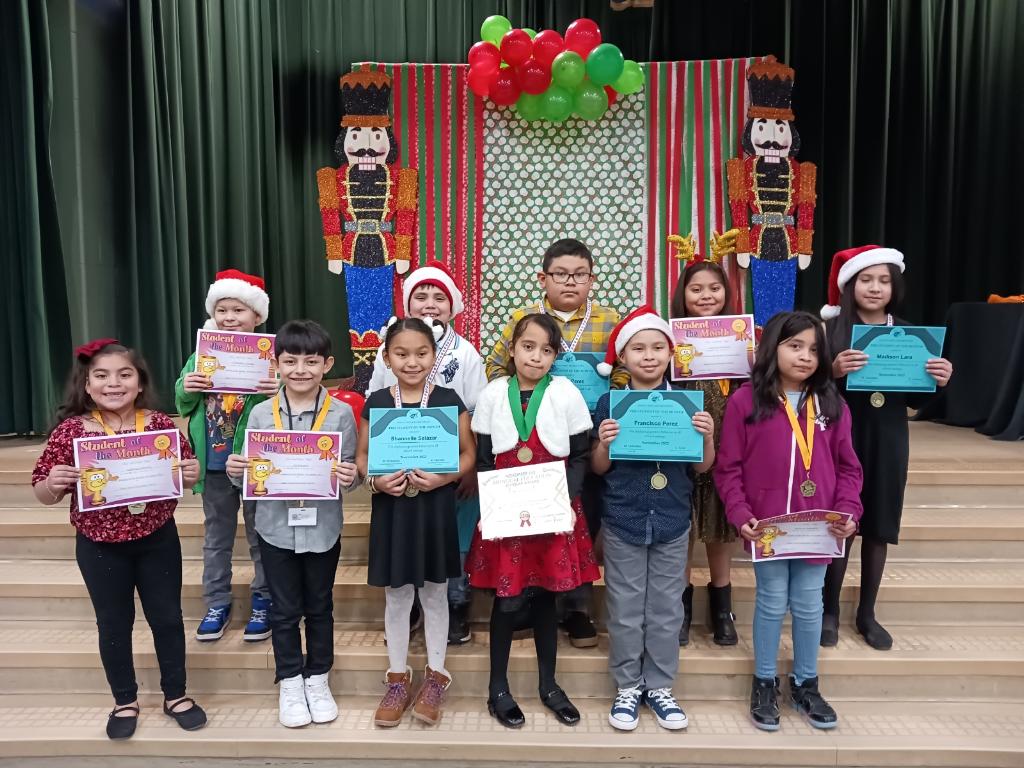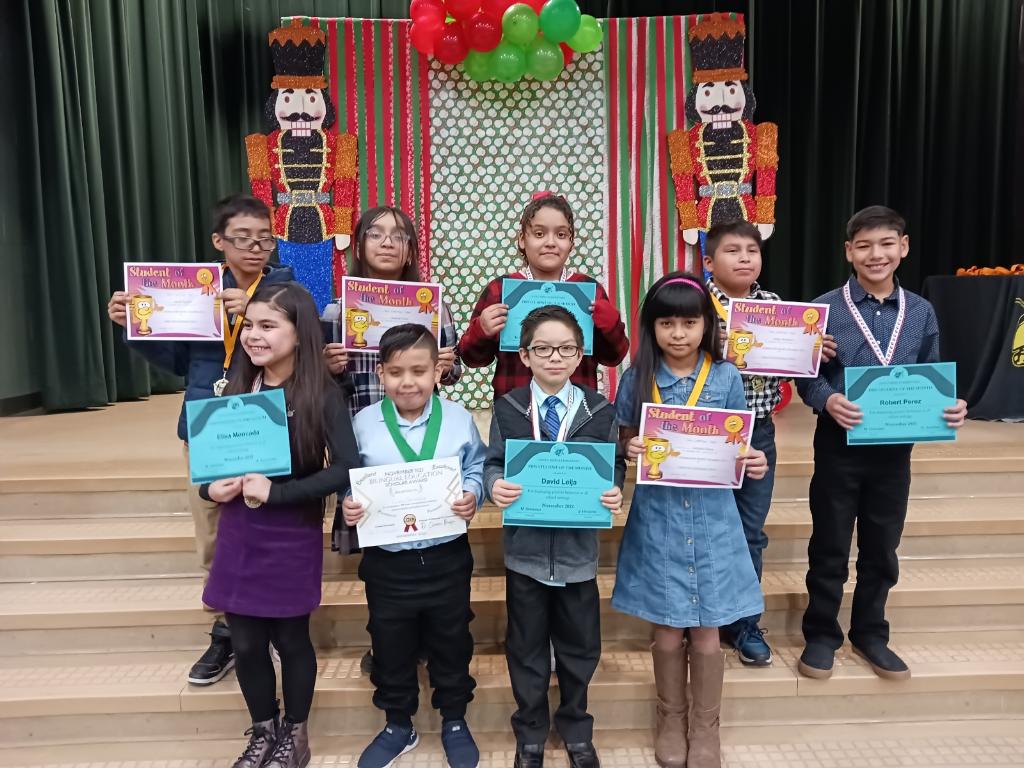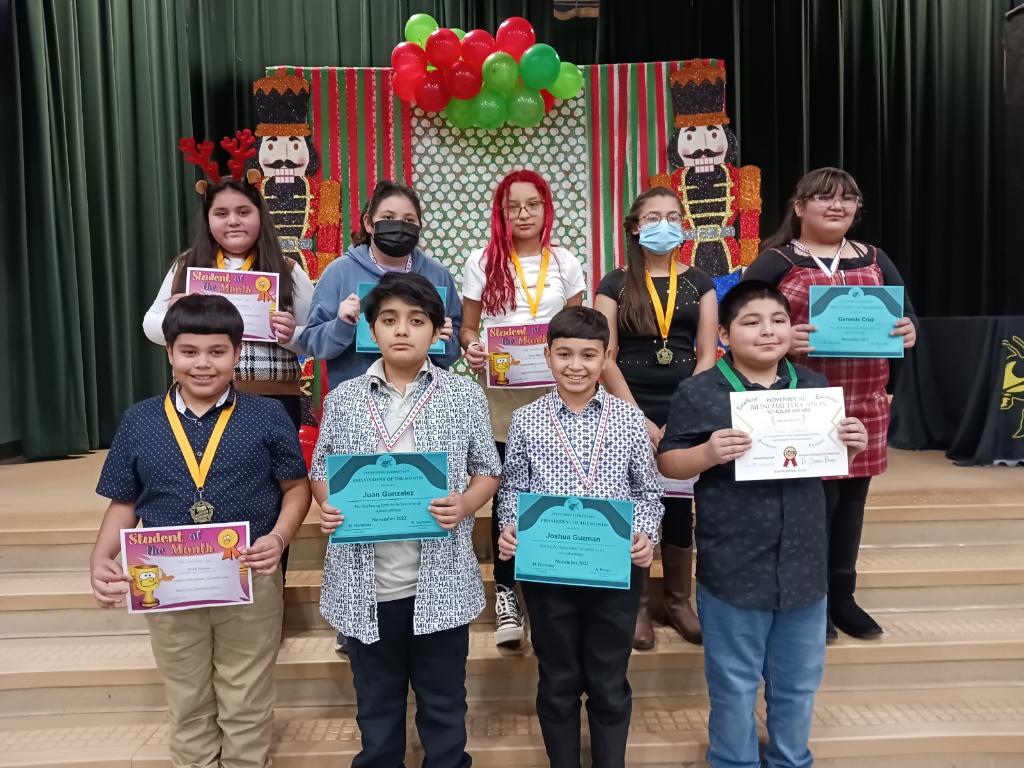 Toro Team UIL Invitational
Our Hornet UIL participants and teachers took home 1st place overall in the Toro Team UIL Invitational on Saturday, December 3, 2022!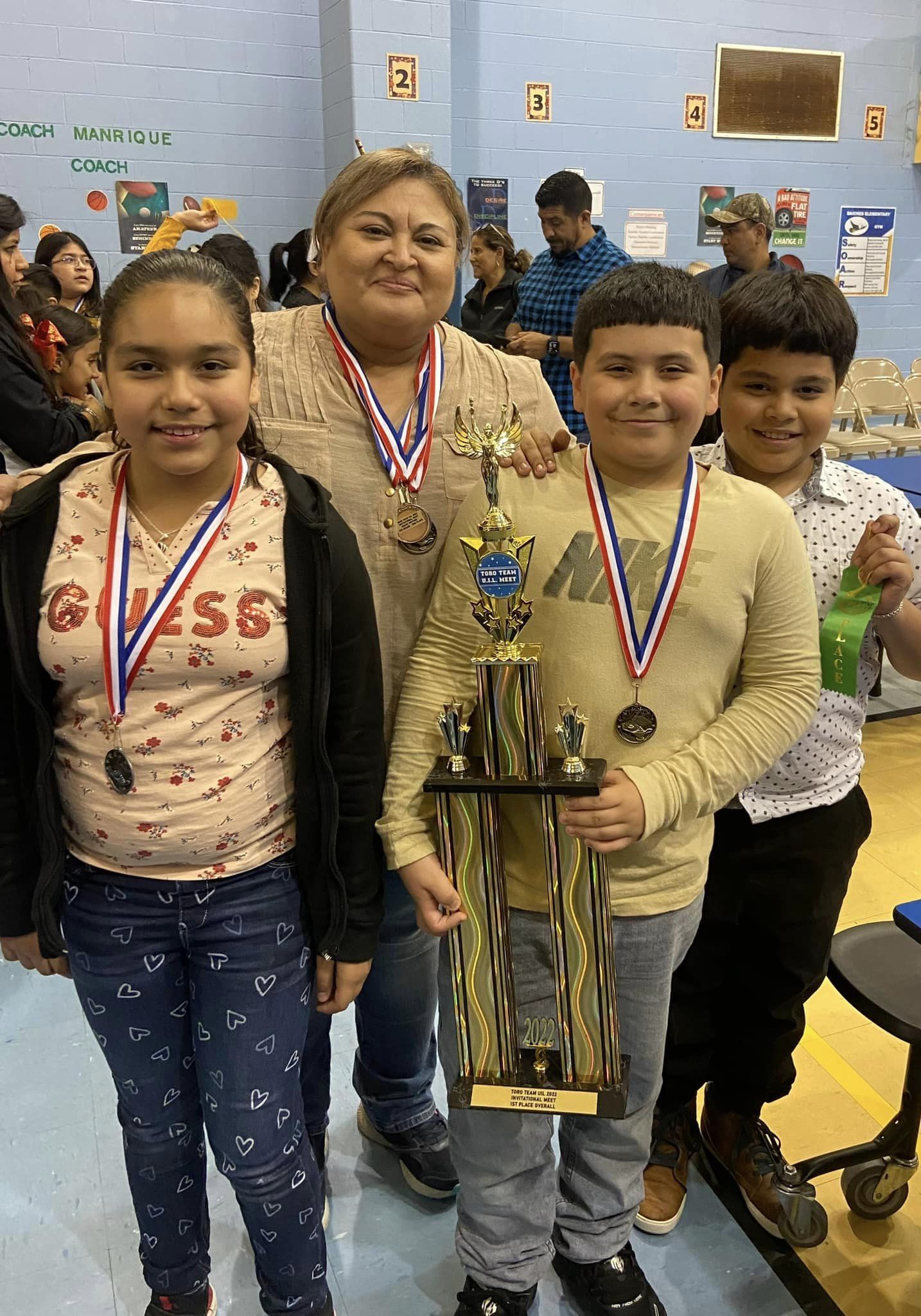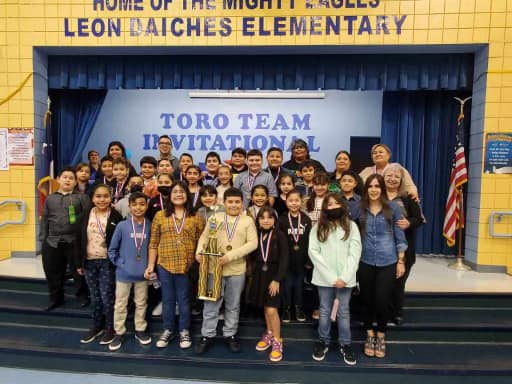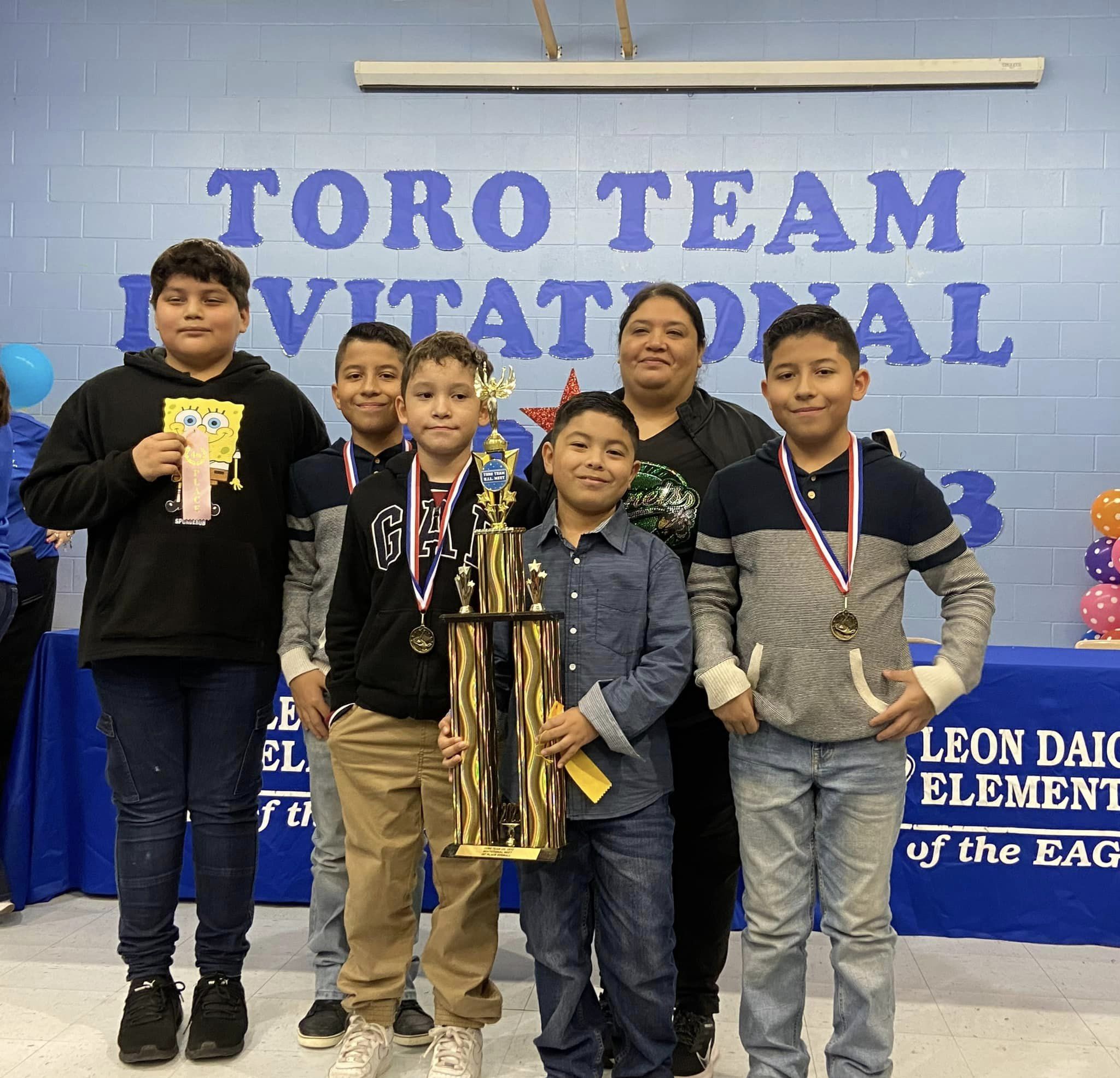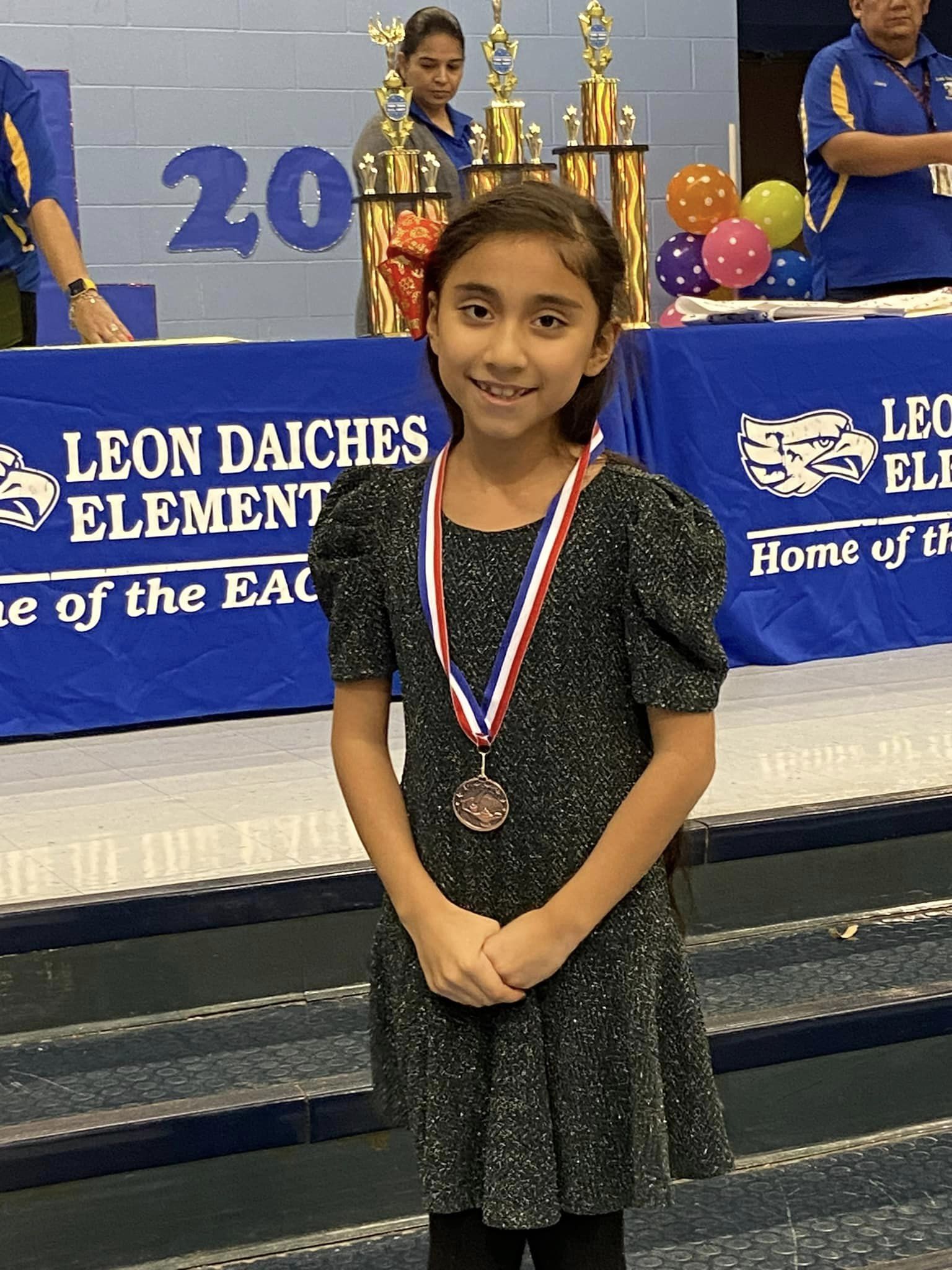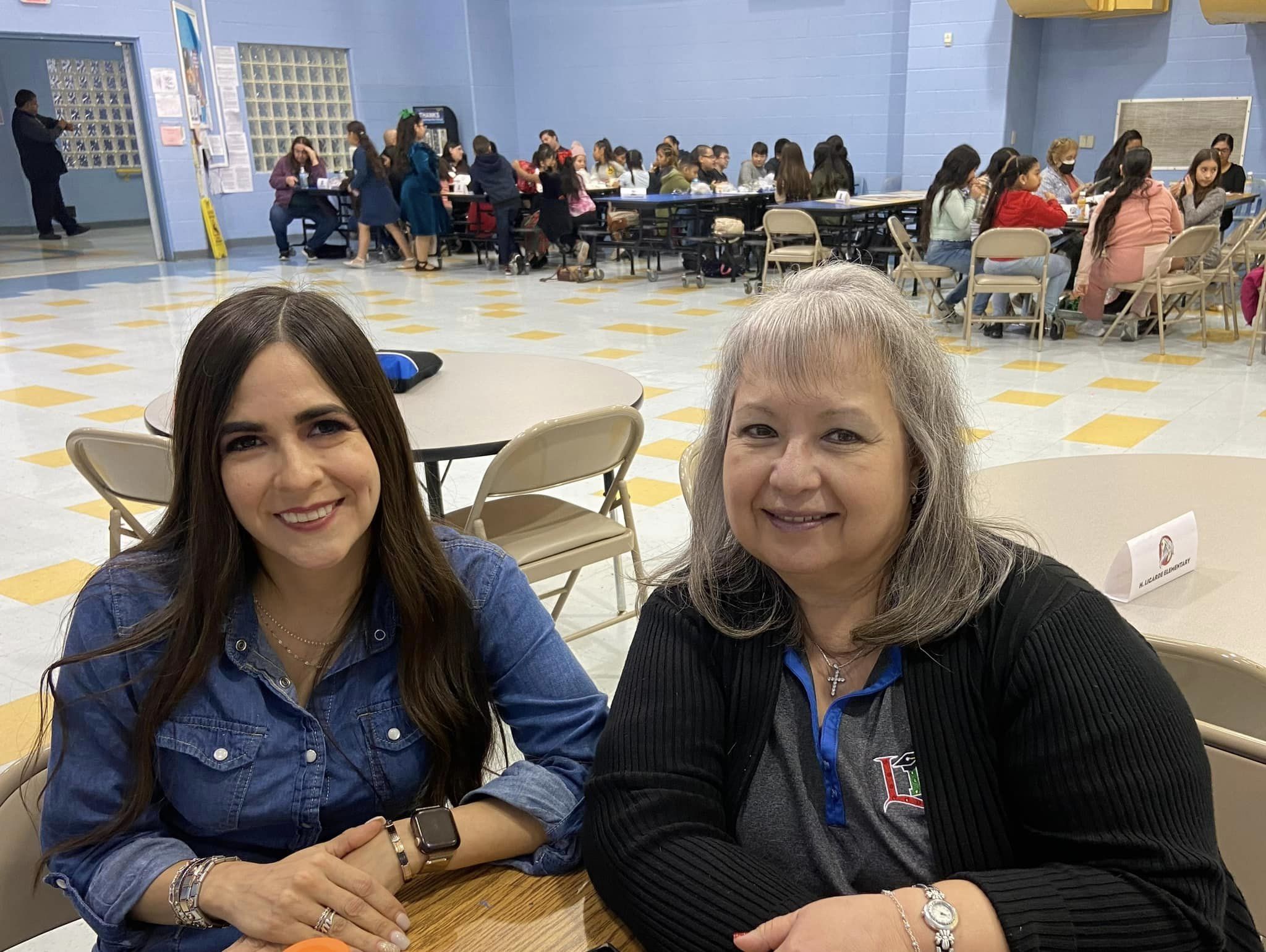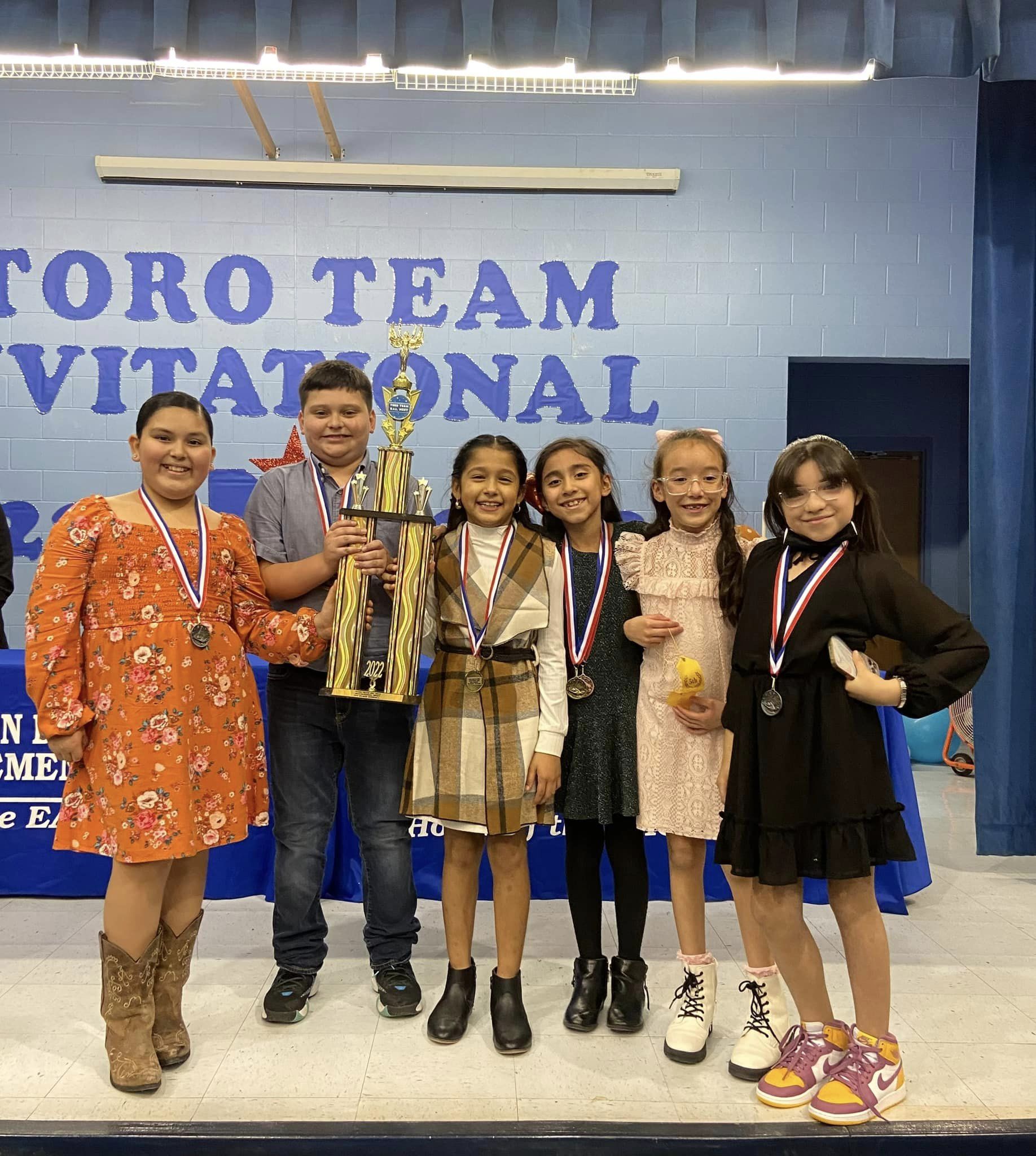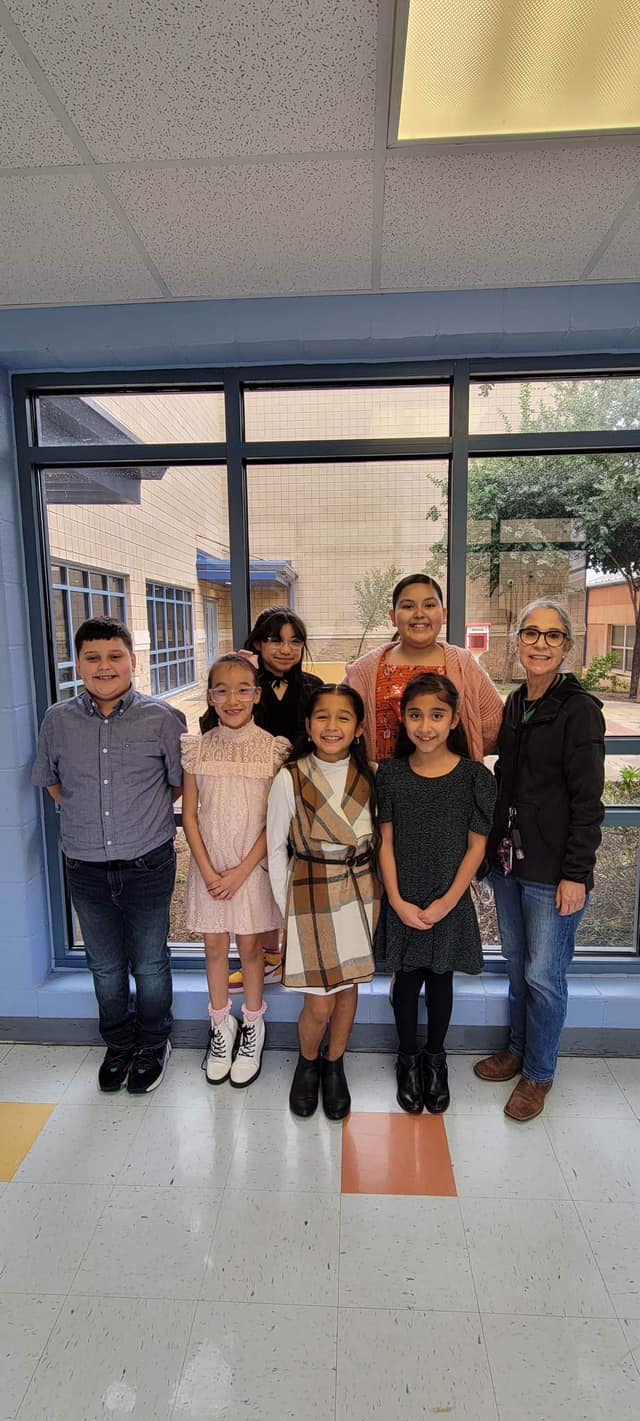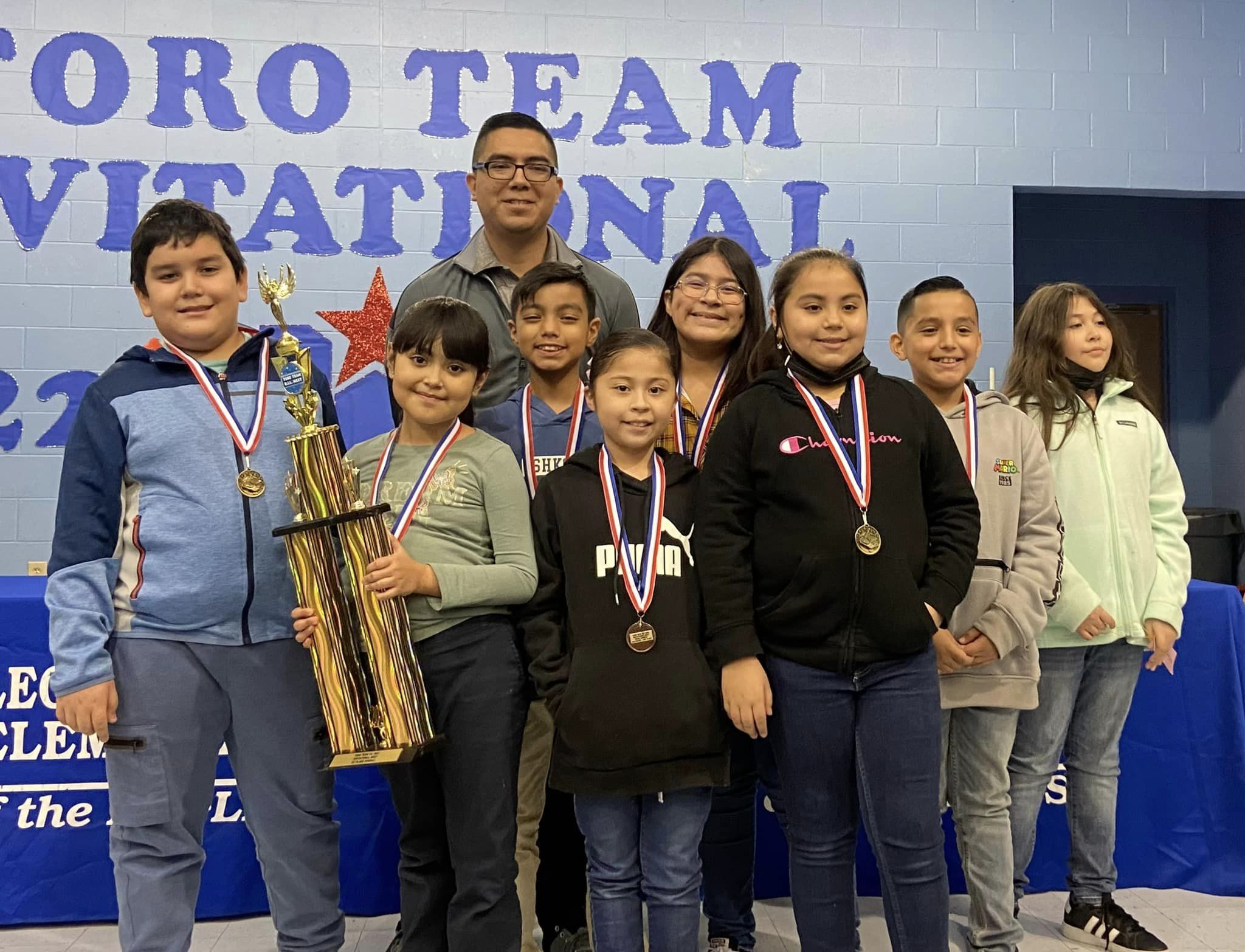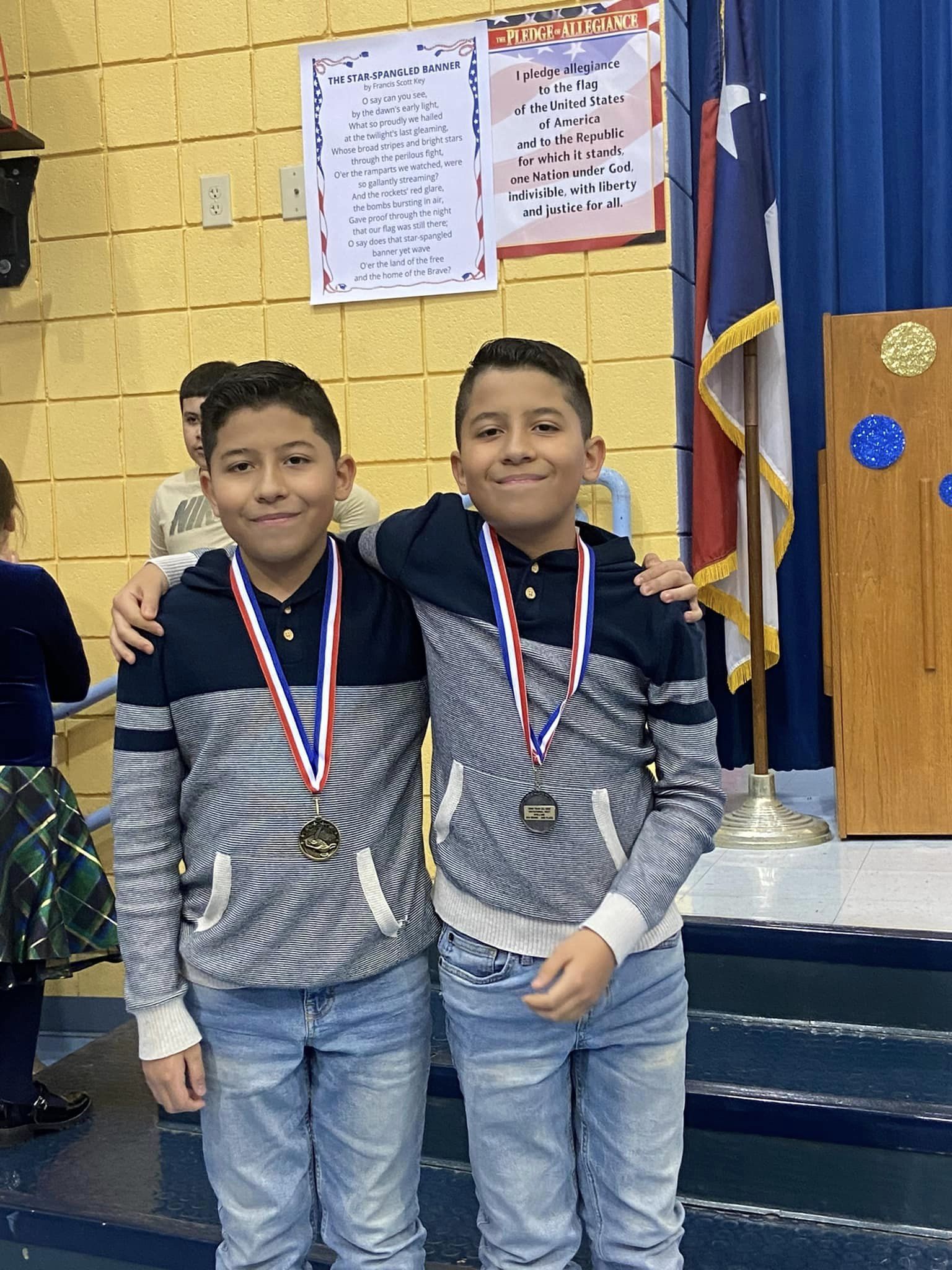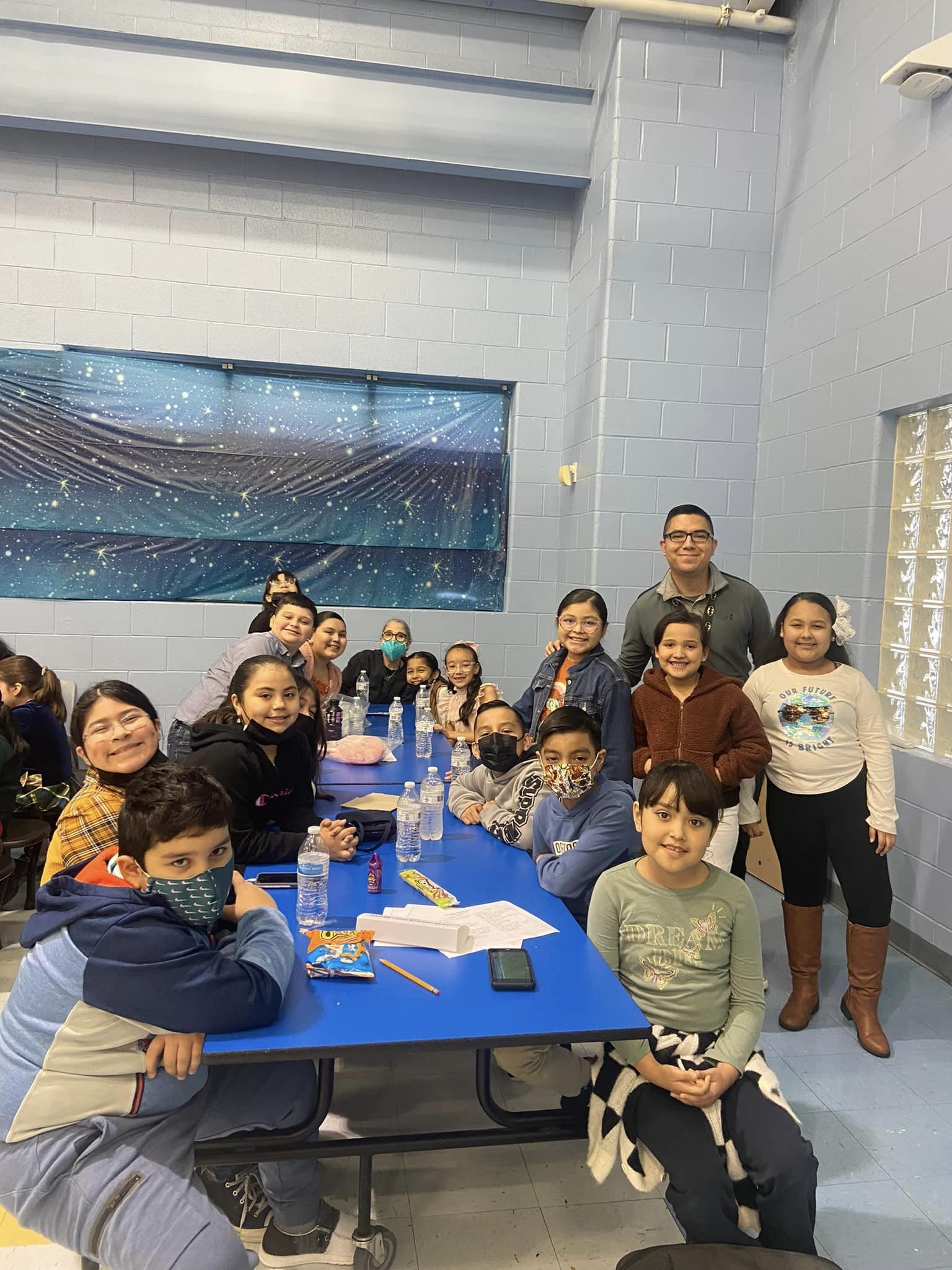 Staff Thanksgiving Luncheon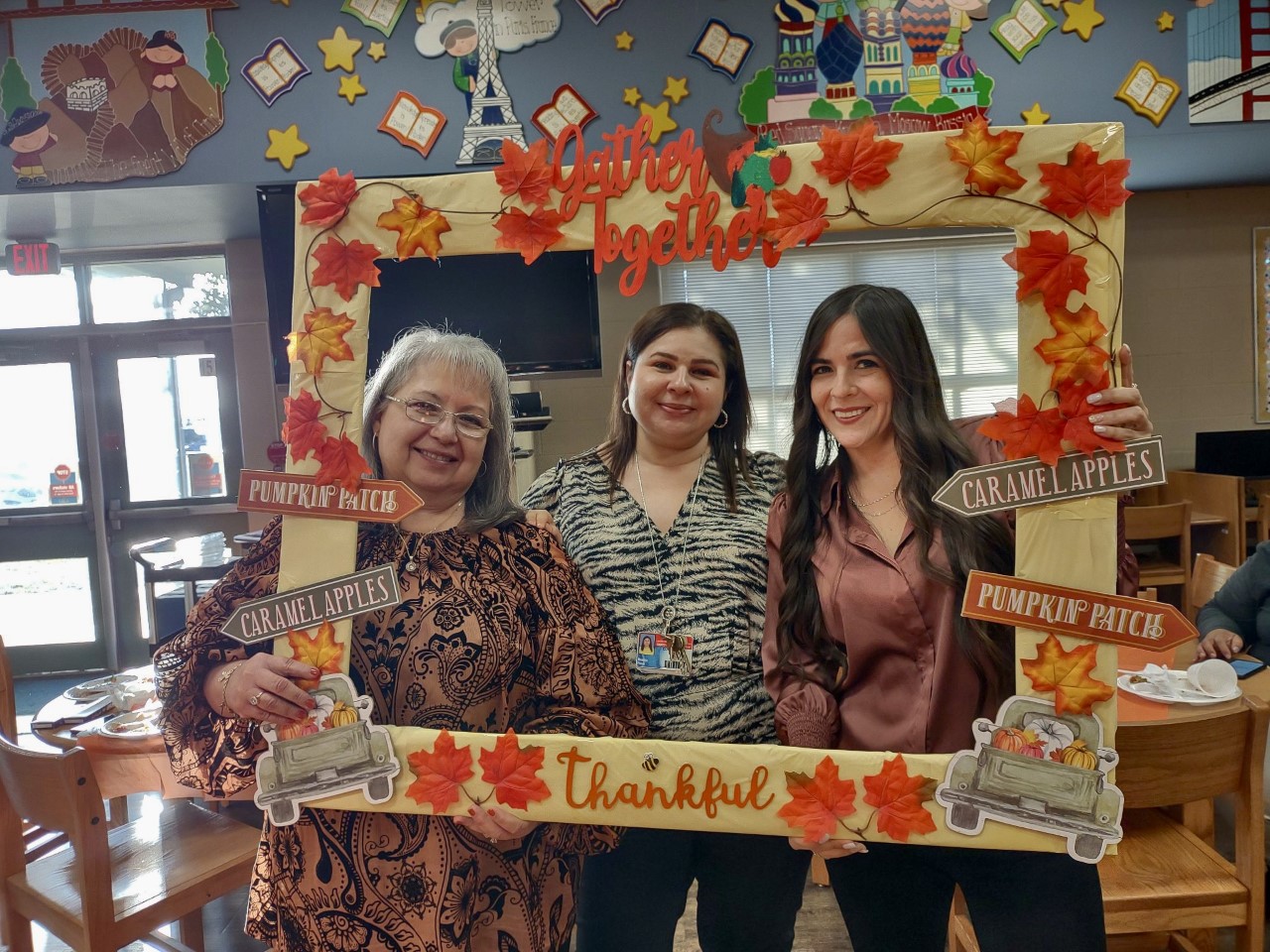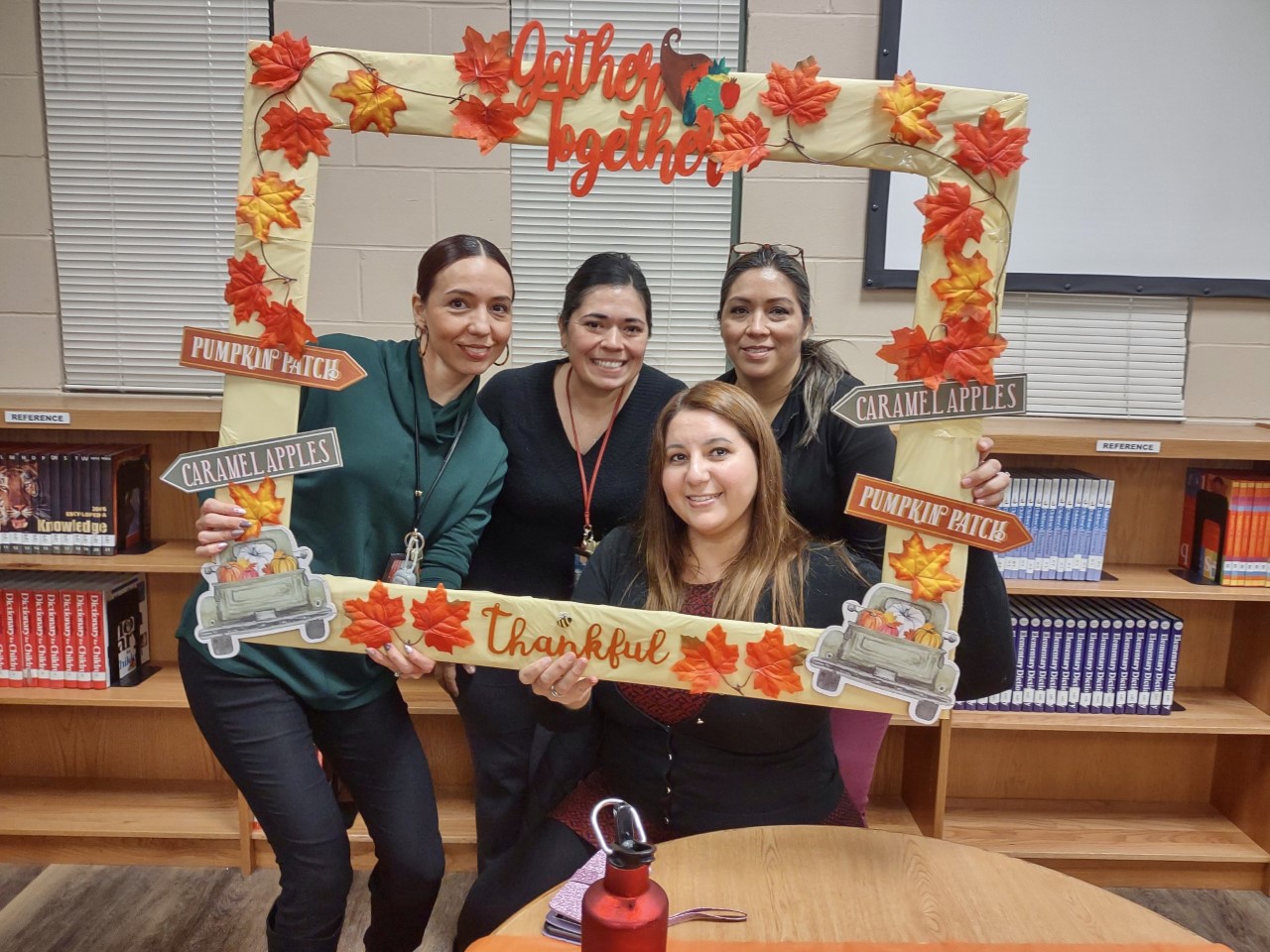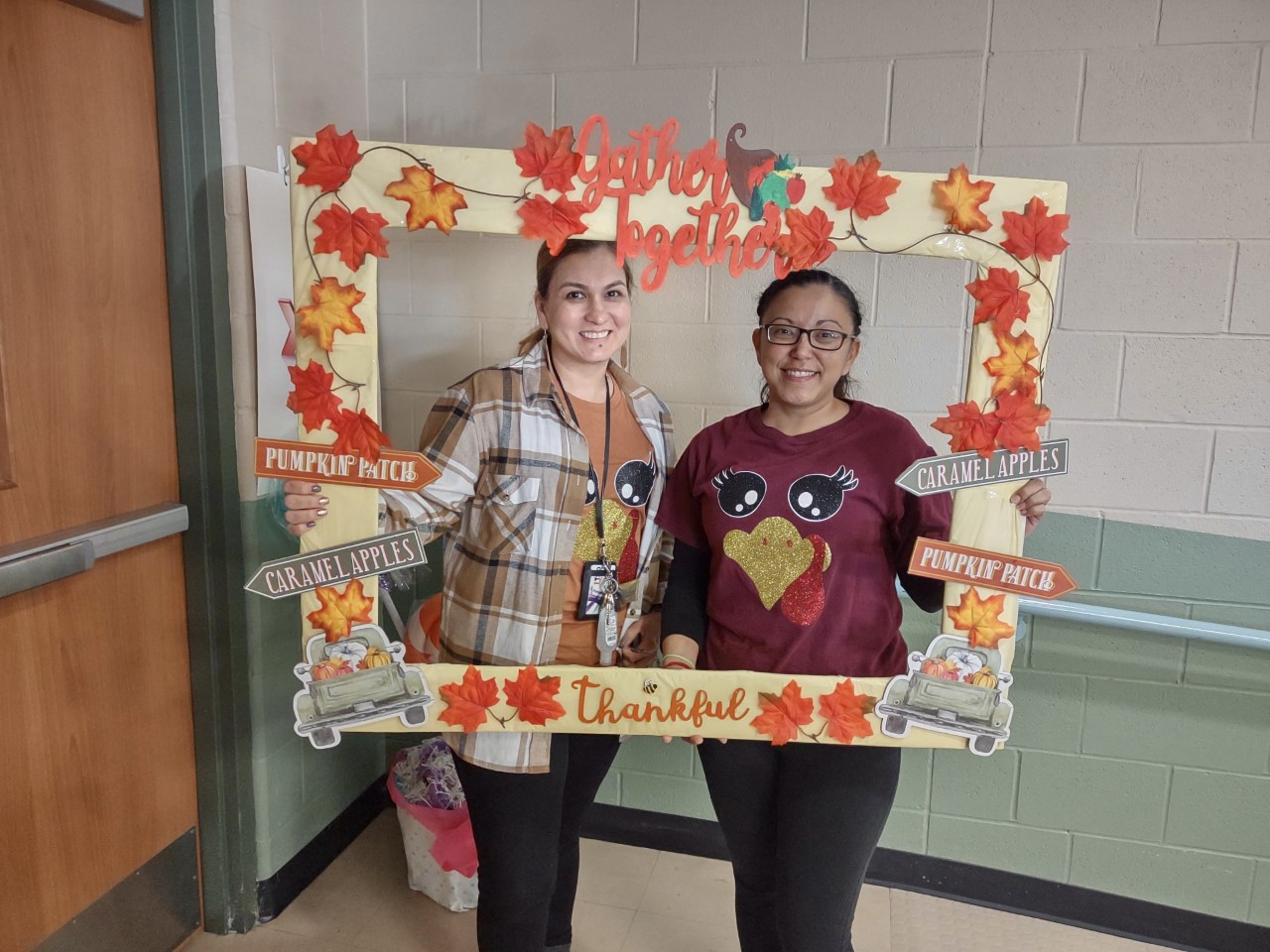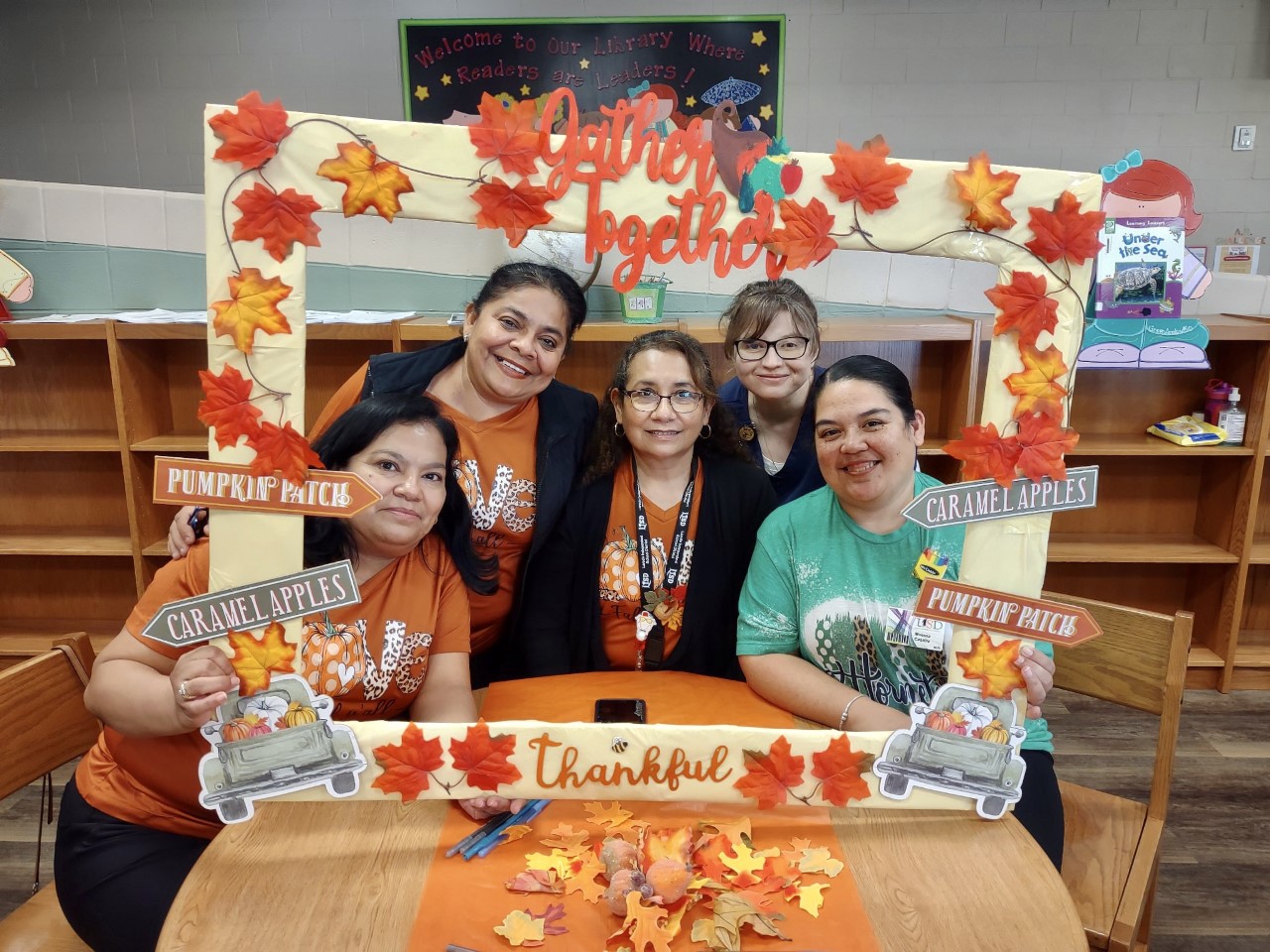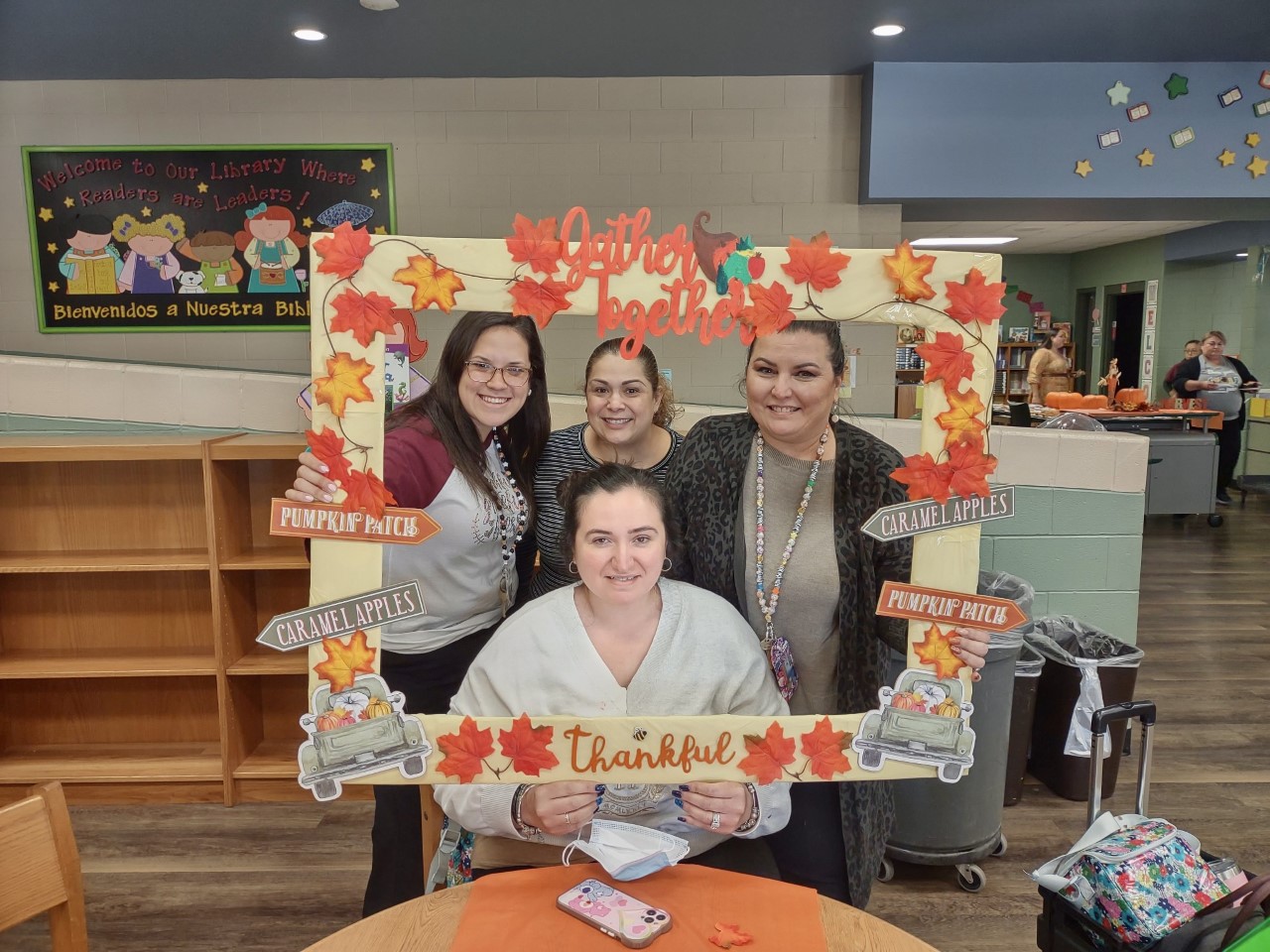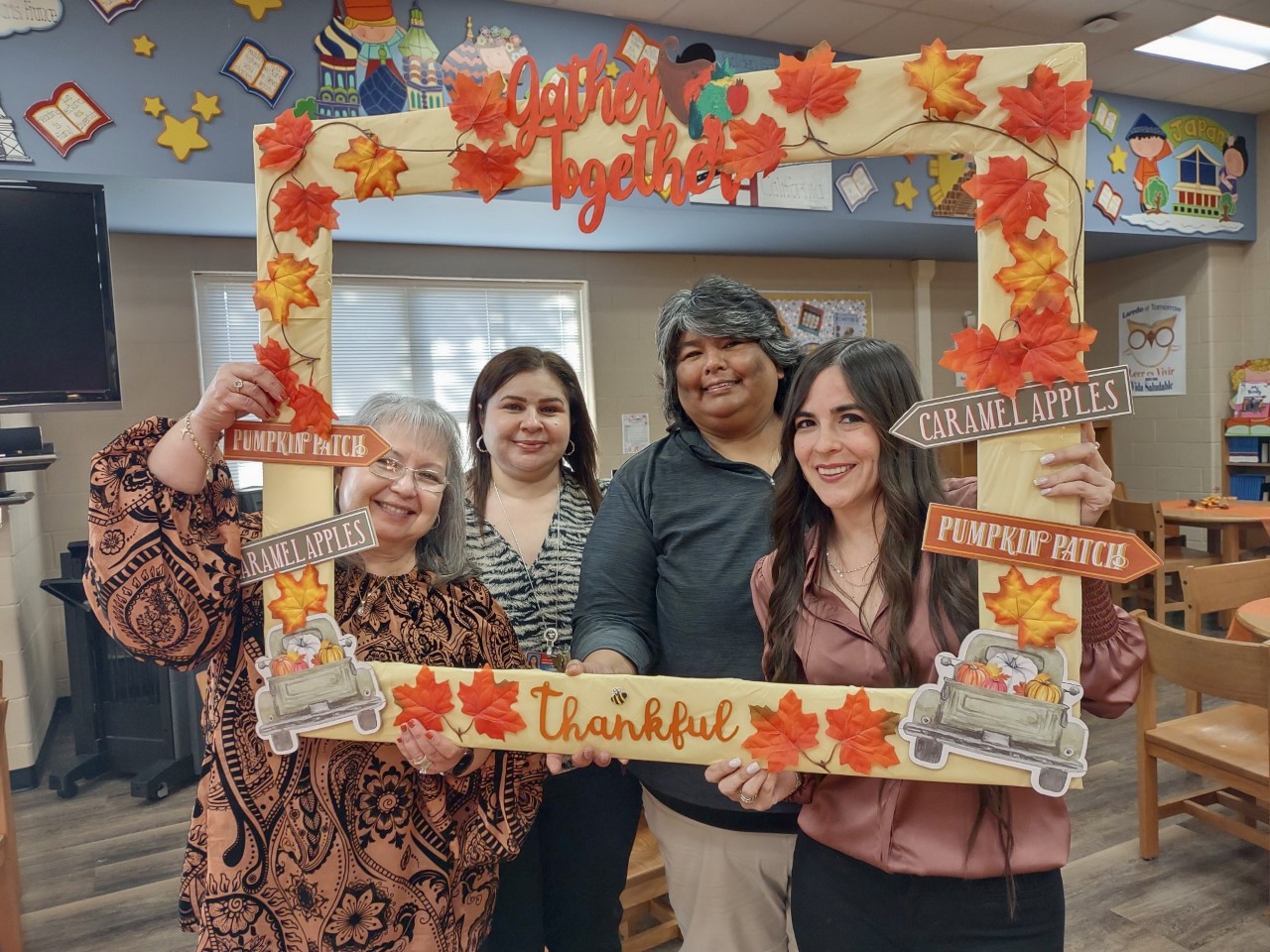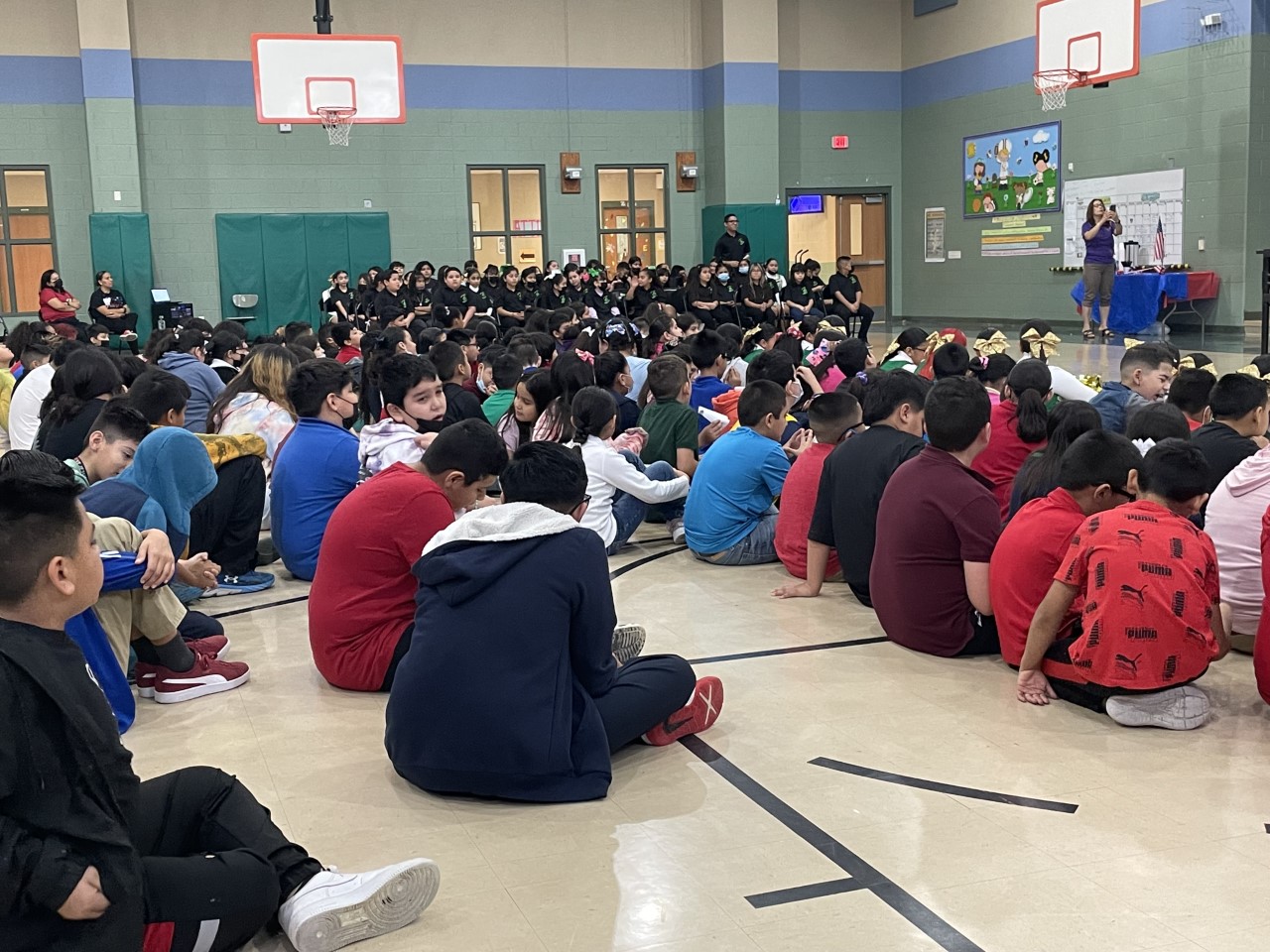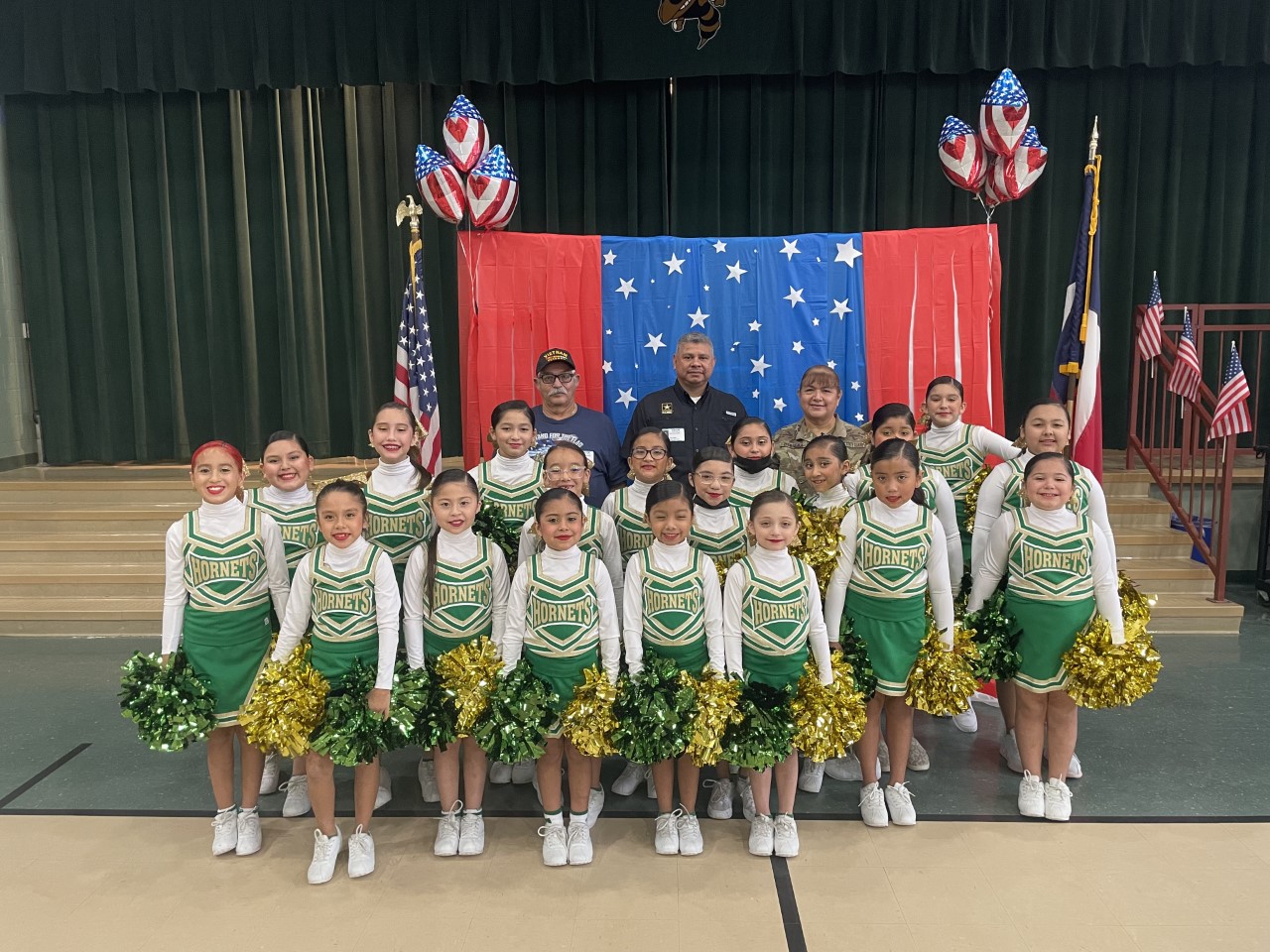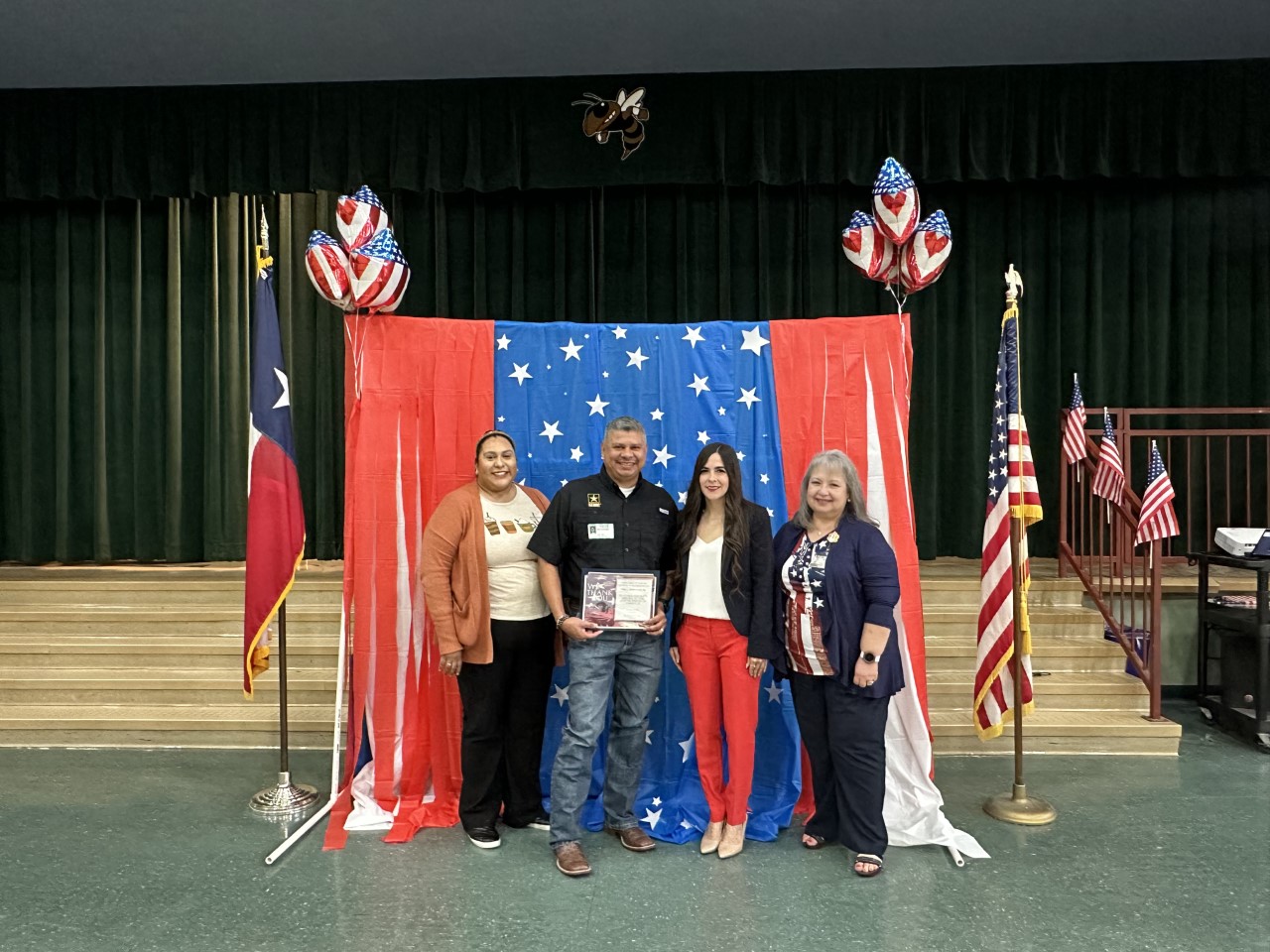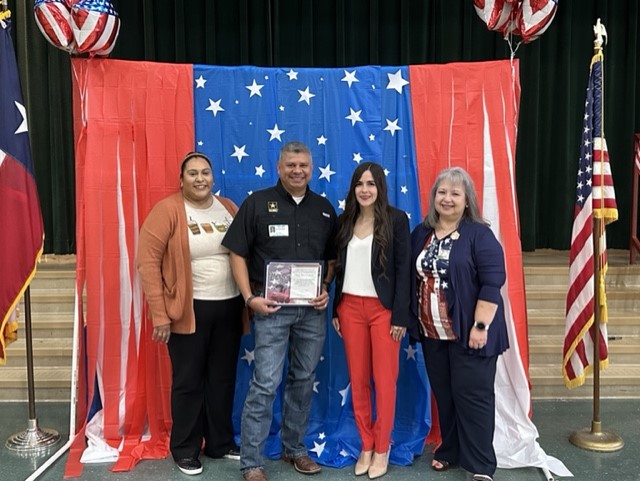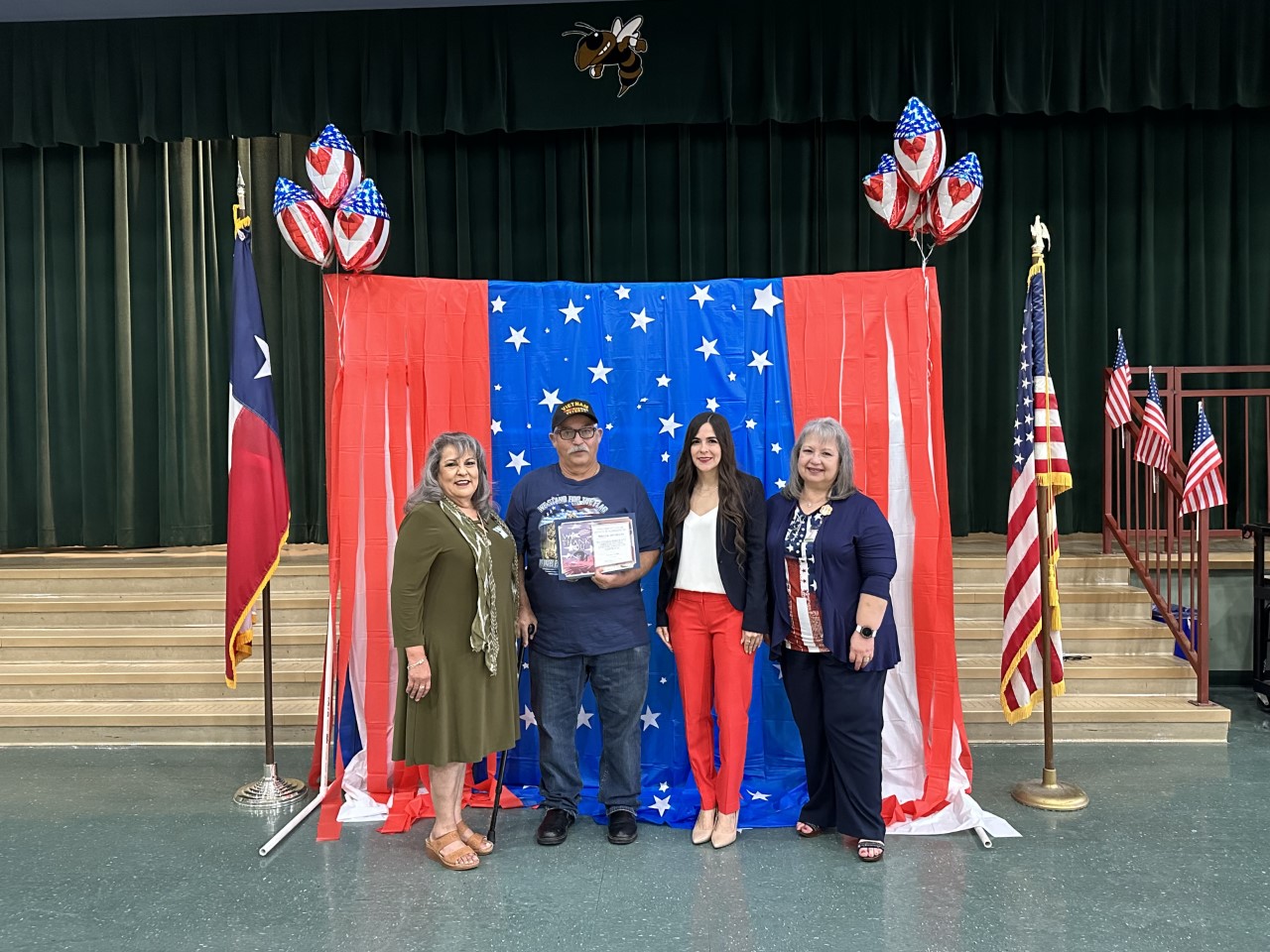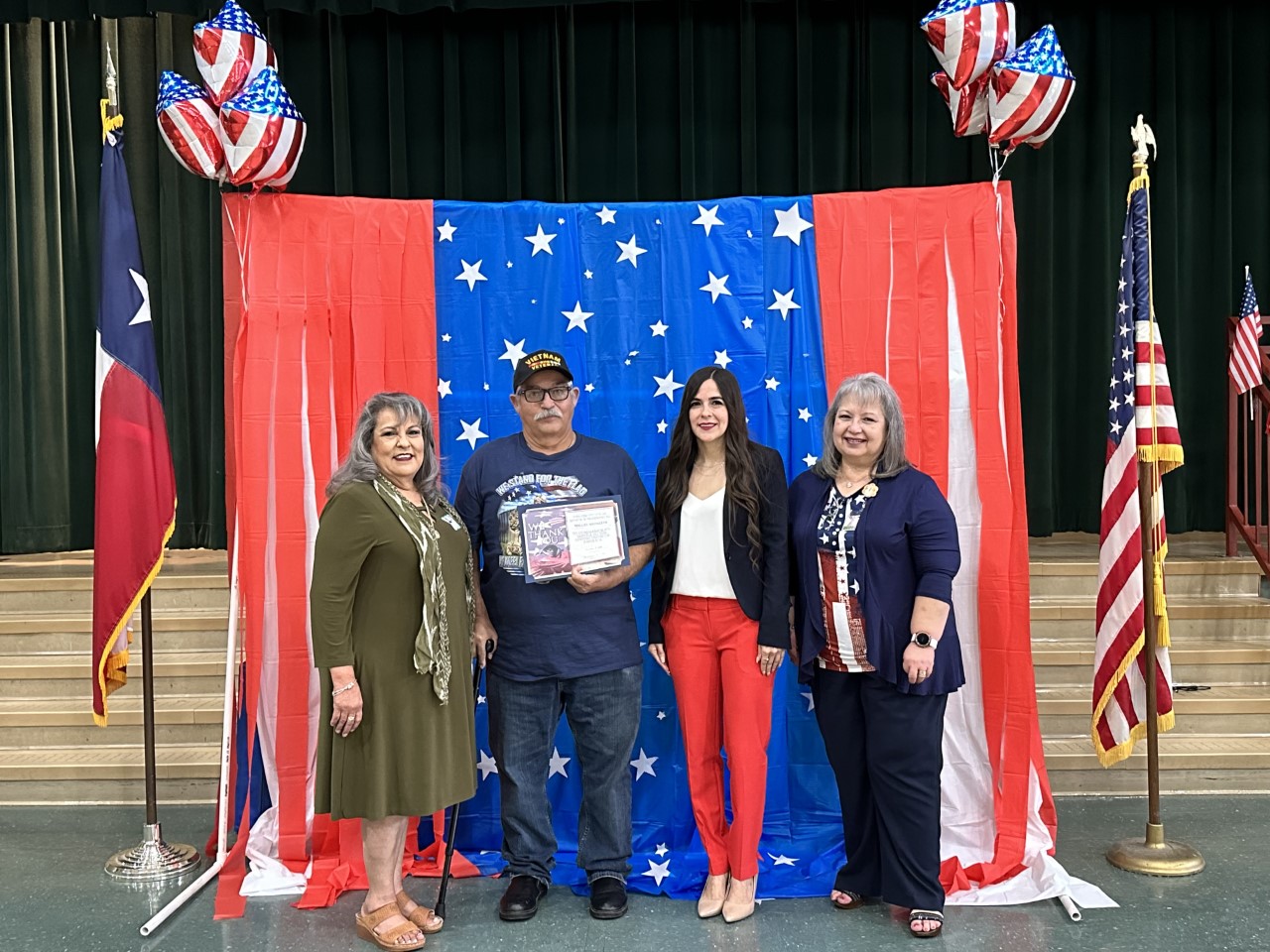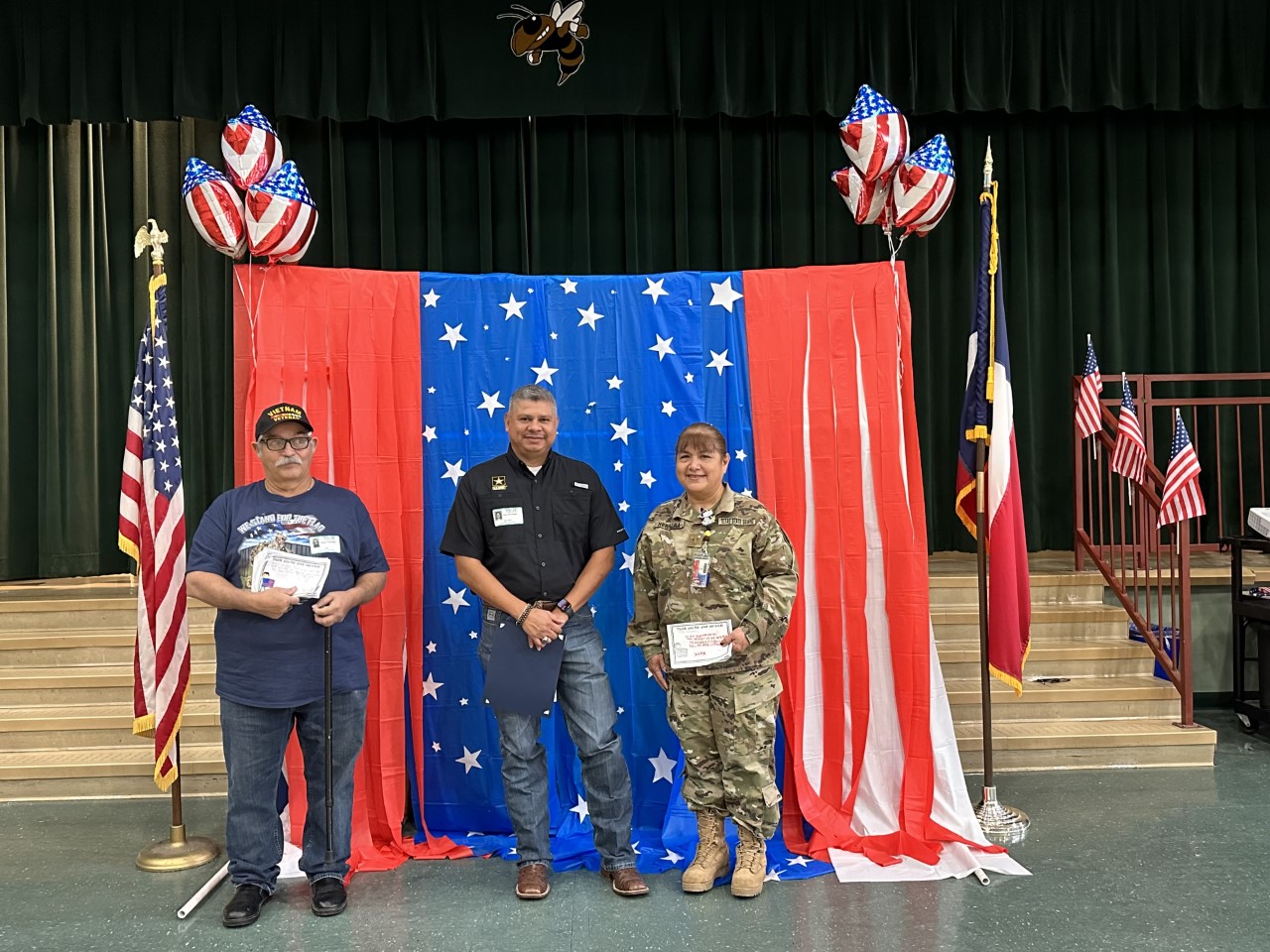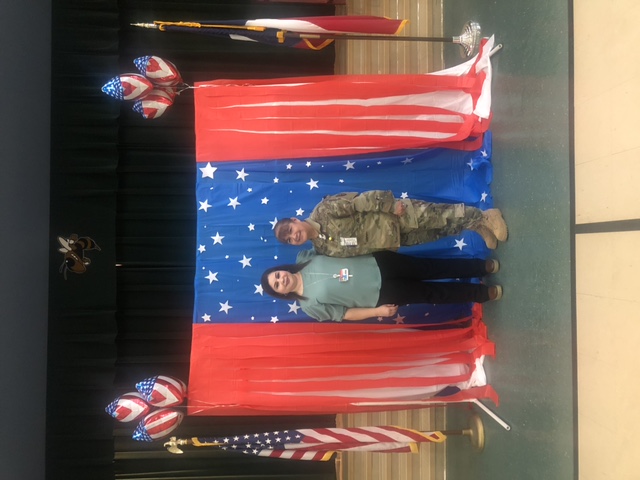 October Student of the Month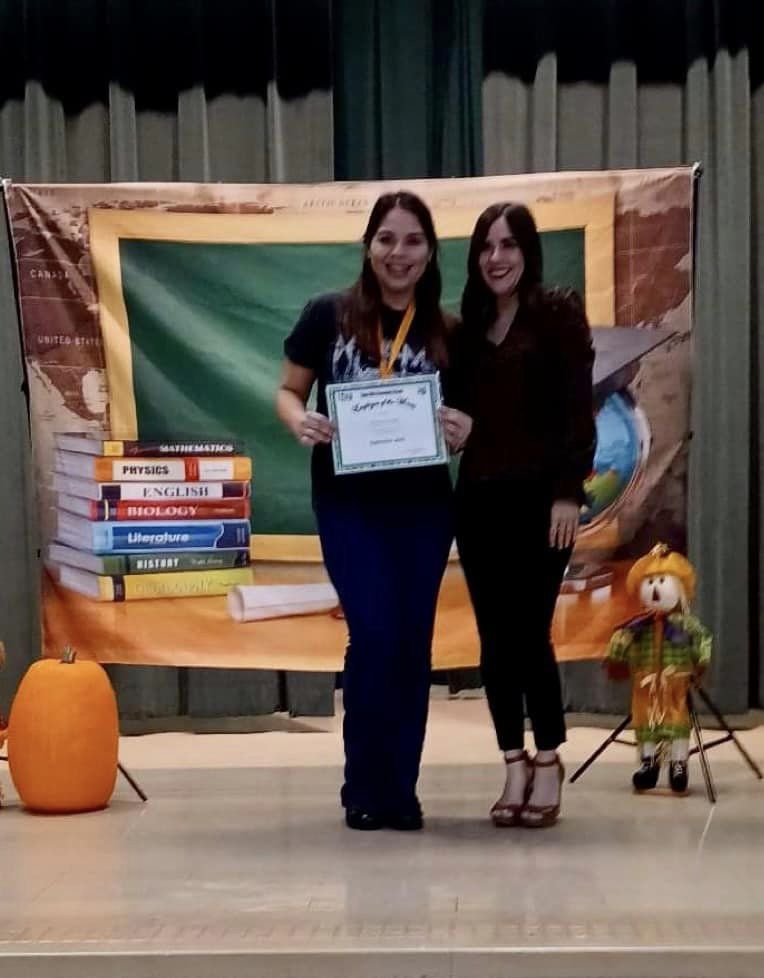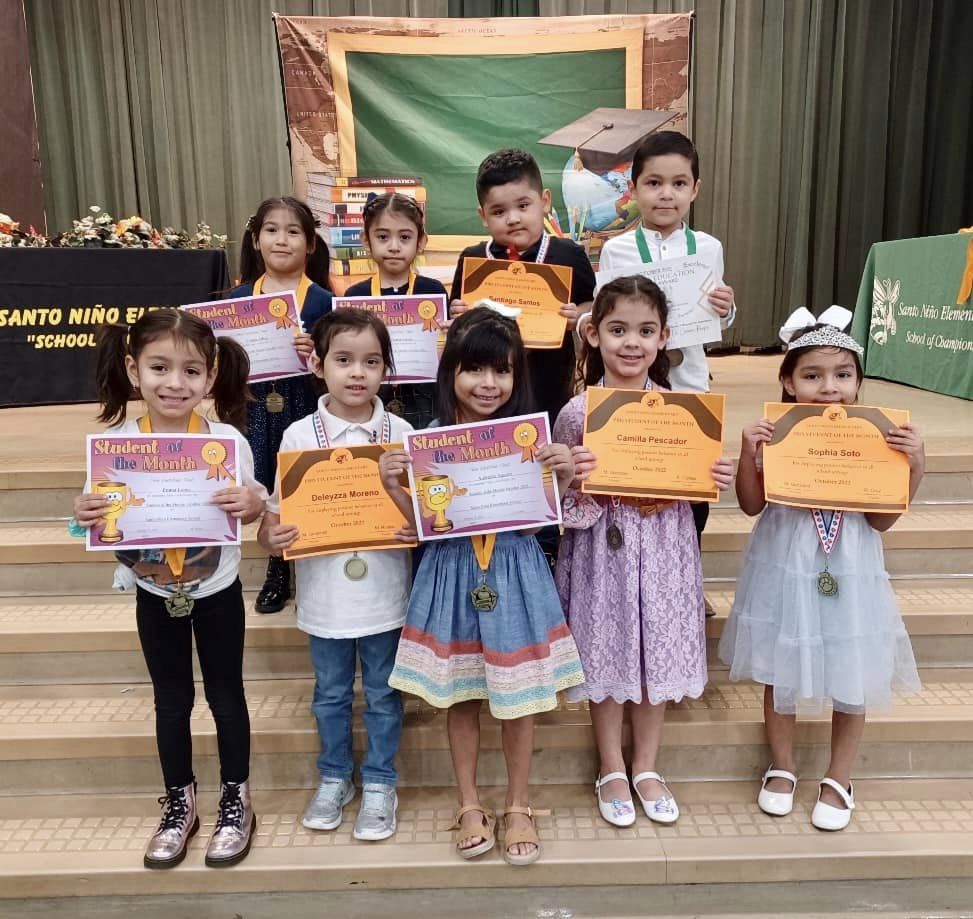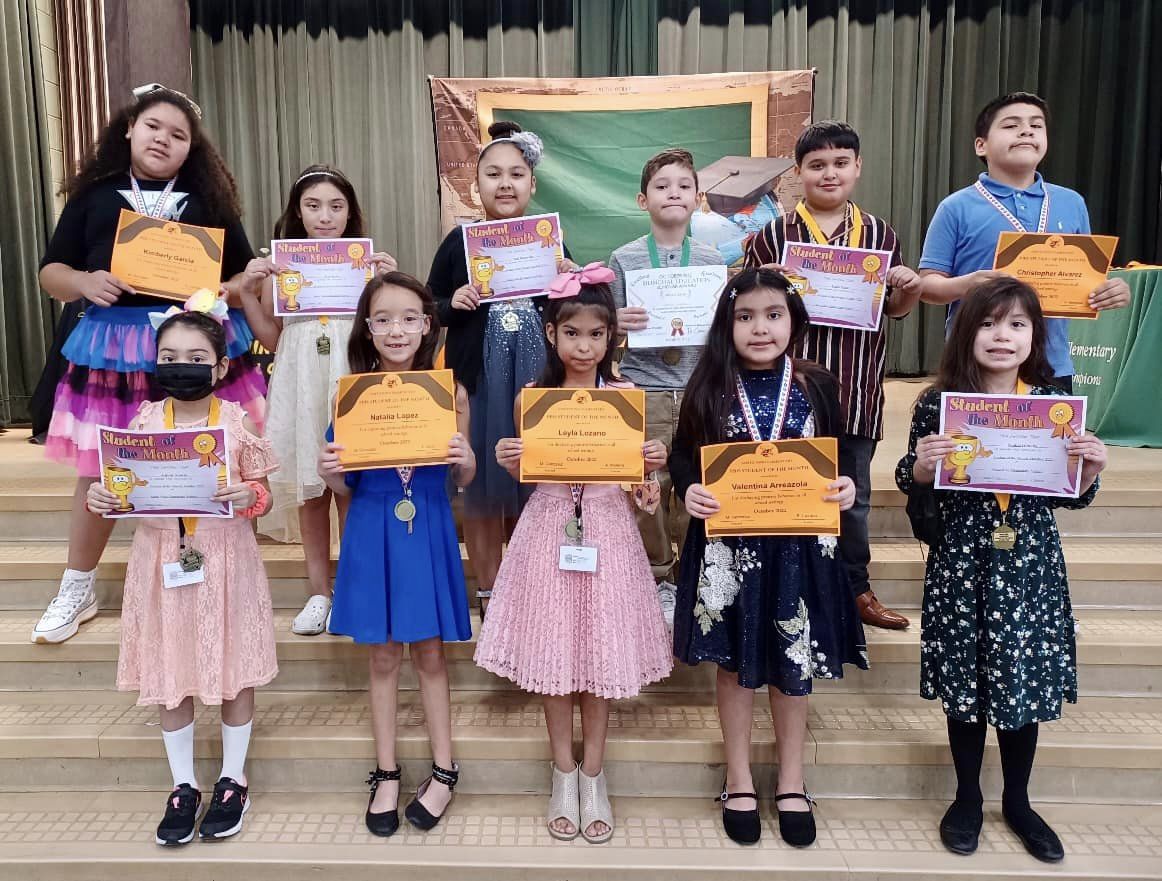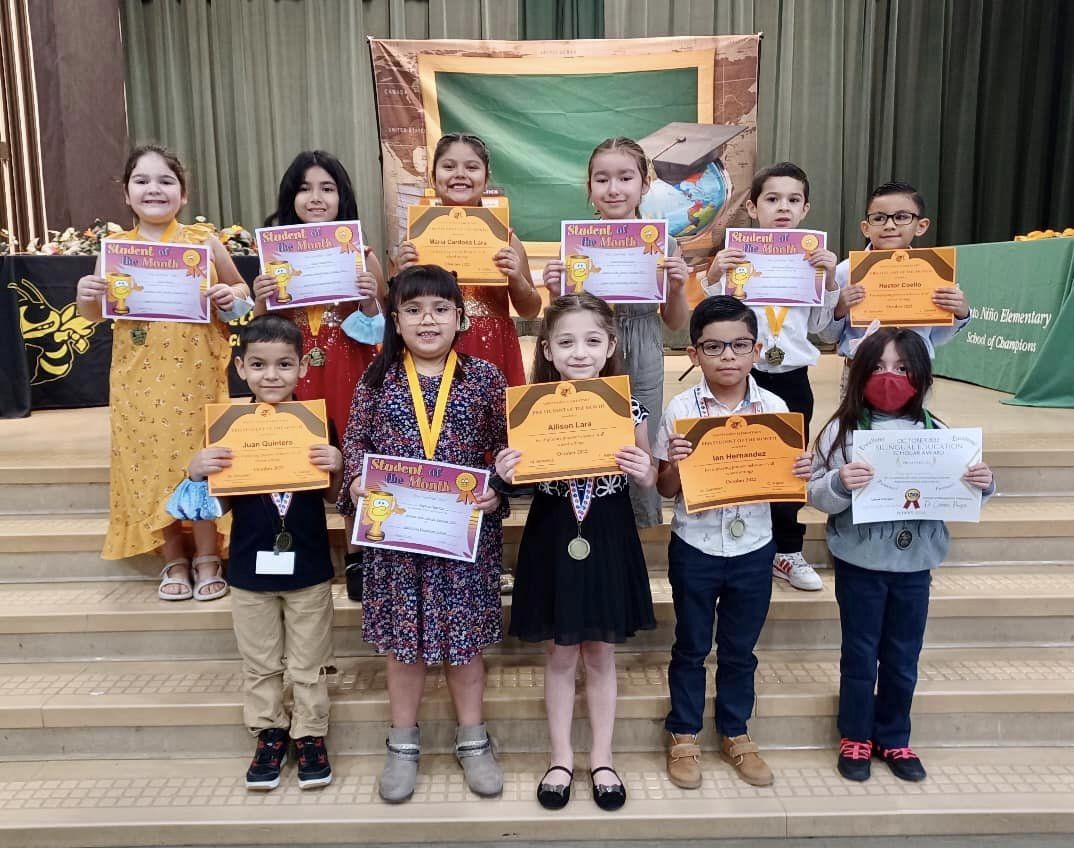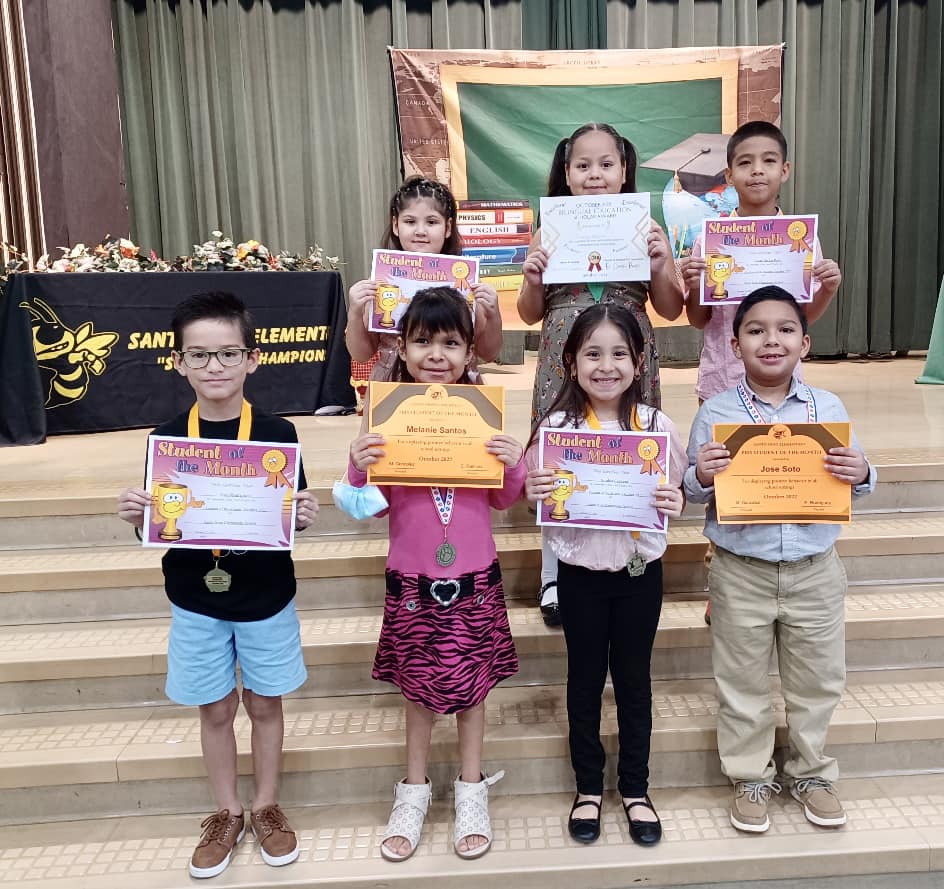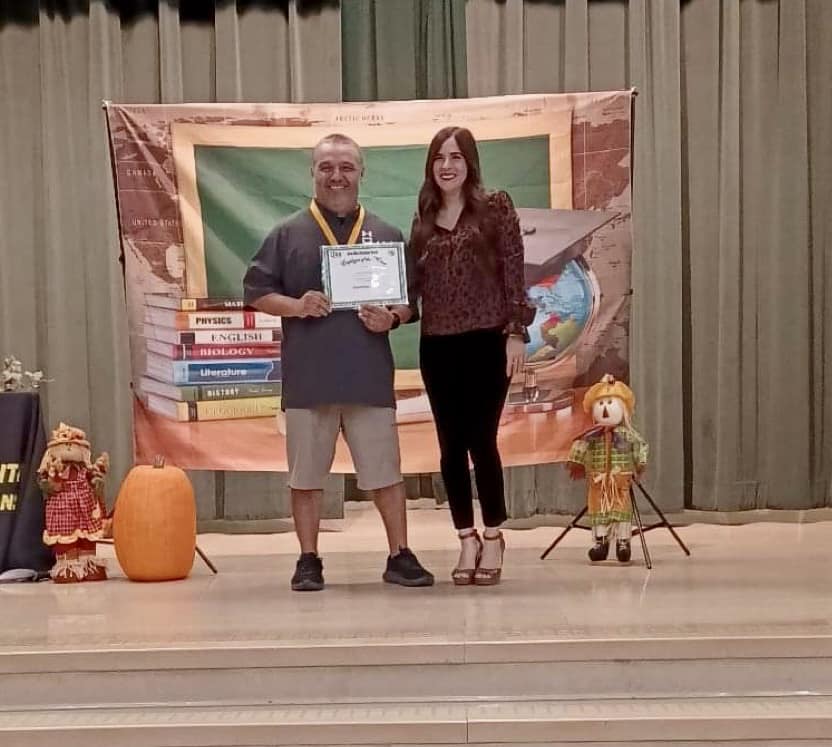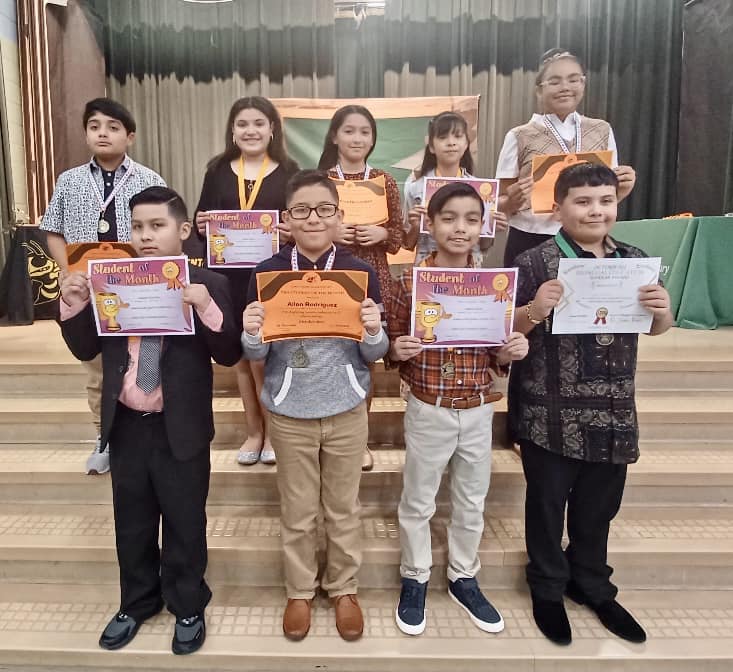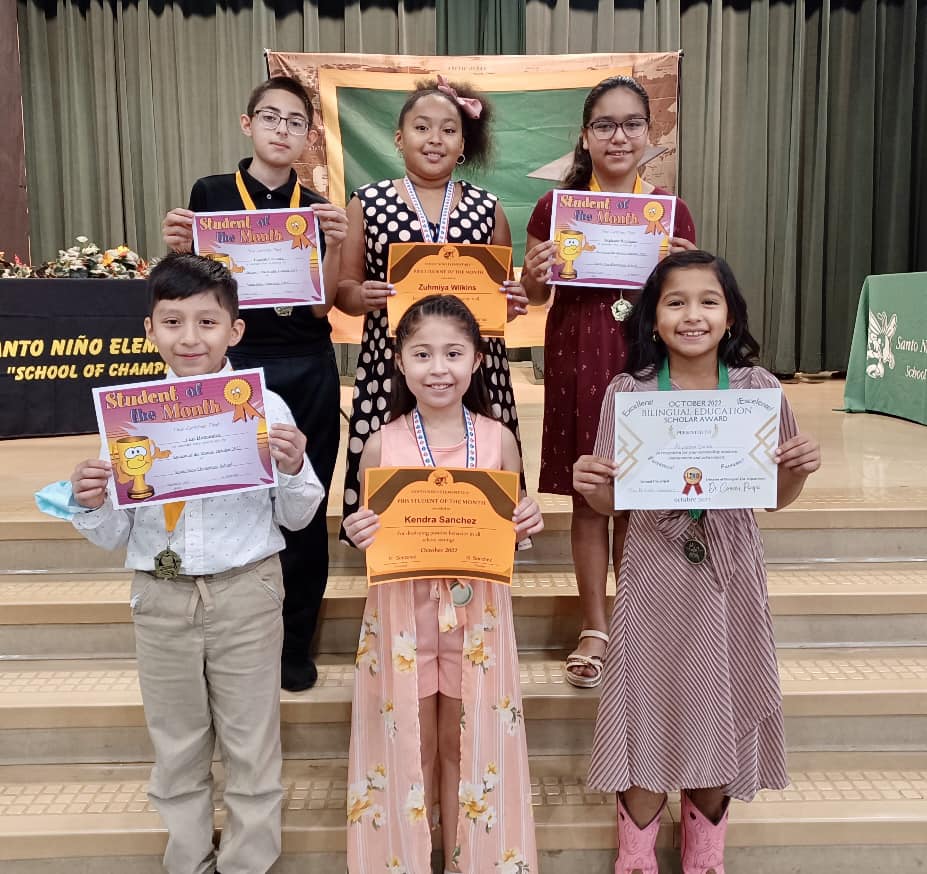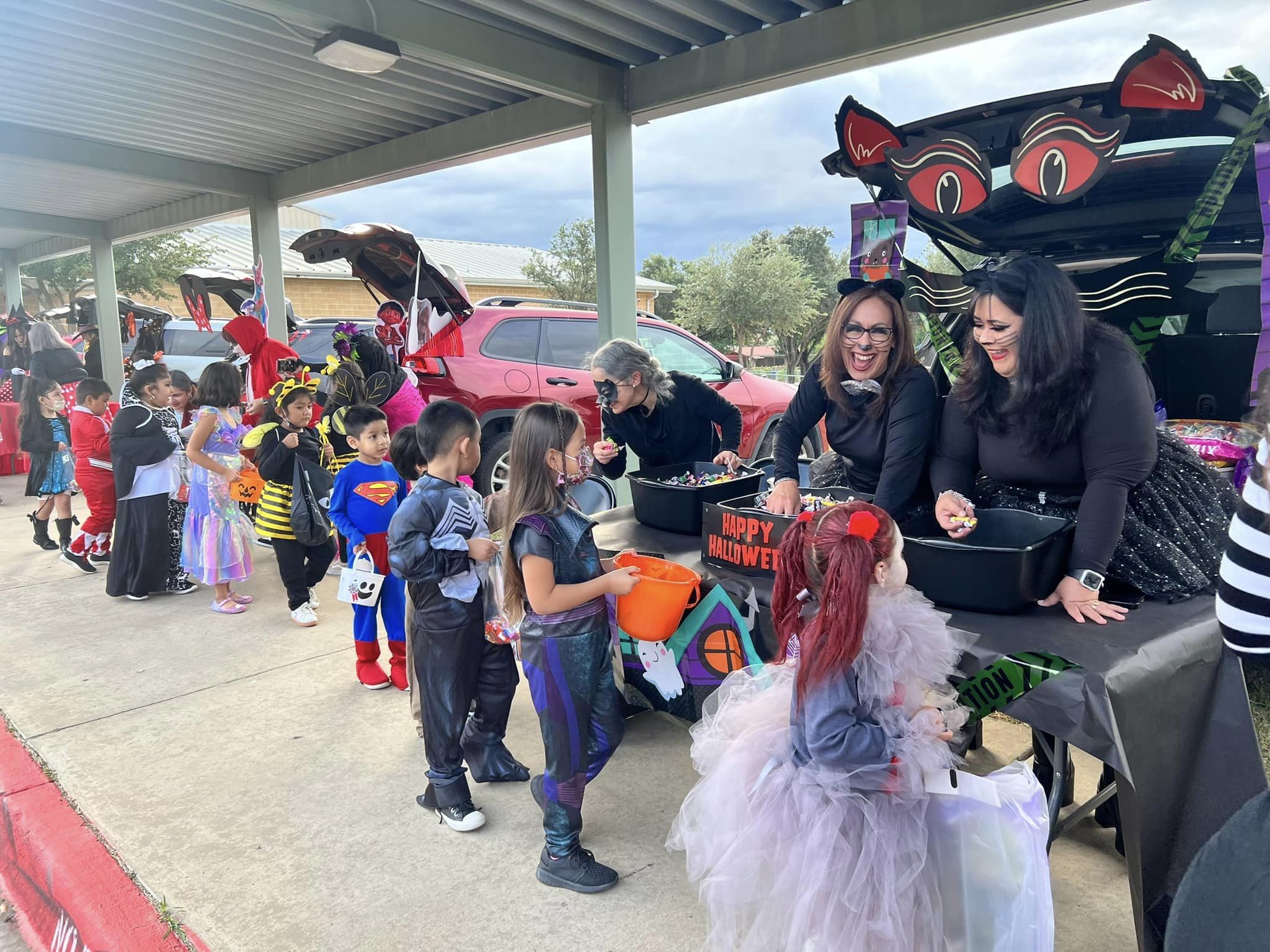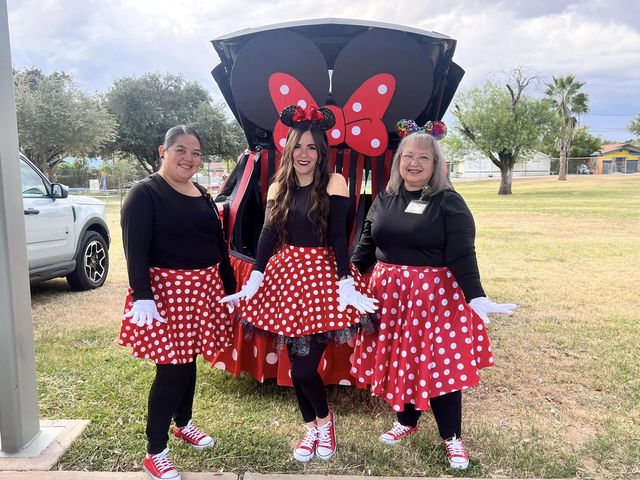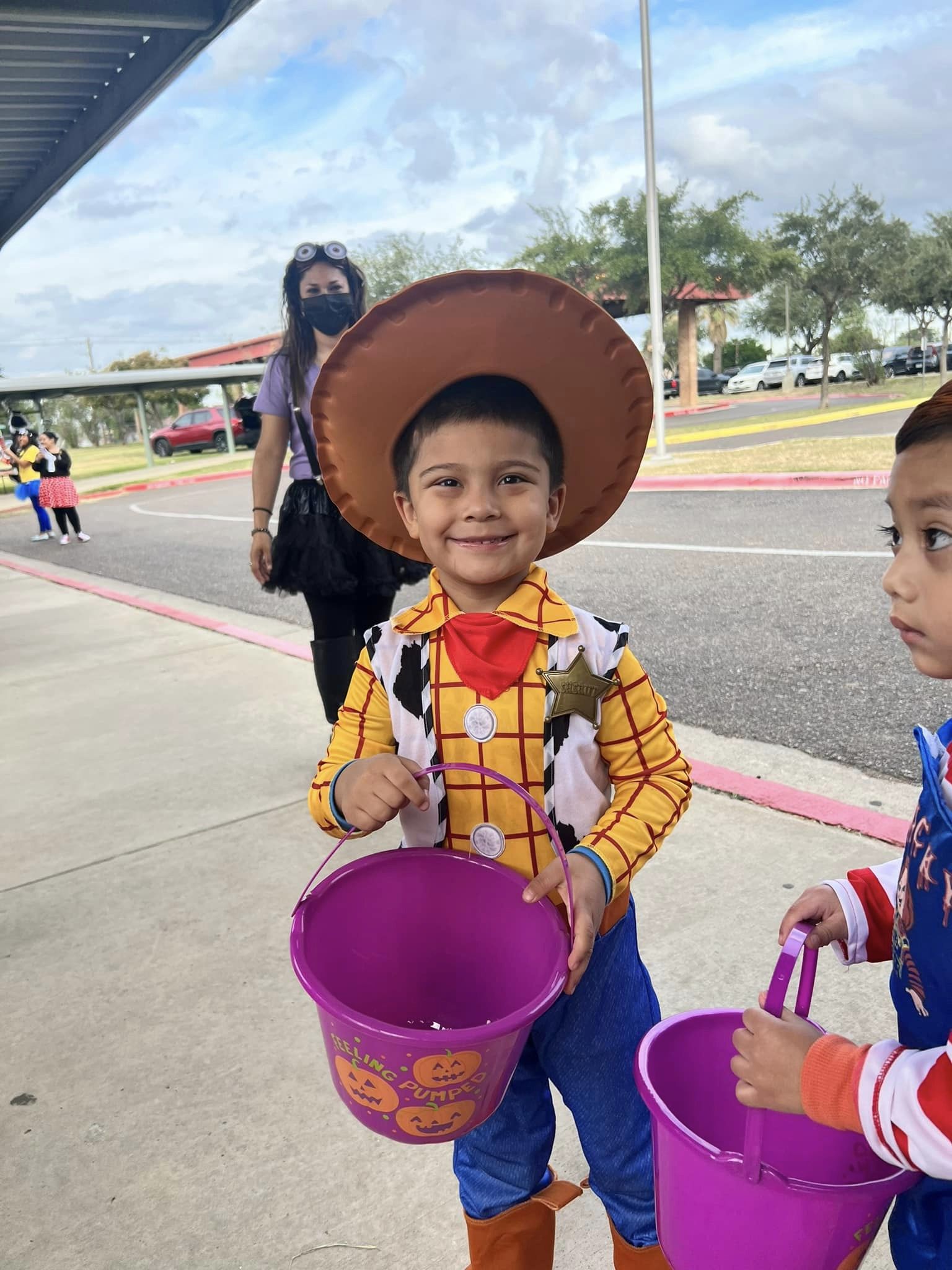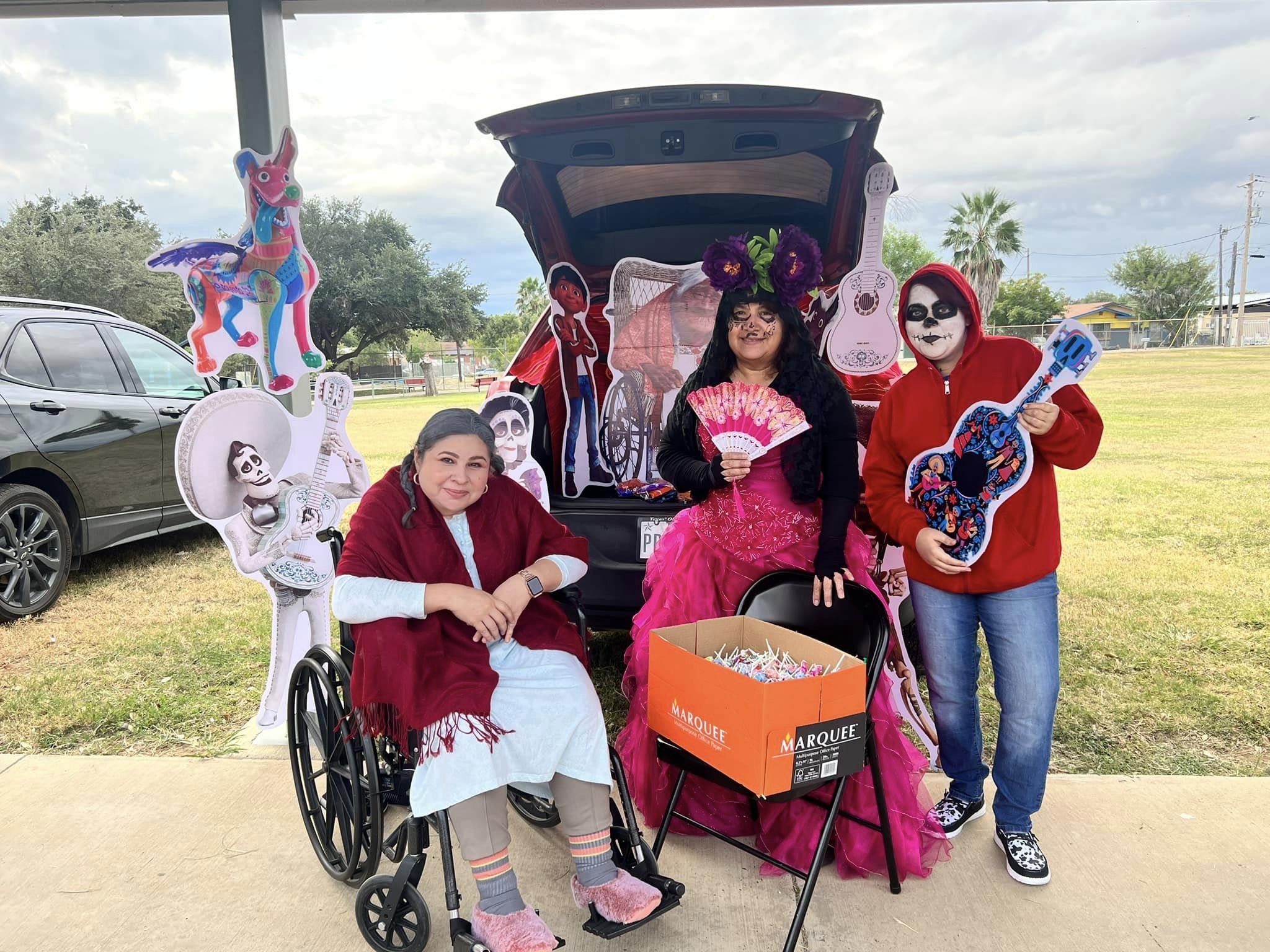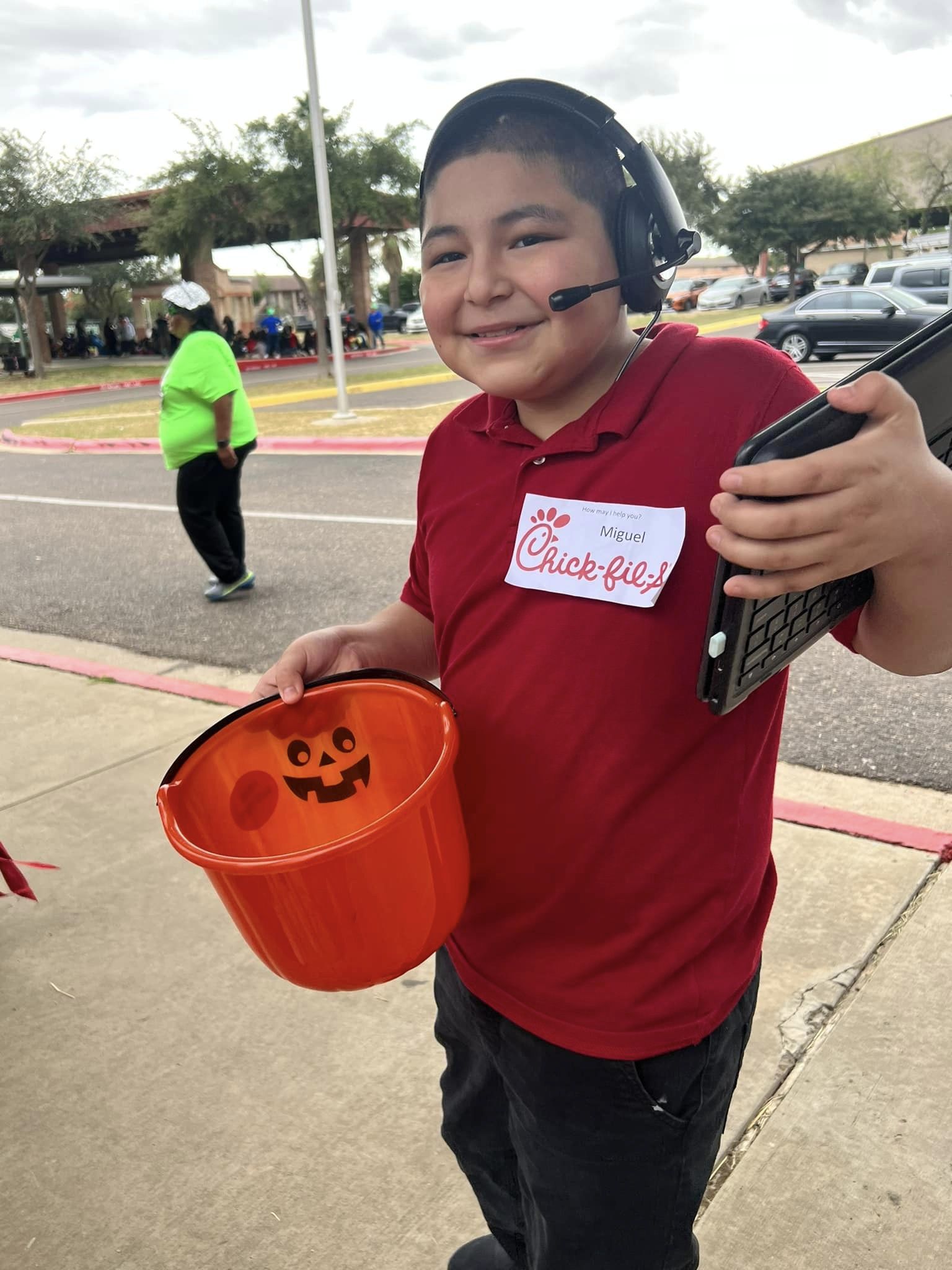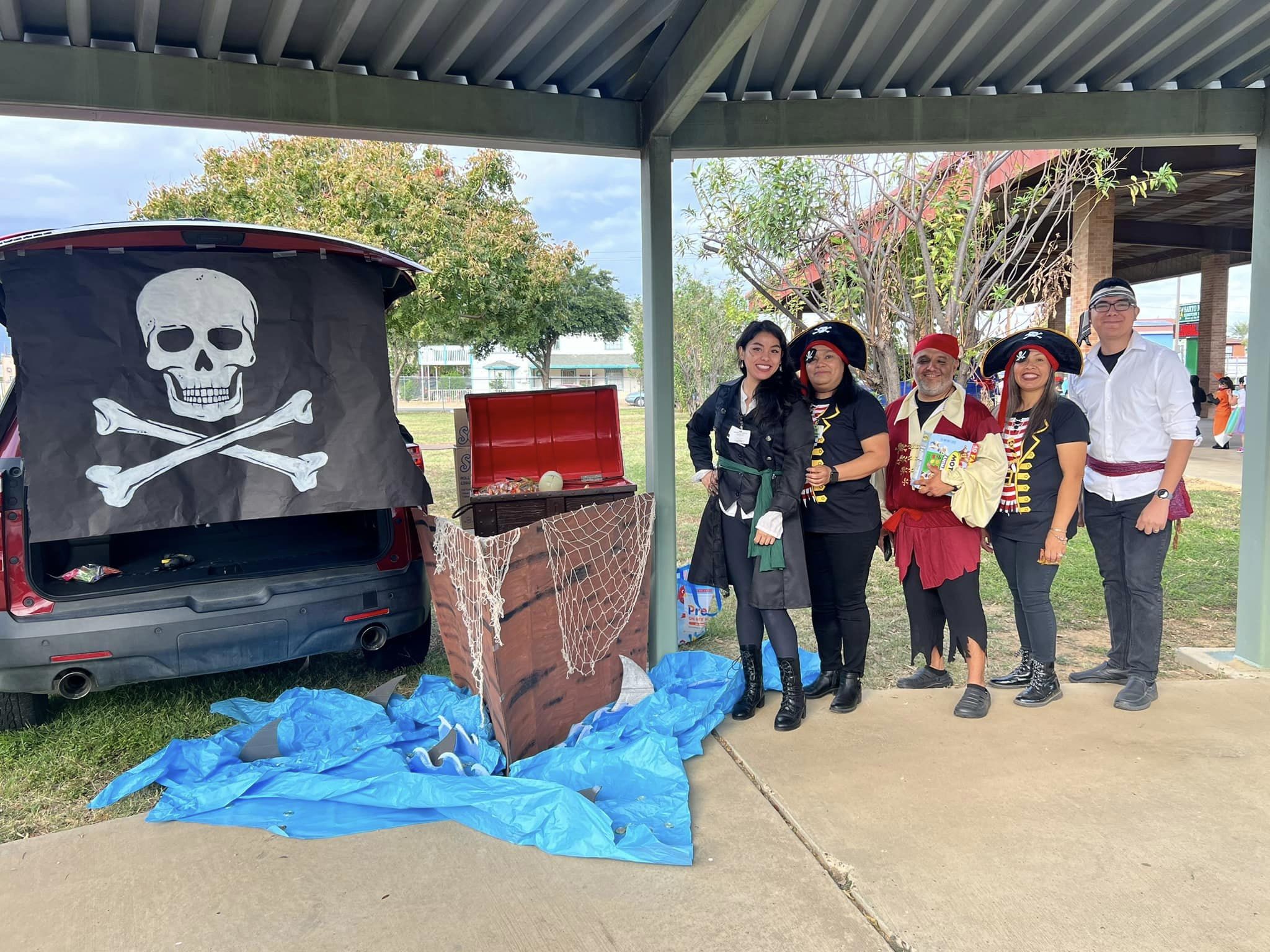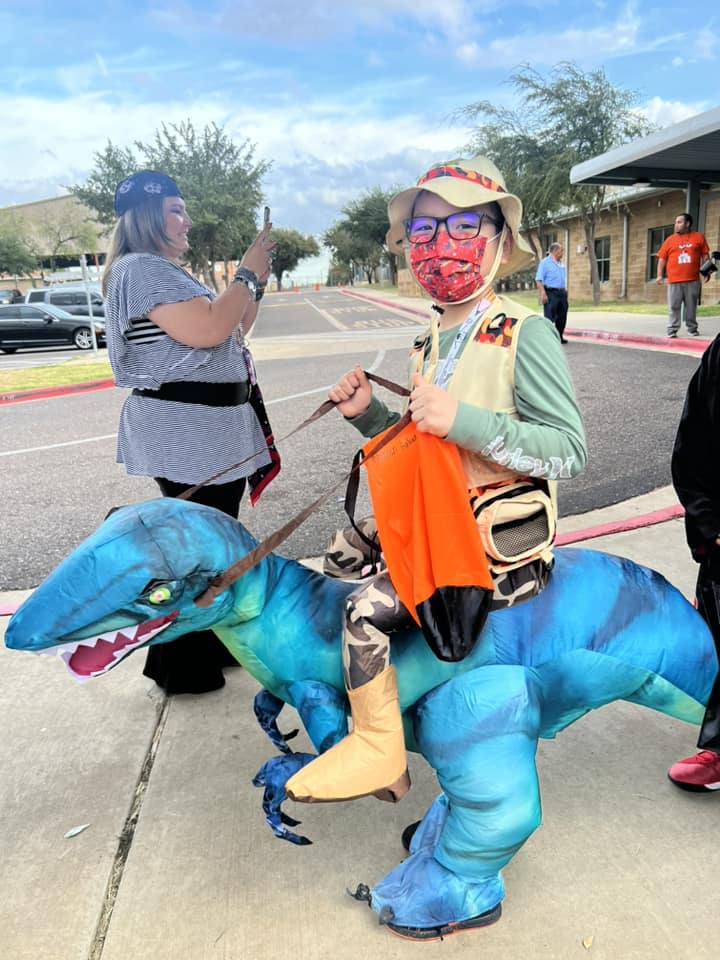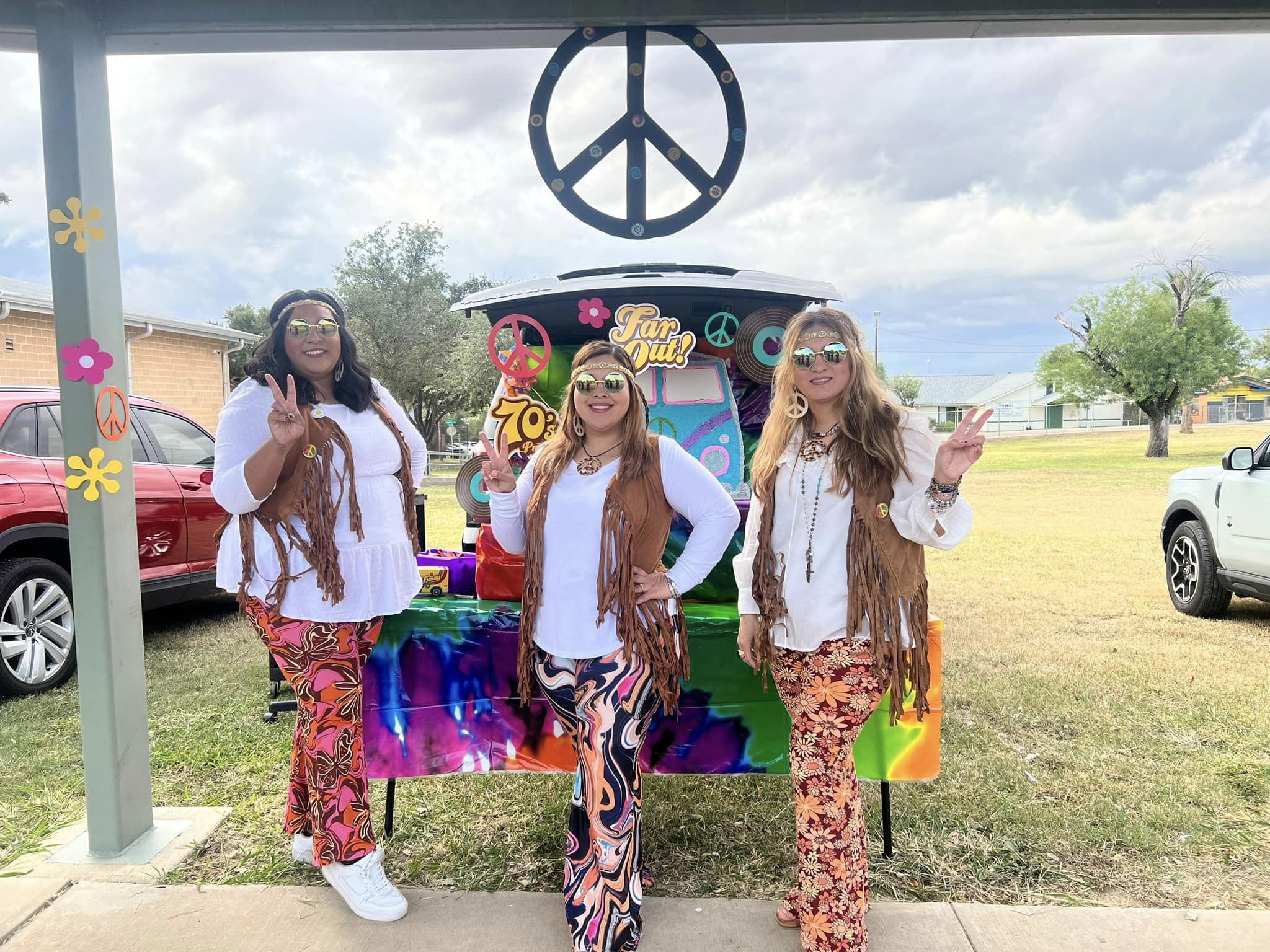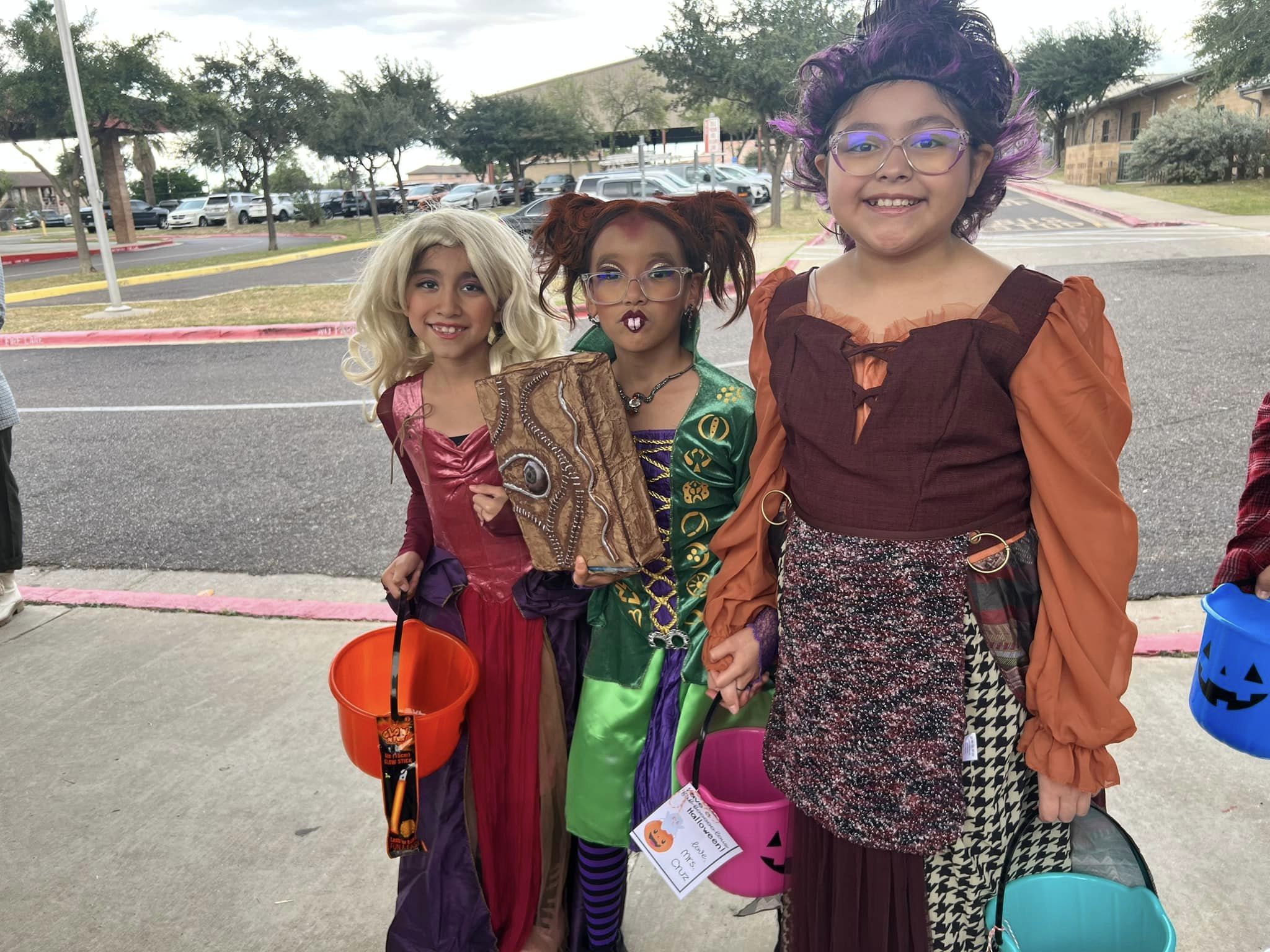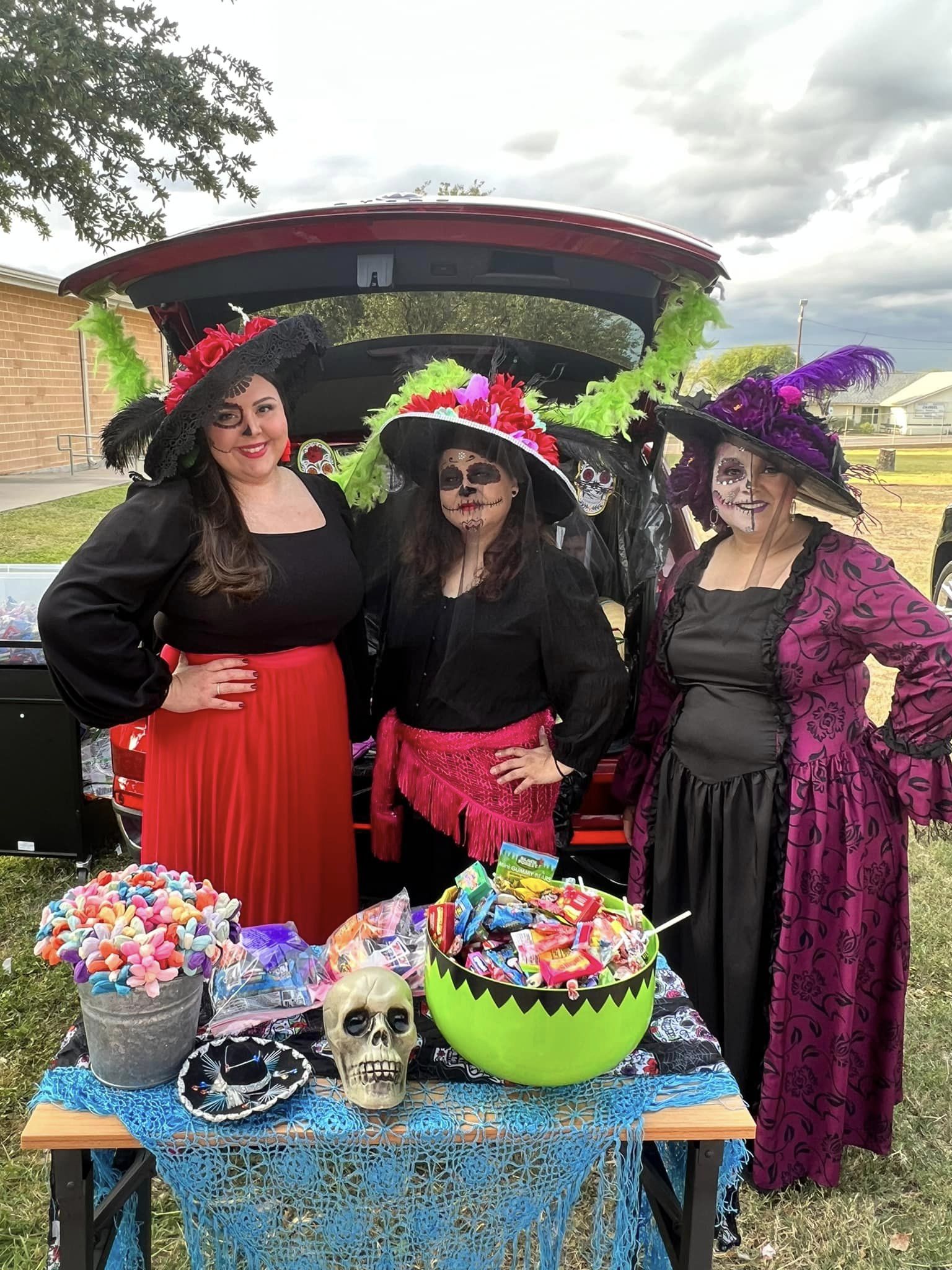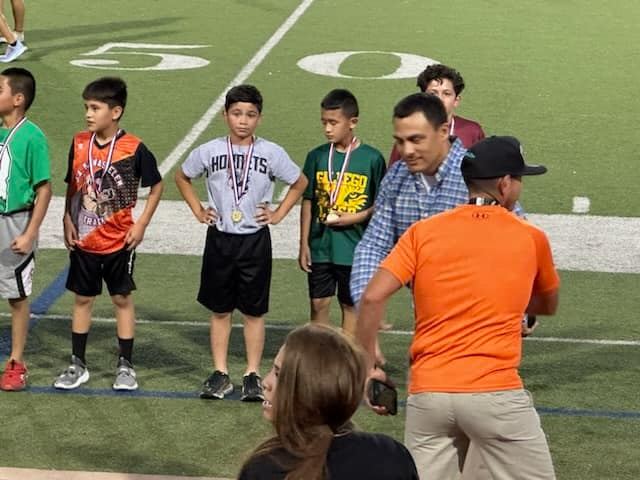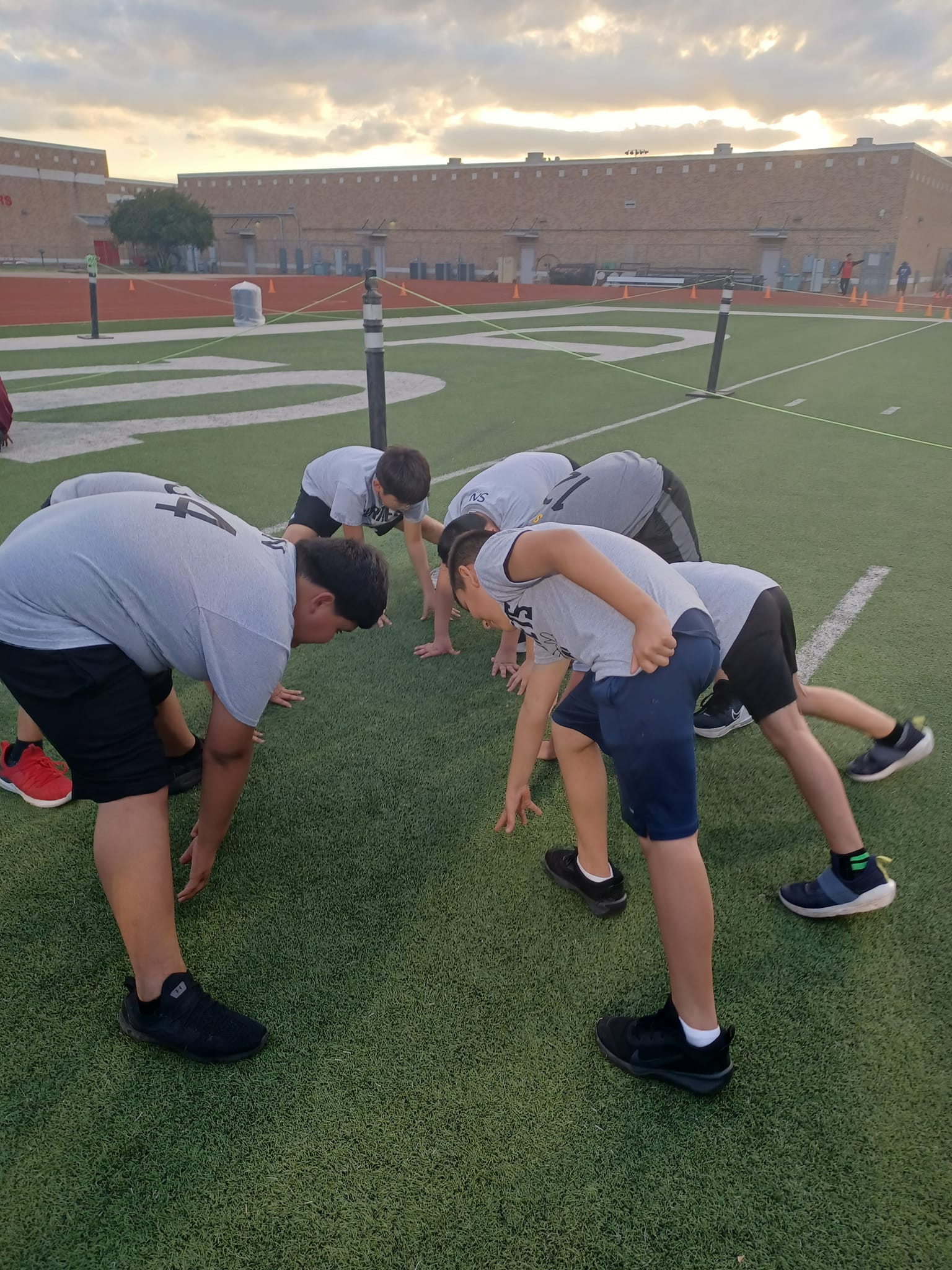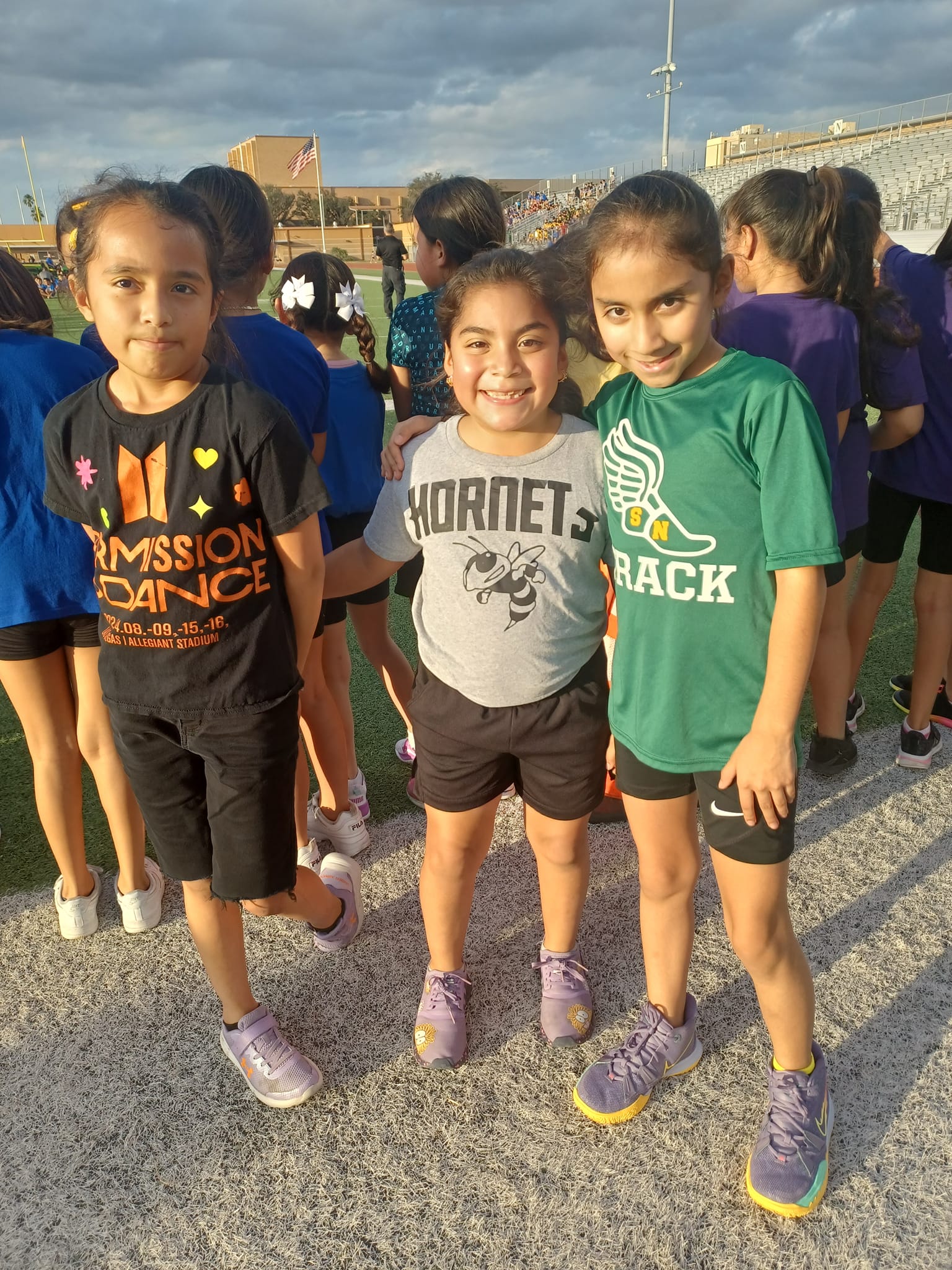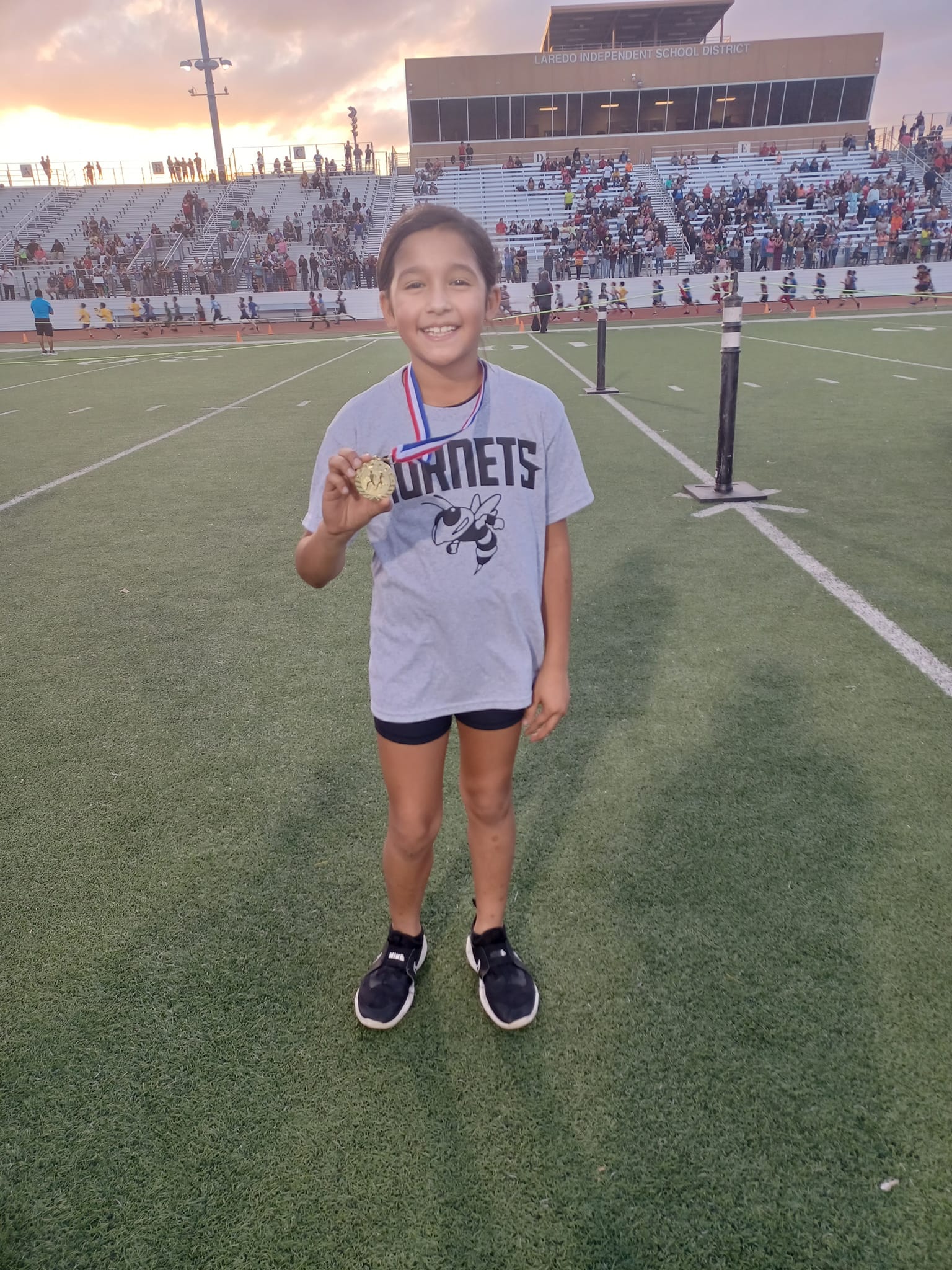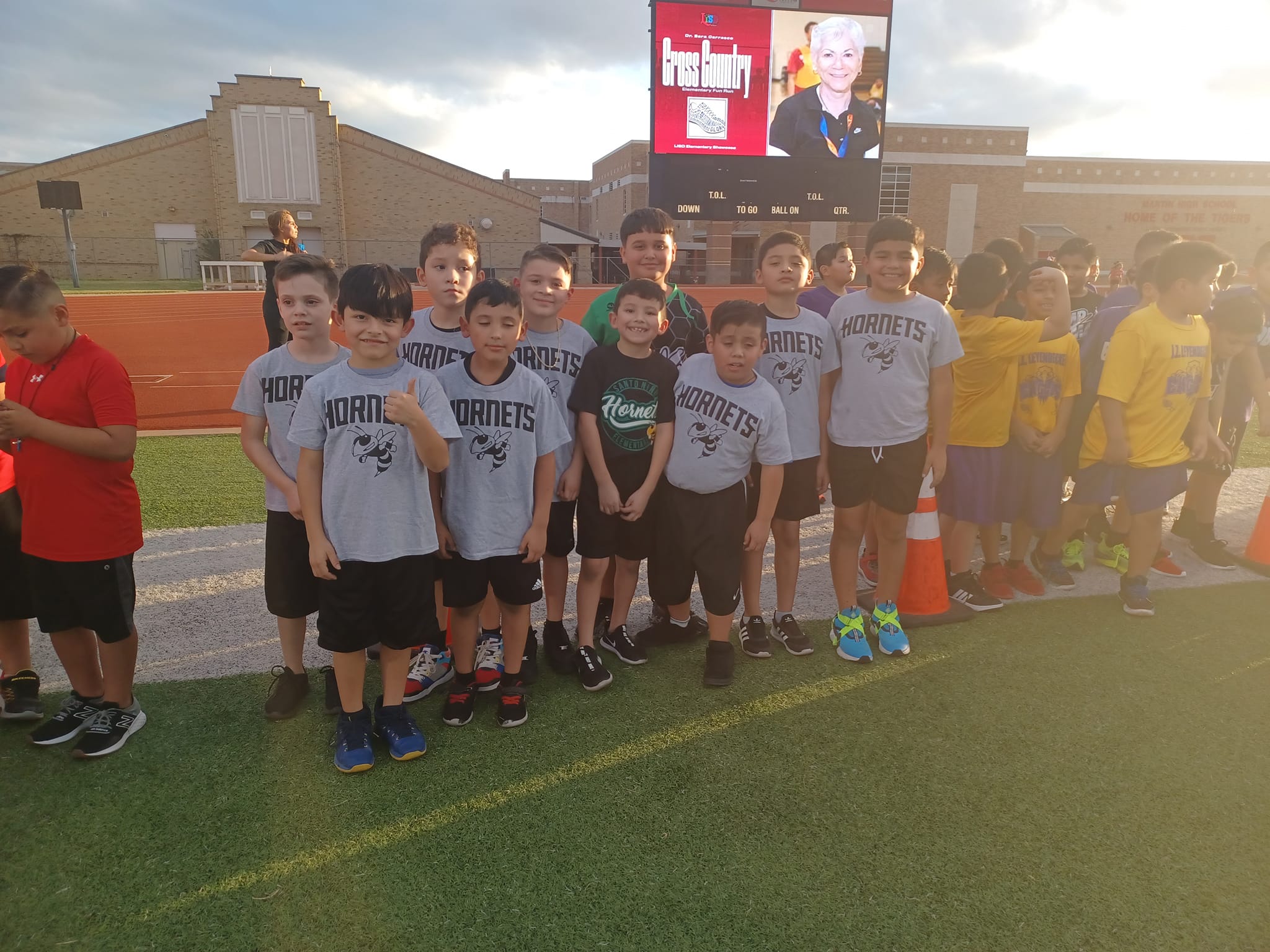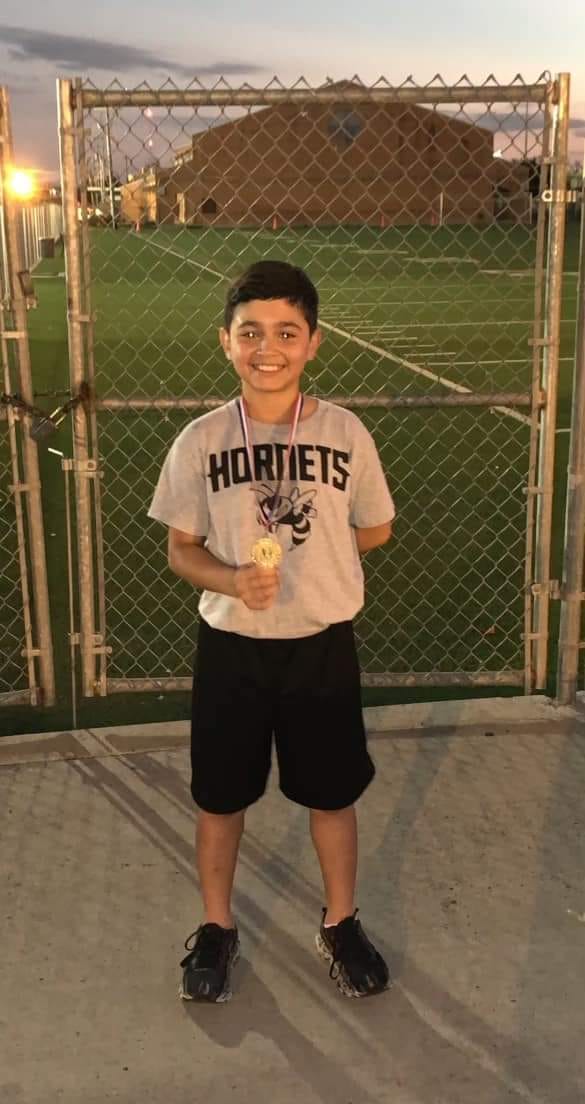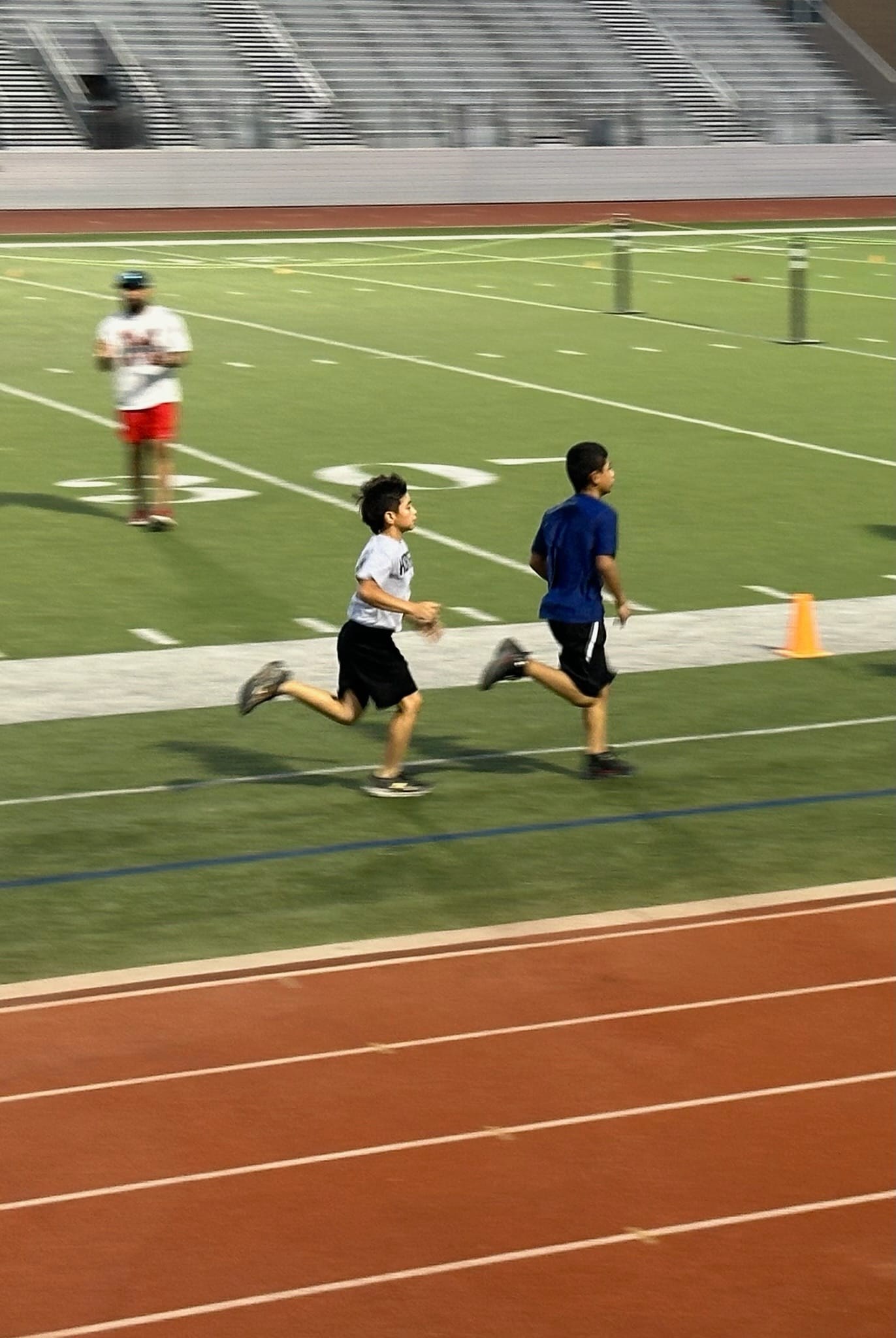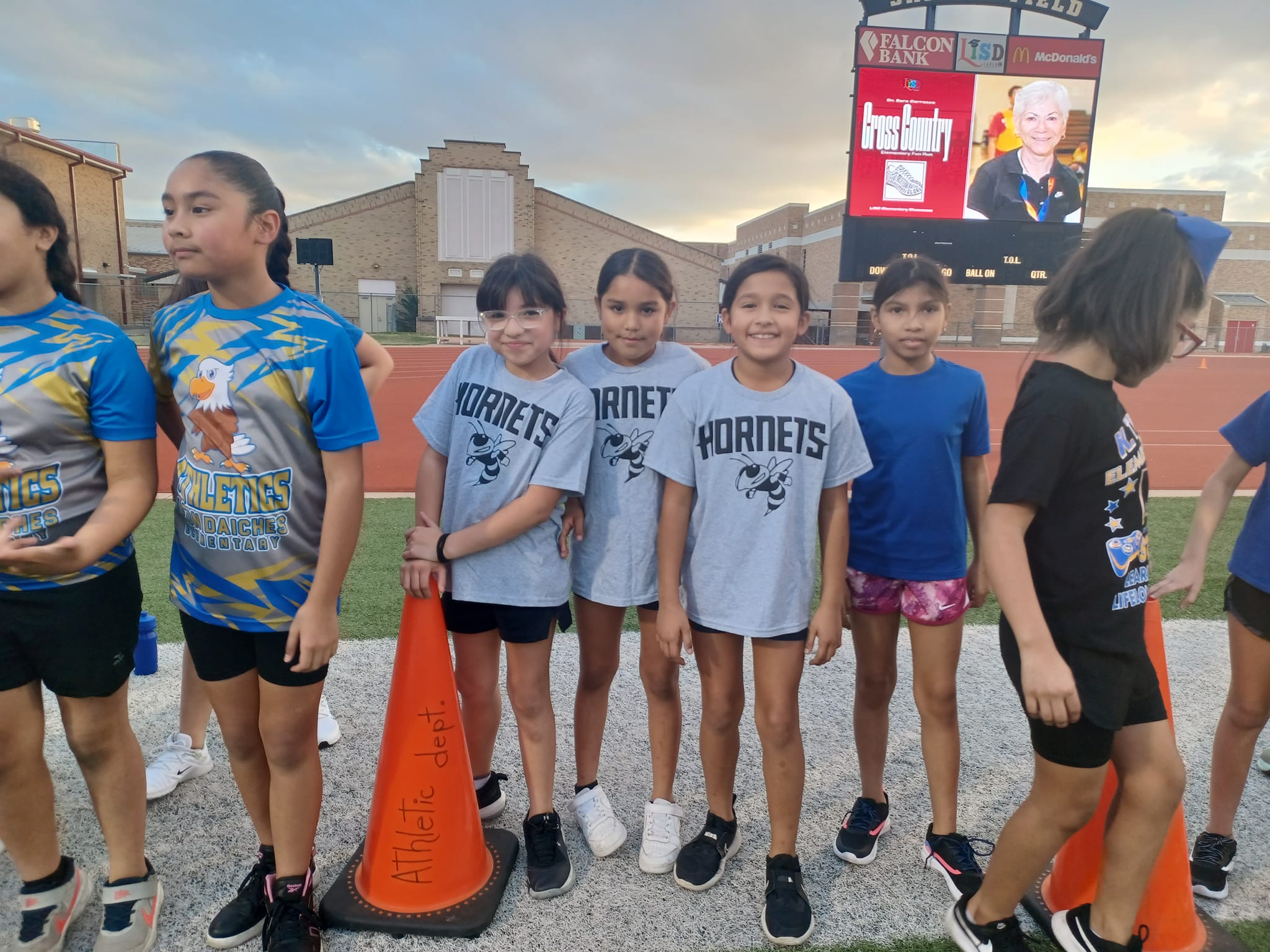 Vehicles in Our Community Project
Pre-Kinder students showcasing their vehicles in a campus parade!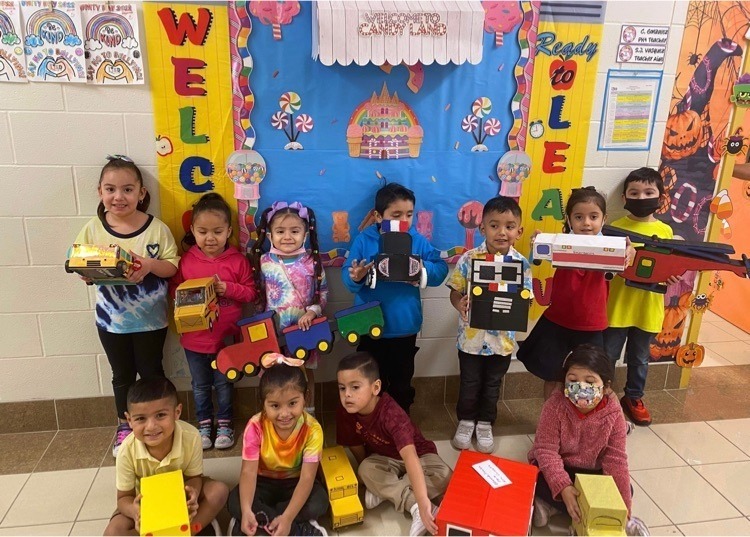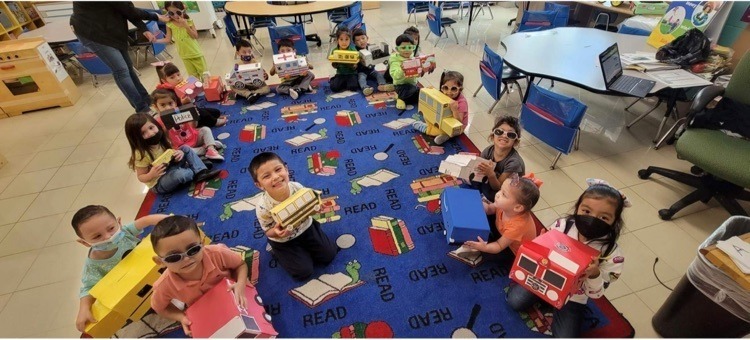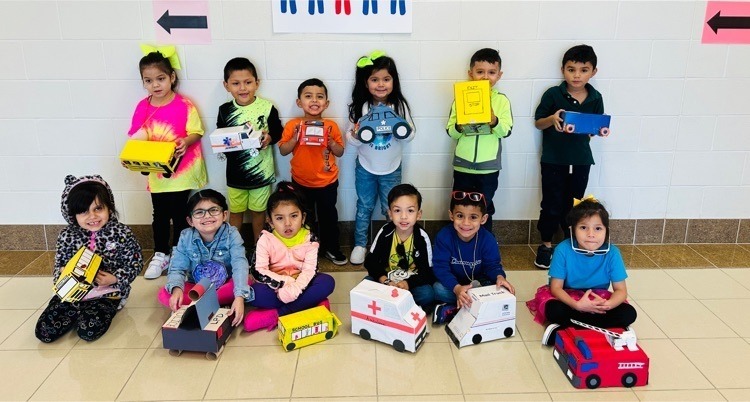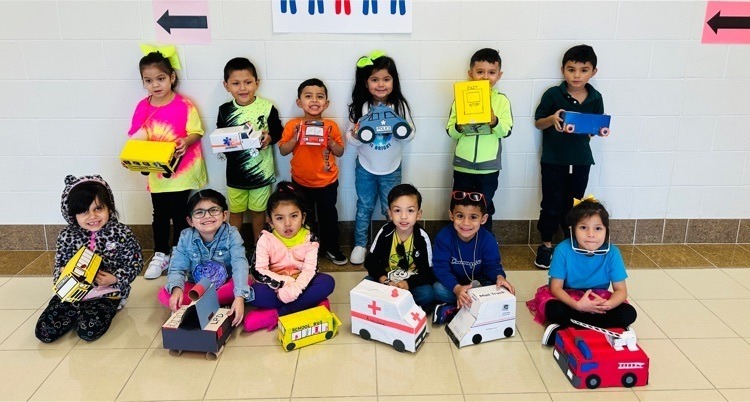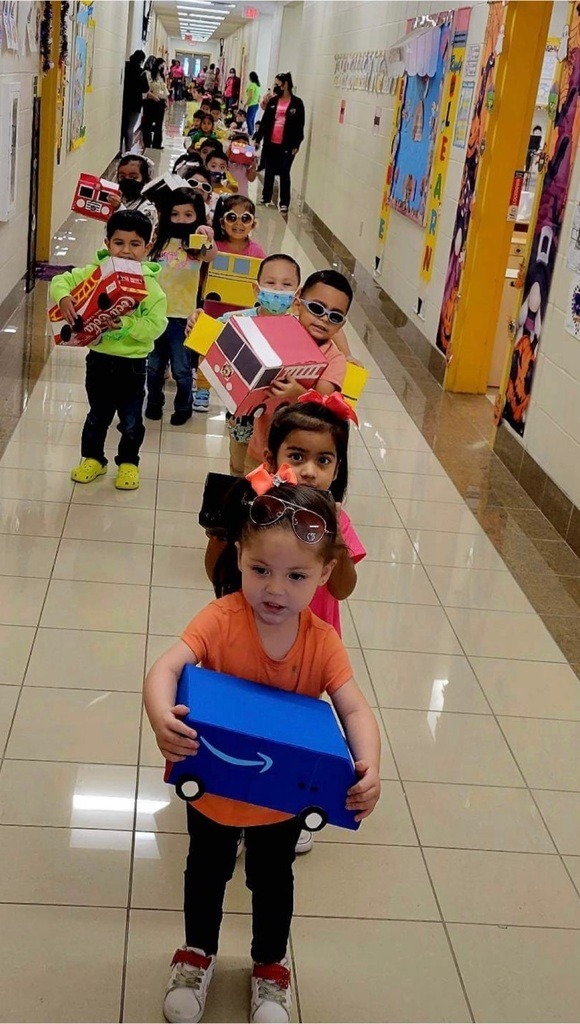 Red Ribbon Week
Hornets pledge to be drug free!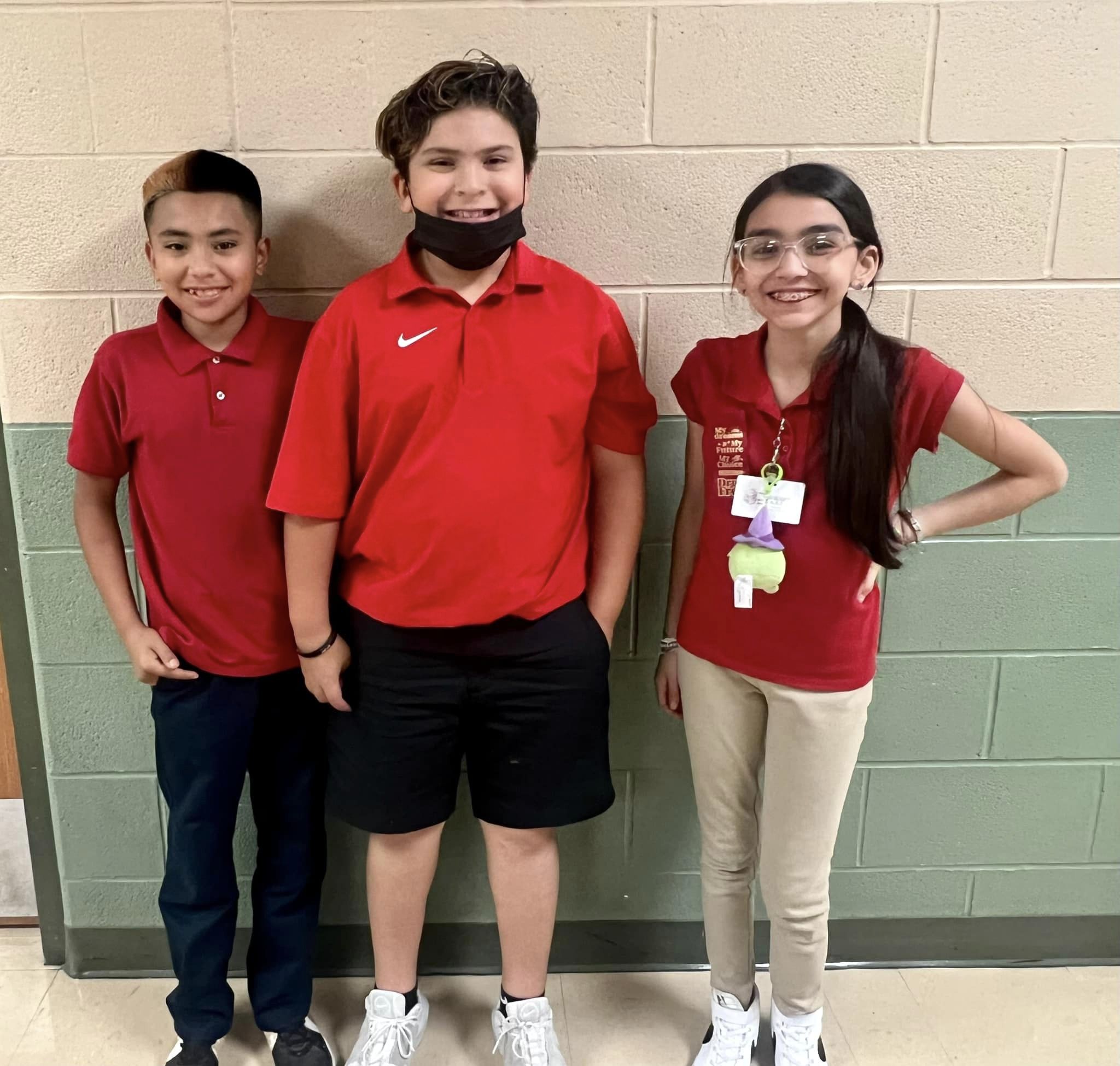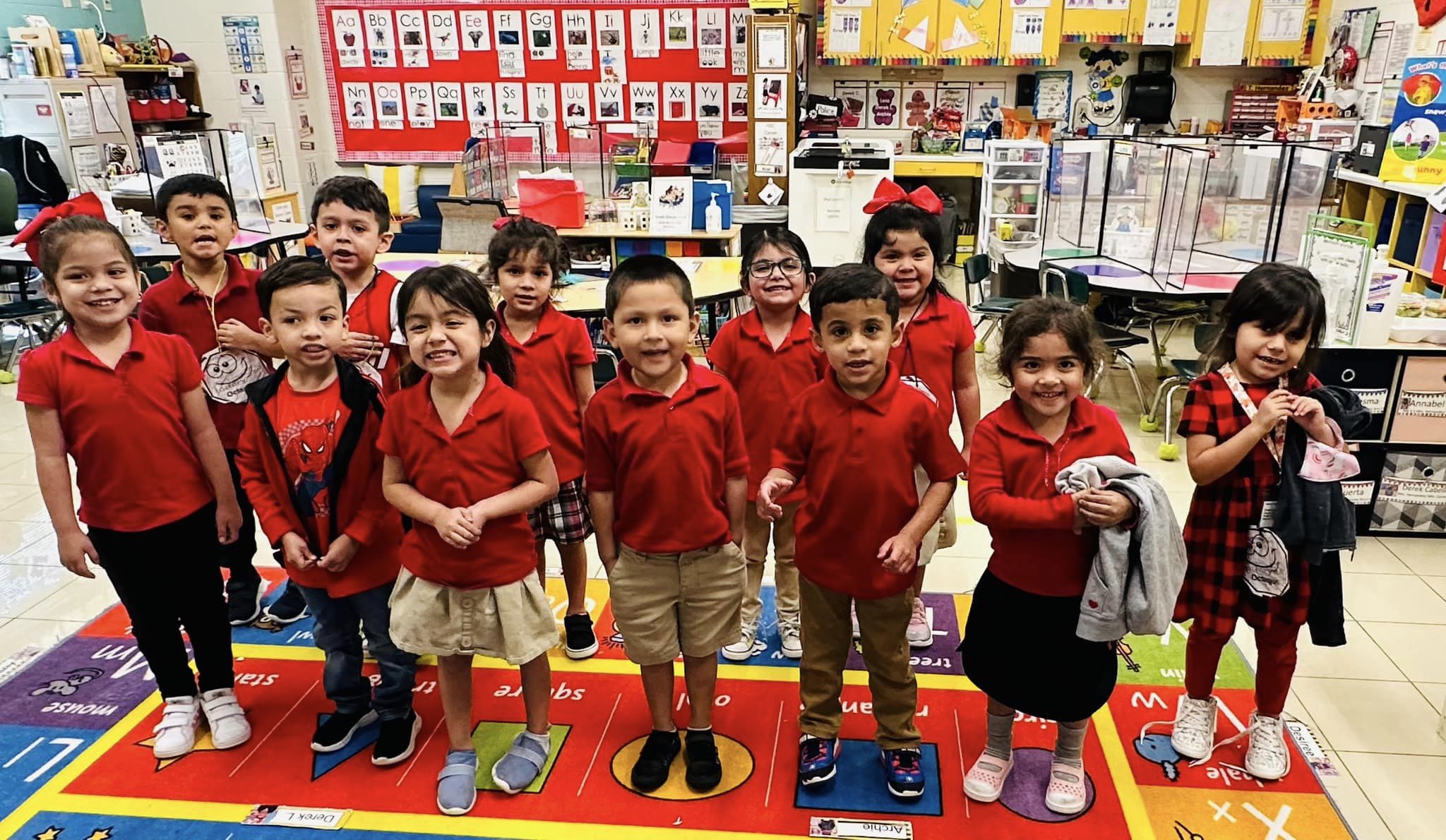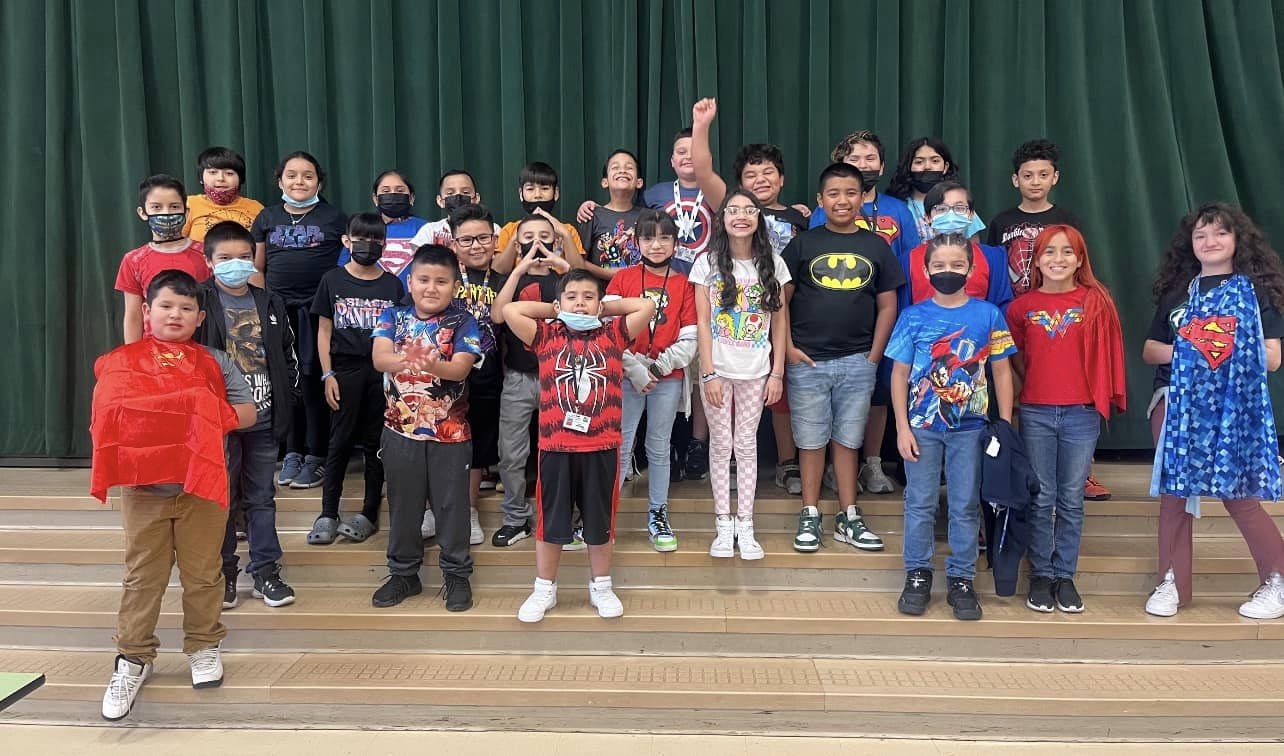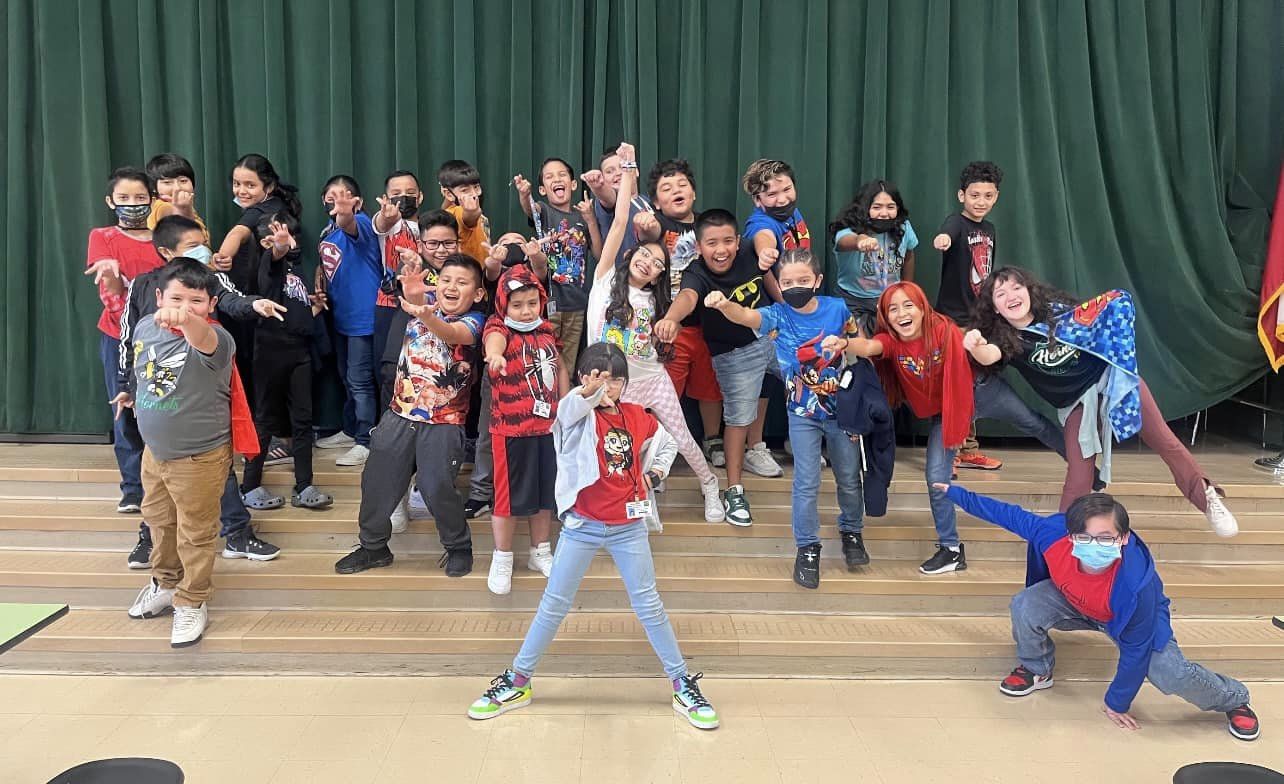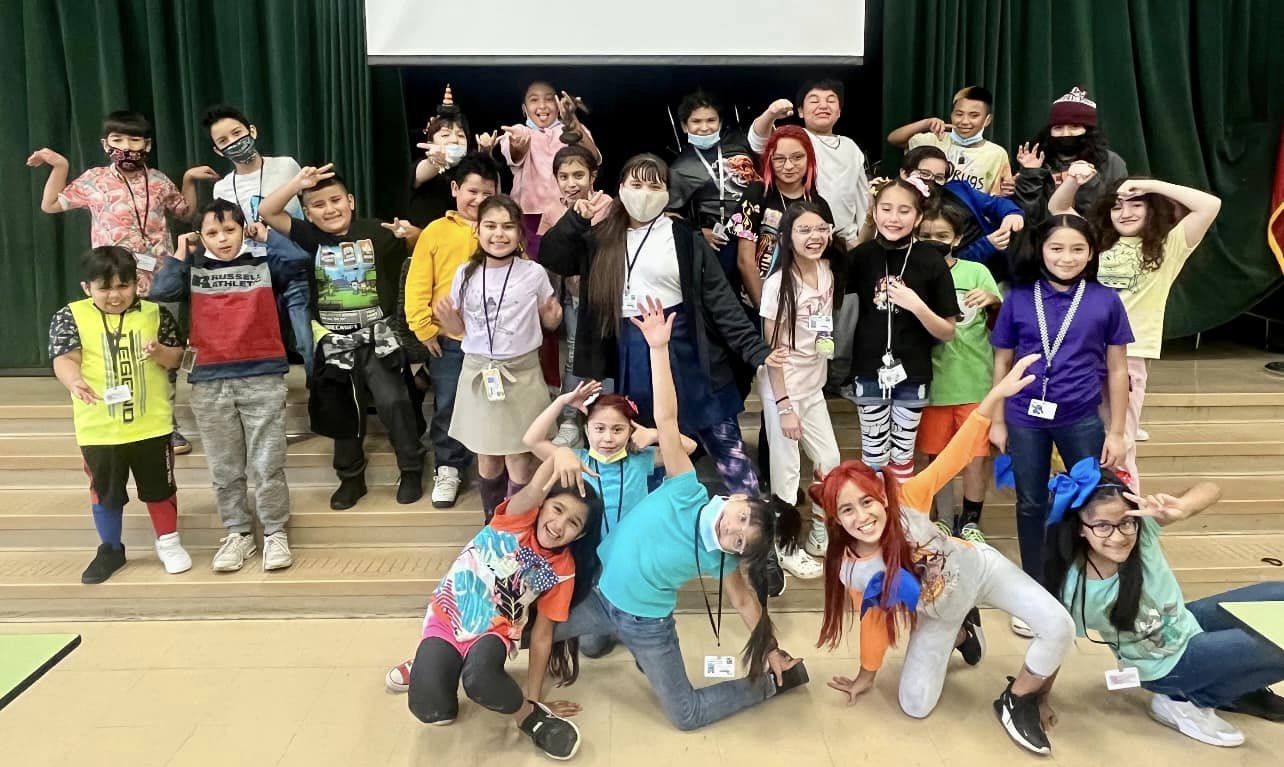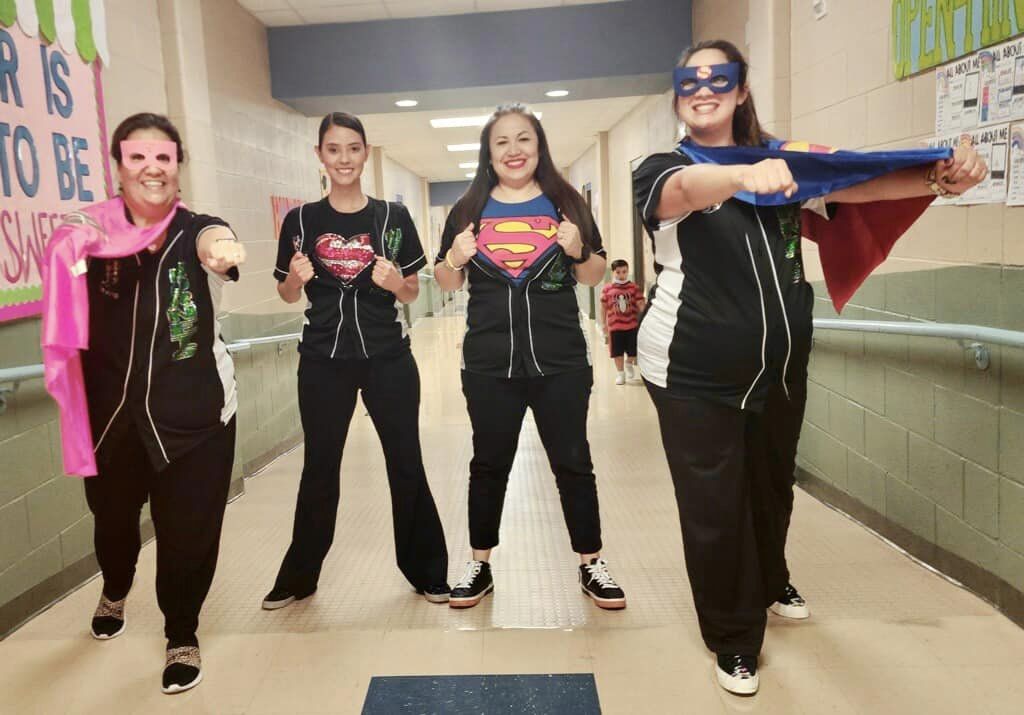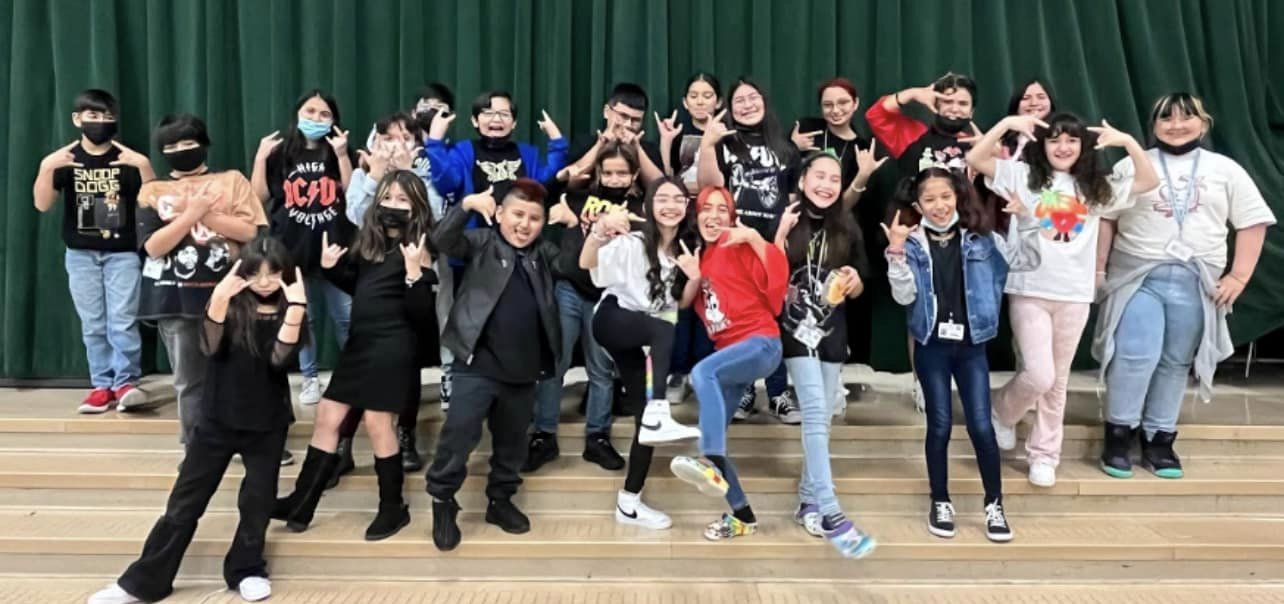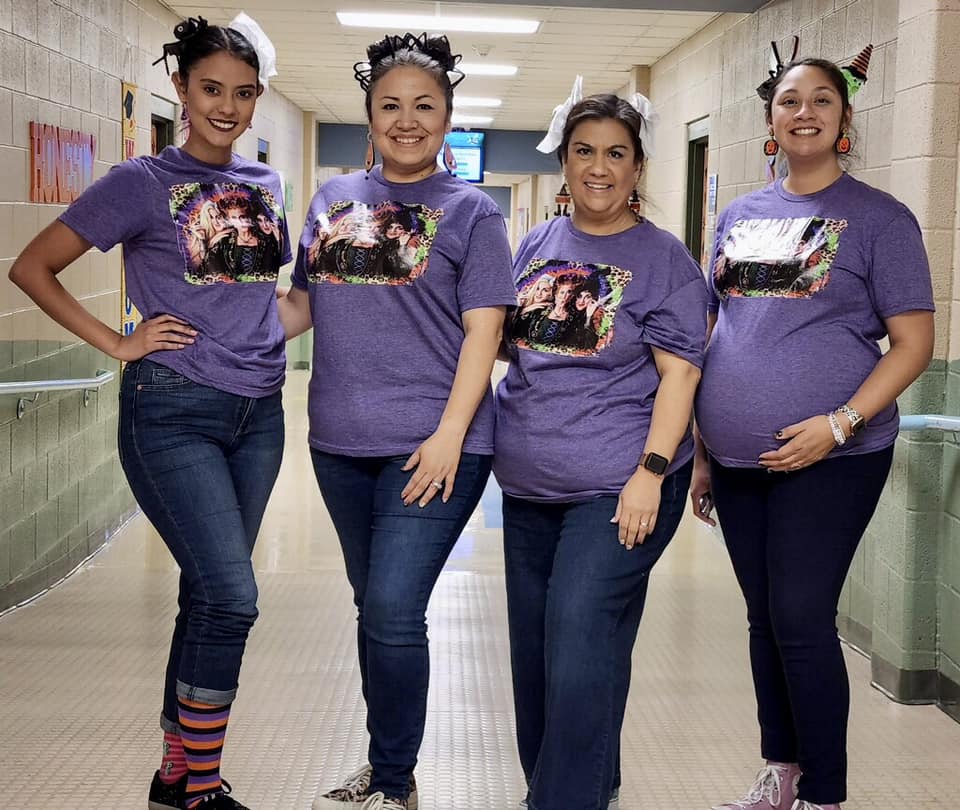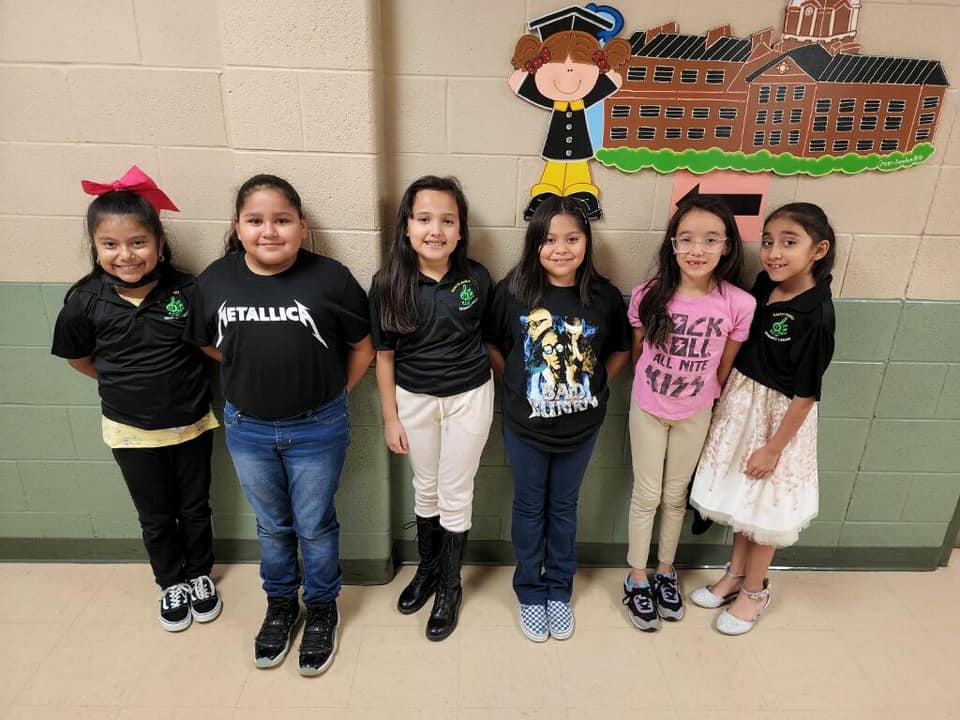 Unity Day
Hornets are United for Kindness, Acceptance, and Inclusion!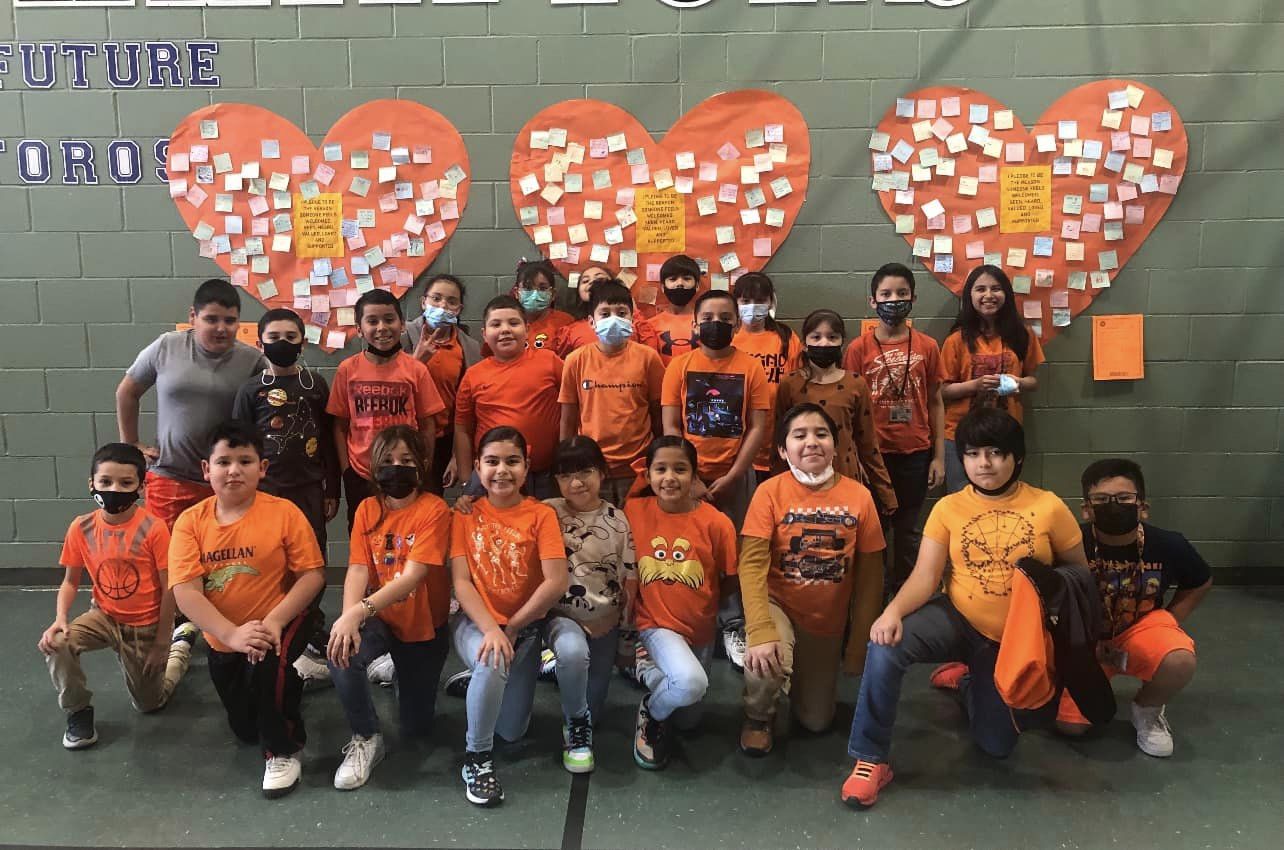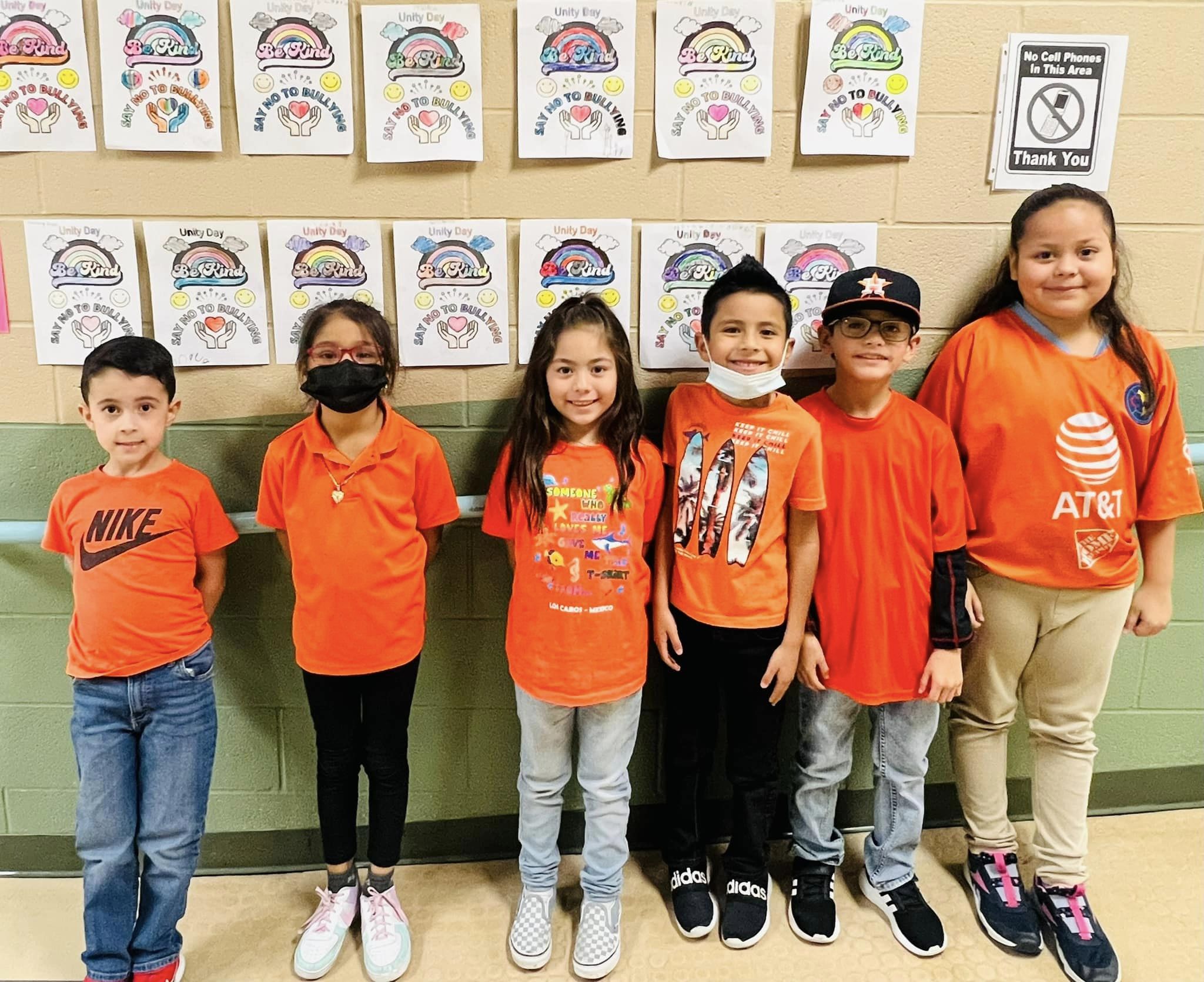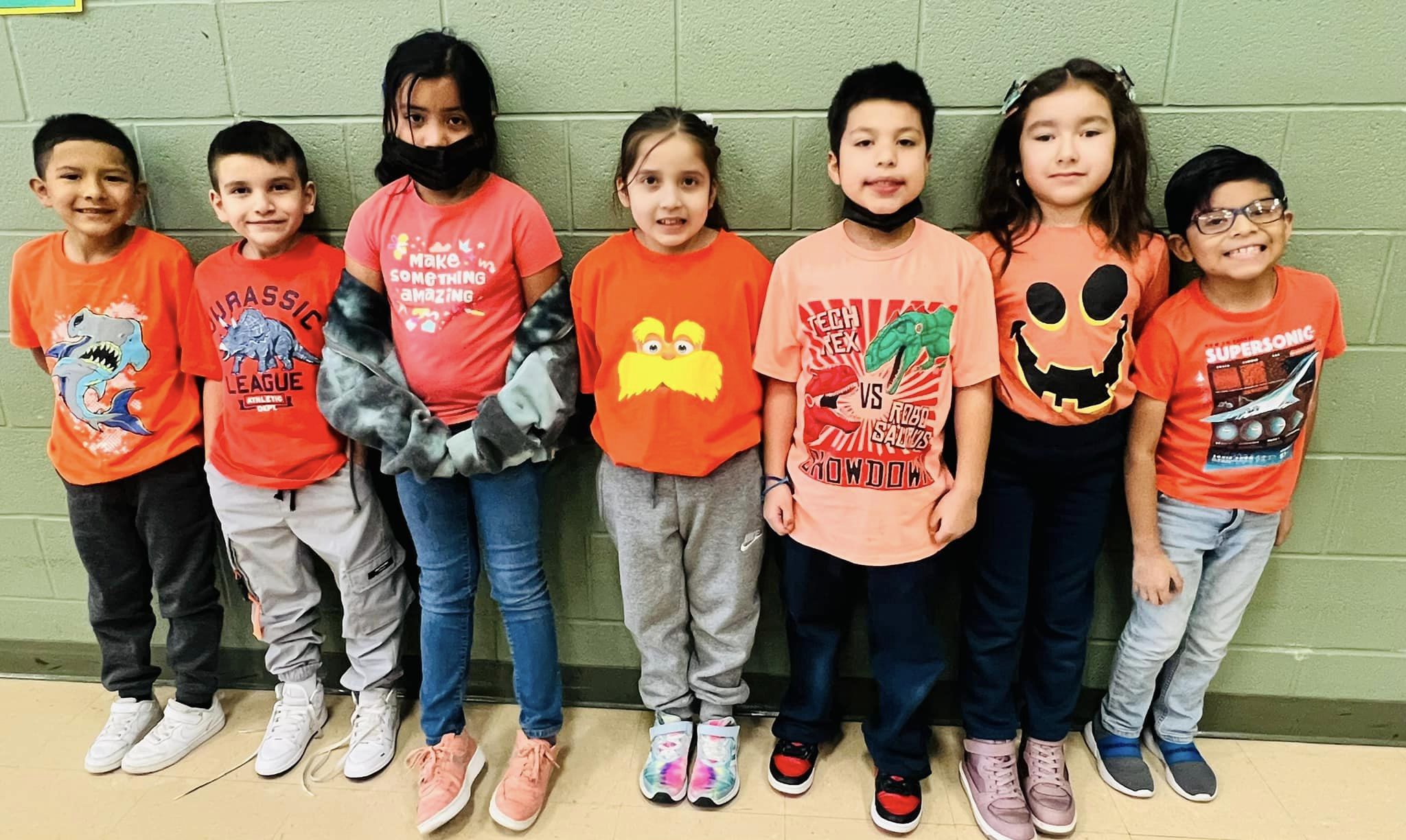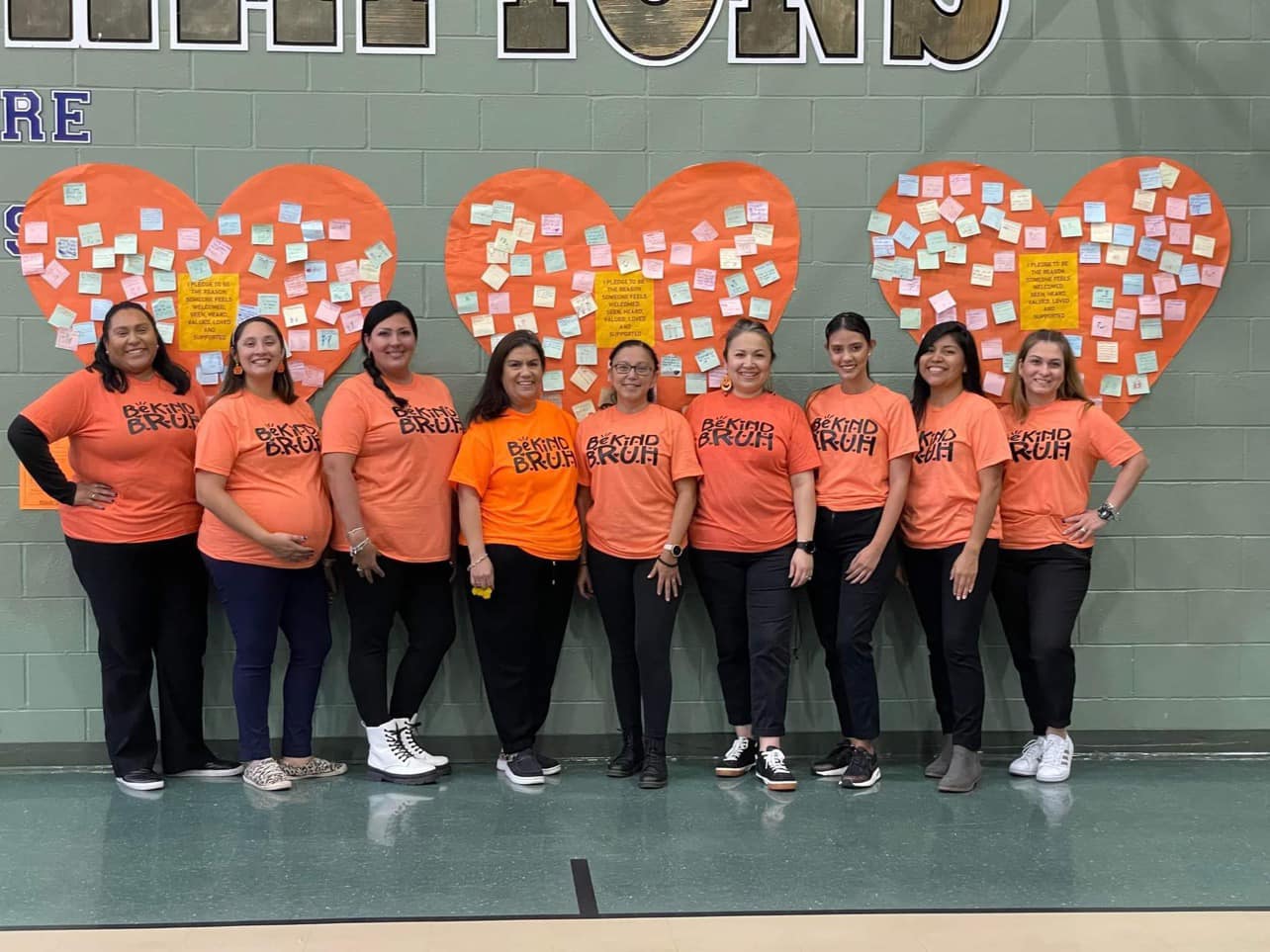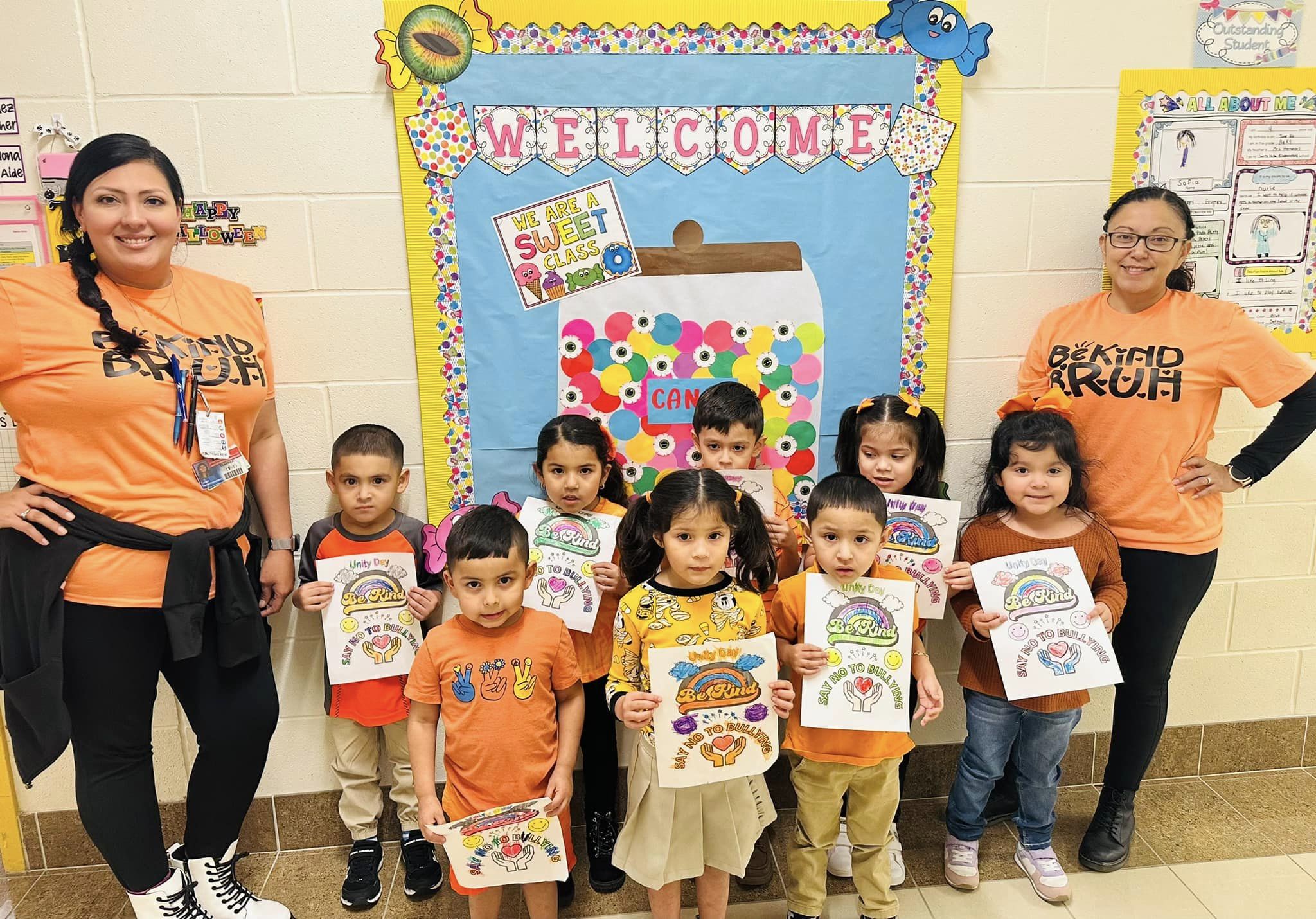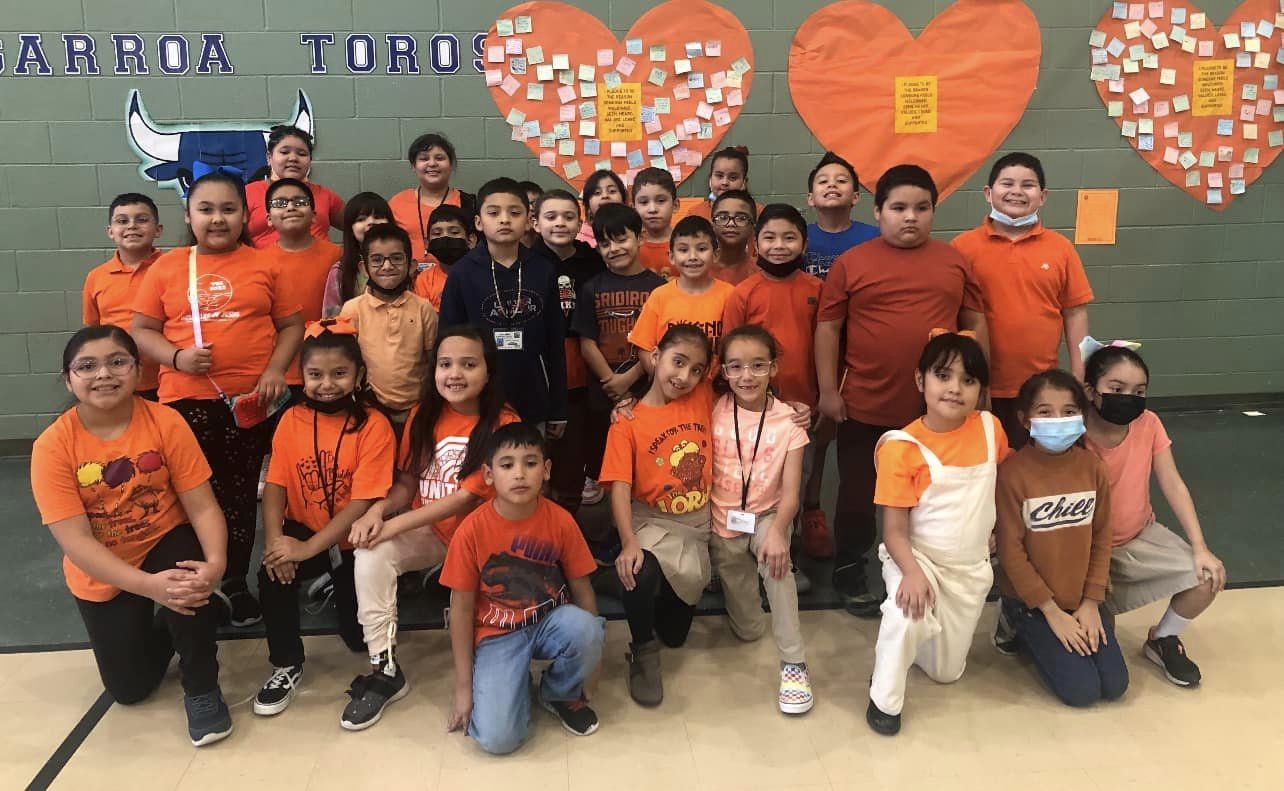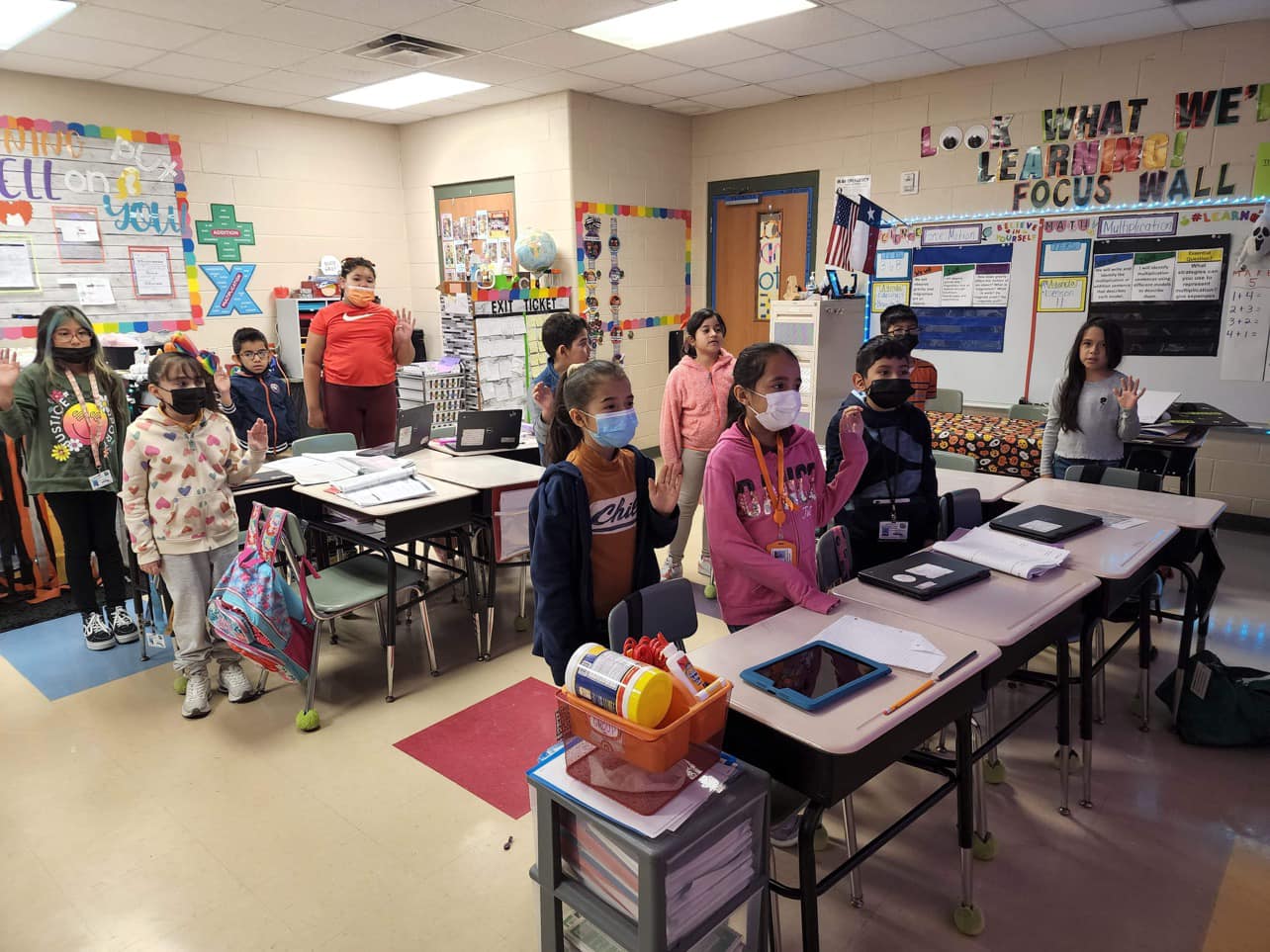 Fire Department Presentation
The Prevention Department and Station 2 of the Laredo Fire Department teaching our student all about fire safety!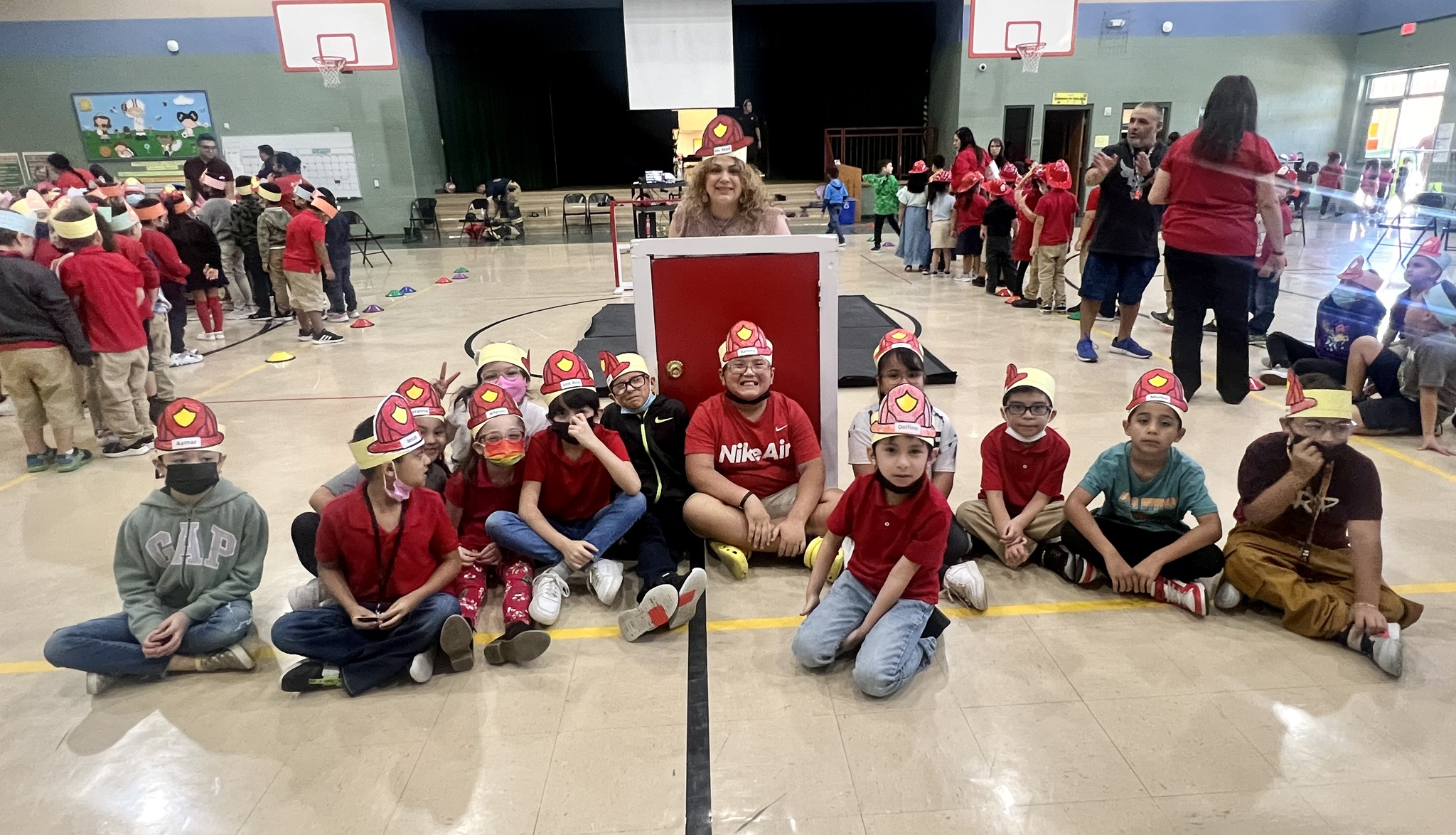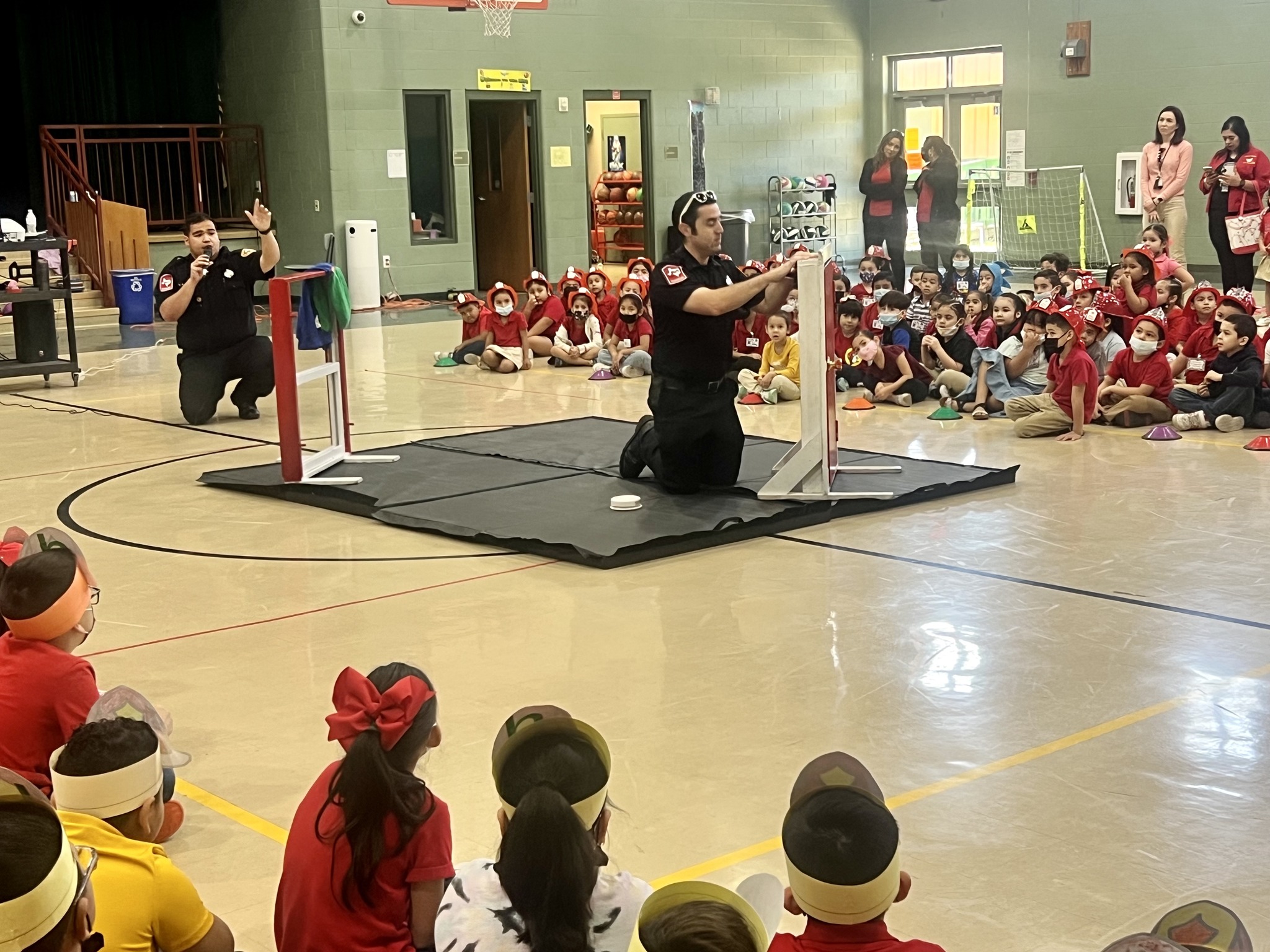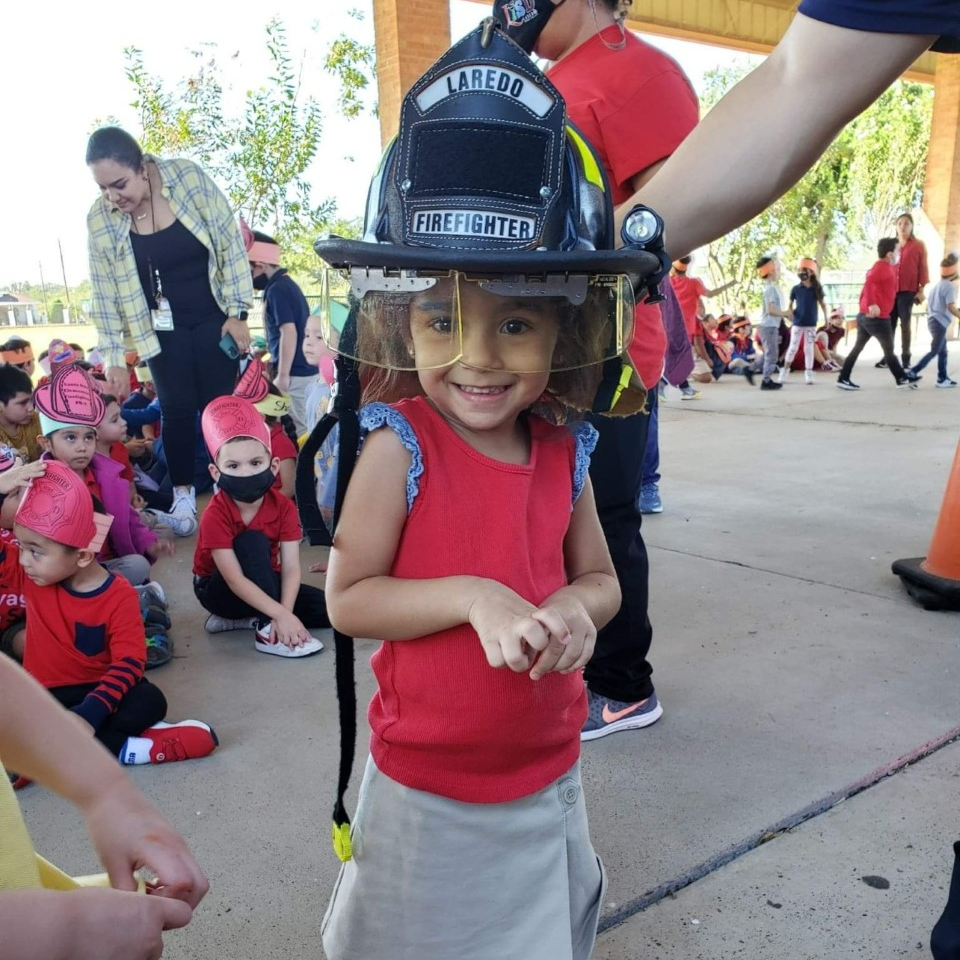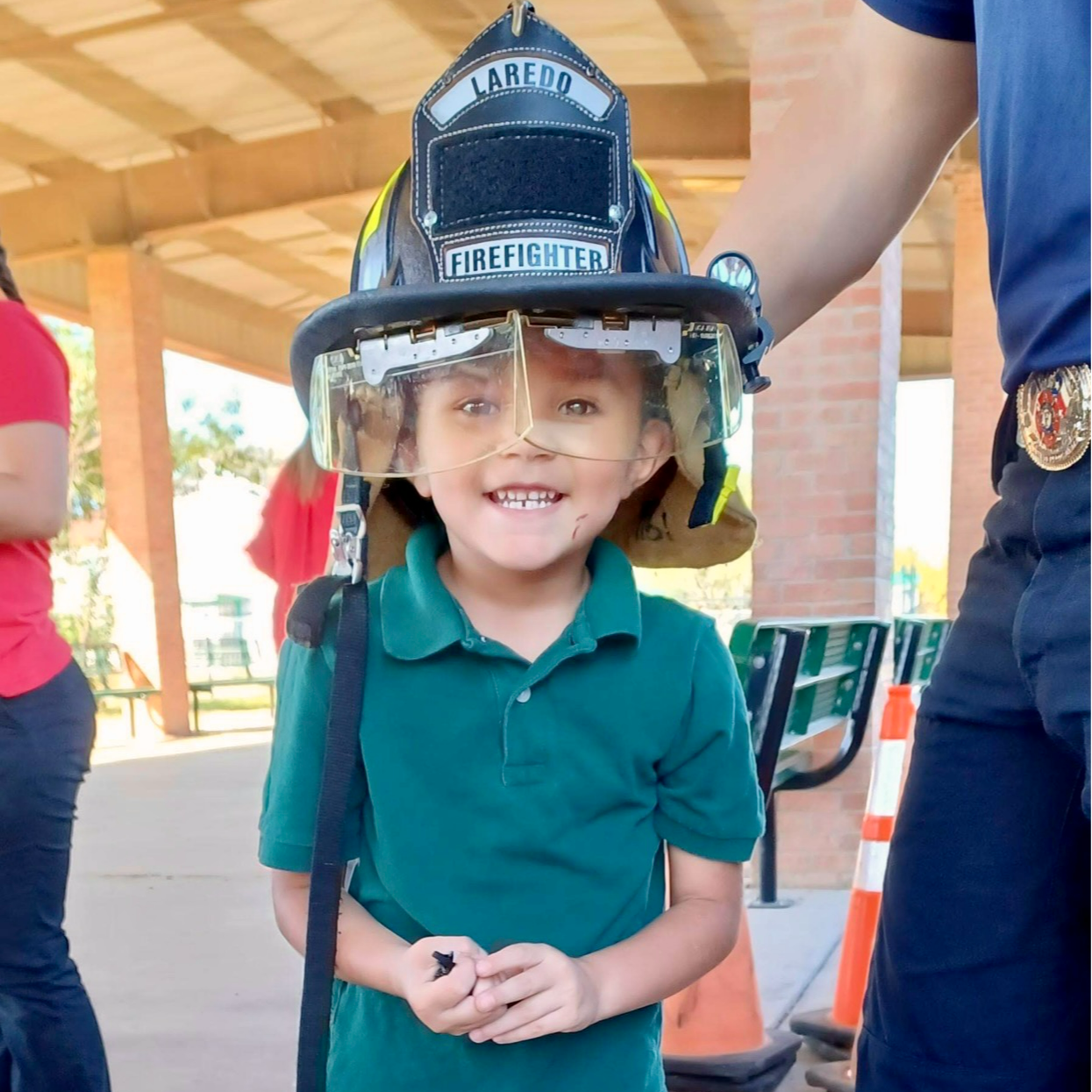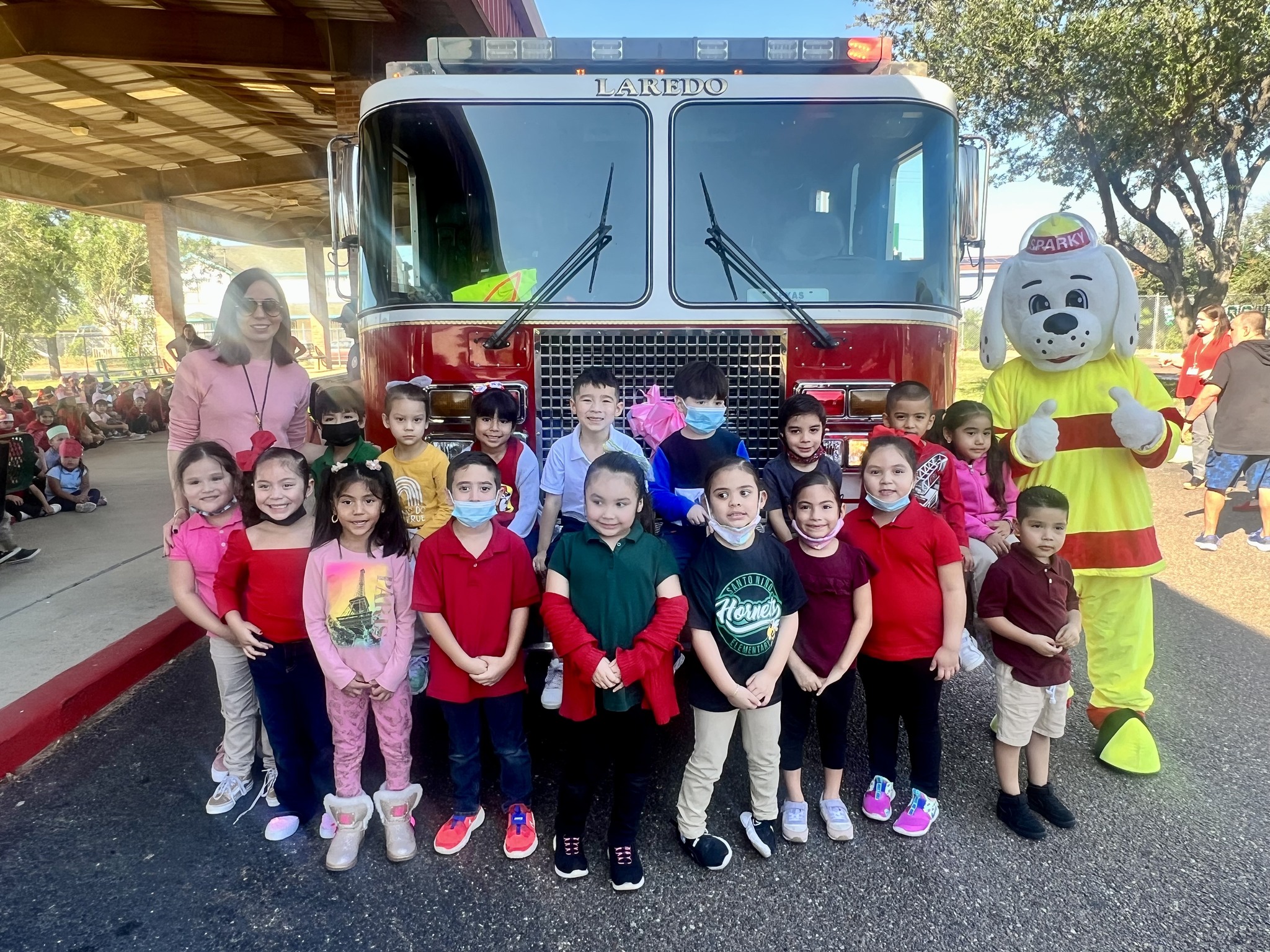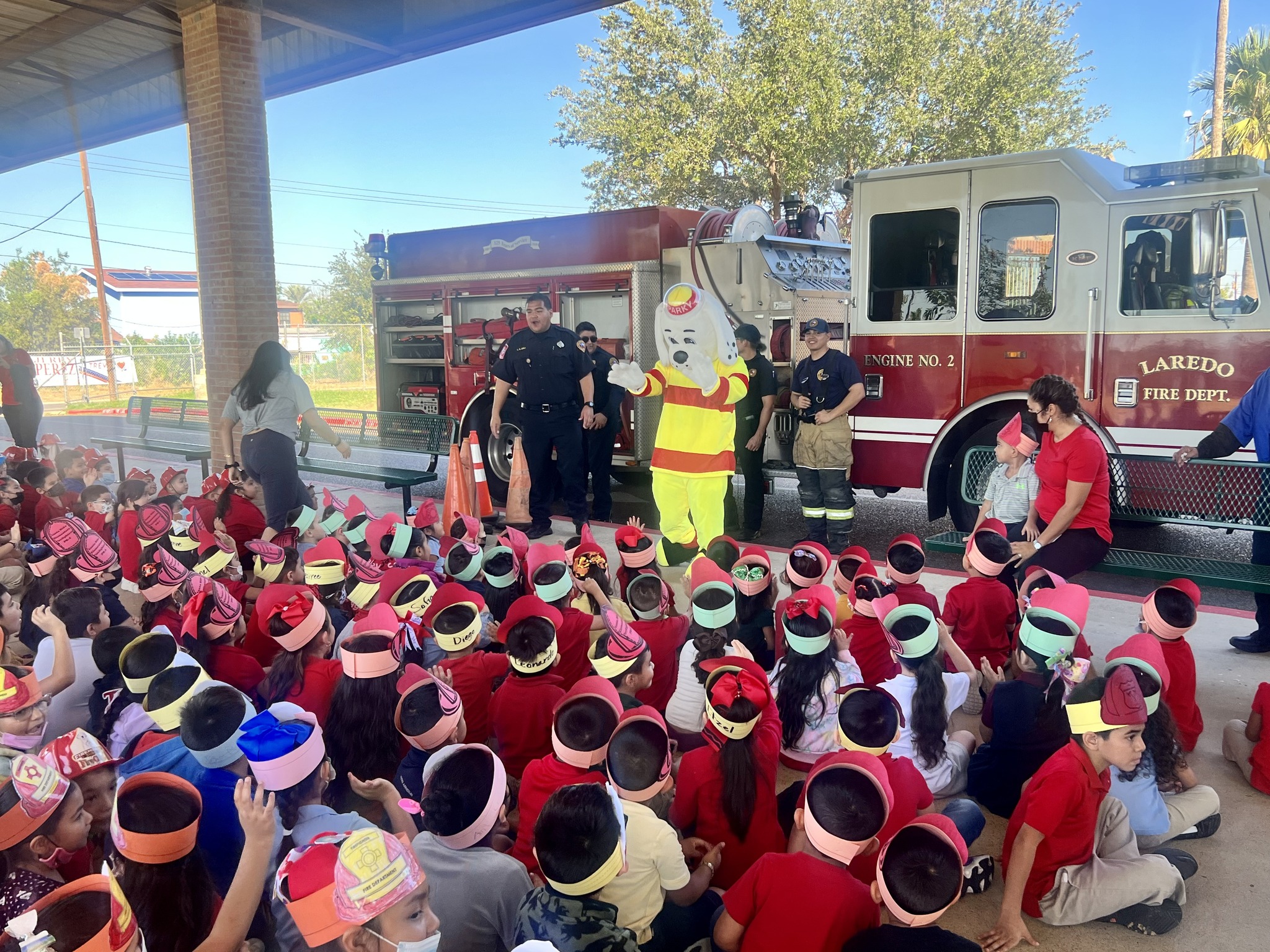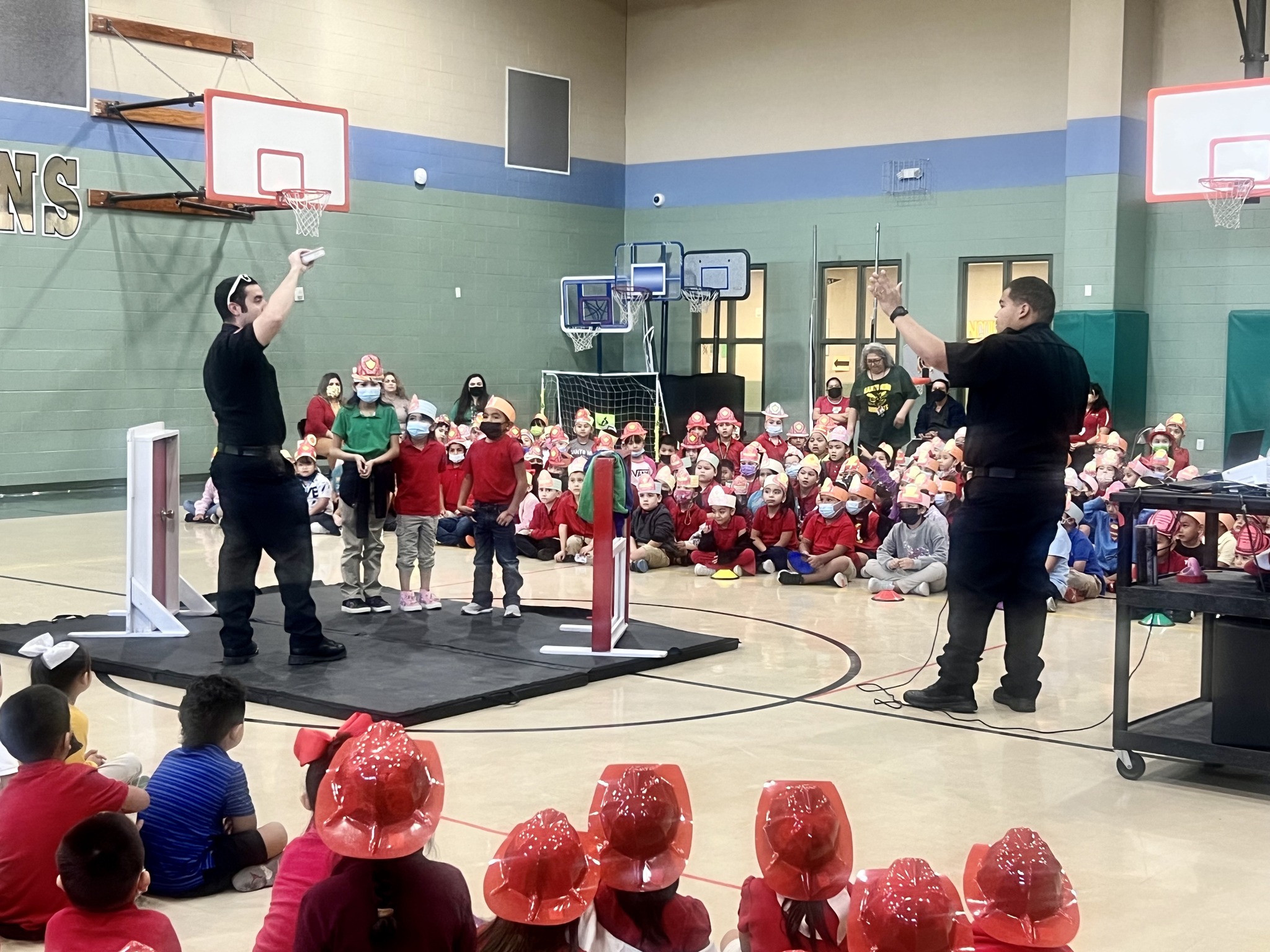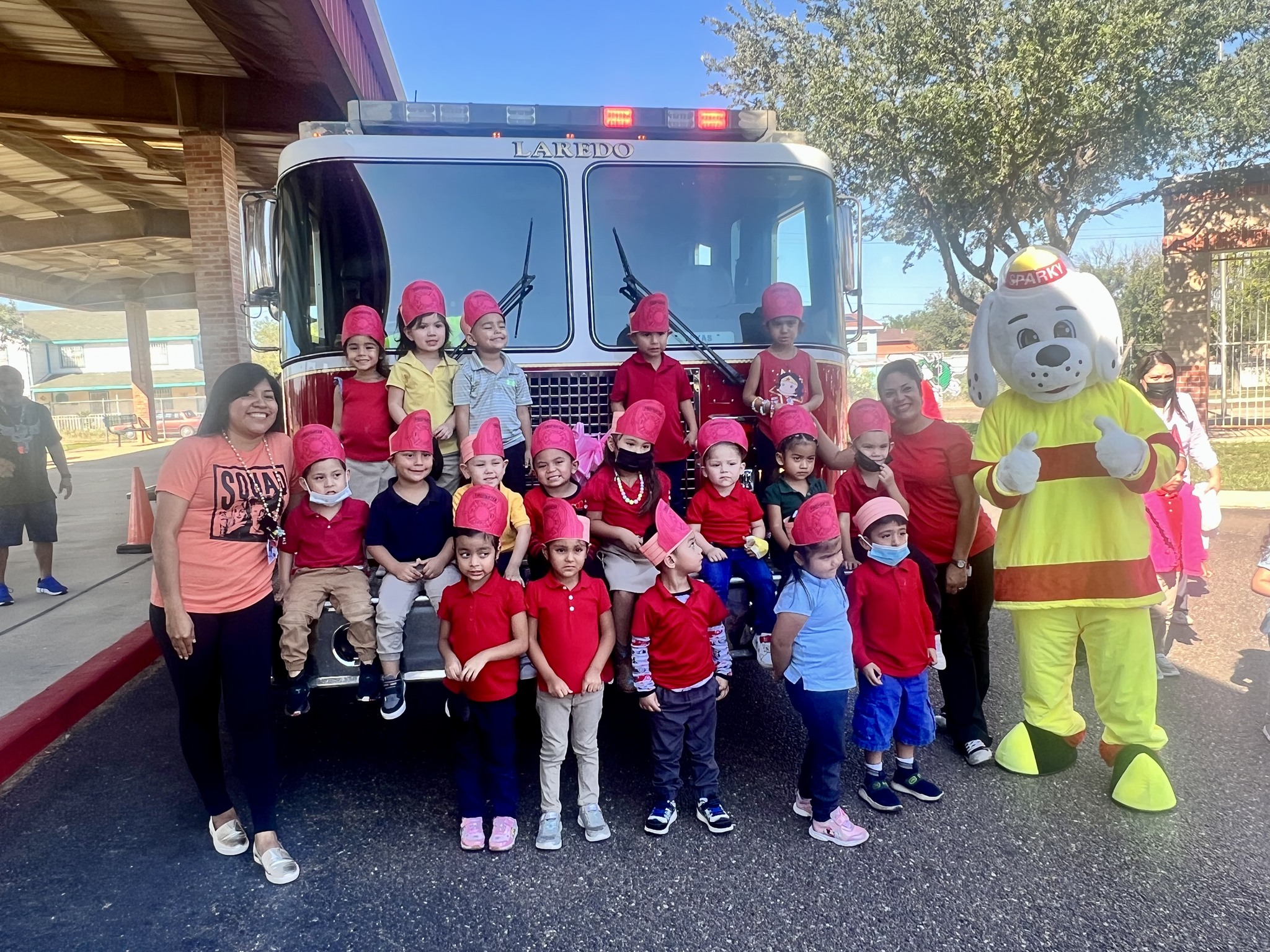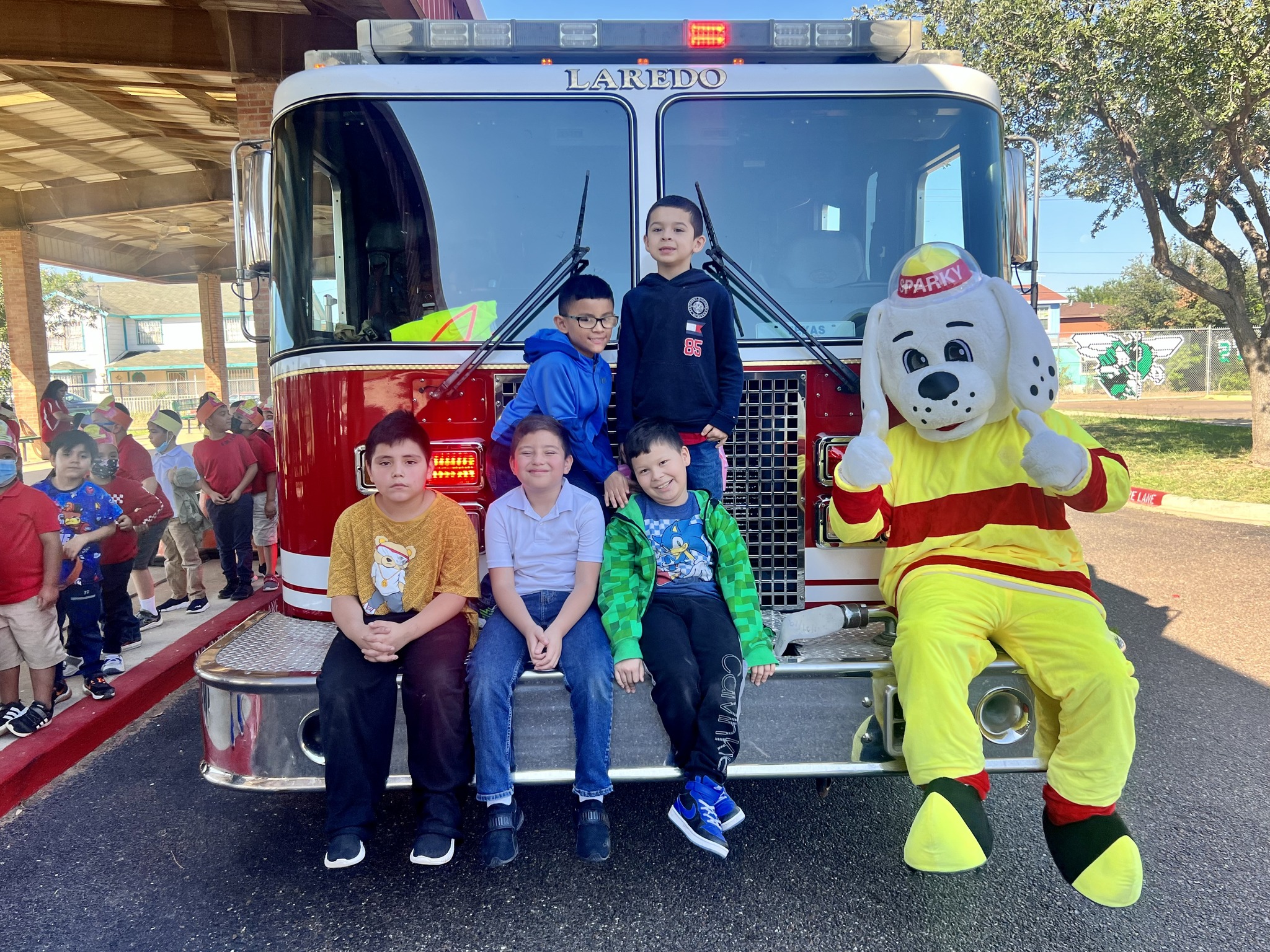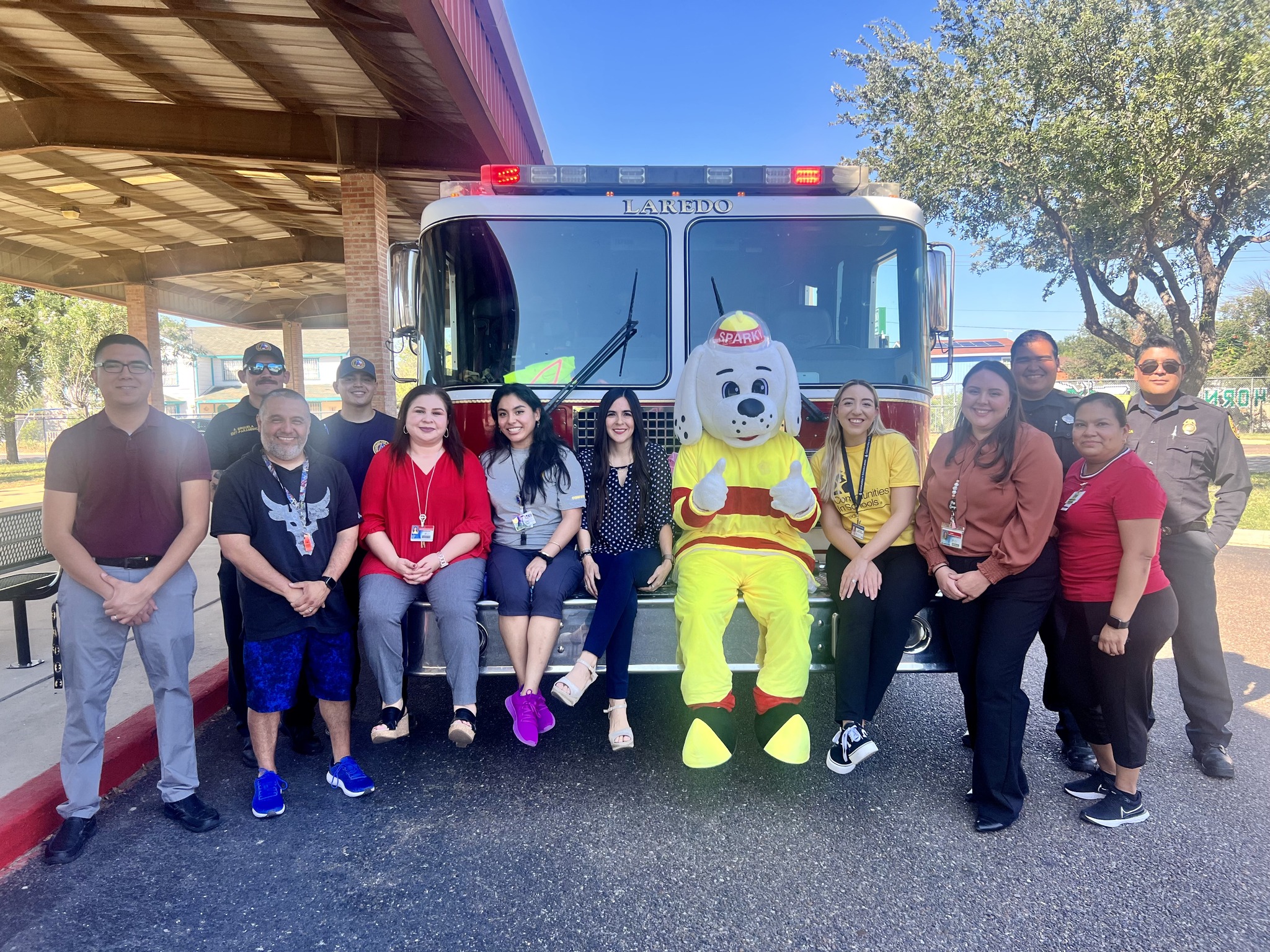 McTeacher's Night
Teachers and staff participating in McTeacher's night!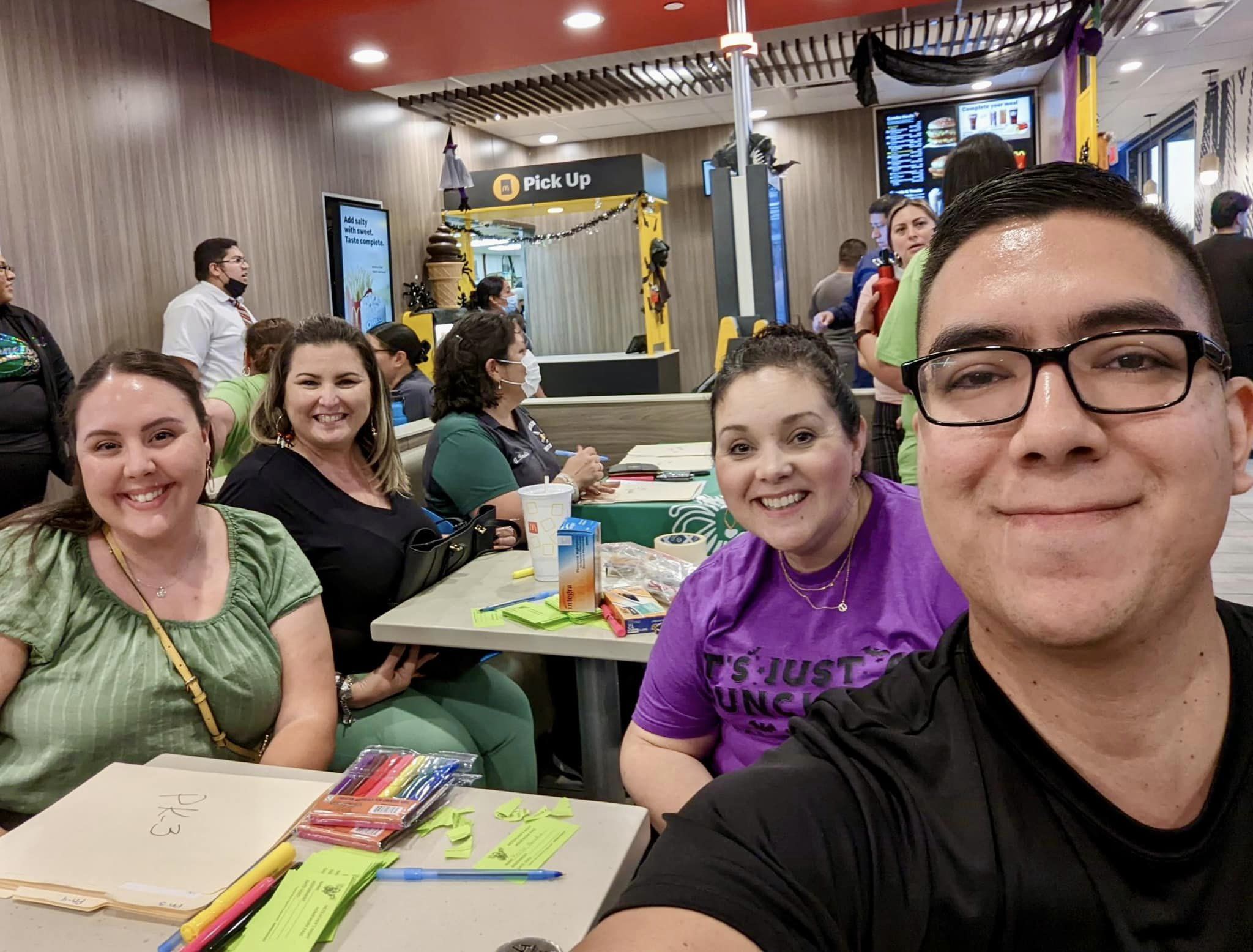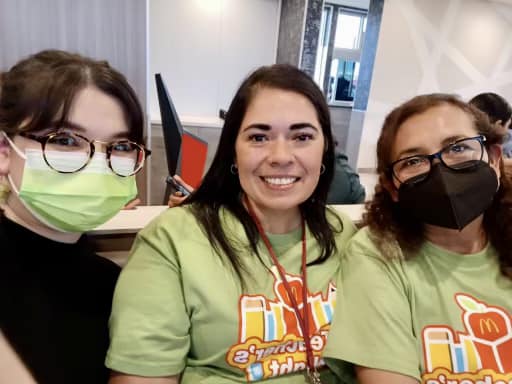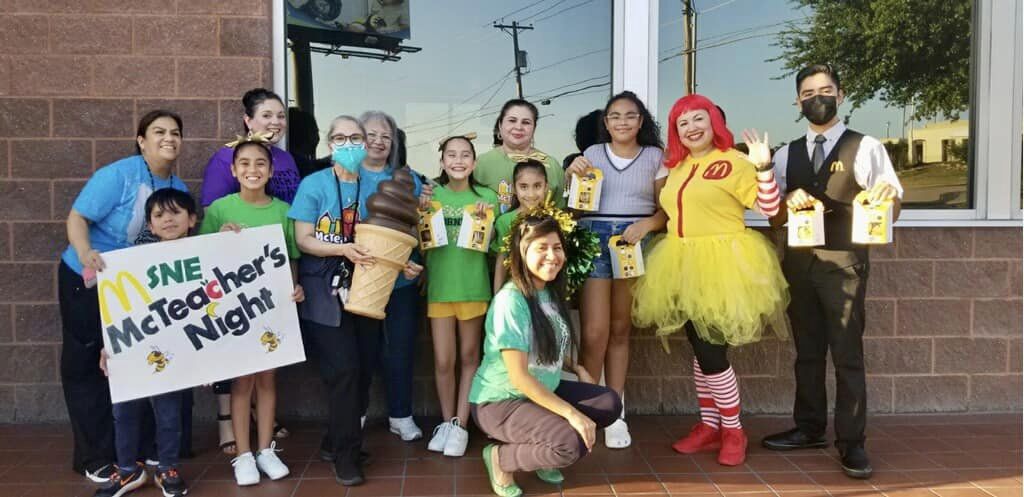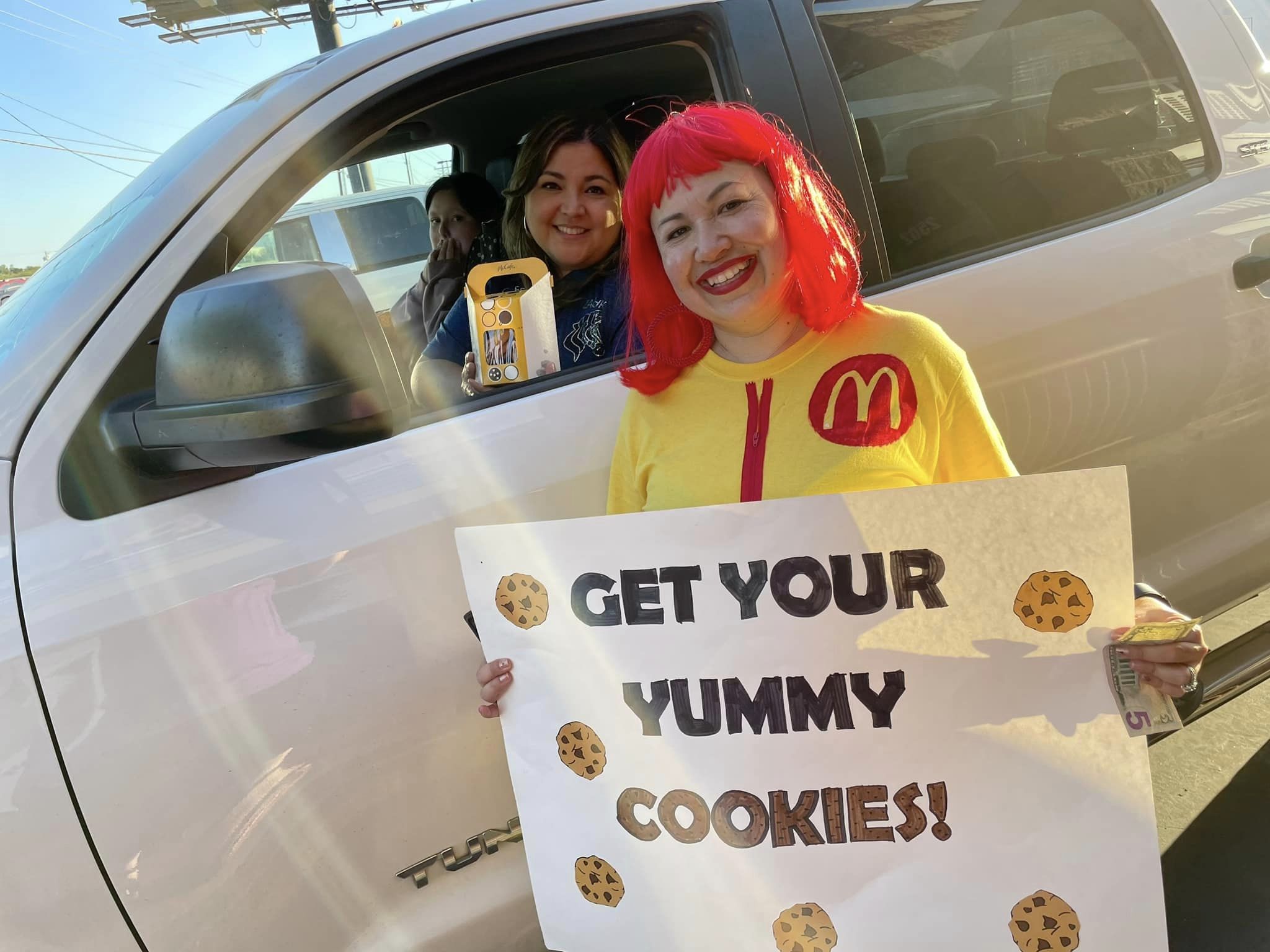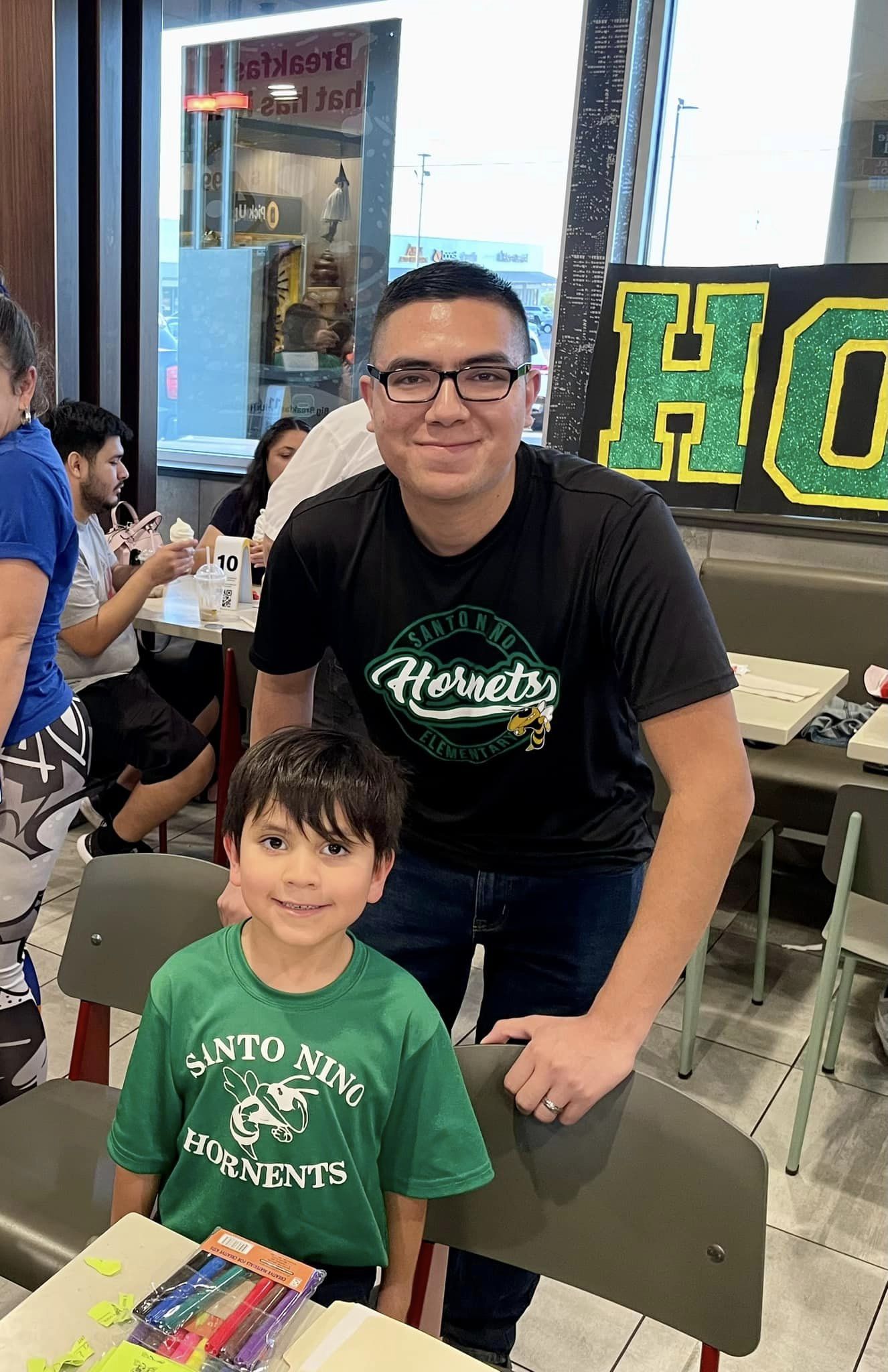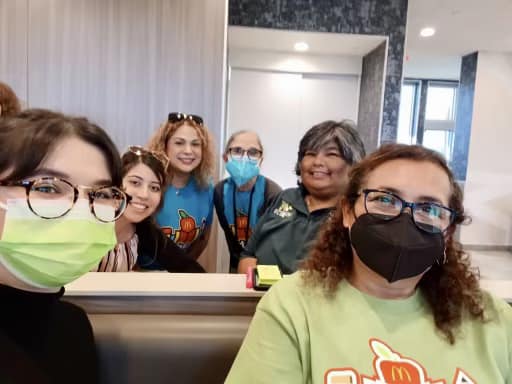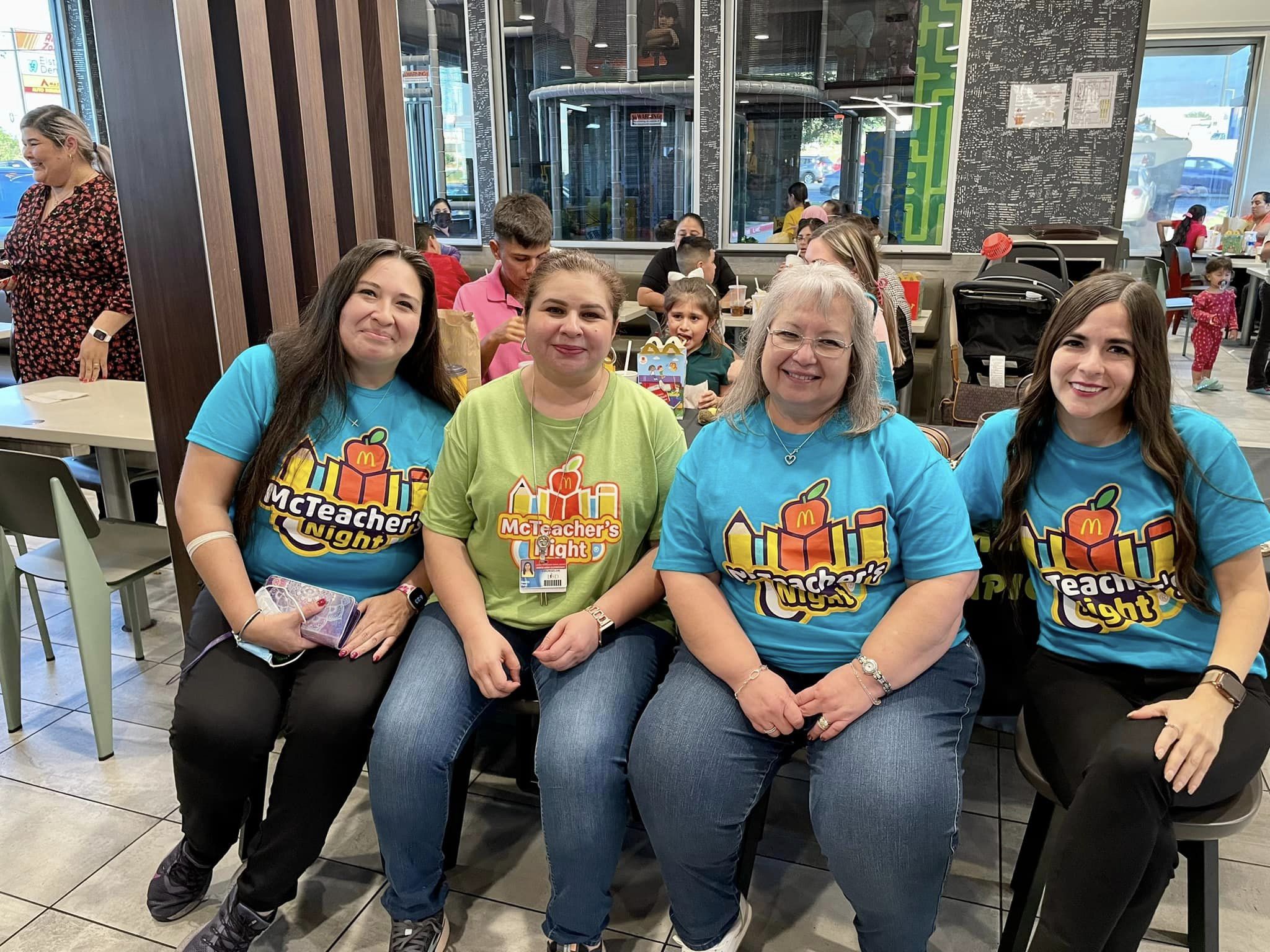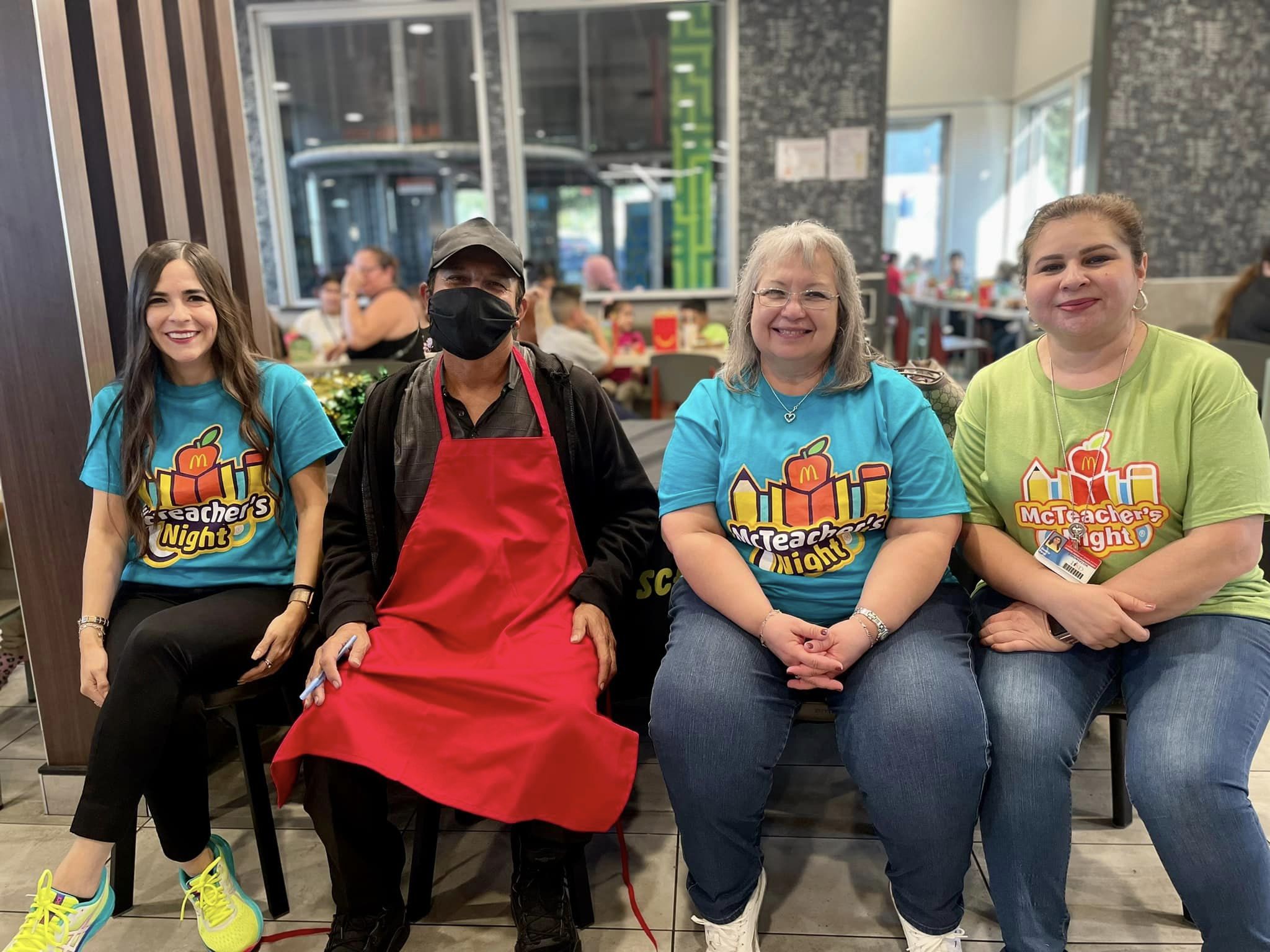 World Teacher's Day
Our teachers and staff were treated to lunch in celebration of World Teachers' Day!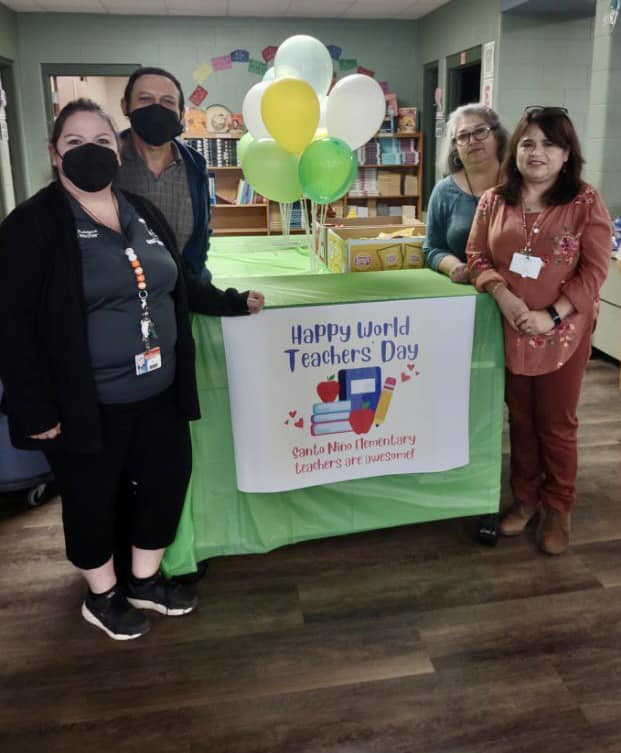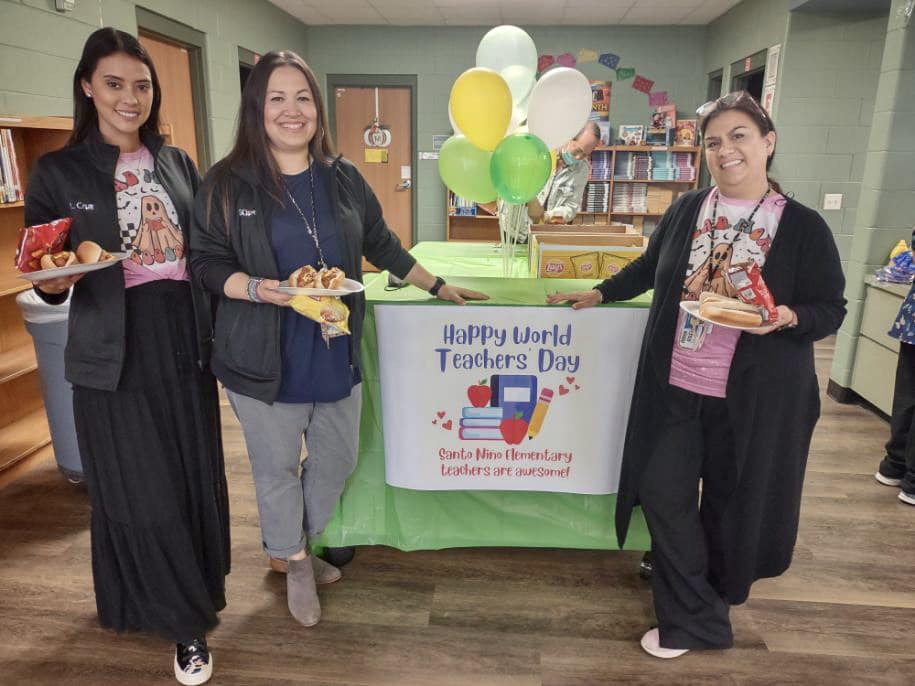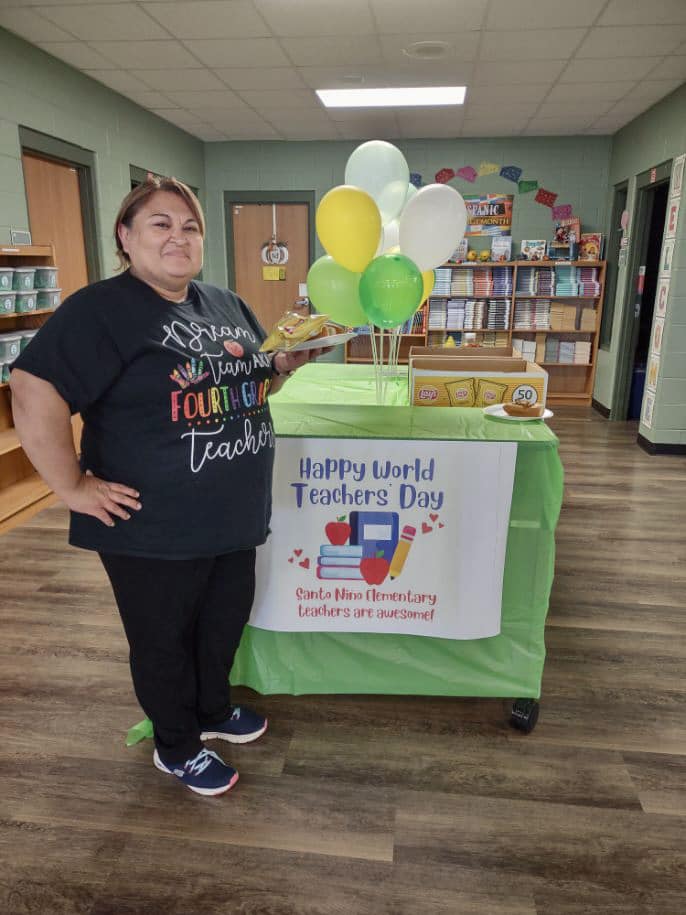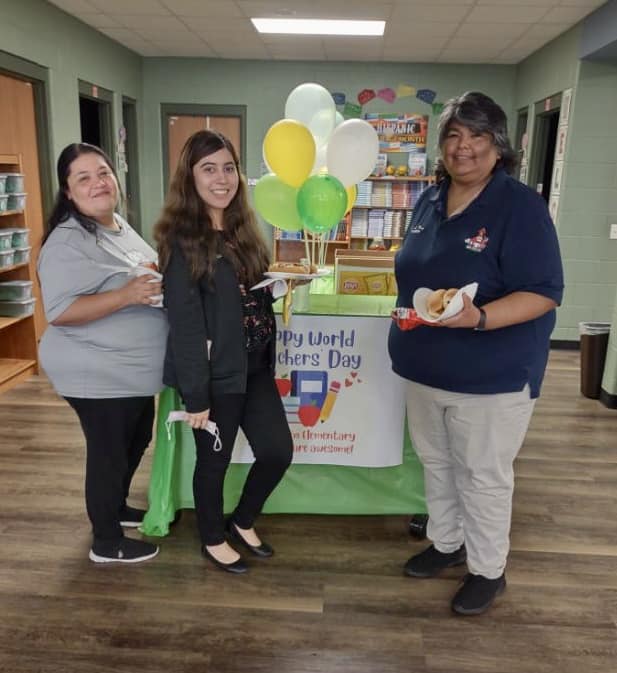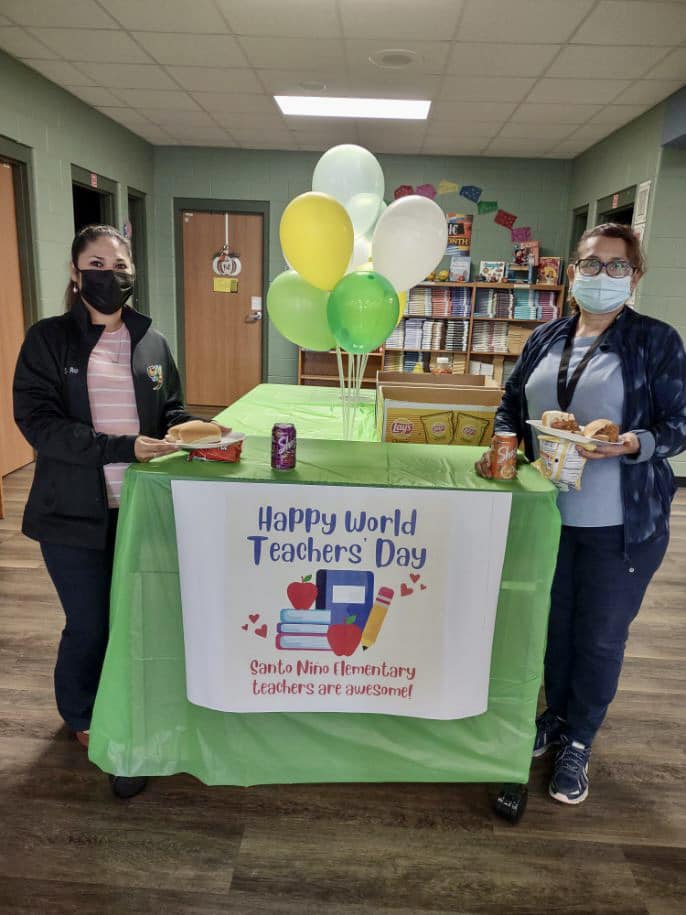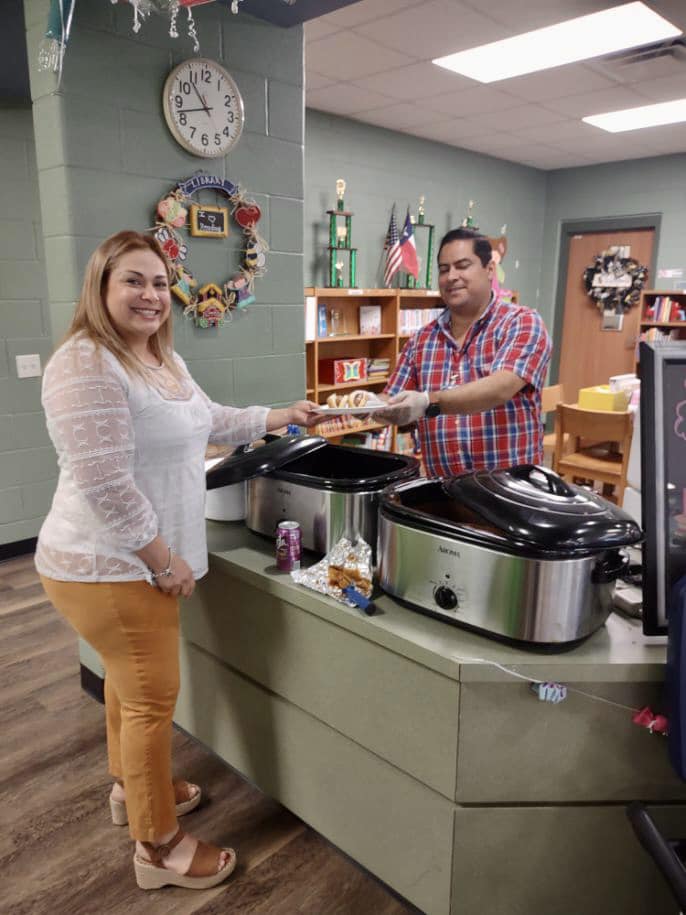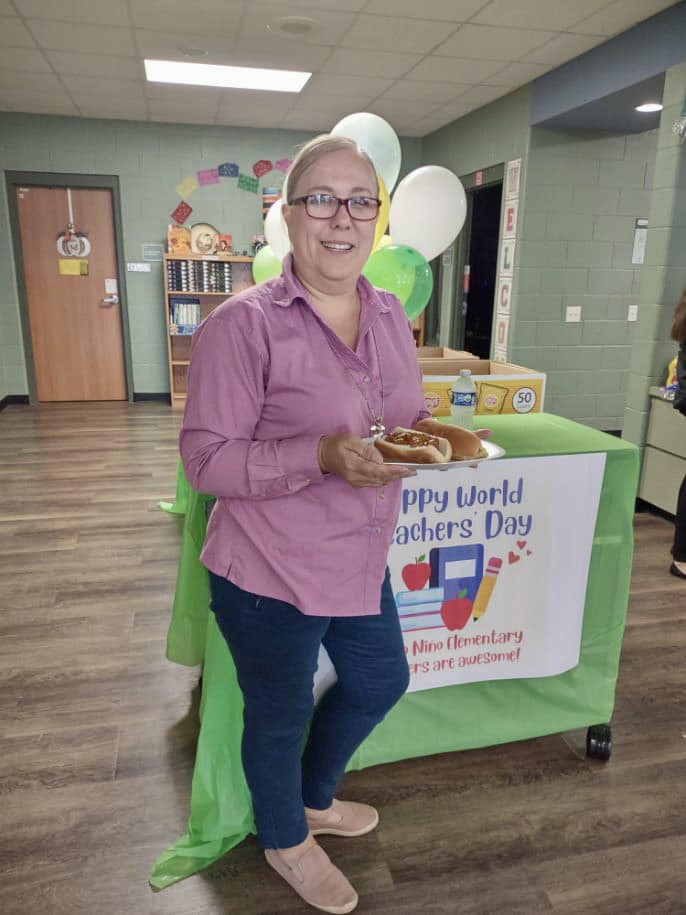 Dyslexia Awareness
Students and staff showing their support for Dyslexia Awareness Month!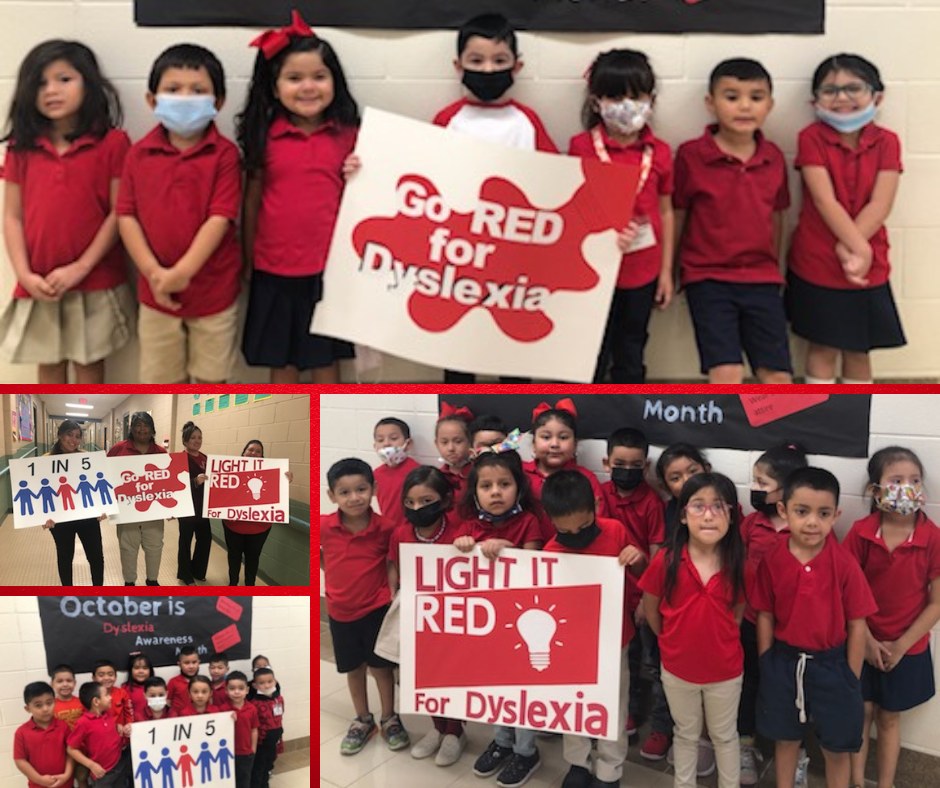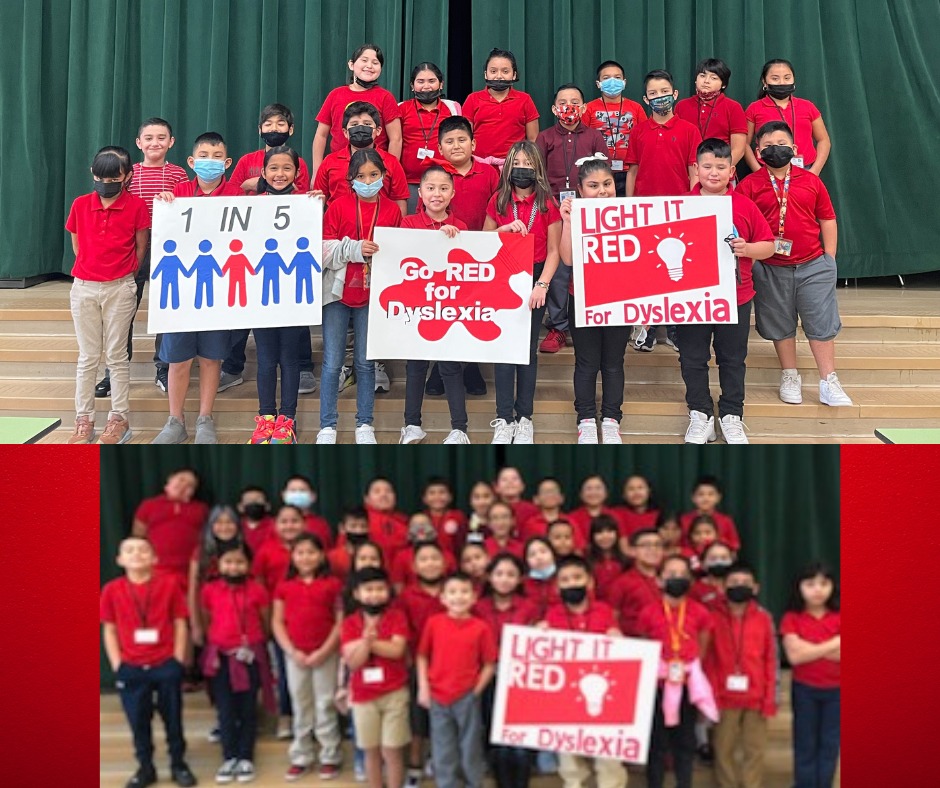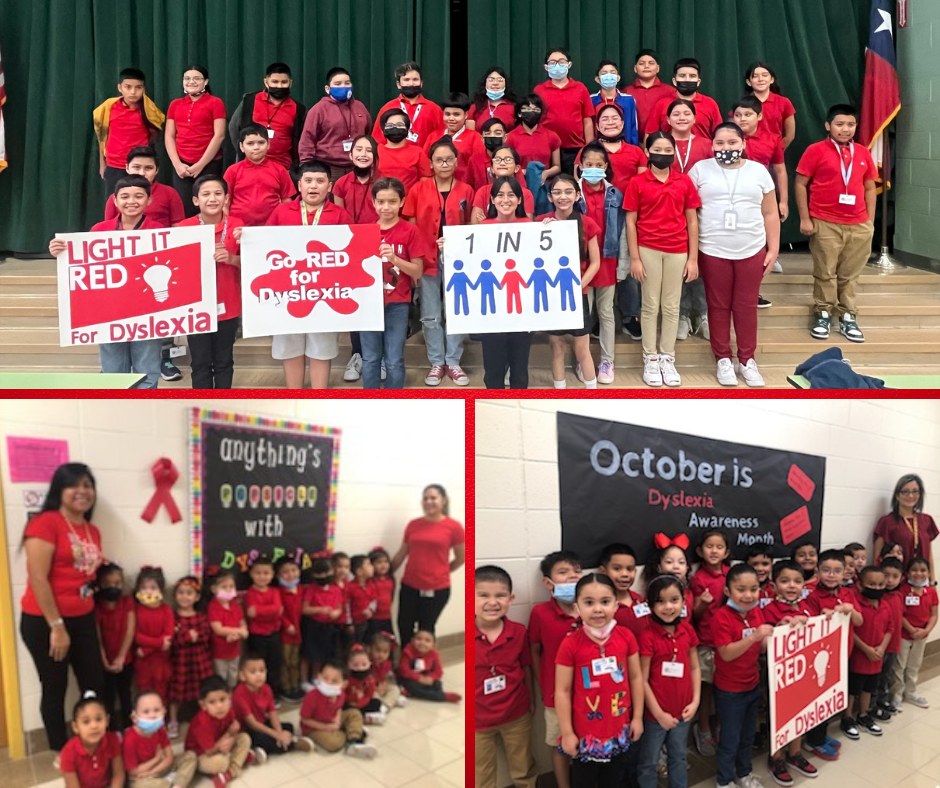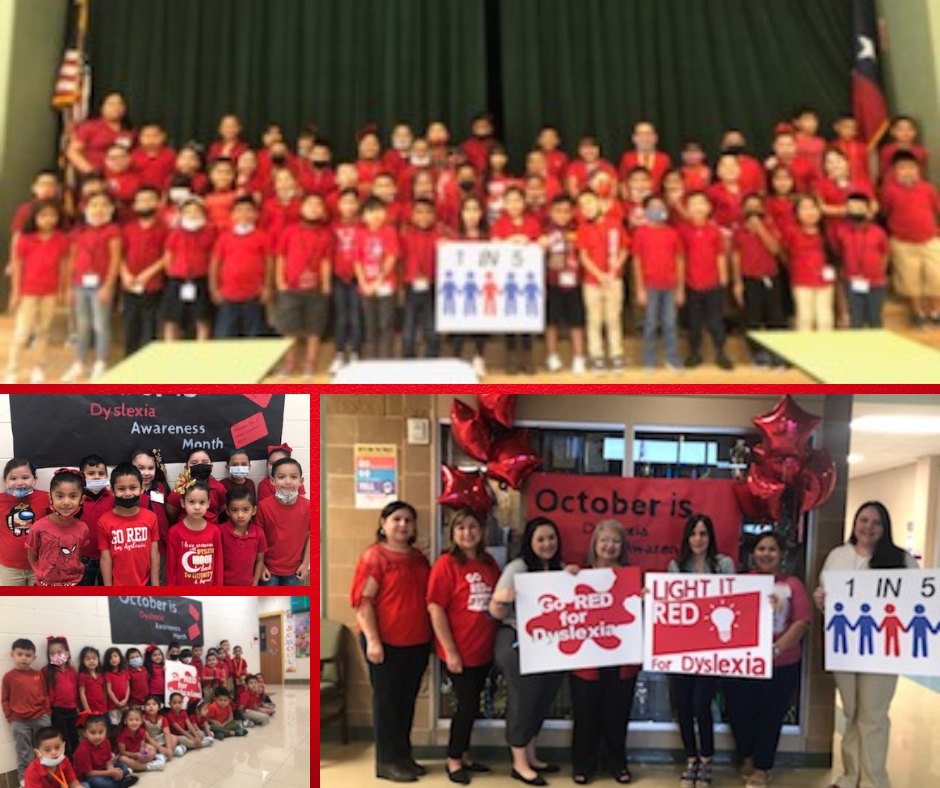 Grandparents' Day Picnic
Students enjoying a picnic with their grandparents!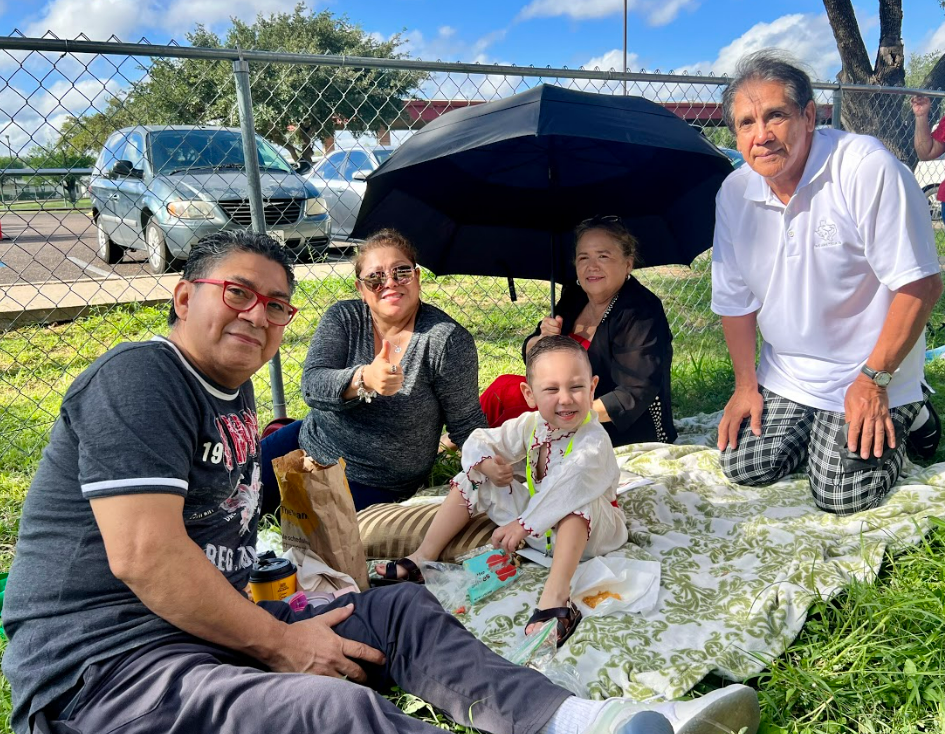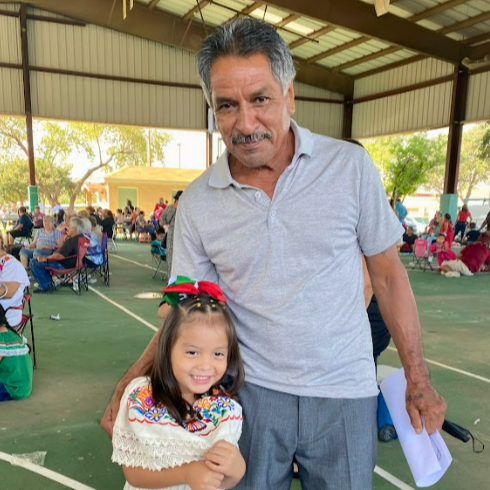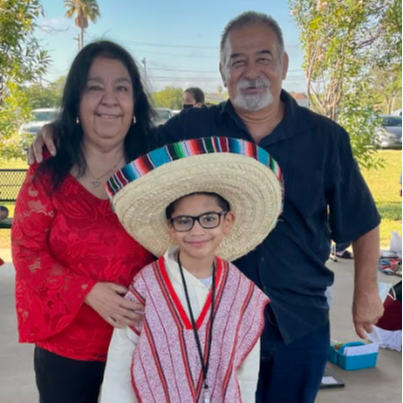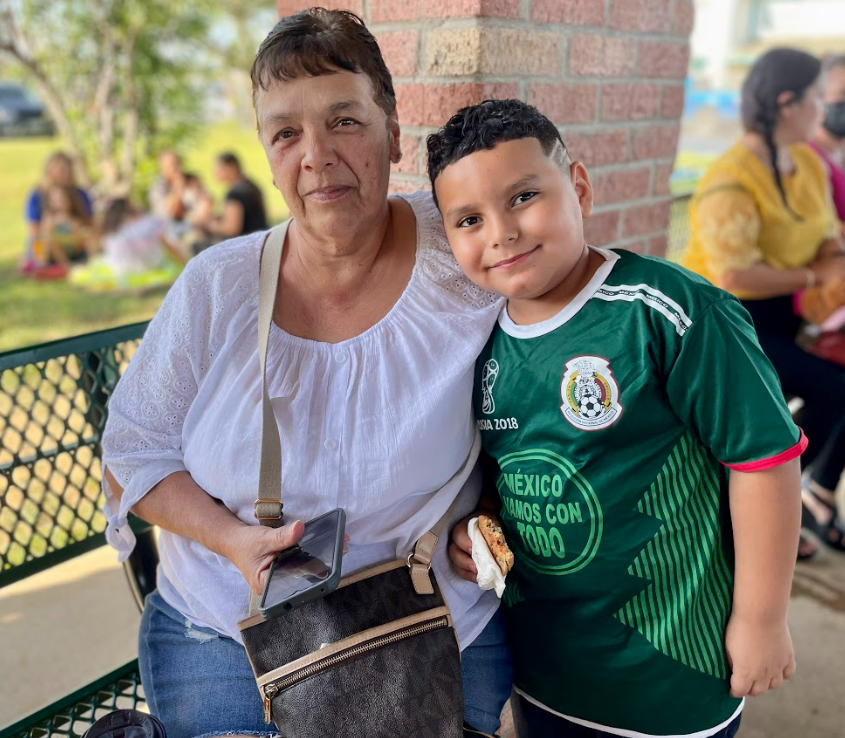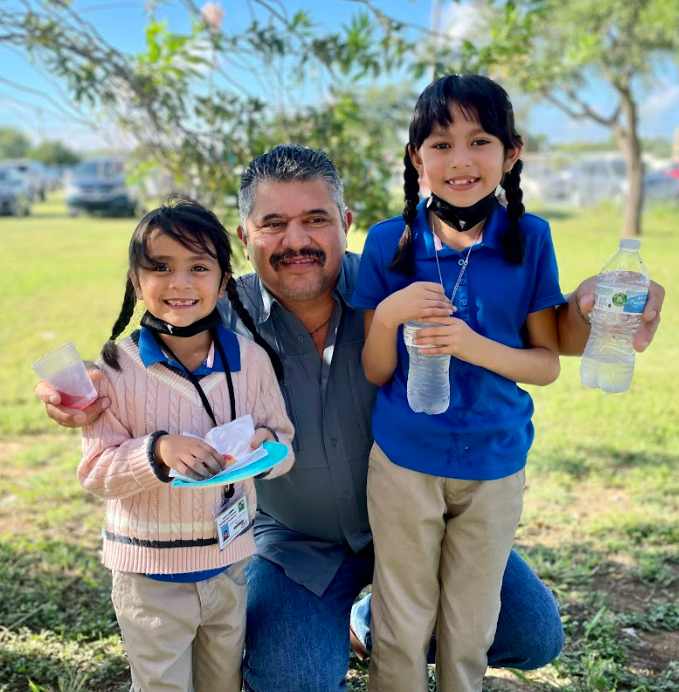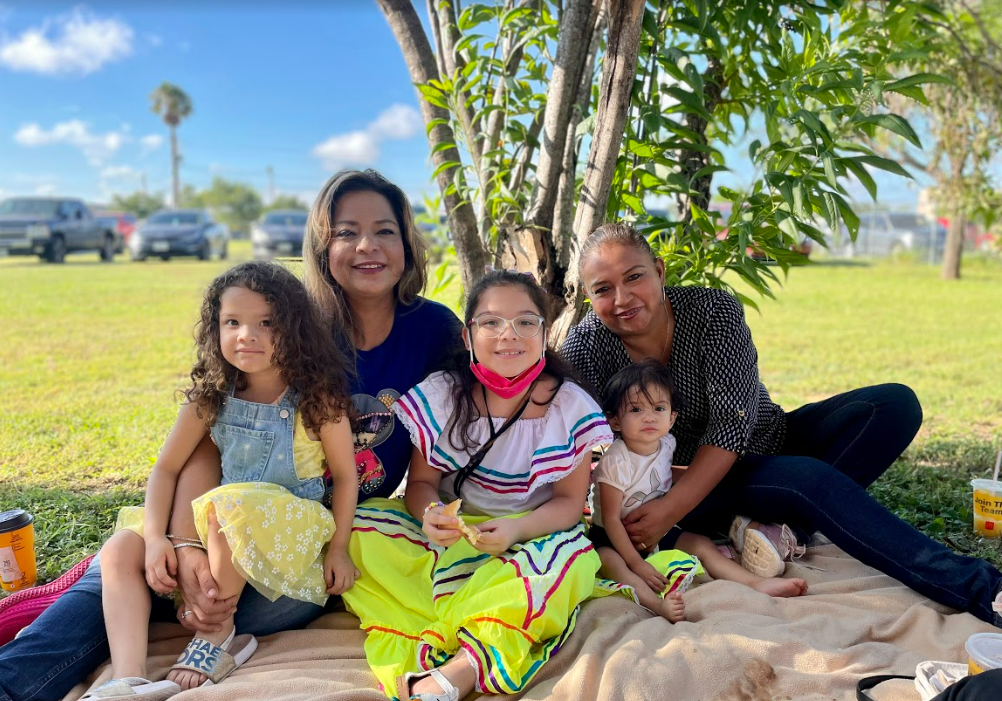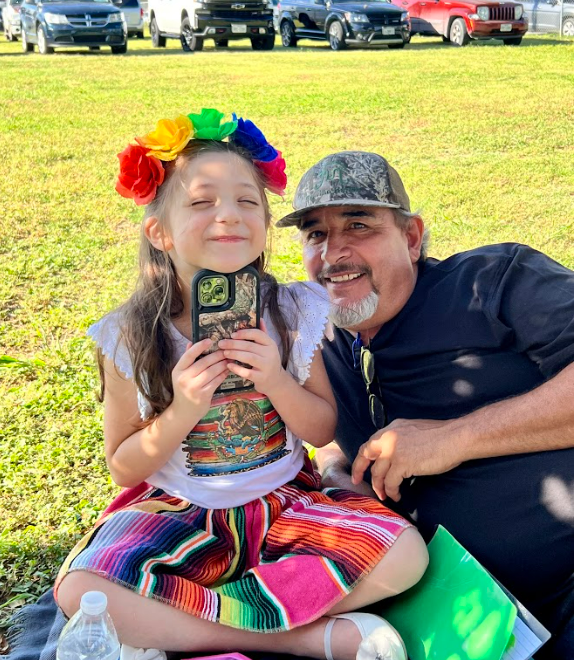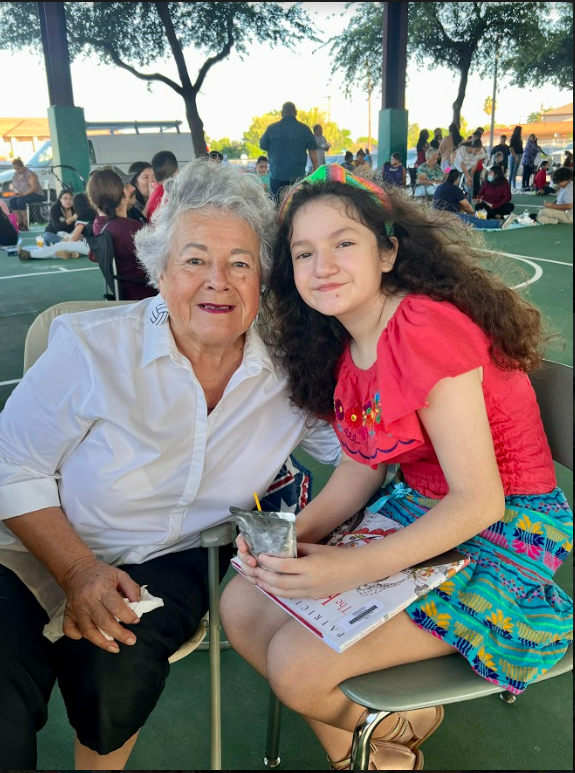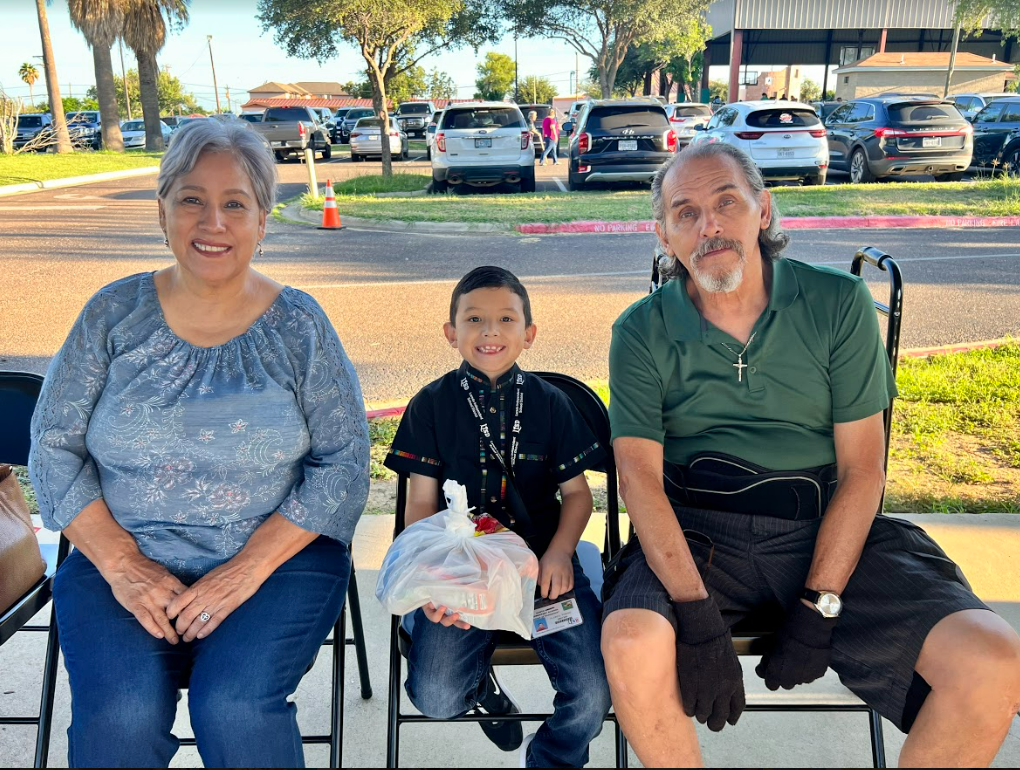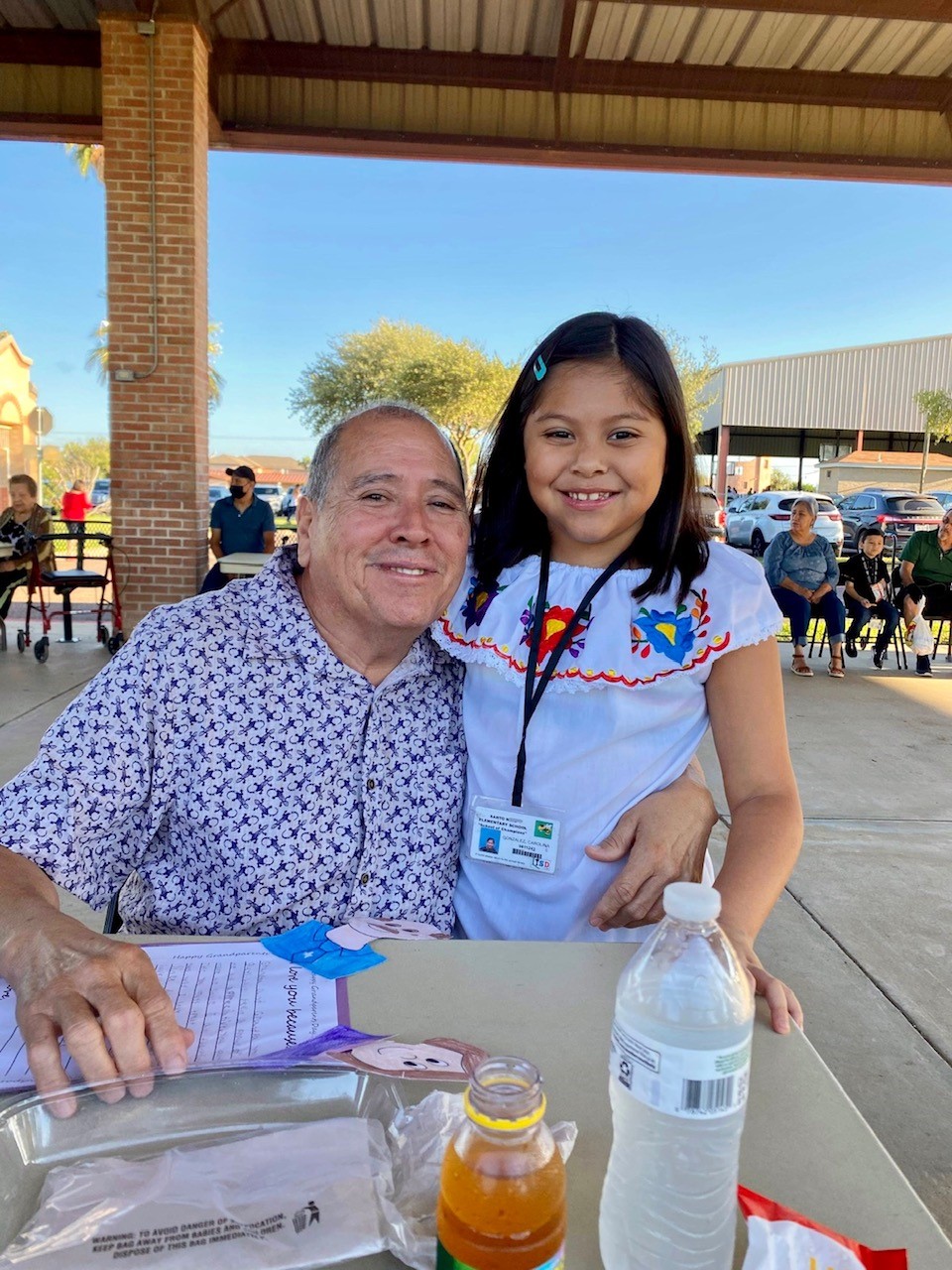 College Readiness Day!
Hornets wearing their favorite college t-shirt!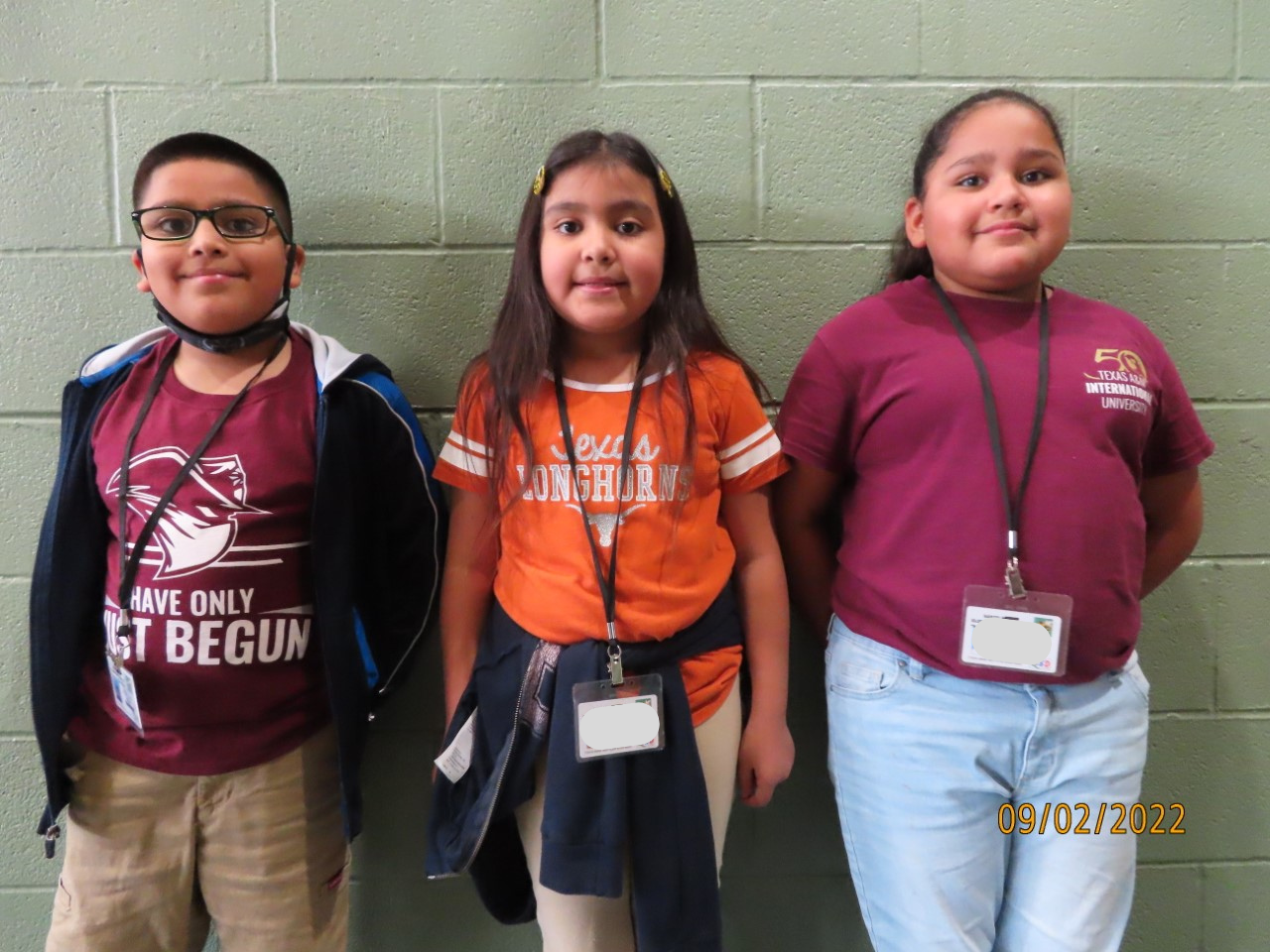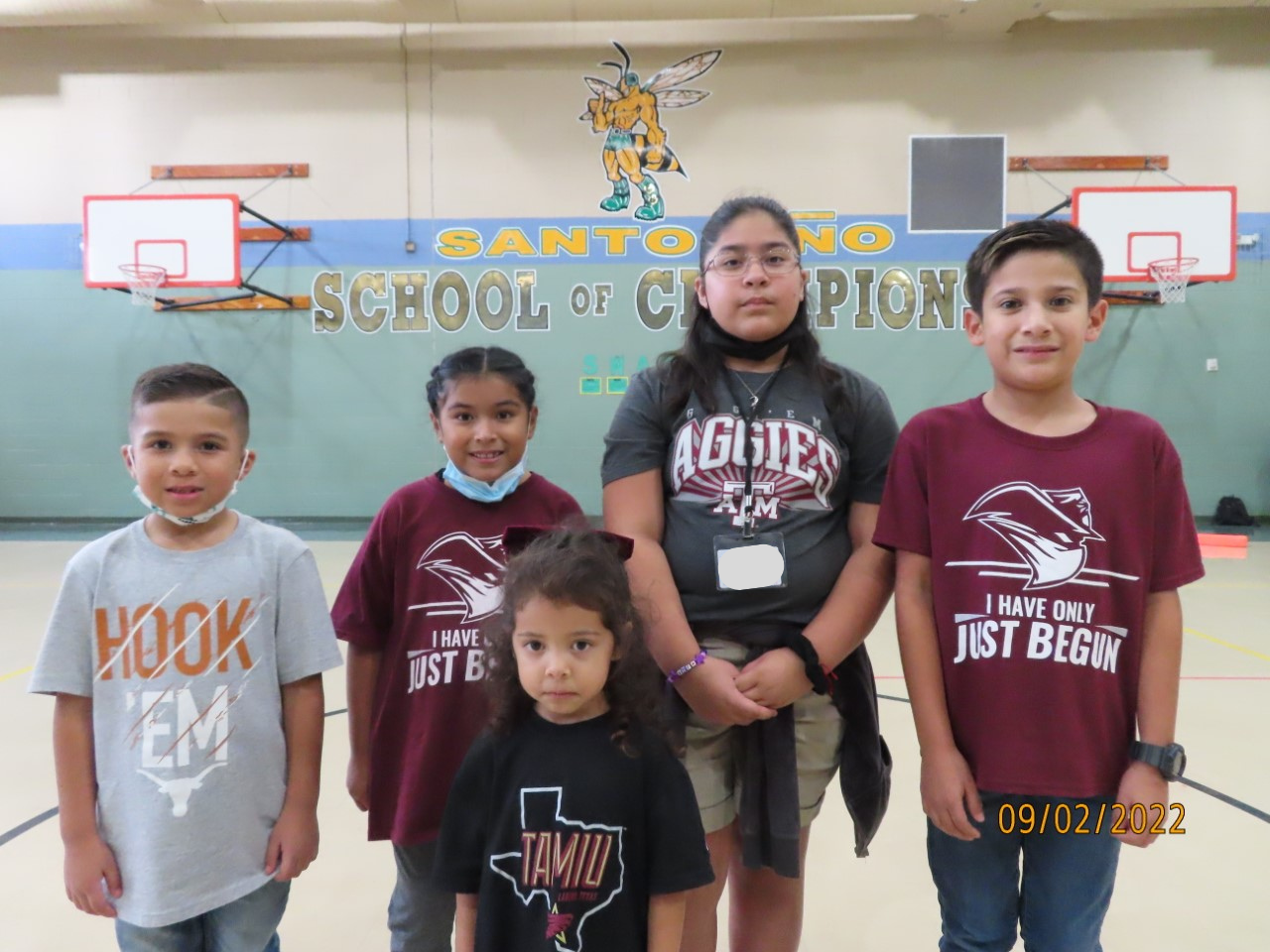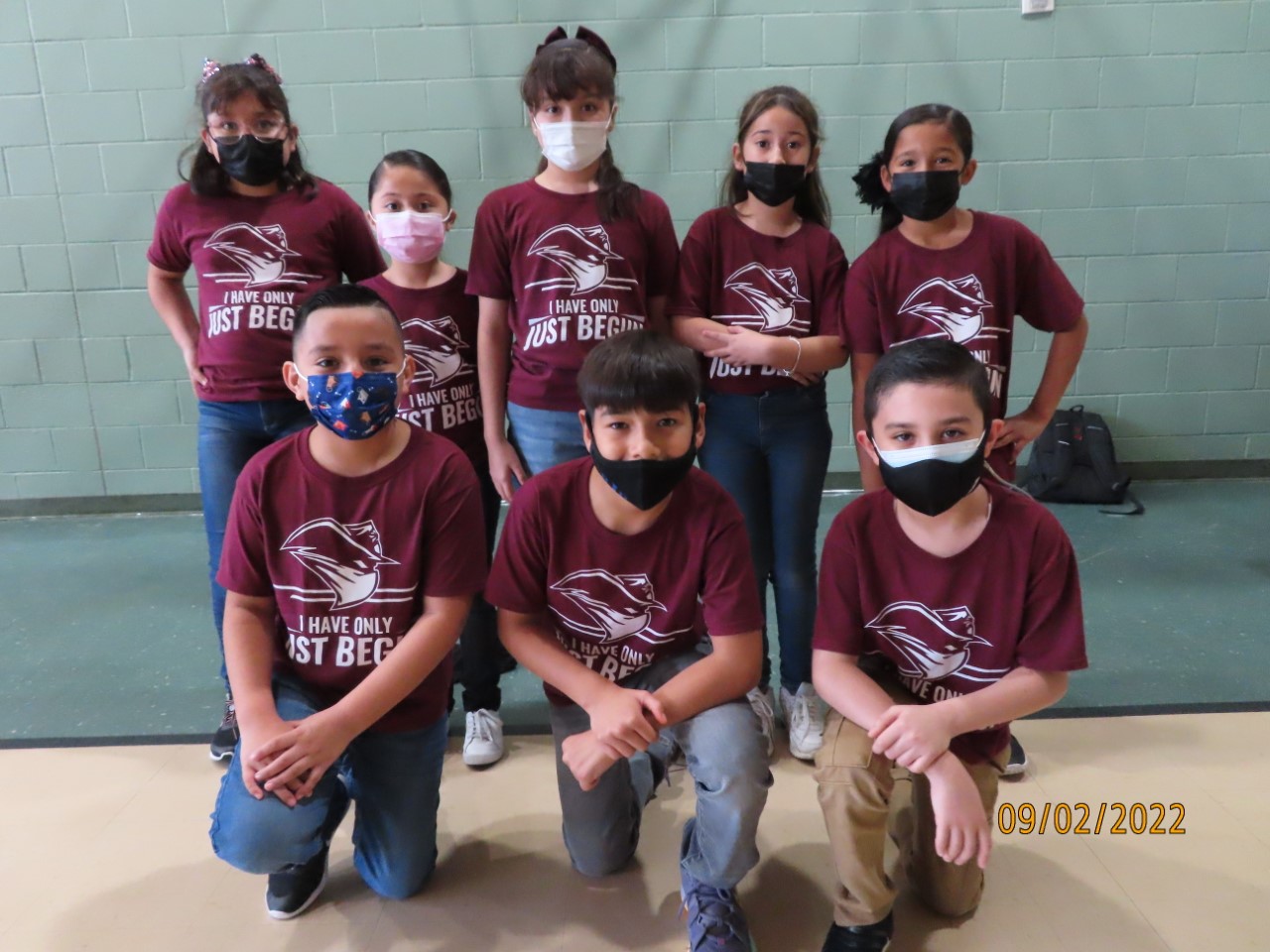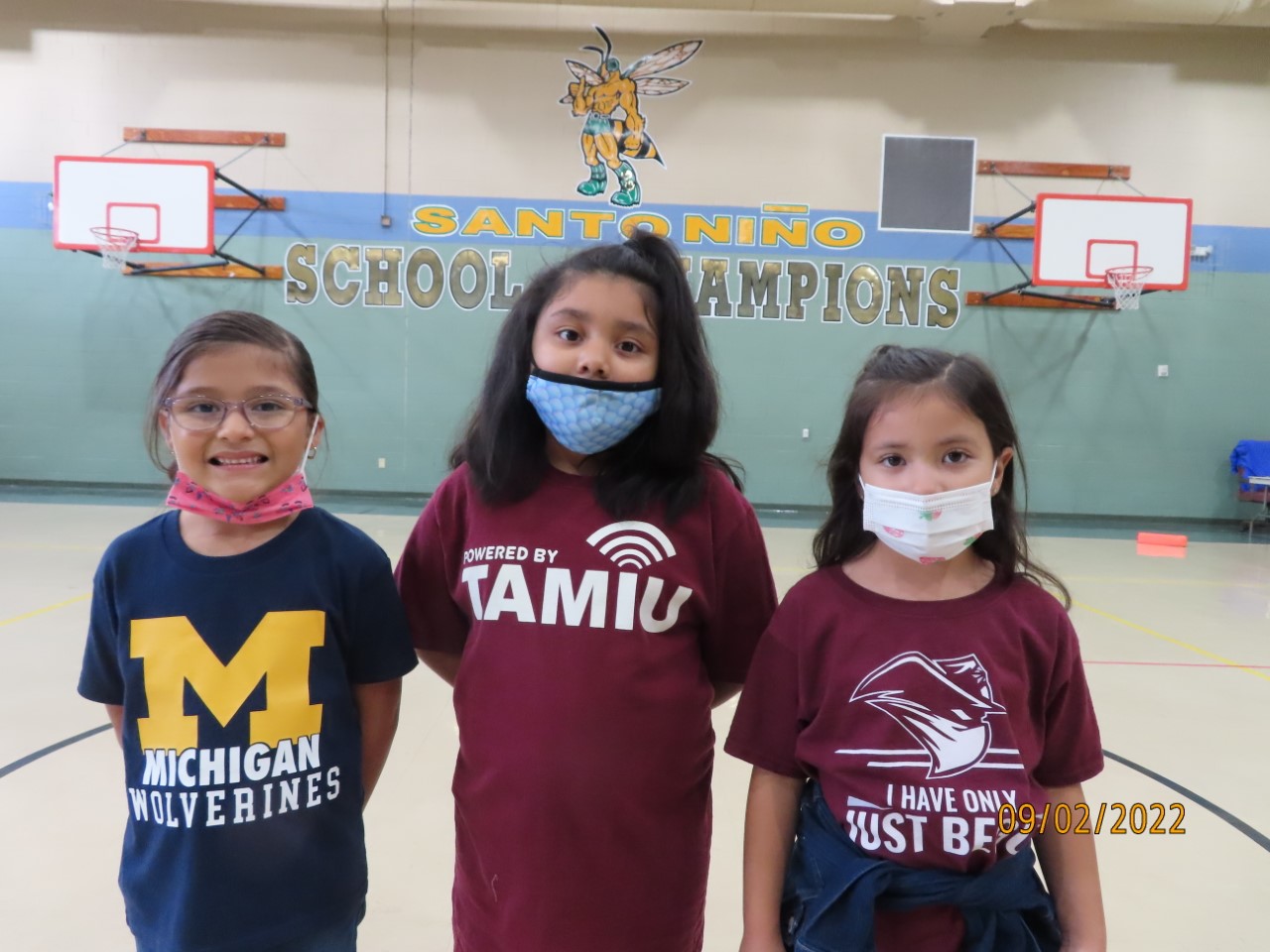 AR Kick-Off!
Students dressed as their favorite story book character and celebrated the opening of AR with a parade and performance from the Cigarroa High School Band!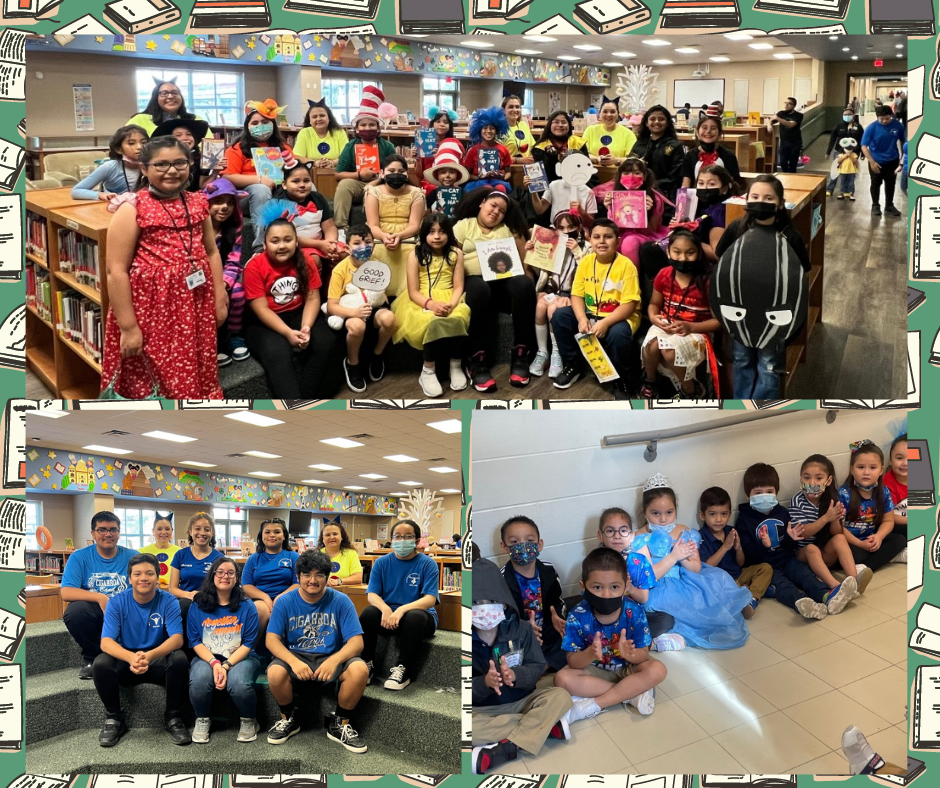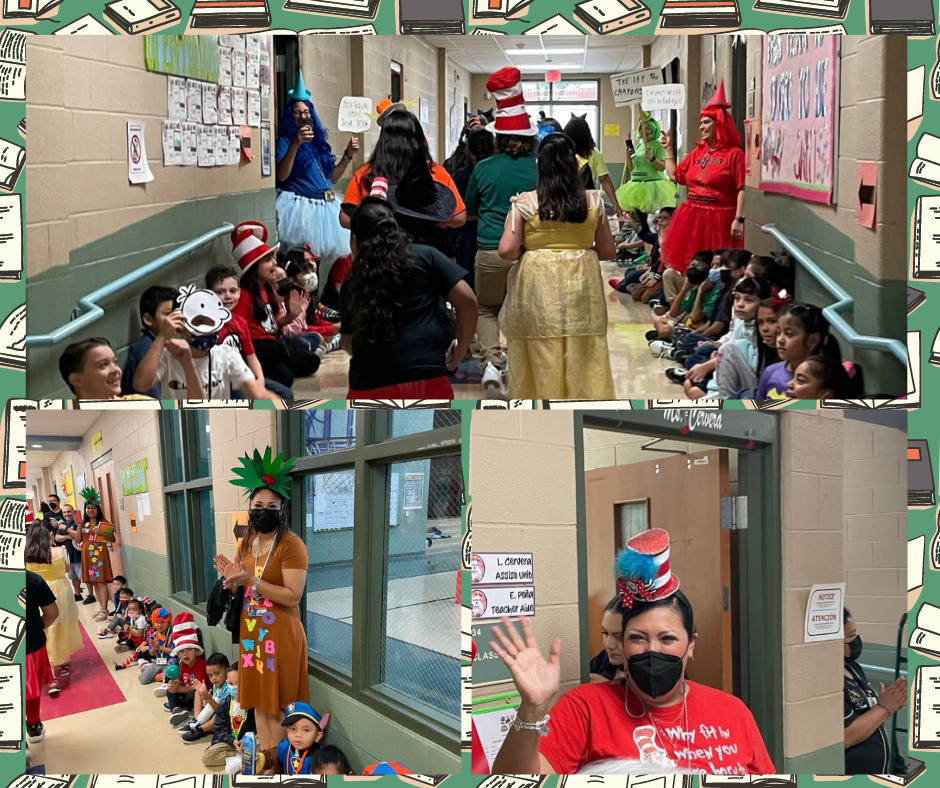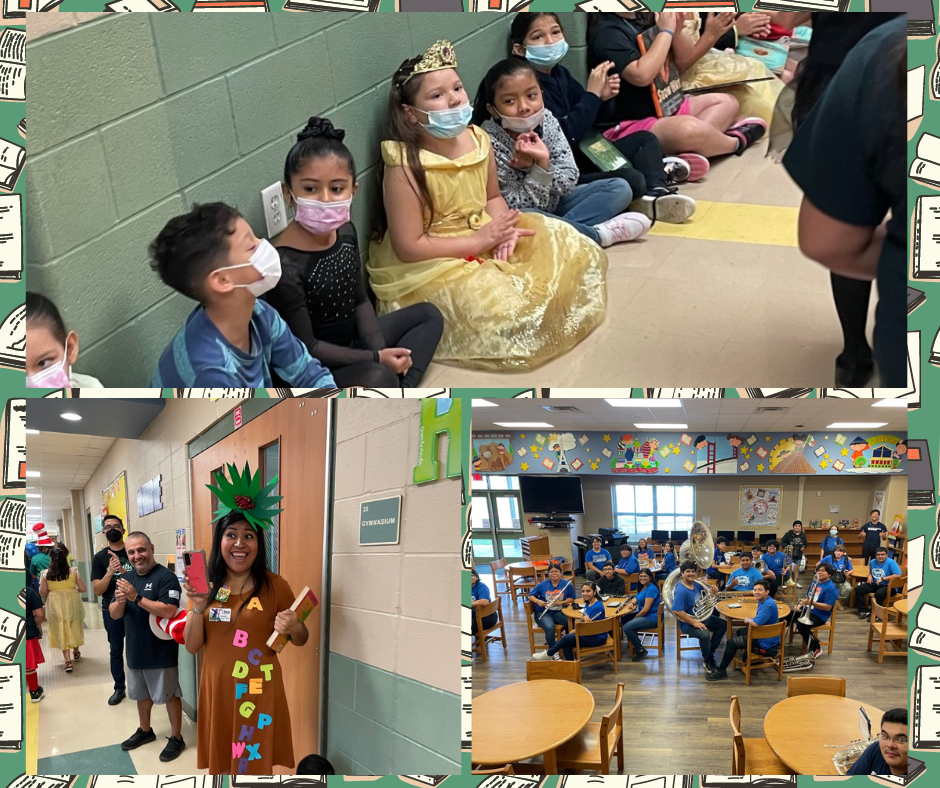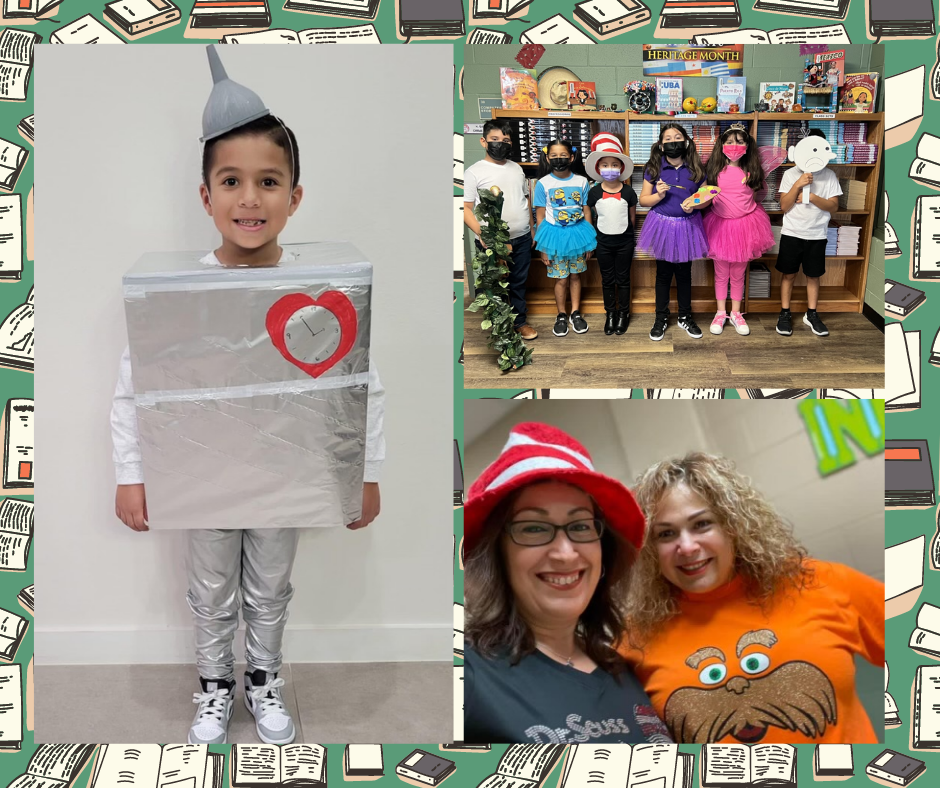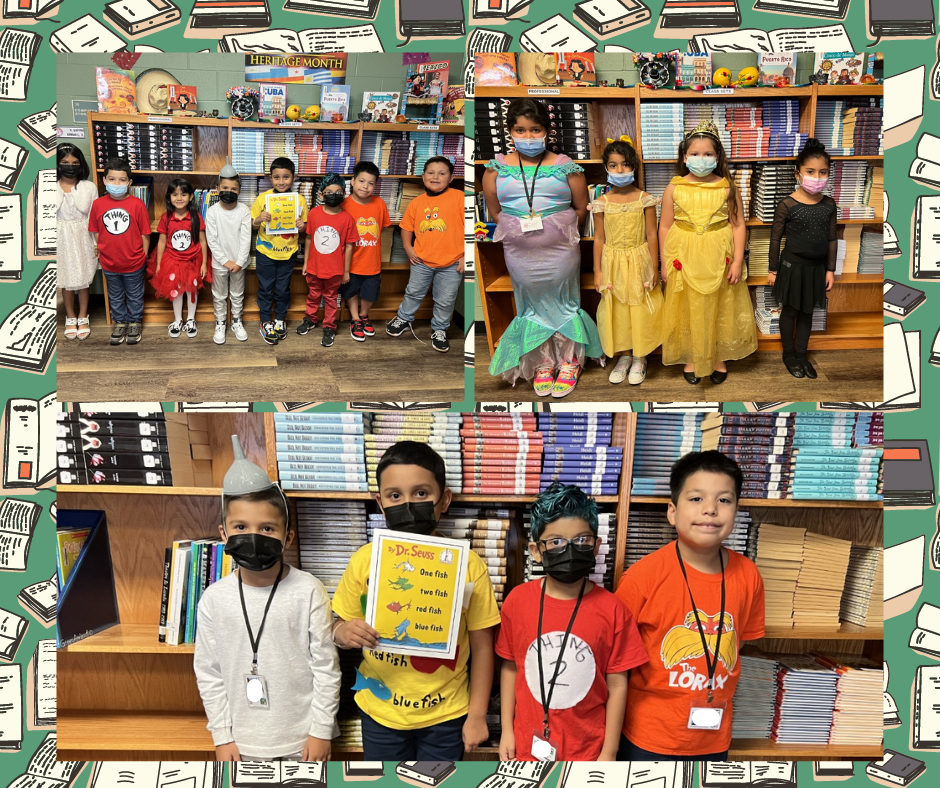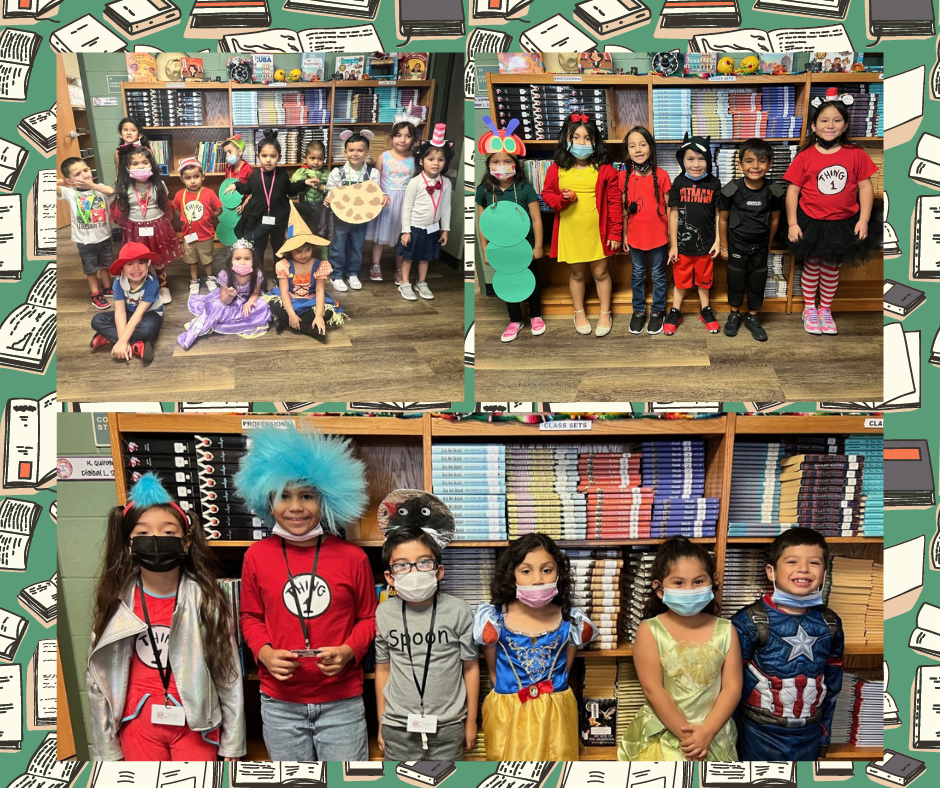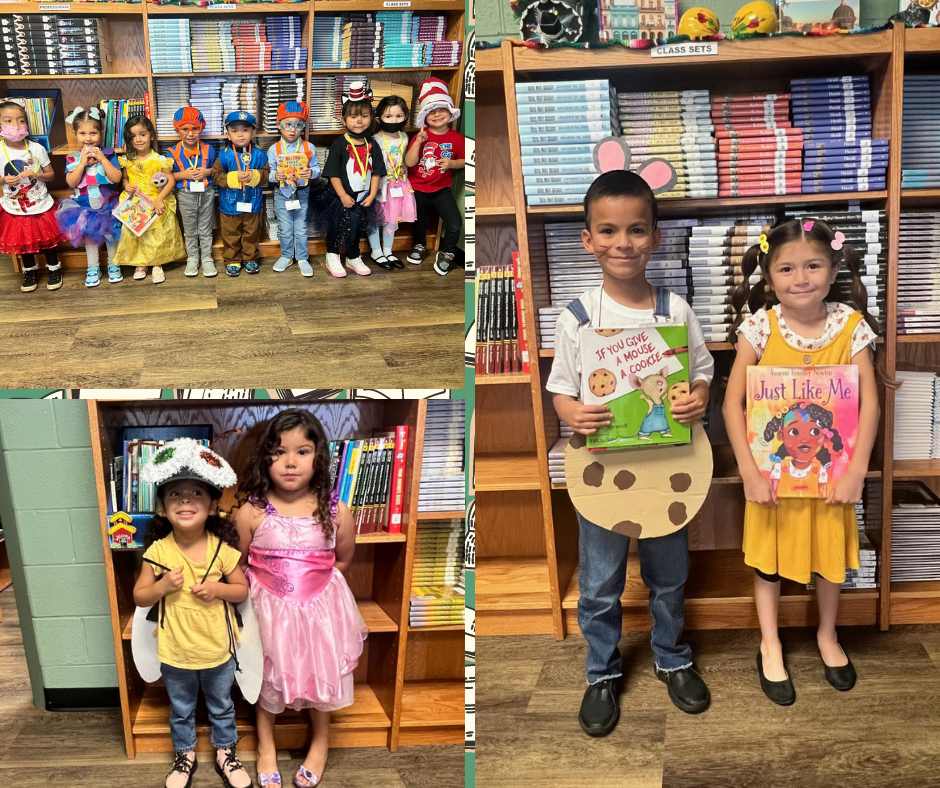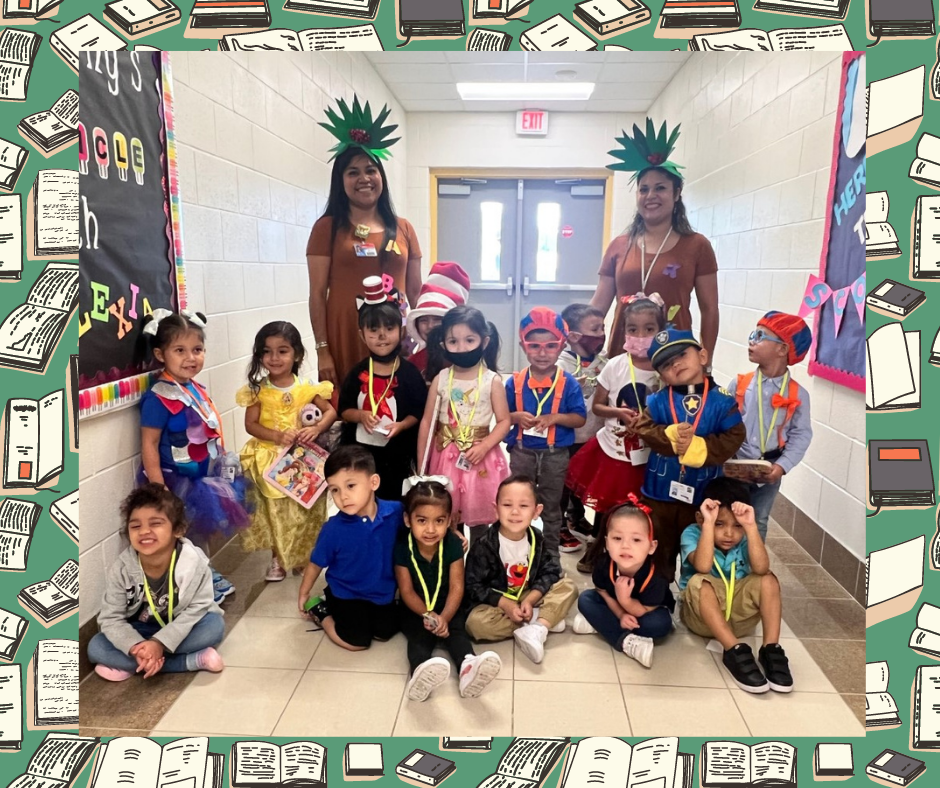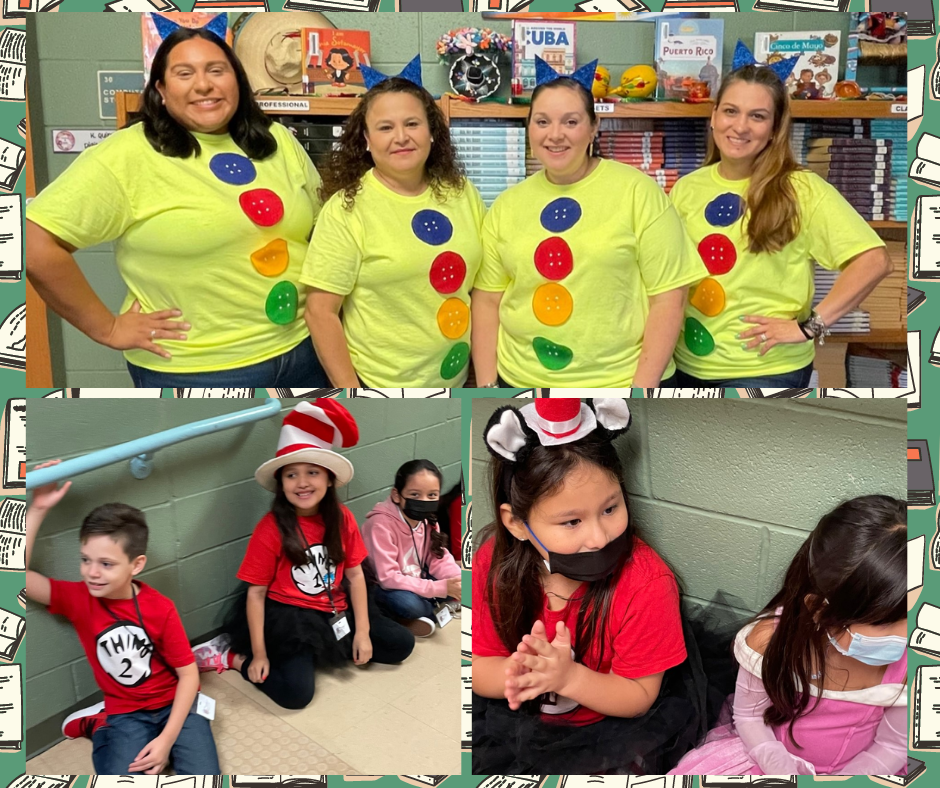 "A" Campus
Santo Nino Elementary recognized as an "A" campus!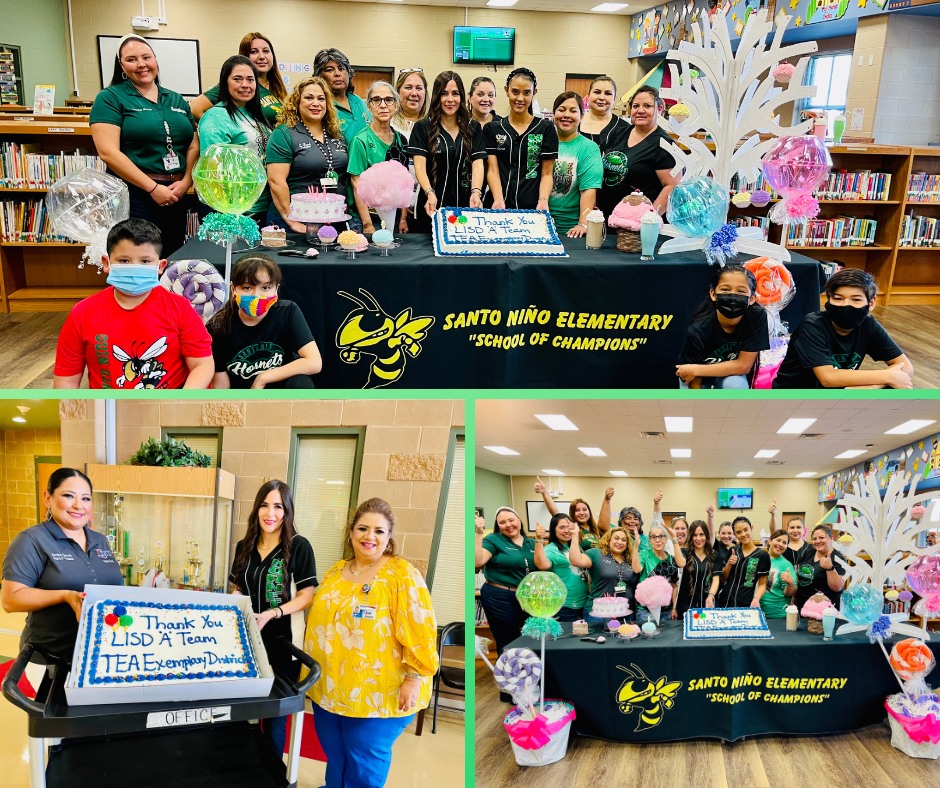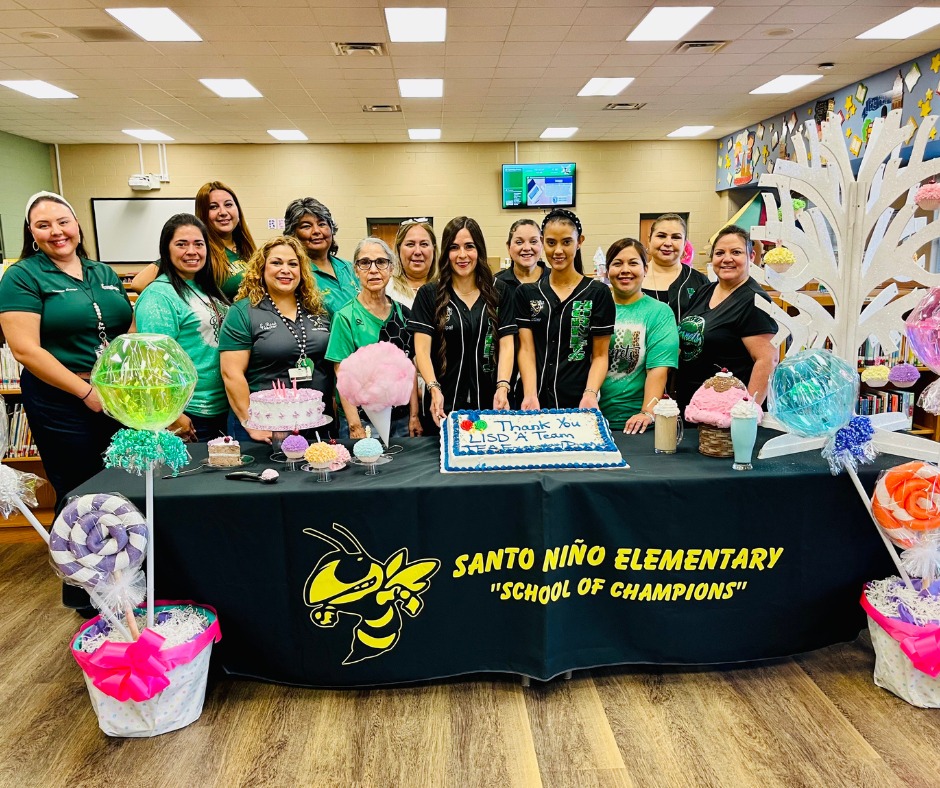 Jumpstart Program
Students engaged in learning at our Saturday Jumpstart Program!